Just 3 simple ingredients and about 10 minutes is all you need to make the best fresh squeezed, homemade lemonade you've ever tasted!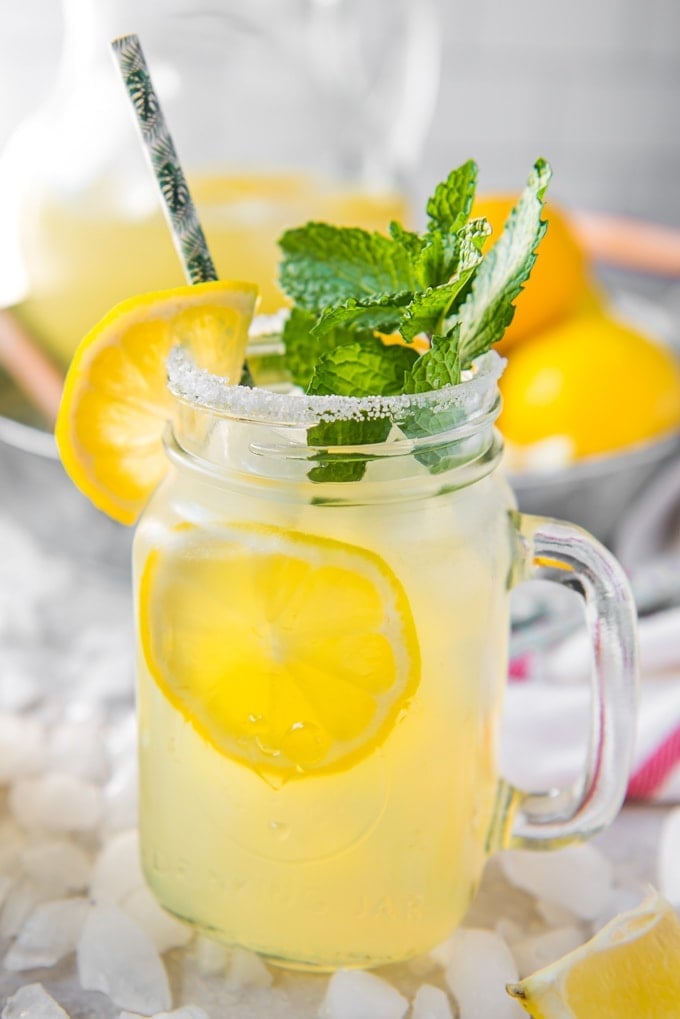 Fresh Squeezed Homemade Lemonade Recipe
We love all things lemon around these parts, you'll see just how much if you check out our Lemon Zucchini Bread or Lemon Garlic Roasted Chicken. They both happen to go quite well with this homemade lemonade!
Sometimes, simple really is the best. This lemonade recipe is living proof of that. No cooking, no simple syrups, just fresh lemons, water and sugar is all you need.
Lemonade is best chilled in my opinion, so you'll want to have ice on hand as well. I recommend placing glasses in the freezer for about 30 minutes to chill them. If you're feeling really fancy you can dip the rim of the glass in sugar and garnish with a lemon slice and some fresh mint.
This recipe is completely customizable. Too sweet? Add more water and/or lemon juice. Too tart? Add more water and/or sugar. We love it just like it is and have been making it this way for as long as I can remember.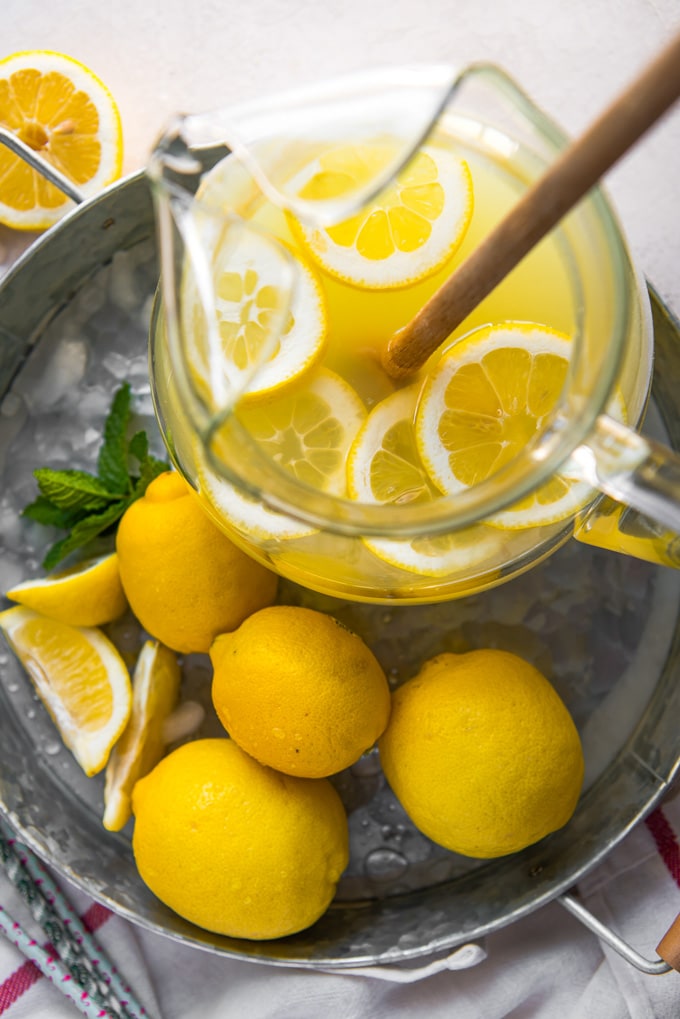 Lemonade Ingredients
Lemons – while you can certainly use bottled lemon juice, nothing beats fresh. If you have a friend with a lemon tree, they probably want to unload those lemons, so don't be afraid to ask!
Sugar – just regular white granulated sugar is all you need. I haven't used artificial sweeteners or natural sweeteners, but you are welcome to try them.
Water – Whatever you usually drink at home, use that.
How to Make Lemonade from Scratch
I said it's easy, and I really meant it! Just three ingredients, and three steps! Homemade lemonade is an great activity to get kids involved in the kitchen, too, because they love squeezing the lemons. I remember using an actual electric juicer when I was a kid and it was so much fun.
Be sure to wash your lemons first, then slice them in half. Squeeze juice until you have 2 cups. You can squeeze with your hands, with an electric juicer or with a handheld juicer. Pour the juice into a pitcher.
Add sugar to the pitcher and stir or whisk until the sugar is dissolved. This can take a couple of minutes, so get your arm muscles ready!
Pour in water and stir again. Now, my recipe calls for 4 cups of water. This makes the lemonade refreshingly tart. If you want it less tart, you can add more water, a cup at a time, until the taste is to your liking. This will also cut the sweetness a bit if you're feeling like it's a bit too sweet.
How much juice is in one lemon?
A medium sized lemon should yield 2-3 tablespoons of juice. There are about 4-5 lemons in a pound, so you will need approximately 4 pounds of lemons (or 20-24 medium sized lemons) for this recipe. While you can use bottled lemon juice, I don't recommend it. The flavor is different and can actually be more bitter.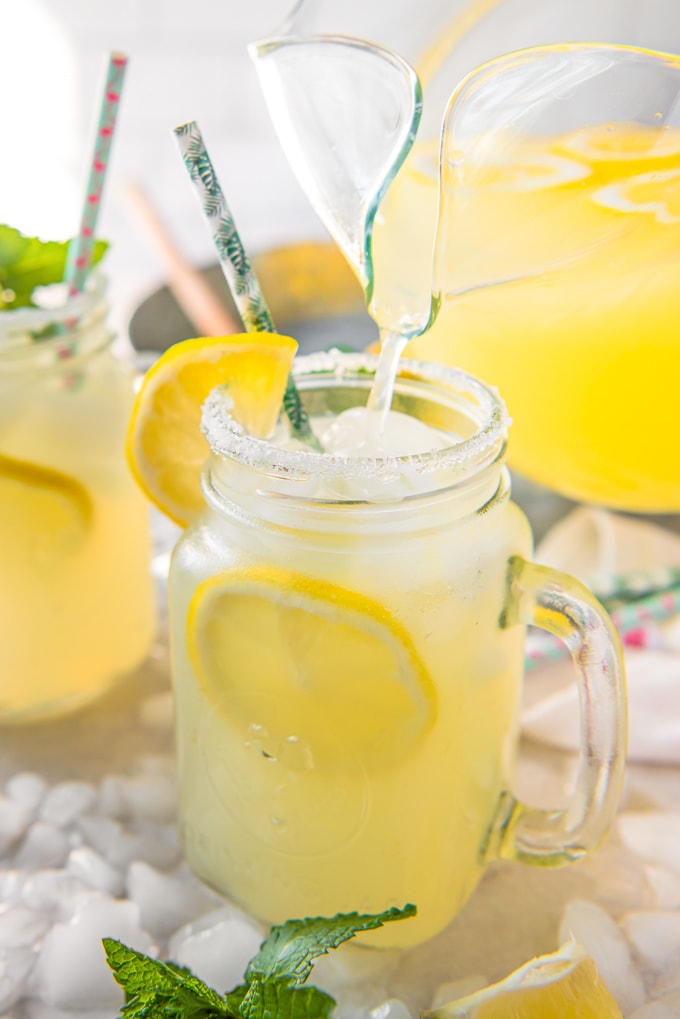 Top Tips and Flavor Suggestions
Homemade Lemonade makes a great base for whatever direction you want to go with it! Here are a few suggestions.
Create a Lemonade Bar (with free printables!), using fresh fruit and flavored syrups.
Freeze small cubes of watermelon to add flavor.
Muddle berries and mint at the bottom of a glass (smash them a little bit with a small amount of juice), then fill the glass with ice and lemonade. It's a virgin Lemonade Mojito!
Make a float! Add vanilla ice cream to a glass and fill it with lemonade. Tasted like a frozen lemonade from Chick fil A!
How to store homemade lemonade
For optimal flavor, it's best to keep lemonade in a pitcher with a lid. If properly stored in the fridge, it should last 7-10 days. Any longer and the flavor can start to change and become bitter.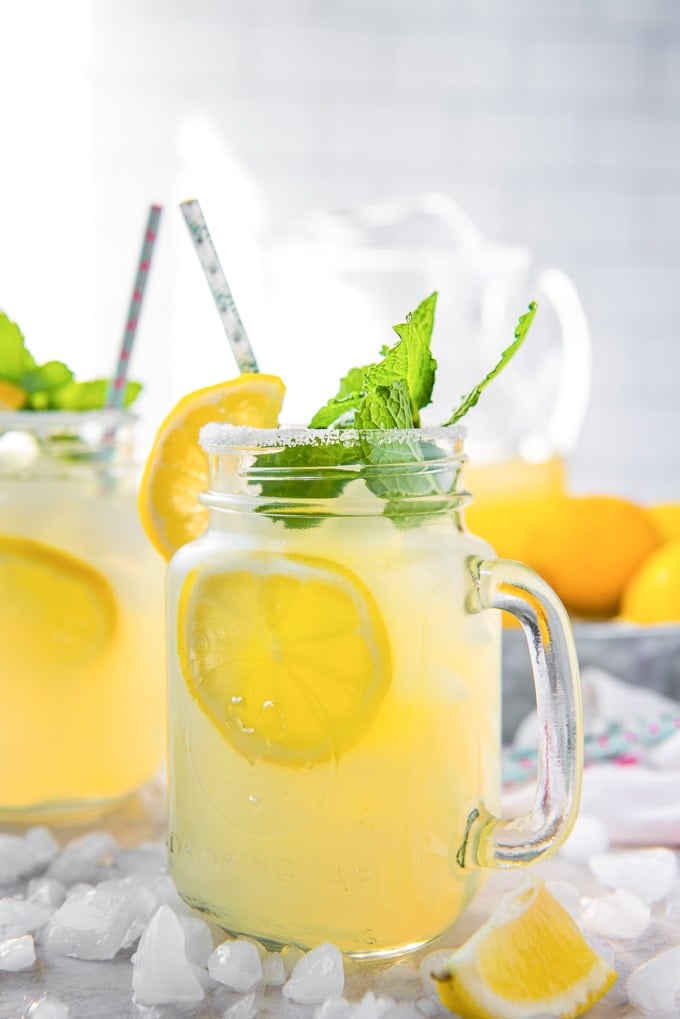 More Homemade Drinks
Recipe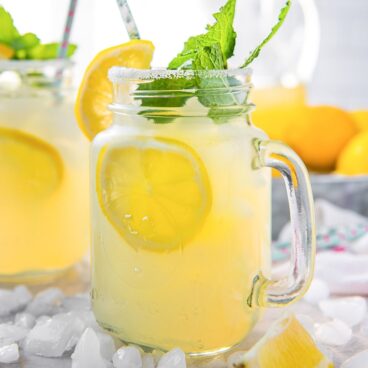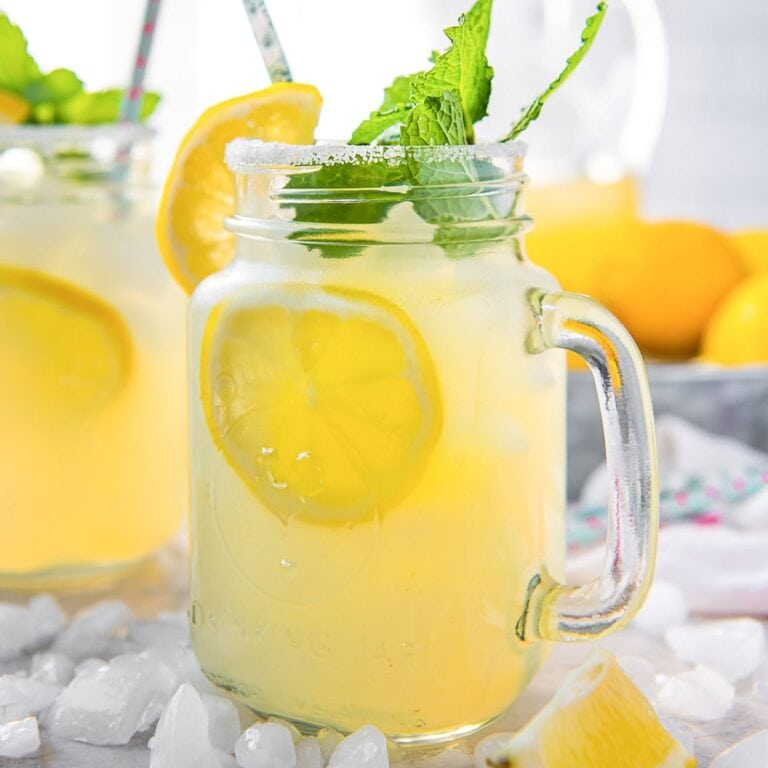 Homemade Fresh Lemonade
Just 3 simple ingredients and about 10 minutes is all you need to make the best fresh squeezed, homemade lemonade you've ever tasted!
Ingredients
2

cups

granulated sugar

3

cups

lemon juice

4

cups

water

or more to taste
Instructions
In a large pitcher, stir together lemon juice and sugar until completely dissolved.

Stir in water until combined.

Serve chilled, poured over ice.

If you want to get fancy, dip the rims of the chilled glasses in lemon juice, then in sugar. Pour in chilled lemonade. Garnish with a lemon slice and add a fancy straw.
Nutrition
Calories:
214
kcal
Carbohydrates:
56
g
Protein:
1
g
Fat:
1
g
Saturated Fat:
1
g
Sodium:
8
mg
Potassium:
94
mg
Fiber:
1
g
Sugar:
52
g
Vitamin C:
35.4
mg
Calcium:
9
mg
Iron:
0.1
mg