A Journey of Faith, Part Two – My Adoption Story continued
This is Part Two of A Journey of Faith: My Adoption Story. For Part One, click here.
***************
I was perfectly content being a mother of one. After all, that was my life for nearly three and a half years. One evening in February 2011, that all changed.
My phone rang, and I looked at the caller ID. It said "Unavailable." It had been more than two years since I'd seen that on my phone, and immediately my heart dropped.
My three and a half year old son, who I had adopted at nine weeks old, had a sibling. It was the call I knew would likely come someday, but I was no where near prepared for it.
A Social Worker informed me that indeed, my son had a full biological sibling; a sister, who was nearly two and a half years old. I had a decision to make, and I literally had a few days to make it. (The details as to why I was just getting this call are part of Riley's story, and not something I will be sharing.)
How do you make a decision to accept another child in your home, your life, your heart, in just a matter of days?
It was the hardest decision I've ever had to make, and in some ways, the easiest. It was a chance to give my son a biological connection to someone who could forever be in his life, and it would be the same for Riley. I prayed about it, I talked with the important people in my life, and ultimately, I felt it in my heart that it was the right thing to do. It was the best thing for my children. I also felt, however, that it would completely turn my life upside down, and it did.
Imagine going to the doctor one day for a routine check up and having her say, "Hey guess what? You're 39 weeks pregnant! You better get prepared because next week, you're going to have a new baby in your house!" I had a week to figure out how we were going to fit another child in our home, how I was going to financially provide for the addition, find childcare…oh, and bond with her at the same time.
It hasn't been easy. I have two children who have been through so much more in their short lives, more than any child should ever have to deal with. The changes really took a toll on our household. Nothing is the same as it was, and sometimes…well, sometimes I wish we could just go back to when everything was simpler. But I wouldn't change my life now for the world.
This little girl has been through hell and I am so grateful that she came through it with the beautiful spirit that she has. She still has a lot of growing and healing to do. She is very protective of her things, because these are the first "things" she's had. She has a hard time eating the healthy foods, because the first couple years of her life, she hardly had food, let alone healthy food.
I look at my son, with whom I have an obvious bond, and I'm grateful for that. But I am also incredibly sad that I didn't get to have those years with my daughter. I look at the two of them together and know that things the we take for granted, the things Cooper has had all his life, the Christmases and the birthday parties, vacations and other traditions, and I know that Riley hasn't had those things. And it breaks my heart.
It's been nine months, and I can finally say that we have gotten into a bit of a groove. We have a family routine down, the kids argue like the siblings that they are, and they love each other the same.
And I couldn't love them more. What an incredible blessing this journey has been.
Riley on the day of her first visit to our home (Feb. 2011)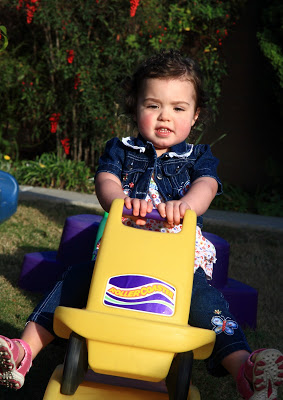 And Riley today (Nov. 2011)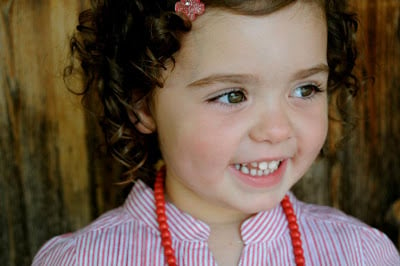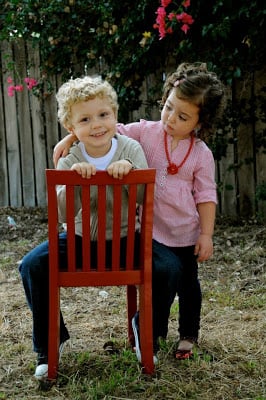 Thank you for taking the time to read my story. National Adoption month isn't just about finding adoptive parents. It's about creating awareness for the issues that adoptees and adoptive parents alike deal with, and celebrating the families that are created through adoption.
I try to speak as openly and honestly as possible about my adoption experiences, without sharing too much of my children's stories. If you have any questions, please feel free to comment or contact me by email.
On another note, did you notice we had some family photos taken? I'll be sharing those, as well as our family Christmas card later this week!