Red White and Blue Berry Yogurt Pops
These red white and blue berry yogurt pops are what summer is all about! Not only are the pops very patriotic, but they're loaded with bright, refreshing flavors. If you're a fan of blueberry, strawberry, and lemon, you'll surely love these!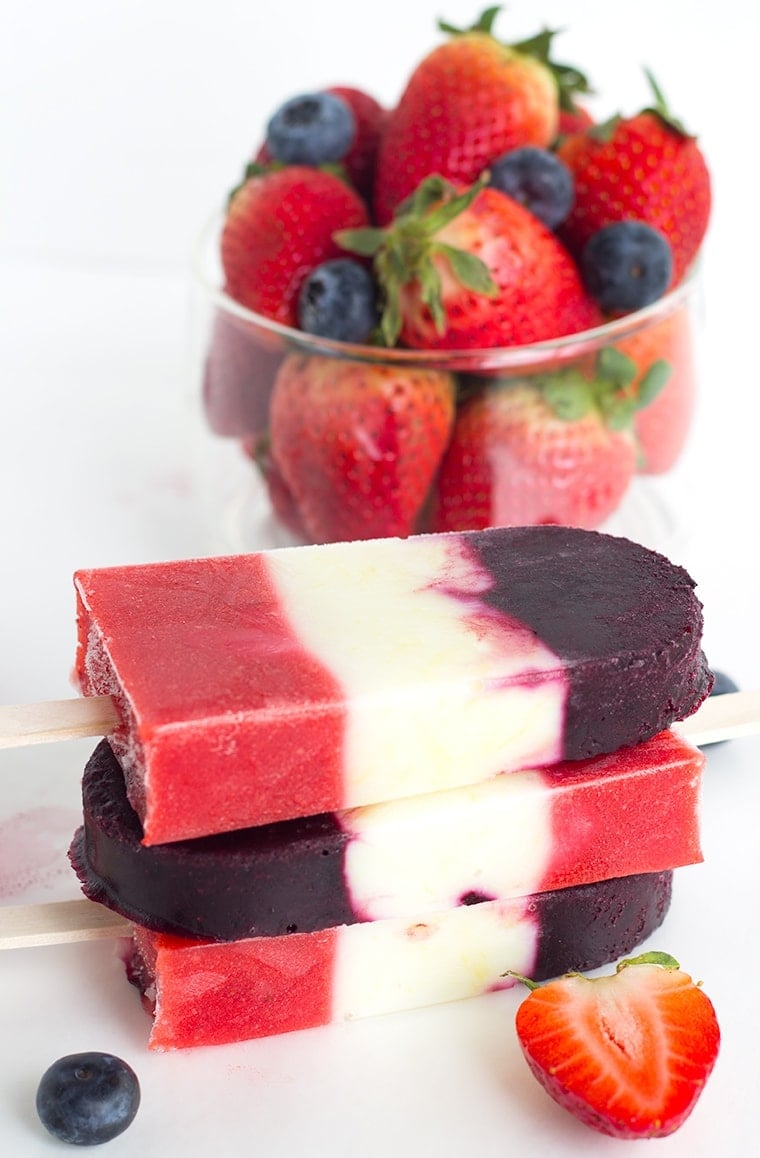 So my blue portion of the red white and blue turned out a little more purple, but you know where I was going with that. If I thought about it, I would have known that was going to happen but I was pretty dead set on having blueberries in my pops. Plus, they taste AMAZING with the lemon yogurt.
People seem to go crazy for my raspberry lemonade yogurt popsicles that I made a few years ago. I'm hoping these pops will do equally as well. They're simple to throw together. It literally took me about 20 minutes to have together and into the freezer to set up last night. Not bad, right?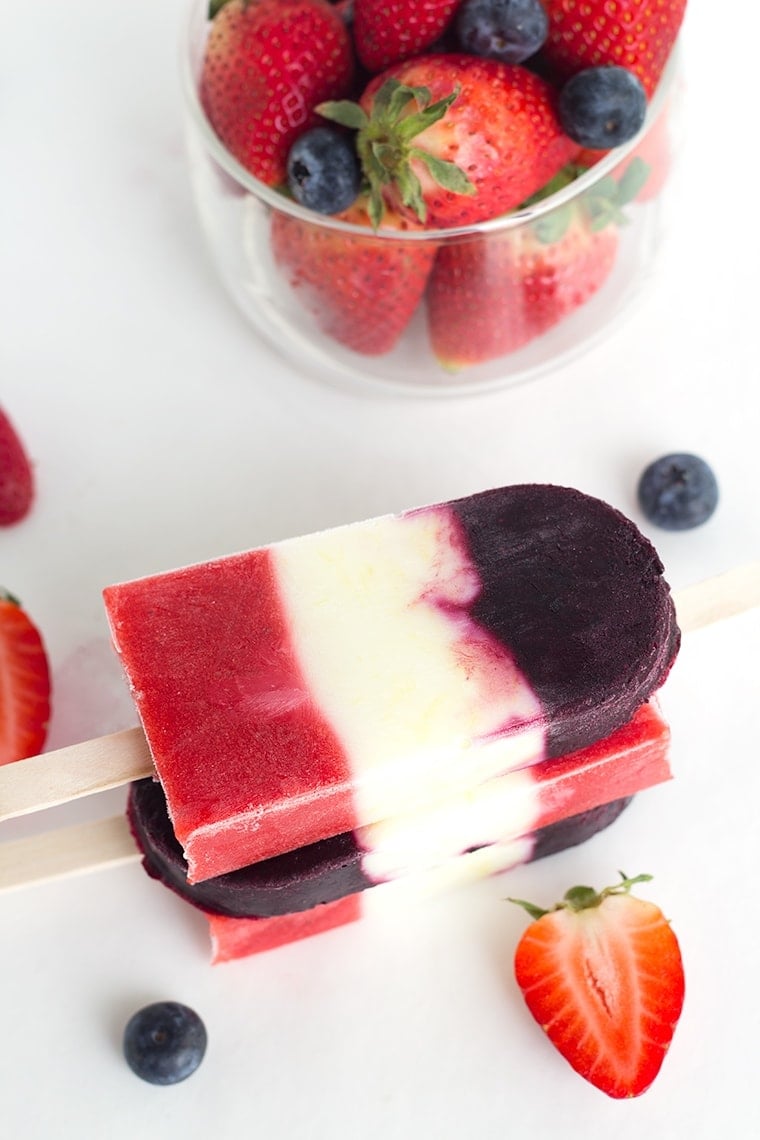 Another thing I should touch base on is the popsicle mold. The one that I went with has 4 cavities in it. I didn't like the plastic stick tops, so I wrapped the top of the mold tightly with tin foil. I cut small holes into the center of each cavity and placed a popsicle stick in.
I personally just prefer the look of a wooden stick in the photos. If I wasn't taking photos and sharing this recipe with all of you, I would have just used the plastic tops.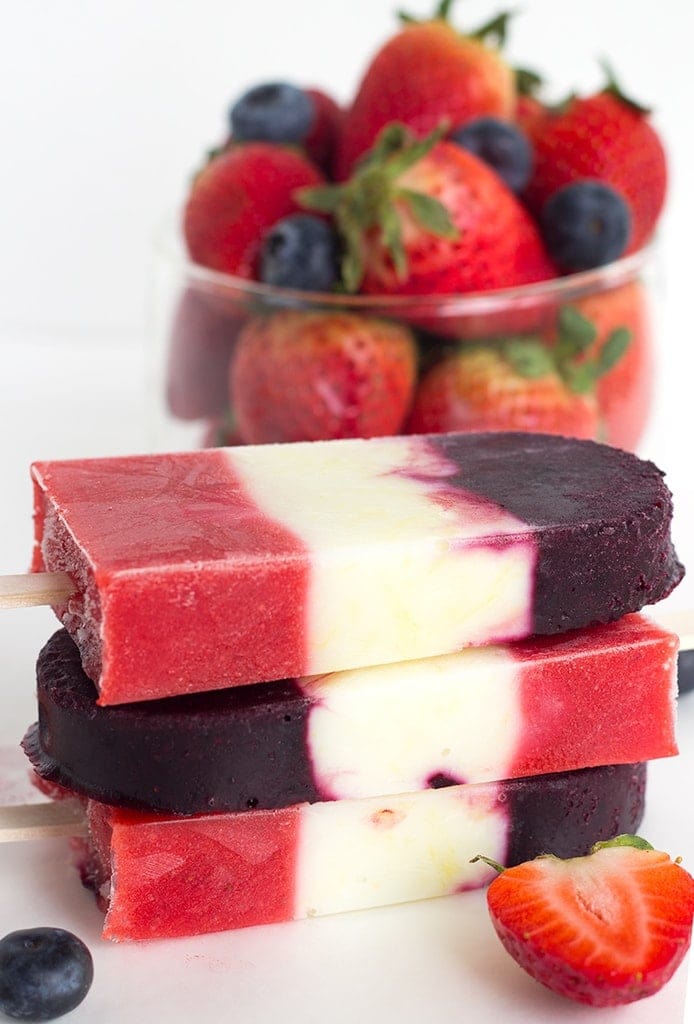 Another thing that I like about these pops is that they don't need to be made with fresh berries. It's always awesome if you can get your hands on fresh, perfectly ripe berries, but that's not always the case. For other times, just grab a bag of frozen berries to use.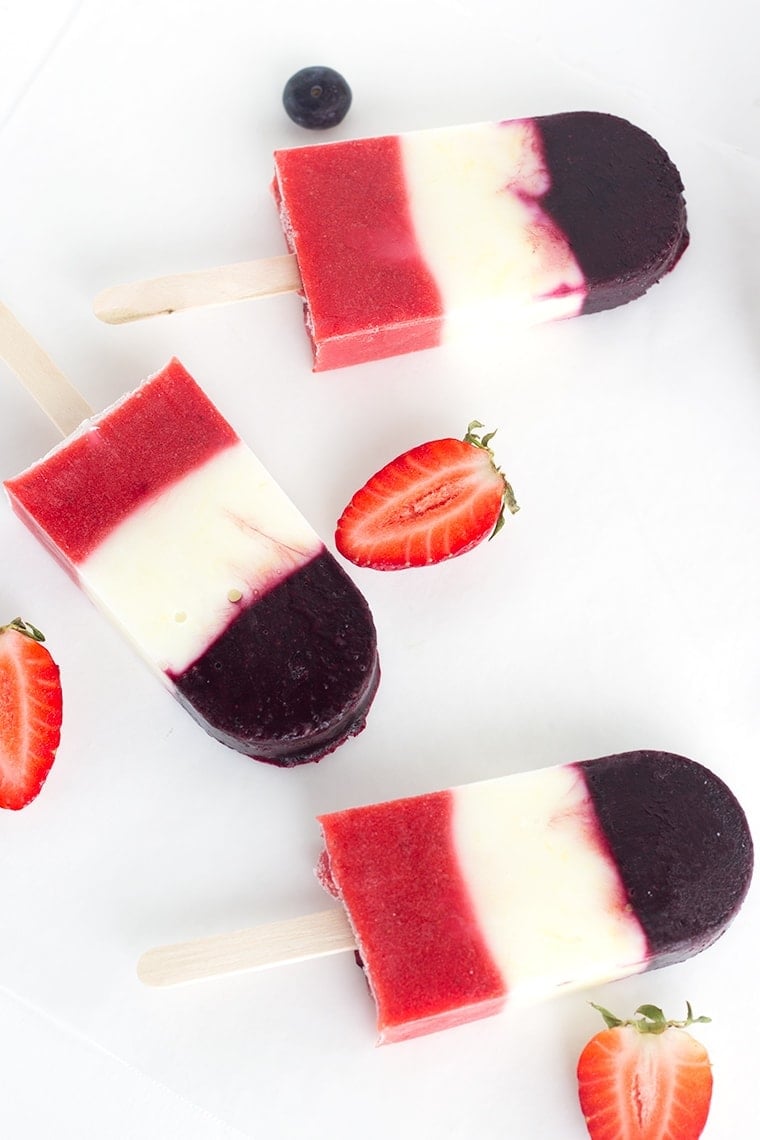 Popsicles are so easy to make and you can customize them with any flavor. I think my very favorite recipes are these boozy sweet peach tea popsicles or maybe these boozy caramel coffee popsicles. I can't decide.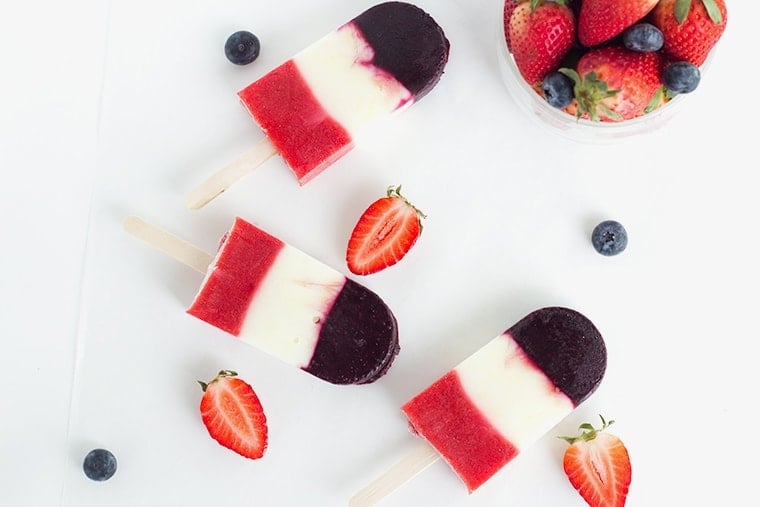 If you've made this recipe, please come back and leave us a star rating or a comment below. Or, tag us on social media @yellowblissroad or #yellowblissroad for a chance to be featured.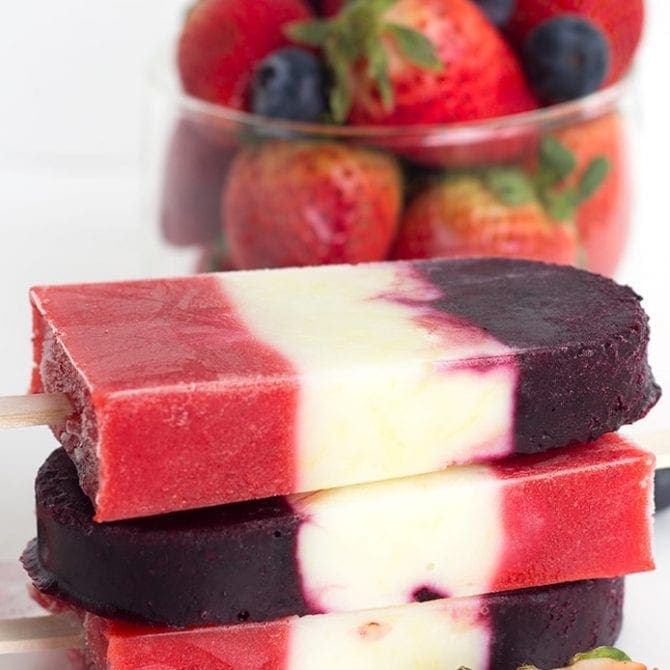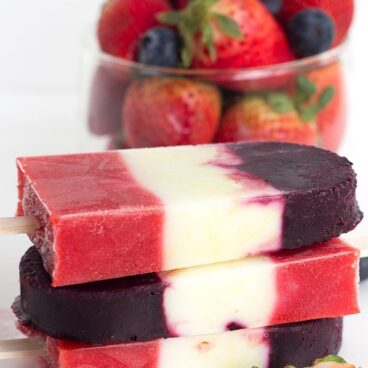 Red White and Blue Berry Yogurt Pops
Ingredients
3/4

cup

blueberries

2

T.

granulated sugar

divided

6

oz.

lemon yogurt

zest of 1 lemon

3/4

cup

strawberries

diced
Instructions
Have a 4 cavity mold on hand to fill.

In a small saucepan, add in the blueberries and 1 tablespoon of sugar. Let it cook on medium heat for five minutes. Stir occasionally and use the back of your wooden spoon to smash the blueberries a little.

Remove from the heat and place into a blender or food processor. Blend until smooth.

Pour about 1 ½ to 2 tablespoons of blueberry puree into each of the popsicle cavities.

Place into the freezer for about 10 minutes. Meanwhile work on the other two layers.

In a sandwich bag, add in the yogurt and lemon zest. Remove any air from the bag and close it up. Work the zest into the yogurt by pinching the bag and moving the yogurt around.

Add the diced strawberries and the remaining 1 tablespoon of sugar into the saucepan. I rinsed out the small saucepan from earlier and used that. Let cook over medium heat for five minutes. Stir occasionally.

Rinse out the blender/food processor and add in the strawberry mixture. Blend until smooth. Set aside.

Cut the corner out of the bag. Pipe the yogurt on top of the chilled layer of blueberry puree. Try to divide the yogurt up evenly. Tap the mold on the counter to even out the yogurt.

Spoon 1 ½ to 2 tablespoons of the strawberry puree into each cavity to top them off. Add your sticks in.

Freeze overnight or until firmly set.

Run the bottom of the mold under warm water for a few seconds to help unmold the pops.

Pull the pops out. Eat immediately or place in a freezer bag and store in the freezer until ready.
For more delicious summer treats, try these: