My Hibachi Chicken and Vegetables recipe rivals the food you get at any Japanese restaurant. It's got tender chunks of chicken and veggies cooked in a simple, savory sauce and is served with a copycat Benihana magic mustard sauce.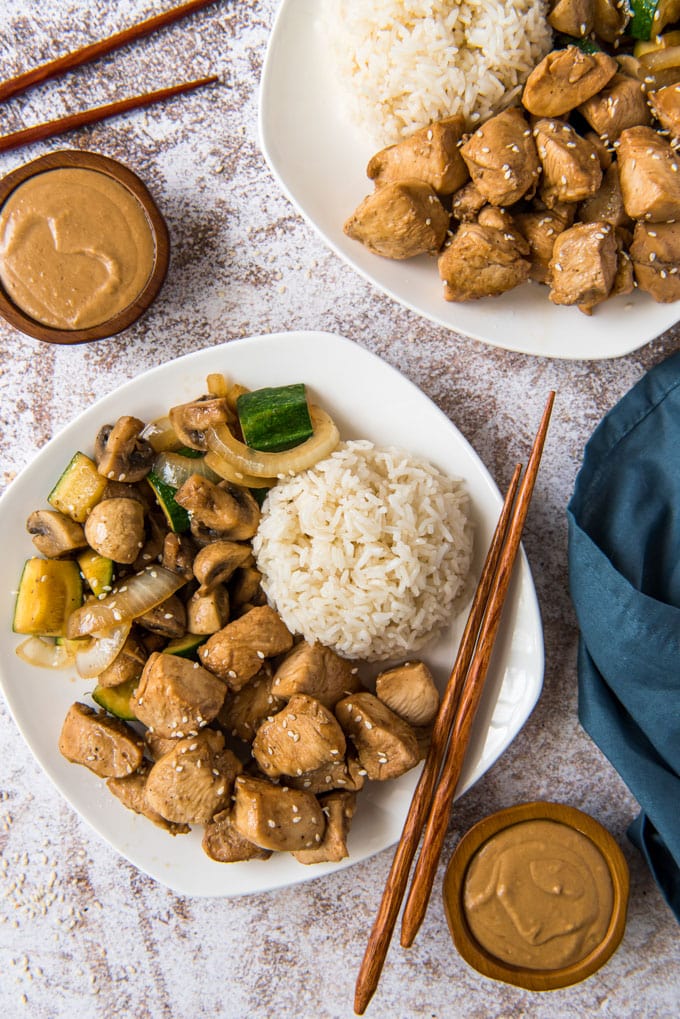 For this meal you can go low carb by serving it as is, or you can make a full meal and add some steamed white or brown rice or my quick and easy (and super tasty) Fried Rice on the side. Leftovers are great for meal prep and delicious either straight out of the fridge or warmed up over rice.
You really haven't lived until you've experienced Teppanyaki style dining, where the chef prepares your food entirely on a griddle in the middle of the table. He usually puts on a pretty cool show, too. One of the most popular and well known places of course is Benihana Japanese Steakhouse, and I have no shame in saying that is exactly how I learned to make my fried rice recipe and this Hibachi Chicken. It's actually pretty easy to cook. Since you are cooking over high heat, you need to move quickly to prep is key to the success of this recipe.
A wok (or 2) is the recommended cooking vessel, but this style of cooking can easily be done in a regular 10 or 12-inch skillet with high sides. I used this all-purpose pan for cooking my fried rice and hibachi chicken.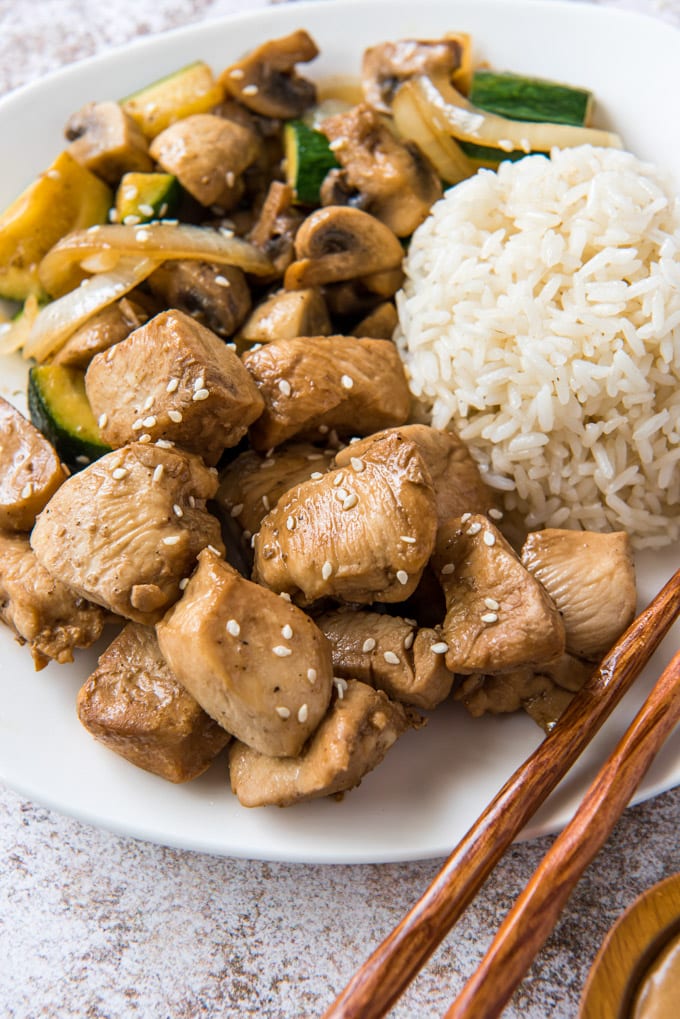 What is Hibachi Style Cooking?
Hibachi Style cooking is when meat, vegetables and seafood are cooked on a flat, stainless steel surface over a high heat source. There is typically charcoal beneath that heats the griddle, but since not many of us have charcoal stoves at home, gas burners are perfectly acceptable.
What seasoning do hibachi chefs use?
The main component you'll find hibachi chefs using to flavor the meat and veggies is garlic. Soy sauce, sesame oil, sesame seeds and ginger can also be used, depending on what they're cooking.
What flavor is hibachi?
Traditional hibachi has lots of garlic, which has a pungent flavor that really elevates the food. This method doesn't add a ton of seasonings to the food, but rather is a quick cooking method that really lets the flavor of the meat and vegetables shine.
How do you make hibachi flavors at home?
It's easy to get these flavors at home following the quick cook method I'll outline below. The key is using high heat and fast cooking to lock in flavor and juiciness without compromising the integrity of the food.
How to Make Hibachi Chicken and Vegetables
The cooking process itself is quite simple. Cook the chicken and the vegetables in two separate skillets. This can be done simultaneously, but you have to move quickly so prepping everything is the most important step. Cut your chicken, chop your veggies and prepare the sauces and garlic butter before hand. I also recommend preparing the magic mustard sauce first, before you start to prep anything else. You're going to need a few bowls and measuring cups.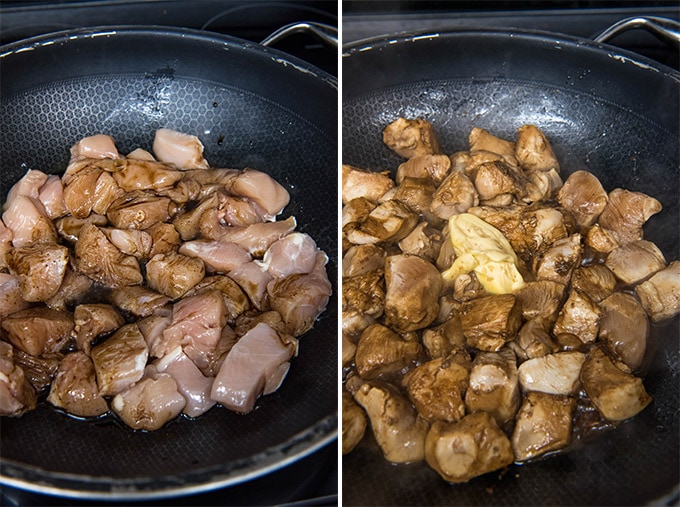 Hibachi Chicken
Cook chunks of chicken in olive oil in a large pan over high heat with soy sauce and lemon juice. You may need to do this in batches so the chicken isn't crowded in the pan – y0u want a little bit of space around each piece so they have can get a nice sear. Having too much chicken in the pan will just cause it to steam, which is fine taste-wise, but you won't get that nice golden color you'd expect.
Add half of the garlic butter to the pan and stir it around to coat the hibachi chicken as it melts. After another few minutes the chicken should be cooked through but you can test with a digital meat thermometer.
If cooking the vegetables in the same pan, transfer the chicken to a plate and cover with foil to keep warm. If you have 2 large pans, you can cook the veggies at the same time as the chicken.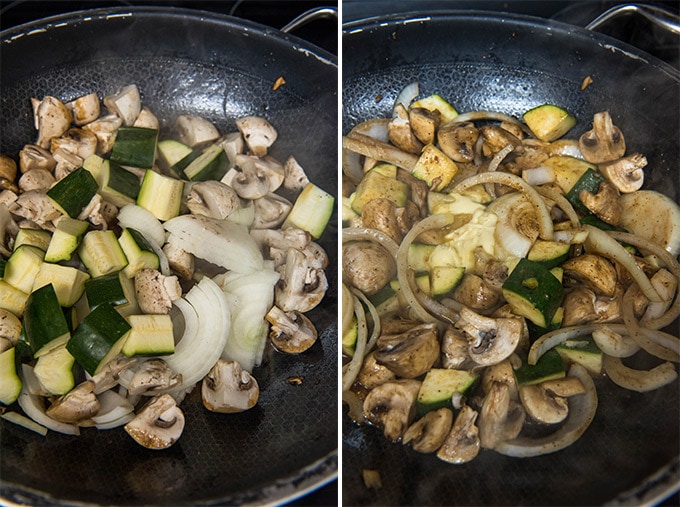 Hibachi Vegetables
Melt a tablespoon of oil in the pan, then add the veggies. Since the hibachi vegetables will shrink as they cook, you can fill the whole pan, gently stirring every couple of minutes to sear about half of them and steam the rest.
Melt the garlic butter in the pan and stir to coat the veggies during the last minute or so of cooking time. Add a squeeze of lemon juice over the veggies for added flavor.
Benihana Magic Mustard Sauce Copycat
If you've ever been to Benihana you've dipped your hibachi chicken and veggies in their magic mustard sauce, also known in other places as yum yum sauce. In fact, I pour the remaining sauce over my leftovers I love it so much. Making the sauce is an optional step, but highly recommended.
Mix together heavy cream, dry mustard, honey, sesame seeds, soy sauce and finely minced garlic. I highly recommend using a blender to puree the seeds and garlic and emulsify the sauce.
My son is allergic to sesame seeds, so while I've made this both ways, I usually make it without the seeds. It's delicious either way.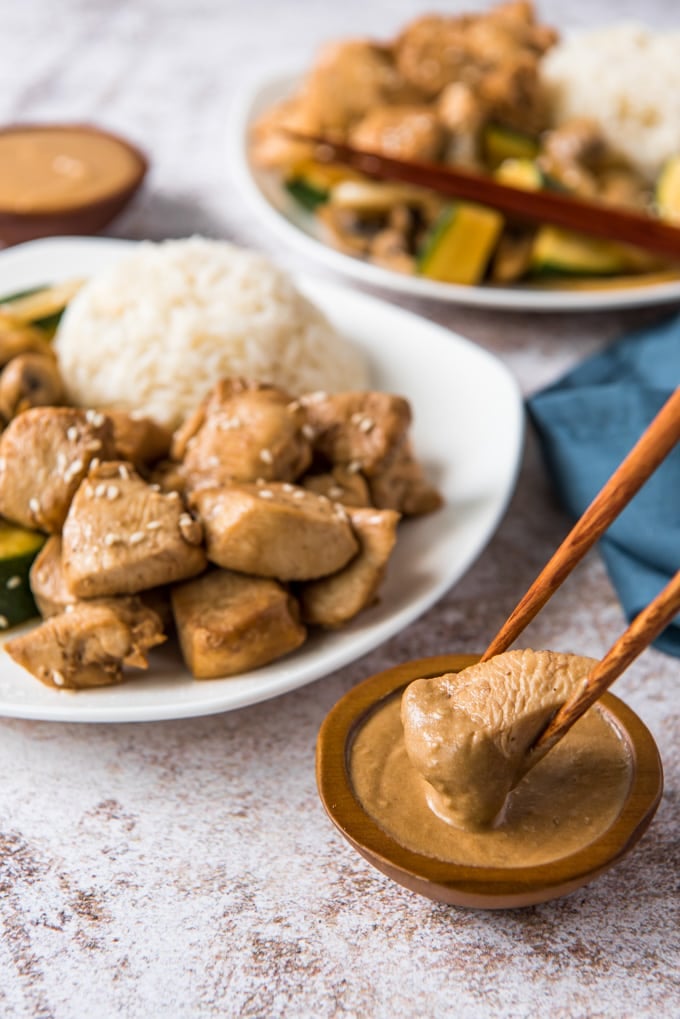 Hibachi Chicken and Vegetables Recipe Notes
PREP. I can't stress this enough! Gather, chop and measure all of your ingredients, mix sauces, gather utensils and pans, and even foil. I recommend this any time you're cooking to make things go smoothly in the kitchen, but especially when making hibachi chicken. Because of the high heat the cooking process goes quickly and an extra minutes or 2 on the fire could spell dried out disaster for your juicy hibachi chicken.
Try to cut the chicken pieces all the same size, or as close to that as possible. 1-2 inch chunks are a good size.
Cook the vegetables and the chicken in separate pans at the same time. This will speed up your time spent at the stove. If your veggies start to scorch, turn down the heat until you're able to give them a good stir.
Serve with fried rice for the real Teppanyaki experience.
Great for meal prep! Place chicken and veggies in airtight containers and store in the fridge for up to 4-5 days. Reheat on the stove or in the microwave, or enjoy cold!
Freeze hibachi chicken and vegetables in an airtight freezer container for up to 4 months. Thaw in the fridge and reheat on the stove or microwave.
Serving Suggestions
I highly recommend serving your hibachi chicken and vegetables with fried rice. You can make the rice first and keep it warm in the oven. The rice only takes about 15 minutes but it's best to use already cooked rice that's been chilled for at least 3-4 hours.
Steamed white or brown rice is also acceptable.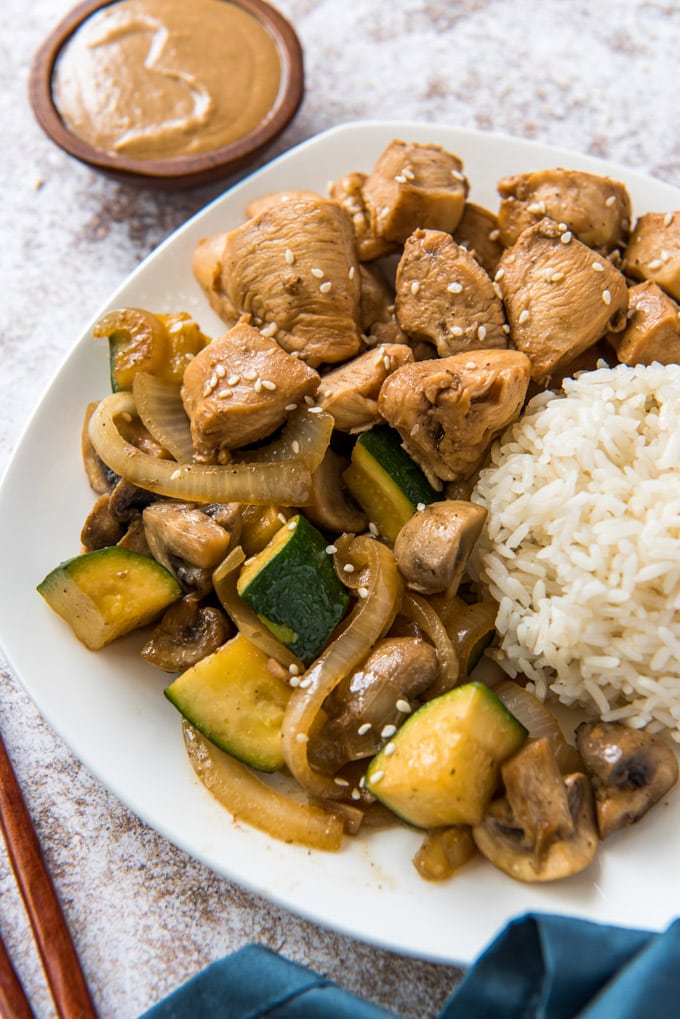 More Asian Inspired Recipes
Recipe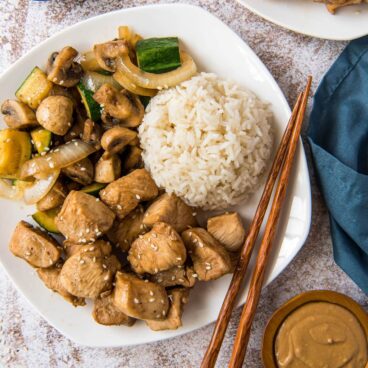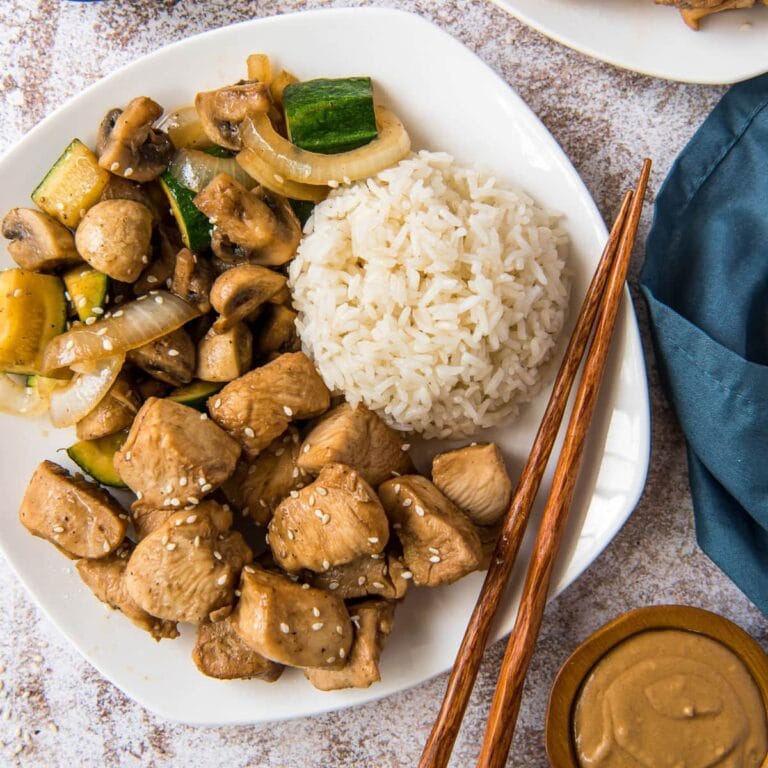 Hibachi Chicken and Vegetables
Making Hibachi Chicken & Vegetables at home rivals any Japanese restaurant. Chicken and veggies served with rice and a magic mustard sauce is always a winner!
Ingredients
Chicken:
2

tablespoons

Vegetable or Canola oil

2

pounds

chicken breast

cut into 2-inch pieces

3

tablespoons

low sodium soy sauce

2

teaspoons

fresh lemon juice

Pinch

of salt and pepper

2

tablespoons

garlic butter

recipe below
Vegetables:
2

tablespoons

Vegetable or Canola oil

1

large zucchini large

quartered and cut into large chunks

1

large white onion

cut in half, then into slices

2

cups

white mushrooms quartered

Pinch

salt and pepper

2

tablespoons

garlic butter

recipe below
Garlic butter:
2

teaspoons

finely minced garlic

4

tablespoons

butter

softened
Magic Mustard Sauce (optional):
2

tablespoons

dry mustard

1 1/2

tablespoons

honey

1/2

cup

heavy cream or half & half

1

tablespoon

hot water

1

tablespoon

sesame seeds

preferably lightly toasted

1/4

cup

soy sauce

1

garlic clove
Instructions
Make the garlic butter: Combine finely minced garlic and softened butter in a small bowl. Set aside until ready to use.

Make the magic mustard sauce (optional): Place all ingredients in a blender and pulse until all ingredients are broken down and well blended. (Optional: toast the sesame seeds in the oven first).
Hibachi Chicken
Heat 2 tablespoons of oil in a large skillet or wok over medium-high heat. Add chicken, 3 tablespoons soy sauce, lemon juice, salt and pepper to the pan. Cook 3-4 minutes without stirring.

Add half of the garlic butter, stir the chicken as the butter melts. Cook for an additional 2-3 minutes without stirring or until chicken is cooked through and no longer pink.

If cooking vegetables in the same pan, transfer chicken to a plate and cover with foil. Otherwise, leave chicken in the pan for serving.
Hibachi Vegetables
Add another tablespoon of oil to the pan. Add onion, zucchini and mushrooms, and season with salt and pepper. Cook vegetables until fork tender, stirring occasionally; about 3-4 minutes. Add garlic butter during the last minute and stir to coat veggies as it melts.

Serve immediately over rice (optional) with mustard sauce on the side for dipping.
Notes
Note - This recipe moves quickly. I recommend preparing everything, including sauces, foil and utensils, before you start to cook.
Serve with steamed white or brown rice, or fried rice for a complete meal.
Leftovers are great for meal prep and even delicious straight out of the fridge.
I did not include the Magic Mustard Sauce in the nutritional guide because it's optional. A serving of the sauce would add around an additional 100 calories per serving.
Nutrition
Calories:
240
kcal
Carbohydrates:
5
g
Protein:
2
g
Fat:
25
g
Saturated Fat:
17
g
Cholesterol:
40
mg
Sodium:
405
mg
Potassium:
228
mg
Fiber:
1
g
Sugar:
2
g
Vitamin A:
532
IU
Vitamin C:
9
mg
Calcium:
13
mg
Iron:
1
mg