This Easy No Bake Cheesecake with White Chocolate and Peppermint is perfect for Christmas! The cheesecake mousse is so fluffy and creamy and there's no baking involved. Plus, you can stuff it with peppermint crunch chips for a delicious surprise and crunch!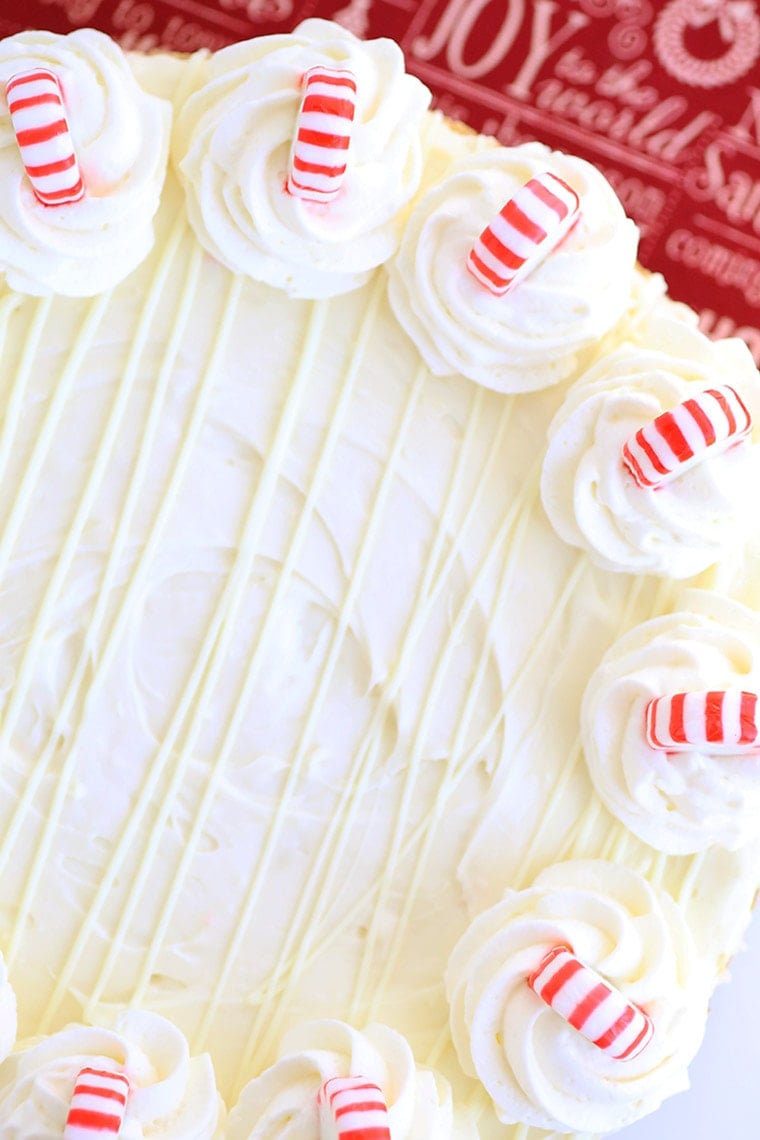 Cheesecakes are one of my desserts to make. Cookies are up there too. It doesn't matter if they're baked or not. You can literally add so many different flavors into cheesecake. I have a cookie butter cheesecake on my blog that is probably my all-time favorite with the triple chocolate cheesecake coming in close behind.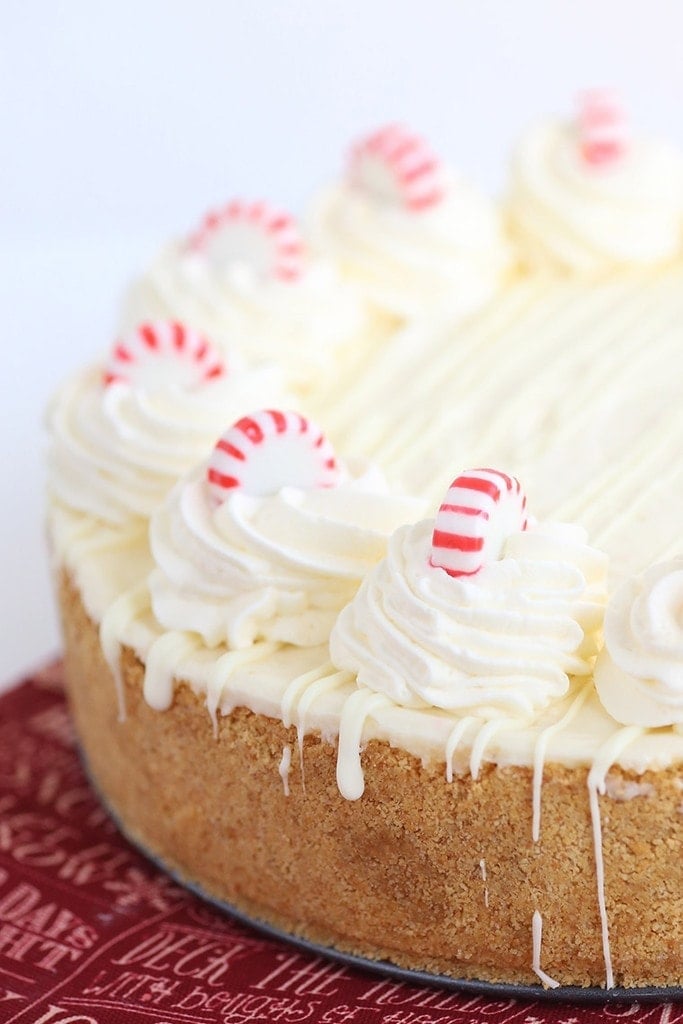 HOW TO MAKE NO BAKE PEPPERMINT CHEESECAKE
This easy no bake cheesecake recipe is different than those though. It's NO BAKE! That means you don't have to worry about it taking up that precious oven time this Christmas. We all know how important it is to be baking cookies all December. Or maybe that's just me…
I added a white chocolate drizzle to the top of the cheesecake. I'm thinking that it would look really pretty with some red candy melts that you can get from most stores and just melt that to drizzle on top. The chocolate does harden because no heavy cream has been added to it. I really like the crunch of the cold chocolate. It's similar to biting into a chocolate covered ice cream cone.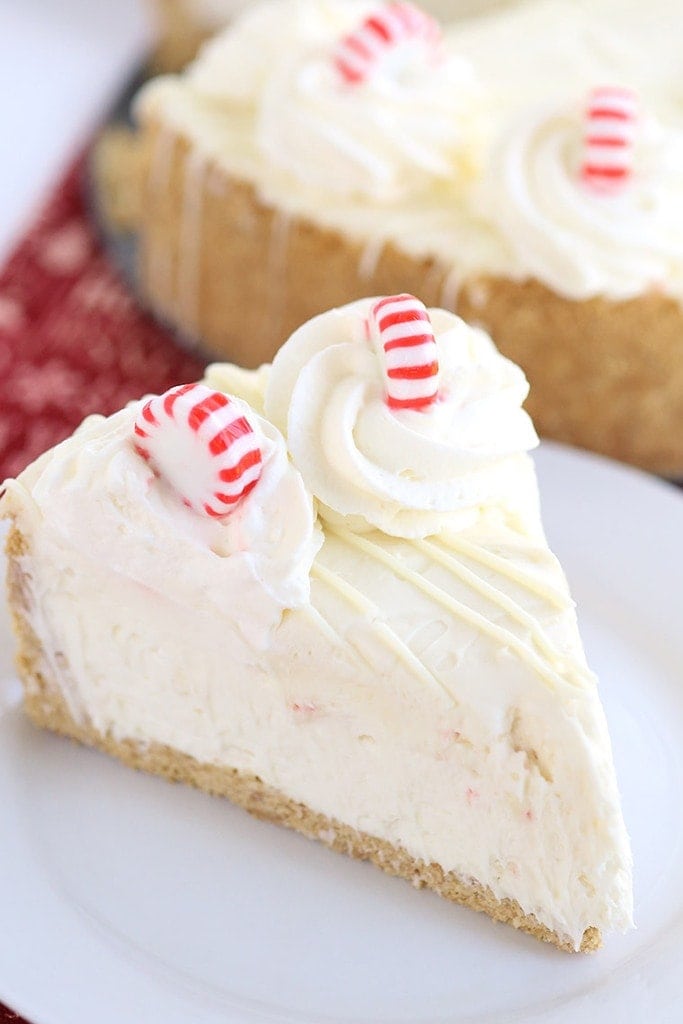 TIPS FOR MAKING PEPPERMINT NO BAKE CHEESECAKE:
Another thing that I think would be good to cover is why I have the crust up the sides of the cheesecake. You can either have the crust going up the sides to keep it tidy when you remove the springform pan or you can use a torch and heat up the sides to help the cheesecake release. Of course you can just open up the springform pan and hope for the best, that's totally up to you.
One more thing. Those peppermint candies on top are so cute, right? Add those just before serving the cheesecake. They will start seeping their beautiful red stripes into the whipped cream after being stored in the fridge for a while. Trust me, I know from experience.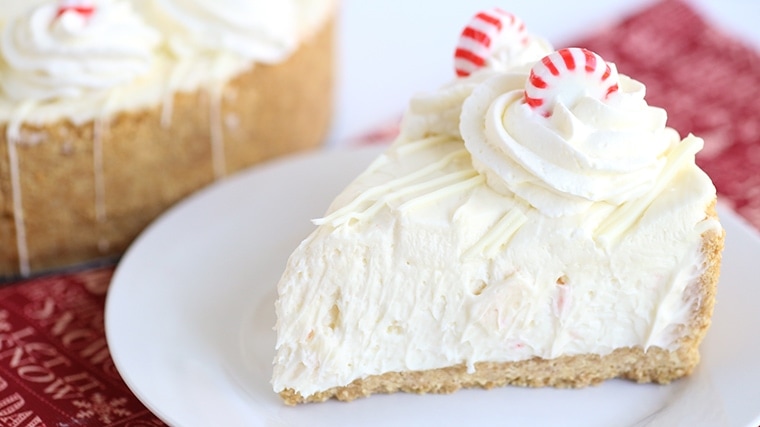 How to make No Bake Cheesecake: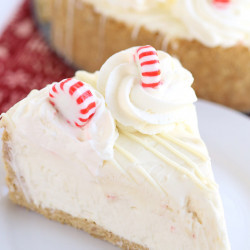 No Bake White Chocolate Peppermint Cheesecake
This delicious, yet simple no bake white chocolate peppermint cheesecake is perfect for the holidays. The cheesecake mousse is creamy and quite fluffy. There are peppermint chunks folded into the cheesecake and it's topped with a white chocolate drizzle, whipped cream, and peppermint candies. 
Ingredients
Crust
2 1/2 cups graham cracker crumbs
1/2 cup butter melted
2 T. granulated sugar
Cheesecake
1 3/4 cups heavy cream
2 8 oz. bricks cream cheese, room temperature
1 1/2 cups granulated sugar
8 oz. white baking chocolate melted
1 tsp. peppermint extract
1 tsp. vanilla extract
1 cup peppermint chips/chunks
Topping
2 T. white chocolate melted
1 cup heavy cream
2 T. powdered sugar
12 peppermint candies
Instructions
Crust
In a mixing bowl, add in the graham crackers, butter, and sugar. Stir until the butter has coated all the graham crackers.

Press the cracker crumbs into a 9.5 inch spring form pan. Press it up the sides of the pan as well as on the bottom. Set aside.
Cheesecake
Place the heavy cream in a large mixing bowl. Using a hand mixer, beat until stiff peaks form. Set aside.

In a separate mixing bowl, add in the cream cheese and sugar. Mix until incorporated. Scrape down the sides and give it an additional mix.

In a small microwave-safe bowl, add the white baking chocolate. Microwave for 30 seconds and stir. Repeat microwaving for 30 seconds and stirring until the chocolate is melted.

Add in the melted white chocolate, peppermint extract, and vanilla extract and mix until combined.

Stir in the chopped peppermint chips with a spatula.

Fold in the whipped cream in thirds with a spatula. Don't overmix.

Pour the cheesecake filling into the crust and smooth out with the spatula.

Place in the fridge to set up overnight.
Topping
In a microwave-safe bowl, heat the white chocolate in the microwave for 30 seconds and stir. Repeat until melted.

Place in a sandwich bag and press out all the air in the bag. Cut a small hole in the corner.

Drizzle the white chocolate over the top of the cheesecake.

Place the heavy cream and powdered sugar in a large mixing bowl. Using a hand mixer, beat until stiff peaks form. Set aside.

Place the whipped cream in a piping bag with a 1M tip. Pipe rosettes around the outer edge of the cheesecake.

Add the peppermint hard candies to each swirl of whipped cream just before serving.

Cut and serve!
Here is another of our favorite Christmas Cheesecake recipe: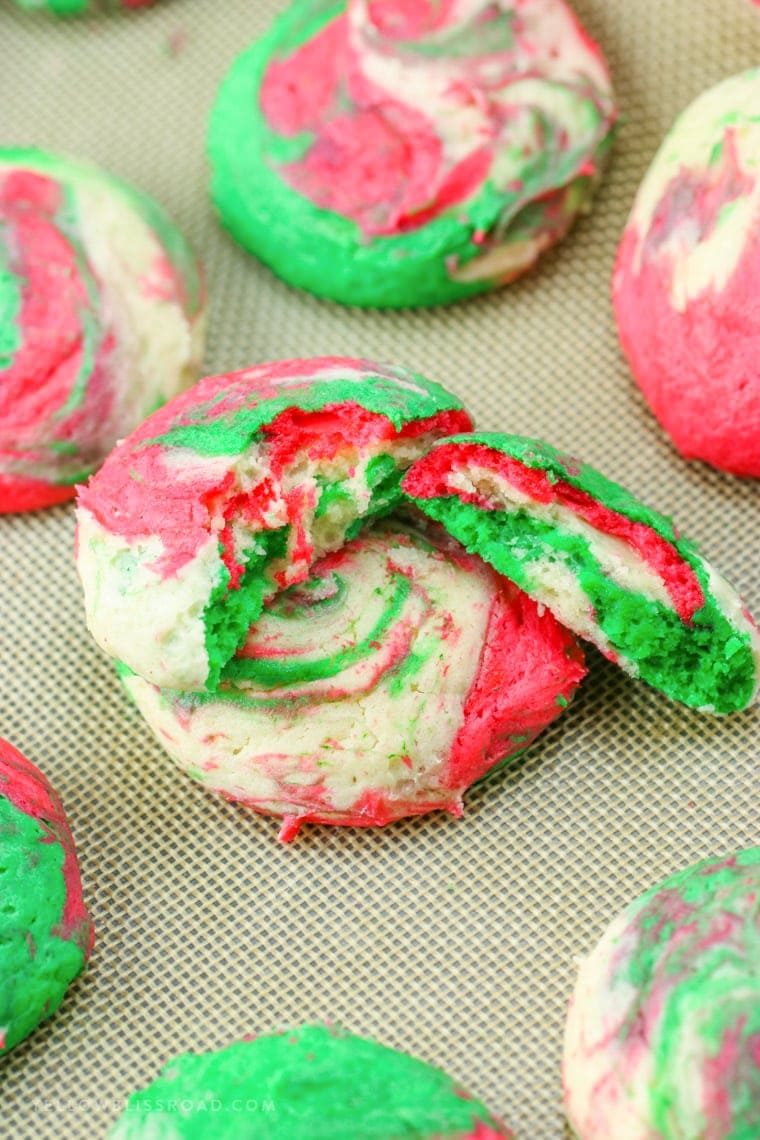 And for even more no bake cheesecake recipes, try these: