Peanut Butter Cookie and Chocolate Ice Cream Sandwiches are semi-homemade, with perfectly chewy peanut butter cookies stuffed full of a chocolate peanut butter cup ice cream will get you through any hot summer day.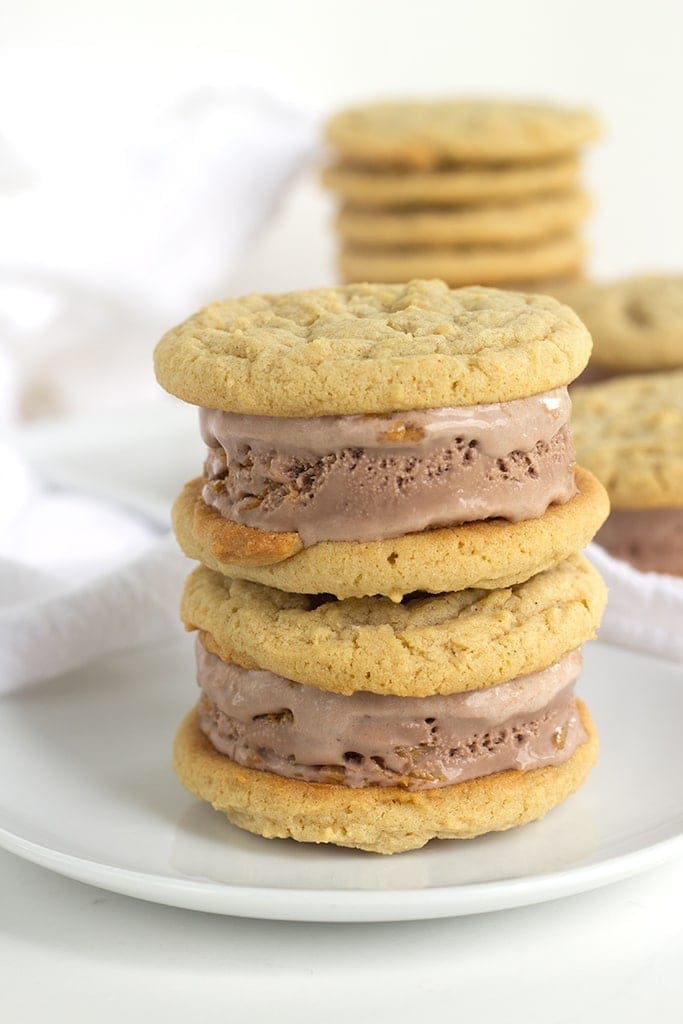 Everyone loves ice cream sandwiches! They normally come with a soft, crumbly chocolate chip cookie filled with a vanilla ice cream, but today we're going to get a little wild with our flavors. Like I said before, these are semi-homemade. I did buy the ice cream, but that cookie is from scratch.
You can also change up the cookies. If I had to give you another cookie recipe to use, I have the best chocolate chocolate chip pudding cookies that would go great with some vanilla ice cream.
I don't think people realize how simple it can be to make your own ice cream sandwiches. I'm a chocolate peanut butter fanatic, so these Peanut Butter Cookie and Chocolate Ice Cream Sandwiches are the obvious choice for me. Of course, you are open to grab up your favorite ice cream flavor or even make a unique flavor at home like this sweet tea ice cream recipe!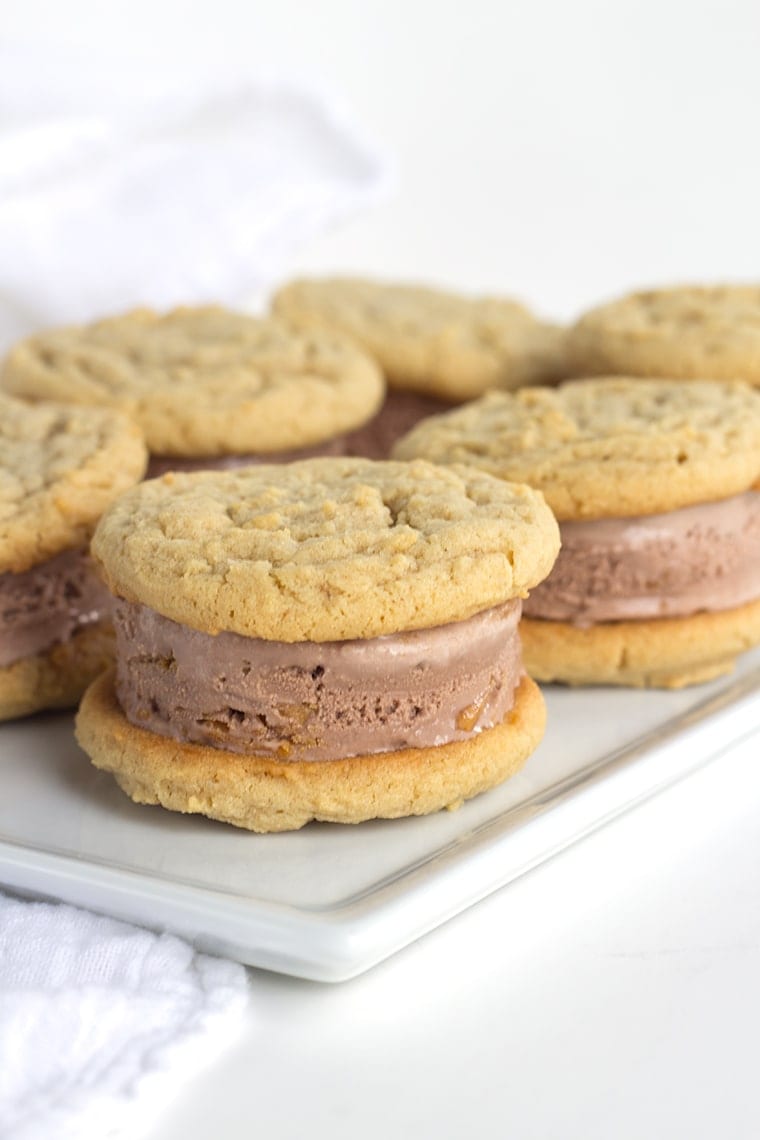 Pro Tip! To get those perfectly flat rounds of ice cream, soften your ice cream and spread it out on a 11×7″ rectangle pan until it's an inch or less thick. I lined my pan with wax paper before spreading out the ice cream and then added another piece of wax paper on top and pressed until the ice cream was evenly distributed. Refreeze the ice cream for about 2 hours which is the perfect time to get those freshly baked cookies all made up and with time to cool off. Finally, use a large round cookie cutter or biscuit cutter to cur perfect circles of ice cream to sandwich between fresh cookies! (aff link)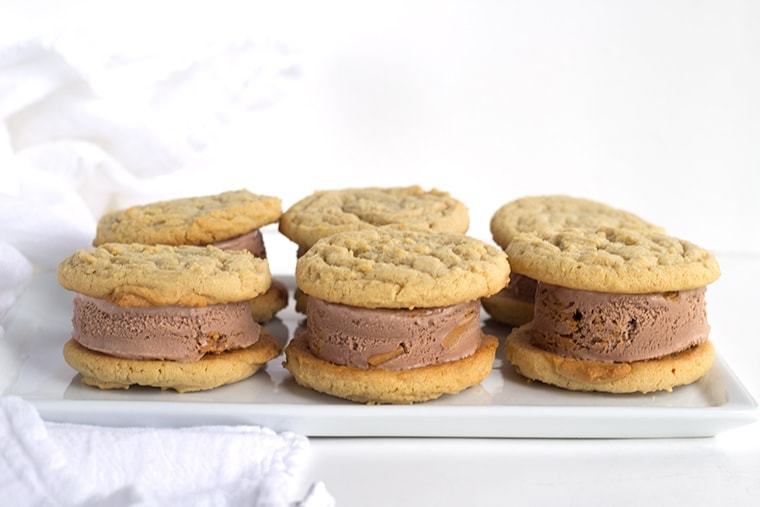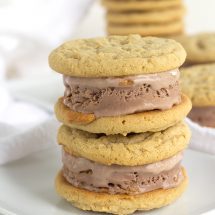 Peanut Butter Cookie and Chocolate Ice Cream Sandwiches
These Peanut Butter Cookie and Chocolate Ice Cream Sandwiches have a chewy peanut butter cookie stuffed with a chocolate peanut butter cup ice cream and they're perfect for any summer day!
Print
Pin
Rate
Ingredients
1/2 cup unsalted butter softened
3/4 cup smooth peanut butter
3/4 cup light brown sugar packed
3/4 cup granulated sugar
2 eggs
2 teaspoons vanilla extract
1 3/4 cup all-purpose flour
1/2 teaspoon baking powder
1/2 teaspoon  baking soda
1/2 teaspoon salt
1.5 quarts chocolate peanut butter cup ice cream
Instructions
Let ice cream sit out at room temperature for 20 minutes. 

Line an 11 x 7 pan with wax paper. Add all of the ice cream into the pan.

Add another piece of wax paper on top of the ice cream. Using your hands, spread ice cream in the pan making sure it's evenly distributed and about 1 inch thick.

Remove top layer of wax paper and place in the freezer for about 2 hours to firm the ice cream up.

Preheat oven to 350 degrees. Line a cookie sheet with parchment paper.

In a large mixing bowl, cream together the butter, peanut butter, and both sugars. 

Beat in eggs and vanilla extract until incorporated.

In a separate bowl, sift in flour, baking powder, baking soda, and salt. 

Beat the flour into the wet ingredients just until the flour is worked in. 

Using a medium cookie scoop, scoop cookie dough onto the prepared baking sheet.

Bake the cookies for 11 minutes until the edges are golden brown.

Let the cookies cool for 5 minutes on baking sheet then transfer to cooling rack.

Once the cookies are cooled, grab the ice cream from the freezer. 

Using a cookie cutter that is slightly smaller than your cookie, cut the ice cream rounds out and place in the cookies.  My cookie cutter was a 2 1/4 inches.

Store cookies in the freezer until ready to serve!
Love these Peanut Butter Cookie and Chocolate Ice Cream Sandwiches? Here are some more easy summer treats!
No Bake Peanut Butter Chocolate Cheesecake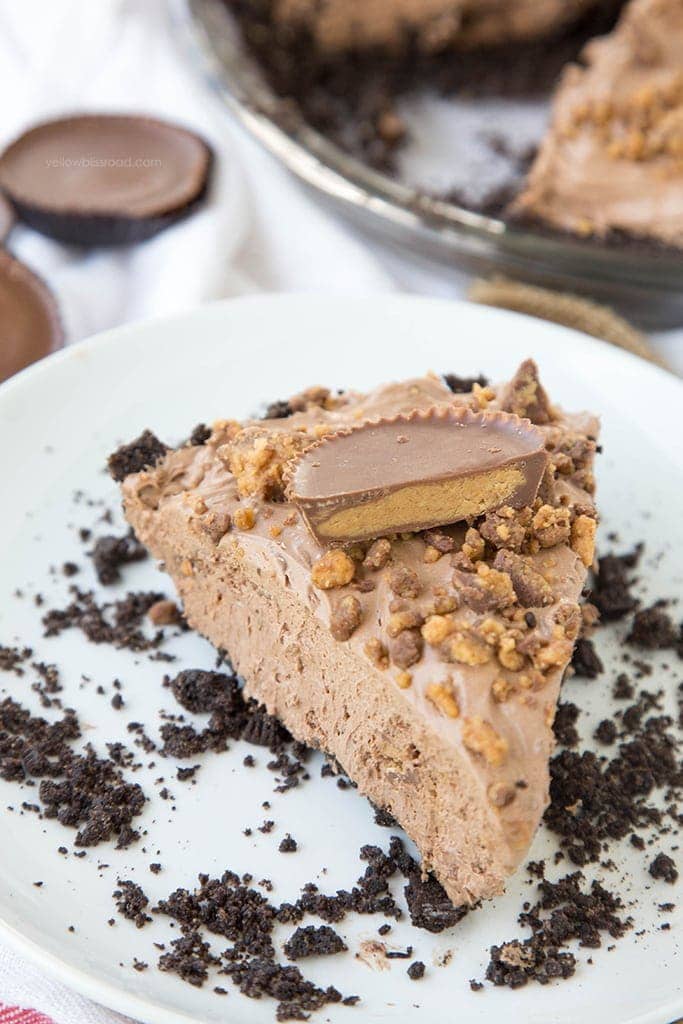 No Bake Mint Chocolate Chip Pie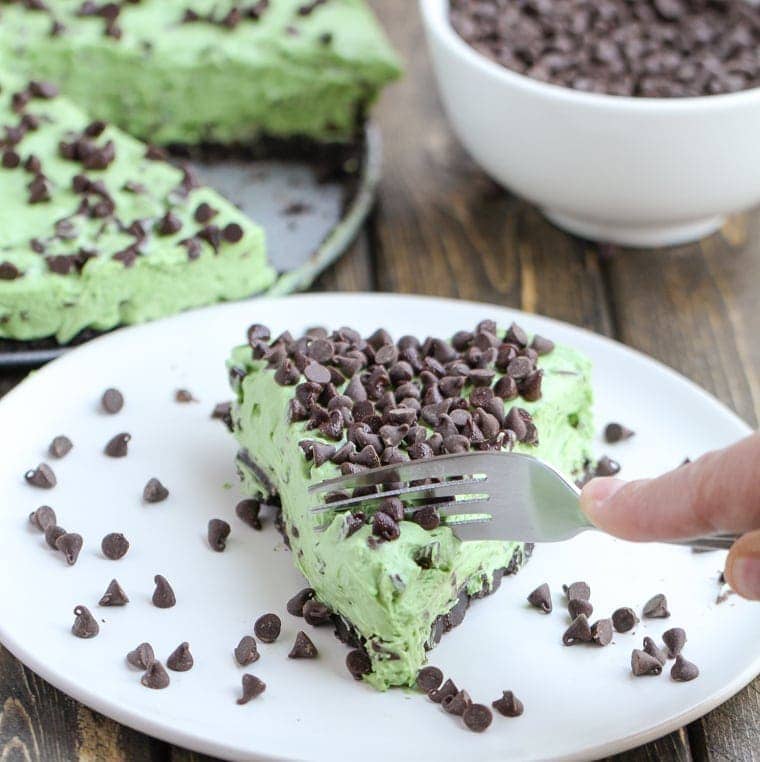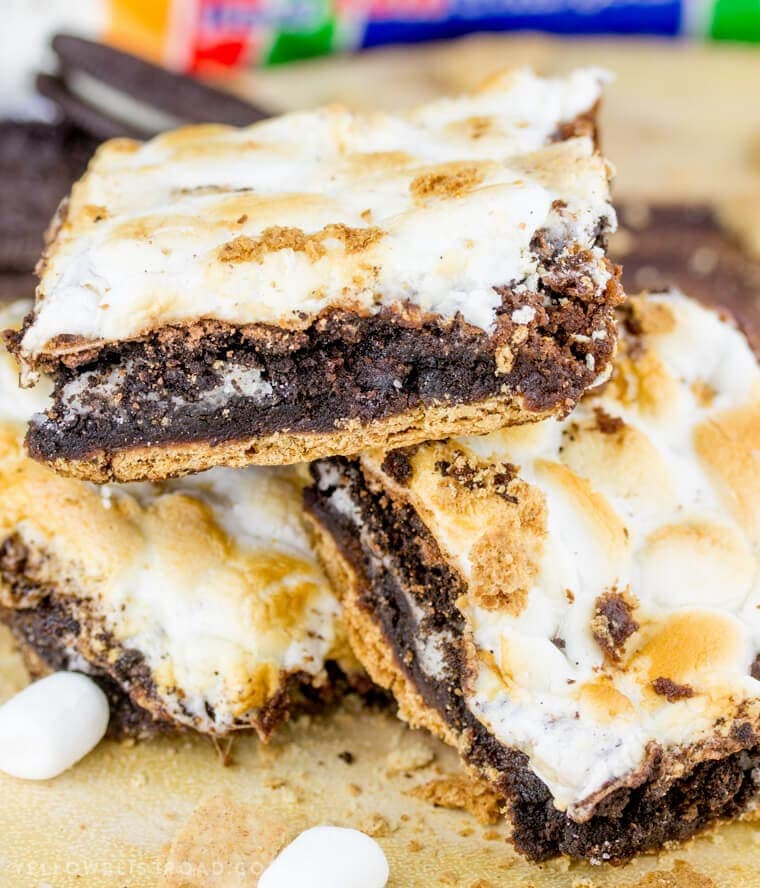 For all desserts go HERE and for all recipes go HERE.
Hi! I'm Miranda and the dessert blogger behind the blog Cookie Dough & Oven Mitt! When I'm not slinging butter and eggs, I love to hang out with my son and hubby.