Dress your kitchen up for the fall holidays with this adorable Pumpkin Pie Recipe Free Printable Chalkboard! Available in two sizes it's the perfect way to add a little fun to your fall and Thanksgiving decor.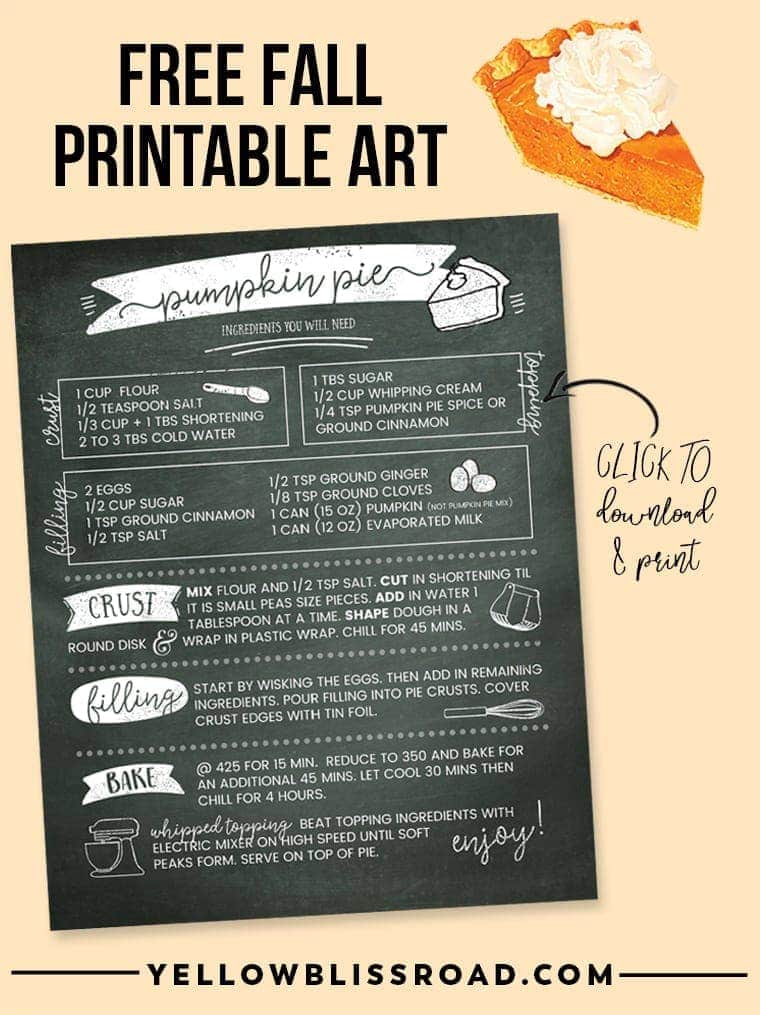 Fall is here! Fall is here!! It's my favorite time of year! (That cute rhyme was totally a happy accident).
I love fall – the days get a little shorter, there is a chill in the air when we leave for school in the morning, and the pumpkin spice lattes are readily available at Starbucks. I get to pull out my warm sweaters, cozy boots and blankets and snuggle in a little closer with the people I love.
Fall is a magical time my friends.
This Pumpkin Pie Recipe Free Printable is designed to help you celebrate fall by adding a little Thanksgiving cheer to your home.
You can download this Thanksgiving printable by clicking the links below. The pumpkin pie recipe chalkboard is available in two sizes. Just print, trim to fit your frame, and add this adorable print to your Thanksgiving decor.
Pumpkin Pie Recipe Printable 8×10″
Pumpkin Pie Recipe Printable 5×7″
Are you bringing dessert to a fall gathering? Make it a pumpkin pie and attach this printable recipe to make an adorable hostess gift! Or pick up one of those cute little pumpkin pie pumpkins and attach the recipe card to that. Great for teacher gifts, neighbors or friends.
Happy fall y'all!
* FOR PERSONAL USE ONLY. I DO NOT GIVE PERMISSION FOR MY DESIGN TO BE RECREATED OR SOLD IN ANY WAY. Please help me keep the content on this blog free!
Thanks to Kendra of Key Lime Designs for designing this gorgeous printable!