This Roasted Cherry Tomato recipe is an easy and flavorful way to use fresh summer tomatoes. Ripe cherry tomatoes are tossed with olive oil, garlic, and fresh herbs and roasted at high heat until they become sweet and flavorful.
Roasted tomatoes are delicious tossed with pasta or used as a topping for homemade sheet pan pizza or bruschetta.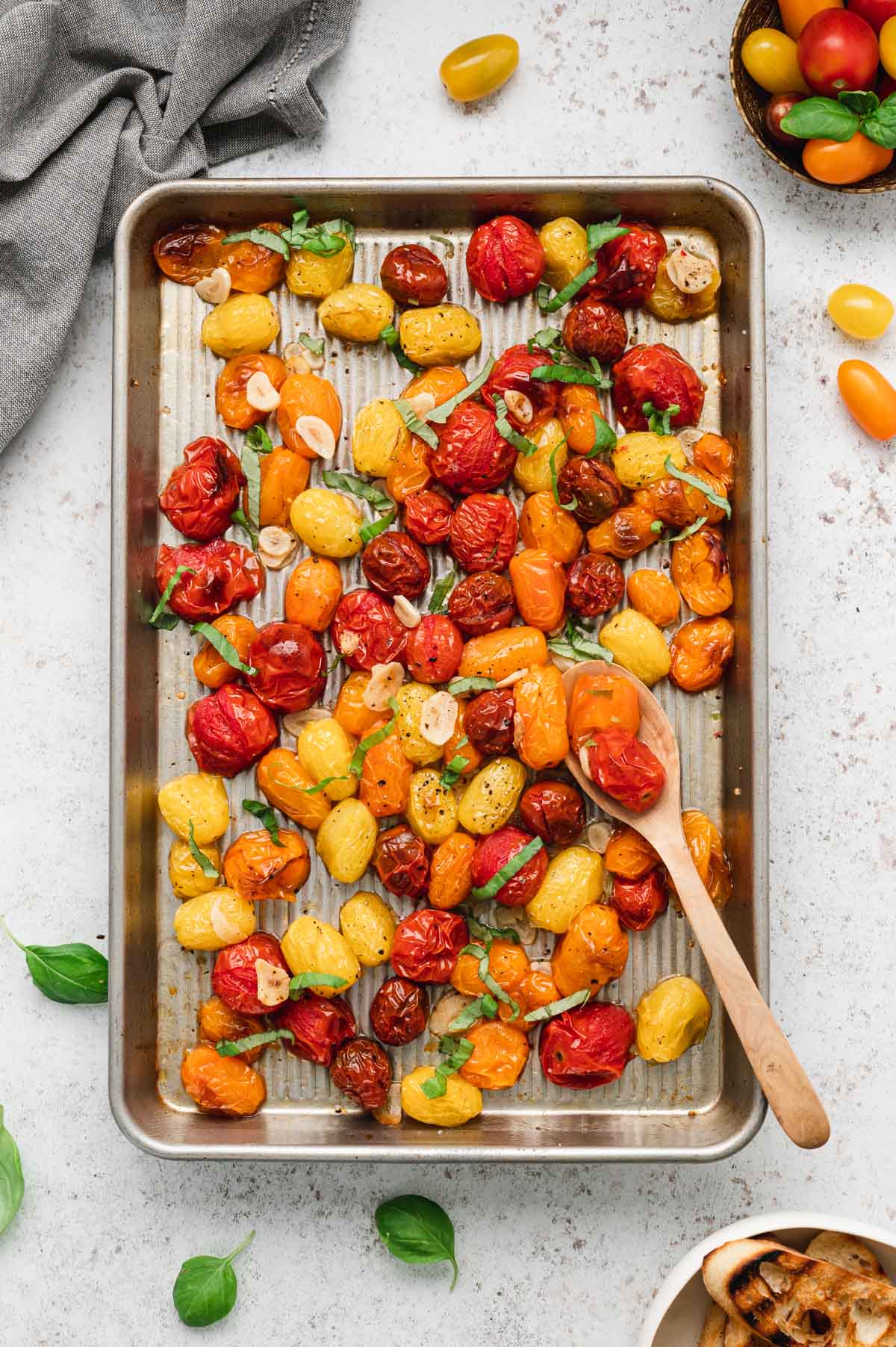 Pin this recipe for later!
Why We Love This Recipe
Perfect for summer – This is a fantastic way to make the most of ripe summer tomatoes.
So much flavor – Roasting cherry tomatoes captures their natural sweetness and intensifies their flavor.
Versatile – You can enjoy them in pasta, as a delicious topping for grilled chicken or fish, or pair them with fresh mozzarella cheese and torn basil for a next-level Caprese salad.
Quick and easy – Ready in just 20 minutes, this recipe is quick and hassle-free.
Ingredients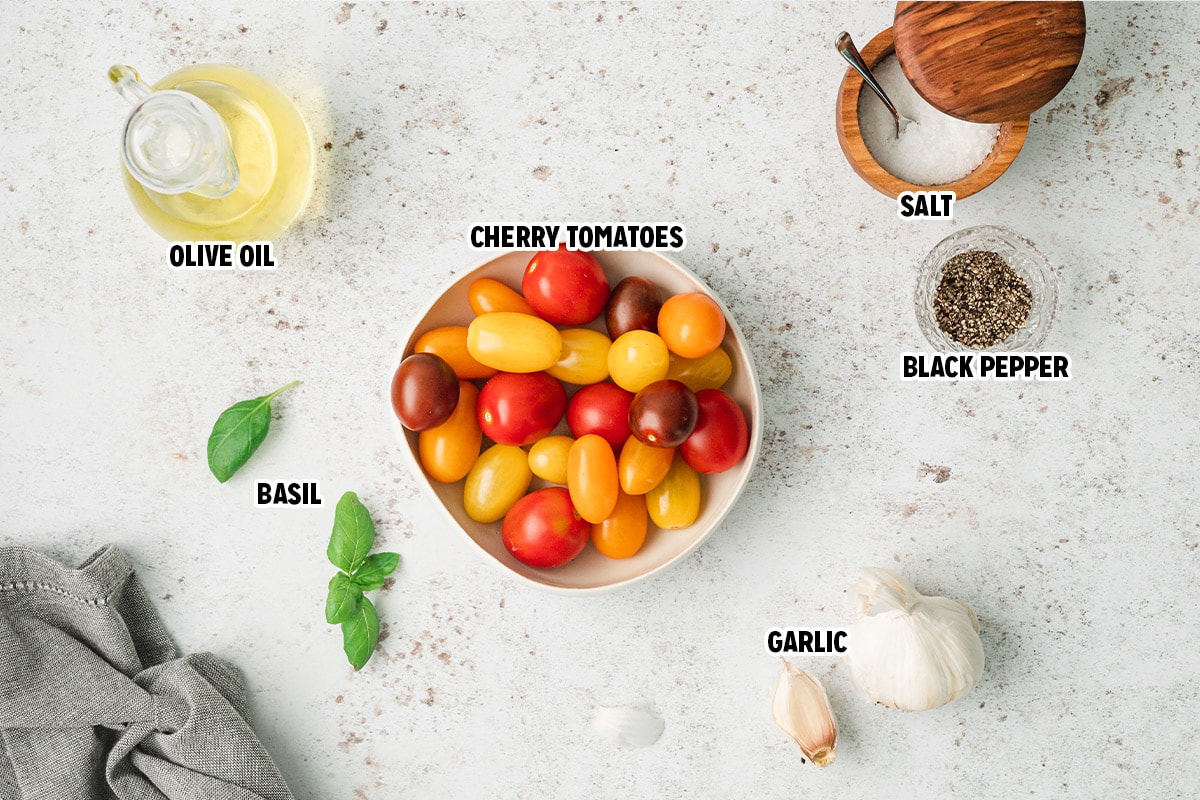 Gourmet Cherry Tomatoes – I used the Wild Wonders brand for this recipe, but any ripe cherry tomatoes will do. Even grape tomatoes would be a fine stand-in.
Fresh Garlic – Sliced thin so it doesn't burn.
Fresh Basil – Gives depth and flavor to this simple recipe.
Olive Oil
Kosher Salt
Freshly Cracked Black Pepper
How To Make Roasted Cherry Tomatoes
Get a detailed list of ingredients & instructions in the recipe card below.
Slice garlic thinly.
Place cherry tomatoes on a large sheet pan and toss with garlic, olive oil, salt, and pepper.
Roast for about 12-15 minutes or until tomatoes burst and begin to brown.
Garnish with fresh torn basil.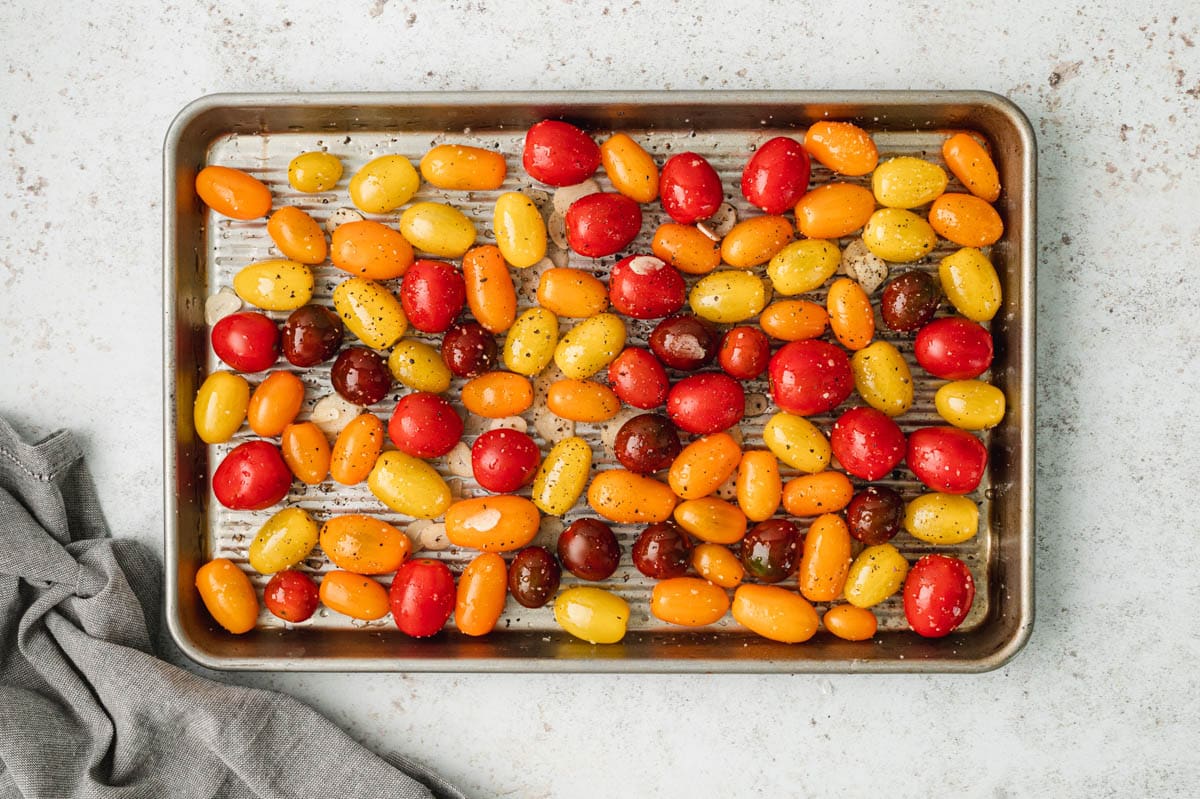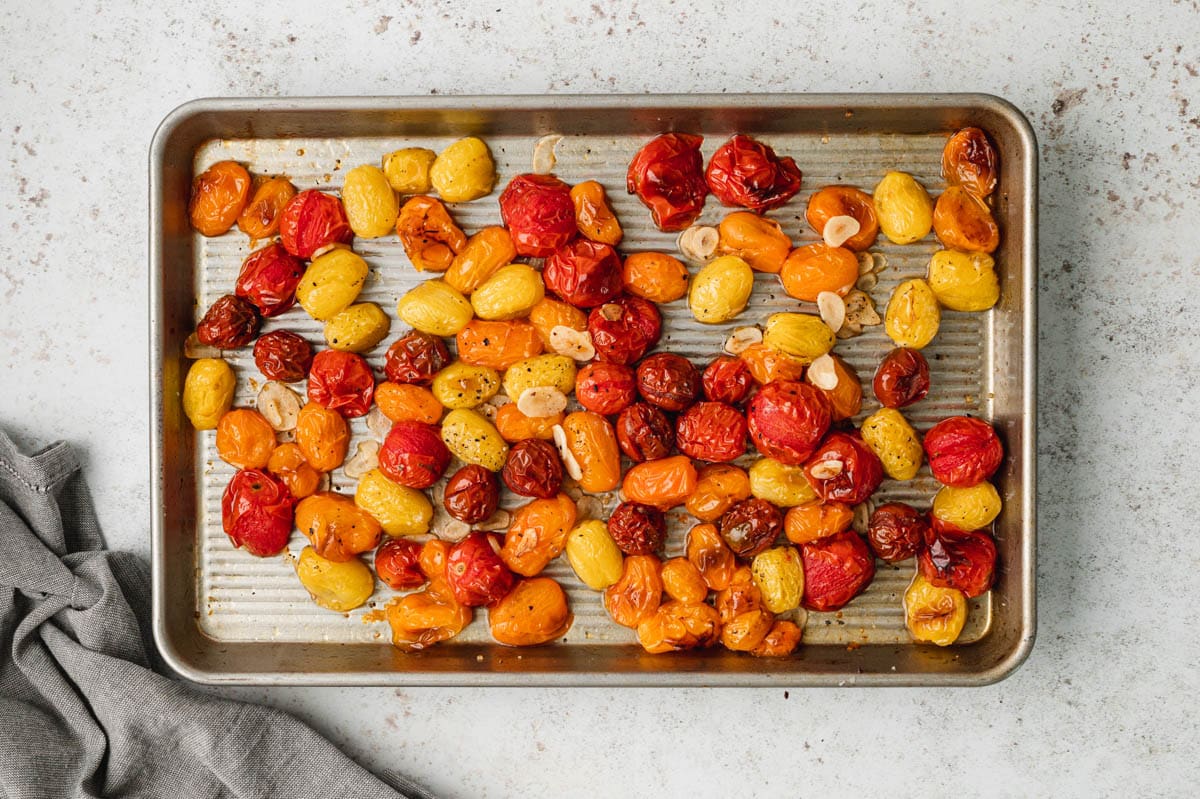 Recipe FAQs
Should I skin the tomatoes before roasting?
No, removing the skins off the tomatoes is unnecessary before roasting.
Can I use different types of tomatoes for roasting?
Absolutely! Campari, grape, Roma, or plum tomatoes are additional varieties that roast well. Be sure to slice larger tomatoes in half and roast them cut side up. You may need to adjust the cooking time for larger tomatoes and keep an eye on them to prevent burning.
How do I select the best tomatoes for roasting?
When selecting tomatoes for roasting, opt for firm and ripe tomatoes.
What seasonings work well with roasted tomatoes?
To enhance the flavor of roasted tomatoes, we like using garlic, olive oil, kosher salt, freshly cracked black pepper, and herbs such as basil, thyme, or rosemary. You can also experiment with additional spices or ingredients like crushed red pepper flakes for added heat.
What is the ideal roasting temperature and time?
For cherry tomatoes, we roast at 425°F for about 12-15 minutes, or until they burst and develop a slight browning. Adjust the time as needed based on the size and juiciness of the tomatoes you select.
What are the health benefits of roasted tomatoes?
Roasted tomatoes are rich in antioxidants, vitamins, and minerals. They are a great source of lycopene, known for its potential health benefits. They are also low in calories and high in fiber.
Serving Suggestions
Serve with al dente pasta and a sprinkle of Parmesan cheese for a simple yet satisfying meal.
Pair with kalamata olives and feta cheese to add a Mediterranean flavor to your meals.
Serve with your favorite meats and cheeses in a flavorful and delicious antipasto platter.
Create a bruschetta-inspired appetizer by spreading goat cheese or whipped ricotta on toasted baguette slices and topping them with the roasted tomatoes.
Add as a vibrant and tangy element to your favorite summer salads, such as a Caprese salad with mozzarella cheese and fresh basil.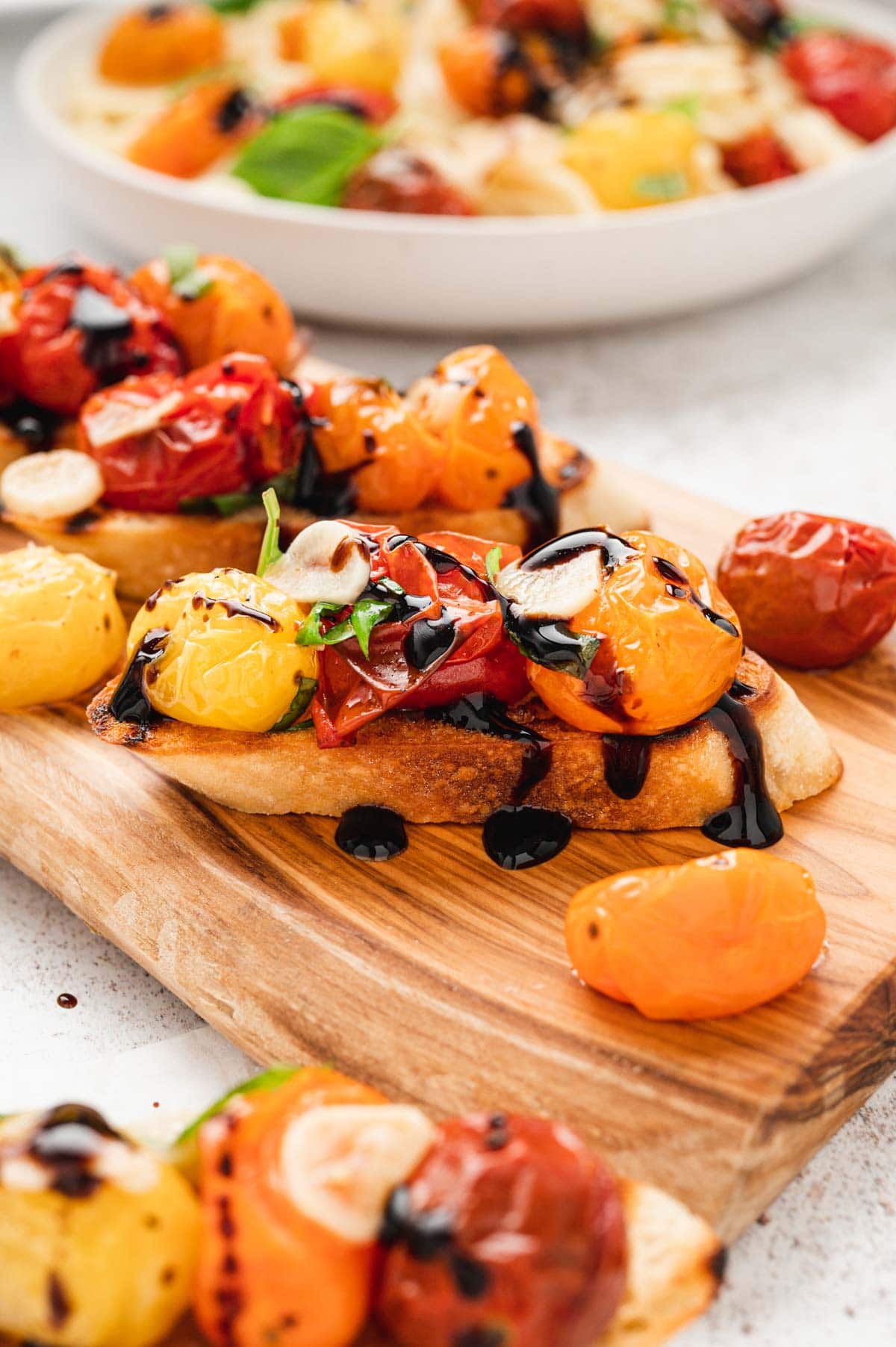 Storage
Roasted tomatoes will keep well in the fridge stored in an airtight container for up to 5 days. They can be stored in the freezer for up to 3 months in airtight freezer bags.
Gently reheat them in a pan on the stove or in the microwave. Leftover and reheated tomatoes may become softer.
Helpful Tips
Be sure to use a large enough sheet pan with sides. If your pan is too small the air won't circulate around the tomatoes, and they will steam and not brown as well. The sides are important to keep the tomatoes from rolling off the pan.
You can add onion or shallot to this recipe, but slice them thinly so they cook at the same time as the tomatoes.
For an added punch of flavor, you can drizzle on a balsamic glaze. You can easily make your own by boiling balsamic vinegar and reducing it by half or you can purchase premade balsamic glaze in the grocery store.
The longer you cook the tomatoes, the softer they get. If you want more firm tomatoes, roast them just until they begin to burst.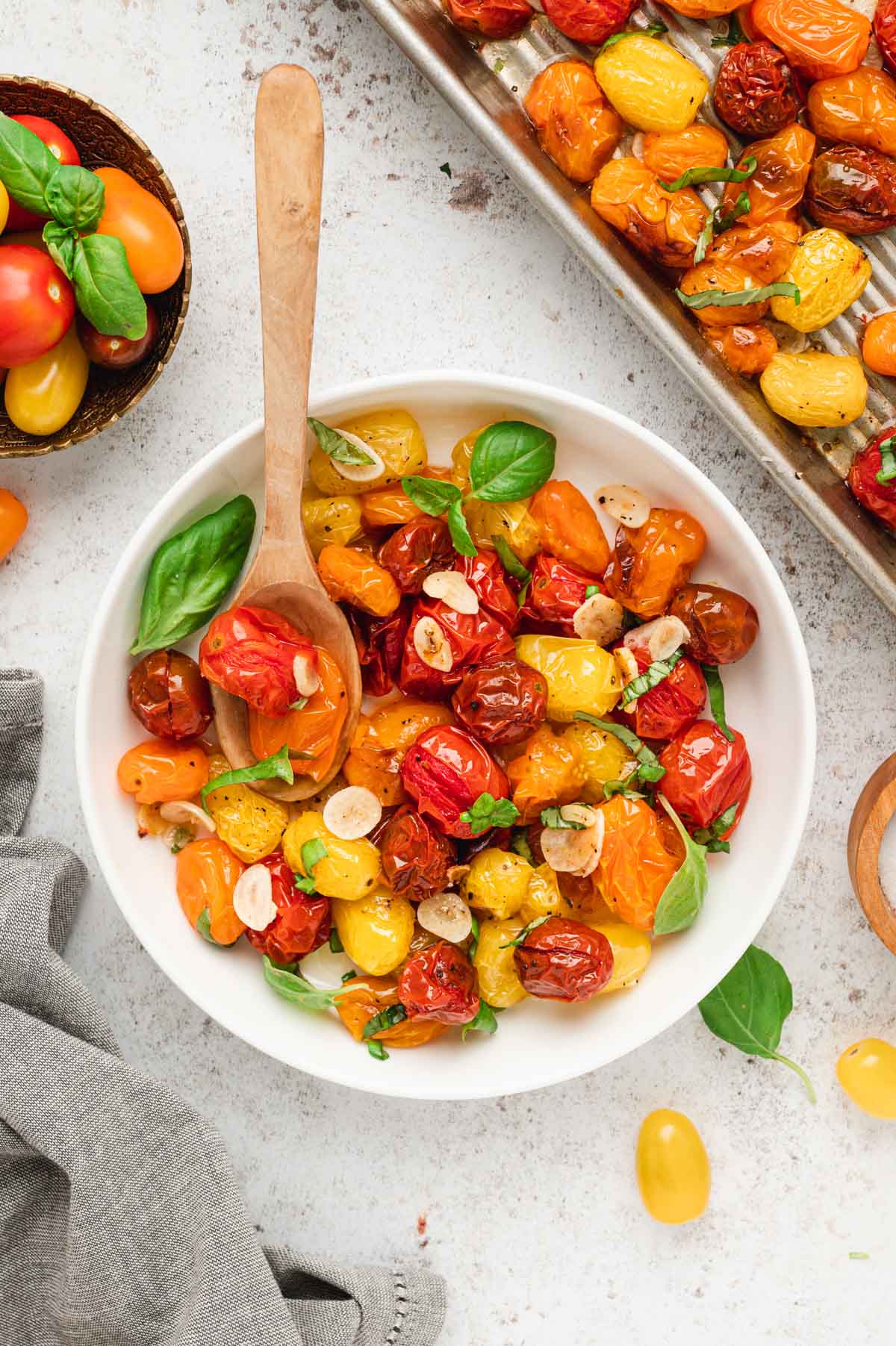 More Tomato Recipes
Recipe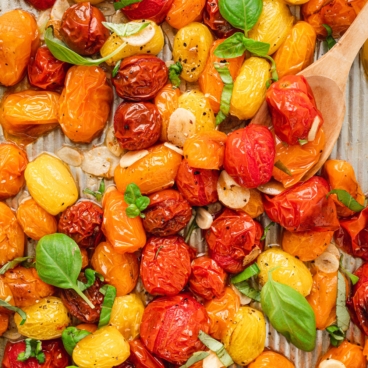 Roasted Cherry Tomatoes
Roasted Cherry Tomatoes are tossed with garlic and fresh herbs for an easy and flavorful way to use fresh summer produce.
Ingredients
36

ounces

gourmet cherry tomatoes

3

cloves

garlic

Olive oil

Kosher salt

Freshly cracked black pepper

Fresh basil
Instructions
Preheat oven to 425℉.

Thinly slice garlic cloves. Place tomatoes on a large sheet pan, toss with garlic, a drizzle of olive oil, and a generous pinch of salt and pepper. Toss to combine.

Roast in preheated oven for 12-15 minutes, or until tomatoes burst and begin to brown.

Garnish with torn fresh basil. Serve immediately over pasta, or toasted baguette slices.
Notes
Roasted tomatoes will keep well in the fridge stored in an airtight container for up to 5 days. They can be stored in the freezer for up to 3 months in airtight freezer bags.