This 3-tiered Salted Caramel Cake is a real showstopper! Three layers of buttery brown sugar cake are coated in a thin layer of handmade salted caramel and then enveloped in a luscious and fluffy salted caramel buttercream.
To serve, top with more caramel sauce and some flakey sea salt for the ultimate made-from-scratch caramel cake.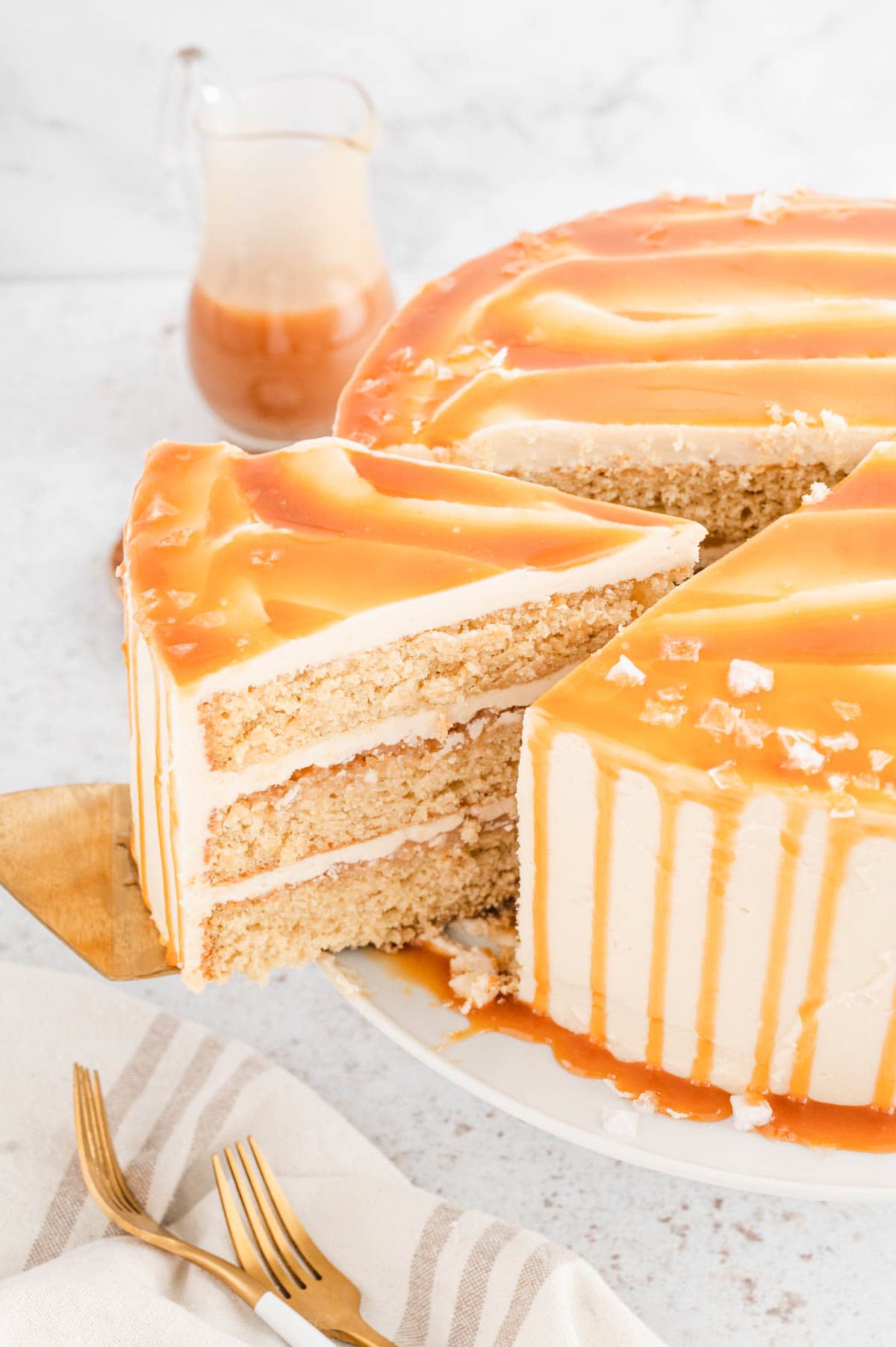 Pin this recipe for later!
Why We Love This Recipe
Salted Caramel Cake is a classic, decadent dessert, perfect for company or just something sweet to eat. This mouthwatering treat is a culinary masterpiece that will make you the star of any gathering.
Sweet and salty: It's the perfect marriage of sweet and salty. Gooey caramel, a sprinkle of salt, and fluffy cake all wrapped into one.
It's not hard to make! You don't have to be a pro baker to make this cake. I'll break down the recipe for you so anyone can give it a try. My Salted Caramel Cake Recipe takes a seemingly complex cake recipe and aims to simplify into easy-to-follow steps that even a novice can master.
Old fashioned flair: This cake has an old-fashioned Southern flair that makes it all the more fun to make and to eat!
Ingredients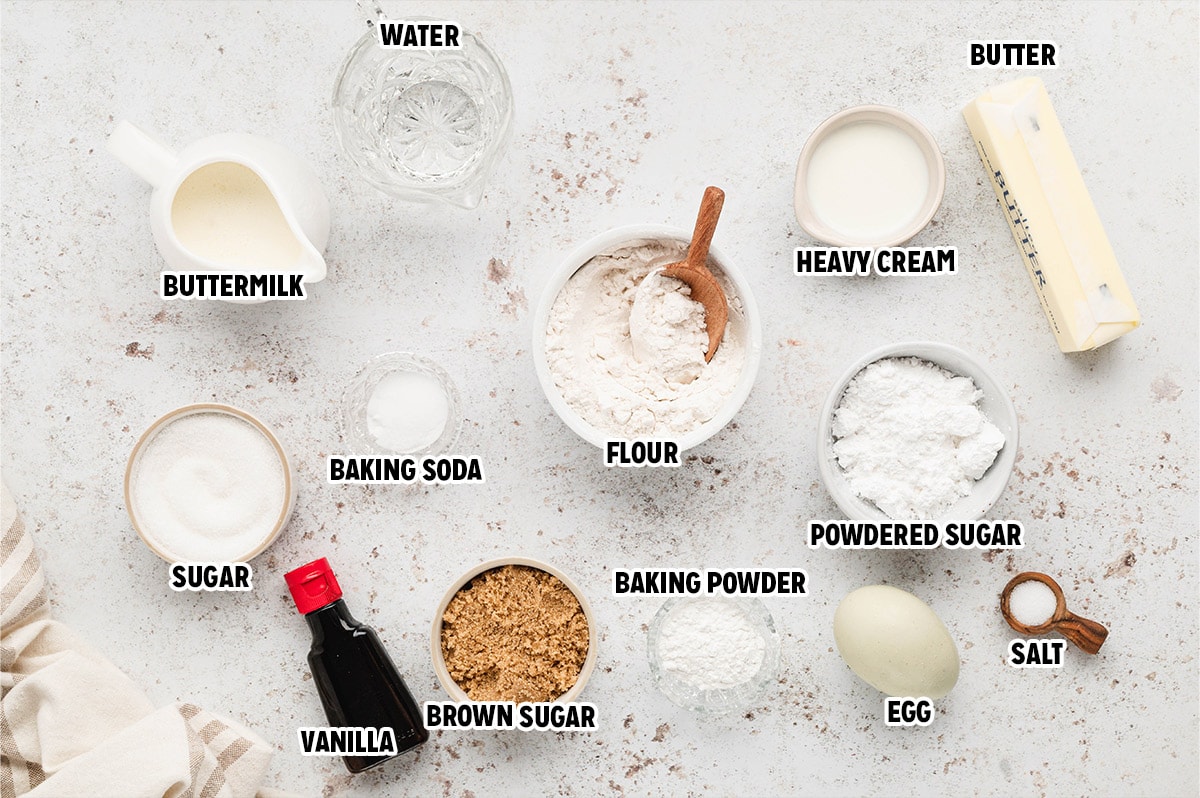 Salted Butter – Used for both the cake and the buttercream icing. Room temperature is almost always ideal for baking, unless you're making biscuits.
Granulated Sugar and Light Brown Sugar – Both are used for sweetness, but the brown sugar adds a caramel warmth.
Eggs – Large, room temperature.
Vanilla Extract – Real vanilla will give you the best flavor.
Baking Soda
Baking Powder
Salt
Cake Flour – Spooned and leveled.
Buttermilk
Powdered Sugar
Milk or Cream – If needed.
Homemade Caramel Sauce – Sugar, Hot Water, Butter, Heavy Cream, and Vanilla Extract.
How To Make Salted Caramel Cake
Get a detailed list of ingredients & instructions in the recipe card below.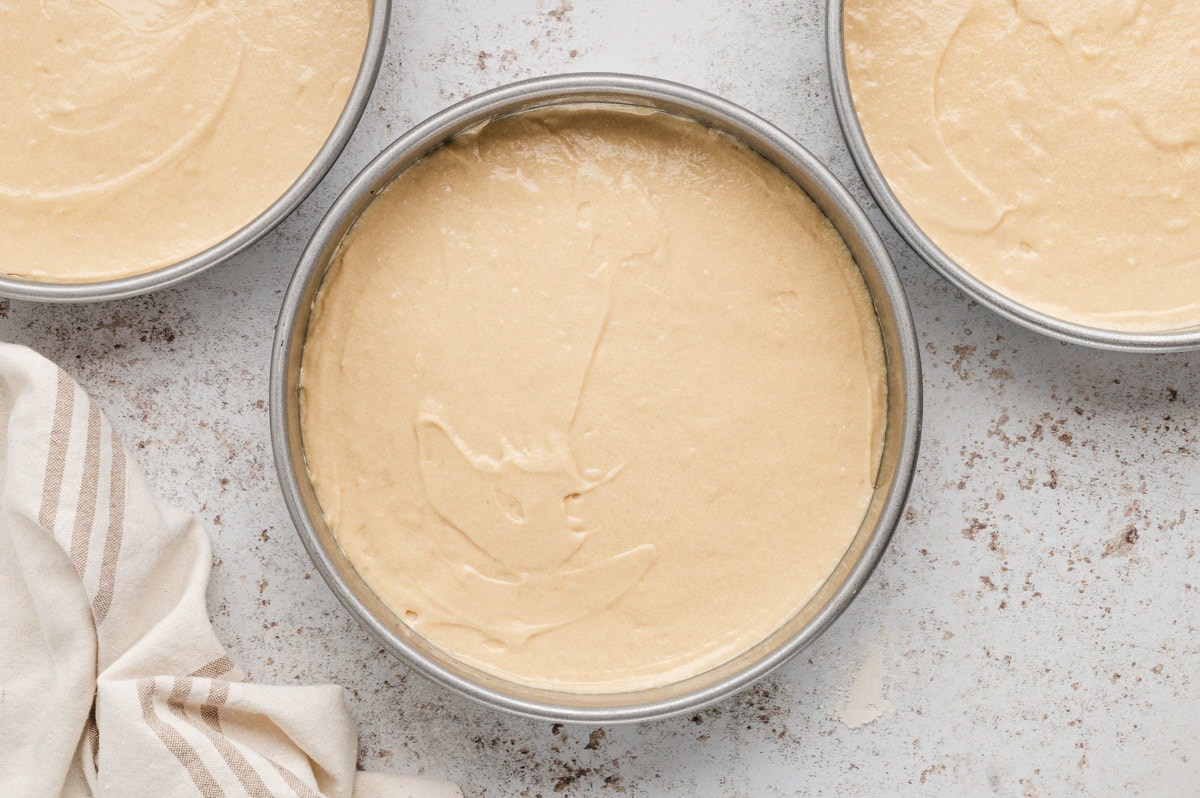 Step One: Make the cake batter and pour into 3 round cake pans. To prep the pans, cut circles out of parchment paper or grease generously with nonstick cooking spray.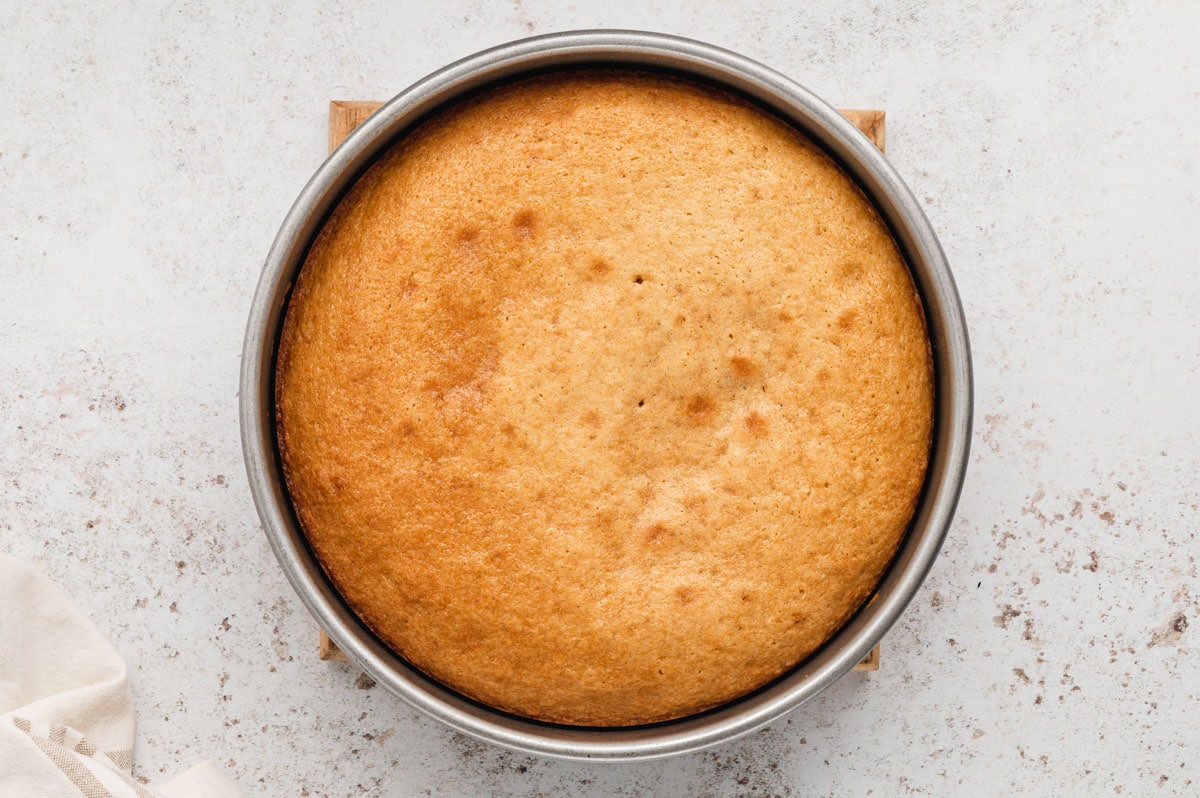 Step Two: Bake the cakes for 20-25 minutes at 350℉ as directed in the recipe card below.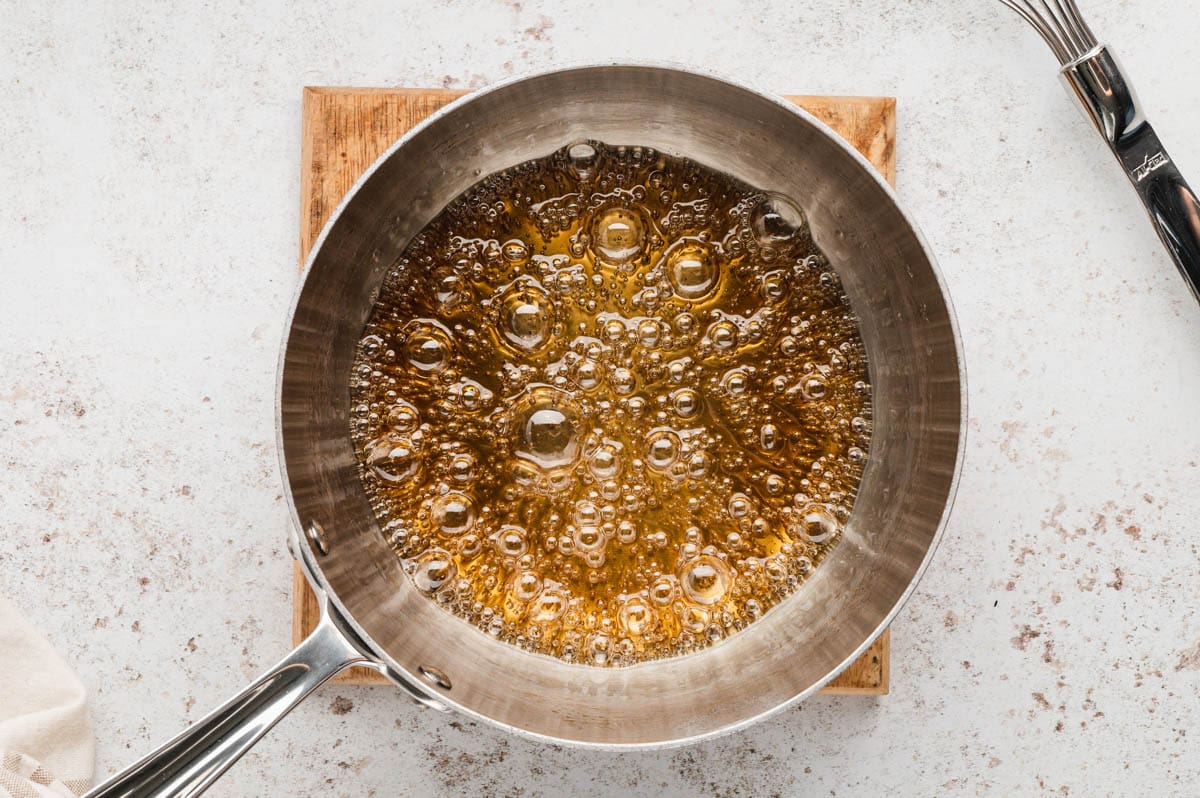 Step Three: Make the caramel sauce. Dissolve sugar in a pot of hot water, then turn up the heat and swirl the pan around gently until the mixture is a dark amber color. Whisk in butter carefully, then heavy cream, and vanilla, and cool to room temperature.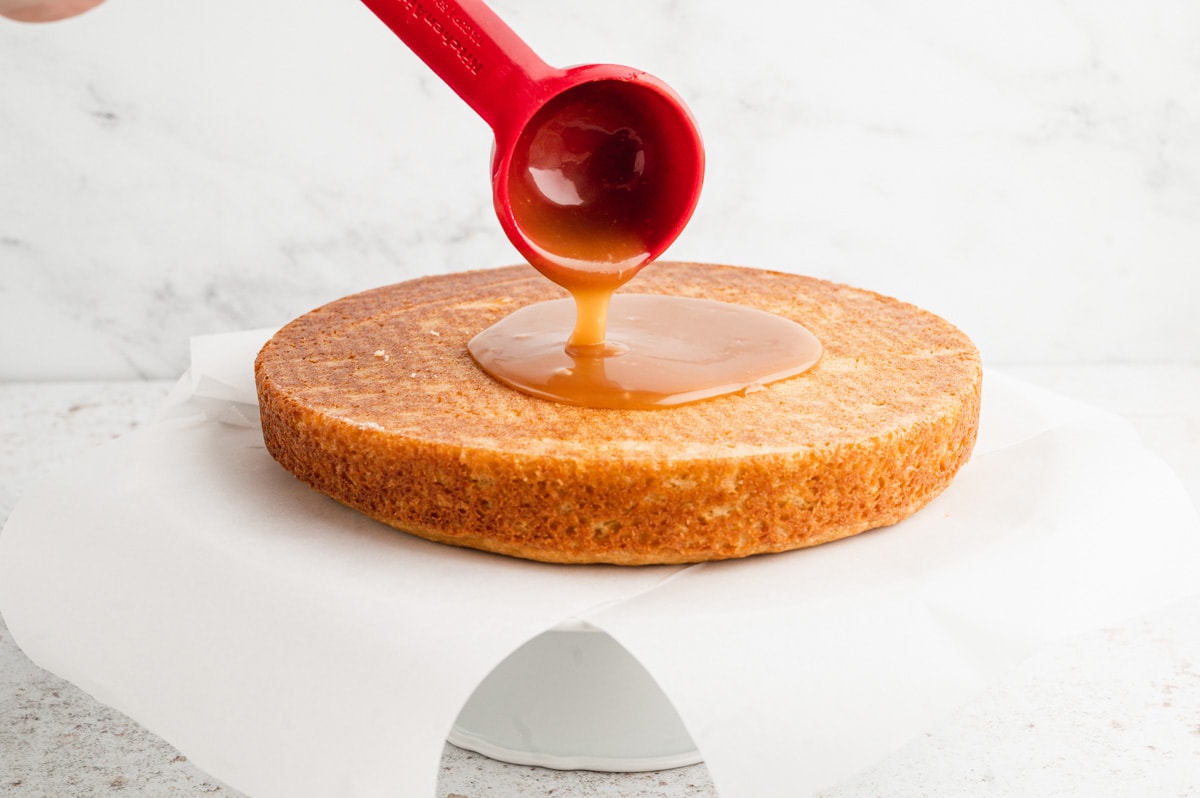 Step Four: Spoon some of the caramel sauce on top of the cake and smooth evenly, leaving a ½" border around the outside.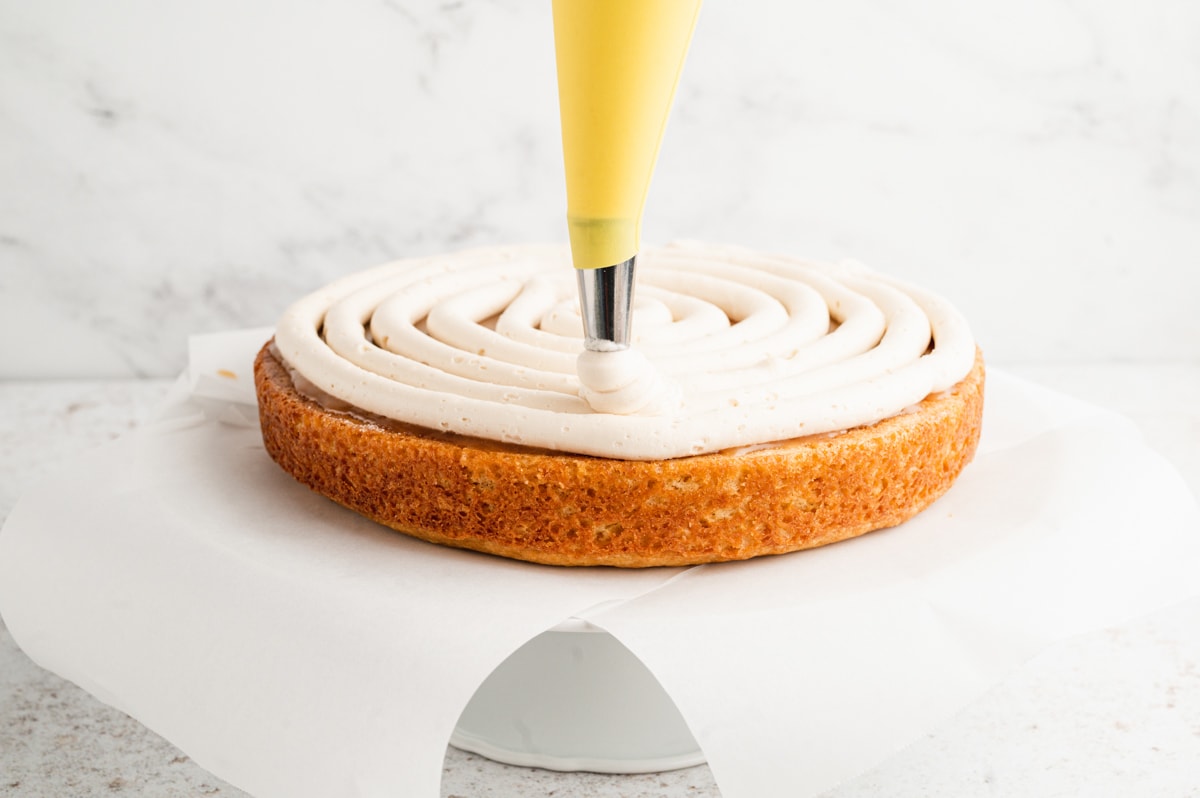 Step Six: Make the caramel buttercream icing using butter, vanilla, heavy cream, and some of the caramel sauce. Beat in powdered sugar until you are happy with the taste and consistency, then pipe onto the cake and spread to frost.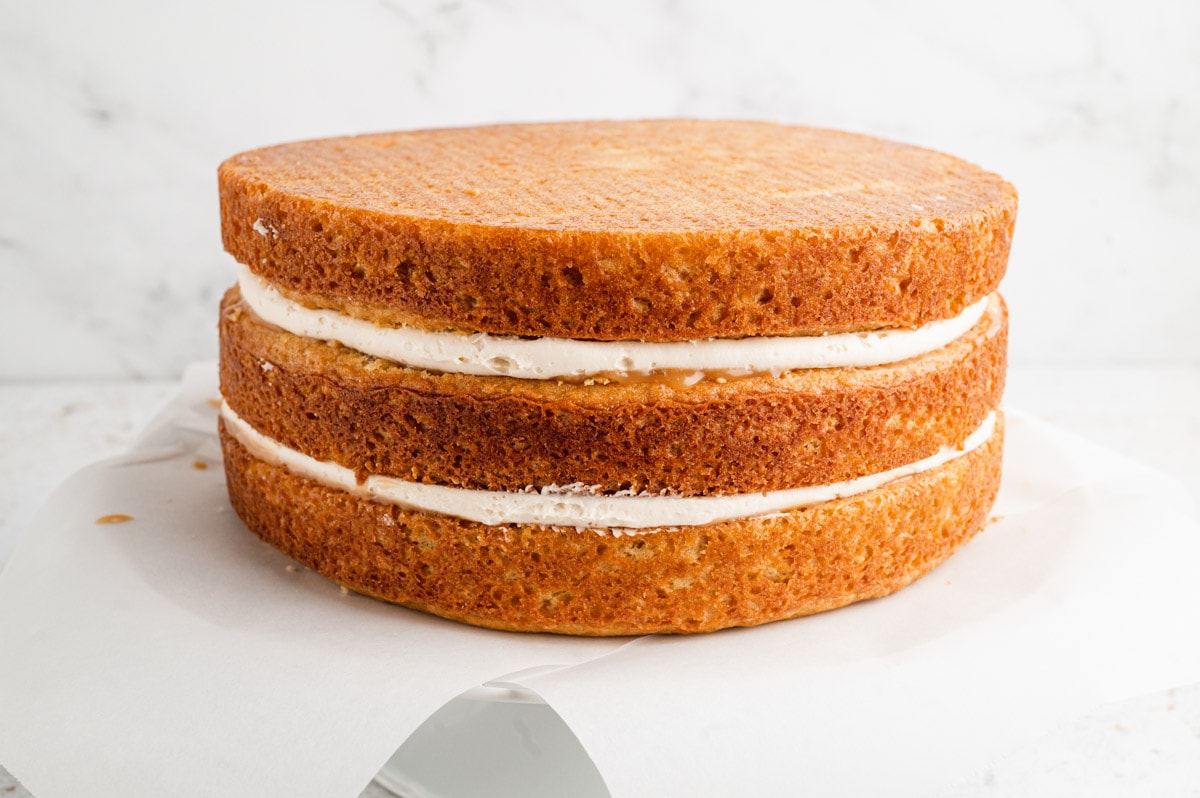 Step Seven: Stack the layers of cake together, with frosting piped between them.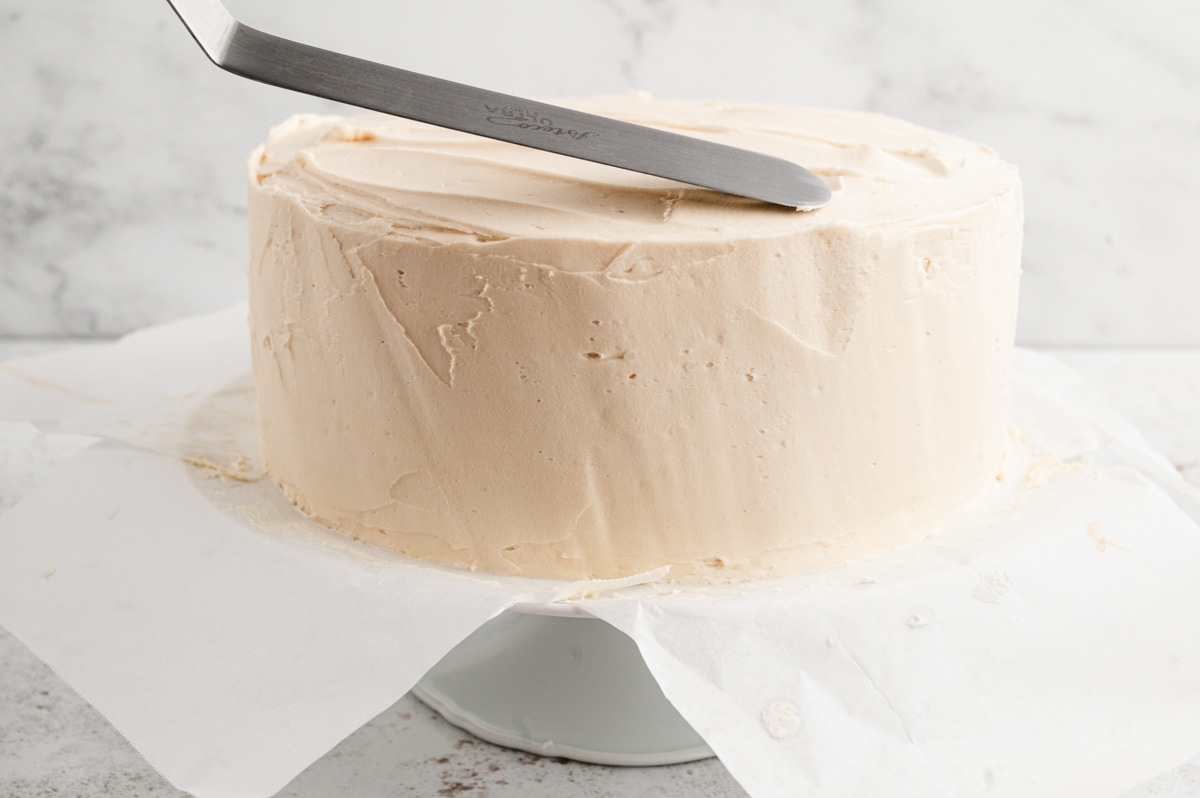 Step Eight: Frost the outside of the cake, using an offset spatula.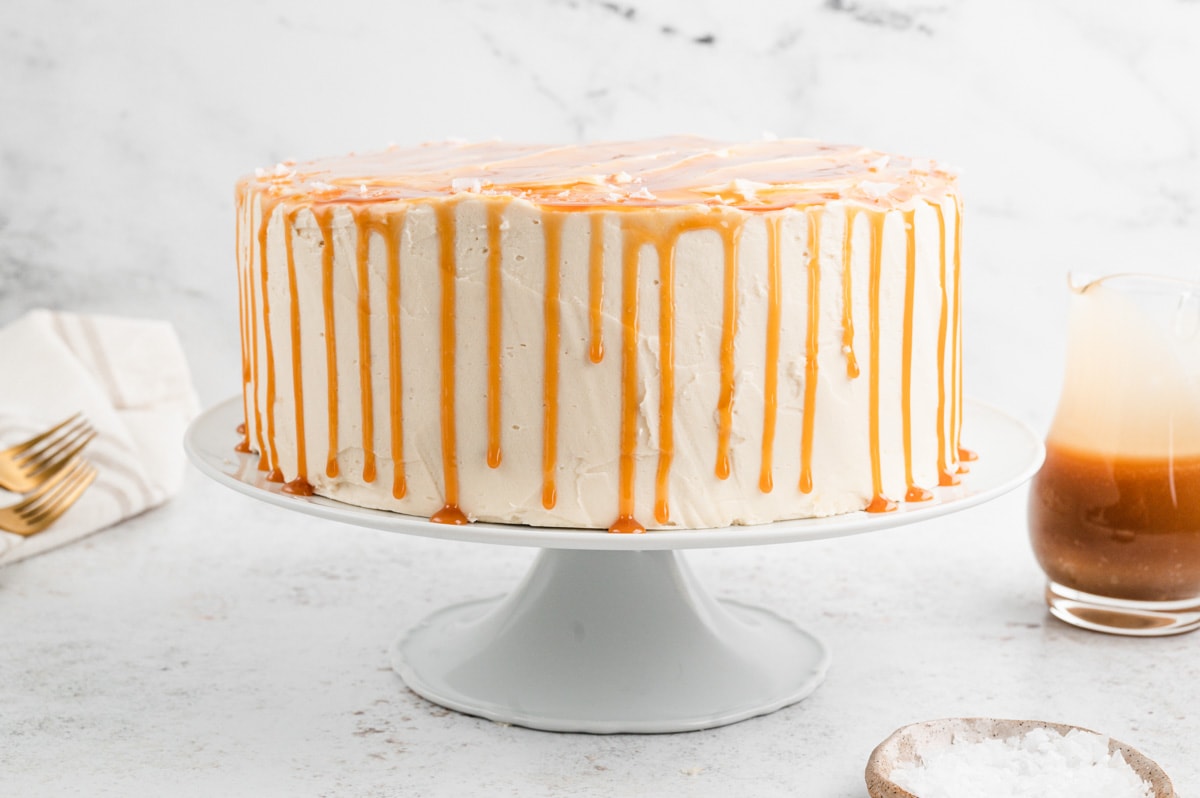 Step Nine: Spread salted caramel sauce on top of the cake, letting it drip off the sides for effect. Sprinkle edges with flaky sea salt.
Recipe FAQs
Can I use store-bought salted caramel?
Yes, store-bought salted caramel can be used, though homemade often tastes better, and it's not that hard to make.
Can I make cupcakes instead?
Absolutely, just adjust the baking time accordingly. The recipe should make about 36 cupcakes.
How can I make my frosting fluffier?
For fluffier frosting, beat for an additional 3–5 minutes.
How do you store leftovers?
This cake can be stored, covered, or wrapped in plastic wrap in the fridge for up to 4 days. Individual slices can be wrapped and frozen for up to 6 months. Thaw at room temperature.
Can you make the caramel sauce in advance?
The cake and the caramel sauce can be made a day in advance. Just wrap tightly and keep in the fridge until ready to assemble.
What if I don't have cake flour?
If you do not have cake flour, you could substitute with 3 cups all-purpose flour sifted together with ½ cup cornstarch.
Helpful Tips
Always preheat the oven. This is crucial to even baking.
Use room temperature ingredients (eggs, butter, milk/cream) for better mixing.
Grease your cake pans, or line with parchment paper for easy removal.
Allow cake layers to cool completely before frosting. Otherwise the frosting will melt.
Take your time and don't rush the caramel; cook it low and slow.
Allowing the final cake to chill in the fridge for at least 2 hours before slicing will make cutting and serving the cake easier.
Store bought salted caramel sauce can be utilized in this recipe to save time.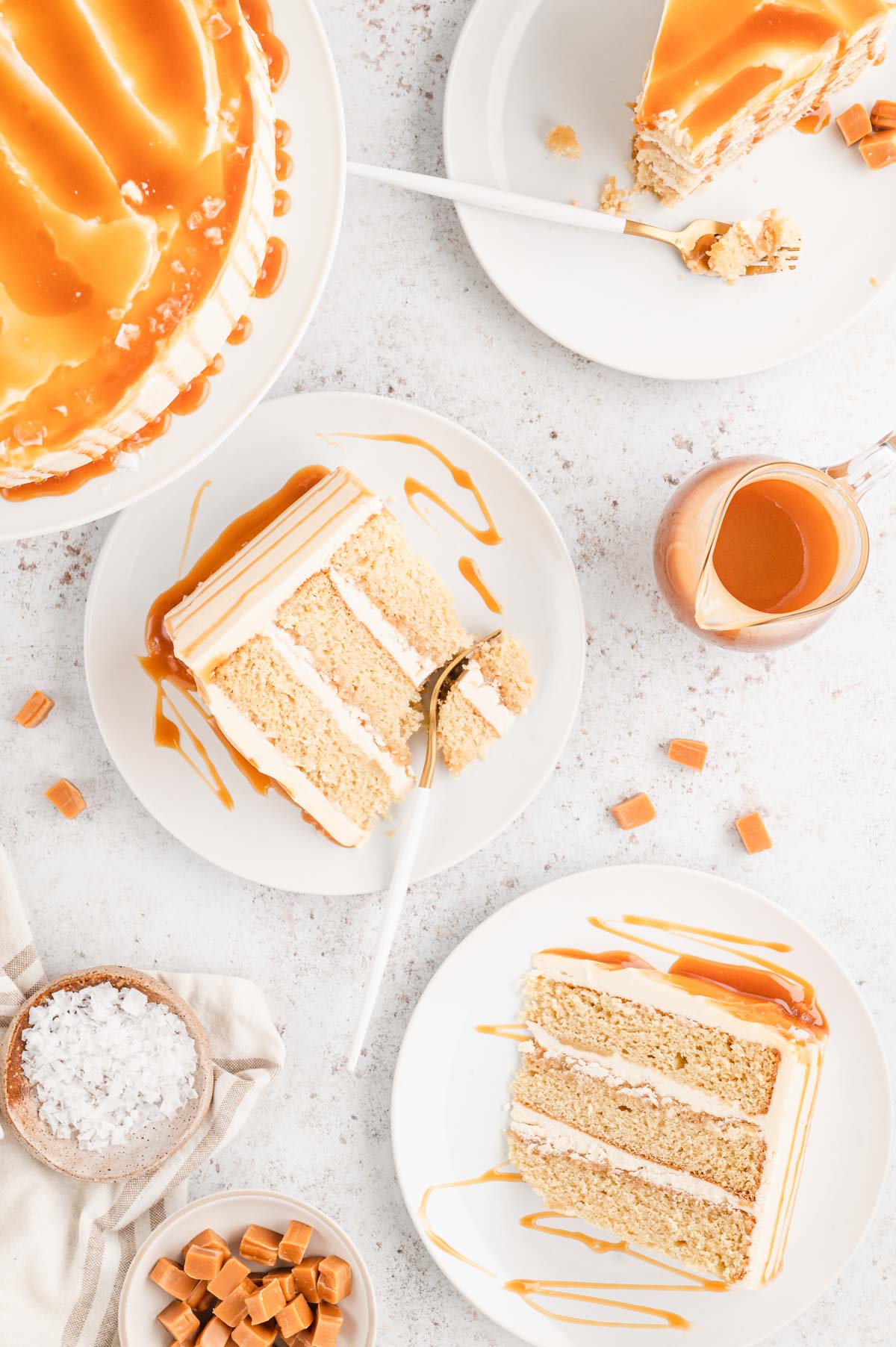 More Cake Recipes
Recipe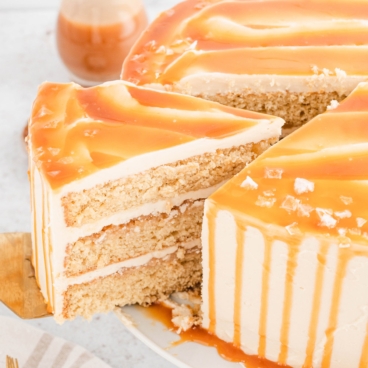 Salted Caramel Cake
Salted Caramel Cake is a real showstopper with 3 layers of brown sugar cake, salted caramel sauce and fluffy salted caramel buttercream.
Total Time
2

hours
5

minutes
Ingredients
Cake
¾

cup

salted butter

room temperature

1 ½

cups

granulated sugar

¾

cup

light brown sugar

3

large eggs

room temperature

2

teaspoons

vanilla extract

¾

teaspoon

baking soda

¾

teaspoon

salt

2 ¼

teaspoons

baking powder

3 ½

cups

cake flour

spooned and leveled

1 ½

cup

buttermilk
Caramel Sauce
2

cups

sugar

½

cup

hot water

12

tbsp

butter

cubed room temperature

1

cup

heavy cream

room temperature

2

teaspoon

vanilla extract
Caramel Buttercream Frosting
1

pound

salted butter, cubed

room temperature

1

cup

room temperature caramel sauce from above

2

teaspoons

vanilla extract

½

teaspoon

salt

5-6

cups

powdered sugar

1-2

tablespoons

milk or cream

if needed

Flaky sea salt
Instructions
Cake
Preheat oven to 350℉. Liberally grease 3, 9-inch cake pans and line the bottoms with parchment paper circles.

In a medium bowl sift together the flour, salt, baking soda and baking powder. Set aside.

In a large mixing bowl using an electric mixer, cream together the butter and sugar until light and fluffy, about 3-4 minutes.

Add the vanilla extract and the eggs one at a time, until fully incorporated and scraping the bowl after each egg addition. Add in ⅓ of the buttermilk, followed by ⅓ of the flour mixture. Stir after each addition, then continue alternating buttermilk and flour until just combined.

Evenly divide the batter into the prepared cake pans and smooth out the batter.

Bake 20-25 minutes until a toothpick inserted in the center comes out clean and the center springs back when lightly touched.

Cool in the pans for 10 minutes, then remove from the pans to a cooling rack and cool completely.
Salted Caramel
Fill a small glass with hot water, and have a silicone pastry brush ready.

In a large sauce pot, dissolve sugar completely in hot water over medium low, whisking until dissolved and mixture is completely clear, do not allow to boil until sugar is fully dissolved.

Once sugar is dissolved, stop whisking and increase heat to medium. Swirl the pan, do not stir or whisk, until the sugar is a rich amber color. If sugar crystals form on the side of the pan, dip the pastry brush in hot water and wash the crystals down into the caramel. If crystals touch the boiling sugar, it will cause your caramel to seize up.

Once the sugar is a rich amber color, remove from heat and whisk in the cubed butter carefully, it will foam up rapidly, but keep whisking until fully combined.

Whisk in the heavy cream, followed by the vanilla, and return to the heat for 1 minute, whisking rapidly. Remove from heat and pour into a glass bowl or jar to cool to room temperature.

You can also split the recipe in half, making two small batches if desired. Two small batches should be made for safety reasons if you do not have a large pot suitable for making caramel.
Buttercream
In the bowl of a stand mixer, using a paddle attachment, cream together the butter and 1 cup of the cooled caramel sauce until smooth and combined, about 2-3 minutes.

Add the vanilla and salt and mix until combined. Scrape the sides and bottom to be sure everything is evenly incorporated.

With the mixer on a medium low speed slowly add 5 ½ cups of powdered sugar, scraping occasionally. If the frosting is too thick, add in a tablespoon or two of milk to thin it out to a good piping consistency. If it is too thin, add a bit more powdered sugar. Whip this mixture for 2-3 minutes until it is light and fluffy.
Assembly
If desired, once cakes have completely cooled, level off the tops of the cakes with a large serrated knife. Fill a large piping bag fitted with a ½" round tip with buttercream.

On a cake stand or large platter place the first cake layer bottom side up. Spoon on ¼ cup of the remaining caramel sauce and smooth this thin layer evenly on top of the cake, leaving a ½" border around the outside so that the caramel doesn't ooze out when you smooth the buttercream. Follow this by piping a ring of buttercream all the way to the edge of the cake and smooth it gently with an offset spatula.

Place the next cake layer on top and gently press into the bottom layer, repeat the same process with the caramel and buttercream.

Place the final cake layer on top and very gently press down into the bottom 2 layers. Frost the sides and top of the cake with the remaining buttercream.

For garnish, top the cake with more caramel sauce, allowing some to drip down the edge of the cake and finish with a sprinkle of a flakey sea salt.
Notes
When making the caramel sauce, it is important to use a large size sauce pan. The caramel mixture will bubble up violently when you add in the butter and cream and if your pan is too small it will boil over and cause a huge mess and potentially burn your skin. If caramel sauce does get on your skin, resist the urge to wipe it off and instead submerge into ice cold water.
Nutrition
Calories:
1185
kcal
Carbohydrates:
151
g
Protein:
8
g
Fat:
64
g
Saturated Fat:
40
g
Polyunsaturated Fat:
3
g
Monounsaturated Fat:
16
g
Trans Fat:
2
g
Cholesterol:
209
mg
Sodium:
874
mg
Potassium:
152
mg
Fiber:
1
g
Sugar:
123
g
Vitamin A:
2052
IU
Vitamin C:
0.1
mg
Calcium:
134
mg
Iron:
1
mg