Samoa Inspired Chocolate, Coconut Caramel Krispy Treats
These Chocolate, Coconut Caramel Krispy Treats are inspired by Samoas – a classic favorite Girl Scout Cookie! They are salted caramel Rice Krispie Treats loaded with toasted coconut, smothered in chocolate and topped with even more coconut.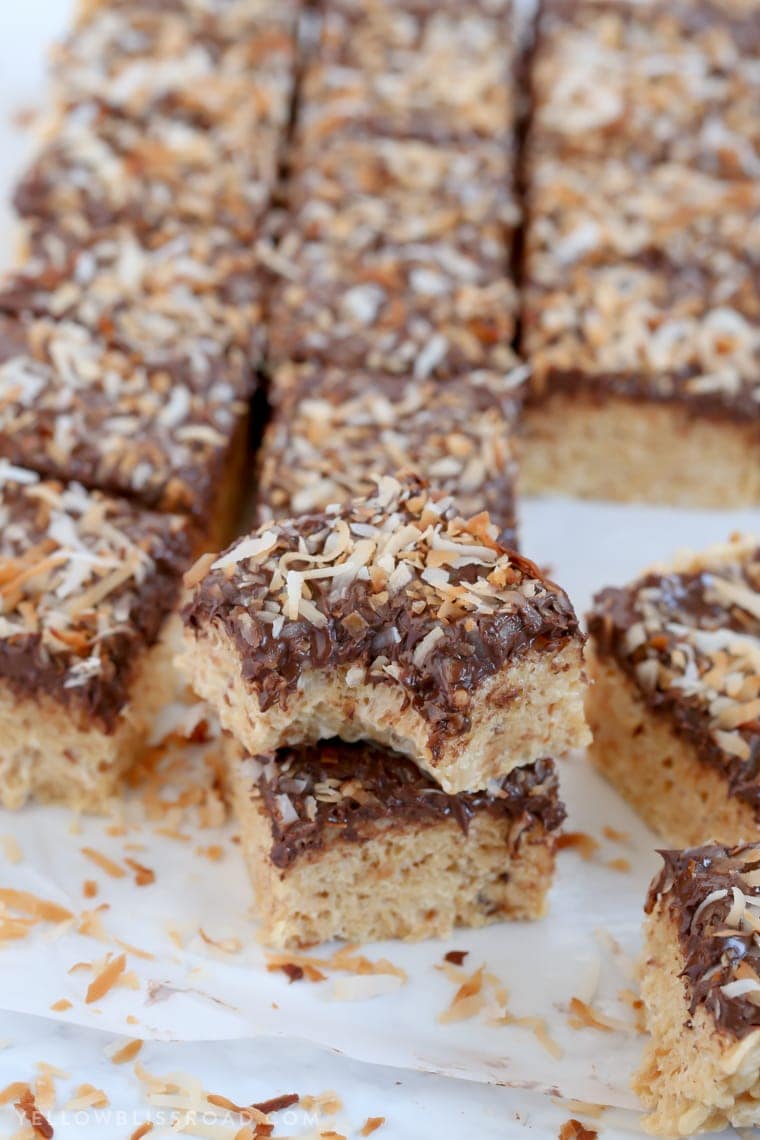 It's funny how things change. When I was a Girl Scout, cookies sold for $2 a box and we went door to door in our neighborhoods selling them to anyone who would answer. Now those same cookies sell for $5 a box and let me tell you. They do not taste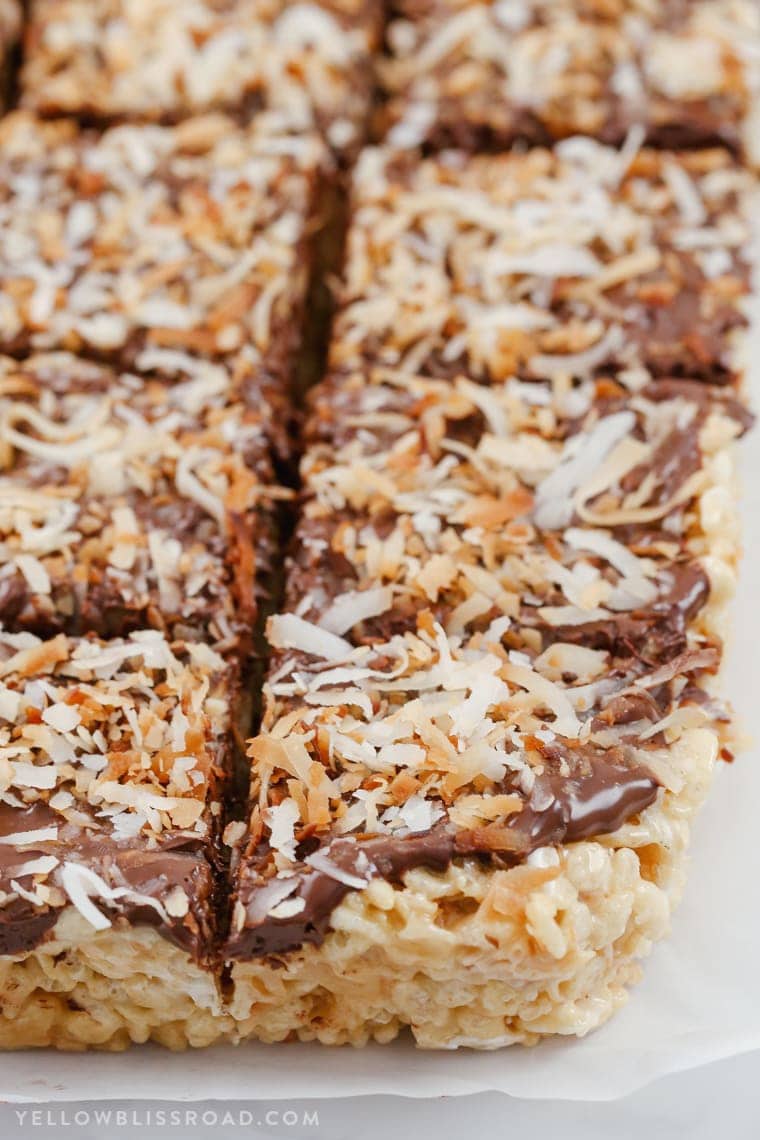 the same.
For the record, yes we still buy them, yes we still support the Girl Scouts and yes, we still enjoy those cookies. But they still don't taste the same. And they changed the names! Samoas are now called "Caramel DeLites" and my Tagalongs are now called "Peanut Butter Patties." Thank goodness Thin Mints are still Thin Mints or I might need to lead a revolt.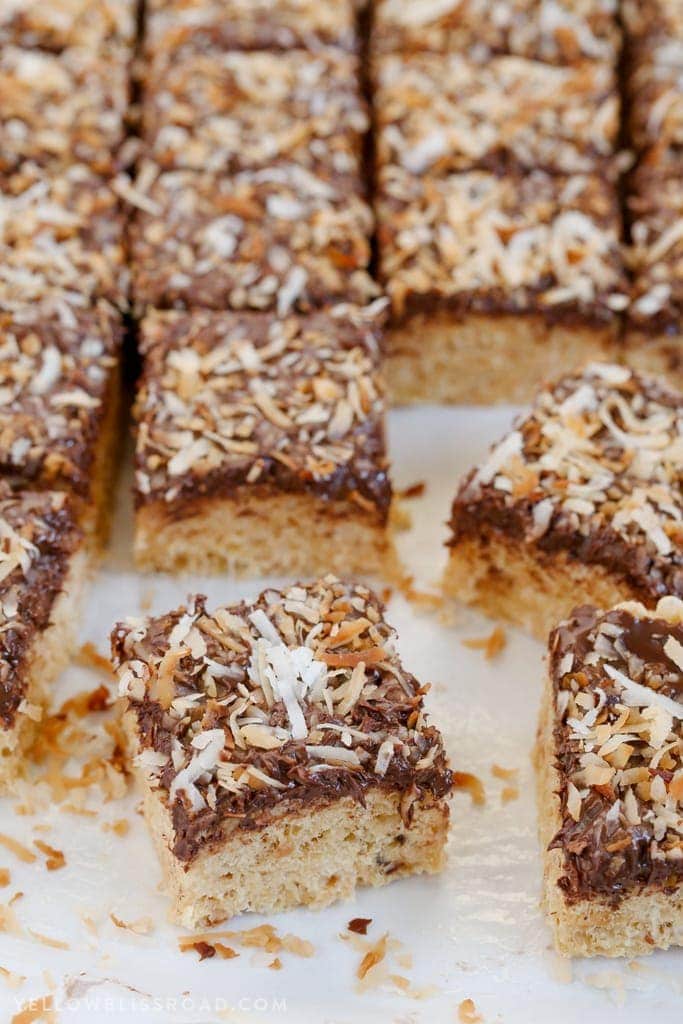 Anyway back to these Krispy Treats. The base is the same recipe as my Salted Caramel Treats I shared back in December but I added a bunch of toasted coconut. I left smooshed them all into a 13×9 pan and then smeared melted chocolate all over the top and sprinkled another cup of coconut on top for color and crunch. The result is these delicious little bites of heaven, that yes, really do have that flavor of Samoa that we all know and love.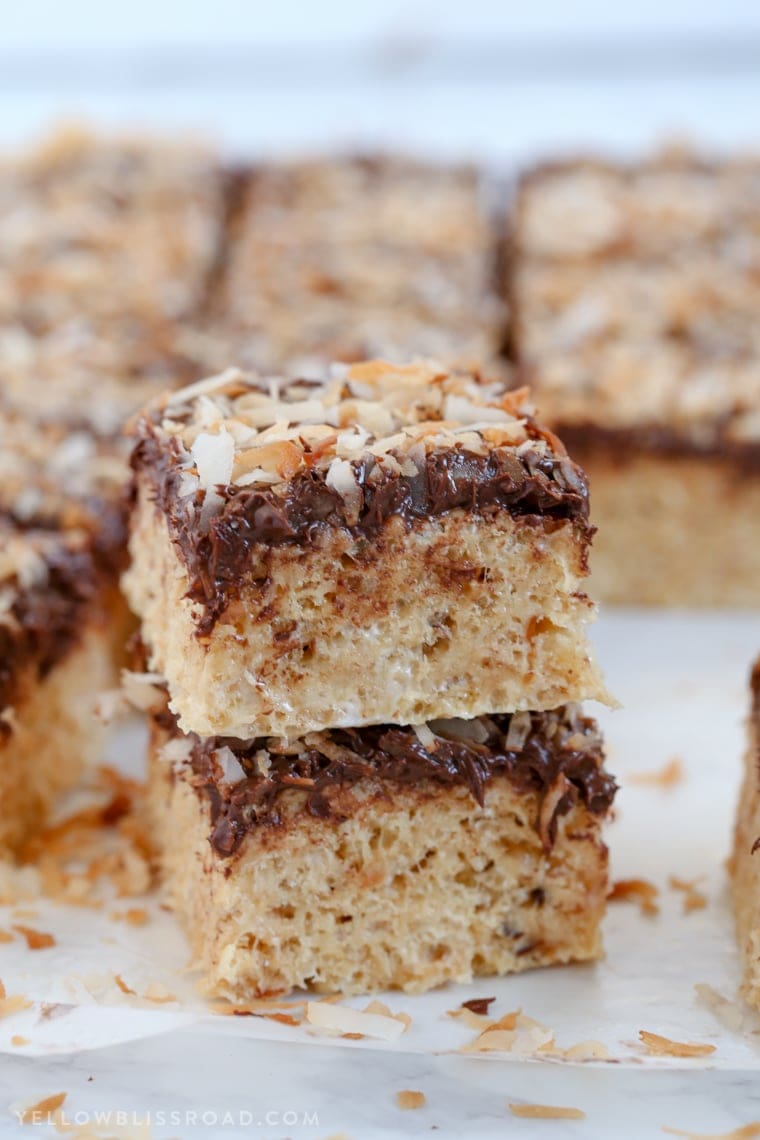 I took half of the batch to the teaching staff at my kids' school and got lots of compliments, and one request to never bring them back because my son's teacher couldn't stop eating them. I'll take that win.
If you've made this recipe, please come back and leave us a star rating or a comment below. Or, tag us on social media @yellowblissroad or #yellowblissroad for a chance to be featured.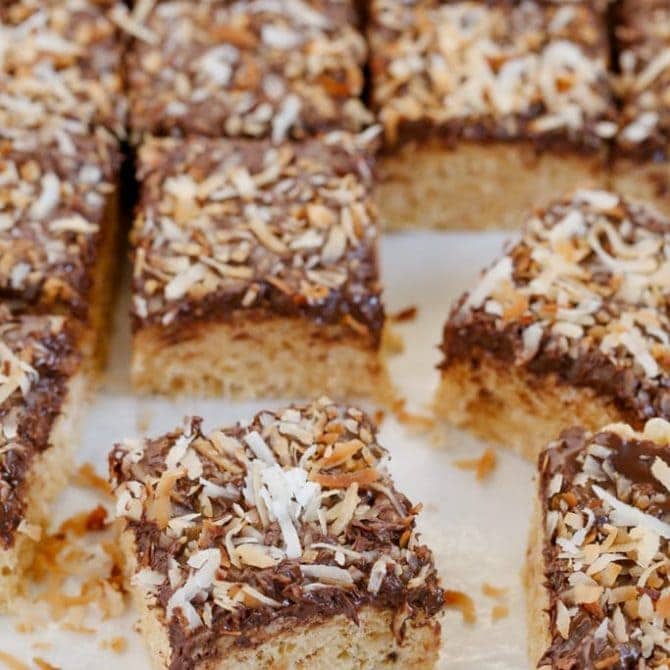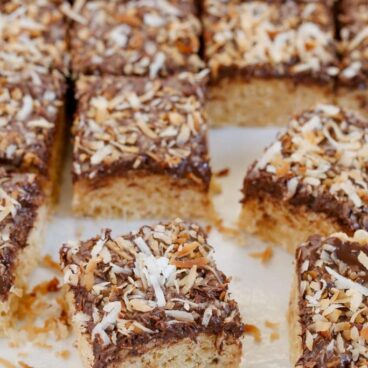 Samoa Inspired Chocolate, Coconut Caramel Krispy Treats
Ingredients
8

cups

Rice Krispies cereal

10

cups

mini marshmallows

divided (almost 2 10 ounce bags)

8

tablespoons

butter

1 11-

ounce

package caramels

unwrapped, or caramel bits

3

teaspoons

kosher salt

divided

2

cups

coconut

toasted and divided

2

cups

Semisweet chocolate chips

2

tablespoons

vegetable oil
Instructions
Preheat oven to 350 degrees F. Spread coconut on a large baking sheet in an even layer. Toast in the oven, stirring at least once, until golden brown; about 7-8 minutes.

Line a 13"x9" casserole dish with parchment paper or foil. Spray with non-stick cooking spray and set aside.

Spray a large bowl with non-stick cooking spray and pour rice krispies cereal into the bowl. Set aside.

Melt butter in a large, 3 quart pot over medium heat. Add about 7 cups of marshmallows and the caramels. Stir often until completely melted and smooth; about 4-5 minutes. Stir in 1 teaspoon of kosher salt and 1 cup of the toasted coconut. Pour marshmallow mixture over the cereal in the large bowl and add the remaining marshmallows. With a silicone spatula that has been sprayed with non-stick cooking spray, stir well until coated.

Press the mixture into the prepared casserole dish and press into an even layer.

Place the chocolate and vegetable oil in a microwave-safe bowl and heat for 1 to 2 minutes, stirring every 20 seconds, until melted and smooth.

Spread the melted chocolate evenly over the rice krispie treats. Sprinkle with remaining 1 cup of toasted coconut.

Cool completely before cutting into bars.
Nutrition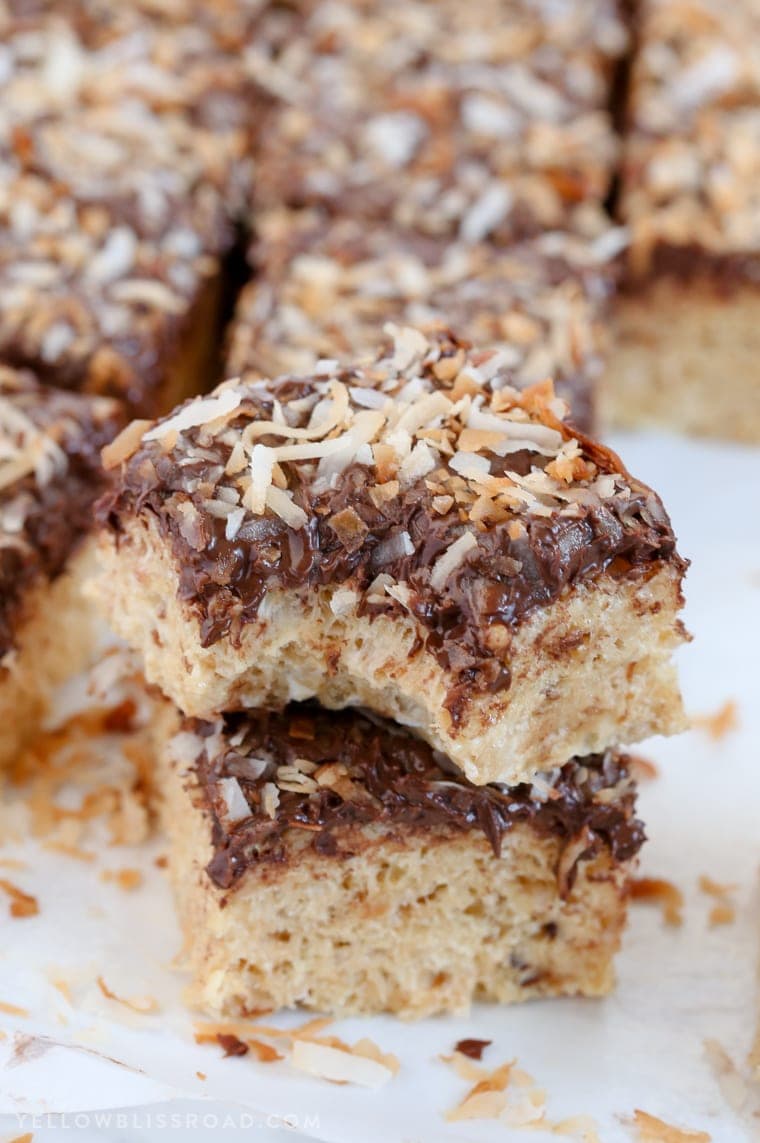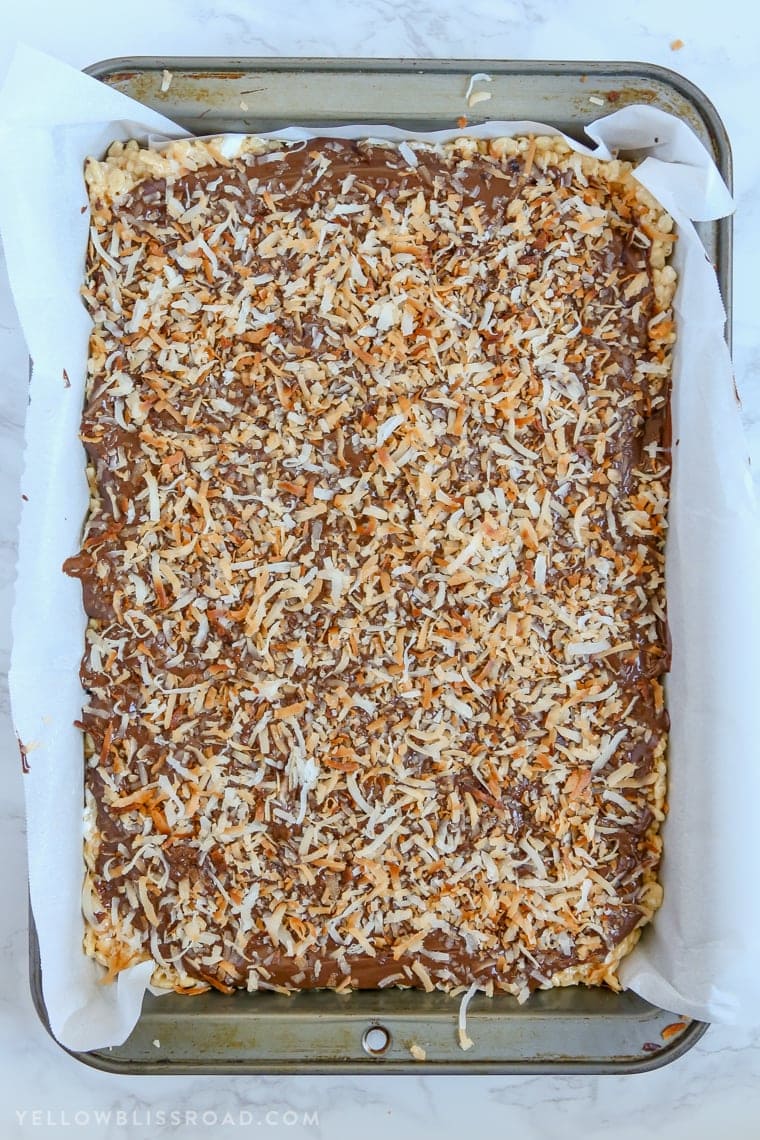 For more delicious treats, try these: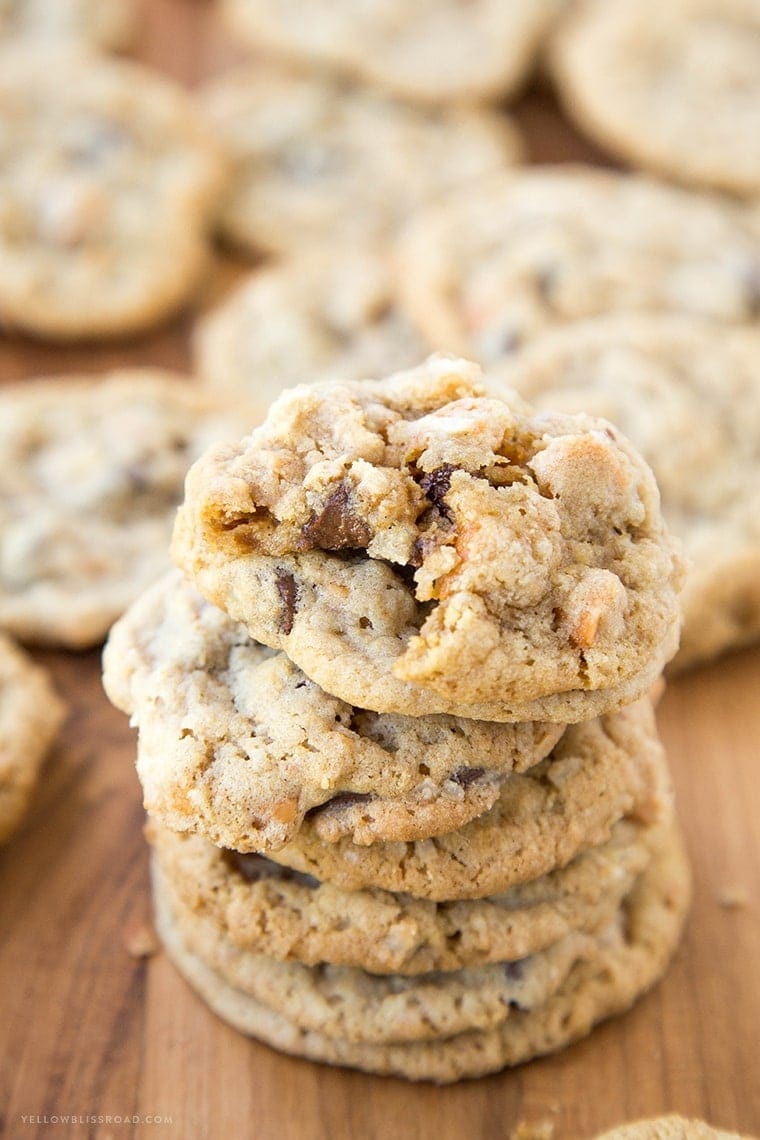 Chocolate Dipped Salted Caramel Krispy Treats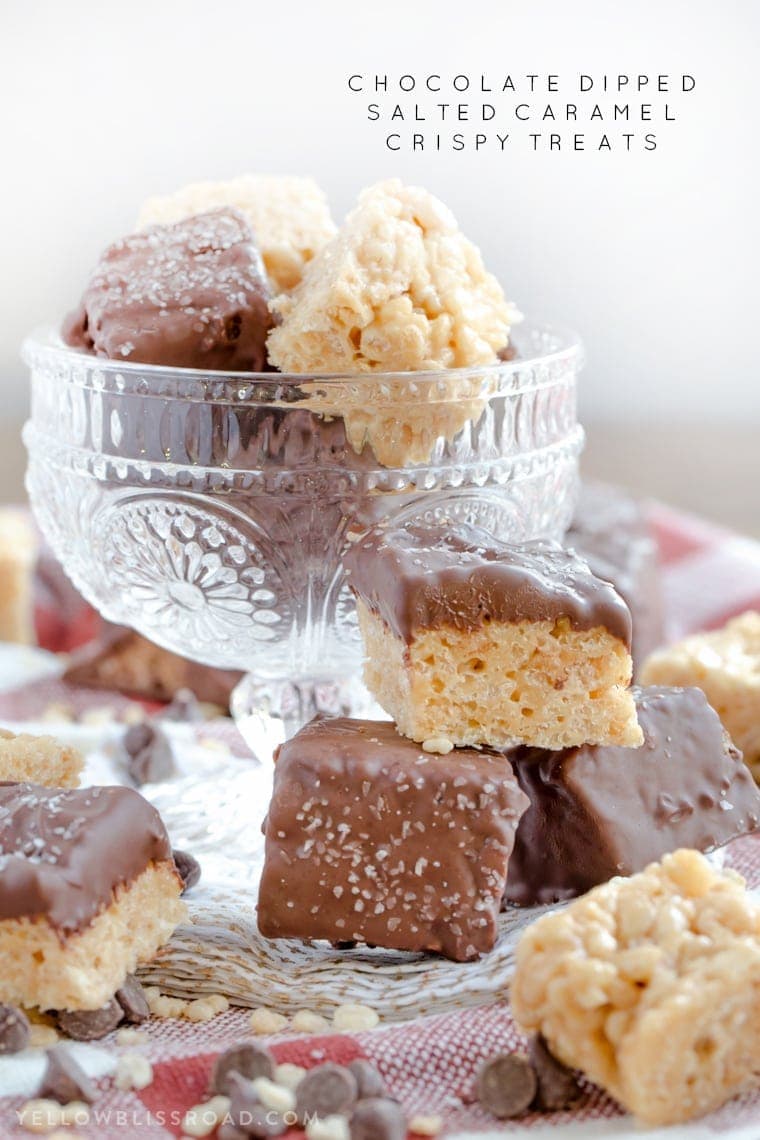 Coconut & White Chocolate Blondies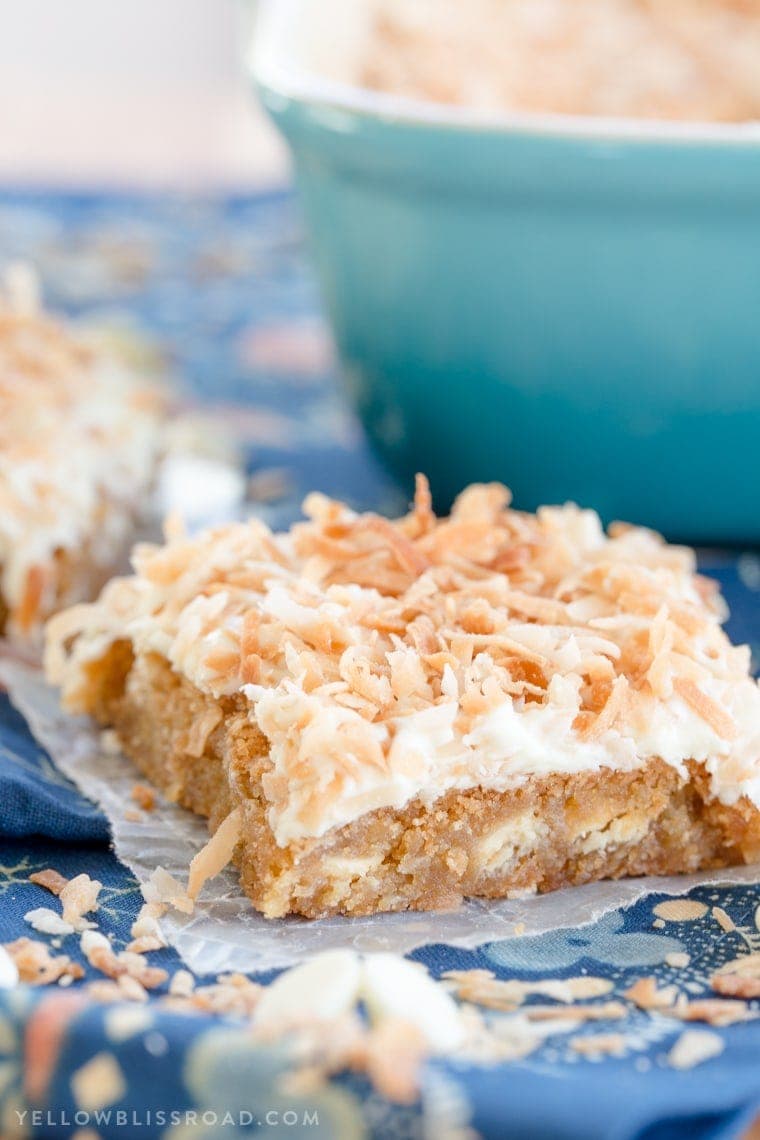 Chocolate Coconut Cream Poke Cake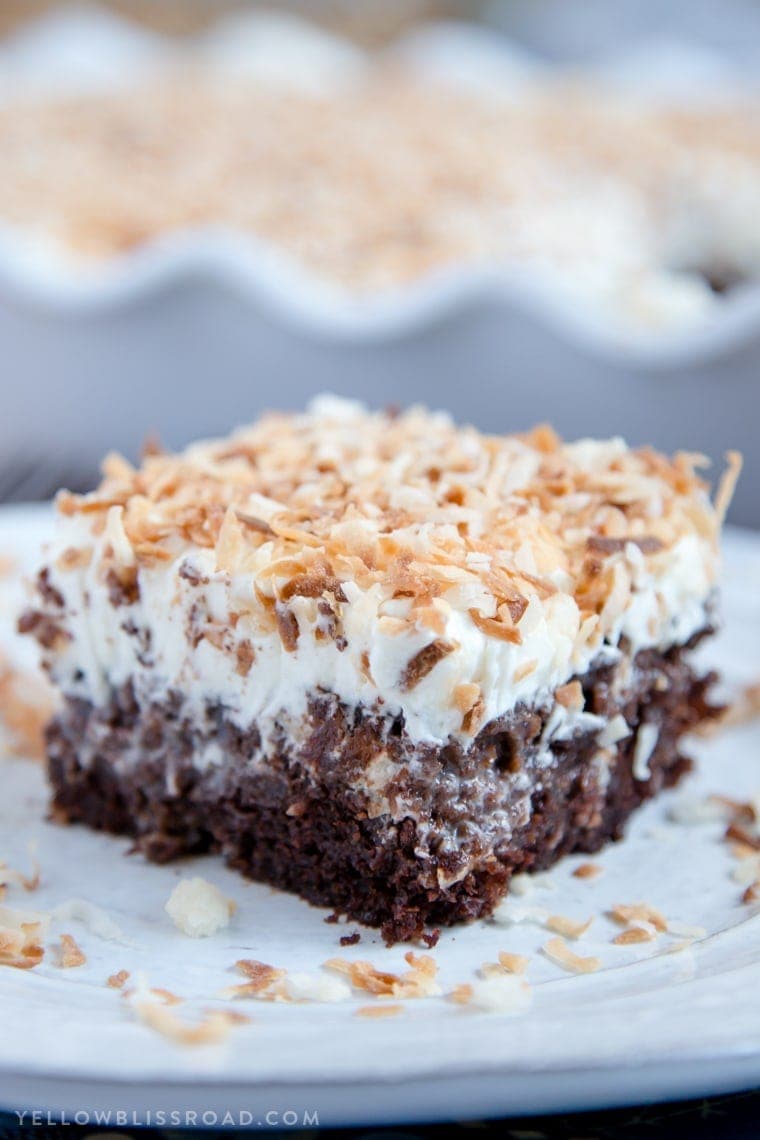 For all desserts go HERE and for all recipes go HERE.