These Carrot Apple Raisin Muffins are going to be your new favorite snack! Incredibly moist and tender, they are delicious for breakfast and perfect for packing in kids' lunches.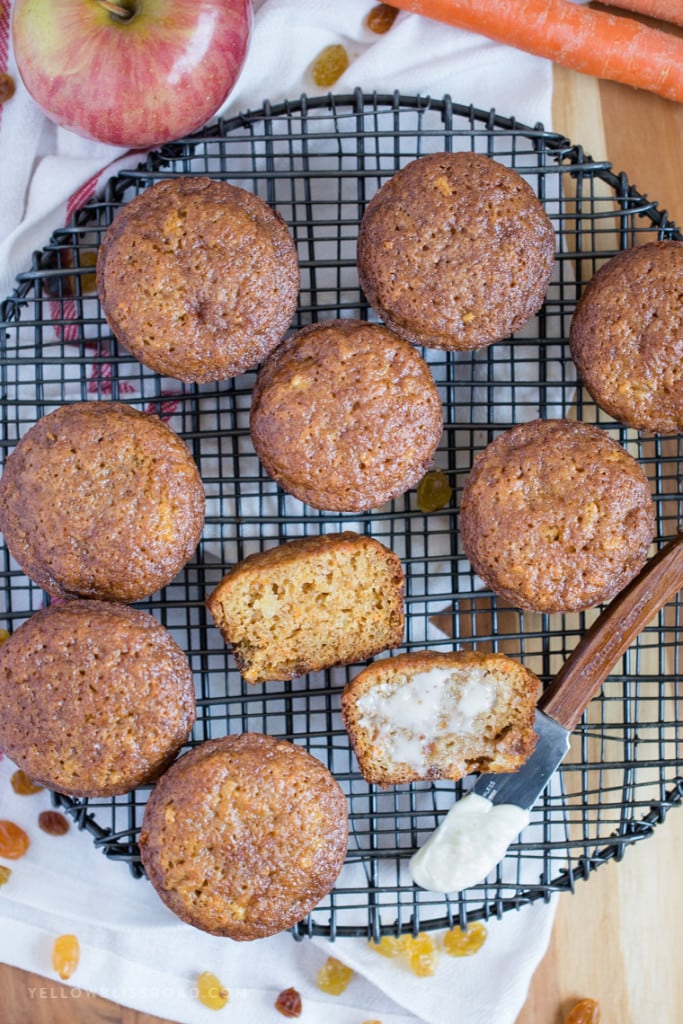 We have a restaurant that I believe might only be in California, called Mimi's Cafe. It's quite a large chain out here on the west coast and my BFF and I used to frequent it quite often. They serve American classics with a french flair, and their French Onion Soup is to die for.
But what we really went for was the bread. As soon as the server would come by to take our drink order we'd say, "iced tea and bread please!" These beautiful bread baskets with mini loaves of french bread and the most delicious carrot raisin bread would arrive shorty at our table.
Now if you ask my daughter how you know the quality of a restaurant, she'll tell you it's the bread. Why? Well besides the fact that's what I taught her to say, it's absolutely true! If a restaurant takes the time to serve delicious fresh bread, you can be fairly certain they are taking even more care with the rest of their menu.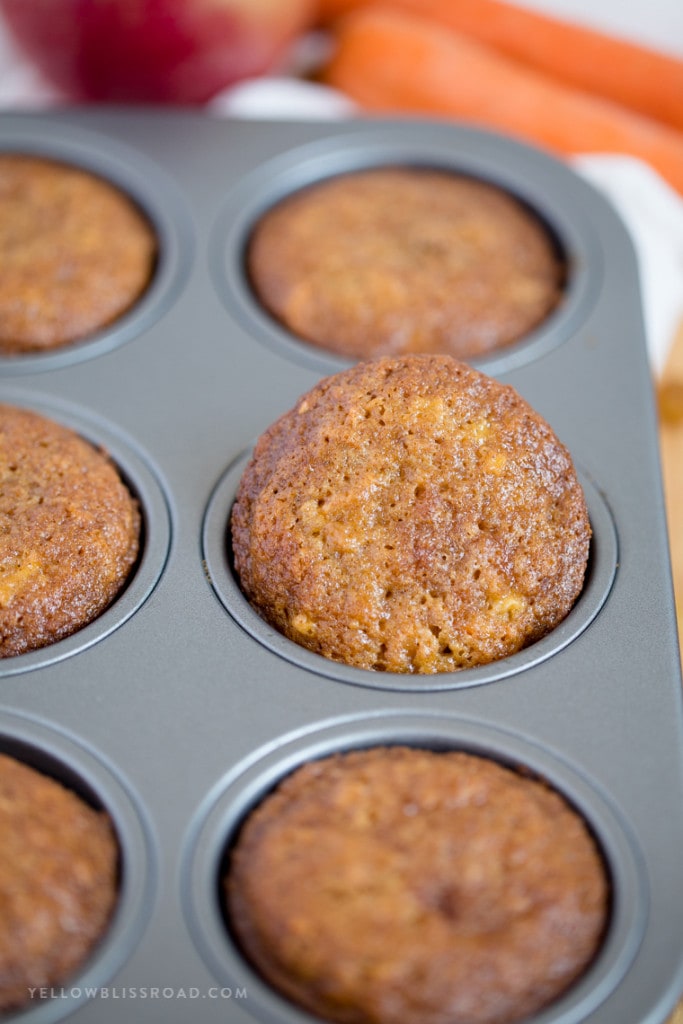 So back to the Mimi's carrot raisin bread. It's incredibly moist and sweet, full of tender carrots and raisins and I believe crushed pineapple. I've been trying to find a recipe to make at home for years and I finally got as close as I think I can come with these Carrot Apple Raisin Muffins. I opted to swap out the pineapple for apples since it's apple season and they are super fresh right now. You don't need a ton of sugar in these muffins since the fruit and carrots are already naturally sweet.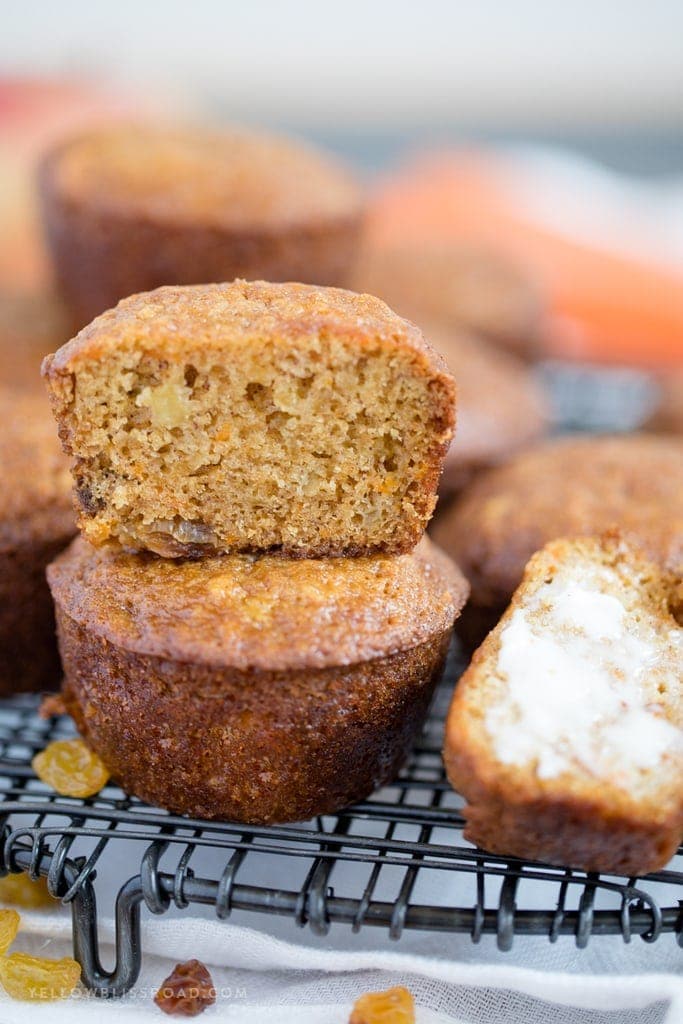 I also added a nice helping of cinnamon as well as the basic muffins ingredients like flour, baking powder and vegetable oil.
The result was a tender chewy muffin that my entire family went crazy for! I hope yours will too!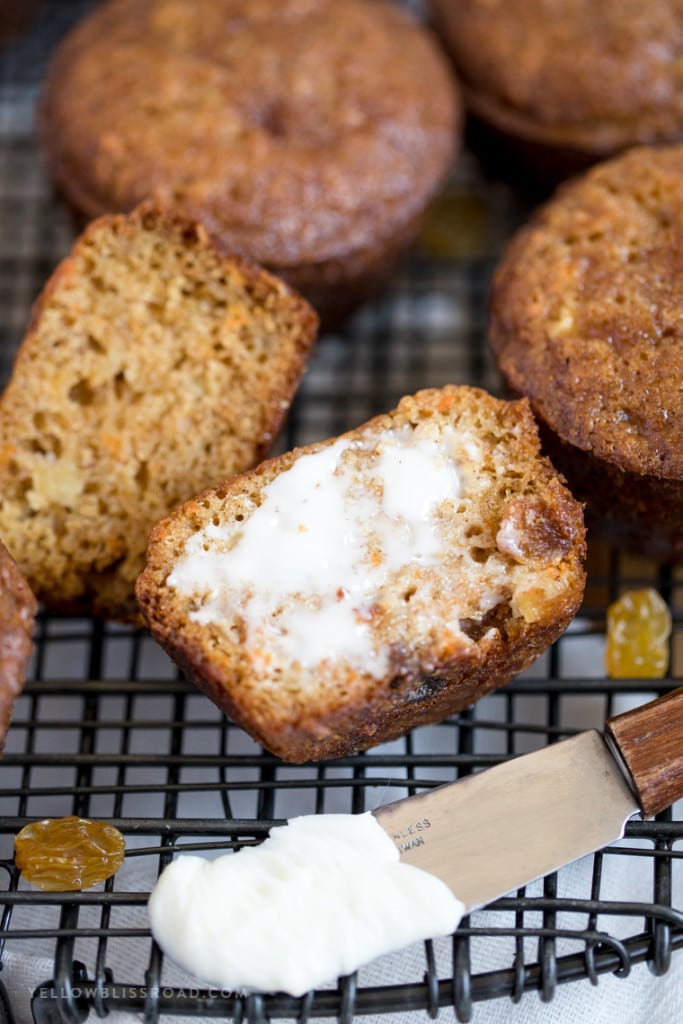 Carrot Apple Raisin Muffin Recipe: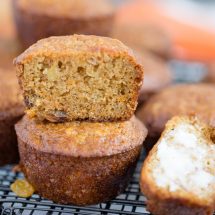 Carrot Apple Raisin Muffins
These Carrot Apple Raisin Muffins are going to be your new favorite snack! Incredibly moist and tender, they are delicious for breakfast and perfect for packing in kids' lunches.
Print
Pin
Rate
Prep Time: 15 minutes
Cook Time: 30 minutes
Total Time: 45 minutes
Servings: 18 Muffins
Ingredients
3 large eggs
1/2 cup vegetable oil
1/2 cup sour cream or plain yogurt
1/3 cup light brown sugar packed
1/3 cup granulated sugar
1 teaspoon vanilla extract
2 teaspoons cinnamon
1/2 teaspoon salt
1 1/2 cups all-purpose flour
2 teaspoons baking powder
1 teaspoon baking soda
pinch of salt
3/4 cup grated carrots about 1 large peeled and trimmed carrot
3/4 cup finely diced apples Gala, Honeycrisp or similar
1/2 cup golden raisins
Instructions
Preheat oven to 350F. Line a muffin pan with paper liners or grease generously with nonstick cooking spray. (I prefer to grease the pan rather than use the papers, which they can tend to stick to).

In a large bowl, whisk together egg, sugars, vegetable oil, sour cream, vanilla and spices to combine.

Gently stir in flour, baking soda, baking powder and salt, just until combined. Do not overmix.

Gently fold in the carrots, apples and raisins.

Spoon batter evenly into muffin cups. An ice cream scoop works great for this.

Bake for 25-35 minutes or until the tops is golden and a toothpick inserted in the center comes out clean or with a few moist crumbs.

Allow muffins to cool in pan for about 15 minutes before turning out on a wire rack to cool completely. Store in an airtight container for up to one week, or in the freezer for us to 6 months.
Here's another favorite muffin recipe:
Zucchini Carrot Oatmeal Muffins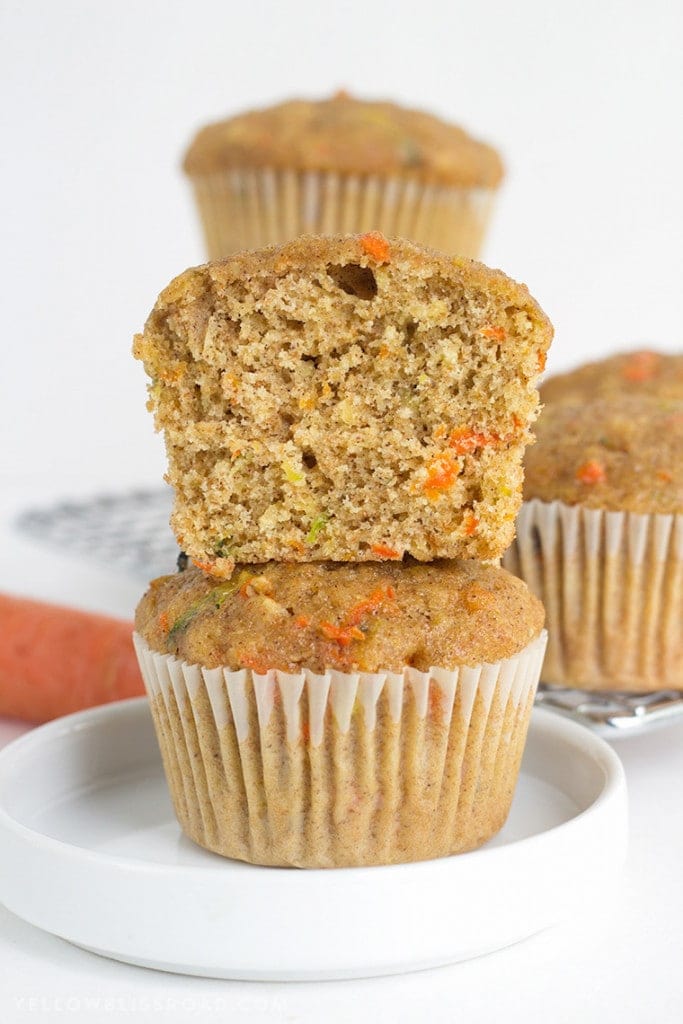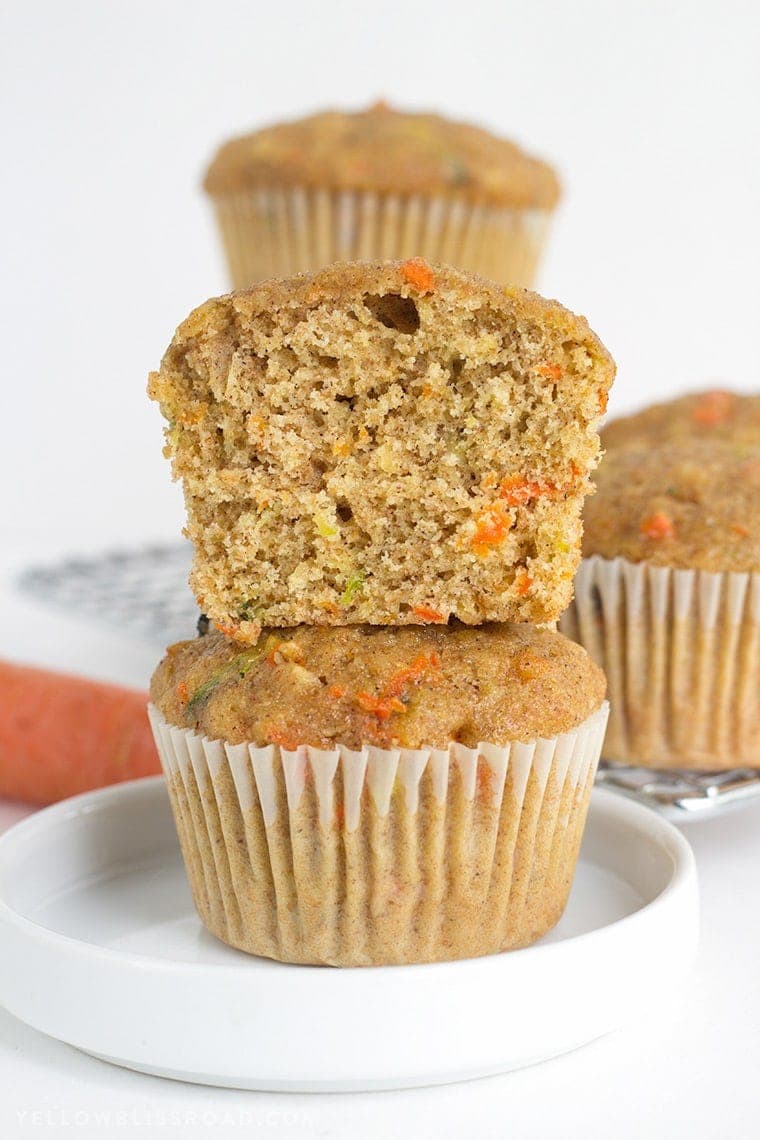 Here are some more delicious quick bread and muffin recipes: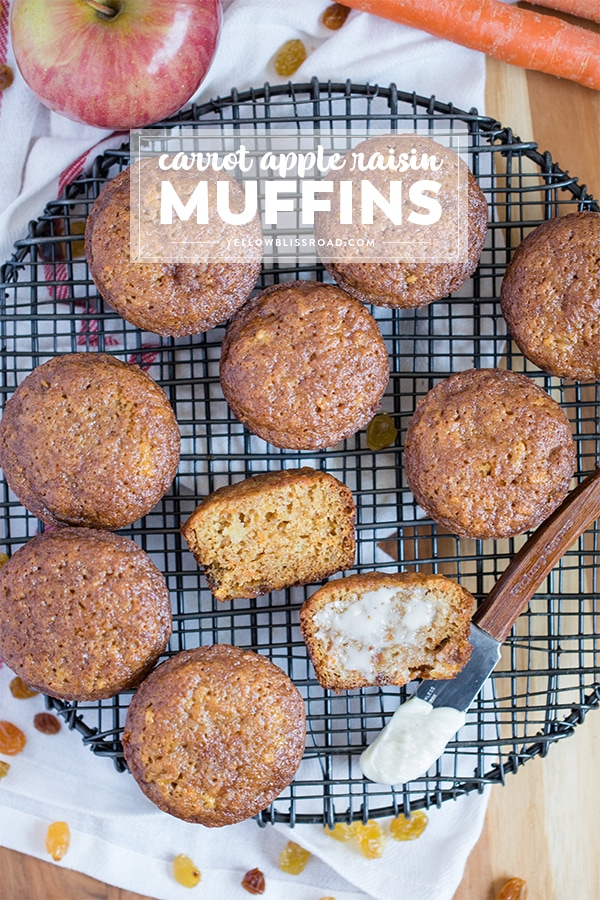 Hi! I'm Kristin, the creative mind behind Yellow Bliss Road where you will be inspired by tons of easy to follow recipes, lots of free printables, and a little sprinkling of life thrown in for good measure.