Custom, handmade treat boxes are a unique way to package up treats. Attach a free printable gift tag and you have lovely (and practically free) packaging for Mother's Day treats!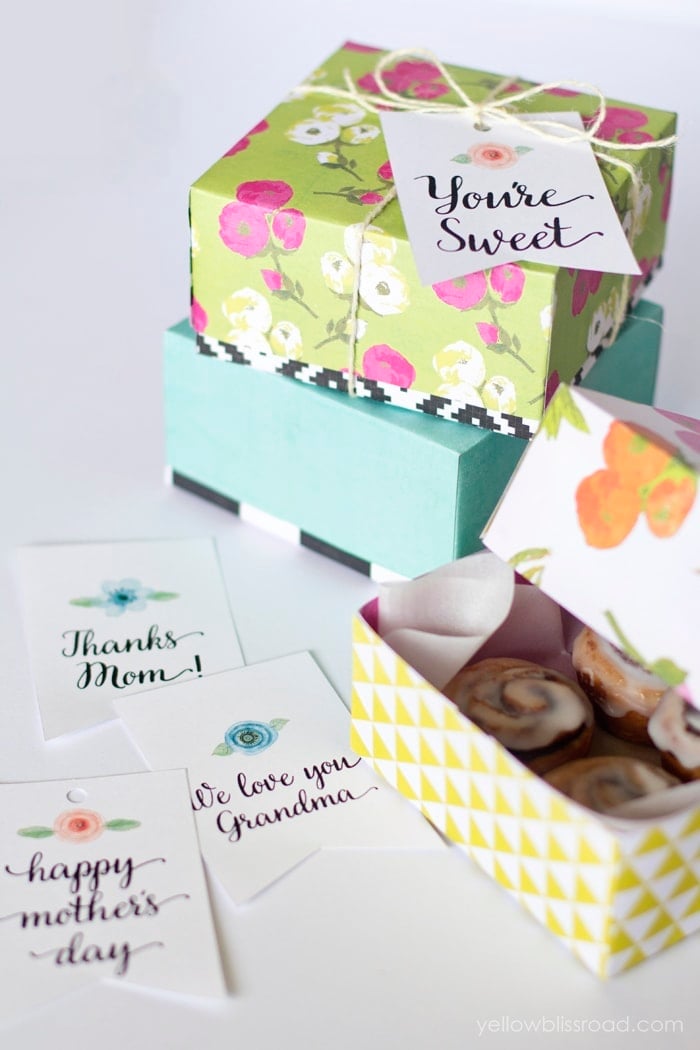 I love handing out homemade treats to friends, neighbors or school staff on holidays (and they love receiving them!), but with our schedule, I don't always have time to do the baking myself. While the homemade treats are appreciated, it's more the ACT of thinking of them and creating a small token of appreciation just for them. Now when I do my weekly grocery shopping, I'll often pick up a package of muffins or cookies so I always have something on hand that I could quickly package up to hand out.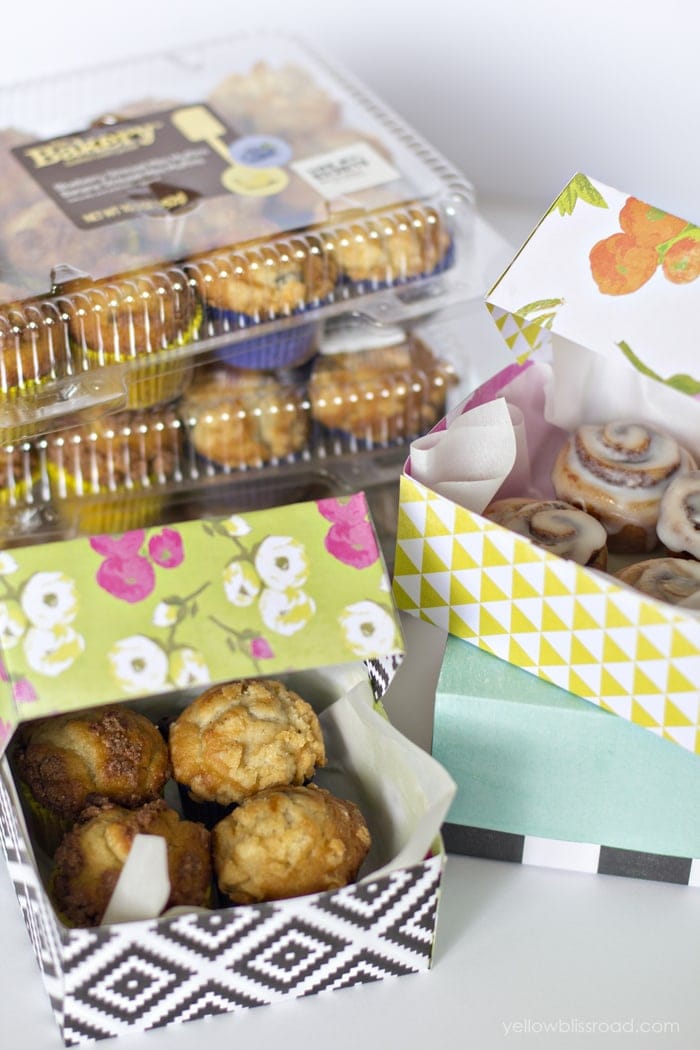 You can find a variety of treats at your local grocery store bakery. Treats like cupcakes, muffins, cookies or brownies are easy to package up and hand out on Mother's Day or any day. Show your mom, grandma, aunt or any other "mom" figure how your much they are loved.
I found a tutorial on how to make these adorable boxes on It's Always Autumn. To make them you'll just need two pieces of scrapbook paper, the heavier works better in my experience. This type of paper is really inexpensive and the box costs under a dollar to make. You could even use solid white cardstock and have your kids decorate it – what a sweet gift that would be for a grandma or aunt! The paper I used here was purchased in a pack at Michaels from the Heidi Swap line.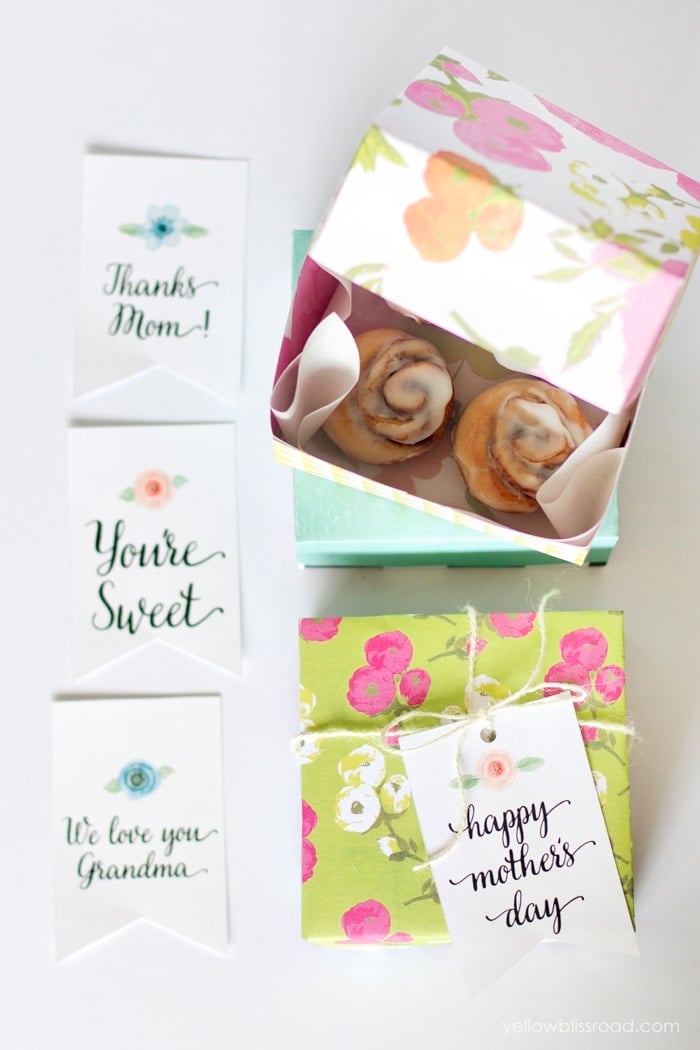 What better time to share that appreciation than on Mother's Day? Any of the special women in your life, mother's grandmothers, aunt or friends, even teachers would appreciate this sweet gift.
So today I encourage you to think about some ways you can show the people in your life you appreciate them. The next time you're grocery shopping, stop by the bakery section and pick up a package of cookies, cupcakes, cinnamon rolls, donuts or other small treat and think about who's Mother's day can be made a little brighter with just that simple gift.
Be sure to download the free printable tags. There are a total of four different tags that can be used for Mother's Day or any day! Instead of putting them all into one file, I decided to give you the actual jpeg graphic images for the tags. Click on the one you want to download, then right click on the image to save it to your computer. To print, just place the graphic in a document like Word or Publisher, or open in Photoshop.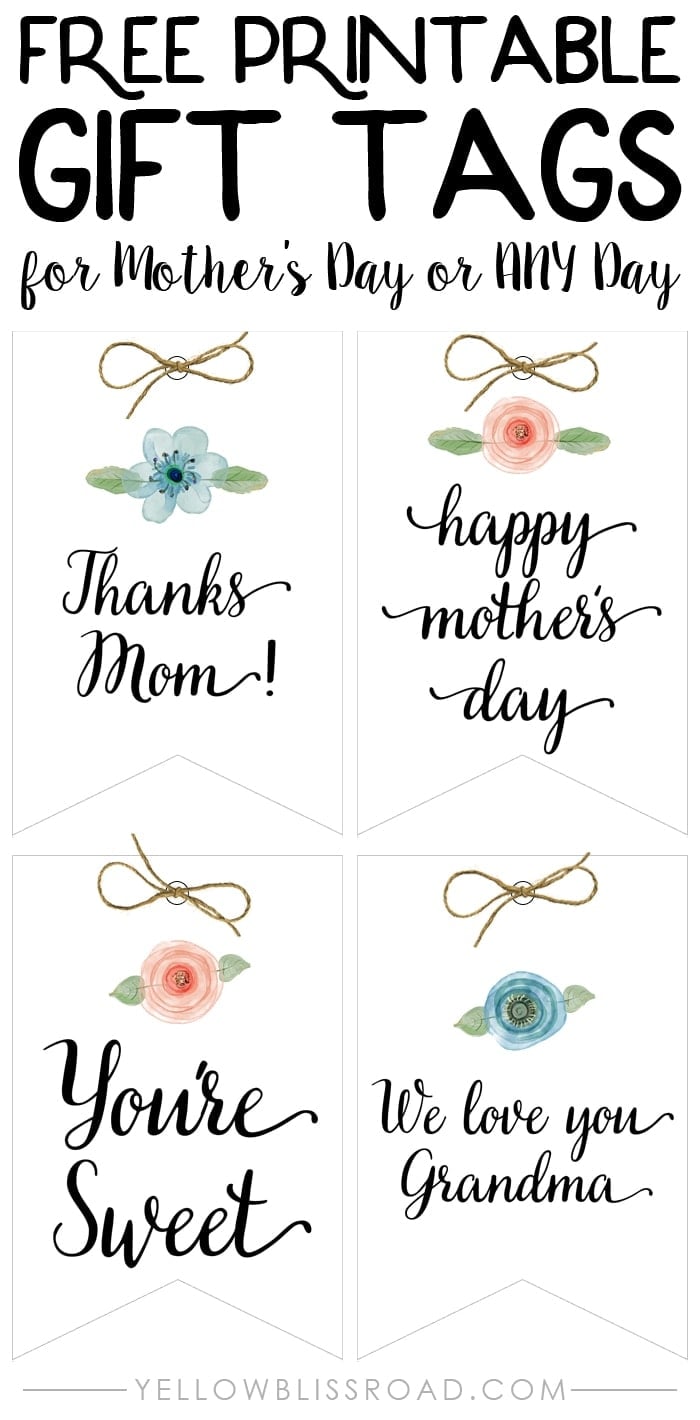 For all FREE PRINTABLES on the site, go HERE.