Free Printable: Have Yourself a Merry Little Christmas
This Christmas printable is just one of many available on Yellow Bliss Road. Be sure to click the link below to see them all.
One of my very favorite memories as a child is watching the Muppets Christmas Special with my mom. We would bake Christmas cookies (like the peanut butter version of my Cookie Butter Blossoms), and while we baked we watched the goofy comedy of a young John Denver and our beloved Muppets characters. It originally aired in the late 70s, and you can't find it anywhere anymore. We were able to score a bootleg DVD a while back, but even with the the quality is awful. But we watch it anyway.
One of my very favorite moments in that Christmas special is when Rowlf the Dog and John sing "Have Yourself a Merry Little Christmas." It's such a sweet exchange between the two and the lyrics of this song get me every single time. Having lost beloved family members around Christmas time six years ago, the lyrics especially hit home "Faithful friends who are dear to us gather near to us once more. Through the years we all will be together if the fates allow…" If you have a moment, here's the youtube video of the song from that very Christmas special.
Of course I had to create a printable to go allow with this song, I hope you enjoy it!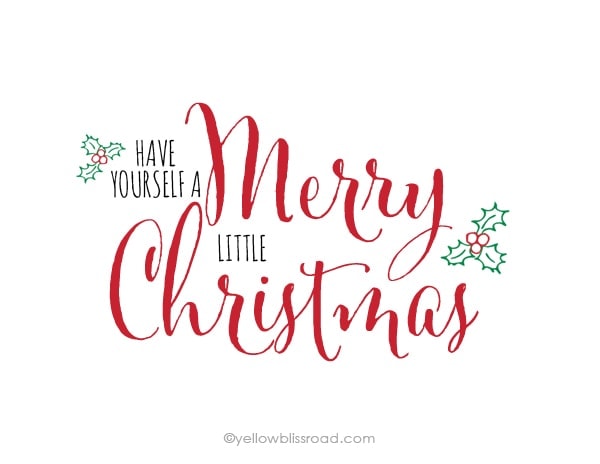 This print is sized at 8×10 but you could reduce it for Christmas cards or gift tags. Please remember that all of my printables are for personal use only and are not to be sold or redistributed.
For more Christmas printables: