These Garlic Chicken Wings are super crispy and covered with a delicious garlic butter sauce. Bake them in the oven for a super crispy skin without frying!
These supremely flavorful wings are a great addition to your appetizer spread, and they pair nicely with other favorites like Garlic Knots, Baked Garlic Dip, and Cheesy Garlic Bread.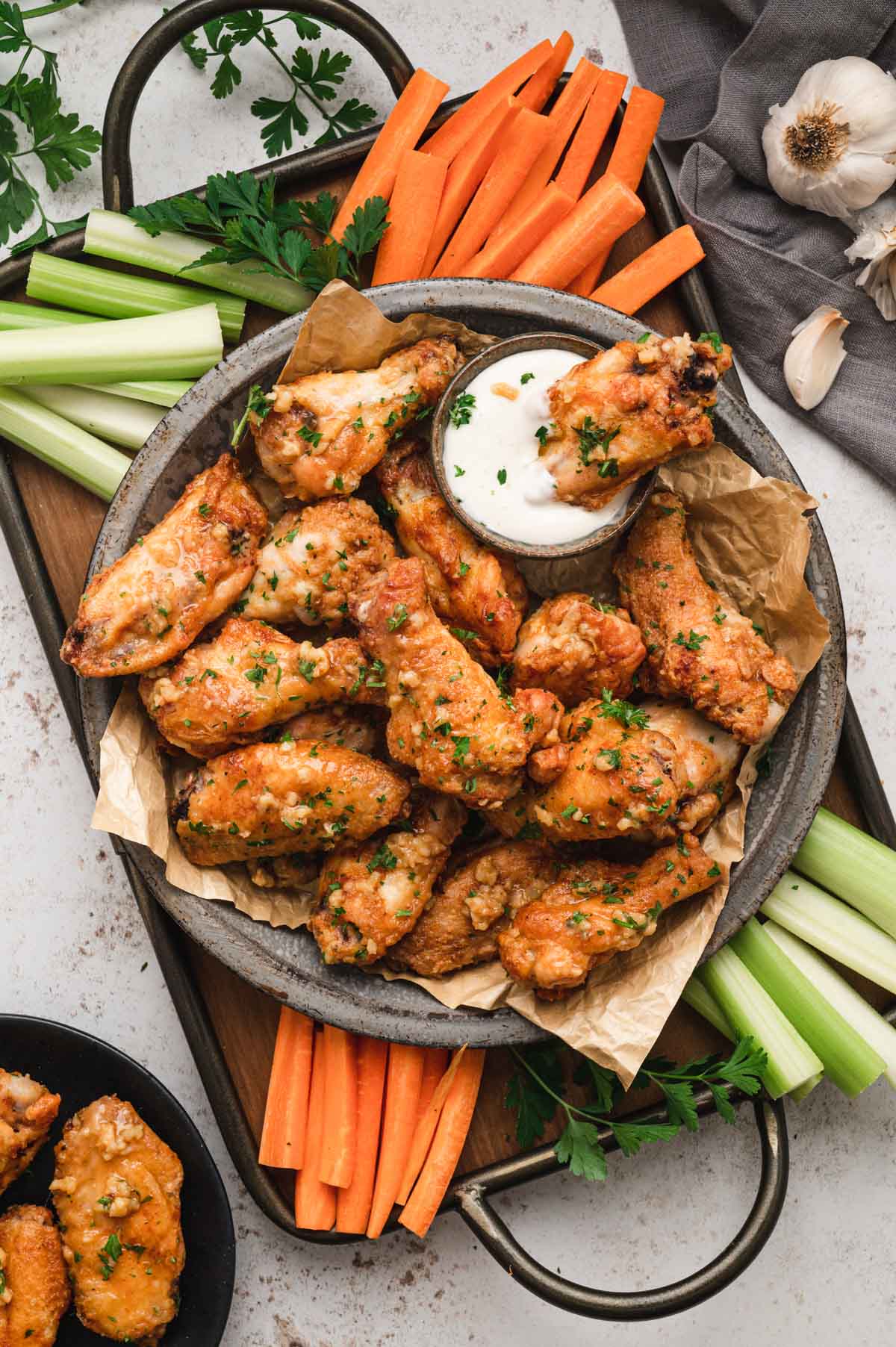 Pin this recipe for later!
Recipe Highlights
Super Easy to Make – Coat wings in flour and seasonings, bake, and toss in garlic butter! It's a simple recipe with amazing results.
Extra Crispy – I utilize a couple of different methods for maximum crispiness.
Versatile – They are perfect for parties, game nights, or even just a quiet dinner at home.
Garlicky Goodness – The fresh garlic is so flavorful!
How To Make Garlic Chicken Wings
Get a detailed list of ingredients & instructions in the recipe card below.
Line a baking sheet with foil and a wire rack.
Pat wings very dry using paper towels.
Mix together flour, baking powder and seasonings.
Coat wings in flour mixture, shaking off excess by tapping on the side of the bowl.
Arrange wings on the wire rack, spacing at least an inch or two apart. Let rest for 10-15 minutes while you preheat the oven to 450℉.
Bake for 20 minutes, flip, and bake for another 15-20 minutes until crispy.
Melt butter and add garlic, Worcestershire sauce, and hot sauce. Cook over low heat for several minutes to soften the garlic and infuse the butter with the garlic flavor.
Toss crispy wings in the garlic butter and garnish with fresh parsley.
Serve immediately with lots of Ranch for dipping.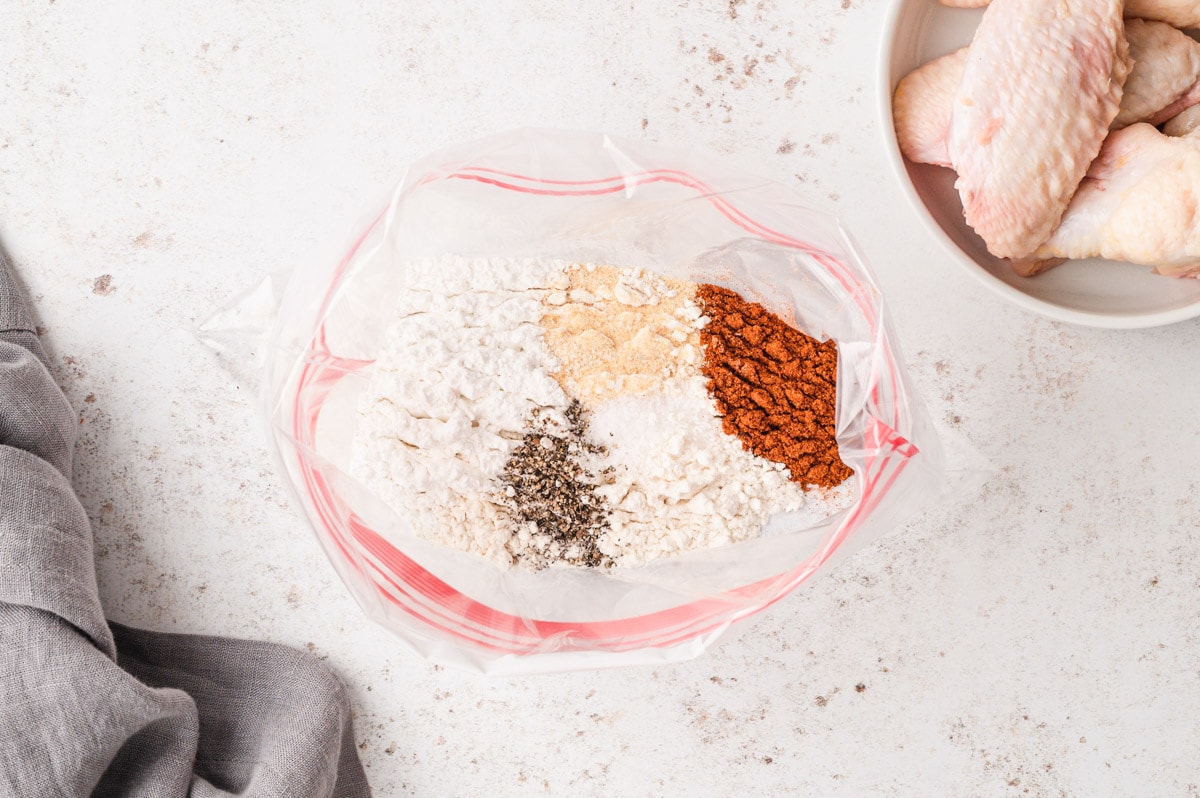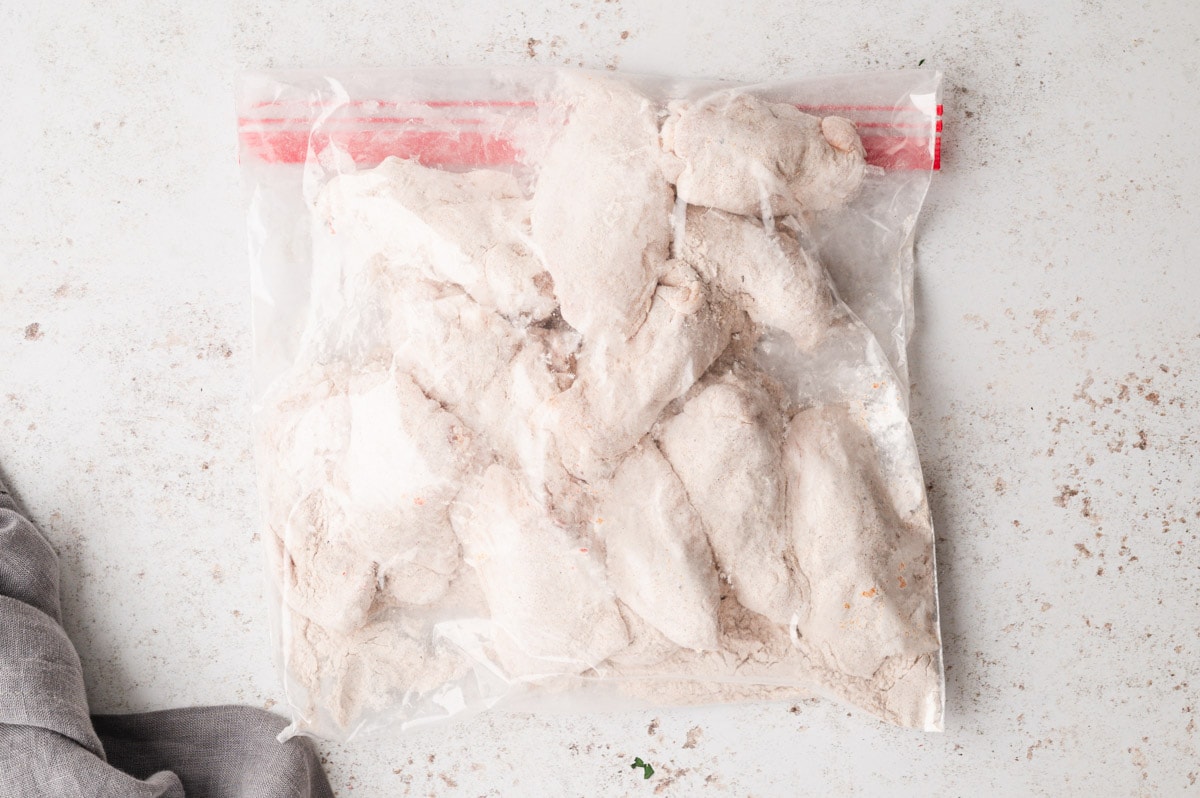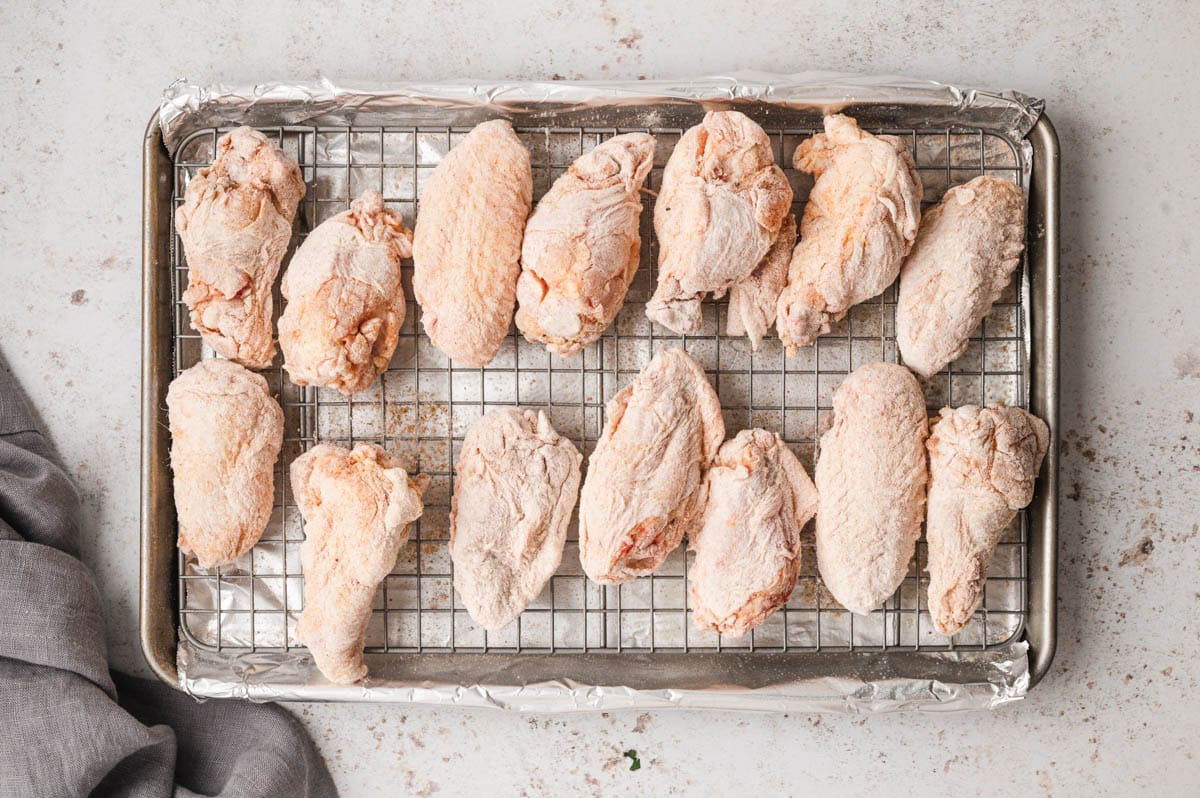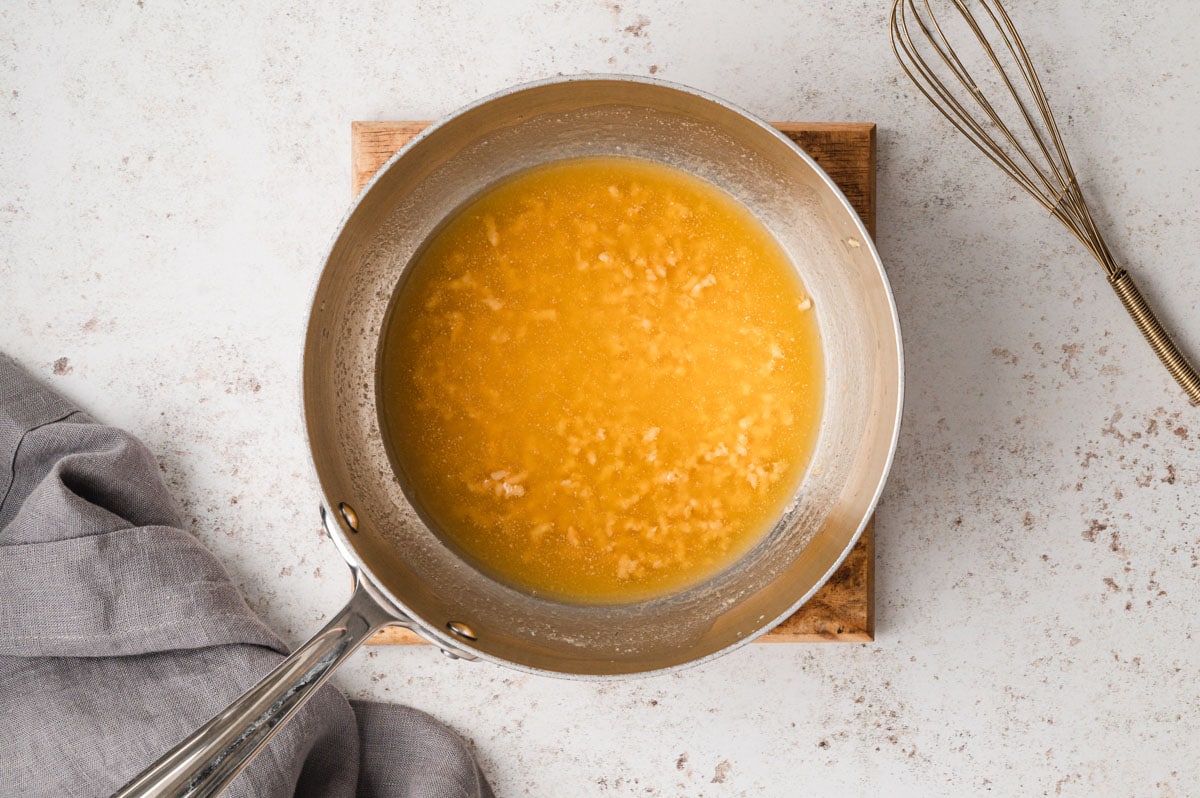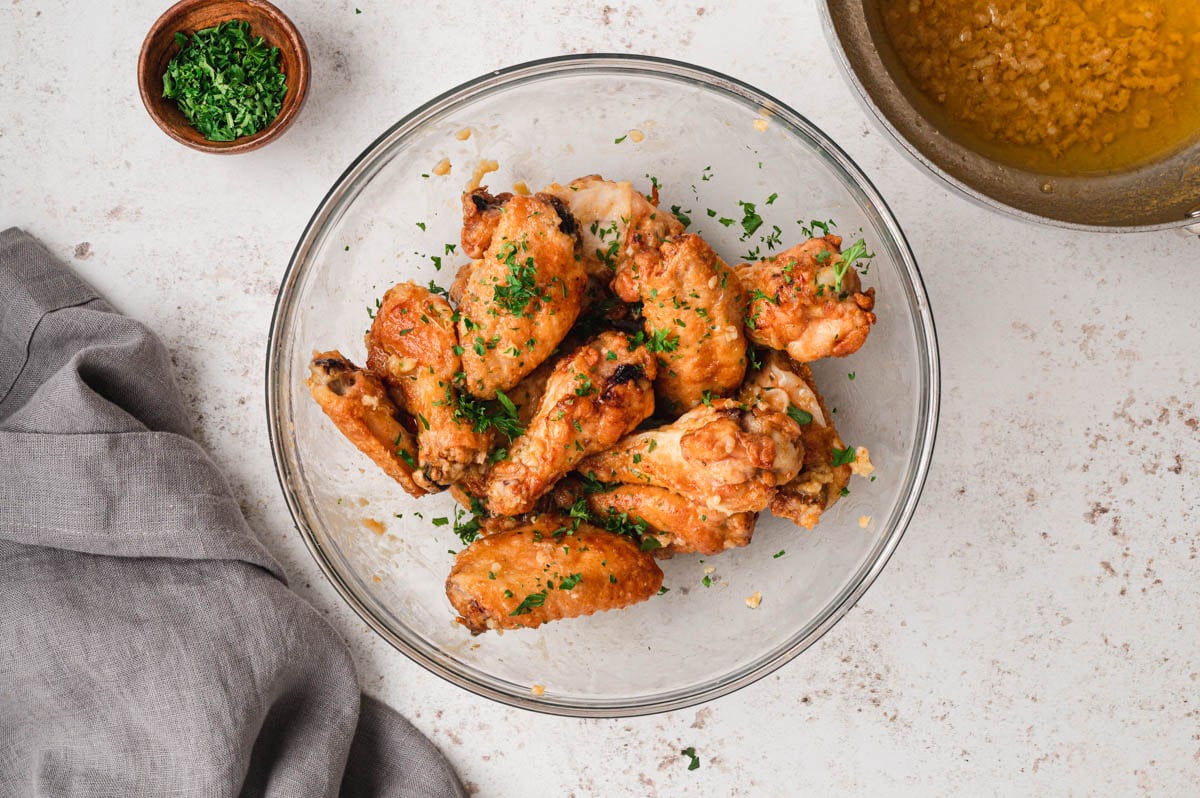 Recipe FAQs
Can I use frozen chicken wings?
I always recommend using fresh chicken when you can. However, frozen wings are perfectly fine as long as you thaw them completely first.
How can I ensure my wings are crispy?
Patting your wings dry, seasoning them well, and cooking on high heat can help achieve that perfect crispiness. The baking powder in this recipe is also crucial to a crispy result – it reacts with the pH in the skin and creates a perfectly crispy result.
How many wings should I make per person?
As a general rule, if serving as an appetizer, prepare 3-4 wings per person. For a main course, 8-10 wings are sufficient.
Can I grill the wings instead of baking?
You can grill them instead, but won't need to flour them. The wings will get crispy as they grill.
Cooking Variations
For any cooking variation, it's important that your wings are completely thawed and you pat them dry with paper towels.
Grill – Preheat the grill to medium heat. Grill on indirect heat for 15-20 minutes, flip, then cook for another 15-20 minutes. For crispy results, move to direct heat for the last 5 minutes. Toss in garlic butter sauce as directed below.
Slow Cooker – Season the wings with salt, pepper, paprika, and garlic powder, then place into the slow cooker. Cover and cook on high heat for 2 ½ hours. Broil on a sheet pan for crispiness. Toss in garlic butter sauce as directed below.
Air Fryer – Preheat the air fryer to 375℉. Season, then spray with nonstick cooking spray. Cook for 10 minutes, flip, then cook for an additional 10 minutes. Toss in garlic butter sauce as directed below.
Storage
Keep in mind that crispy wings are best served fresh, and will lose some of their crispiness when they are chilled.
Refrigerate: Though the wings are best when fresh, you can store the leftovers in an airtight container in the fridge for 3-4 days.
Freeze: Cool completely and flash freeze by placing individual wings on a sheet pan and freezing until solid (1-2 hours). Once frozen solid, you can transfer to a freezer bag and store in the freezer for up to 2 months for maximum freshness. Be sure to squeeze out as much air as possible, and thaw completely before reheating.
How to Reheat to Retain Crispiness: To avoid soggy wings, heat leftover wings in a 400℉ oven on a sheet pan fitted with a wire rack for about 10 minutes, or 400℉ air fryer until heated through, about 5-7 minutes.
Expert Tips
Use fresh garlic: I highly recommend using fresh garlic for this recipe for a more potent flavor.
Ensure crispy wings: Pat wings very dry before coating them with flour to ensure crispiness. If you have the time, place floured wings on a wire rack over a baking sheet in the refrigerator overnight. This will help them dry out even more, maximize their crispy potential.
Spicy wings: For an added kick, incorporate a bit of chili or cayenne pepper.
Preheating is a must: Always preheat your oven. This helps to ensure even cooking.
Give them space: Make sure they are in an even layer with some space between the wings.
Use a wire rack: Be sure to use a wire rack so that hot air can flow all the way around the wings and the juices can run off while cooking.
Flip halfway through: Rotating or turning the wings over halfway through ensures even crispness.
Wing Variety: I like to use a mix of flats and drumettes for variety.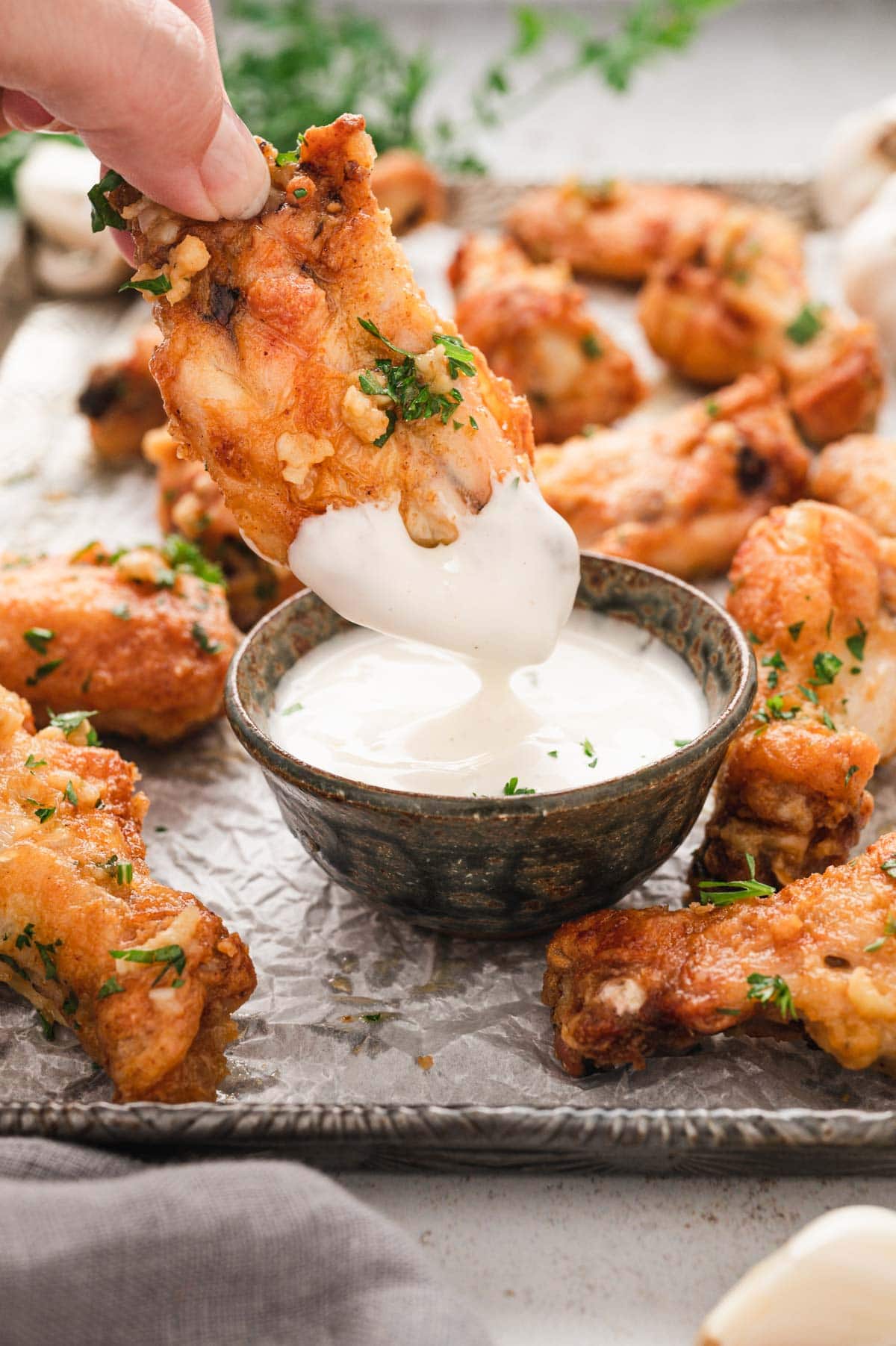 Chicken Wings Recipes to Try Next
Recipe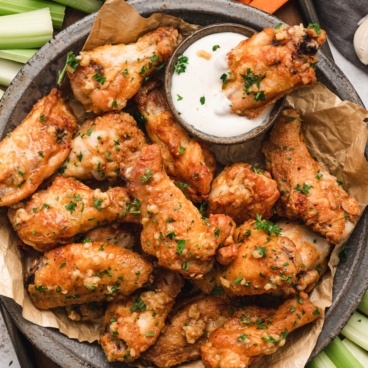 Garlic Butter Chicken Wings
Garlic Chicken Wings are super crispy, and coated in a rich garlic butter sauce. Bake them in the oven for a crispy skin without frying!
Ingredients
3

pounds

chicken wings

sectioned

¼

cup

all purpose flour

2

tablespoons

baking powder

1

teaspoon

salt

2

teaspoon

paprika

1

teaspoon

garlic powder

½

teaspoon

black pepper
For the sauce
4

oz

salted butter

4

cloves

garlic

minced

½

teaspoon

Worcestershire sauce

2

tablespoons

fresh parsley

chopped fine

Tabasco or hot sauce to taste

optional
Instructions
Preheat the oven to 450℉. Line a large baking sheet with foil and place a wire rack on top. Spray wire rack with cooking spray.

In a large bowl whisk together the flour, baking powder and spices until well combined.

With paper towels, pat the wings as dry as possible and toss the wings into the flour mixture, making sure to coat them well. Tap each wing on the edge of the bowl to shake off any excess flour, then place wings in a single layer on the wire rack topped sheet tray.

Bake wings for 20 minutes, flip and then bake for another 15-20 minutes or until crispy, brown and baked through.

While the wings are baking, make the sauce by melting the butter in a small saucepan over medium low heat. Add the garlic and Worcestershire sauce and hot sauce if using, cook for 1-2 minutes until the garlic is no longer raw. Start with 1 tsp hot sauce, taste and adjust to your desired heat level.

In a large bowl, toss the cooked wings with the butter sauce until all the wings are thoroughly coated. Garnish with the chopped parsley. Serve immediately with ranch for dipping.
Notes
A note about serving size – There are approximately 30 wings in 3 pounds. As an appetizer, 3-4 wings is appropriate. As an entree, you need about 7-8 per person.
Nutrition
Calories:
654
kcal
Carbohydrates:
10
g
Protein:
35
g
Fat:
53
g
Saturated Fat:
23
g
Polyunsaturated Fat:
7
g
Monounsaturated Fat:
18
g
Trans Fat:
1
g
Cholesterol:
202
mg
Sodium:
1546
mg
Potassium:
367
mg
Fiber:
1
g
Sugar:
0.3
g
Vitamin A:
1642
IU
Vitamin C:
5
mg
Calcium:
396
mg
Iron:
3
mg