Learn how to make delicious, tender and flavorful Sour Cream Chicken Enchiladas! Flour tortillas are stuffed with flavorful chicken and smothered with a creamy green chile and sour cream sauce then topped with melted cheese.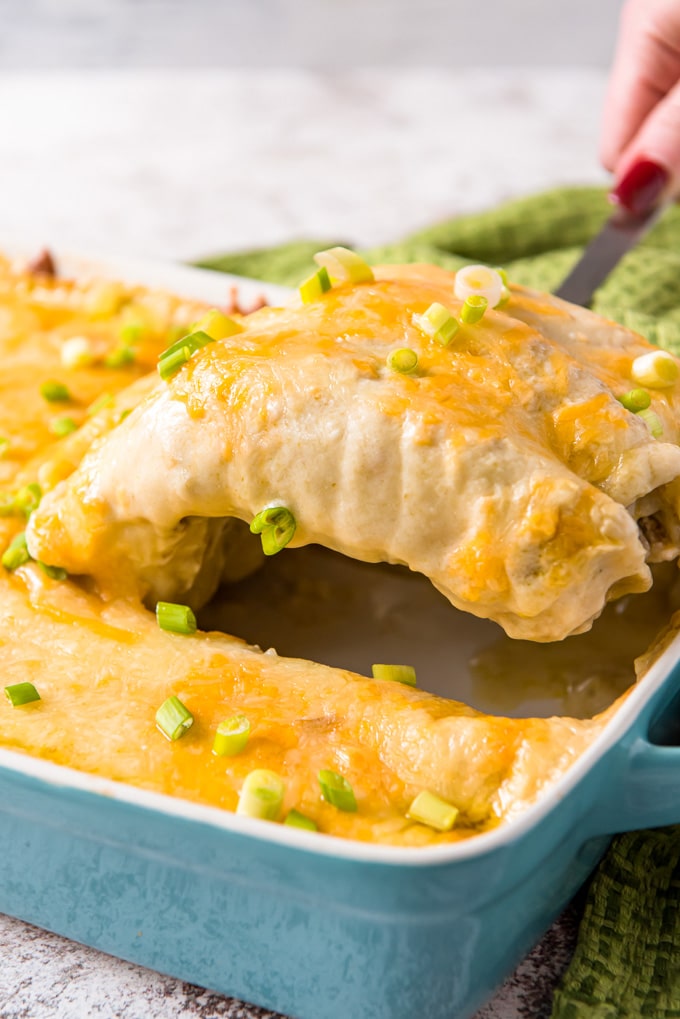 Creamy Chicken Enchiladas
Here's a new recipe to add to your monthly meal rotation – Green Chile and Sour Cream Chicken Enchiladas! These creamy enchiladas are stuffed with tender, flavorful chicken that cooks in your crock pot for hours to infuse the flavors.
I use flour tortillas for this recipe because they are softer and easier to eat. For the sauce, I thickened chicken broth using a roux, then stirred in green chile enchilada sauce and sour cream.
My slow cooker did the work of cooking the chicken in a blend of chicken broth, lime juice and seasonings. Then I shredded the meat and mixed it with cream cheese and a shredded cheddar jack blend. If you have a stand mixer it can do the mixing for you.
What are enchiladas?
A corn tortilla stuffed with meat, then rolled up and covered in a red chile and tomato sauce is a traditional, authentic enchilada. Today, the term "enchilada" is used for any blend of meats and cheese rolled into a tortilla and covered with a chile sauce.
Enchiladas are one of my favorite foods. They are so comforting and can be prepared so many different ways from classic Beef Enchiladas and Chicken Enchiladas to a layered Enchilada Casserole to Chicken Enchilada Soup. I've even made a breakfast enchilada casserole! The flavors are so inviting and you can spice it or keep the heat level mellow.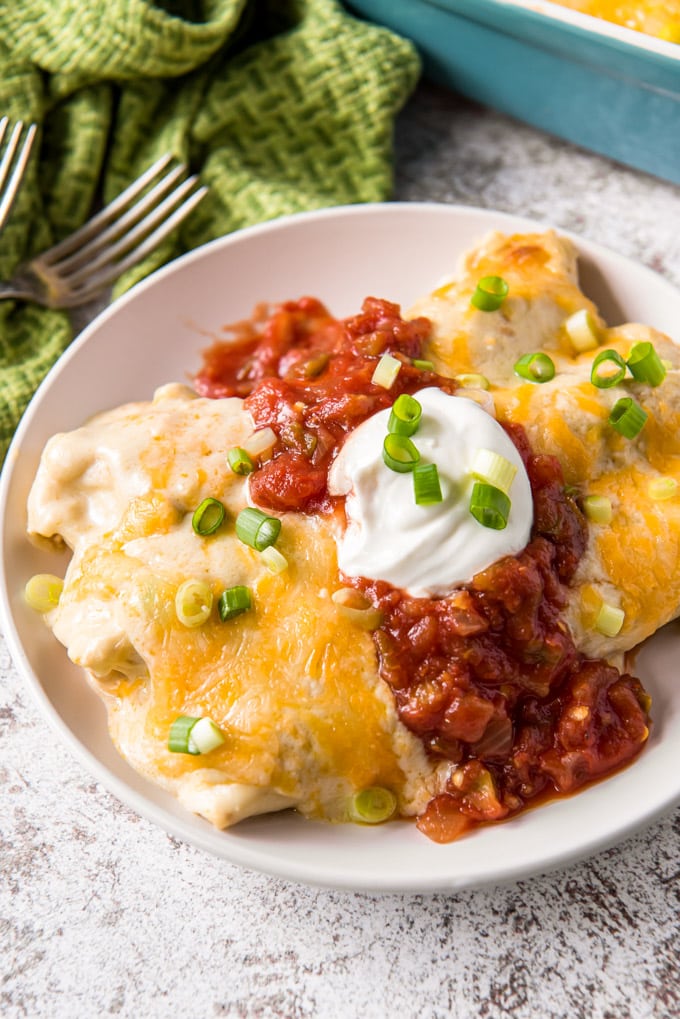 How to Make Green Chile and Sour Cream Chicken Enchiladas
There are a few extra steps to this recipe so it does take a little extra planning. But the steps and ingredients are simple and go quickly.
Slow Cooker Chicken for Enchiladas
Place chicken breasts, either fresh or frozen into your crock pot. Add chicken broth, lime juice, and taco seasoning. Cover and cook for 3-5 hours or until meat is fully cooked. The time can vary depending on the size of the chicken breasts and the temperature of your slow cooker and whether chicken is fresh or frozen.
Shred chicken using two forks and place shredded meat back into the slow cooker, stirring together with the liquid. Let cook for another 30 minutes or so, or keep on warm until you are ready to make the enchiladas.
You can also prep the meat a day or 2 ahead of time and store in the fridge, or for up to 6 months in the freezer in an airtight container.
Sour Cream Enchilada Sauce
Start by making a roux with flour and butter in a pot on the stove. Whisk in chicken broth then let the sauce bubble and simmer for several minutes as it thickens.
Stir in green chile enchilada sauce, then wait several minutes before stirring in the sour cream because you don't want the heat to cause the sour cream to separate. You should now have a nice, thick sauce and you're ready to make your sour cream chicken enchiladas!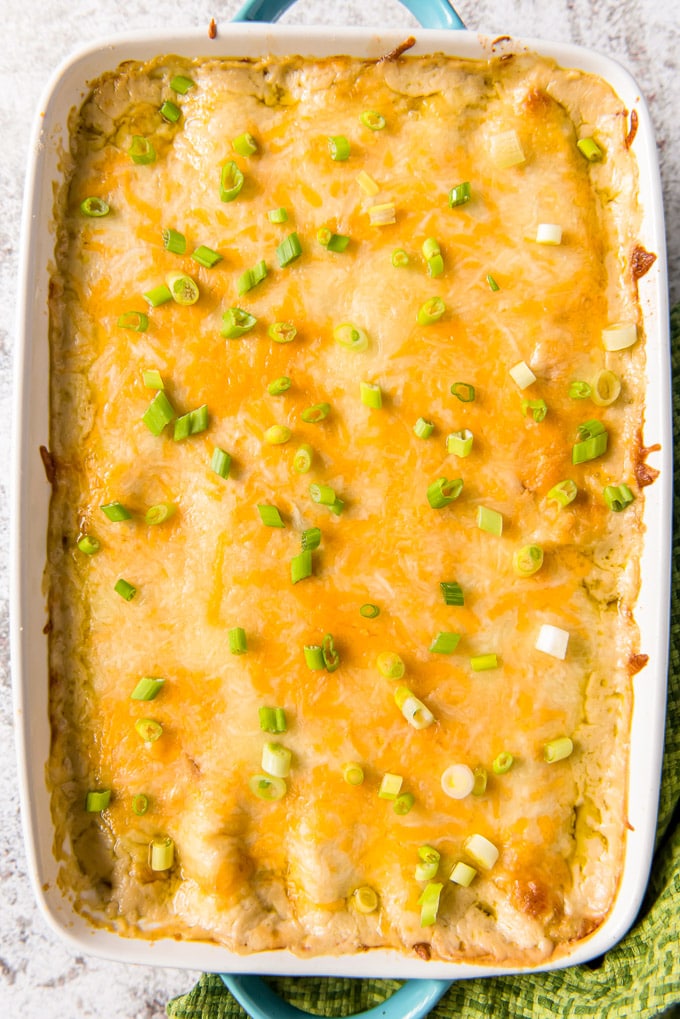 Enchilada Assembly
Scoop the chicken out of the liquid using tongs or a slotted spoon so the liquid will drain off. Combine chicken with cream cheese, green chiles and some shredded cheese.
Spread some sauce on the bottom of a large 13×9-inch baking dish; enough to coat the bottom.
Place a flour tortilla on a flat surface like a cutting board, then scoop about ½ a cup of the chicken mixture and spread all the way down the center of the tortilla. Roll the tortilla and place it seam side down in the baking dish. Repeat with remaining chicken and tortillas. Depending on how full you stuff each enchilada, you should get around 8-12. If you end up with more than will fit in the dish, use a second dish prepared the same way.
Pour remaining sauce over the enchiladas slowly, so it can sink down around the edges. You don't have to use all of the sauce. Sprinkle cheese on top and bake until the sauce is bubbling around the edges and the cheese is melted.
Simplify this Recipe
If you are short on time or just want to make this recipe a little faster, here are a few tips:
Rotisserie Chicken – You need 4 cups of shredded chicken for this recipe, which is about what you will get from a whole rotisserie chicken. Combine the chicken with the chicken broth, lime juice and taco seasoning in a saucepan on the stove and simmer for about 20 minutes.
Cream of Chicken Soup – In place of the roux and chicken broth, use a can of cream of chicken soup and mix with the with the enchilada sauce and sour cream. If it's too thick, add a little bit of milk.
Pre-shredded cheese – While I always recommend using freshly grated cheese off the block, you can use pre-shredded for your sour cream enchiladas.
Serving Suggestions
Sour Cream Enchiladas go great with Mexican Rice and Mexican Beans or just a simple copycat Olive Garden Salad or even some frozen corn. Keeping it light is key, since this is a heavier dish. Or, simply serve with salsa and sour cream for topping.
If you have leftovers, store in an airtight container and reheat in the oven or microwave. I don't recommend freezing as it can cause the tortillas to get quite soggy.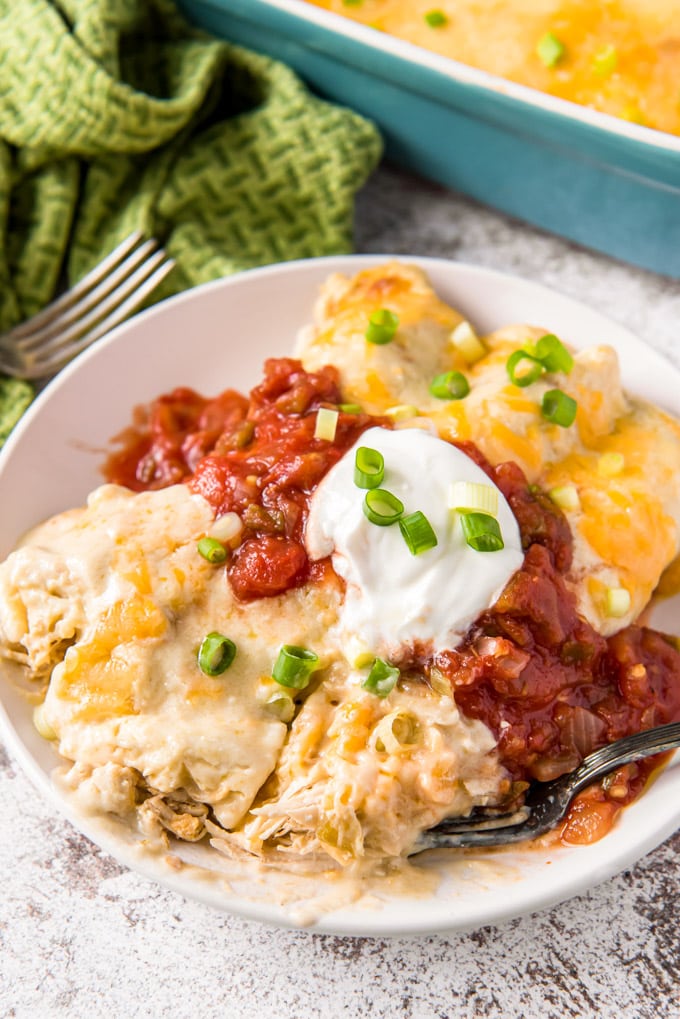 Recipe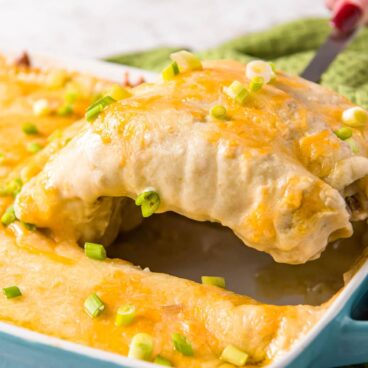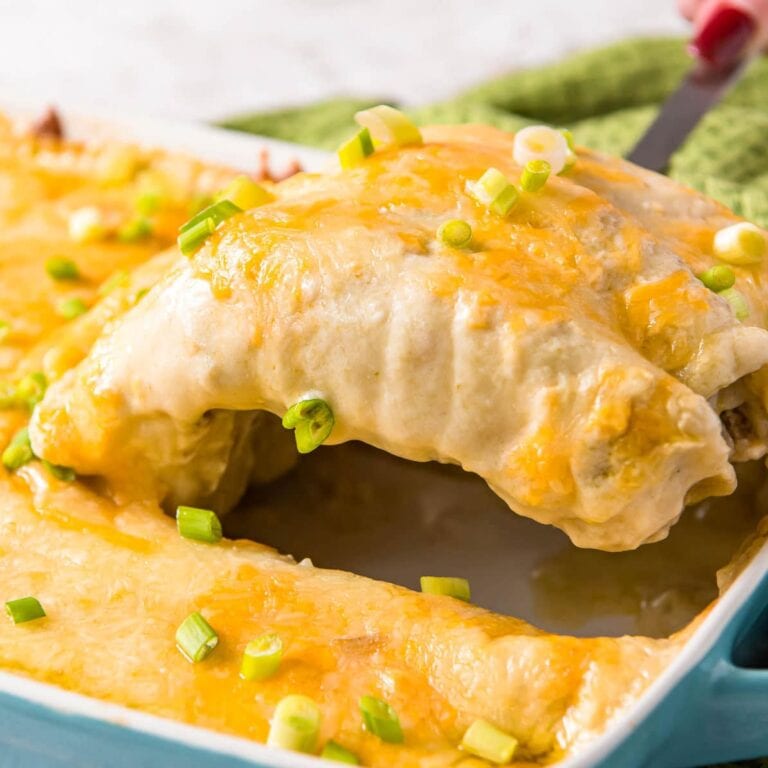 Slow Cooker Creamy Chicken Enchiladas
Sour Cream Chicken Enchiladas have flour tortillas stuffed with chicken and are smothered with a creamy green chile and sour cream sauce and melted cheese.
Total Time
4

hours
15

minutes
Ingredients
Chicken:
2

pounds

boneless, skinless chicken breast

or about 4 cups cups cooked and shredded chicken

1

cup

chicken broth

2

tablespoons

lime juice

2

tablespoons

taco seasoning
Sauce
2

tablespoons

butter

2

tablespoons

all-purpose flour

1

cup

chicken broth

10

ounce

can green enchilada sauce

1

cup

sour cream

1/2

teaspoon

Cumin

1/2

teaspoon

Garlic powder

Salt

to taste
Enchiladas:
4

cups

cooked and shredded chicken

4

ounces

cream cheese

at room temperature

4

ounces

canned mild green chiles

2 ½

cups

shredded cheese, divided

fresh off the block – any combination of cheddar, mozzarella or jack

8-12

soft flour tortillas

fajita or soft taco size
Instructions
Chicken:
Place chicken breasts in the pot of your slow cooker and pour in lime juice and chicken broth. Sprinkle in seasoning over and around the chicken. Stir it up and replace the lid. Cook on high for 3-4 hours if frozen, 2-3 hours if fresh.

Shred chicken into chunks in the slow cooker. Stir to coat with the juices, then cover and cook for another 30 minutes to an hour on low.

Strain chicken from the liquid and transfer meat to a bowl. Set aside while you prepare the rest of the recipe. If making this chicken ahead of time, refrigerate in an airtight container for up to 24 hours, or freeze up to 3 months. (TIP – the juices from the slow cooker would make a great base broth for chicken tortilla soup, or could be used as the broth for the sauce, below).
Sauce:
Heat a medium saucepan over medium heat. Melt 2 tablespoons of butter, then whisk in 2 tablespoons of flour. Cook, whisking often, until golden; 2-3 minutes.

Pour in 1 cup chicken broth (from the slow cooker, or from a package), whisking as you go until fully combined. Cook for 5-6 minutes, letting the mixture bubble and stirring it often, or until thickened.

Stir in enchilada sauce, then remove from heat and let sit for about 10 minutes to cool slightly before stirring in the sour cream.
Assembly:
Preheat oven to 375 degrees F. Grease a 13×9-inch pan with nonstick cooking spray. Ladle about some of the sauce into the bottom of the pan – just enough to coat – and spread to coat evenly.

To the chicken, add about 1 ½ cups of shredded cheese, 4 ounces of softened cream cheese and a 4 ounce can of mild green chiles. Stir to combine.

Lay out one flour tortilla on a cutting board or other flat surface. Scoop about ½ a cup of the chicken mixture and spread it along the center of the tortilla. Roll, and place seam side down into the prepared pan, careful not to lose any filling. Repeat with the remaining chicken and tortillas.

Once the pan is filled (I fit 10 in my pan), pour the rest of the sauce over the enchiladas and spread evenly. Sprinkle on remaining cheeses.

Bake, uncovered, for 20-30 minutes or until sauce is bubbly and cheese is melted.
Notes
NOTES:
I got 10 enchiladas from this recipe – you may get a little more or a little less depending on how much filling you use and the size of your tortillas.
Feel free to use corn tortillas instead. You may need to soften them in the microwave prior to filling, and they may require a slightly longer bake time to account for the denser tortilla.
To simplify this recipe:
Use rotisserie chicken and simmer for 20-30 minutes in the same ingredients as the slow cooker method
Swap the sauce for a combo of cream of chicken soup, enchilada sauce and sour cream.
Nutrition
Calories:
738
kcal
Carbohydrates:
41
g
Protein:
43
g
Fat:
44
g
Saturated Fat:
23
g
Cholesterol:
170
mg
Sodium:
1738
mg
Potassium:
516
mg
Fiber:
3
g
Sugar:
8
g
Vitamin A:
1536
IU
Vitamin C:
15
mg
Calcium:
486
mg
Iron:
5
mg