Rhubarb Muffins are moist, fluffy, and the perfect balance of tart and sweet. Add an easy streusel topping for the perfect summer breakfast or snack. New to baking with rhubarb? I include all the information you need!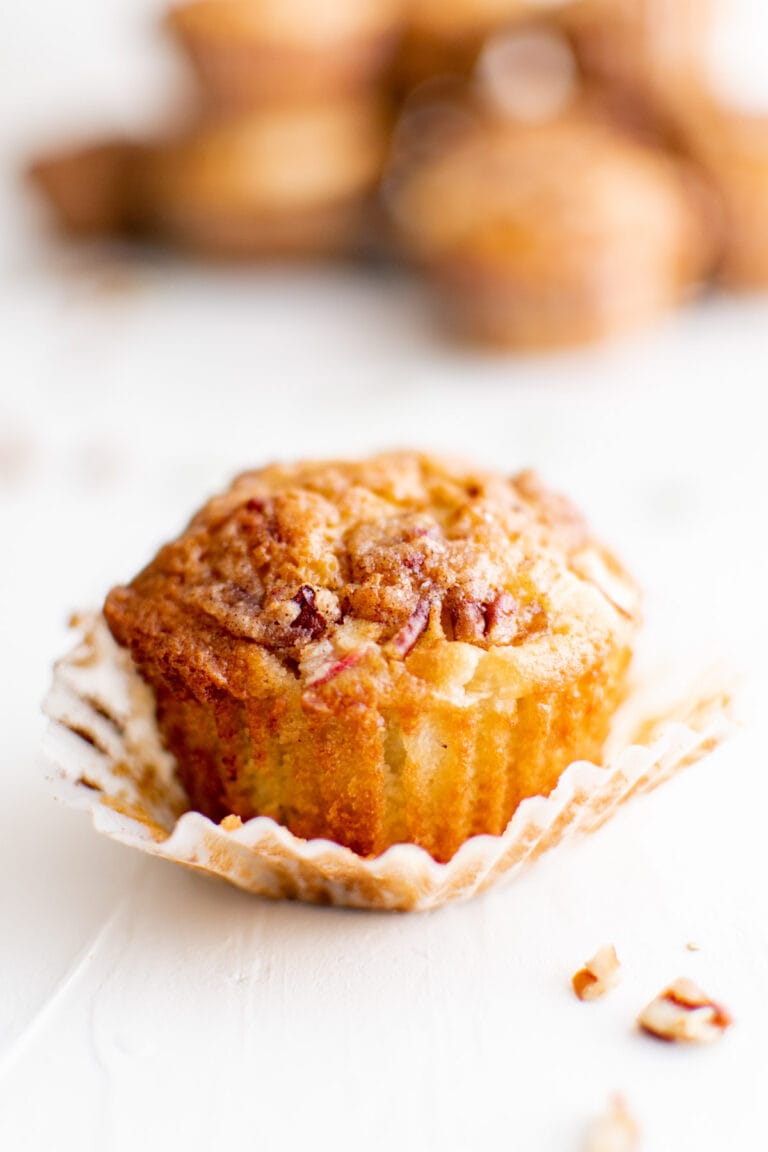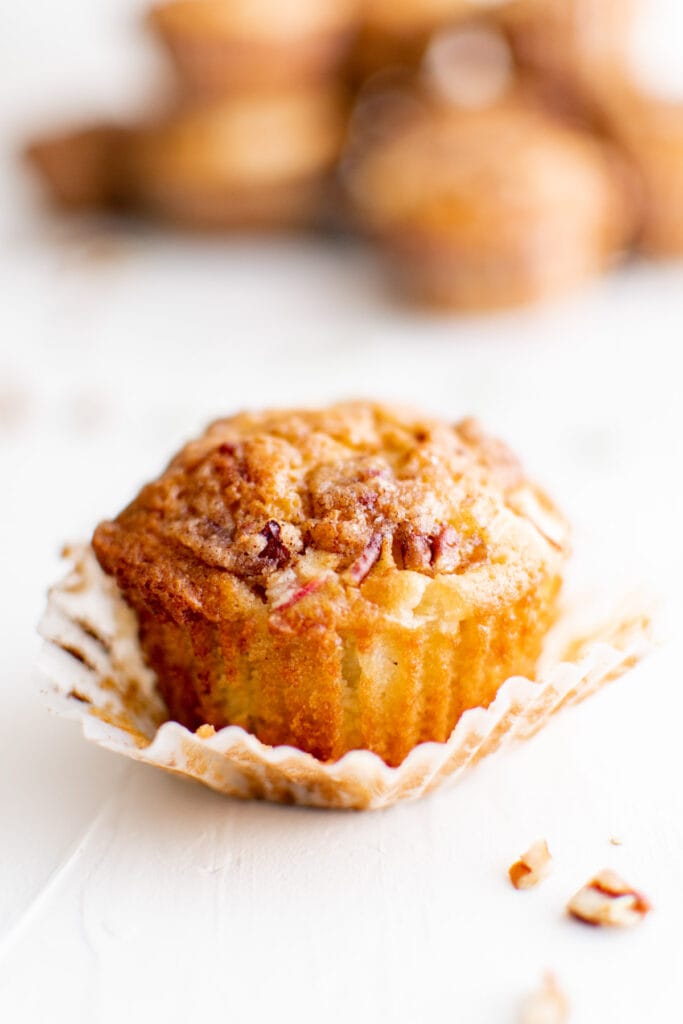 This Rhubarb Muffin recipe is one of my favorite ways to use fresh rhubarb. This season, pick up some fresh rhubarb and bake some muffins for breakfast and a Strawberry Rhubarb Crisp for dessert!
All About Rhubarb
Although rhubarb is technically a vegetable, it is used more like a fruit in pies, cakes, and other baked goods. The stalks of rhubarb are a beautiful ruby red color and it is in season during late spring/early summer.
Flavor of Rhubarb – Raw rhubarb is very tart in taste so when used in cooking it is combined with sugar to balance the tart and sour flavor. The texture of raw rhubarb is very crispy, similar to celery, but it becomes soft and tender when cooked.
How To Eat Rhubarb – You can only eat the stalks of the rhubarb plant. The rhubarb leaves are actually toxic so make sure to discard them!
How To Cut – If you're using fresh rhubarb, you'll need to dice it up for the muffins. Start by trimming the bottoms and leaves from the rhubarb and throwing both away. Rinse and scrub any dirt from the rhubarb stalks. Then dice the stalks into small pieces.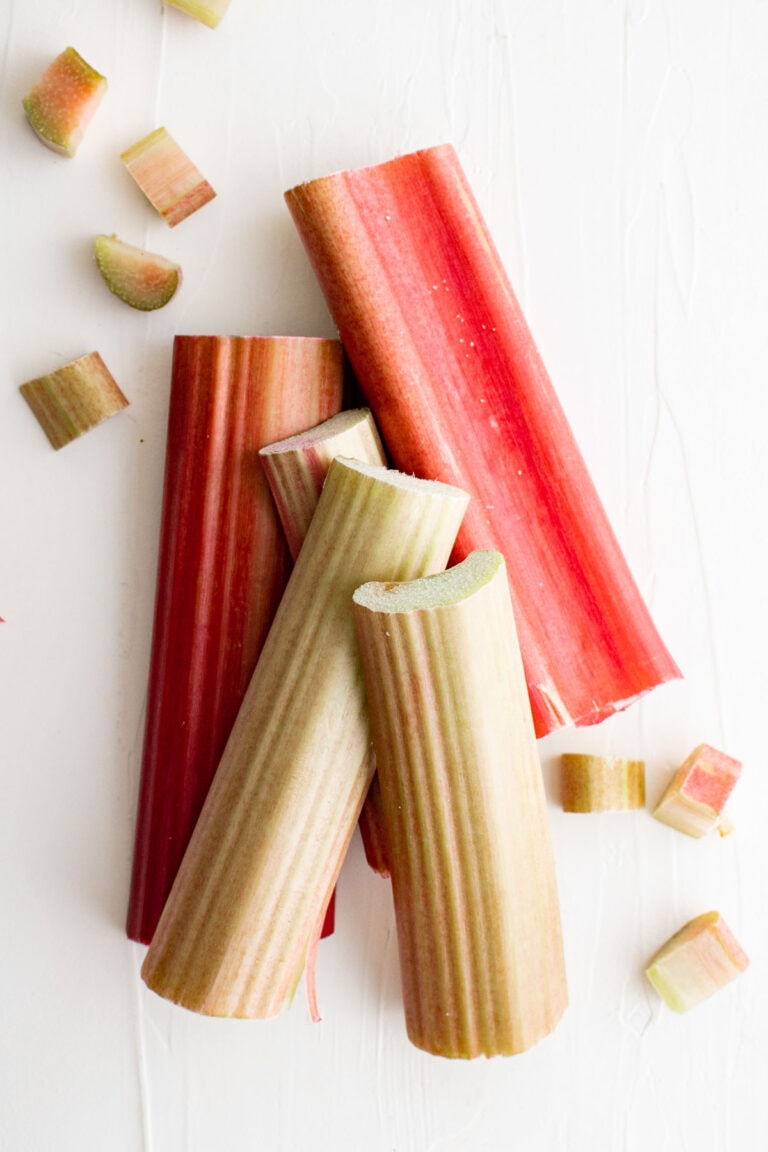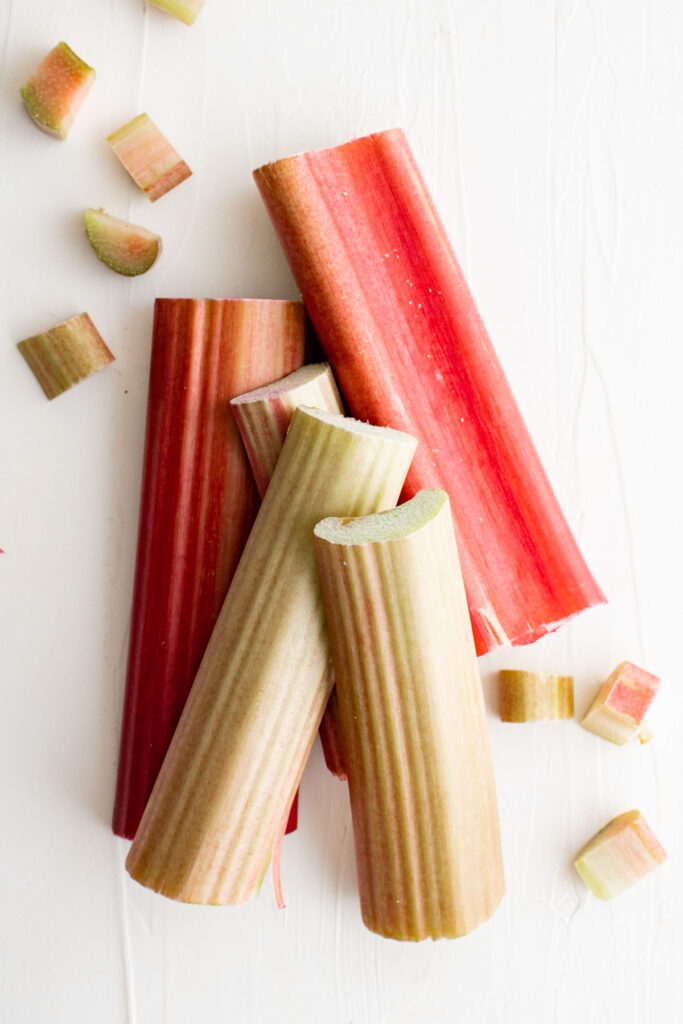 Freezing Rhubarb – Rhubarb is a great option to freeze! I love doing this when I have excess fresh rhubarb in the summer. I prefer to flash freeze the diced rhubarb on a sheet pan until frozen. Once frozen, transfer the rhubarb to a freezer bag or airtight container. It can be kept in the freezer for up to 3 months.
Ingredients and Substitutions
Here are the ingredients you need to make these tender rhubarb muffins. Most of them are pantry staples and I included notes on swaps you can make.
All-purpose flour
Baking powder and baking soda
White granulated sugar
Brown sugar – make sure to pack the brown sugar when measuring.
Salt
Sour cream – this makes the muffins so moist!
Milk – you can use whole milk, 2%, or nonfat milk.
Vegetable Oil – or canola oil
Eggs – for best results, have your eggs at room temperature so they incorporate into the batter better.
Vanilla extract
Rhubarb – Fresh is preferred, but you can use fresh or frozen. If you use frozen, thaw it first, and pat dry to remove excess liquid.
Butter – melted to make the streusel topping
Pecans – chopped for the streusel topping
Cinnamon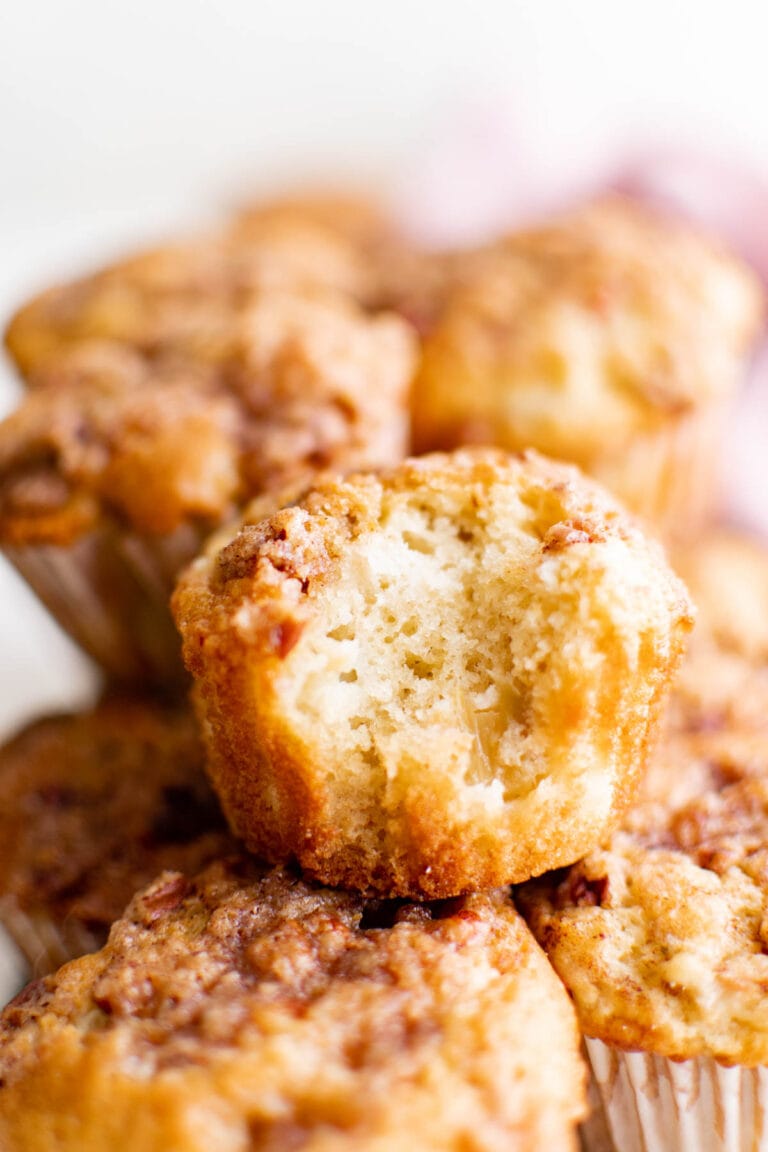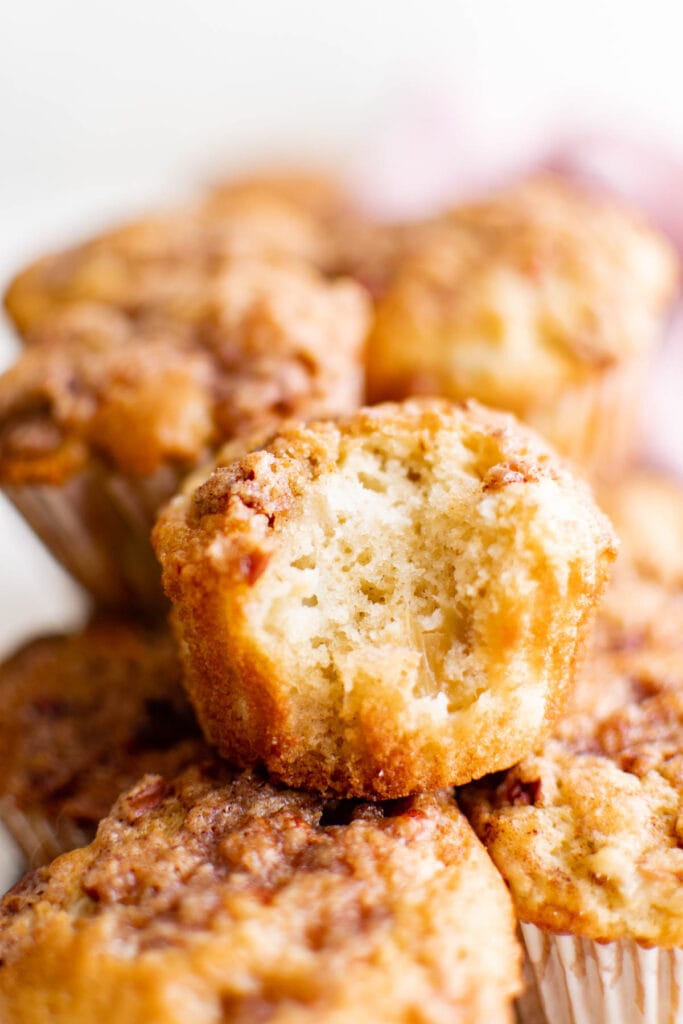 Step by Step Instructions:
* Be sure to see the recipe card below for the
complete list of ingredients and full instructions *
Making the rhubarb muffin batter is so easy and you don't even need a mixer! It's a perfect recipe to get the kids involved that love to stir.
Prep. Start by getting your oven preheating and grease a standard-sized muffin pan or line with paper liners. You can also use a jumbo-sized muffin pan, but the bake time will need to be increased.
Make the batter. Mix up your dry ingredients (flour, baking powder, baking soda, granulated sugar, brown sugar, and salt) in a large bowl to combine. In a second bowl, whisk together the wet ingredients (sour cream, milk, oil, eggs, and vanilla extract) until smooth and combined. Add the wet ingredient mixture to the dry ingredients and stir until almost combined. You can stir with just a wooden spoon or rubber spatula – no need to use a mixer for this step. Finally add the rhubarb and stir together until just combined. Make sure you don't overmix the batter.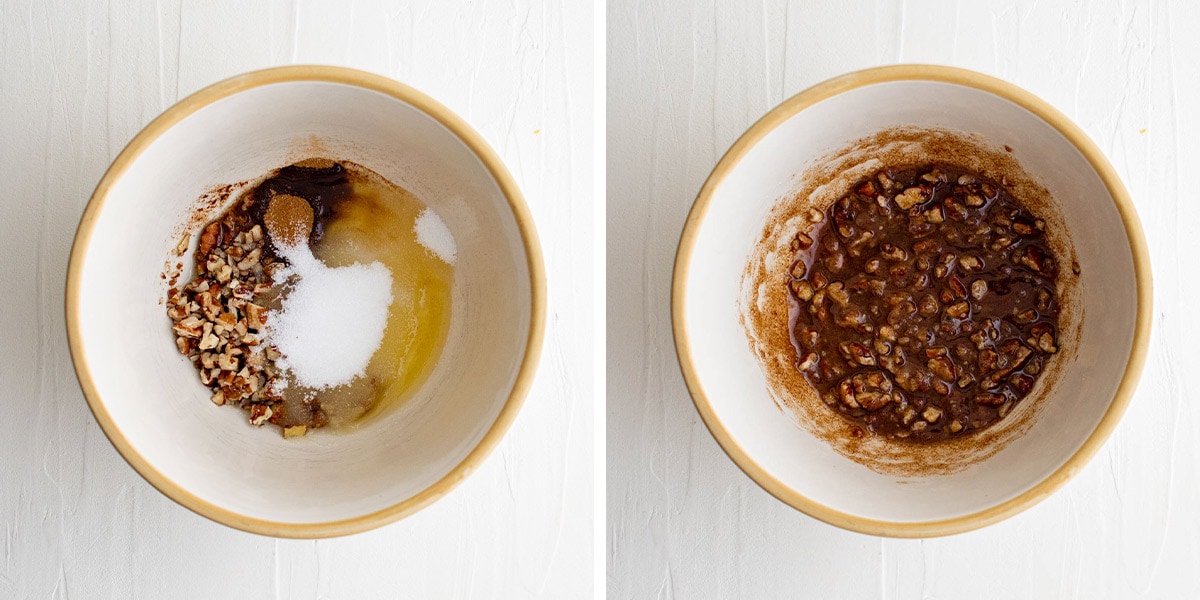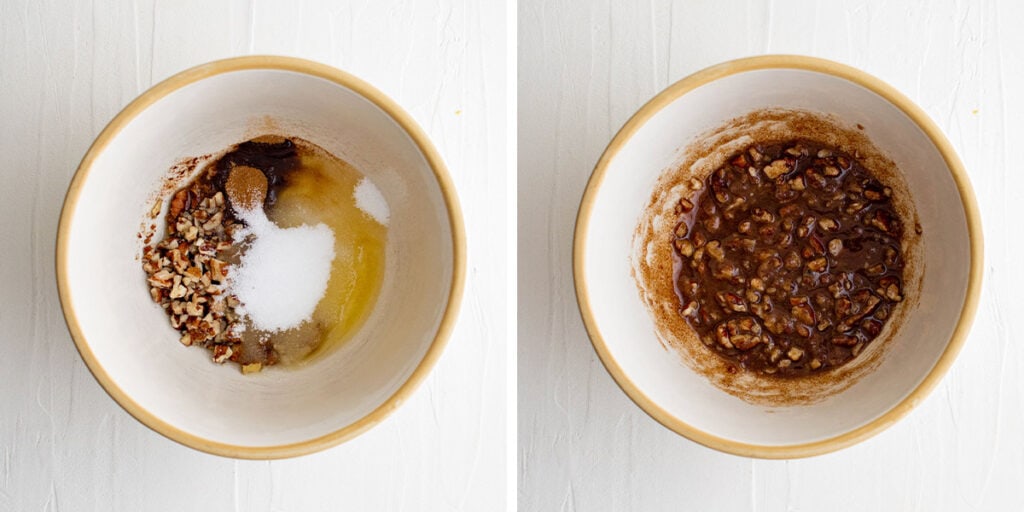 Make the Streusel Topping. Mix together the streusel ingredients (melted butter, sugar, pecans, and cinnamon) until combined. It should have a texture similar to thick, wet sand that can be pressed together into clumps.
Fill the Muffin Pan. Divide the muffin batter among the 12 greased or lined muffin cups. Fill each muffin cup about 3/4 cup full with batter. Sprinkle the batter with the streusel topping.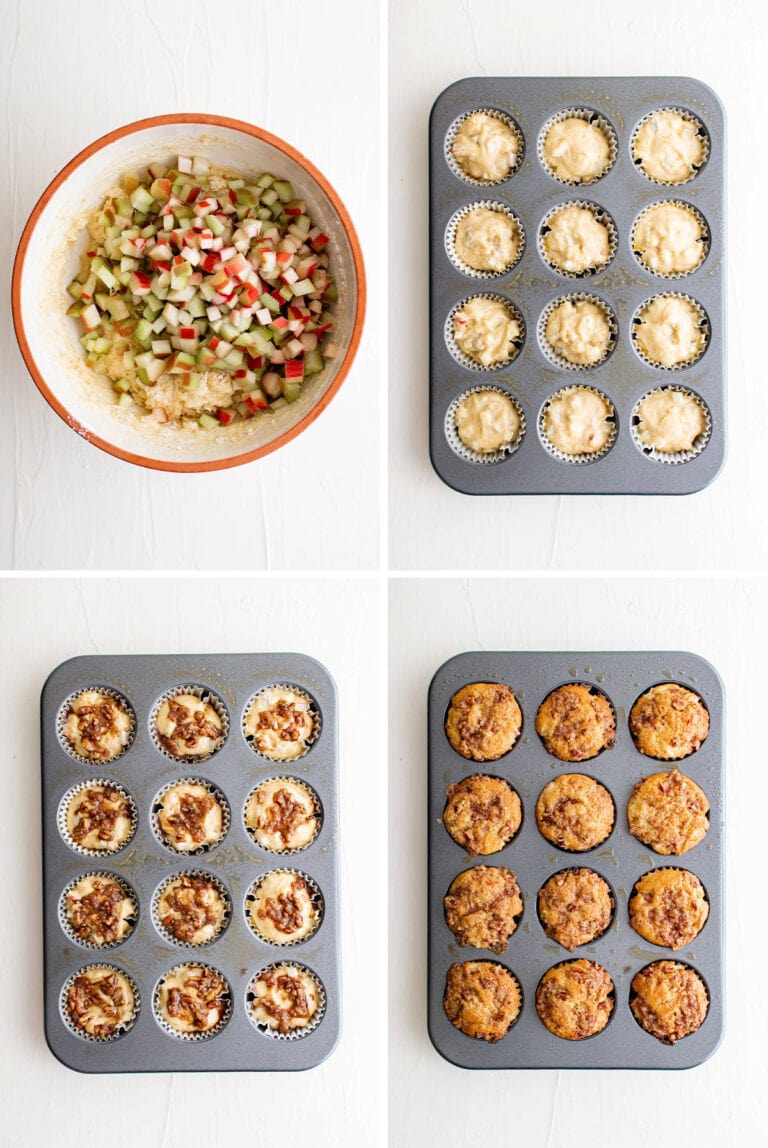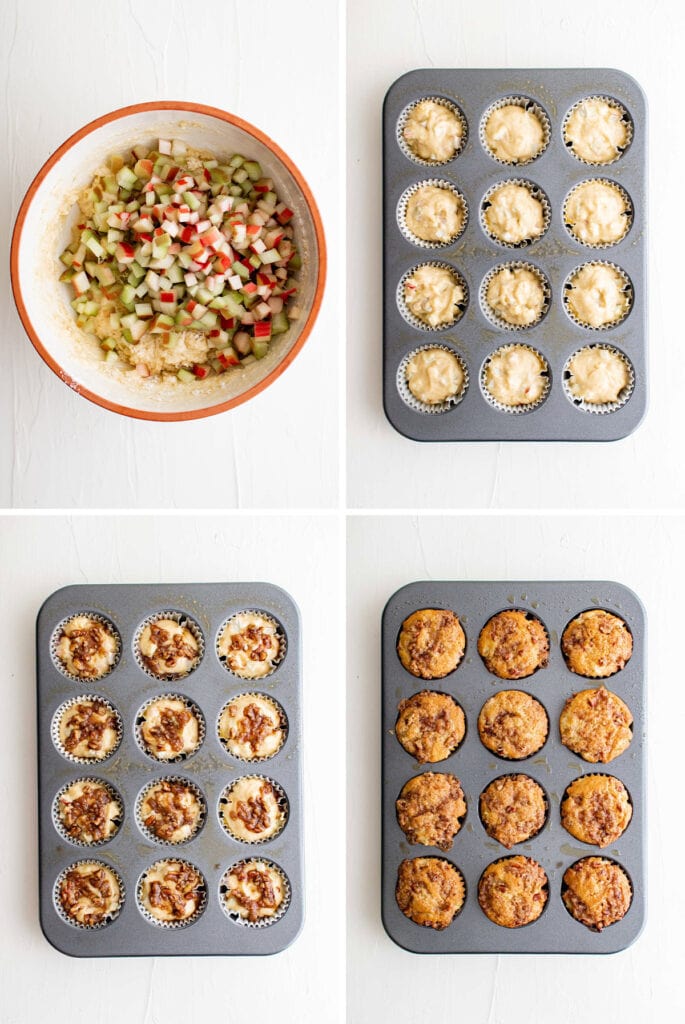 Bake Rhubarb Muffins. Bake the muffins in the preheated muffins for 15-20 minutes. The muffins are done when a toothpick inserted into the center comes out clean or with just a few moist crumbs. Allow the muffins to cool in the pan set on a wire rack for about 10 minutes before removing from the pan to cool completely.
Storage, Freezing, and Reheating Tips
Did you know that most muffins are a great make-ahead option?! I love making a batch (or even double batch) and eating them throughout the week or freezing for months.
Storage: Leftover muffins can be stored at room temperature in an airtight container. The muffins will stay fresh for up to 5 days.
Freezing: You can even freeze leftover muffins. Add the baked and cooled muffins to an airtight bag and freeze for up to 3 months. The frozen muffins can be thawed at room temperature or you can microwave them for a few seconds before serving.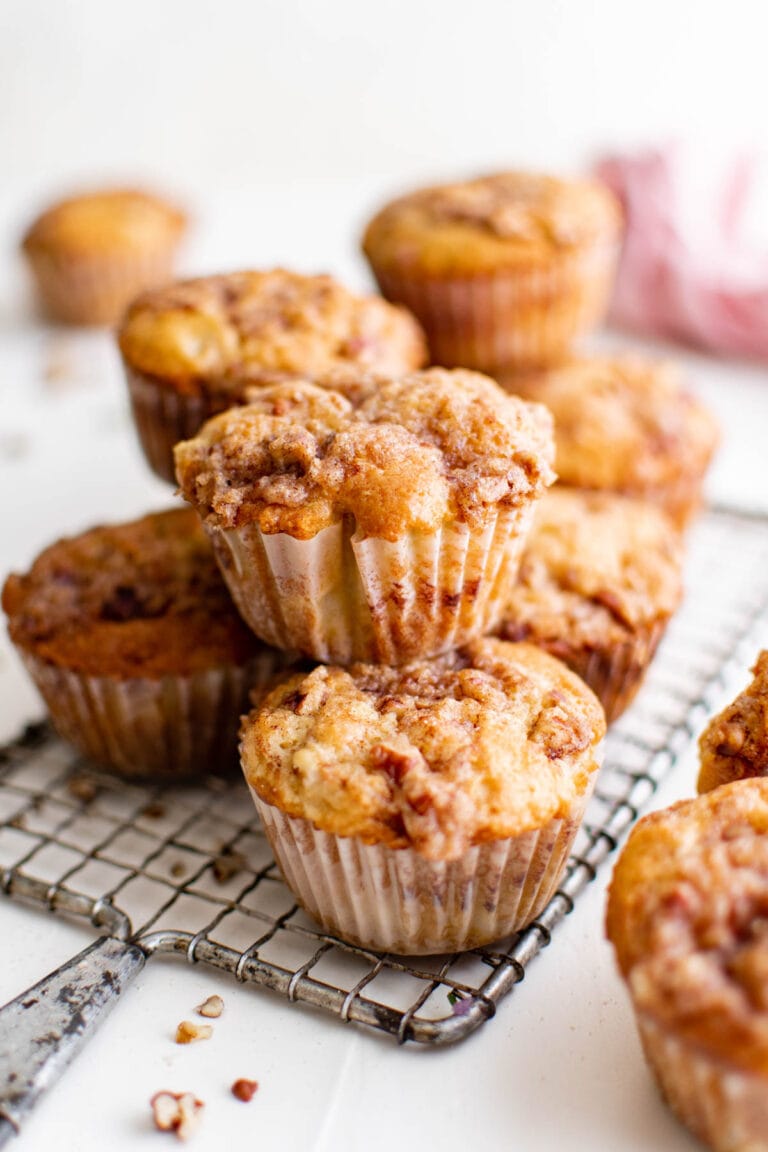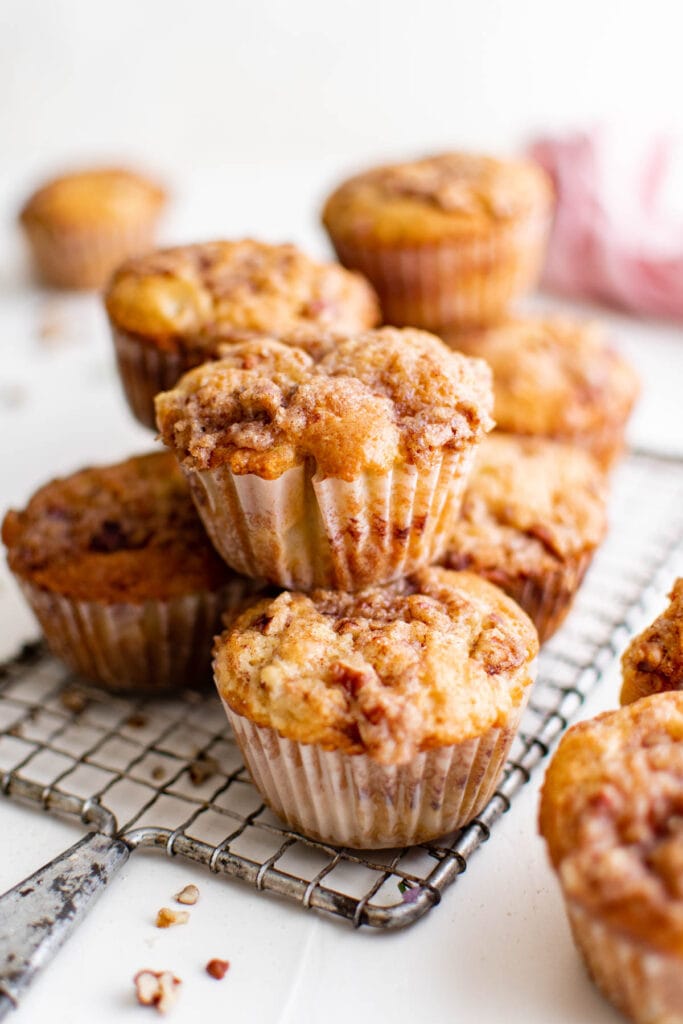 Expert Tips and FAQs
Check out my favorite tips to easily make the best-ever rhubarb muffins!
Use an ice-cream scoop. You can use an ice-cream scoop to quickly and easily fill the muffin cups. I prefer to use the kind that has the lever to pop out the muffin batter. Using a scoop makes it so easy to evenly fill the muffin cups.
Don't overmix the batter. It's important to only mix the muffin batter until it's just combined. If you over mix, you're going to have a denser muffin vs a fluffy and tender texture.
Rhubarb. If you use frozen rhubarb, make sure to thaw and discard any excess liquid before mixing into the batter.
Don't overfill the muffin cups. It's best to fill the muffin pan about 3/4 full with batter so there is room for the muffins to rise as they bake.
This recipe makes 12-16 rhubarb muffins. Since muffin pans usually have 12 cups, you may be left with some empty ones. Fill them halfway with water so the empty cups won't burn or warp during baking.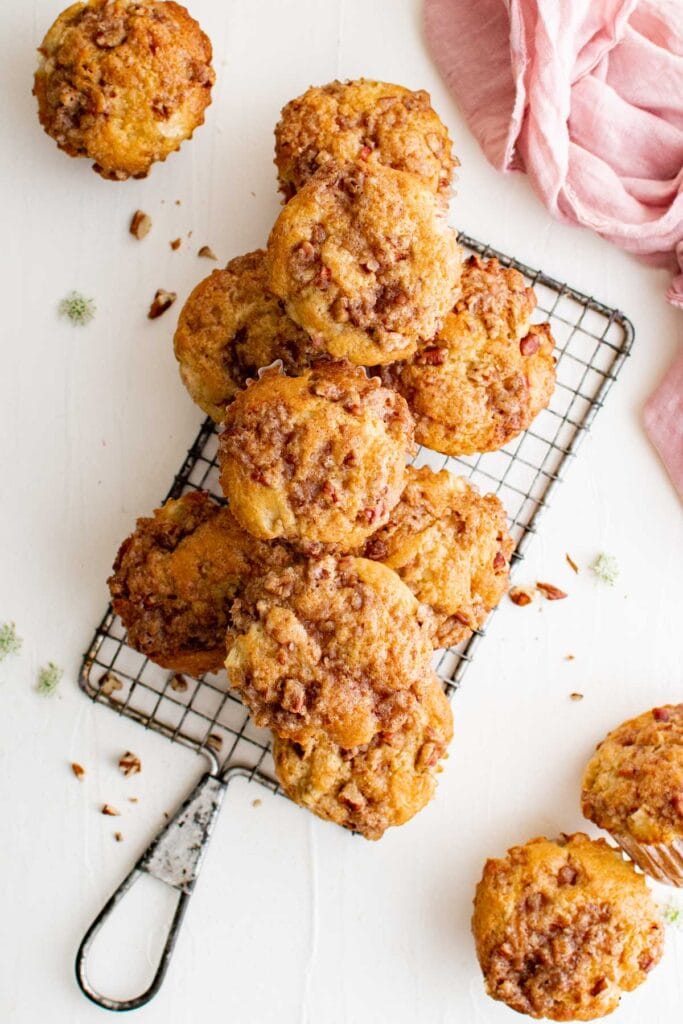 More Muffin Recipes You'll Love
If you've made this recipe, please come back and leave us a star rating or a comment below. Or, tag us on social media @yellowblissroad or #yellowblissroad for a chance to be featured.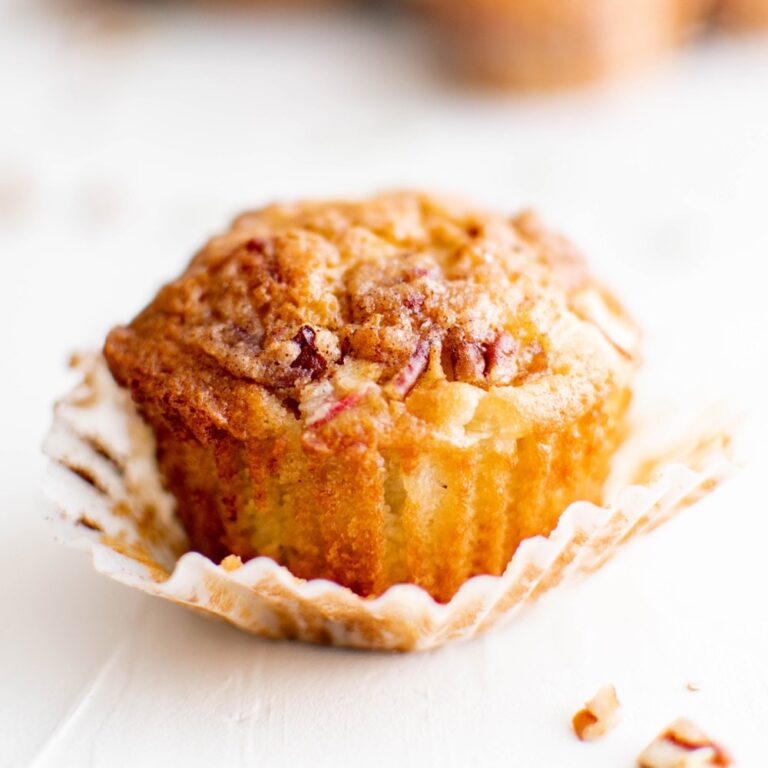 Rhubarb Muffins
Rhubarb Muffins are moist, fluffy, and the perfect balance of tart and sweet. Add an easy streusel topping for the perfect summer snack.
Ingredients
2 cups all purpose flour
1 ½ teaspoons baking powder
½ teaspoon baking soda
¼ cup granulated sugar
½ cup packed brown sugar
¼ teaspoon salt
½ cup sour cream
¼ cup of milk
½ cup vegetable oil
2 large eggs
1 ½ teaspoons vanilla extract
2 cups diced rhubarb fresh or frozen, thawed
Topping:
2 teaspoons melted butter
2 tablespoons white sugar
2 tablespoons chopped pecans
½ teaspoon ground cinnamon
Instructions
Preheat oven to 375°F.

In a large bowl, combine flour, baking powder, baking soda, ¼ cup granulated sugar, brown sugar and salt.

In a separate bowl, whisk sour cream, milk, oil, eggs, and vanilla extract.

Pour the wet ingredients into the dry ingredients and stir with a rubber spatula or wooden spoon until mostly combined. Add rhubarb and stir until just combined, being careful not to overmix.

Grease 12 standard muffin cups or line with paper liners. Divide the batter between the 12 cups, filling each about ¾ full.

In a small bowl, combine the melted butter, 2 tablespoons granulated sugar, pecans and ground cinnamon. Sprinkle evenly on top of the muffins.

Bake for 15-20 minutes, until a toothpick inserted into the center comes out clean. Place the pan on a wire rack to cool for 10 minutes, then carefully remove each muffin and place directly on the rack to cool completely.
Notes
Depending on how full you fill the muffins cups, you should get 12-16 muffins. If you have 12 count muffin pans, you can fill 8 muffins in each pan to keep them even.  Pro-tip: if you have empty muffins cups, fill them halfway with water so the empty cup won't burn or warp during baking.
Nutrition
Calories: 269kcalCarbohydrates: 33gProtein: 4gFat: 14gSaturated Fat: 9gPolyunsaturated Fat: 1gMonounsaturated Fat: 3gTrans Fat: 1gCholesterol: 35mgSodium: 125mgPotassium: 182mgFiber: 1gSugar: 16gVitamin A: 150IUVitamin C: 2mgCalcium: 73mgIron: 1mg