Sriracha adds a spicy kick to everyone's favorite party mix! This Homemade Chex Mix is a seriously addictive snack you won't want to miss!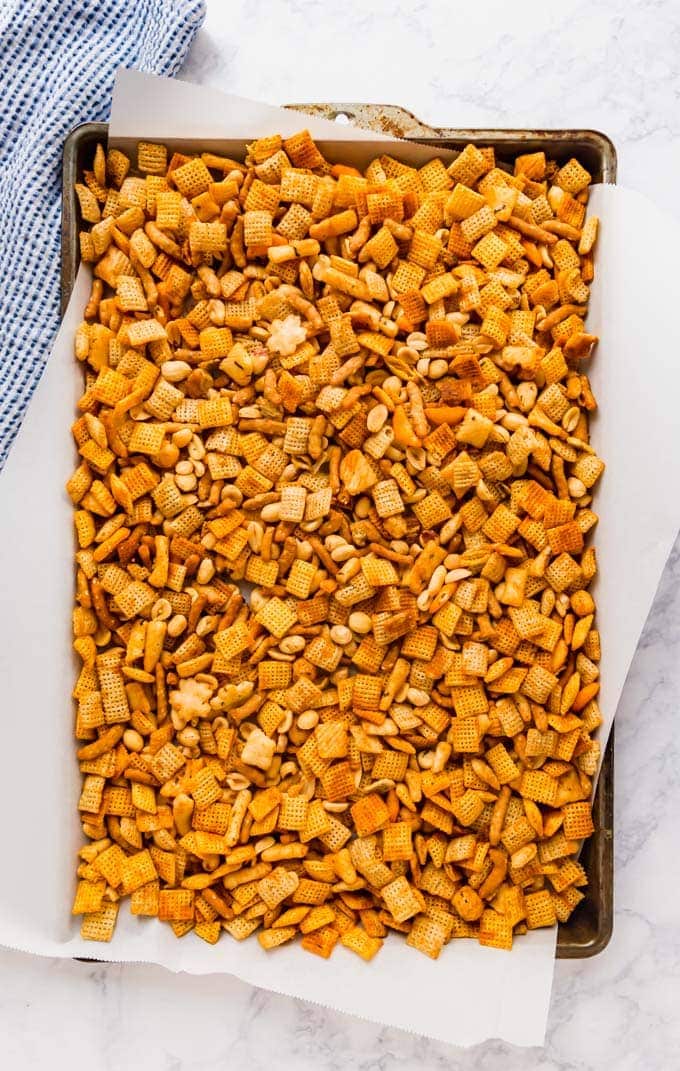 I don't know about you, but I love a good Chex Mix recipe, like Garlic Bread Chex Mix or Tropical Chex Mix. I'm pretty sure we all grew up with our mom/dad/aunt/cousin or whoever else whipping up that crazy easy and totally addictive party snack! My mom loved to throw this together before family gatherings and put little styrofoam bowls out on the tables for our guests to munch on throughout the night.
And now that I'm an adult, I totally get why it's such a go-to snack to feed a crowd. It's super easy to make, and also crazy quick. You don't even have to turn on your oven or pull out the slow cooker. And the possibilities for ingredients are totally open and interchangeable. I mean, it's called Chex Party Mix for a reason!
SRIRACHA CHEX MIX
So in an attempt to kick the party up a notch, I decided to make my own variation of the original recipe, with everyone's favorite and lately quite popular condiment, Sriracha. Spicy, savory and full of umami goodness, Sriracha and a few other asian-inspired ingredients make a snack mix that will keep all your friends coming back for more!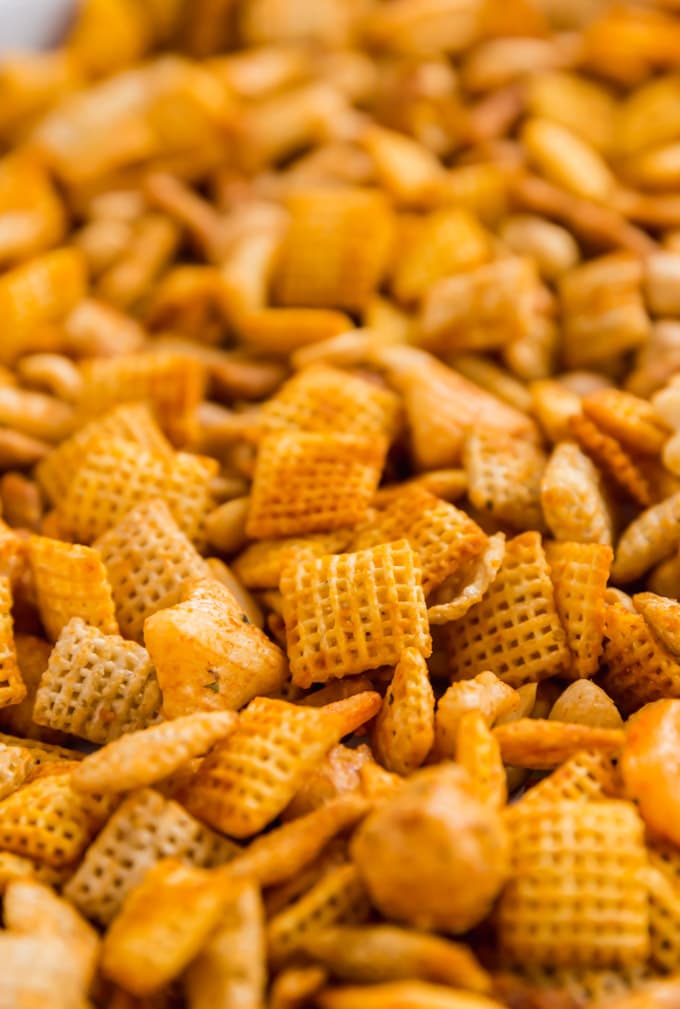 HOW TO MAKE HOMEMADE CHEX MIX WITH SRIRACHA
Mix together all the dry ingredients in a large bowl. Because this is an Asian-inspired recipe, I added Asian rice snacks (which I found in the bulk section at my local grocery store- you can always substitute broken up rice crackers if rice snacks aren't available because rice snacks are basically rice crackers in cuter shapes) as well as sesame sticks and peanuts. And of course I went with two different varieties of Chex cereal.
Mix together the wet ingredients in a small bowl. Melt the butter and whisk in the Sriracha, soy sauce and seasonings.
Toss the wet ingredients with the dry ingredients. I like to pour half of the sauce into the dry mixture and toss it well to coat before pouring the remaining wet mixture onto the dry ingredients and mixing again. This is to try and get all the dry ingredients evenly coated. I went with low sodium soy sauce to keep the flavors balanced.
Microwave the Chex Mix. Much like making the Original Chex Mix, you'll microwave this mixture for six minutes, stirring at 2 minute intervals.
Cool the Chex Mix completely. I like to line a couple sheet pans with parchment for easy clean up and spread the mixture in a single layer onto the pans (my pans aren't big enough to keep it on one single pan). I let it cool for at least 30 minutes or until it's completely cool before transferring it to an airtight container. During this time it will cool down and crisp up. I usually give it a few stirs periodically while cooling it.
HOW LONG DOES HOMEMADE CHEX MIX LAST?
Homemade Sriracha Chex Mix should be kept in an airtight container, like Tupperware. It will last about 4-6 weeks as long as you make sure to reseal it each time you snack. You can also freeze the snack mix in airtight freezer bags for up to 6 months.
HOW DO YOU BAKE CHEX MIX IN THE OVEN?
Don't want to use the microwave? It's super simple to make your Sriracha Chex Mix in the oven!
Preheat the oven to 250 degrees F.
Spread coated cereal mixture evenly onto a parchment paper lined, rimmed baking sheet.
Bake for 1 hour, stirring at 15 minute intervals for even cooking.
Cool on the baking sheet for 30 minutes before eating.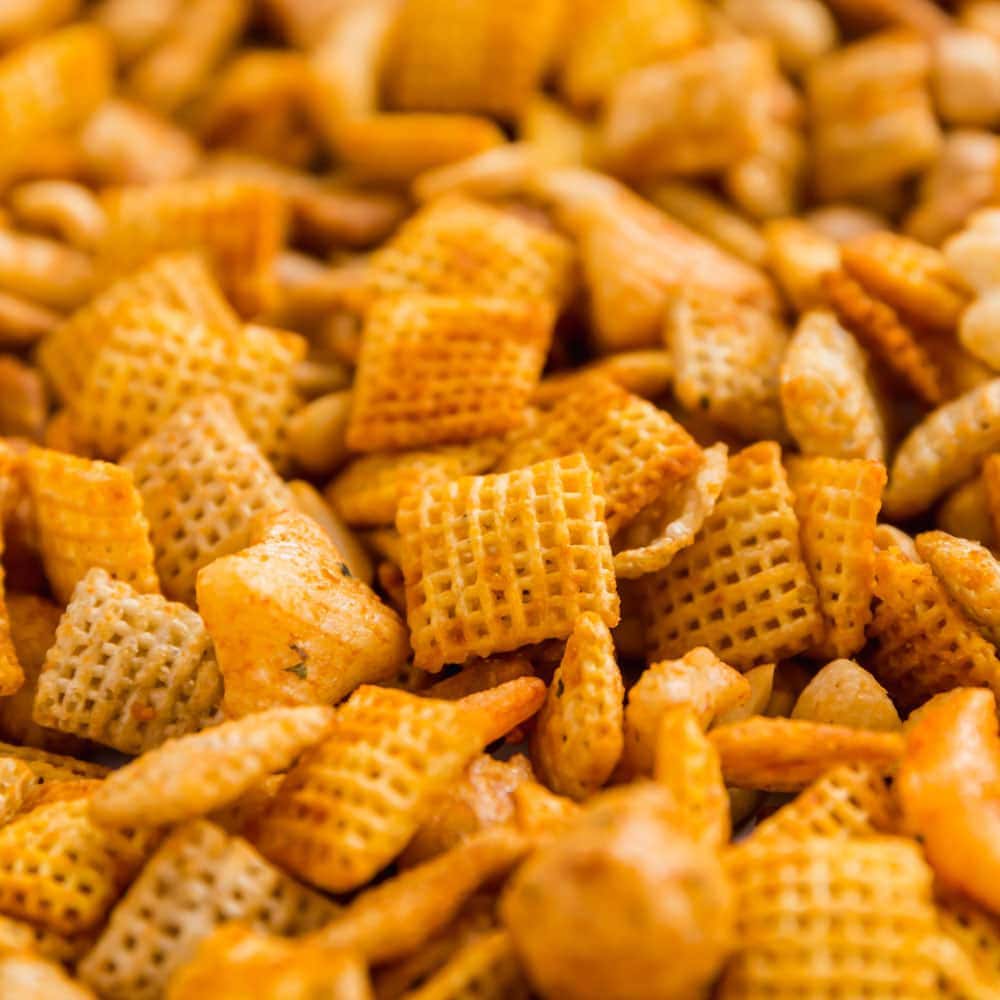 Want more tasty Chex Mix and Party Snack recipes? Check these out:
Recipe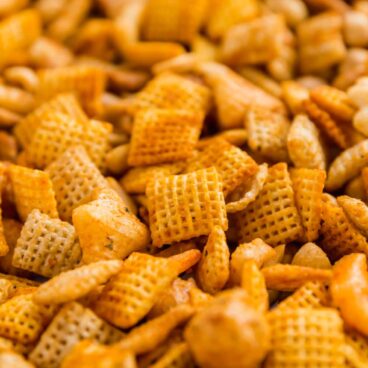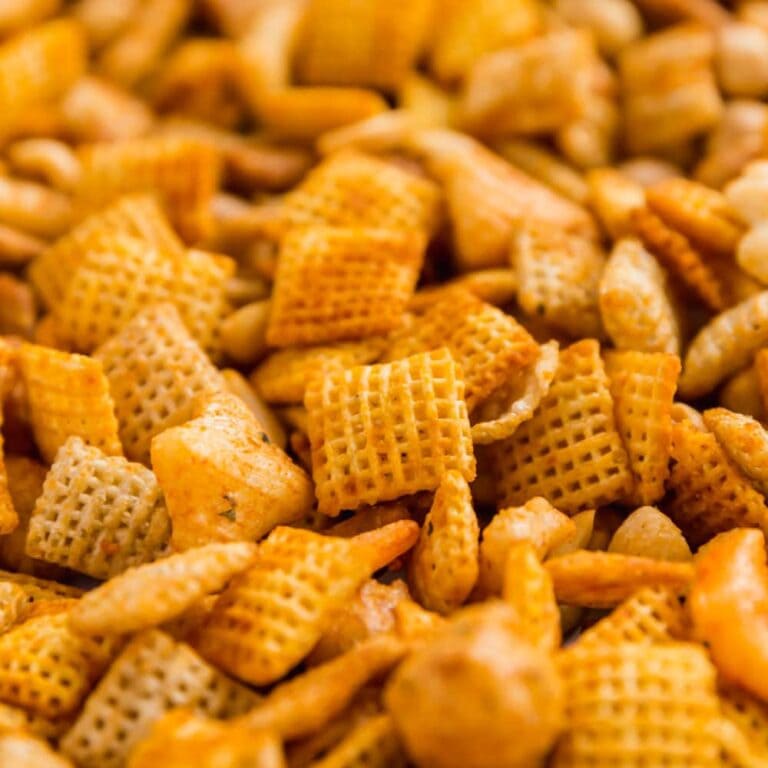 Sriracha Chex Mix
Sriracha Chex Mix adds a spicy kick to everyone's favorite party mix! This is a seriously addictive snack you won't want to miss!

Ingredients
3

cups

corn Chex cereal

3

cups

rice Chex cereal

1 ½

cups

rice cracker snacks

(or broken up rice crackers)

1 ½

cups

sesame sticks

1

cup

dry roasted peanuts

2 1/2

Tablespoons

salted butter,

melted

3

Tablespoons

Sriracha

1

Tablespoon

low sodium soy sauce

1/8

teaspoon

ground ginger

1/4

teaspoon

dried cilantro
Instructions
Place both varieties for Chex cereal, rice cracker snacks, sesame sticks and peanuts into a large microwave safe bowl. Toss to combine and set aside.

Line 2 sheet pans with parchment and set aside.

Whisk together melted butter, Sriracha, soy sauce, ground ginger and dried cilantro until well combined.

Pour half of the Sriracha mixture over the dry ingredients and toss to coat well.

Pour the remaining Sriracha mixture into dry ingredients and toss once more to evenly coat.

Microwave for 2 minutes on high and stir well.

Microwave for another 2 minutes on high and stir well again.

Microwave for 2 more minutes on high and stir well once again (so in total, you'll have microwaved it for a total of 6 minutes stirring every 2 minutes).

Pour the mixture onto the pans, spreading them out into one single layer on each pan. Allow the Chex Mix to cool for at least 30 minutes or until completely cooled stirring periodically. Store in an airtight container at room temperature for up to a month.
Nutrition
Calories:
315
kcal
Carbohydrates:
39
g
Protein:
8
g
Fat:
15
g
Saturated Fat:
4
g
Cholesterol:
9
mg
Sodium:
753
mg
Potassium:
204
mg
Fiber:
3
g
Sugar:
3
g
Vitamin A:
680
IU
Vitamin C:
9
mg
Calcium:
90
mg
Iron:
8
mg