Make this Tropical Chex Mix for your next summer party! It's the perfect Hawaiian-themed snack!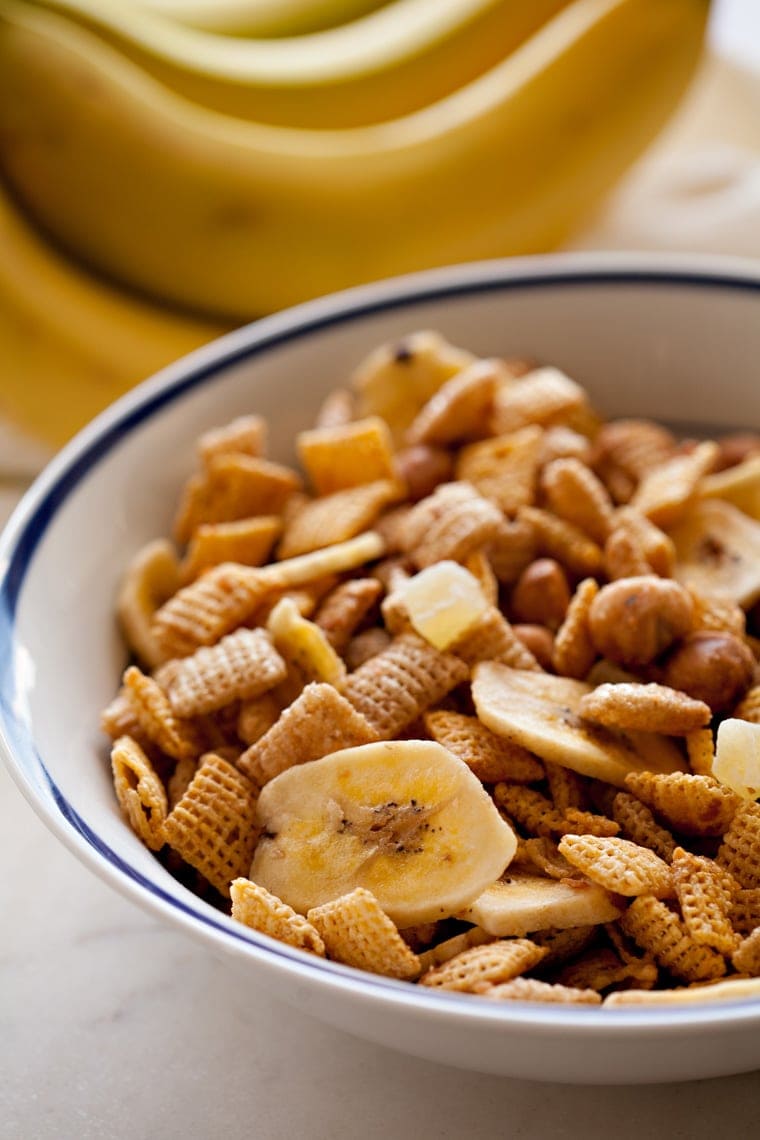 It's amazing what you can do with Chex cereal! So many variations of Chex Mix have been dreamed up. From salty to sweet, there are enough recipes to keep me happy for quite some time!
One type of Chex Mix I've never seen before is a recipe with the flavors of banana, pineapple, and coconut. So I decided to make one up myself!
To get the coconut flavor, I used coconut extract. I also added shredded coconut to the mix, but if you do this, don't add it until the last fifteen minutes of baking. Otherwise, it will get too brown in the oven and just end up at the bottom of the mix. Instead of shredded coconut, you could also add larger dried coconut pieces after baking.
For the bananas, I used those super yummy, crunchy dried bananas. And for the pineapple, I used the dried, chewy, sweet pineapple. If you can't find these things at the store, they can usually be found in the bulk bins at health food or natural food stores.
To really add to the tropical feel, I added macadamia nuts. I can practically hear the ocean waves in Hawaii right now!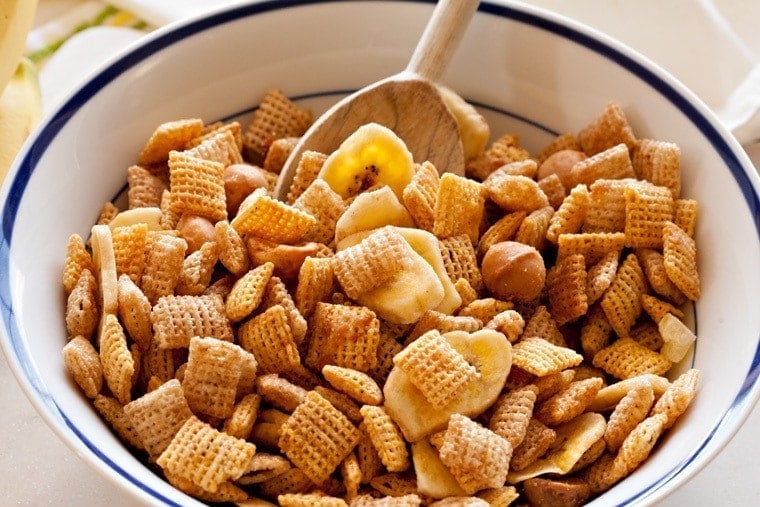 In this recipe, we are only going to use Rice Chex and Corn Chex. Then it's a simple matter of adding melted butter and brown sugar and baking it in the oven at a low temperature (275 degrees) for 45 minutes, stirring every 15 minutes.
I added the macadamia nuts to the mix and baked them right along with the Chex and butter and sugar. But you can also add them at the end without baking them.
Once you remove the Chex Mix, just let it cool for a few minutes, and then toss in your banana and pineapple bits (along with your macadamia nuts and/or dried coconut) and voila! You have this wonderful Tropical Chex Mix that is a perfect snack for a summer barbecue or luau!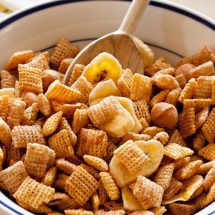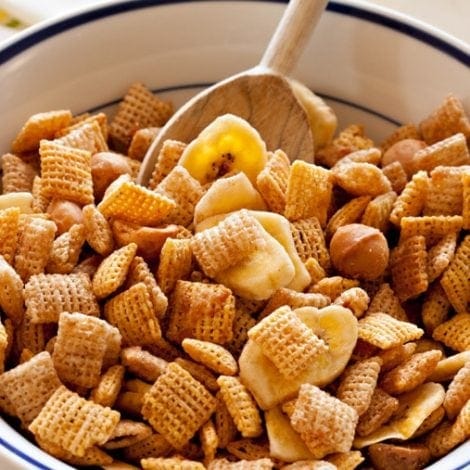 Ingredients
4 cups Rice Chex
4 cups Corn Chex
5 Tbsp. butter melted
5 Tbsp. brown sugar
2 tsp. coconut extract
1 cup macadamia nuts
1 cup dried pineapple pieces
1 cup dried banana chips
1 cup dried coconut pieces or 1 cup shredded coconut (optional)
Instructions
Mix the melted butter, brown sugar, and coconut extract.

Place the Rice Chex, Corn Chex, and macadamia nuts in a large bowl.

Pour the butter mixture over the cereal mixture and stir until everything is evenly distributed.

Spread on a parchment-lined cookie sheet.

Bake at 275 degrees for 45 minutes, stirring every 15 minutes.

If using shredded coconut, add it to the mix for the last 15 minutes of baking.

Cool and store in an airtight container.
Looking for more great party food? Try these!
Secret Ingredient Pico de Gallo
Melissa loves inventing new ice cream flavors and helping people declutter and organize their homes. You can see her organizing e-course HERE.