Looking for some ideas for clear glass ornaments? You've come to the right place! I've got seven great and simple ideas for filling those, plus some great ways to use canning jar rings on your tree! I don't know about you, but my time is very limited. Even more so around the holidays. So if I can make ten Christmas ornaments while watching Grey's Anatomy, I'm a happy girl.
It's the little things, people!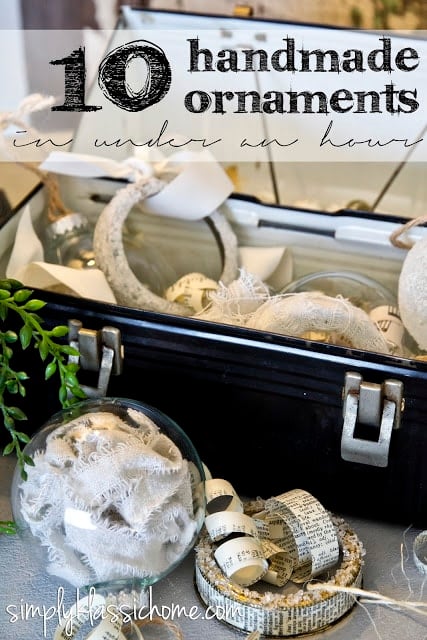 So you know how Taco Bell has like six ingredients in their store, but they keep coming up with new menu items? Well that's what I've done here.
Here are the six materials I had available:
Modpodge
Dropcloth scraps
Ball Jar canning rings (duh)
Epsom Salt
Vintage book pages and music sheets, cut into thin strips
(if you don't have vintage, you can make them look that way by using Kristen's tutorial at Ella Claire)
Clear glass ornaments (I found mine at Michaels)
Ok here we go…
Ornament #1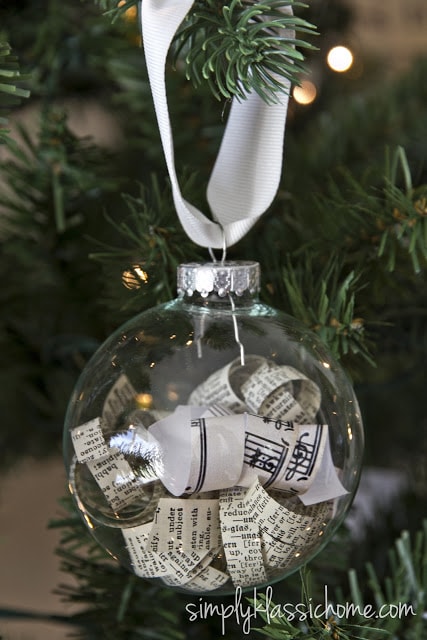 Curl some of your vintage book pages or music sheets with scissors (just like you would ribbon) and place the curls into the glass ball.
Yeah, that's it.
Ornament #2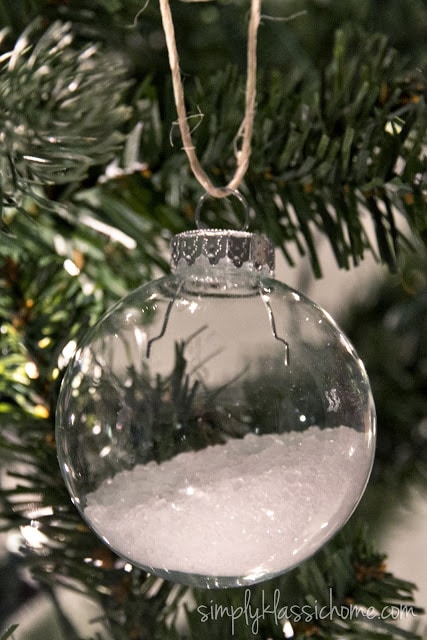 Take another clear glass ball and fill it with Epsom Salt.
Yup. Smack-yourself-on-the-forehead simple.
Ornament #3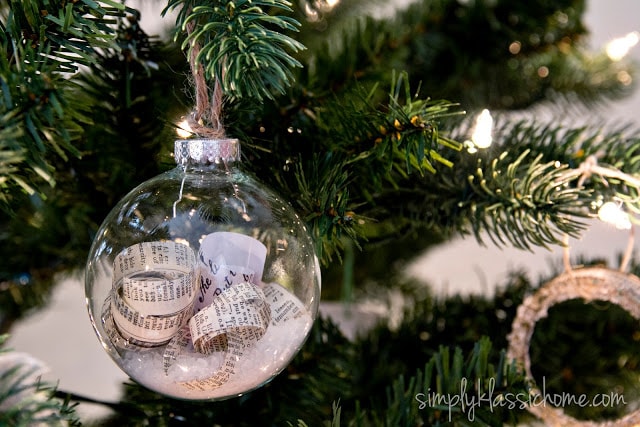 You know that clear glass ball you filled with epsom salt? Do another one, only this time, toss in some of those curled up book pages too.
By now it's probably time for a commercial break, so go grab yourself a snack, and send the child who has dragged his pillow and blanket and is sleeping in the middle of the hallway back to bed. (Not that that happens at my house…)
Ornament #4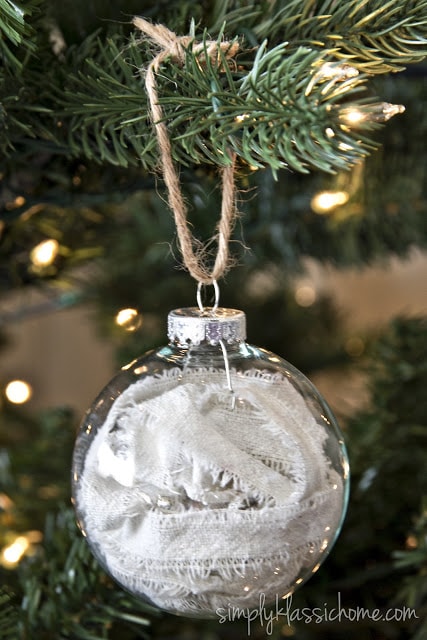 Take a clear glass ball (am I sensing a theme here?) and fill it with dropcloth (or any other fabric, really) scraps.
Dropcloth is super easy to rip into straight lines. Just snip a little bit in and then tear. Perfectly straight, shabby-edged strips of fabric.
Take a bunch of those little strips and fill the clear glass ball with them.
Ornament #5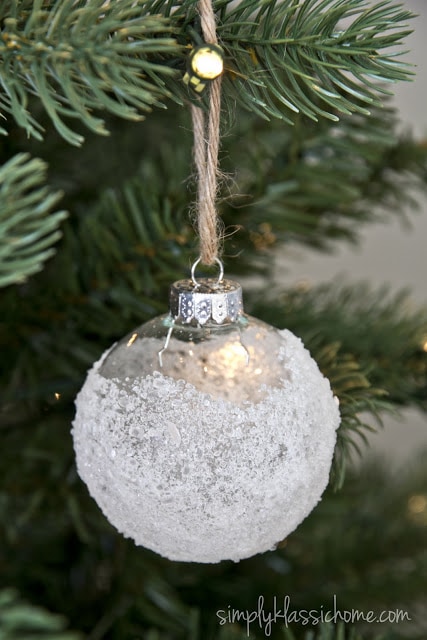 Ok, here's where it starts to get a little more complicated. Time to break out the Mod Podge.
Pour your mod-podge in a small bowl and use a sponge brush to coat a clear glass ball. If you're brave, coat the whole thing, but if you're like me, you don't like sticky messes so just coat the bottom half, or as much of it as you want.
Roll the ball in epsom salt.
inspired by Kristin of My Uncommon Slice of Suburbia
Ornament #6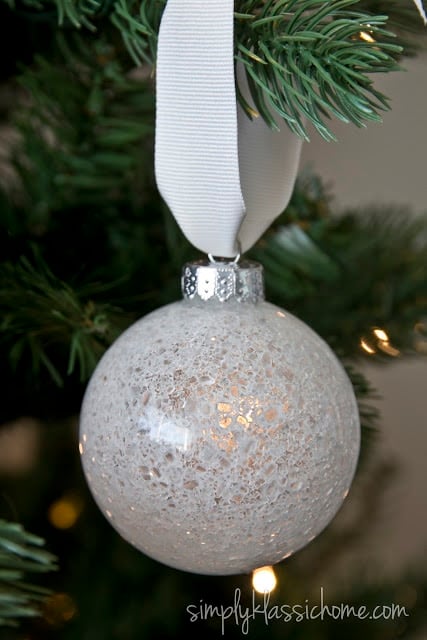 Add a little water to the bowl of Mod-Podge. Just enough to thin it out a little bit. Pour a little into the clear glass ornament and swirl it around real good to coat the inside. Let the excess drip out (you can shake it a little bit).
Pour a little epsom salt into the ornament (I used a funnel for this step) and shake it up to coat the inside with the salt.
Is it time for another commercial? Take a break, and go place the other child, who decided to curl up on the bathroom floor after getting up from a dead sleep to go to the bathroom, back into bed.
Ornament #7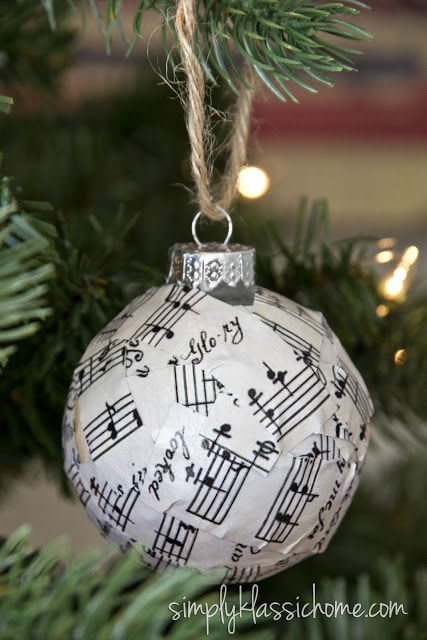 Grab some more strips of the music sheets, and spread some mod-podge onto a clear glass ball. It's easier if you do this in sections. Lay the strips over the mod podge and press down lightly. Once every bit is covered, slather with mod podge again.
I just kind of slapped 'em on with no real rhyme or reason.
(I should tell you that I actually downloaded music sheets from here. I am not exactly please with how the printed version looks and I think actual vintage music sheets, which would be much thinner, wold work better).
inspired by Melissa of The Inspired Room
Ornament #8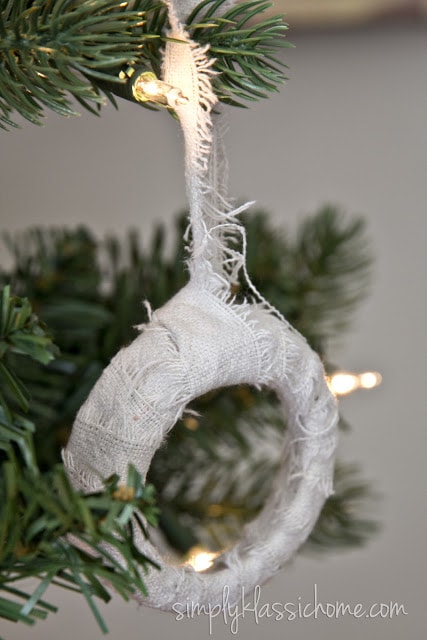 Were you wondering when the canning jar rings were going to come into play?
Take a canning jar ring and another strip of dropcloth. Thread the dropcloth around the ring and loop at the top.
You can leave the center empty or add a photo to it. (which I forgot to take a picture of so you'll just have to imagine how adorable it was).
Probably time for another commercial break, so go grab yourself a cup of hot chocolate ~ you're almost finished!
Ornament #9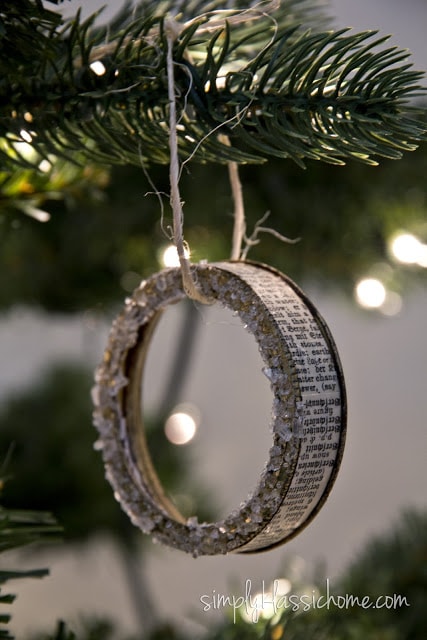 Take another canning jar ring and mod podge a strip of the shredded book pages around the outer edge. Touch a little mod podge to the front of the ring and dip it in epsom salt.
Then say "ooohhh…aaahhh…"
Ornament #10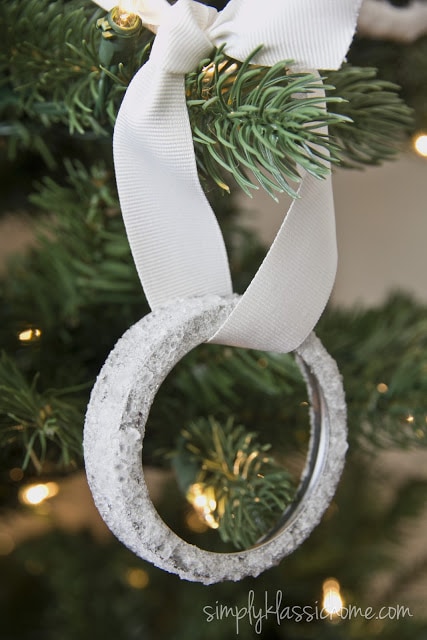 Coat a canning jar ring in mod podge and dip it into epsom salt to coat completely. This looks really pretty with a brand new silver ring.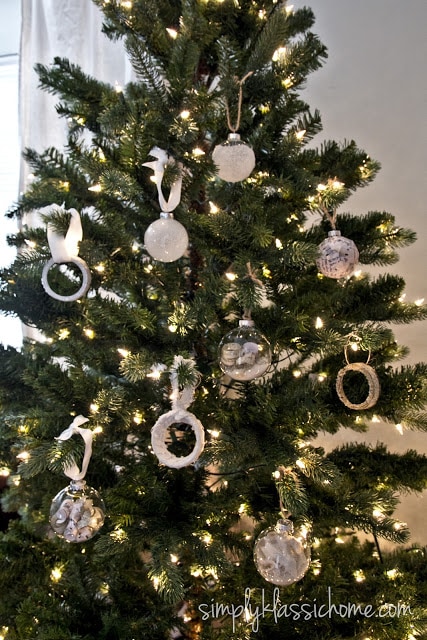 Hopefully it goes without saying, but let each ornament dry completely before replacing the top and adding your ribbon or twine. Or don't. Whatever floats your boat.
A few of these ornaments were inspired by other bloggers.
The ones I can remember are listed below the ornament.
Have you started your Christmas crafts yet?