Authentic German Spaetzle is a German dumpling formed from a simple dough that's pressed through a colander or a spaetzle maker, then boiled. They are hearty and tender and a delicious side for just about any German dish!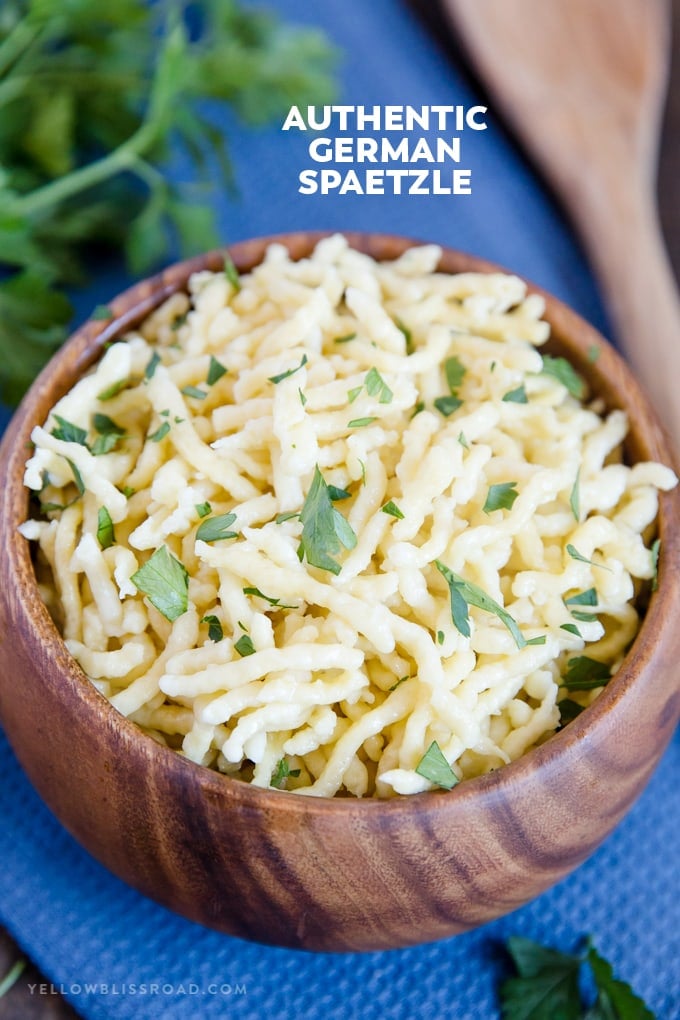 This recipe has been passed down for generations, and from my Oma to my mom and to me. My family on my mother's side is straight outta Germany, with my grandma being born and raised there, and having her children there as well.
Oma's Authentic German Spaetzle Recipe
As with many Mexican recipes, there can be regional differences to recipes we consider "authentic." My grandma is Schwäbisch, from a region in the southwestern part of Germany, and this recipe is authentic to us. However it may be slightly different from what you might find in a German restaurant or on other sites.
My children absolutely love spaetzle, and they love trying to pronounce it! (The German pronunciation is "shpets-luh"). My husband who had never tried it before was an instant fan. We love it with all kinds of German dishes, but especially with our Pressure Cooker Lentil Soup.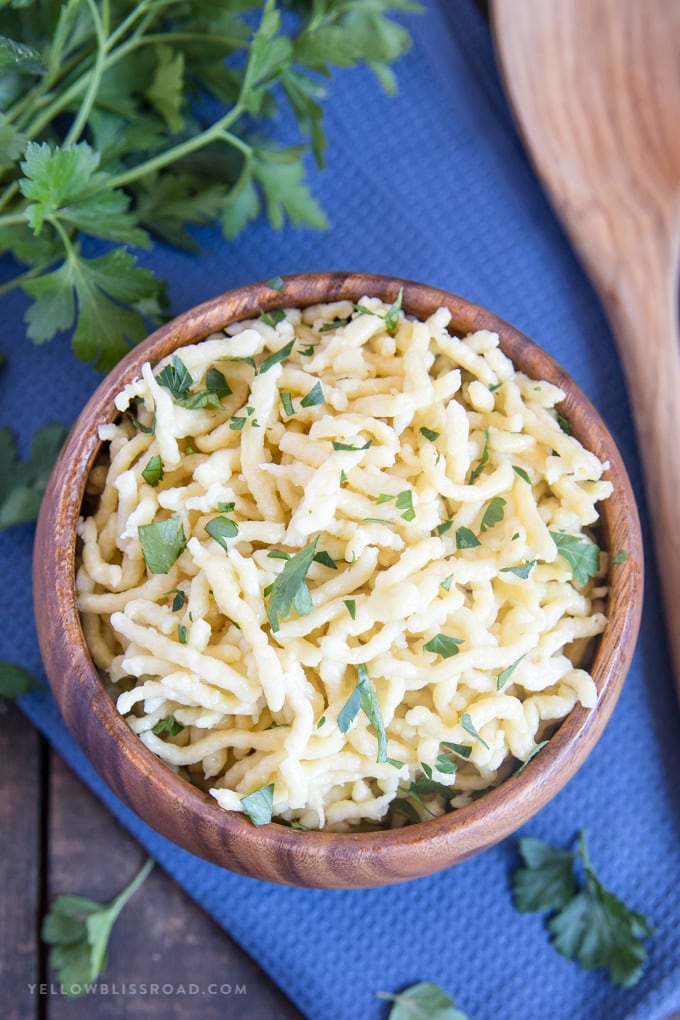 How to make Spaetzle
It couldn't be simpler to make, especially if you have a handy dandy Spaetzle Maker! The one I've linked to is that actual one that I own. If you look around on amazon though, you'll see there are several different kinds. The dough, which is just a combination of flour, eggs, water and salt, is placed in a small colander and the handle is pressed to strain the dough through the holes. It makes the process incredibly easy and painless.
But do I really need a Spaetzle Maker?
You don't have to own this helpful gadget to make yourself some darn good spaetzle. The dough is thick, so you can use a knife to just scrape bits of dough off of a small cutting board into the boiling water, or press the dough through a colander or cheese grater.
The Spaetzle Maker is a nifty device though, that comes in quite handy since we make it so often. Using the tool gives you nice long noodle-like dumplings, while scraping or pressing through a colander will give you a smaller dumpling.
What do I serve with Spaetzle?
This little German dumpling will go perfectly with a variety of dishes. Here are some of our favorites:
Pressure Cooker Lentil Soup – Every year on New Year's Day we have a big bowl of this Lentil Soup with Spaetzle. It was my Oma's tradition and now it's ours. She would make it several times throughout the year, but always without fail on New Years.
Easy Slow Cooker Pork Roast – Another dish we love to make with these dumplings is a good pork roast with gravy. In the slow cooker or in the oven, pork with gravy is a delicious main to serve with this traditional German side dish.
Kase Spaetzle – This is a traditional German dish that consists of cooked spaetzle and a strong flavored cheese, like Parmesan. The dumplings are fried in butter and the cheese grated on top. My grandma would sometimes scramble an egg in the frying pan as well, so the egg would coat the noodles as it cooked. Perfection! It's great for using leftover portions of the dumplings. They get a little crispy around the edges and have a nice, salty flavor.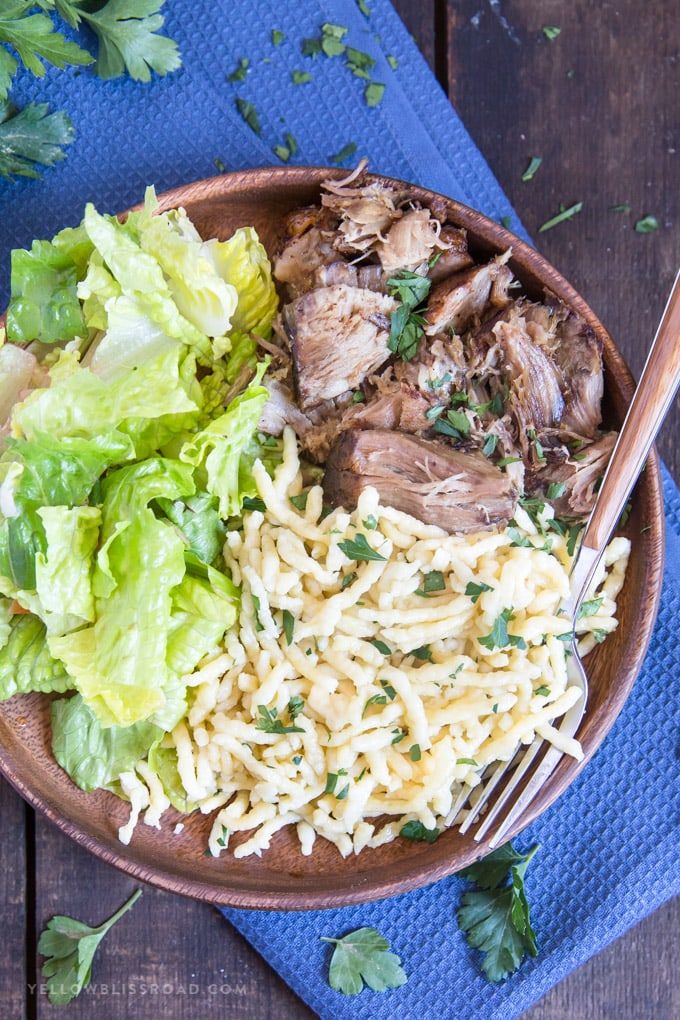 Here are a few more European and German recipes to try: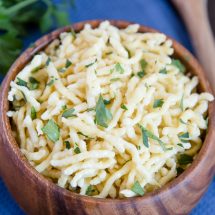 Authentic German Spaetzle
Authentic German Spaetzle is a German dumpling formed from a simple dough that's pressed through a colandar or a spaetzle maker, then boiled. They are hearty and tender and a delicious side for just about any German dish!
Print
Pin
Rate
Prep Time: 10 minutes
Cook Time: 5 minutes
Total Time: 15 minutes
Ingredients
3 cups sifted flour
1 teaspoon salt
1/8 teaspoon pepper
3 eggs slightly beaten
1 cup water
¼ cup butter or margarine melted
Instructions
Combine flour, salt and pepper in a medium-size bowl; make well in center. Add eggs and water to well and mix thoroughly.

Heat a large pot of generously salted water to boiling over medium heat.

Scoop dough into a Spatzle Maker and press through the holes into the boiling water. If you do not have a spatzle maker tool, you can scoop up dough on a large wooden spoon and cut off small pieces with knife into boiling salted water. As spatzle rises to the top, scoop out with slotted spoon and put in a covered bowl until all are cooked.

If desired, toss with melted butter; keep warm.

Hi! I'm Kristin, the creative mind behind Yellow Bliss Road where you will be inspired by tons of easy to follow recipes, lots of free printables, and a little sprinkling of life thrown in for good measure.