This Authentic Hungarian Goulash recipe is packed full of slow-cooked flavor, melt-in-your-mouth tender chunks of beef in a rich, thick broth.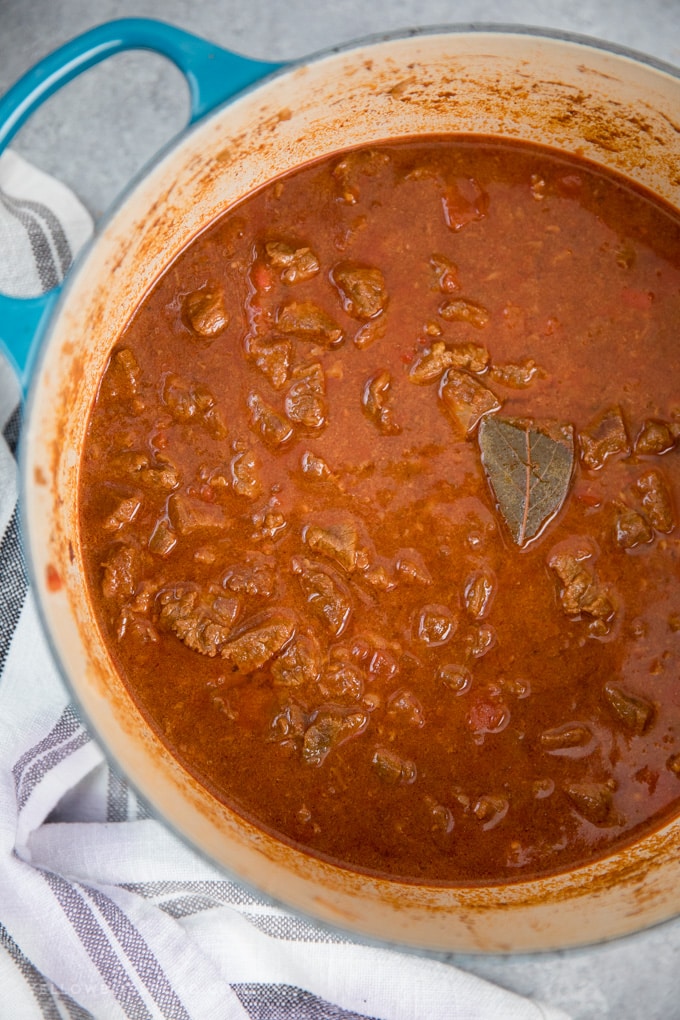 My grandfather lived in Hungary until his early 20s when he moved to Germany after World War II. He met my grandmother, started a family, and eventually moved his family to the US in 1955. He kept a little bit of his home country close, through bits and pieces of treasured history, like a family tree poster and a few classic recipes that my grandmother would cook for him.
Tragically we no longer have some of those recipes to pull from, so this Hungarian Goulash recipe is the closest thing we've been able to recreate. And it is absolutely delicious and comforting, and reminiscent of long talks around the family table.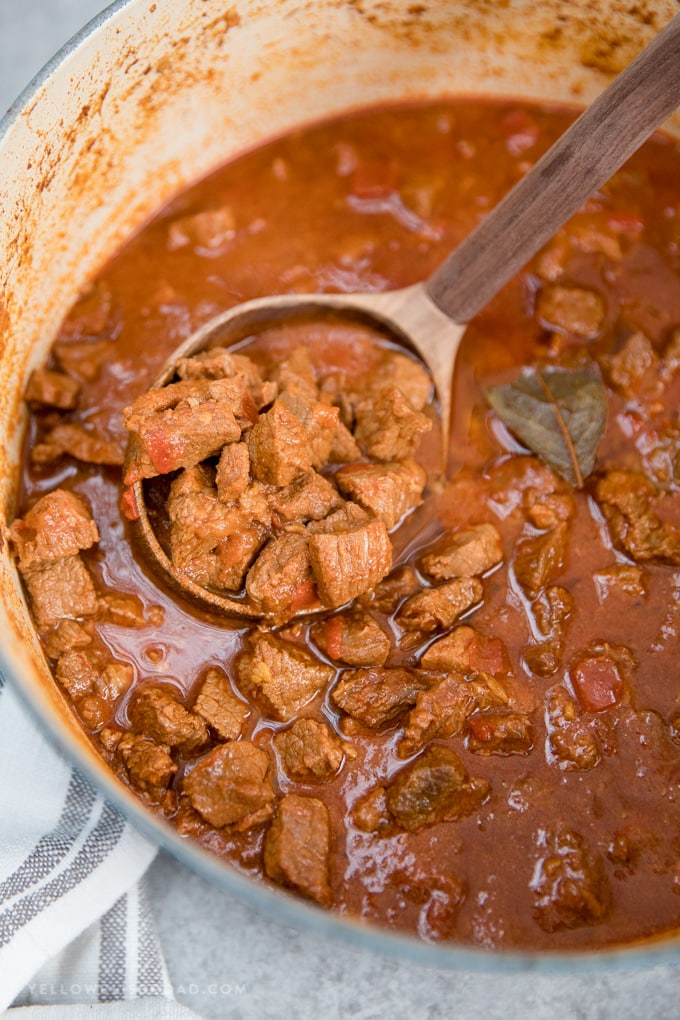 HOW TO MAKE AUTHENTIC HUNGARIAN GOULASH
If you search the internet for a Goulash recipe, you're likely to come up with thousands of different recipes, including simplified recipes made with ground beef, like my Goulash Soup.
To make this classic recipe, however, you've got to follow all the steps – no shortcuts here!
Here are some tips and FAQs for my Authentic Hungarian Goulash:
Choose your paprika wisely. Not all paprikas are created equal. For this recipe, you'll want to use only the sweet Hungarian paprika (aff – this is the specific brand that we always use). That's not to say that you absolutely cannot use a regular or smoky paprika, but it will alter the taste somewhat, as it is the base of the flavor.
Don't cut the cooking time. This stew requires a cooking time of around 2 hours on the stove-top. A lot of that time is just baby-sitting the pot, but you'll want to make sure you have the time. Alternatively, you could make this recipe in the slow cooker. Just brown the meat and vegetables first for several minutes on the stove and add the other ingredients into your slow cooker on high for 4 hours or low for 6 hours.
Make it creamy. Add a dollop of sour cream to each bowl as you serve them, or a 1/4 cup of heavy cream during the last several minutes of cooking time. The paprika flavor can be quite intense, and the cream can help tone that down a bit.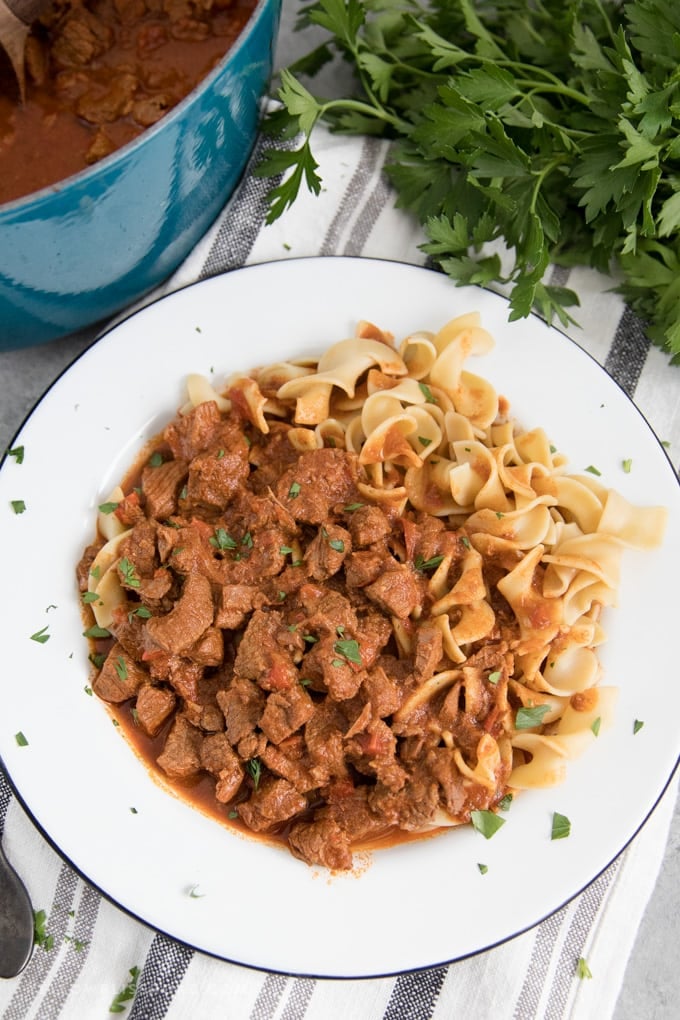 How to serve Hungarian Goulash
Serve your Goulash in shallow bowls. It pairs best with classic egg noodles, spaetzle or mashed potatoes. Since it is bright red in color, a pinch of fresh minced parsley adds some nice contrast and freshness to this dish.
Here are some more recipes with a European flair:
And a few more soups and stews to try: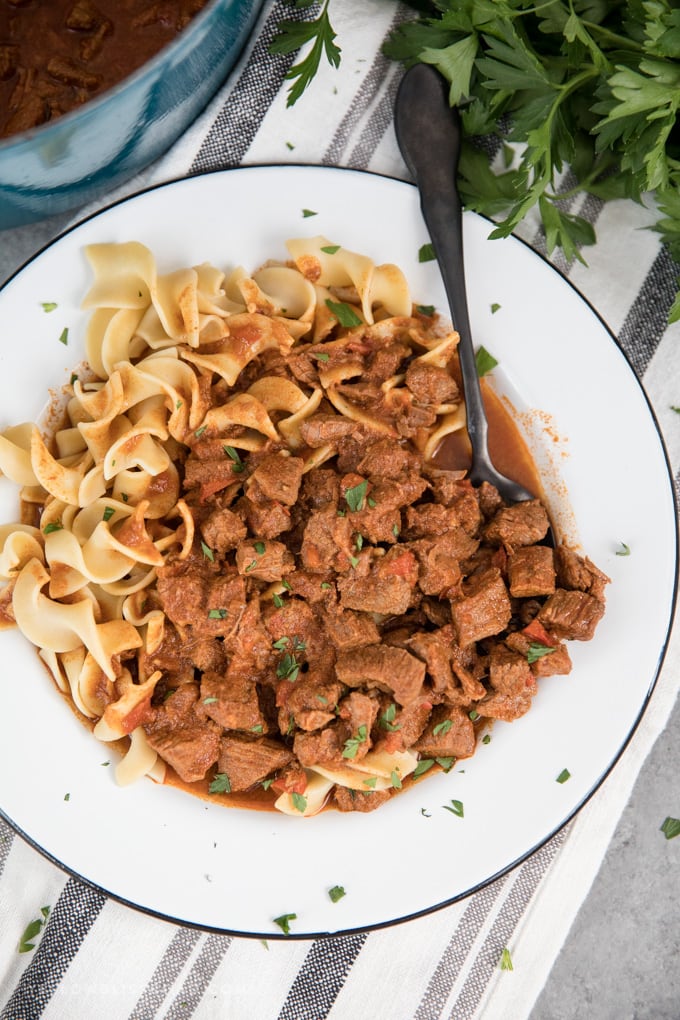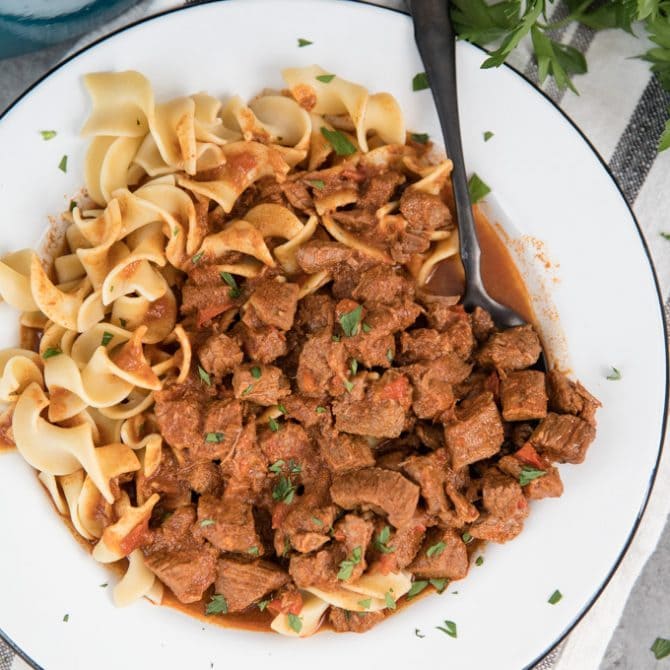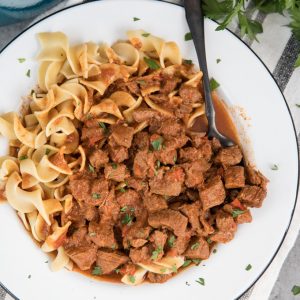 Classic Hungarian Goulash
This Classic Hungarian Goulash recipe is a delicious dinner that's packed full of slow-cooked flavor with tender chunks of beef in a rich, thick broth.
Ingredients
2 tablespoons olive oil
1 large yellow onion chopped, about 1 1/2 cups
1 sweet red pepper seeded and diced
5 cloves garlic minced
1 bay leaf
3 pounds beef stew meat cut into 1-2 inch chunks (chuck roast)
3 tablespoons sweet Hungarian paprika or regular is fine but will change taste somewhat
3/4 teaspoon salt
¼ teaspoon black pepper
1 cup beef broth
3 tablespoons tubed tomato paste or 1 6-ounce can
Instructions
Heat olive oil in a large soup pot over medium heat. Add onions and red pepper and cook until soft; about 5 minutes. Add minced garlic and bay leaf and continue to cook for 1 minute.

Add beef to the pot and stir in paprika, salt and pepper. Cook, stirring often, until meat is browned; about 5 minutes.

Stove-top cooking: Stir in broth, tomato paste. Bring to a boil, reduce heat to medium low; cover and simmer until meat is tender; about 2 hours. Remove the bay leaf.

Slow Cooker: Transfer meat mixture to the slow cooker. Stir in broth and tomato paste. Cover and cook on high for 4 hours or on low for 6 hours. Remove the bay leaf.

Serve over cooked egg noodles and garnish with fresh chopped parsley. For a creamy goulash, add a dollop of sour cream.