Onion rings often play second fiddle to their cousin, the french fry. But these pub-style, Beer-Battered Onion Rings are so crispy, so golden, and so perfectly seasoned you'll be craving them time and time again.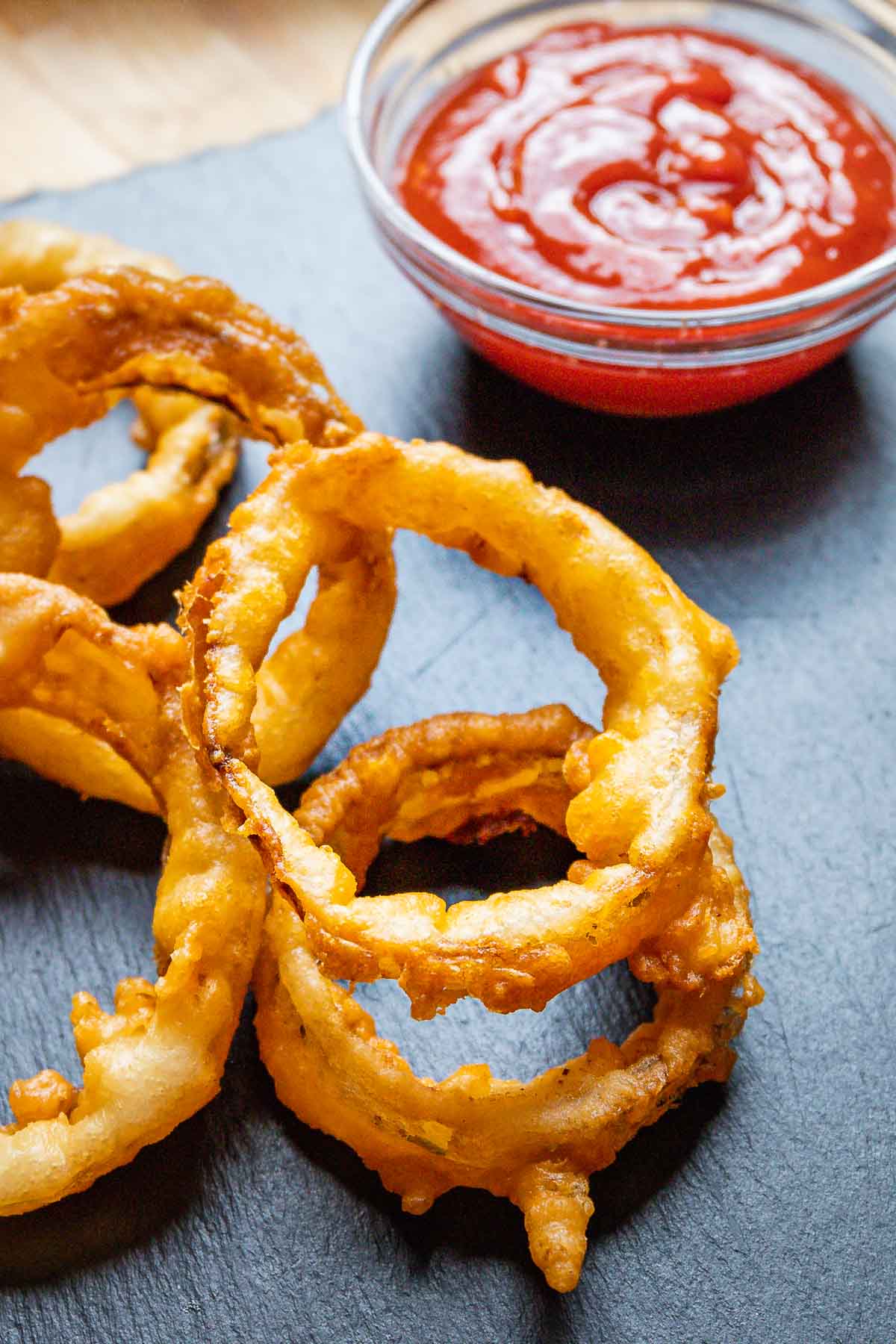 I've always been a fan of onion rings. The only issue I have is that all too often by the time they are served to me they're soggy, and often not seasoned enough. So I find myself grabbing the salt and pepper to doctor them up and hope for the best.
But I'm going to share my method of cooking these to ensure a crispy outer layer that has a touch of spice and a whole lot of flavor, thanks to the beer and a hint of cayenne.
Best Onions for Onion Rings
You can really use any type of onion you prefer. My main objective when looking for the perfect onion ring onion, is to buy the largest onion I can find. Often that means a Vidalia or even a red onion.
But for this recipe I was able to find huge yellow onions, so that is what I went with. And they were perfect.
In general, when buying onions you want to find one that is firm. If an onion is soft to the touch, it has already passed its prime and should not be used.
And speaking of onions, if you love them as much as I do, you'll want to check out this French Onion Soup recipe.
How to Make Beer Battered Onions Rings from Scratch
Preheat the oil. Heat oil in a dutch oven or deep cast iron pot. You want at least 2 inches of oil, so a deep pot is a must. Cast iron is best because it retains heat well.
Slice the onions into rings. Cut off the ends of the onions and remove the outer skin. Slice the onion into rings that are about ½ thick. You can make them thicker or thinner depending on your personal taste.
Make beer batter and batter the onions. We use flour, beer and a little bit of cayenne pepper to add flavor. Whisk gently to avoid over-mixing the batter. Coat the onions in flour, then dip them in your beer batter.
Fry your rings. Work in batches to fry the beer battered onion rings, meaning only a few at a time In the oil so they aren't touching. Shake off the excess batter and place onions in the hot oil for about 3-4 minutes, flipping them over about halfway through.
Drain. Once cooked through, place the onion rings on a wire rack over a baking sheet to let the oil drip off.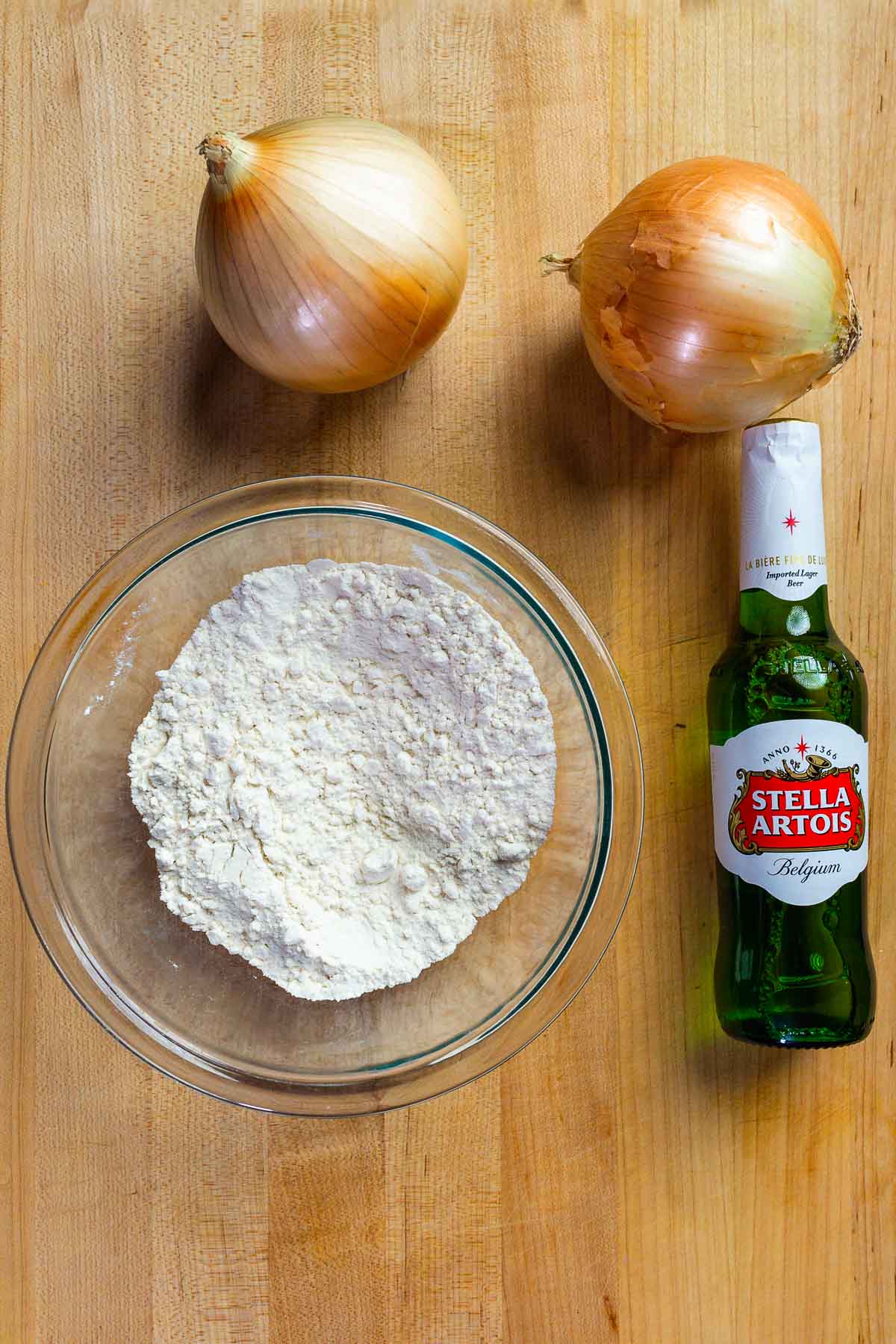 Tips for Crispy Beer Battered Onion Rings
As you can tell, I'm not fond of a soggy onion ring, which is why I was determined to make a batter that would yield the crispiest rings ever, and rival those of any pub. What I've found is that it really comes down to carbonation and draining.
Carbonation is important in batters, especially when making fish (for pub-style fish and chips) and onion rings.  When the batter is being fried, the bubbles are fighting to escape, therefore providing an airiness to the coating. Our recipe uses beer but you can easily achieve the same results with club soda or any other carbonated beverage. Just be mindful of flavor when selecting which one to use.
You may want to go with a beer that is lighter in flavor. I tend to use a white beer or lager and while I do enjoy a good IPA, the hoppiness can alter the flavor when using it in the batter.
Drain well once they've emerged from the oil. Do not drain on paper towels – they will become soggy! Instead, use a wire cooling rack to allow them to drain properly.
Place cooked onion rings in a low temp oven (170F) to keep warm while frying all the batches.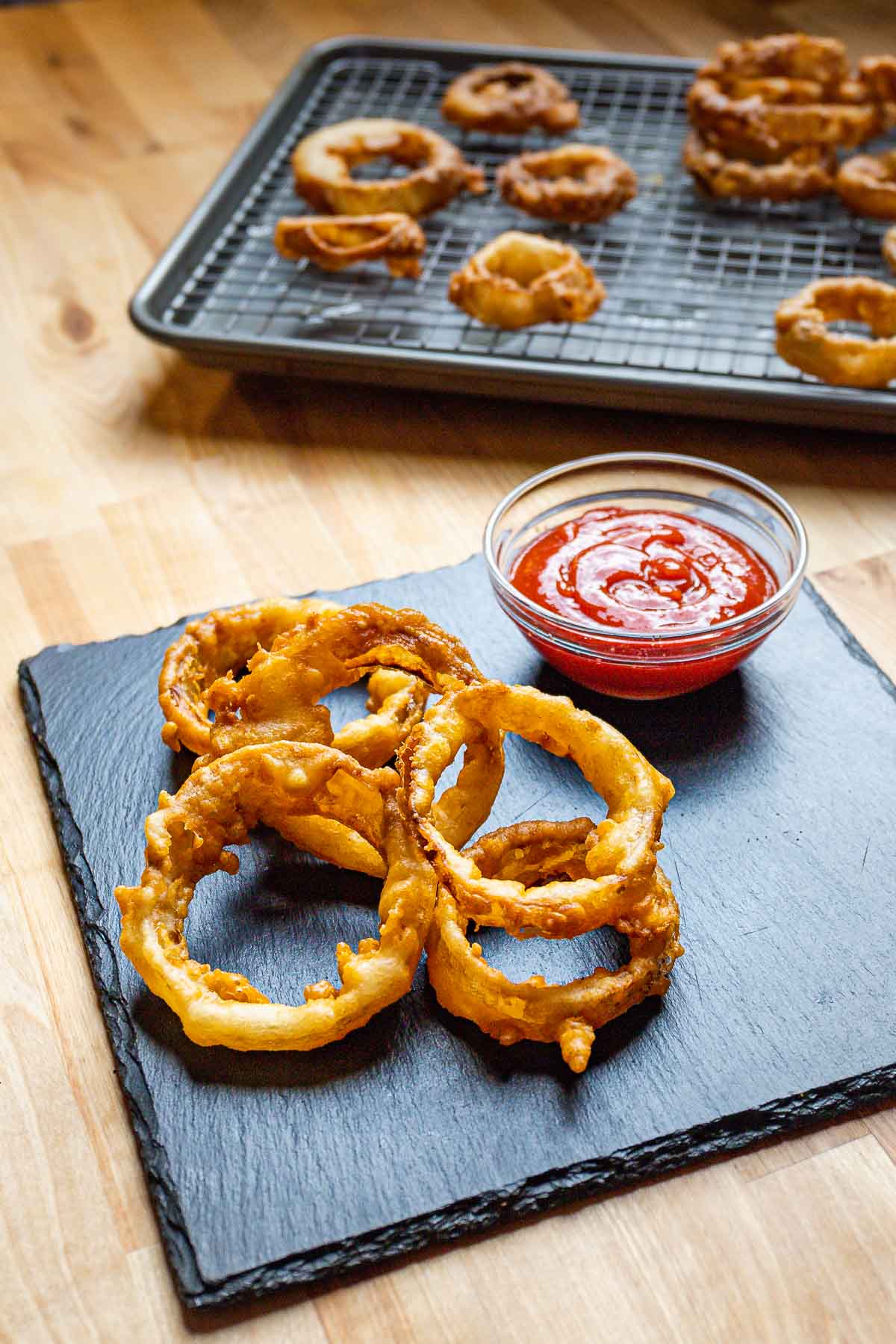 Make Ahead, Storage and Freezing
Store leftovers in a resealable plastic bag in the refrigerator. While onion rings are best enjoyed fresh, you could reheat in the oven or in an air fryer.
To freeze, cool completely. Reheat from frozen in the oven or air fryer for several minutes at 375 degrees.
Serving Suggestionss
Onion rings are a side dish, and while I've been known to eat them for dinner, you should probably serve alongside some other food.
First and foremost is finding the best dipping sauce for your rings. For these, ketchup is always good, but Tartar Sauce would also be an excellent choice.
And since you're already frying, you might want to try these Crispy Fried Shrimp, Italian Chicken Cutlets, or Zucchini Fritters.
If you're in the mood for pub-grub, Garlic-Parmesan Chicken Wings or Hamburger Sliders are perfect to serve with them.
Recipe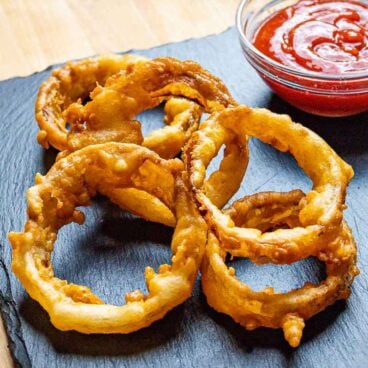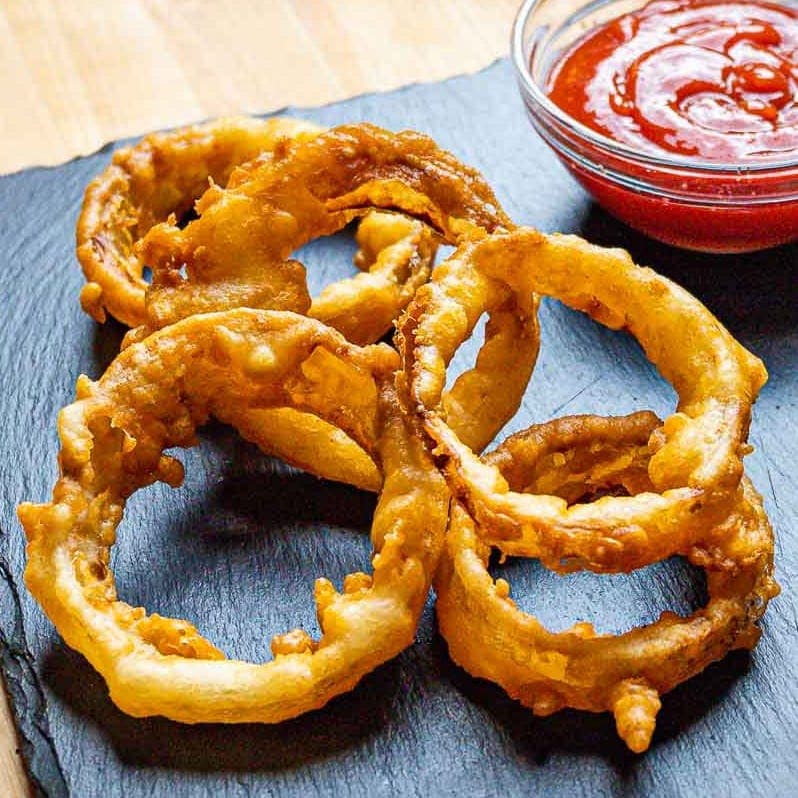 Beer Battered Onion Rings
These super crispy beer-battered onion rings with a touch of spice are perfect as a snack or side dish for any meal.
Ingredients
2

large

onions

cut into 1/2" rings

1/2

teaspoon

cayenne pepper

optional

2 1/2

cups

all-purpose flour

divided

12

ounce

bottled beer

light beer such as lager or pale ale

1 1/2

teaspoons

kosher salt

3

cups

vegetable oil

for frying
Instructions
Heat vegetable oil to 375 degrees F in a large Dutch oven or deep cast iron pot. Make sure oil is at least 2 inches high in pot.

Cut off ends of onions and remove skin. Cut onion into ½ inch thick slices and carefully turn into rings.

Dust onions in a ½ cup of flour and shake off excess.

Mix 2 cups of flour with the salt, cayenne, and beer. Whisk gently to just incorporate the ingredients and avoid overmixing.

Working in batches dip the onions into the batter and coat well. Shake off excess and gently place in hot oil. Cook for approximately 3-4 minutes total, turning halfway during the frying process. Place cooked onion rings on a wire rack to drain excess oil.

Place cooked onion rings in a low temp oven (170F) to keep warm while frying all the batches. Enjoy!
Notes
Oil should be at least 2 inches high in Dutch oven/pot.
Cayenne pepper is optional. If omitting add a ½ teaspoon of black pepper instead.
Most large onions like Vidalia, white, or yellow onions can be used.  
Avoid over-mixing the batter, so as to not form excess gluten.
Plain seltzer can be substituted for the beer.
To keep the onion rings crisp and warm while frying all the batches, place cooked rings in a low temp oven(170F or so)  on an extra wire rack/baking tray setup.
Nutrition
Calories:
523
kcal
Carbohydrates:
45
g
Protein:
6
g
Fat:
37
g
Saturated Fat:
30
g
Sodium:
584
mg
Potassium:
129
mg
Fiber:
2
g
Sugar:
2
g
Vitamin A:
69
IU
Vitamin C:
4
mg
Calcium:
19
mg
Iron:
3
mg