This Cannoli Dip is thick, sweet, and loaded with mini semi-sweet chocolate chips. It's the perfect dip served up with cannoli chips or broken waffle cones dusted with powdered sugar. It's made with a combination of ricotta, mascarpone, and cream cheese whipped together for an extra thick dessert dip.  It's unique and will have people coming back for more!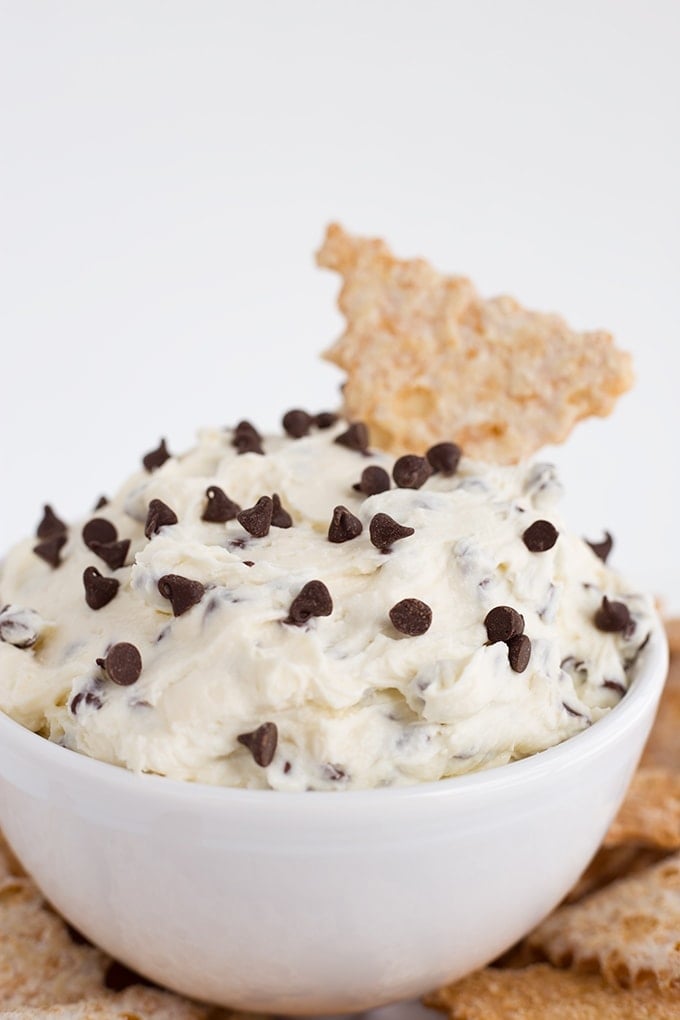 Did you read the first paragraph and immediately think that cream cheese shouldn't be in this dip? Here's the thing. You can't taste it and it helps bind the ricotta and mascarpone cheese together making a thick, wonderful dip.
Another step I took was to drain the ricotta. You can do this by placing it in a fine mesh strainer and set it on a bowl that will catch the excess water. I covered mine with plastic wrap and let it sit overnight in the fridge. I probably drained off a whopping 1 – 2 tablespoons of water, but I would rather do that than have a watery dip. It's pretty likely that you'll find that different brands of ricotta will have more or maybe even less water in it than the one I used.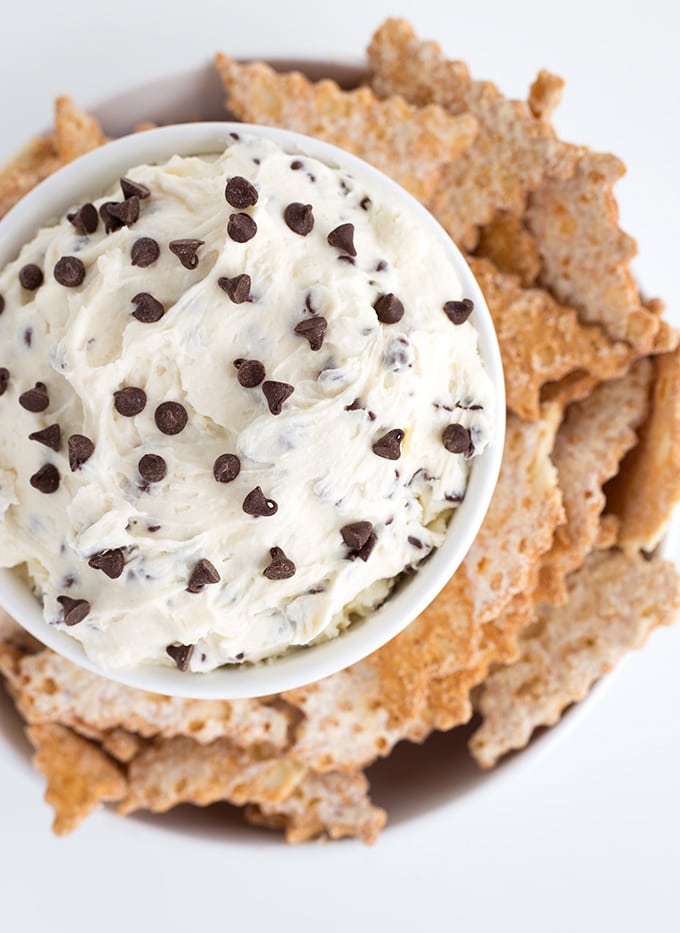 I normally have texture issues with cannoli filling, but this dip is the creamiest I've ever had! I'm pretty sure we can thank the mascarpone cheese and cream cheese for that.
The next thing you'll want to look into are some cannoli chips. They are absolutely fantastic. They taste like a cannoli shell dipped in powdered sugar. I found mine in the bakery section of my local Wegman's. If you can't find those, you can grab the waffle cones used for ice cream and break them into large pieces. I would sprinkle some powdered sugar on them, but if you're trying to avoid a mess, skip that.
Now that I got out all of the tips for you on making this cannoli dip, I just HAVE to tell you about another favorite dip. It's one of the most popular recipes on my site and it's for monster cookie dough dip. It's an eggless, flourless cookie dough dip that's loaded with oats and candy-coated chocolates!
That's not all I have though. I also have a brownie batter dip for those chocolate lovers out there with chunks of brownies mixed in! If you're into a sweet and salty combination, use pretzels for dipping. It's amazing stuff.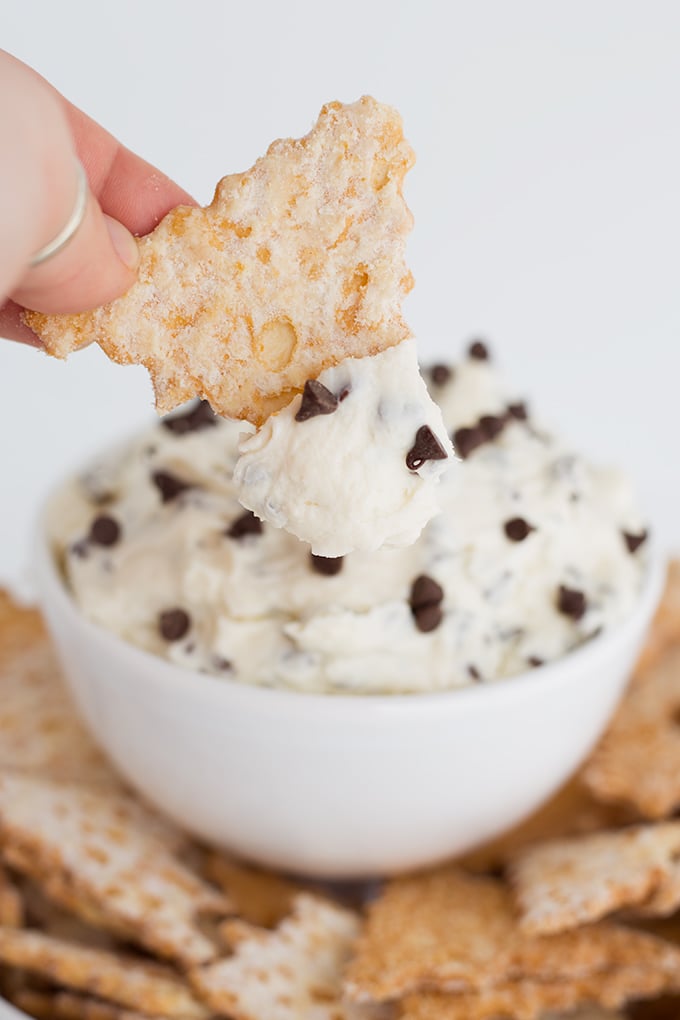 Craving sweets? Try these easy dips!
Want something more savory? I've got you covered!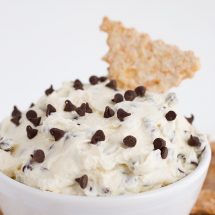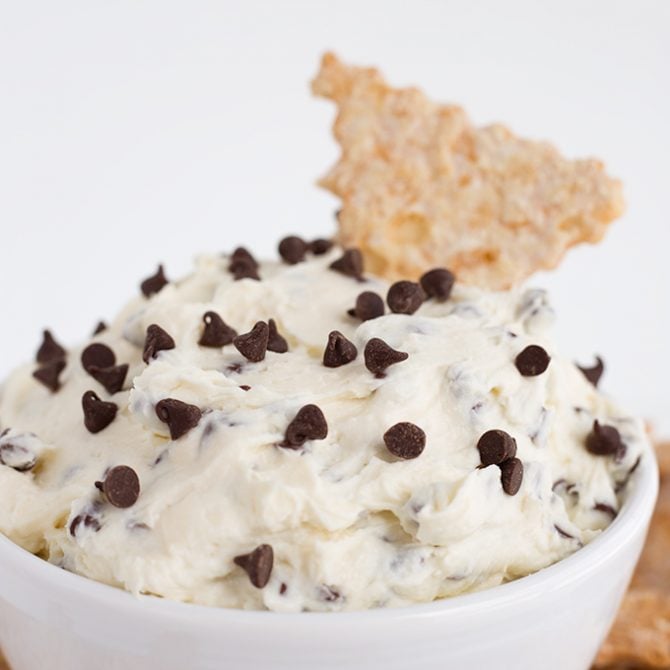 Cannoli Dip
This Cannoli dip is thick, sweet, and loaded with mini semi-sweet chocolate chips. It's the perfect dip served up with cannoli chips or broken waffle cones dusted with powdered sugar.
Print
Pin
Rate
Prep Time: 10 minutes
Total Time: 10 minutes
Servings: 2 cups
Ingredients
4 oz. cream cheese softened
15 oz. container 1 1/4 cups whole milk ricotta
8 oz. mascarpone cheese
1 cup powdered sugar
1 tsp. vanilla extract
1 cup plus 2 T. mini chocolate chips divided
cannoli chips
Instructions
In a large mixing bowl, add in the cream cheese. Using a hand mixer, beat on medium until it's creamy.

Add in the ricotta and mascarpone cheese. Beat on medium until combined.

Add in the powdered sugar and vanilla extract. Beat until the powdered sugar has been incorporated.

Add 1 cup of mini chocolate chips and stir until evenly distributed.

Place the dip into a serving bowl and sprinkle the remaining 2  tablespoons of mini chocolate chips on top.

Serve with the cannoli chips or pieces of waffle cones.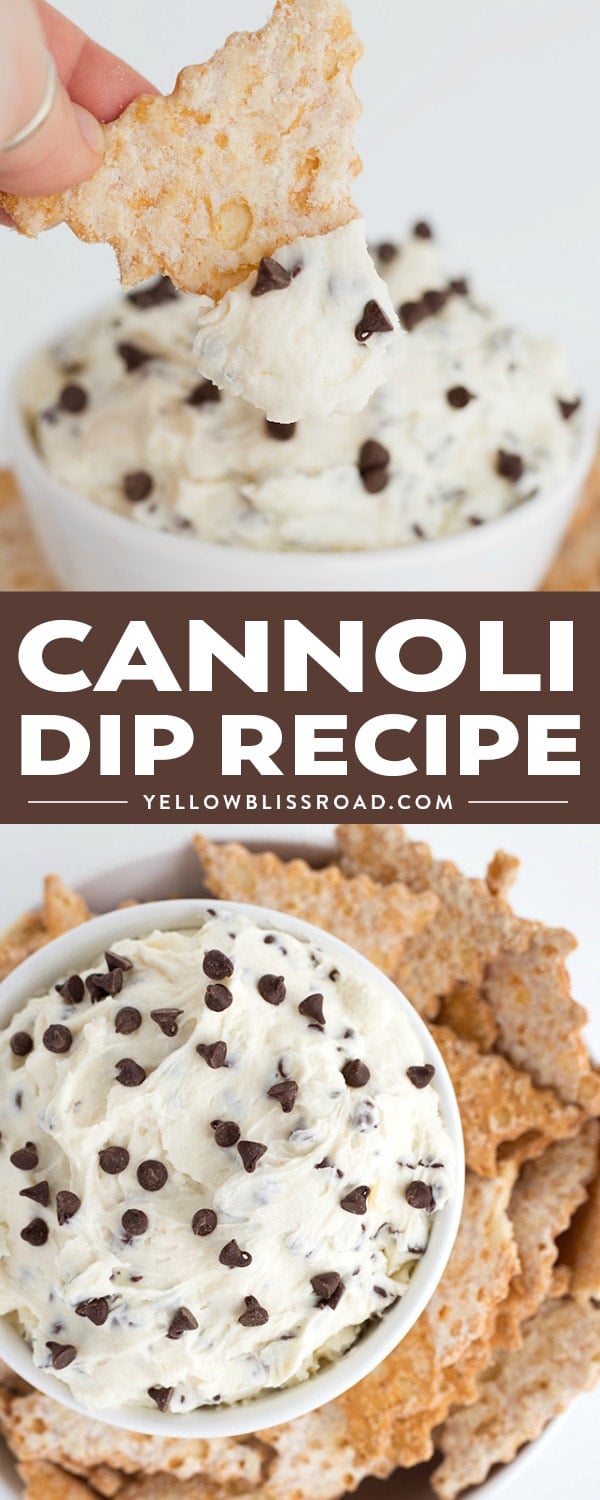 Hi! I'm Miranda and the dessert blogger behind the blog Cookie Dough & Oven Mitt! When I'm not slinging butter and eggs, I love to hang out with my son and hubby.