Hey everyone, welcome to my Christmas home tour! Pull up a chair, grab yourself a cup of hot cocoa and enjoy the photos. I'm going to try and keep the chit chat to a minimum (although that's not the easiest thing for me to do!). This Christmas I've gone a little bit glam and a little bit rustic and a little bit classic. Enjoy the tour!
UPDATE – See the 2015 Tour HERE!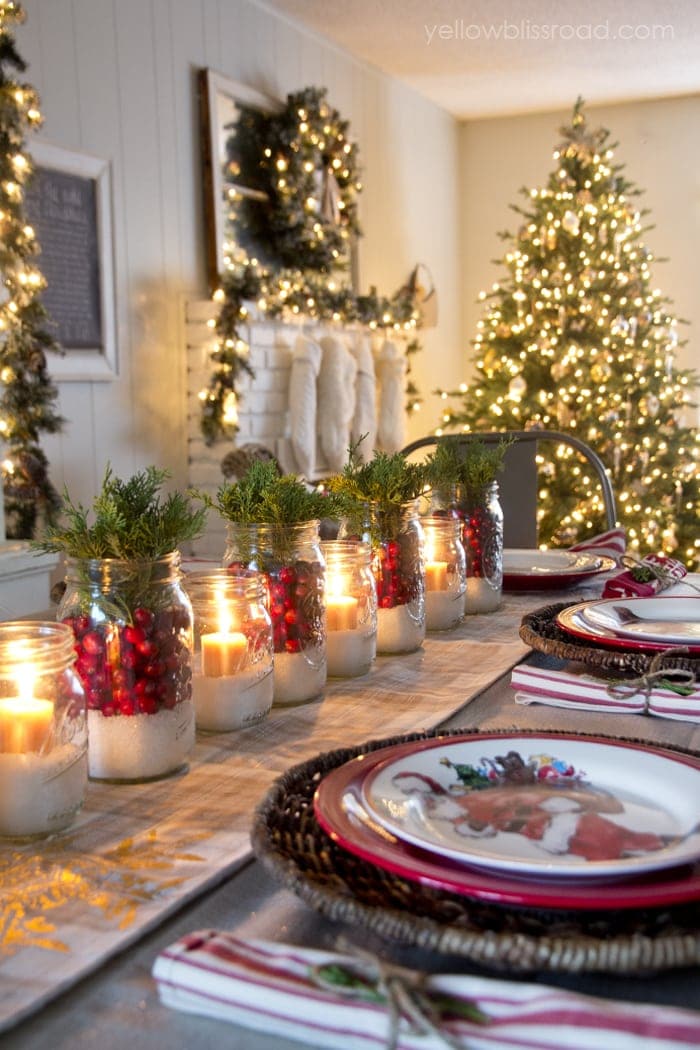 Each year I stare at my dining room table and before long I have an epiphany. It never seems to pan out though and I'm stuck playing around with it and making all kinds of changes over and over. This year wasn't like that – I had a vision, and I managed to pull it off just as I pictured it. It's super simple and I'm loving it.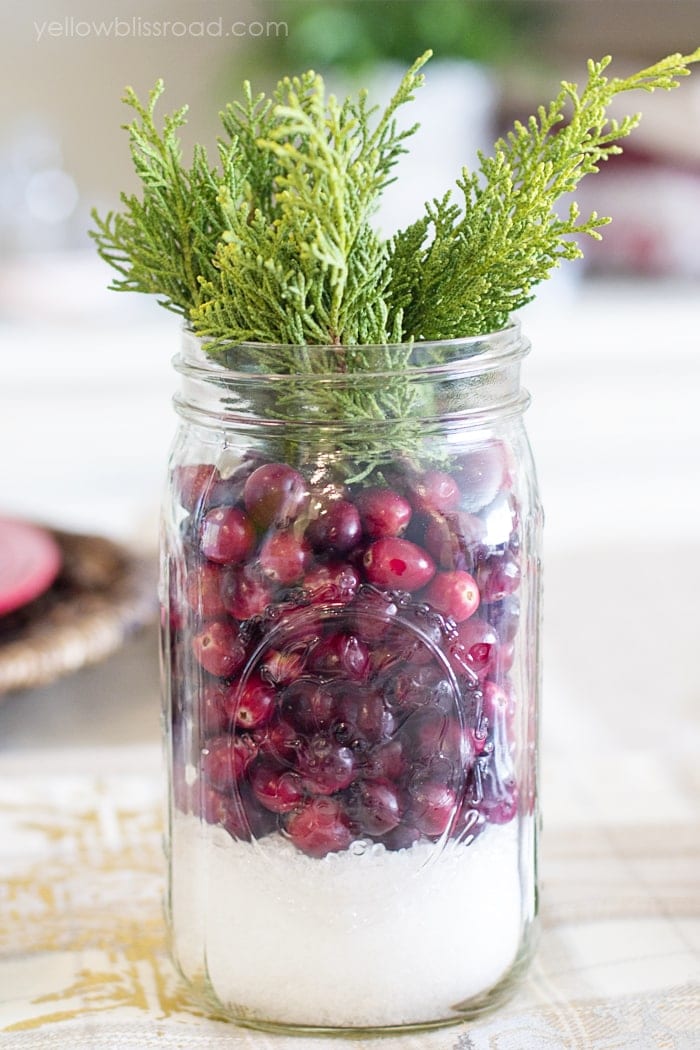 The centerpieces are my favorite – So simple, just using fresh elements like cranberries and fresh cut juniper branches from my yard. The bottom layer is just Epsom Salt, which, if you've seen other Christmas posts from the past few years, you know I use a lot. It's looks so festive with them all lined up in a row!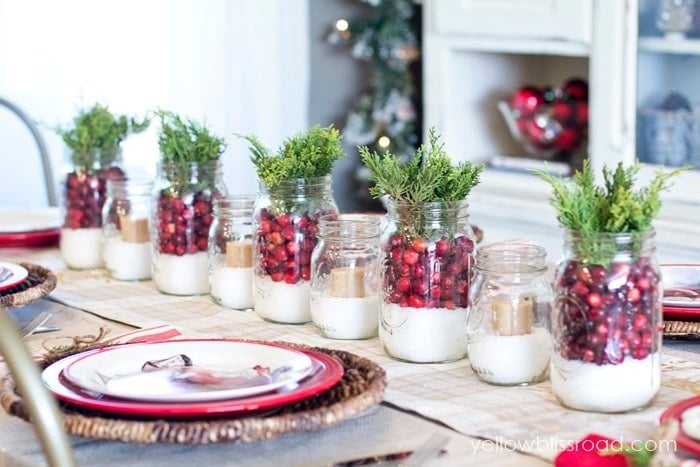 In between the cranberry jars are smaller jars with Epsom Salt and candles. I purposely bought the tan ones to offer a contrast against the white. It just looks so beautiful all lit up in the evening.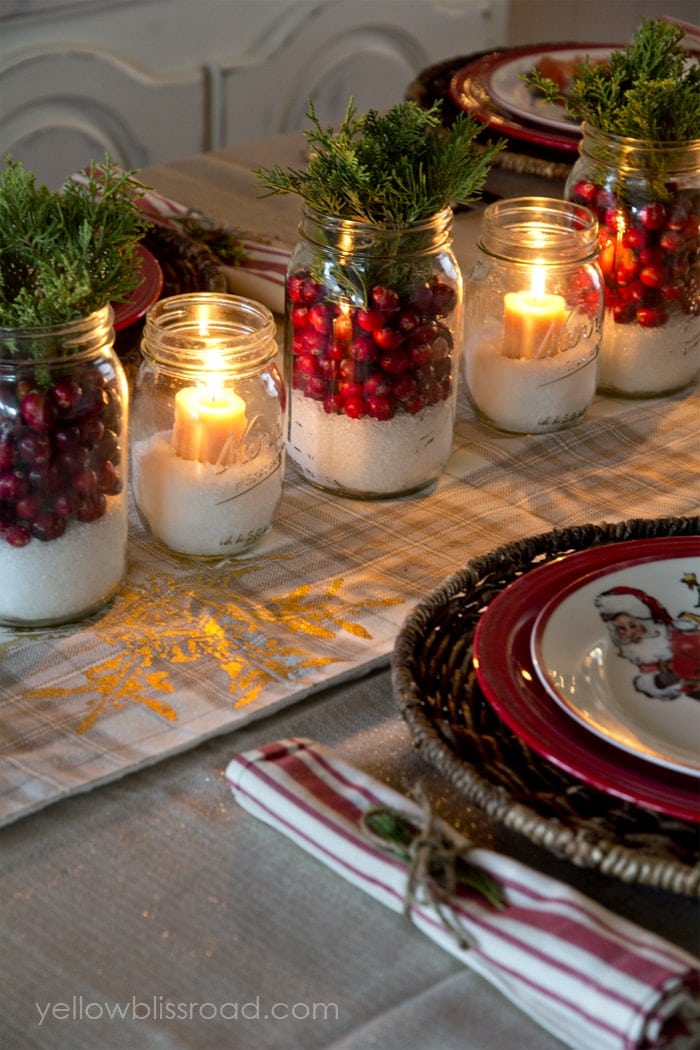 I bought the table runner a couple of years ago at Target. I love the little bit of glam added by the gold foil snowflakes, and the rustic touch of the neutral toned plaid. The sparkly gold tablecloth is new from Target this year.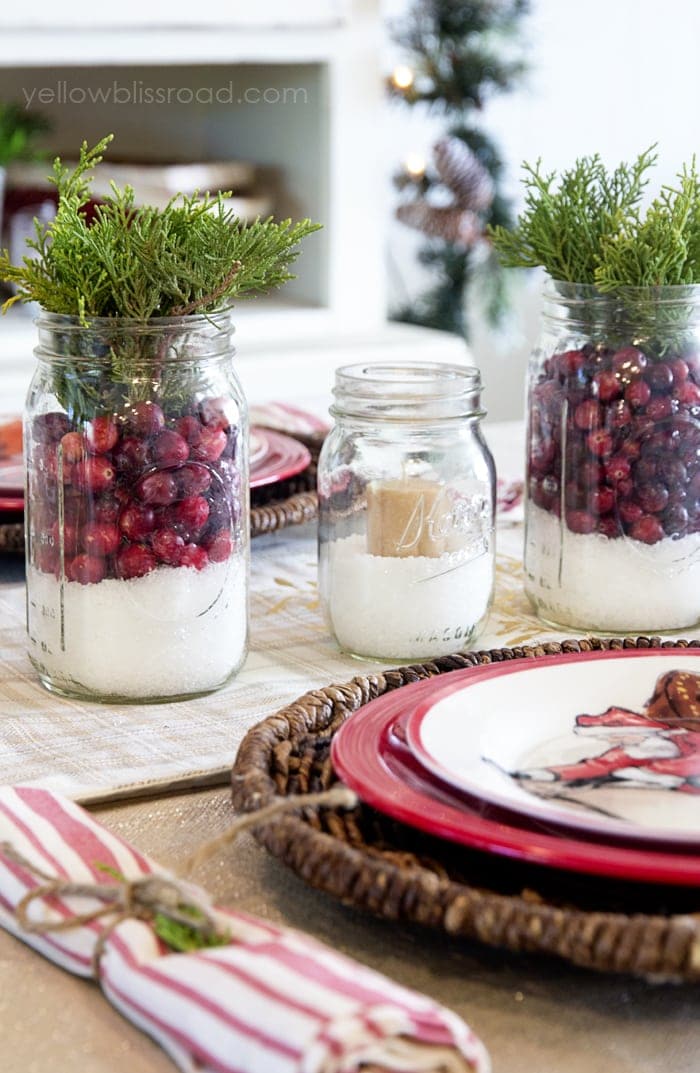 The rattan chargers are from World Market last year, and the Santa plates that I pined over for a month before finally taking the plunge and purchasing them, are from Pottery Barn. I love the juxtaposition of the rustic chargers with the classic vintage look of the plates.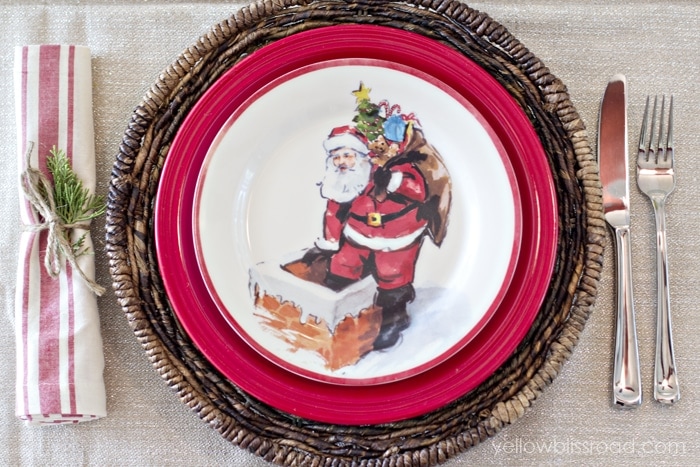 Simple twine was wrapped around the rolled up ticking stripe napkins, also from World Market. I stuck some juniper in there as well, to tie in with the centerpieces.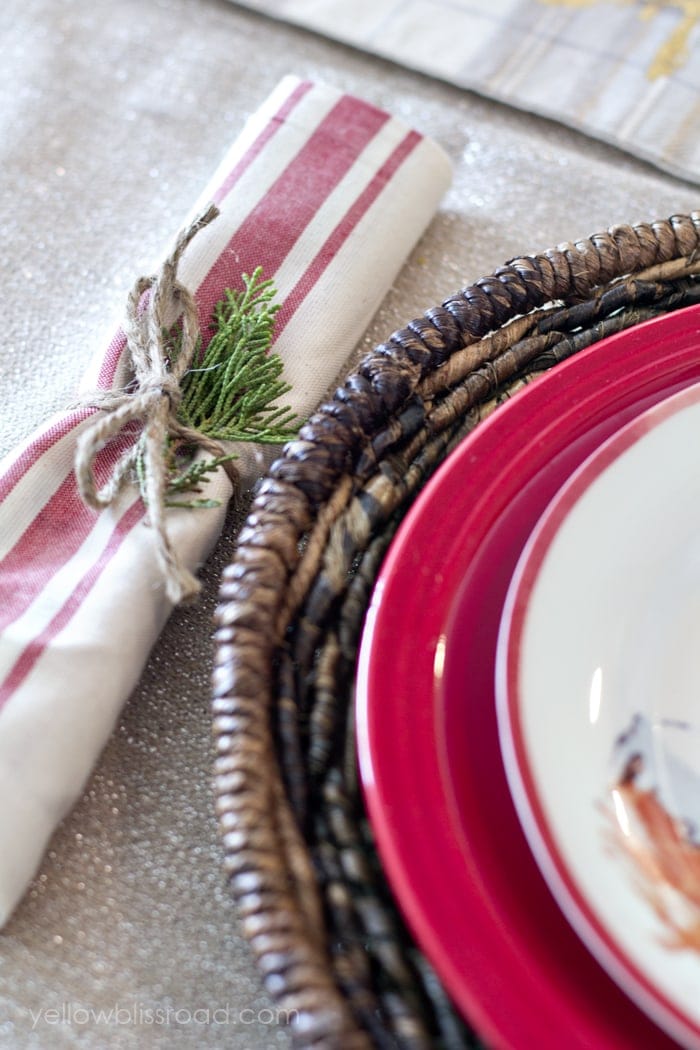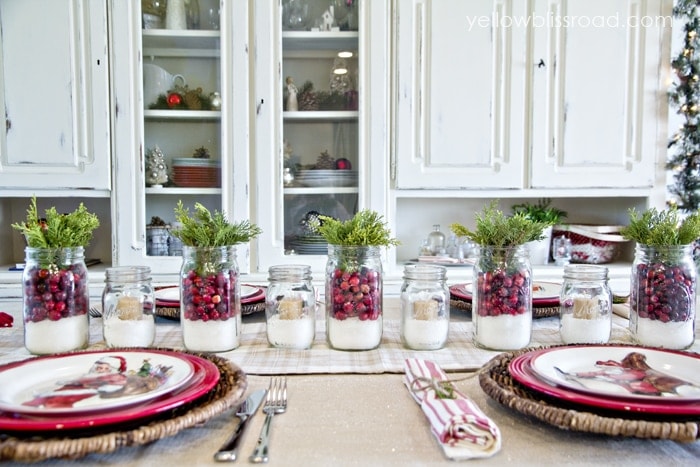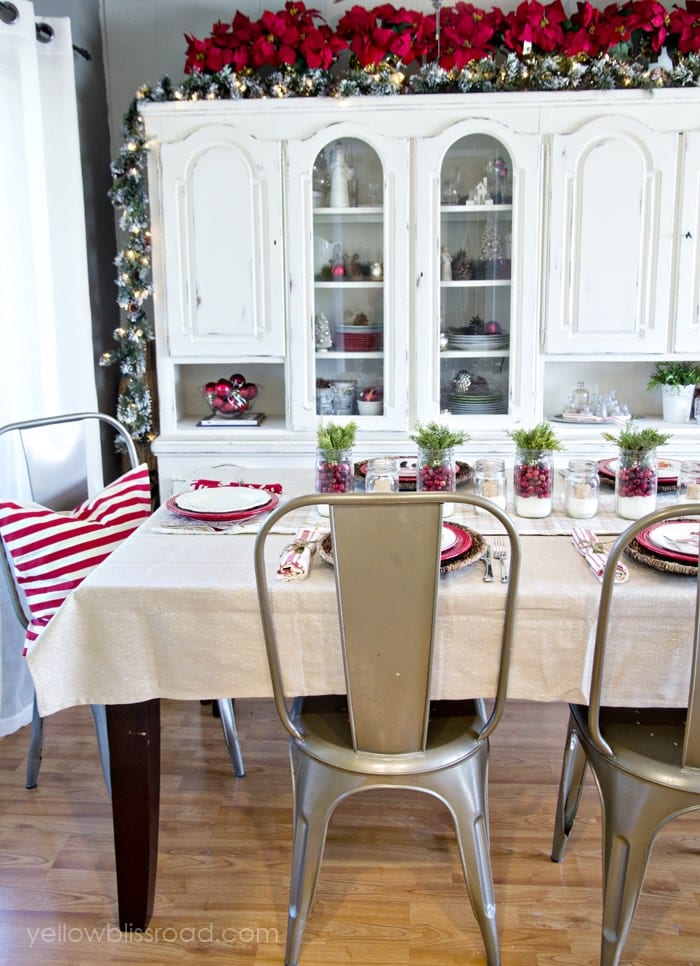 I love to add seasonal decor to my chalk painted hutch. The hutch was my grandmother's and I painted it several years ago because I love it so much (just wasn't loving the icky brown color!). I place my seasonal dishes and mugs, and create a few vignettes with statues and random pieces that I've collected over the years. Faux pine branches line the shelves, and ornaments add a pop of color.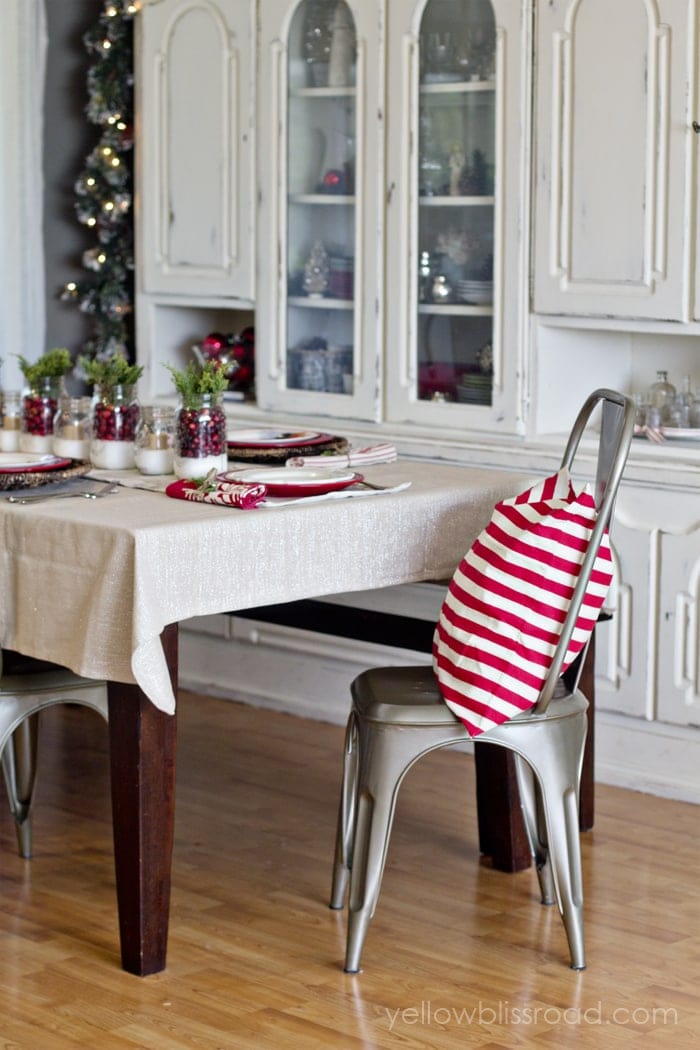 I am in love with the red striped pillow from H & M. I can't believe it took my until now to discover they have an online home store!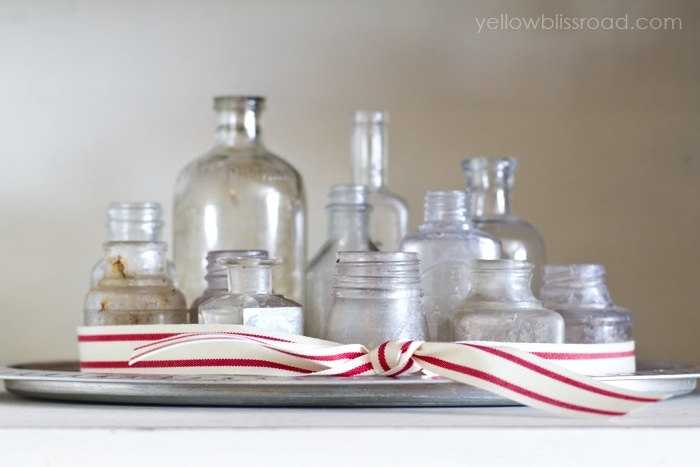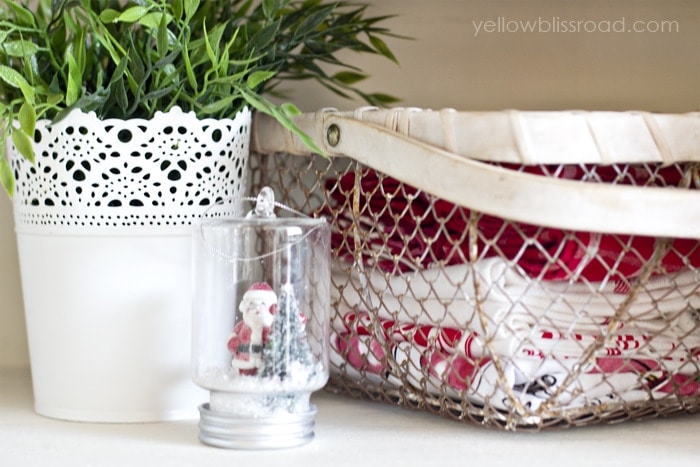 Adjacent to the dining room is the living room, the gathering place, where we have our family movie nights and play board games on the floor.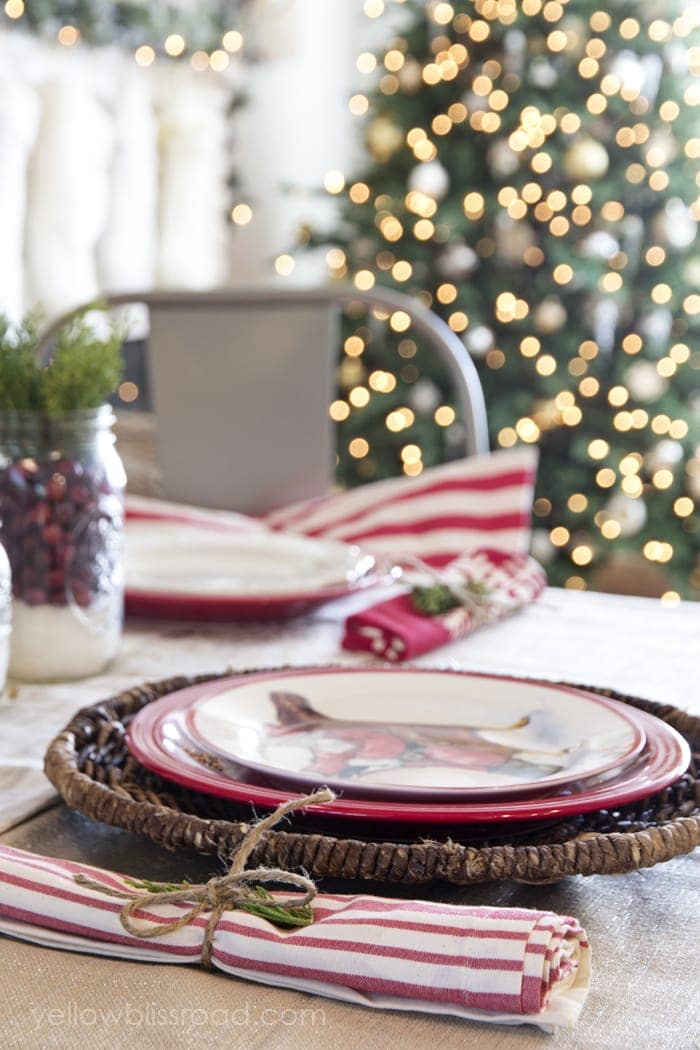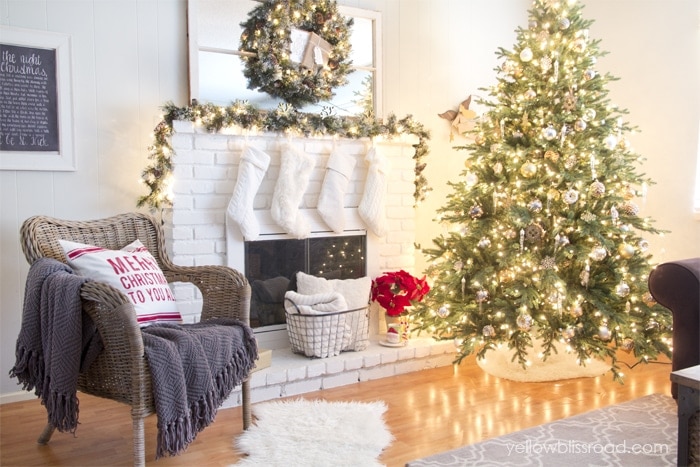 See more about my Christmas tree (that I absolutely LOVE – HERE).
I created a chalkboard print with one of our favorite Christmas stories. I decided not to offer it as a free printable because of the potential copyright issues.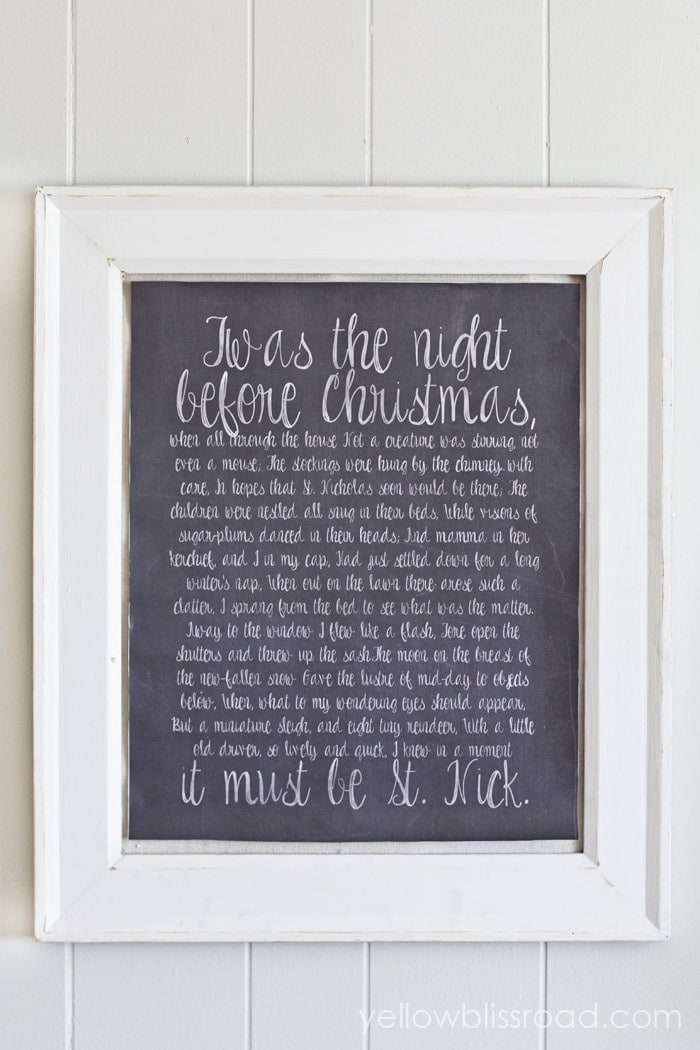 My cozy wicker Ikea chair got a little cozier with the addition of my favorite gray blanket (a Goodwill Target find!) and a new pillow from H & M.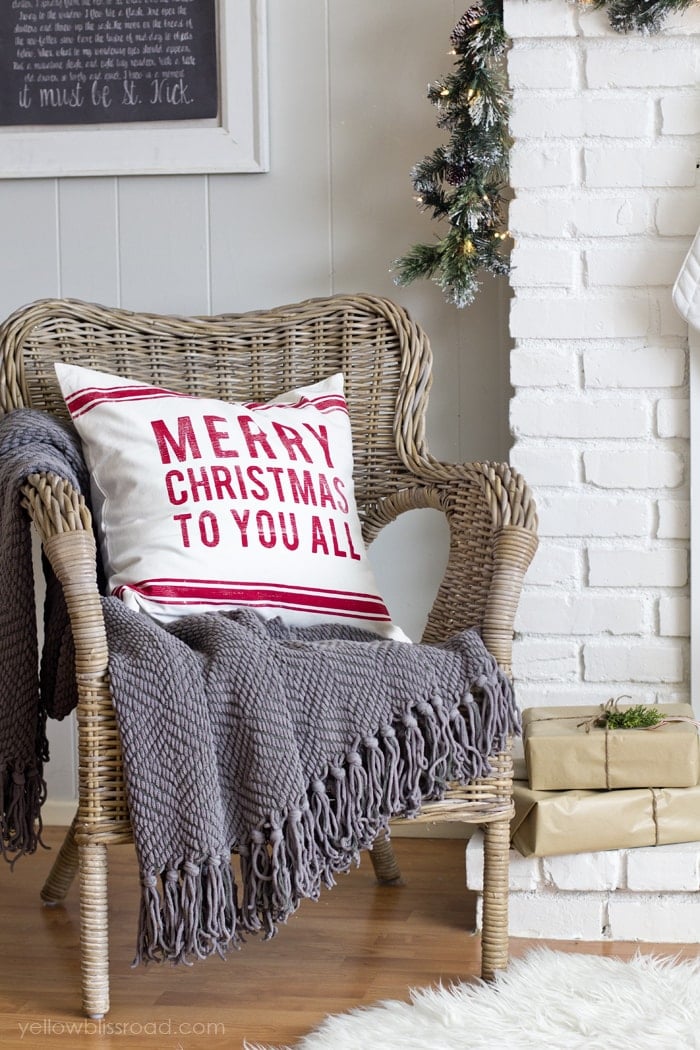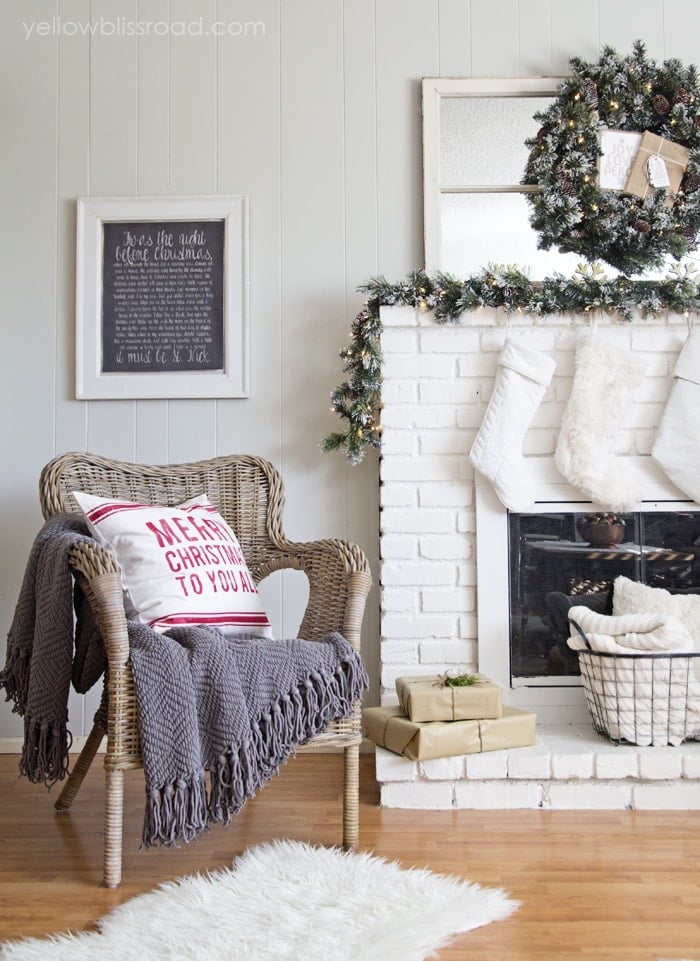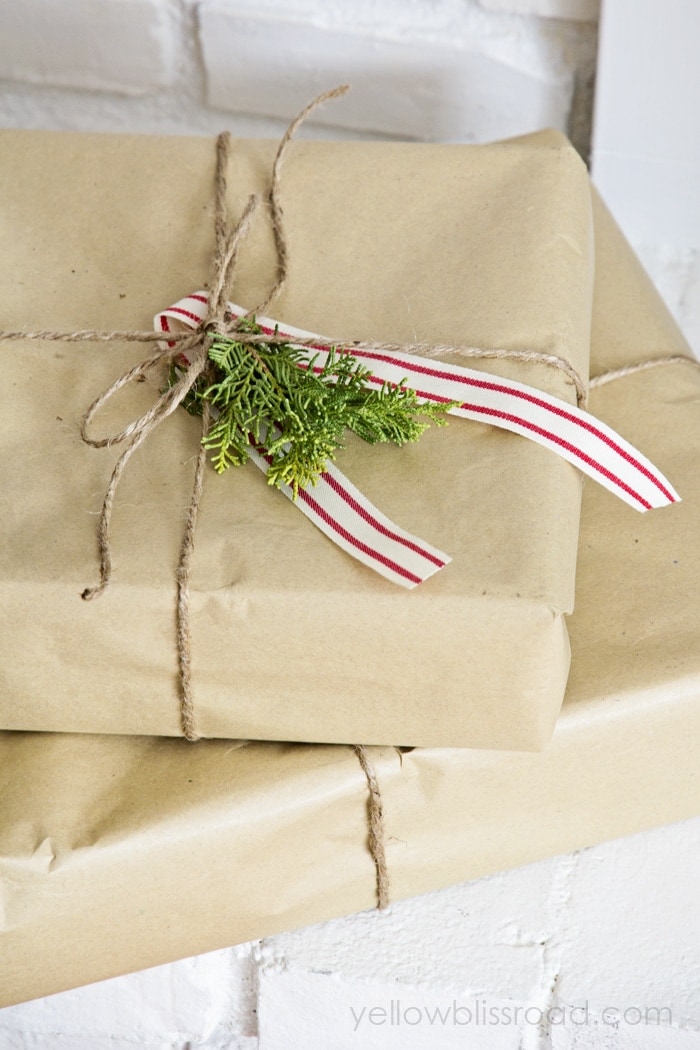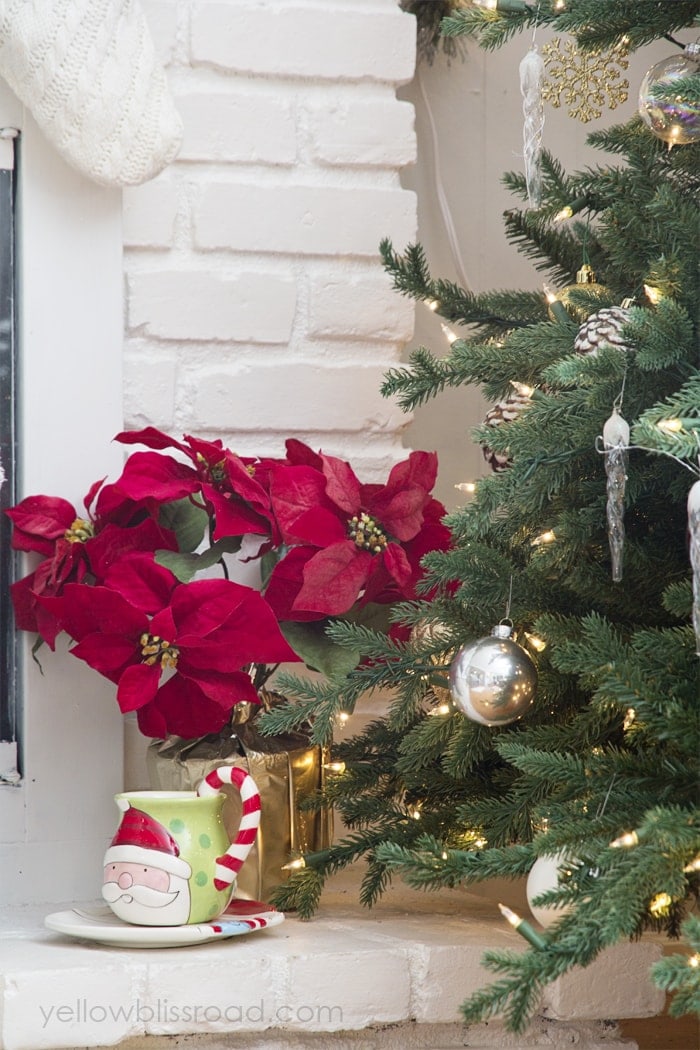 Around the fireplace I added a pop of color with one of my faux poinsettias. Santa's Mug and Plate wait patiently to be filled with milk and cookies on Christmas Eve.
More fun pillow covers from H & M. Ornaments in the copper strainer are from the Martha Stewart line at Home Depot.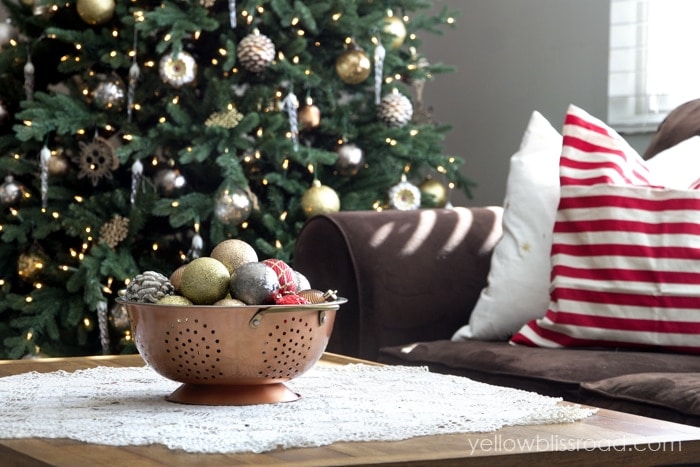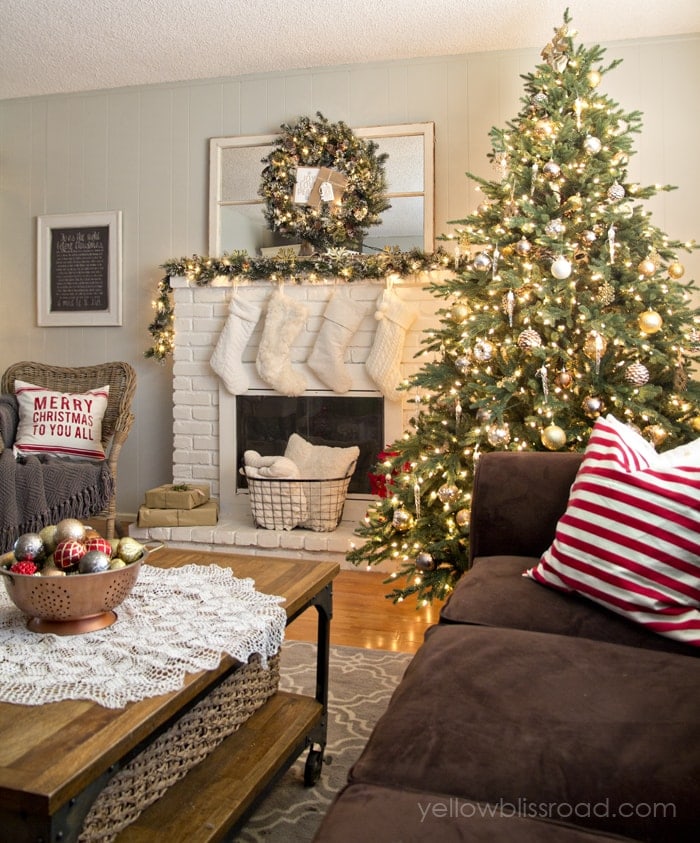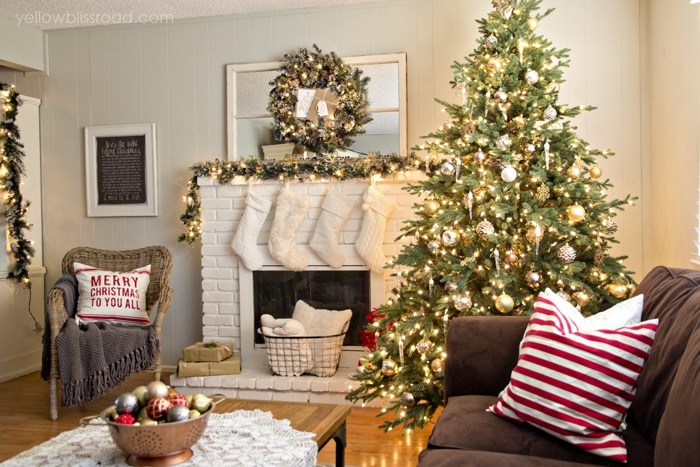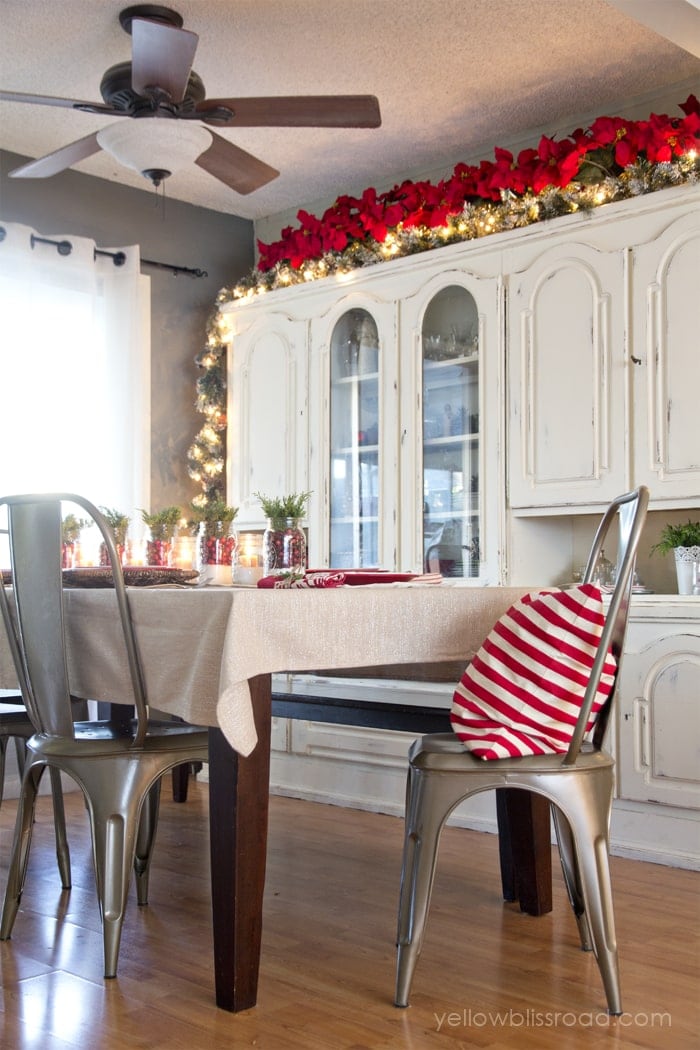 I shared my Christmas kitchen the other day. Here are just a few glimpses…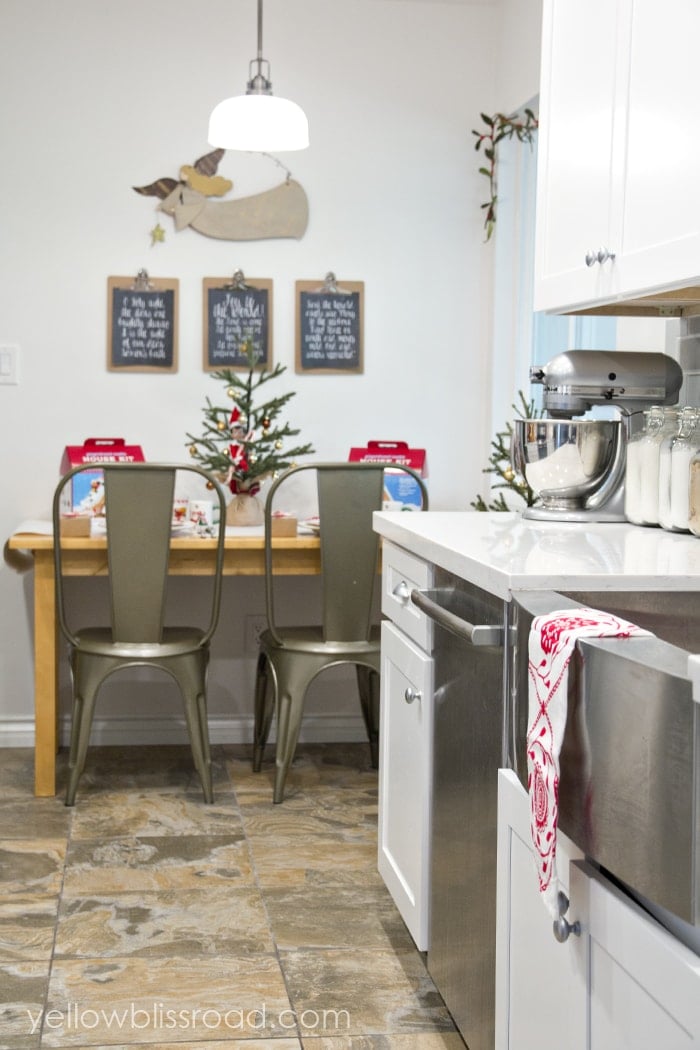 Above you can see the table all set up to welcome back our Elf on the Shelf, Buddy. He visits each year right after Thanksgiving and brings all sorts of goodies.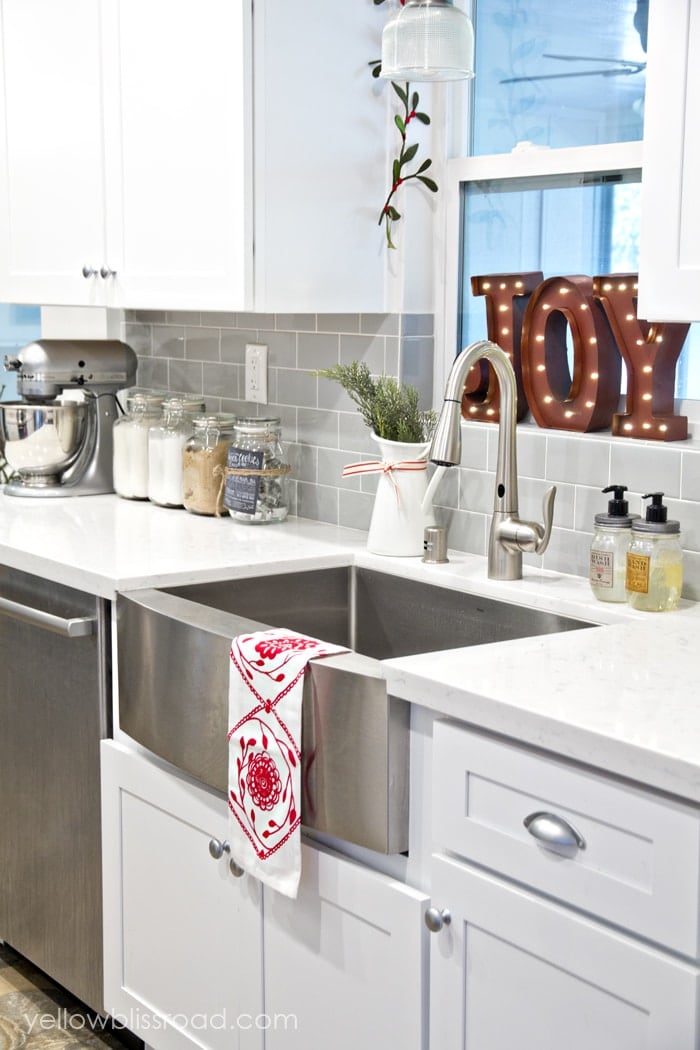 I added simple touches all around to make the space look festive.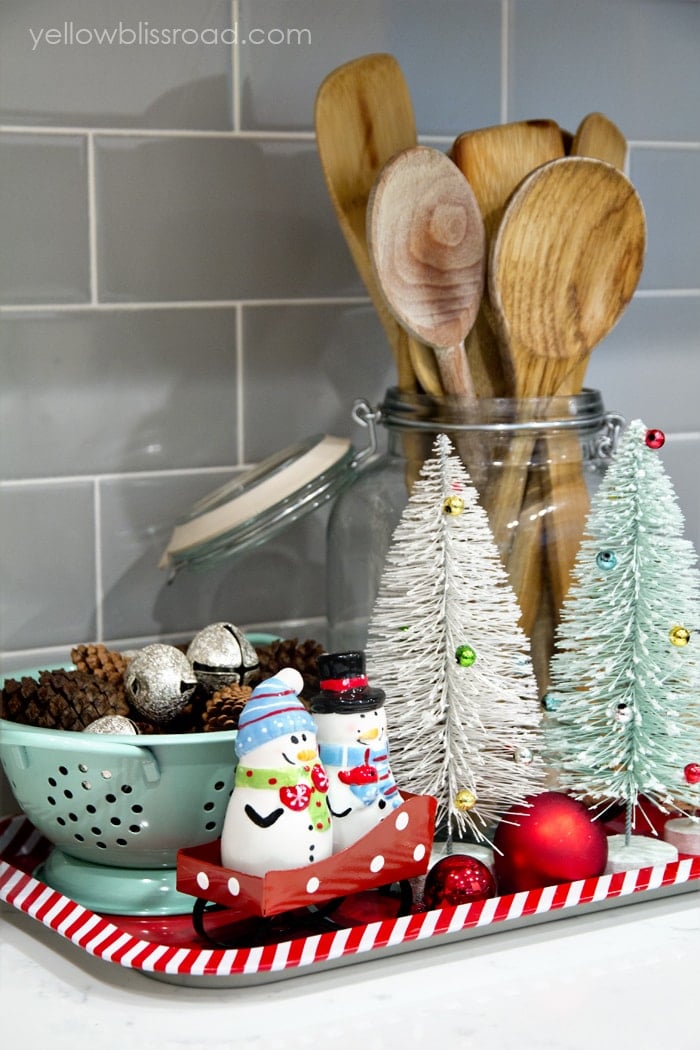 I think my cozy little snowman in the sleigh might be one of the cutest things in my kitchen. (From Pier One).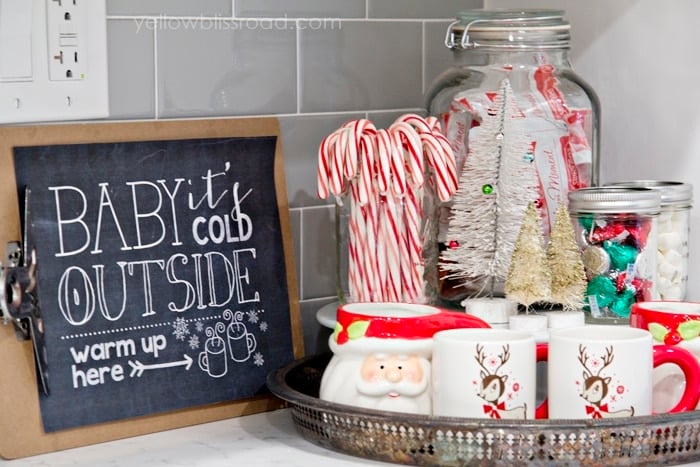 Well, that's the tour! I hope you enjoyed your stay.
For more Christmas decor posts, be sure to check these out: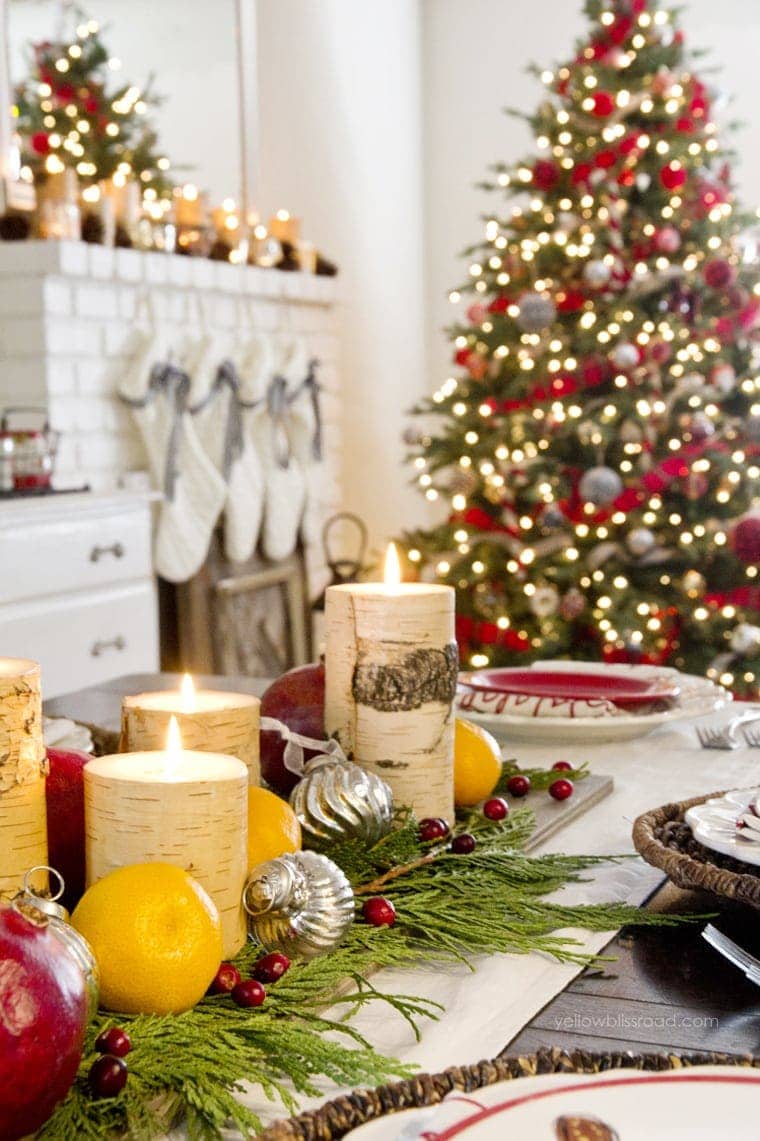 Christmas 2015 Tour is Now Live!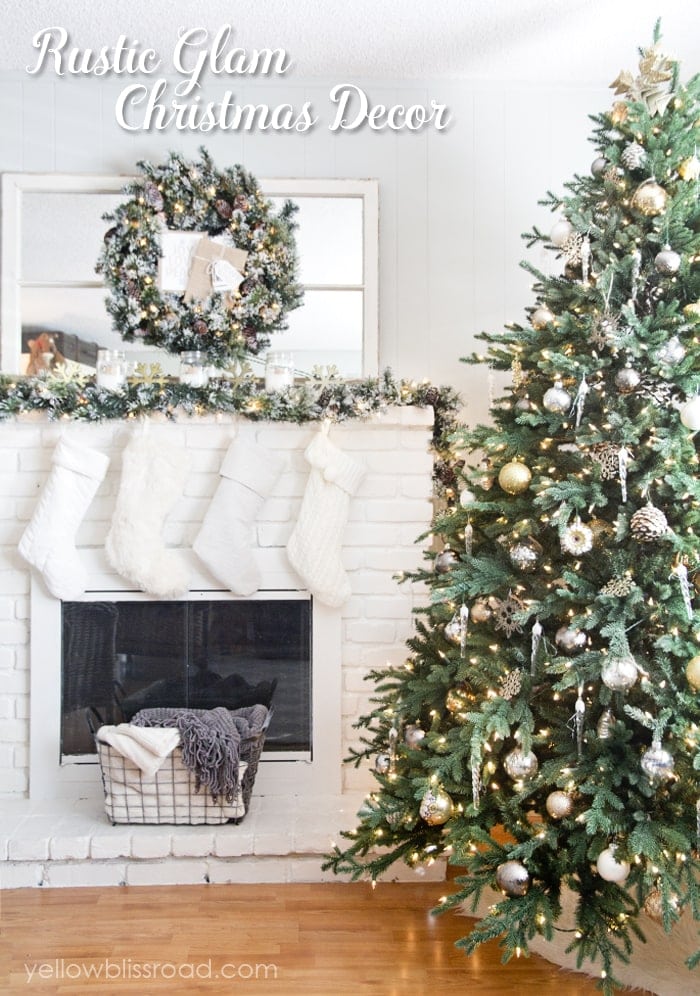 Rustic Glam Christmas Tree and Mantel
For all Christmas posts, go HERE.