Have I got a treat for you today!! I've gathered up 13 of my bloggy besties to share some ideas for decorating your kitchen for Christmas! We've partnered with World Market because they have some of the best (and most affordable) decor around! Some of us are sharing our favorite holiday recipes, and some of use are sharing a new FREE printable! Me? Of course you know I've got a new free Christmas printable for you!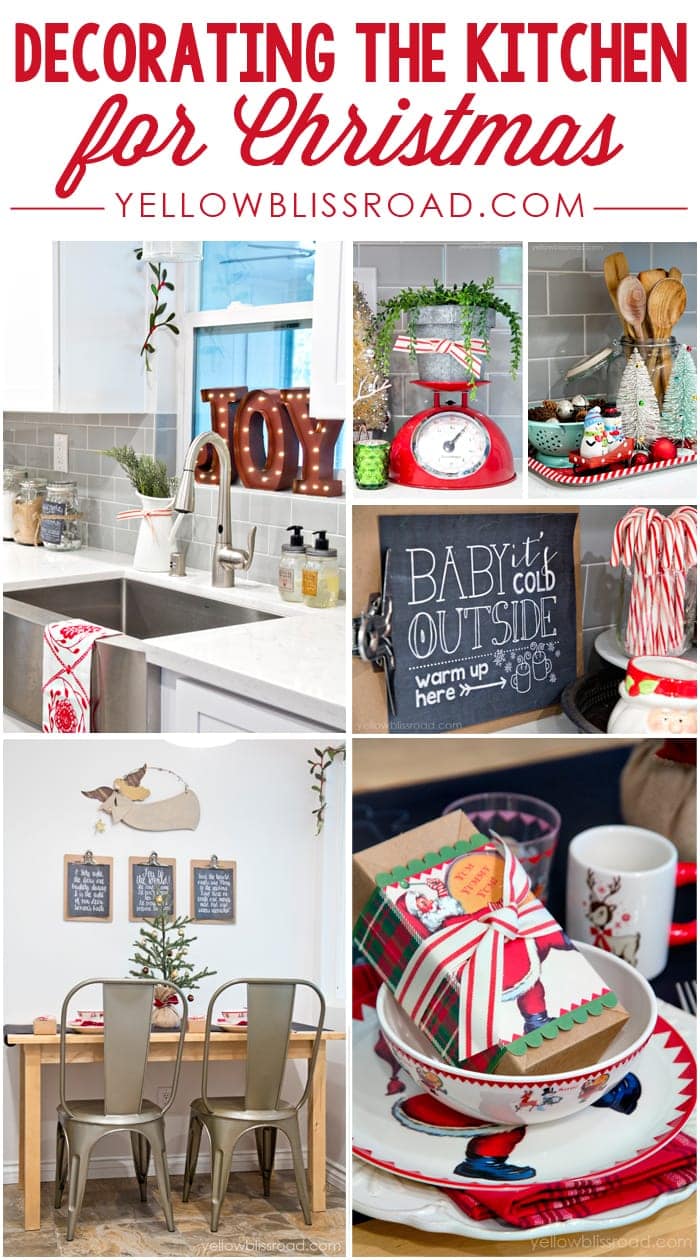 Decorating the Kitchen for Christmas
When I finished remodeling my kitchen this past fall, all I could think about was how exciting it was going to be to decorate for the holidays in there. The old orange cabinets and vintage gold and white tile counters just weren't doing it for me. Now they're a beautiful gray and white canvas that lets the reds and greens POP!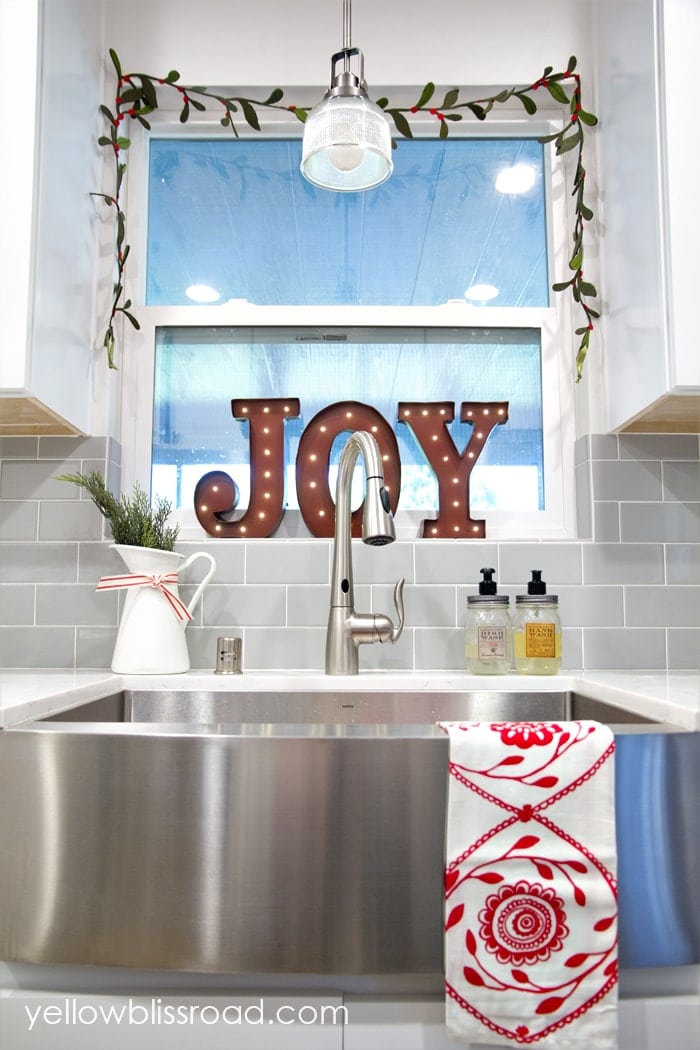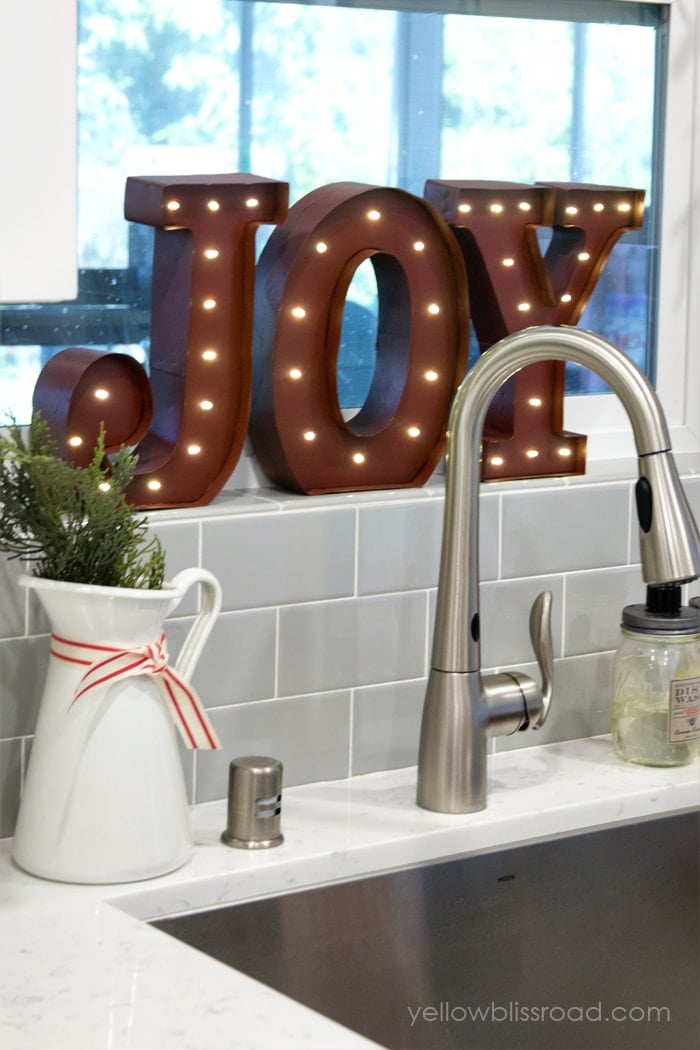 That Lighted JOY Marquee is the first Christmas decoration I bought this year. It's my favorite thing in the kitchen this year, and it's battery operated so no ugly plugs stretching across the counter! The ribbon around the white pitcher is also from World Market.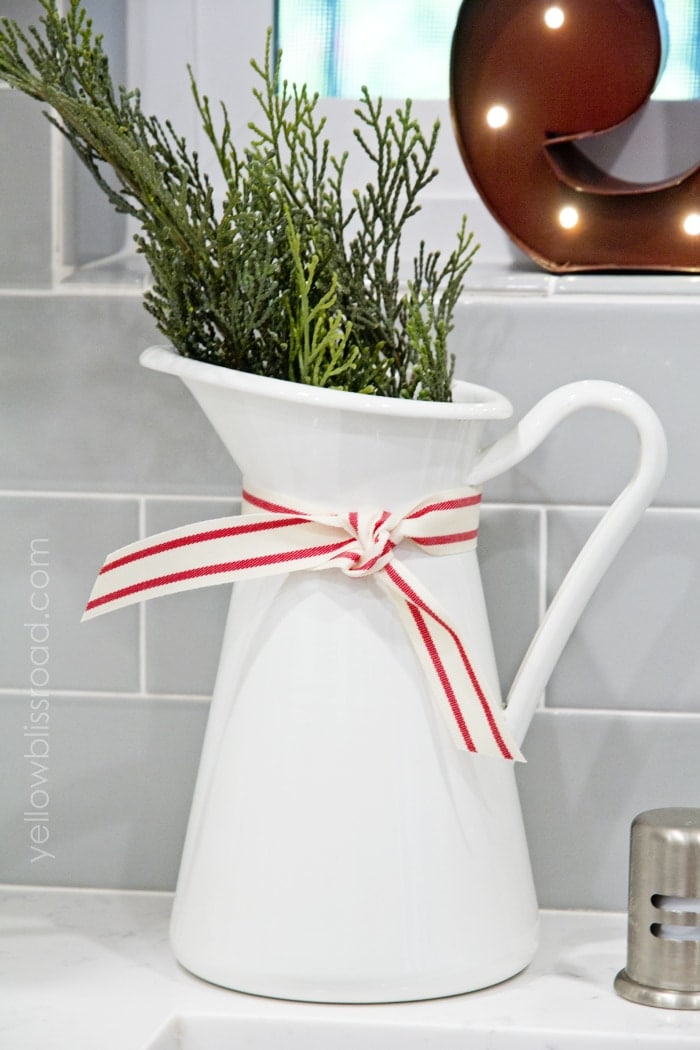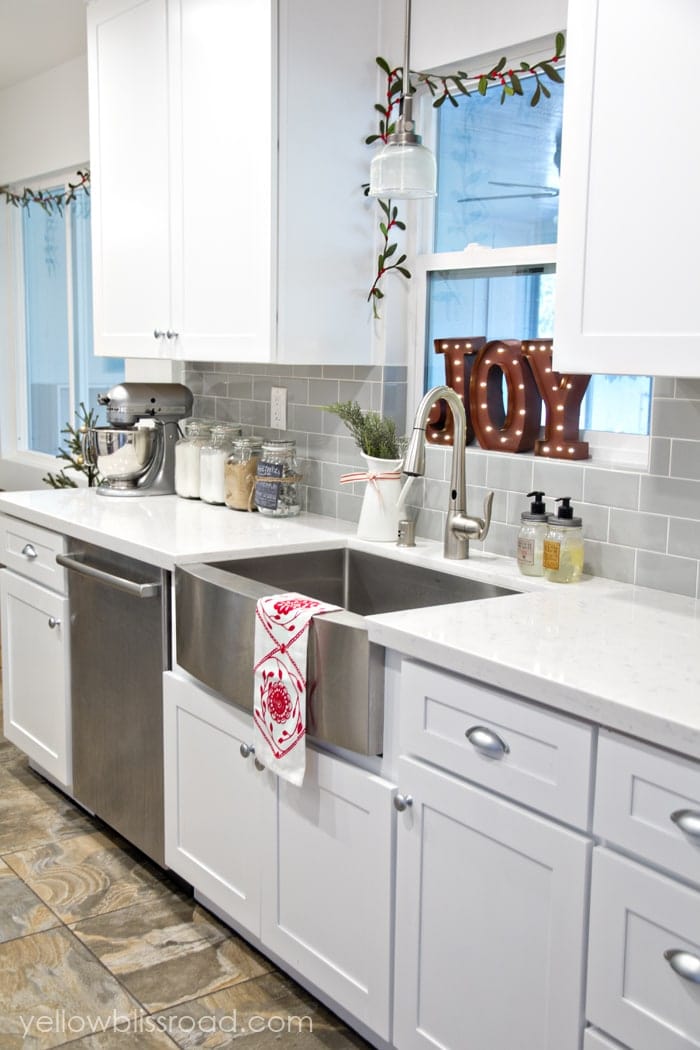 My decorating style is, and always has been, simplicity. Small touches, like a piece of ribbon tied around a pitcher or vase, or a red and white towel hanging over the sink, can make a huge impact.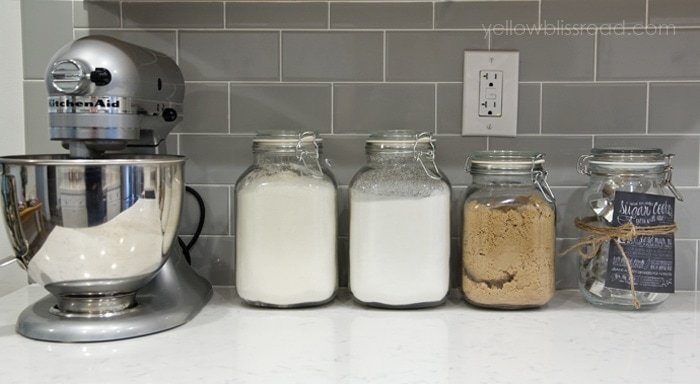 I keep some of my baking tools and ingredients right out on the counter, because, let's face it, there's a lot of baking that goes on during the holidays! The Sugar Cookie chalkboard is part of a DIY Cookie Cutter Gift Idea that I shared a couple of days ago. Jars are all from World Market.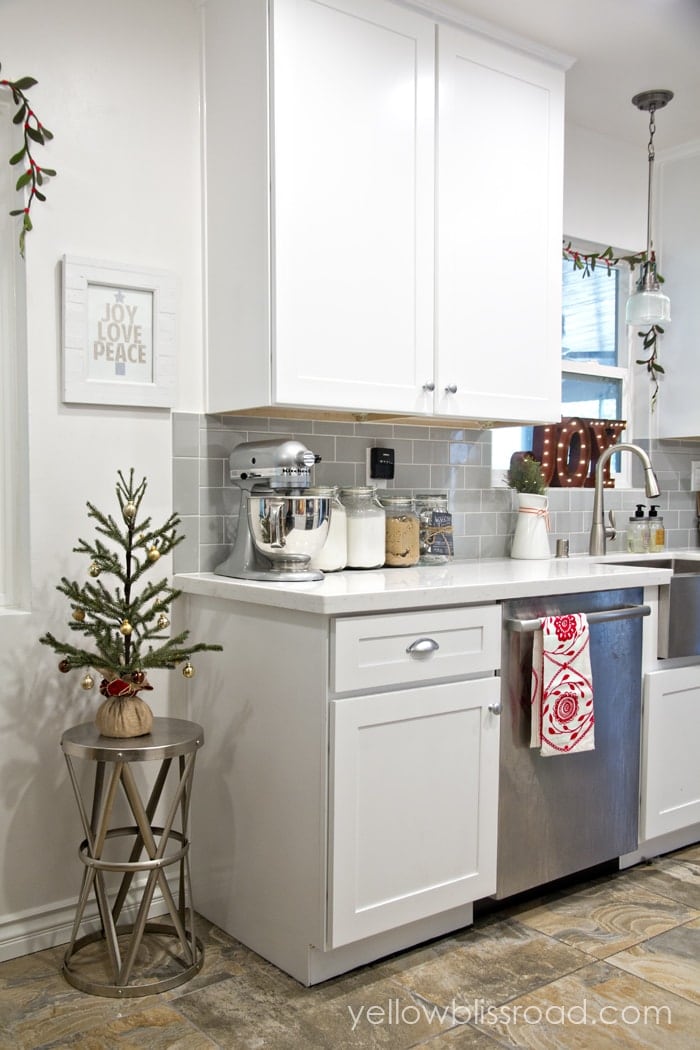 "Joy Love Peace" Glitter Printable found HERE.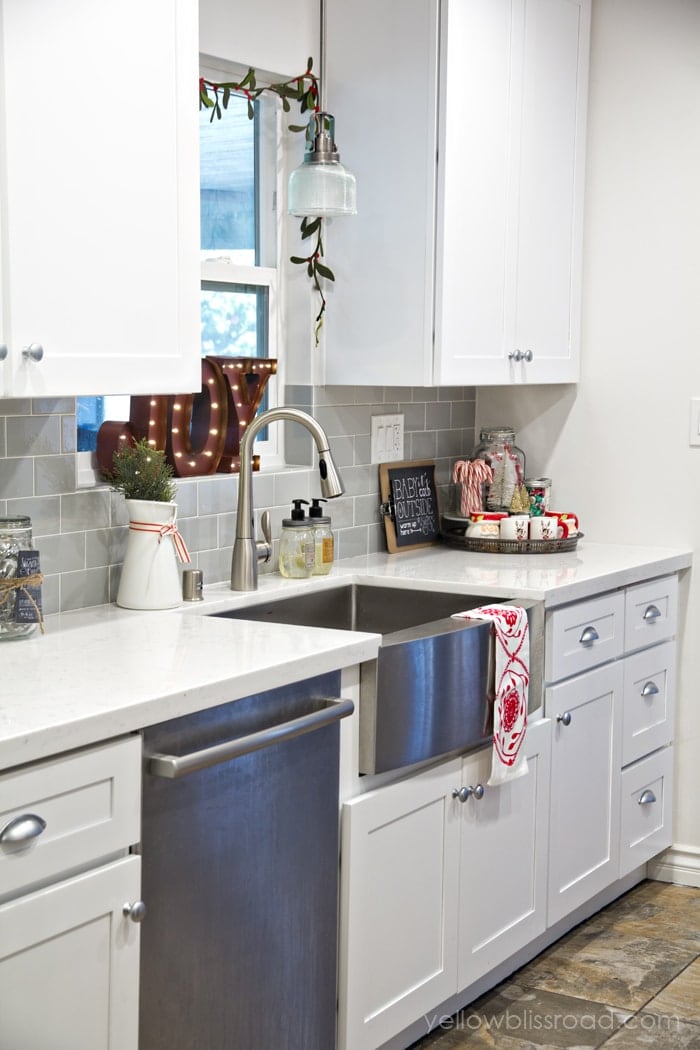 We love our hot chocolate, so I keep a little hot chocolate station on the counter for easy access. The kids can add their own mix-ins, like chocolate kisses and marshmallows.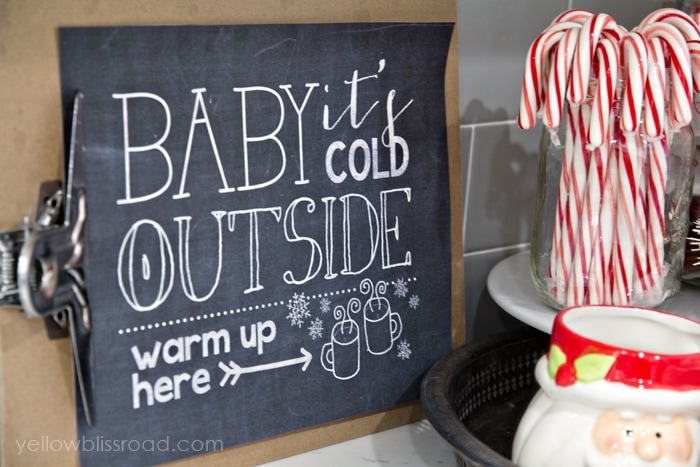 The chalkboard sign is a free printable that you can download at the end of this post to add to your own Hot Chocolate station!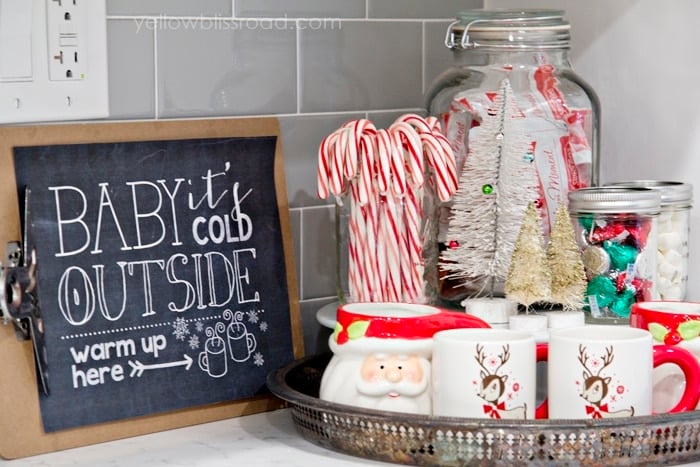 On the other side of the kitchen is the stove, I added a few Christmasey touches there as well.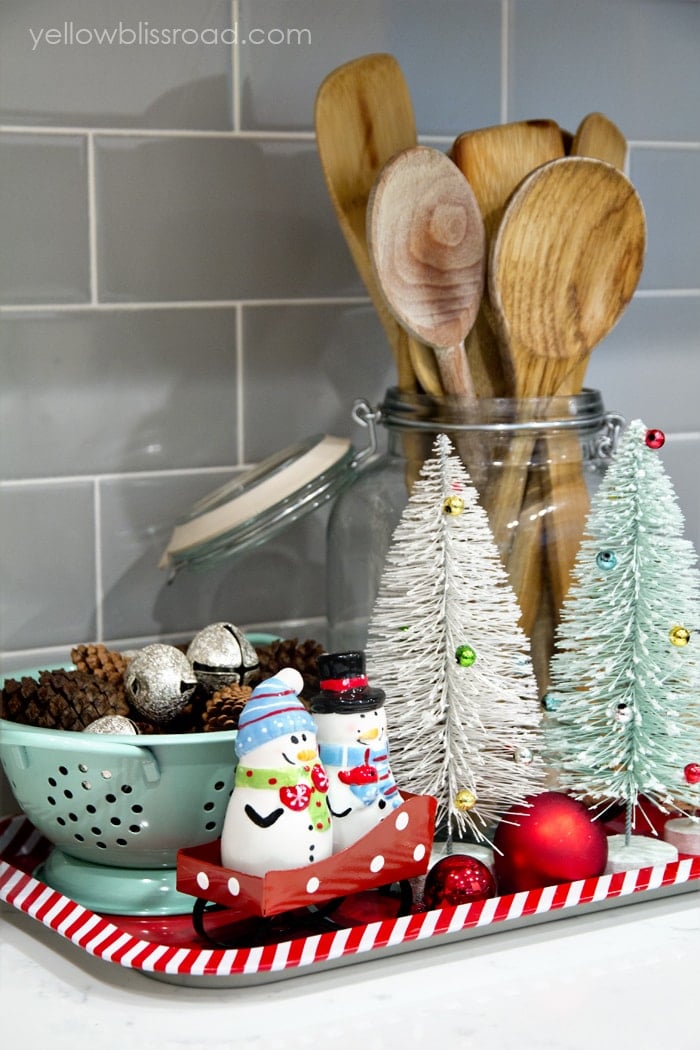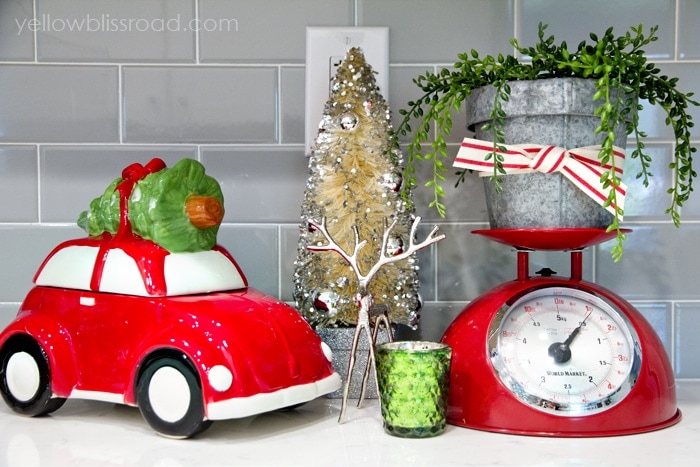 I like to keep a little pan of Stovetop Christmas Potpourri simmering, especially when we have guests. It smells AMAZING! Get the recipe (and another free printable gift idea) HERE.
The other end of the kitchen is the bane of my existence. I cannot figure out what to do in this little nook because the tables that I like don't seem to fit. So for now we have this one that I've had for a good 12 years or so.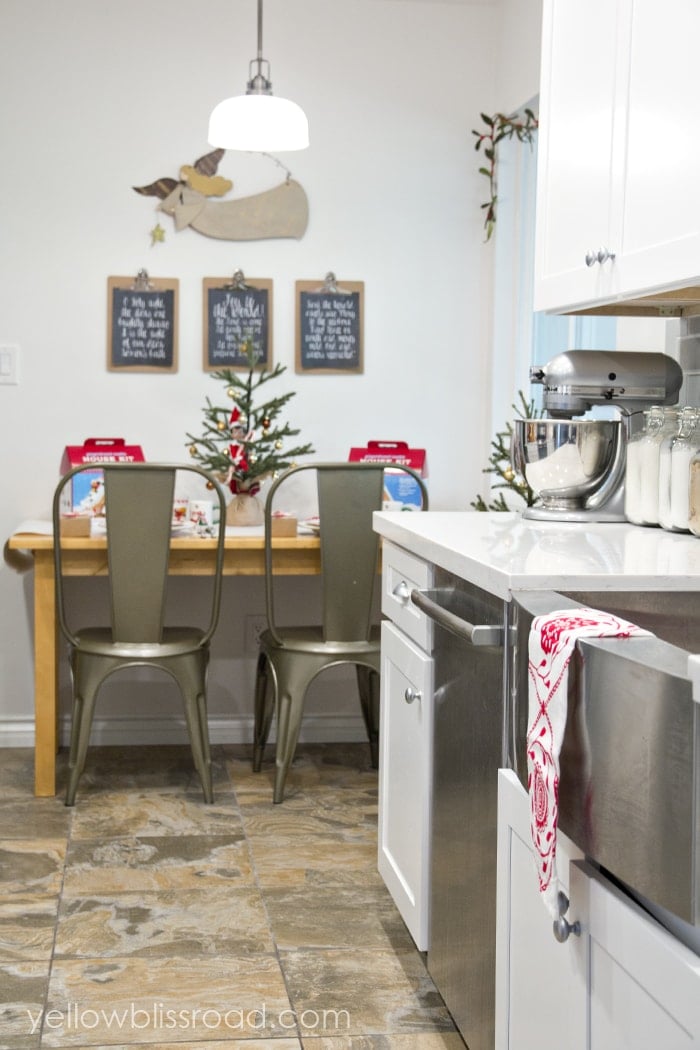 I've set it all up for our Welcome Back Elf on the Shelf Breakfast! Our little Elf, "Buddy" visits us every year around this time. He shows up in unexpected places, but he is a very neat and tidy Elf, because Mama ain't got time to be cleaning up after him.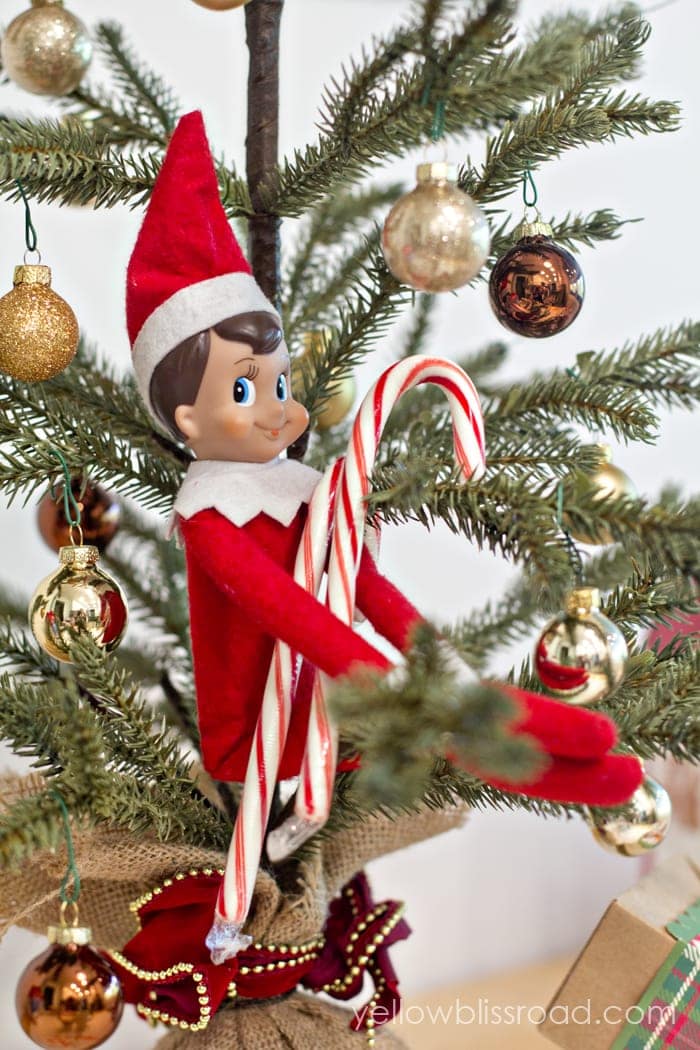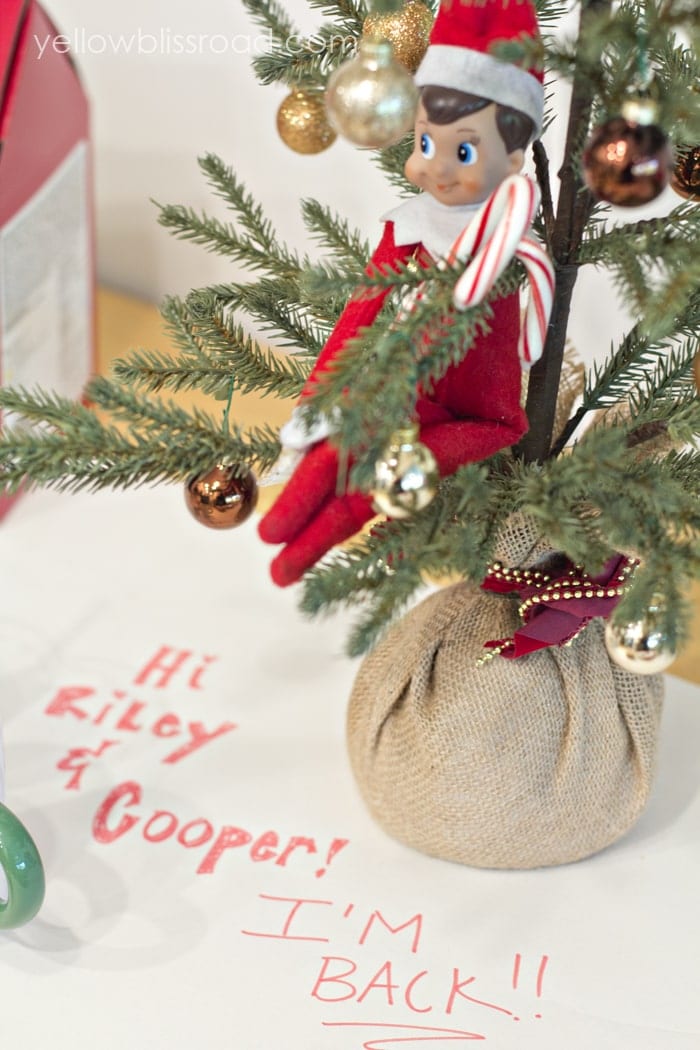 When he arrives, he surprises us with treats and a fun little breakfast snack. This year it was some candy kisses, donuts, a new ornament and Gingerbread houses that we can build later!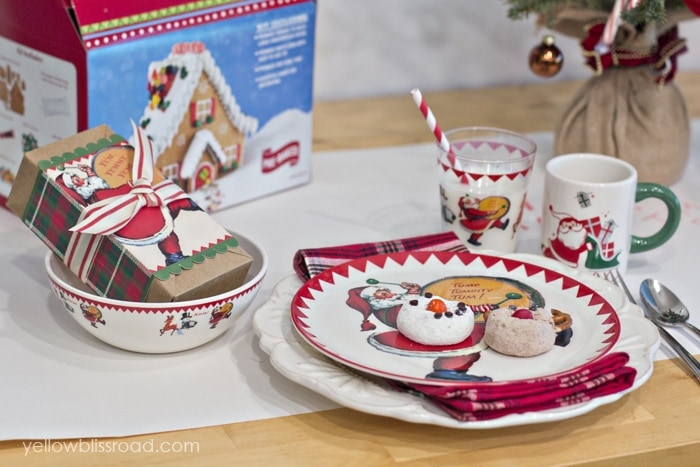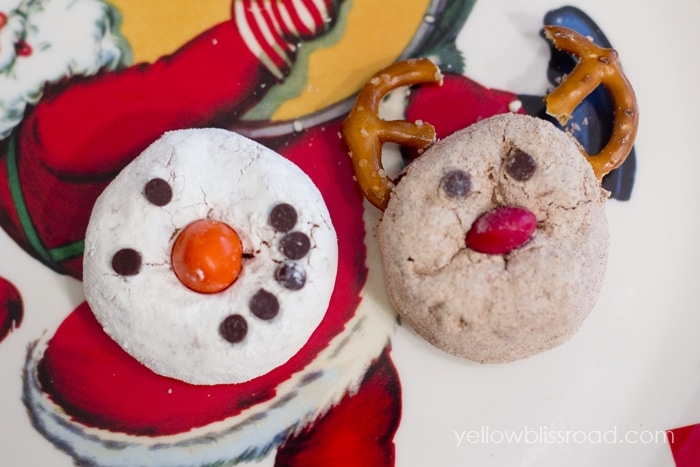 Aren't these little donut snowmen and reindeer adorable? Plates and napkins are from the World Market.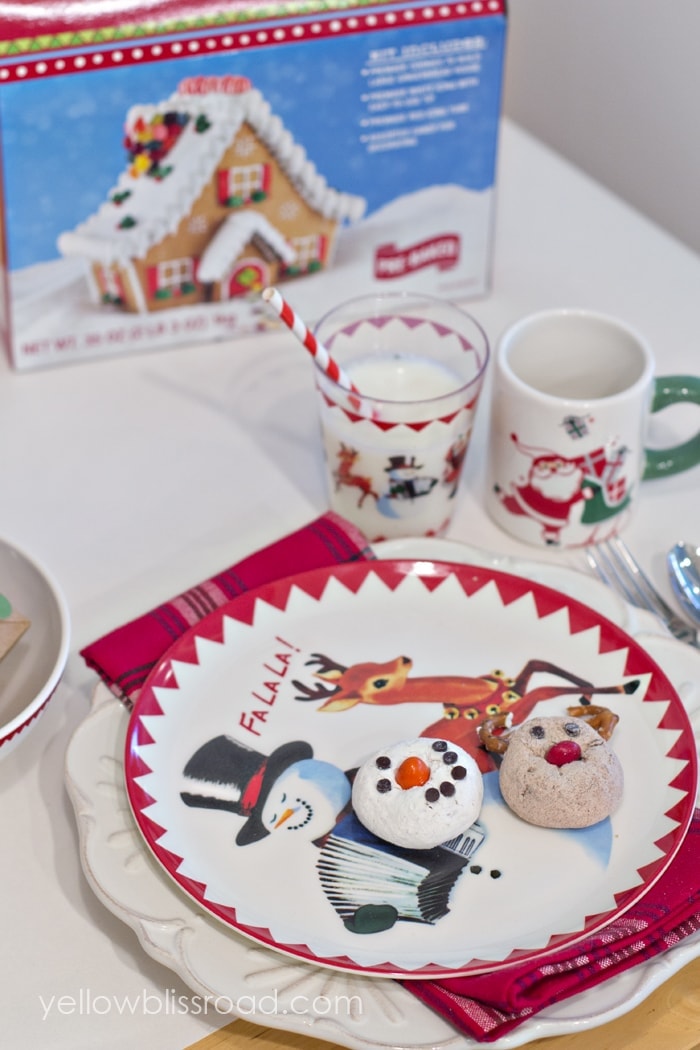 Hanging above the table are the Christmas Carol Chalkboard printables that I made. The angel is one of my favorite decorations that I've had for years. I think I may have gotten her at Mervyns (which tells you how old she is)! The Christmas Carols took the place of my Rock & Roll Kitchen Printables.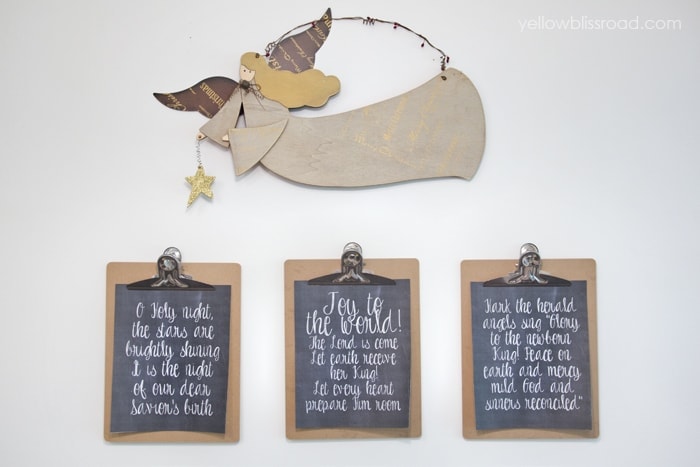 I hope you enjoyed the tour of my little kitchen space. I love being in there (when it's clean at least) and I plan to be baking up a storm over the next few weeks!
I hope you'll come back on Wednesday because I'll be sharing the rest of my holiday home! Here's a little sneak peek of the dining room from the kitchen. You can see my Christmas Tree and Mantel HERE.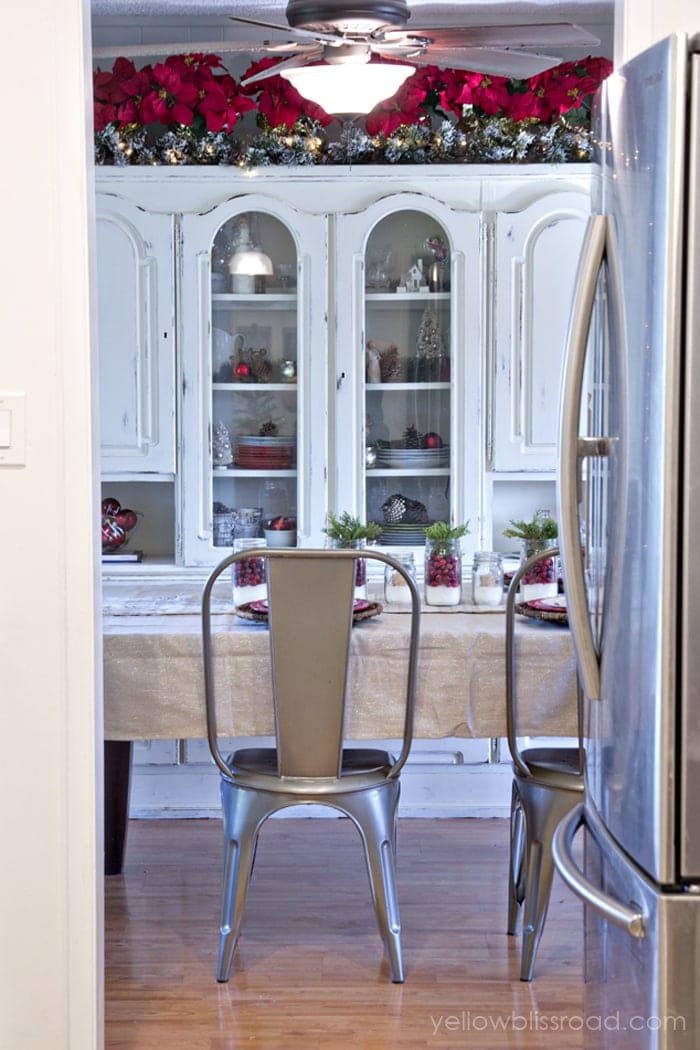 Now I hope you'll stop by and visit the rest of my friends' kitchens.
I know they have a ton of inspiration to share with you, and there are lots of yummy recipes, too! Click on the links below the graphic.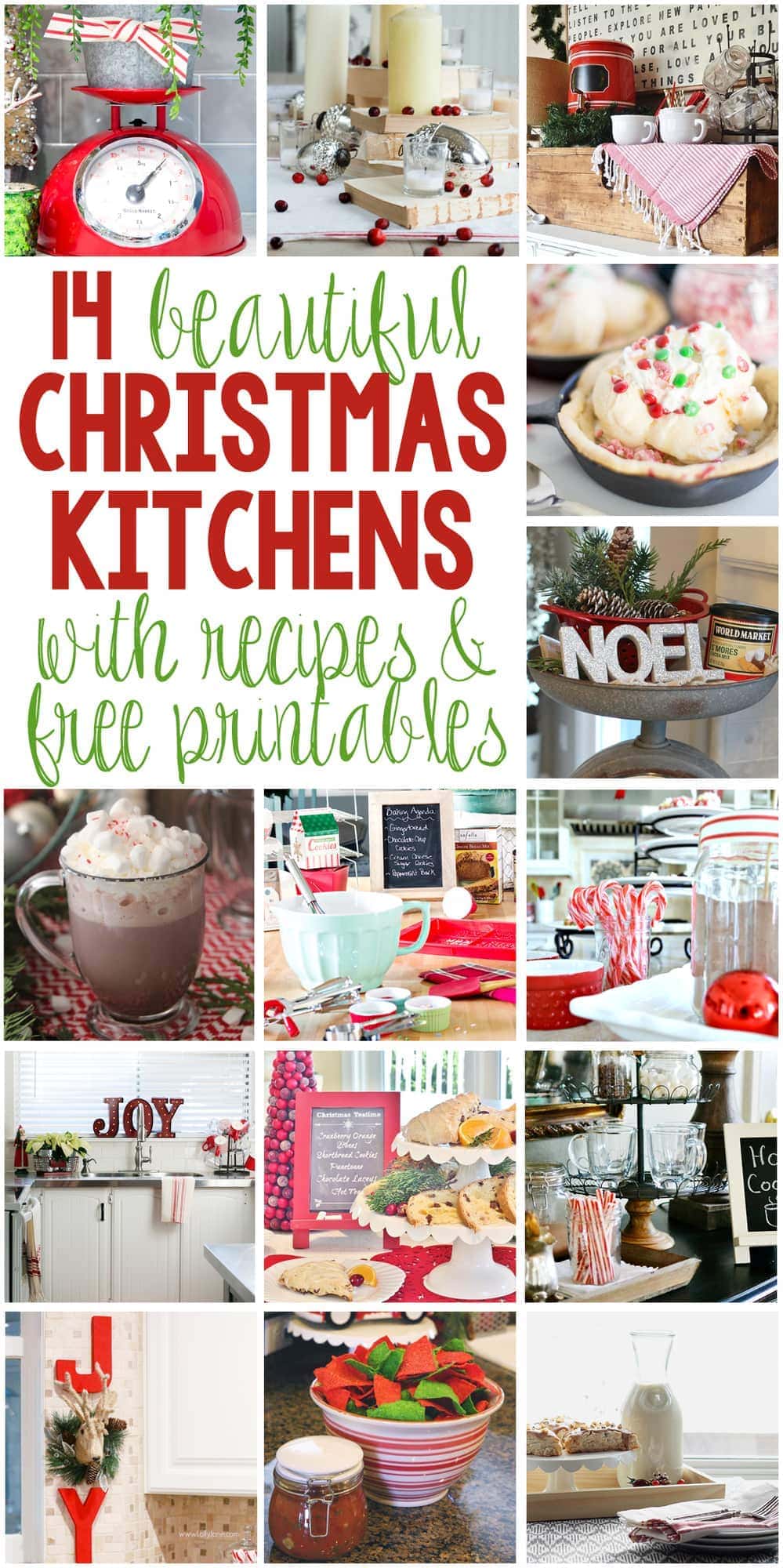 in order of appearance:
Ella Claire
Liz Marie Blog
Just Destiny
Clean & Scentsible
Making Home Base
Domestically Speaking
My Uncommon Slice of Suburbia
AKA Design
Sand & Sisal
At the Picket Fence
Lolly Jane
Eighteen25
Love Grows Wild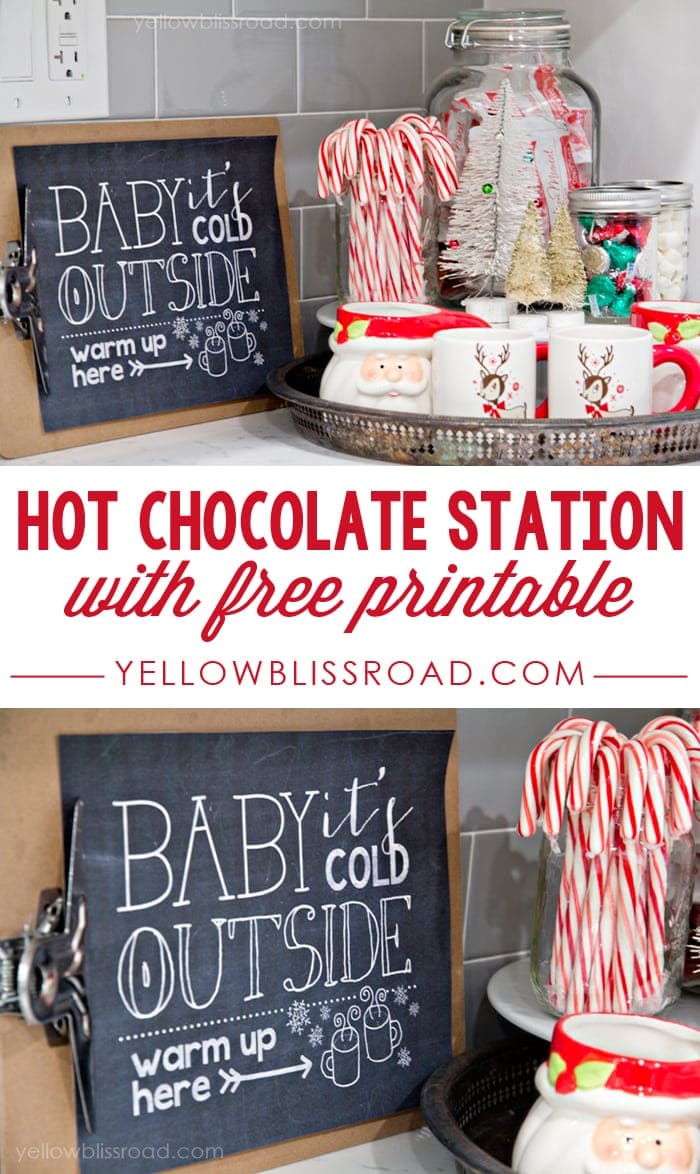 And as I promised, you can download the Hot Chocolate Station printable by clicking on the download image below.

For more Christmas inspiration, you might enjoy these posts:
Glitter Gift Tags and Printable Framed Art