It's my favorite time of year – Christmas Home Tour time!!! This is the best week of the year in the blogging world (in my opinion anyway) because there are gorgeous home tours everywhere you look. This year I knew right away what I wanted to go for in terms of a theme and I love that I was able to bring it to life. Welcome to my 2015 Christmas Home Tour with lots of classic reds and rustic plaids!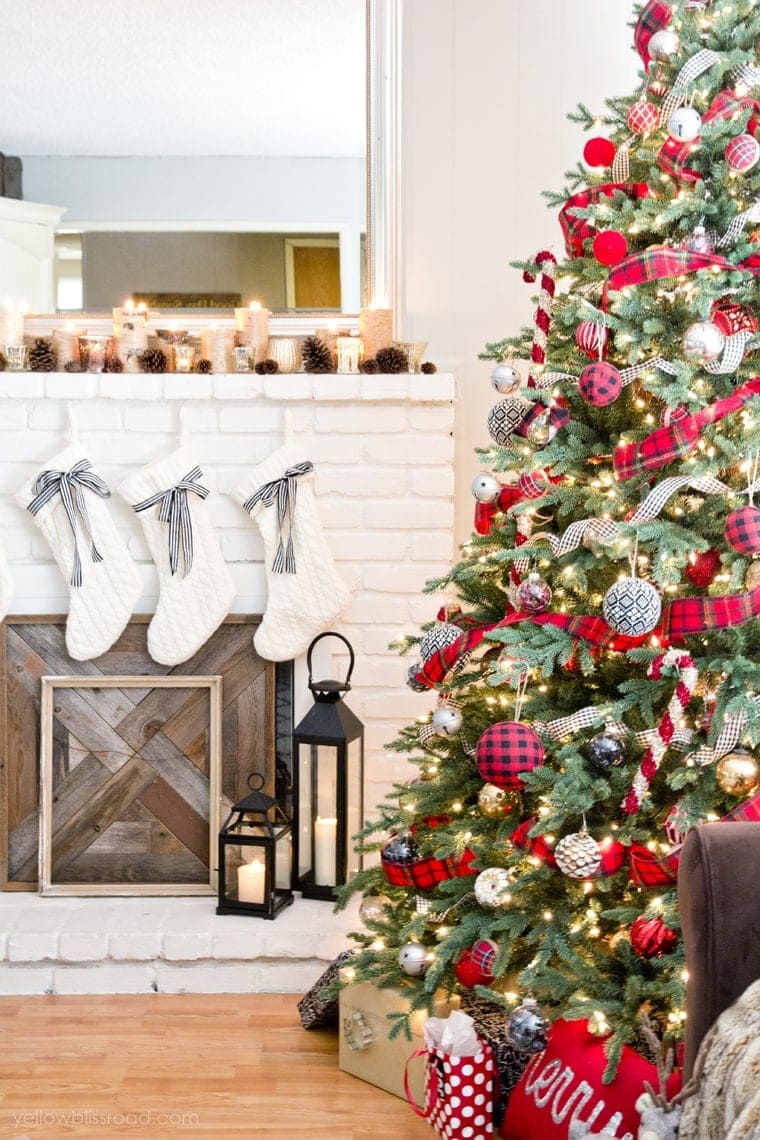 If you're hopping over from Sarah's at Life on Virginia Street, WELCOME! I'm thrilled to be teaming up with some fabulous ladies for the Cherished Christmas Homes Tour, hosted by Country Living and Cherished Bliss. You can see the tour from the very beginning HERE.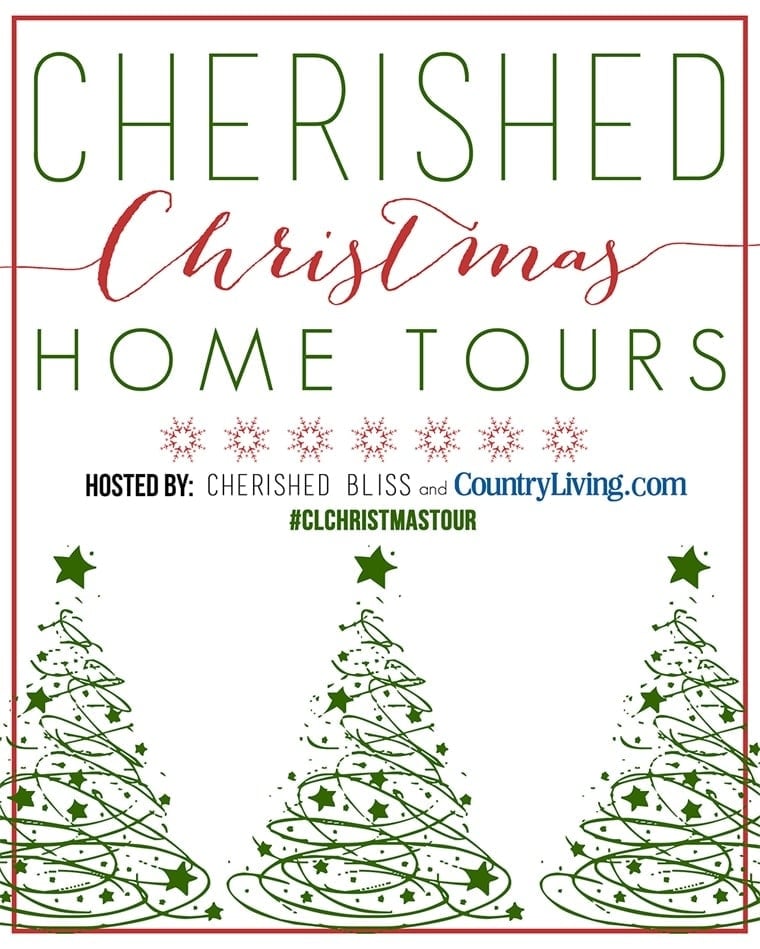 I'm not usually all about the Pottery Barn catalog, but when I saw this year's Christmas edition, I was smitten. It really did inspire the way I decorated for this year. I won't talk too much in this post, but I'll try to give sources where I can.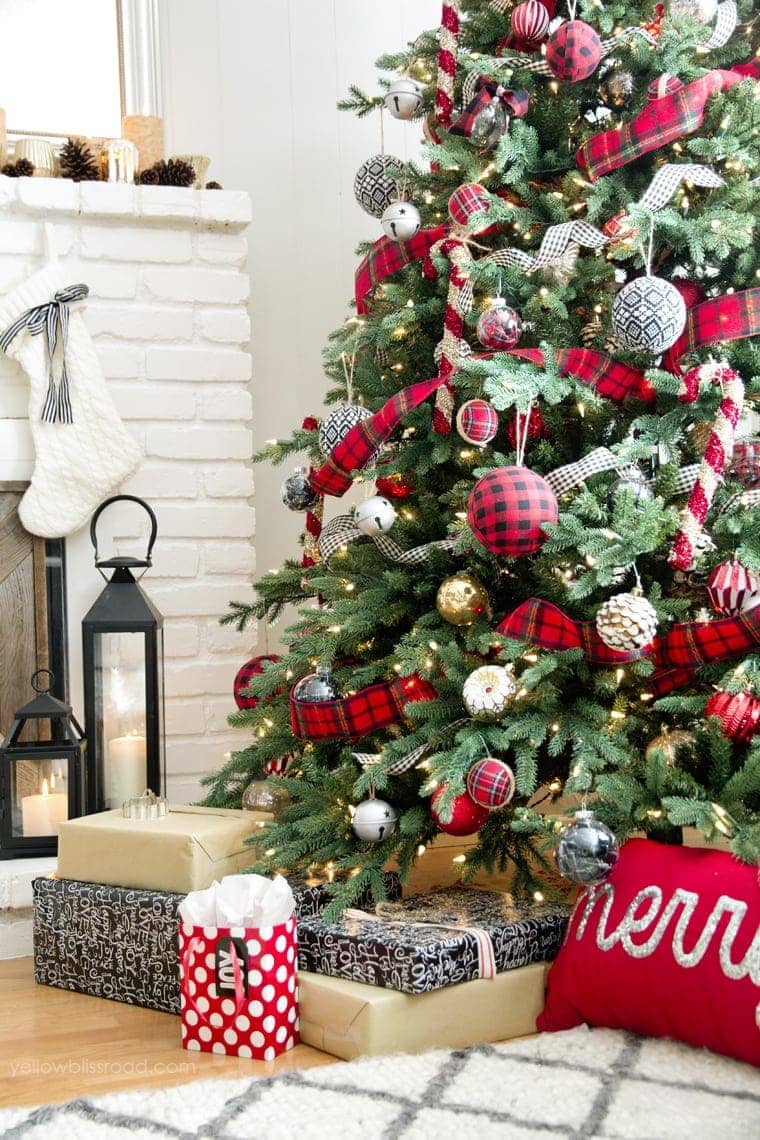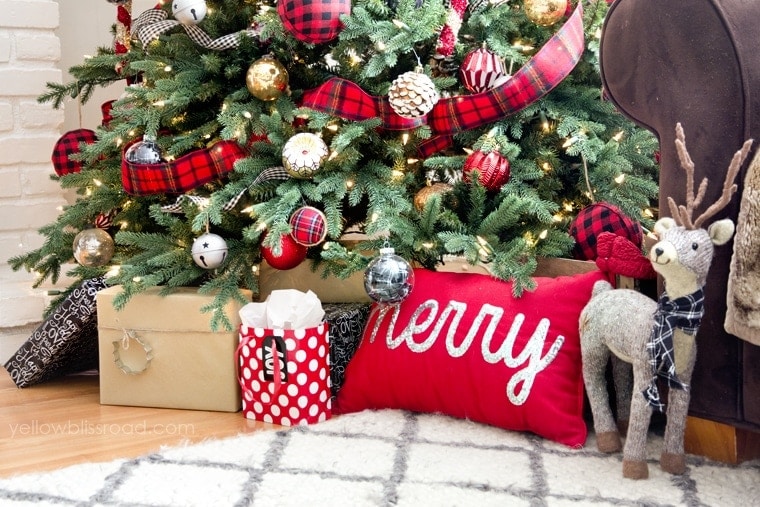 I love my white brick fireplace, but without a deep mantel there's not a lot I can do in the way of decorating it. So this year I opted for super simple and purchased a bunch of birch wrapped candles at World Market during a 50% off sale. I had a $10 off coupon too, so it was a pretty nice score! I added some pinecones and a few mercury glass votive candle holders.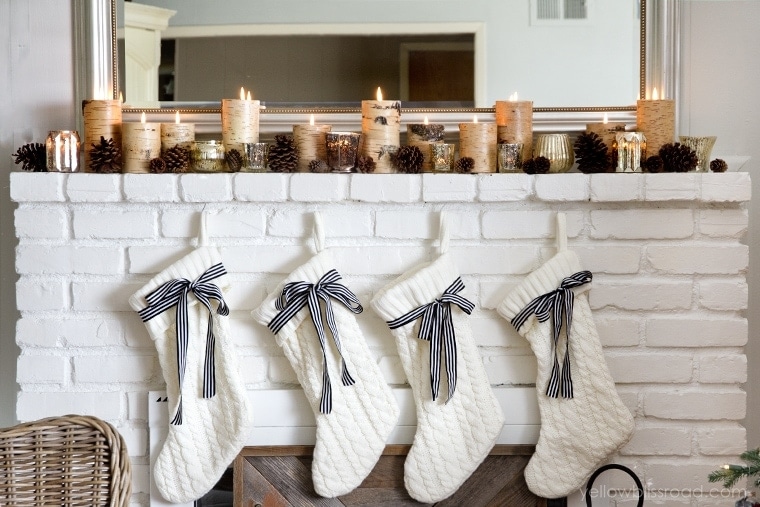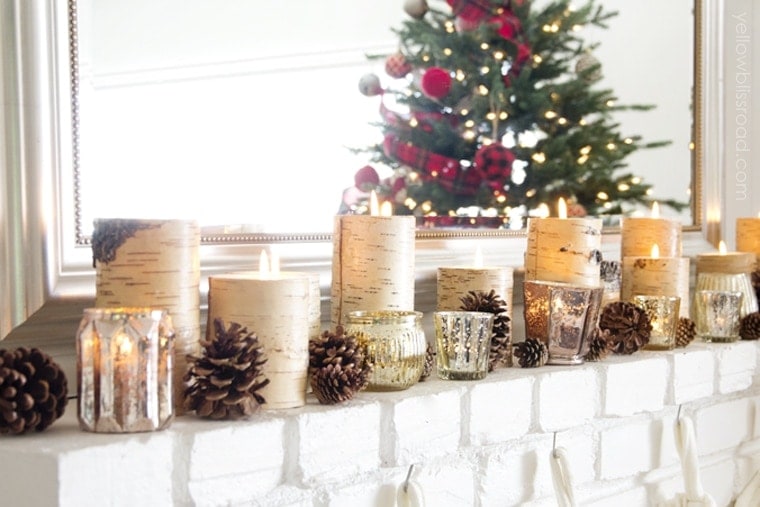 Lanterns are from Marshalls and stockings from Target. Black & white striped ribbon was a Target dollar bin score.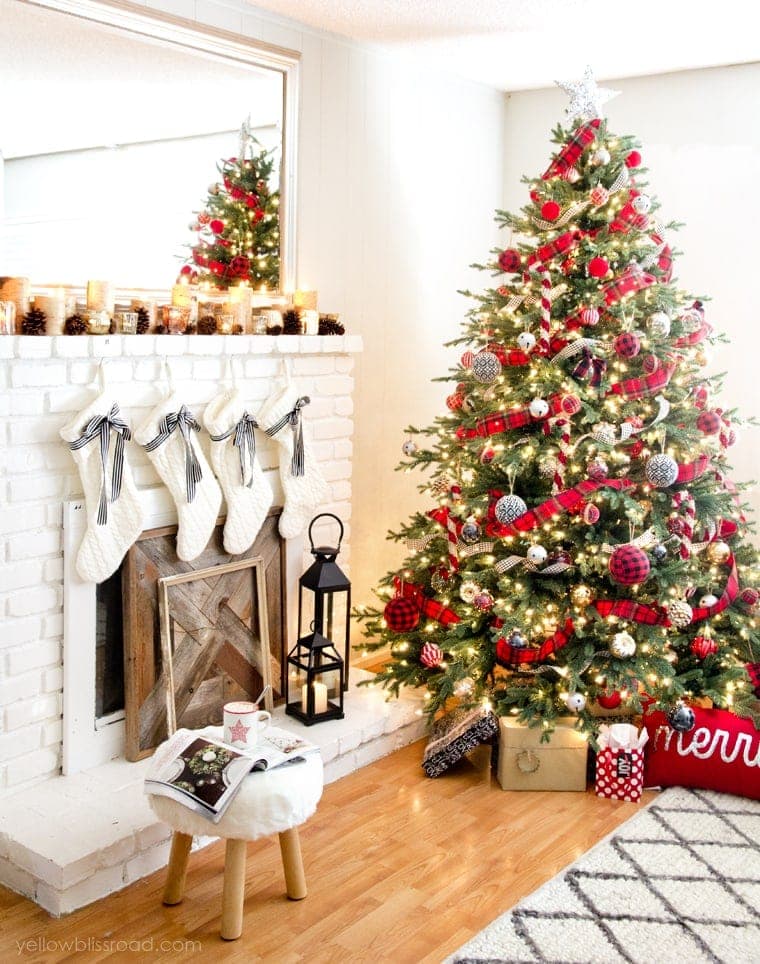 I am totally in love with this tree I got last year from the Martha Stewart collection at Home Depot. It has a ton of lights, way more than what I've seen on other trees, and I love that it has a more natural look to the branches. See last year's decor with links HERE.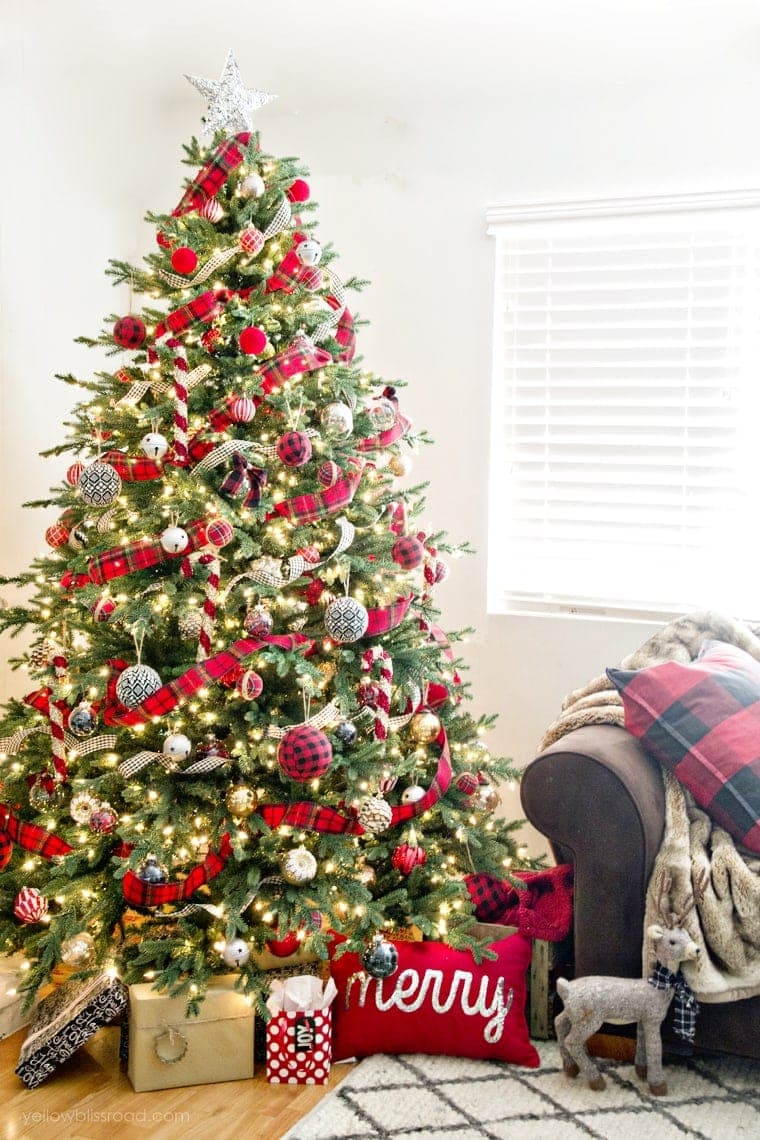 Each year I purchase a few on-trend ornaments to add to my collection. I also have a ton of more neutral ornaments that I love and have collected over the years. Buffalo check, Fair Isle and large candy cane ornaments and the tree topper are new this year from Pottery Barn. Ribbon is from Michaels.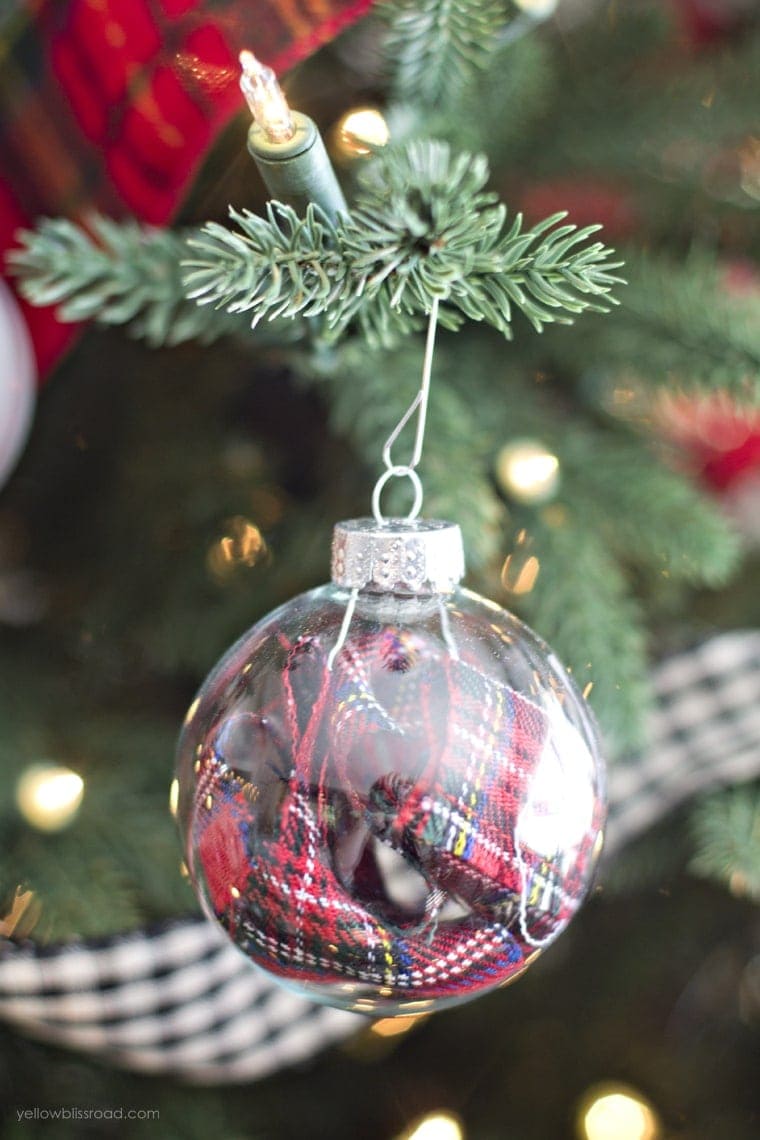 To add a few more plaid ornaments to the tree, I simply filled clear glass ornaments with plaid fabric I gathered from various places.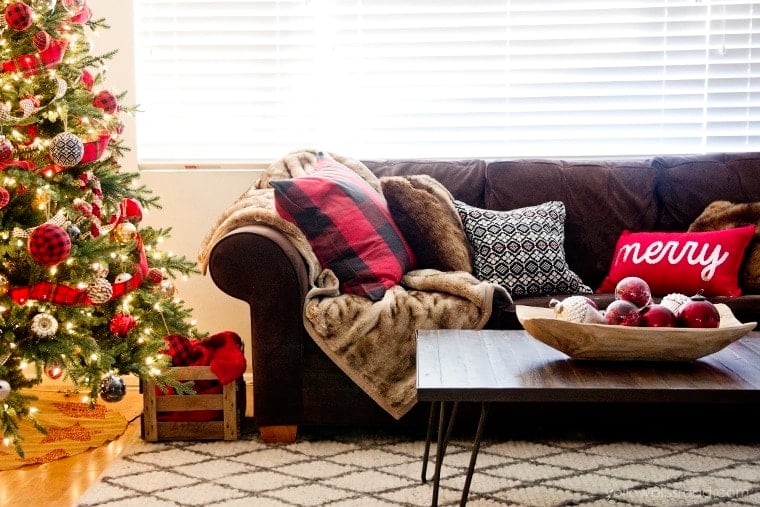 The chocolate brown sofa, the bane of my existence, actually plays an important role in this year's decor. By adding some rich, rustic color and texture the sofa actually becomes part of the decor instead of getting in the way.
Pillow sources – Buffalo Check and Fair Isle from Pottery Barn, Faux fur from World Market, "Merry" from Marshalls. Faux fur blanket that I absolutely adore and refuse to share with my kids is from Pottery Barn. Table is from World Market.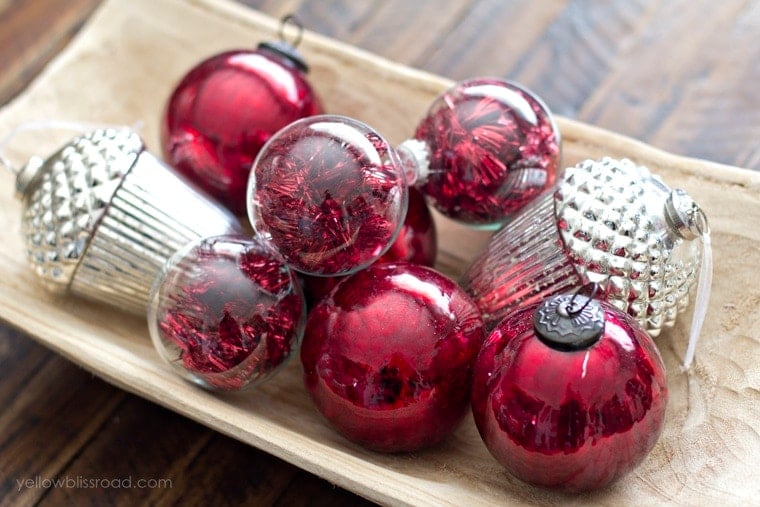 Mercury glass ornaments in the wood bowl have been collected over the years from Marshalls and Home Goods. My son was so proud of himself for making the tinsel ornaments – they are just clear glass ornaments stuffed with tinsel garland.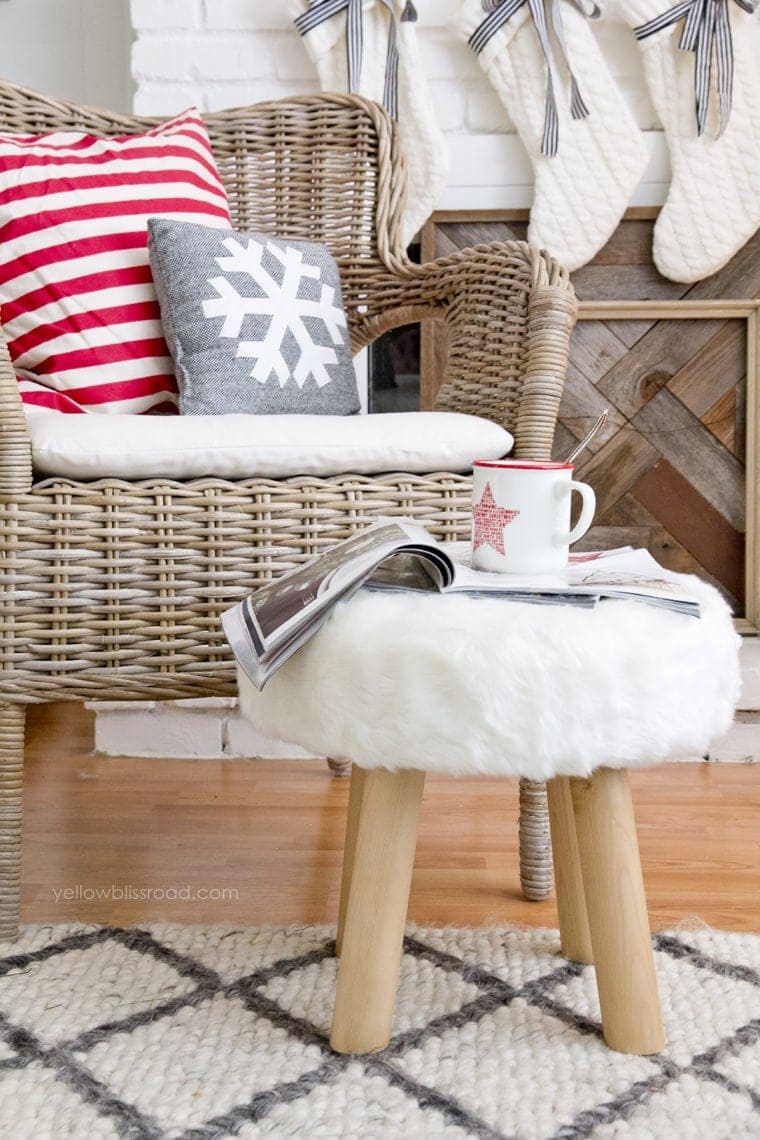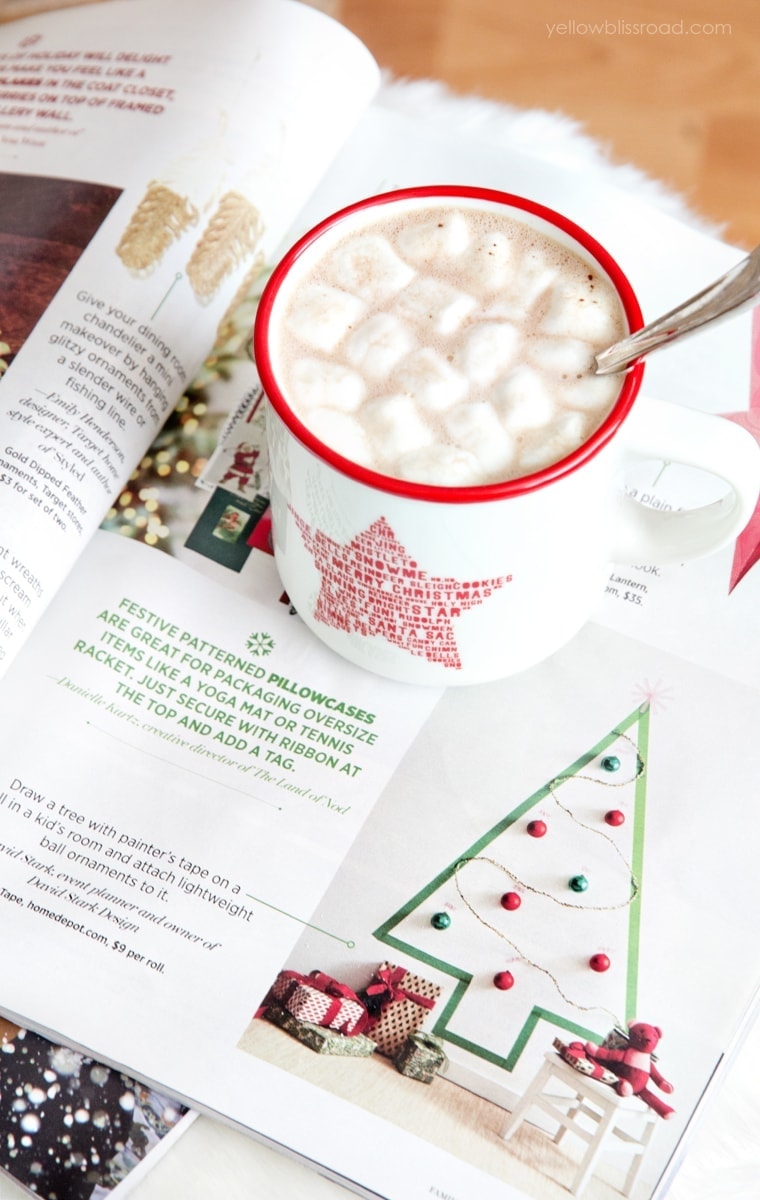 Moving on to the left of the fireplace I've created a little hot chocolate and treat station on my vintage sideboard/dresser. It's a lovely place to sit and read a magazine while enjoying a cup of hot chocolate and the tree lights glowing in the background.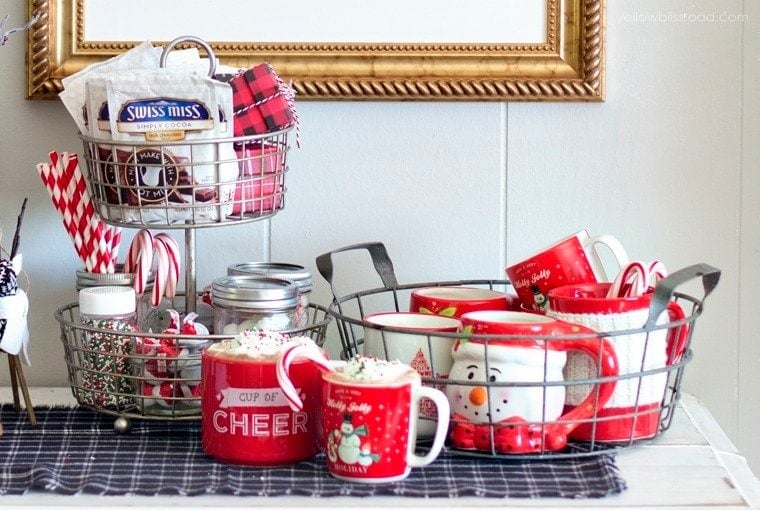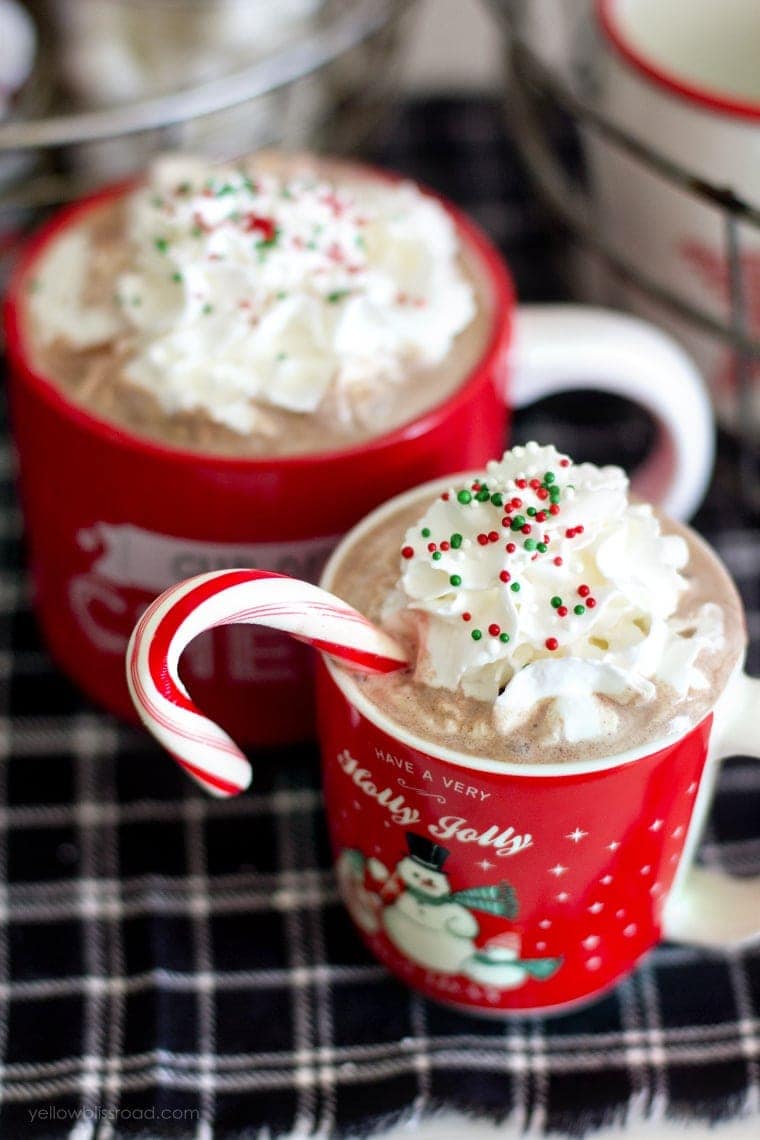 Be sure to stop and grab yourself a yummy Spiced Gingerbread Bar and a nice hot cup of chocolate as we continue the tour.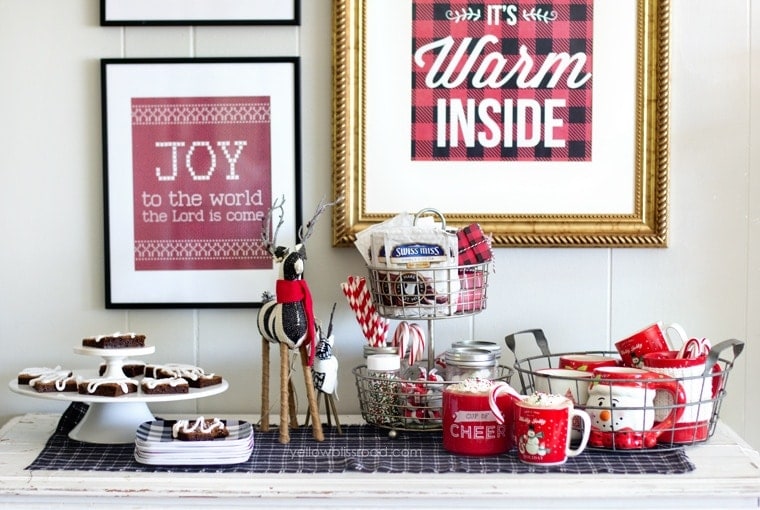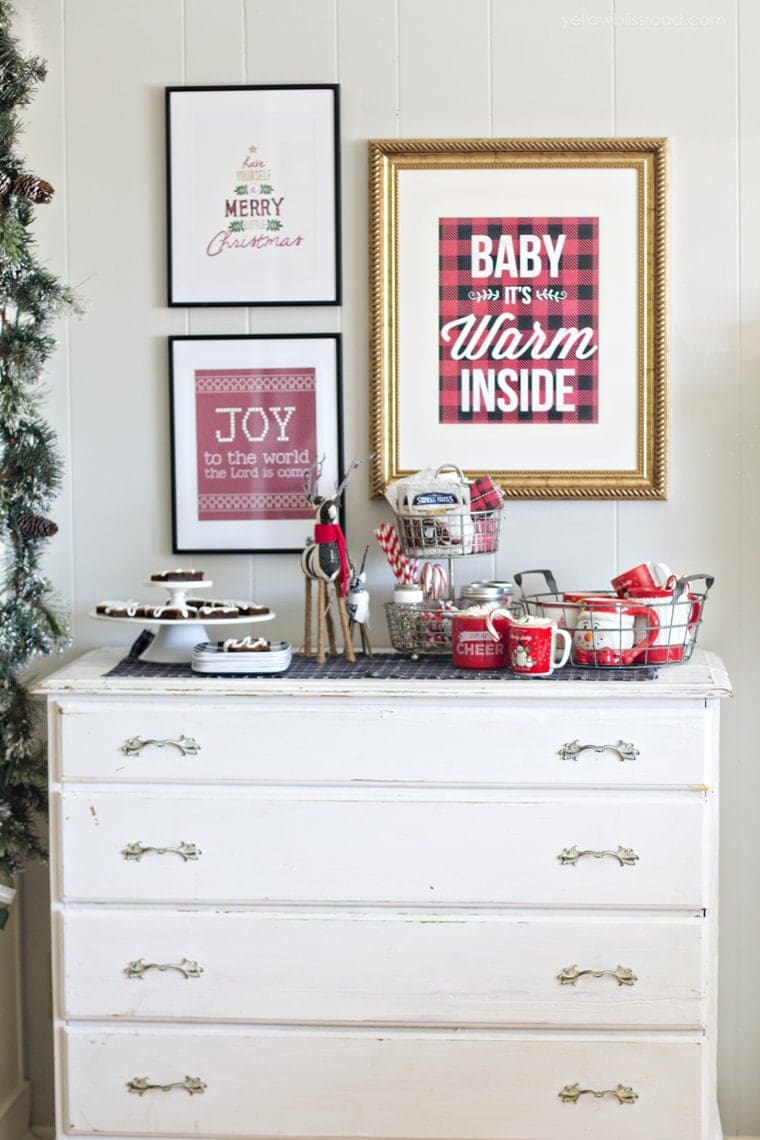 Mugs are collected from H & M, Target and Michaels. Reindeer are from Pottery Barn. Prints are all free downloads and can be found HERE, HERE and HERE.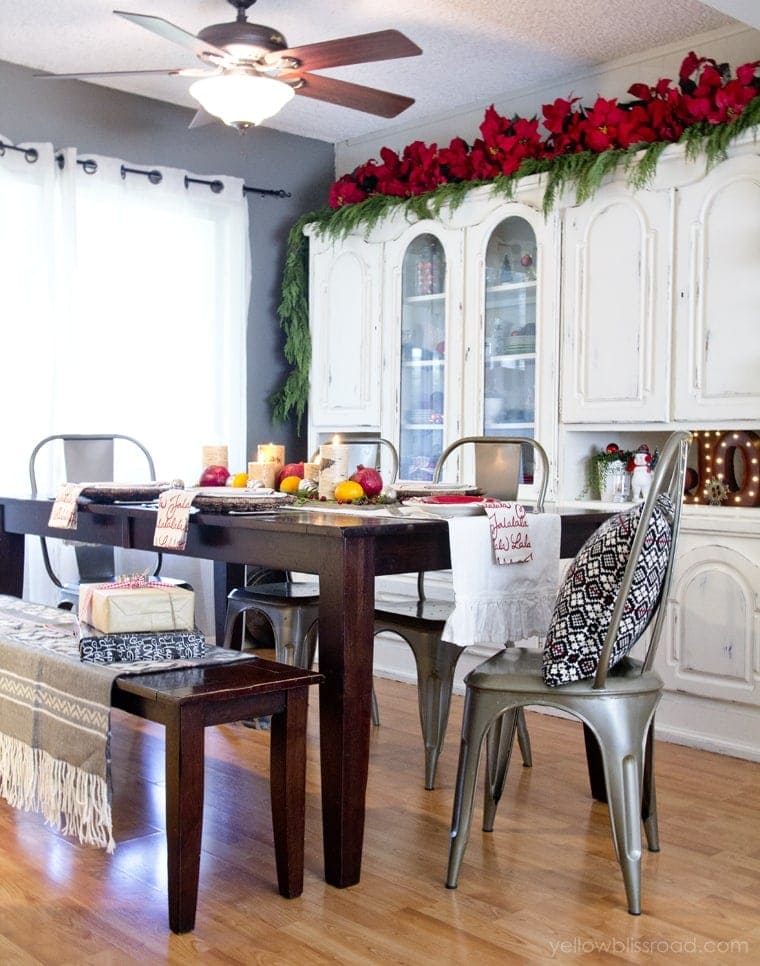 Just beyond is the dining room, which is also taking the simple route this year. I'll be sharing more details of this space next week as well as sources, but if you have questions feel free to leave them in the comments.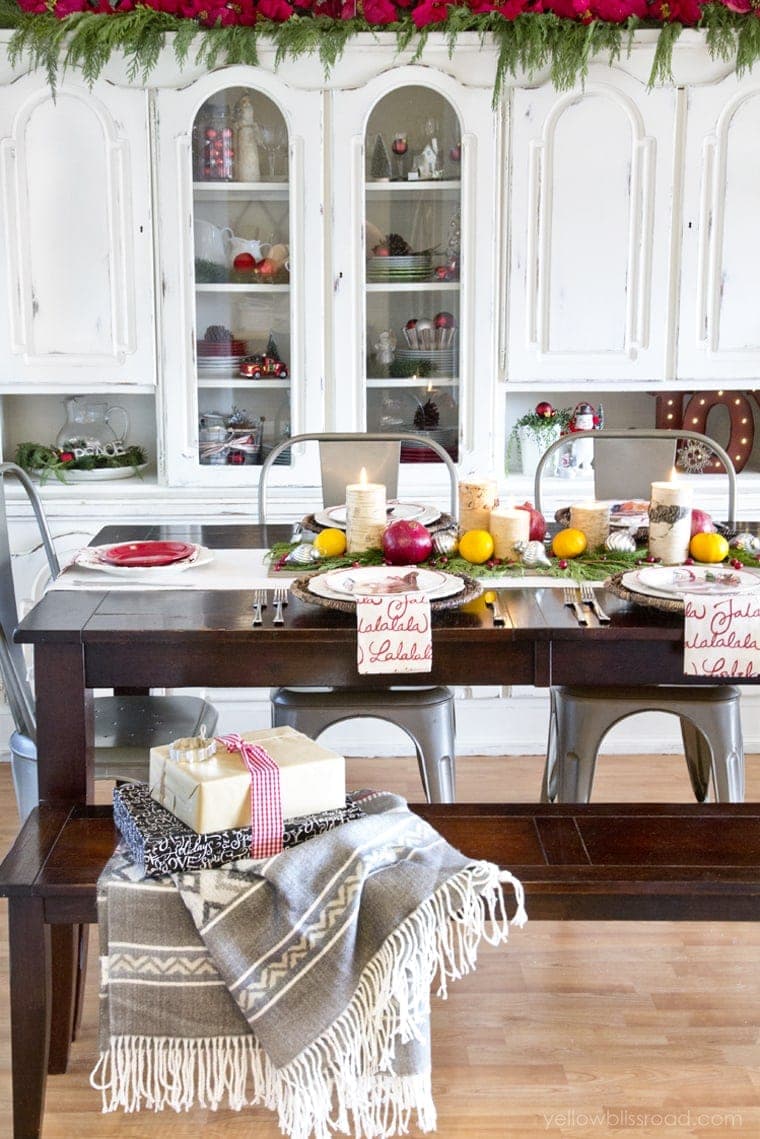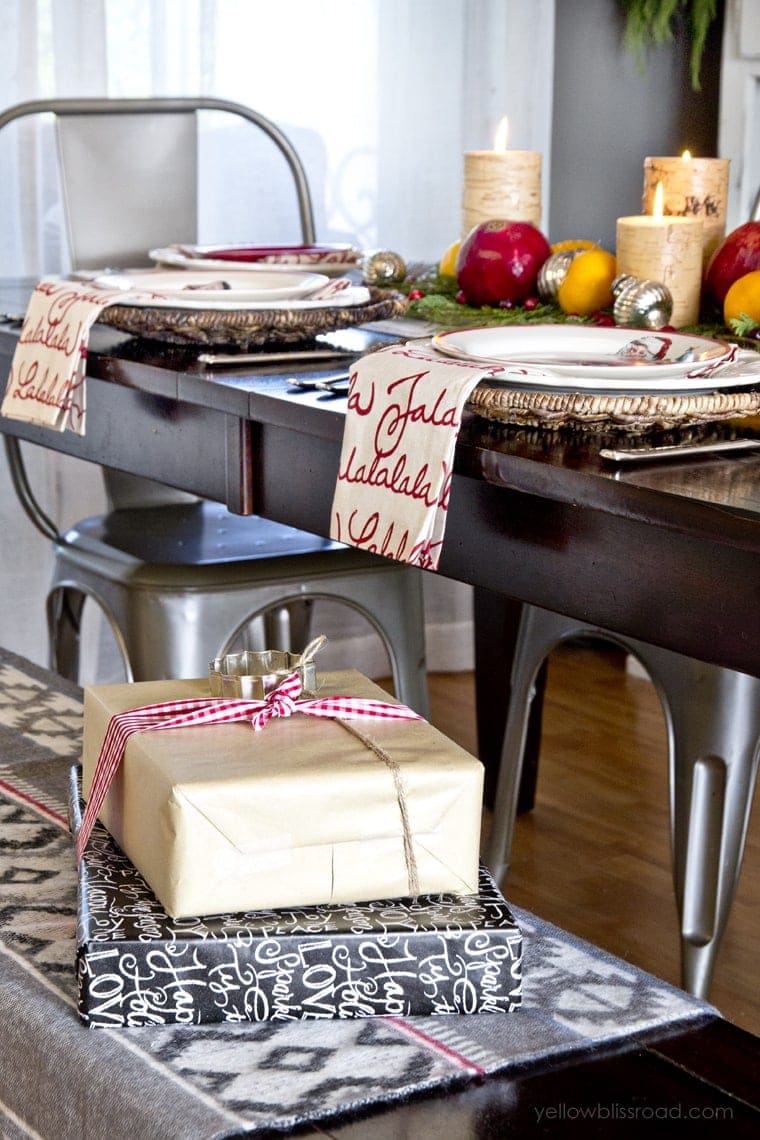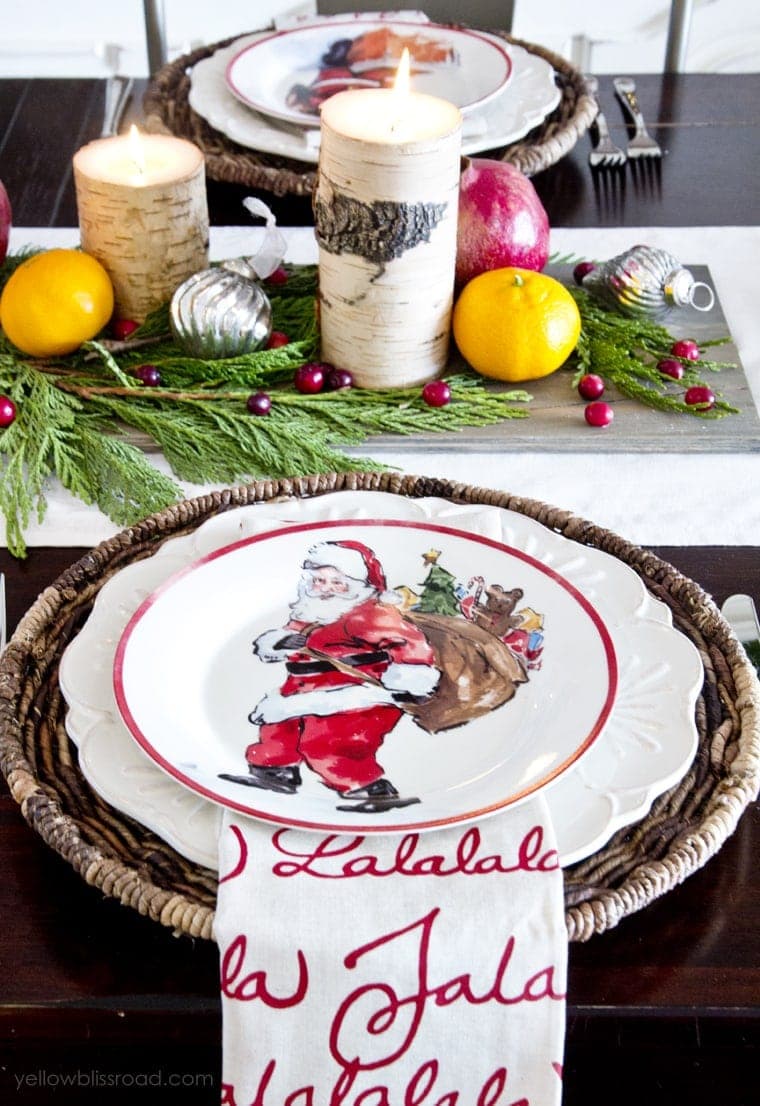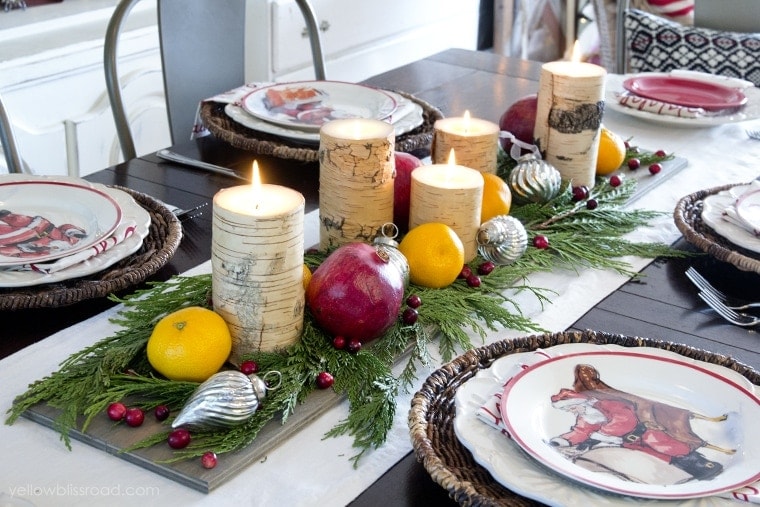 Here's a glimpse of the view of the tree and mantel from the dining room. I love eating dinner each night by their glow!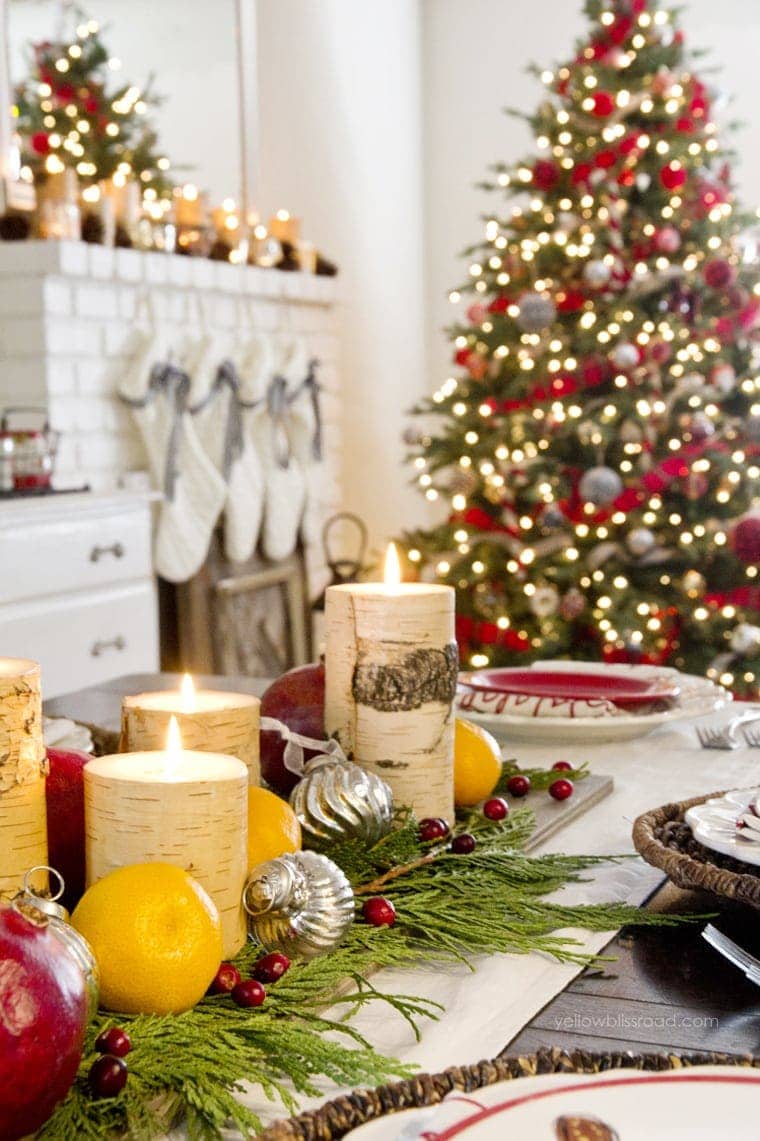 Heading over to the kitchen…I keep it pretty simple in here, because I don't want too much decor getting in the way of all that yummy baking and cooking that goes on during the holidays. Come back later this week for more details and sources.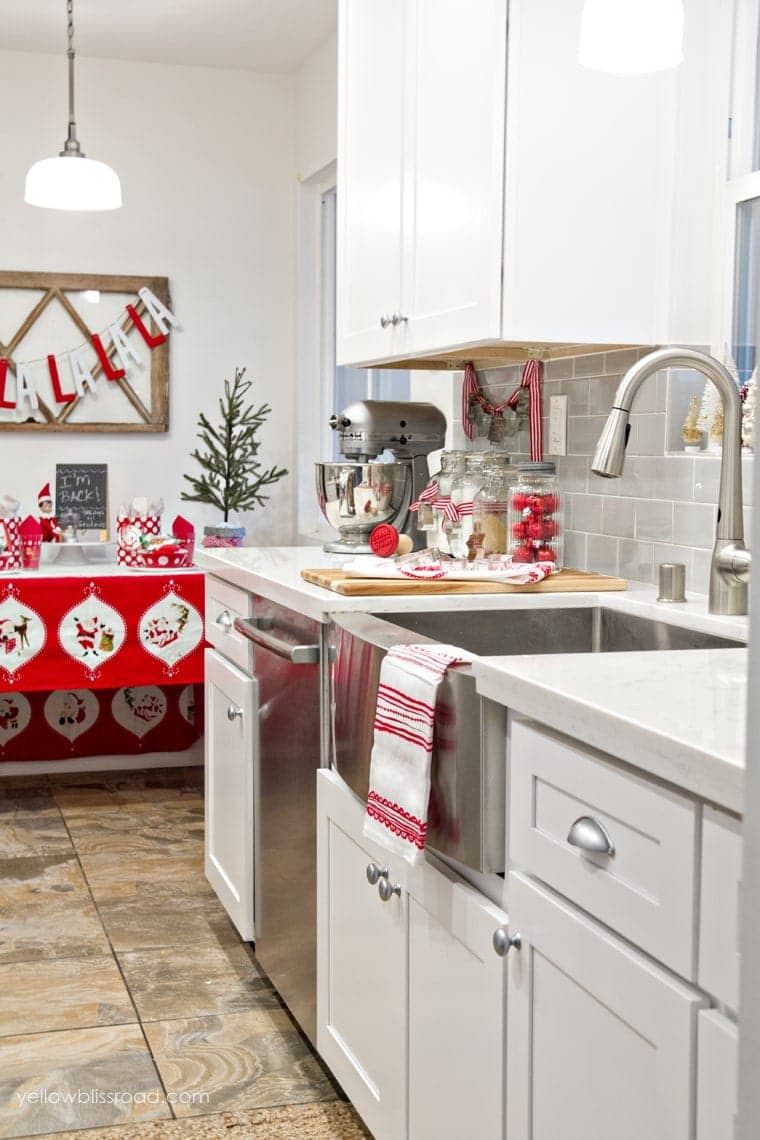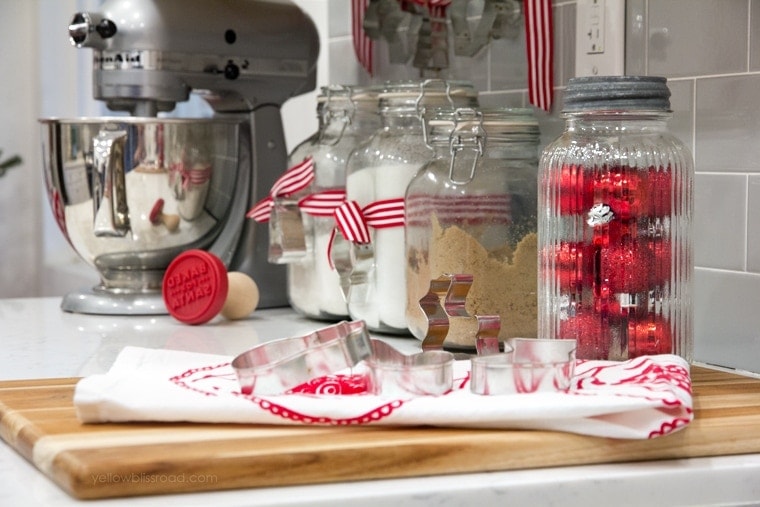 You caught us on the day our elf, Buddy, returns from the North Pole. Each year he brings some goodies to munch on and a new ornament for our Christmas tree. This year he came a little late, as my children reminded me that he usually comes the day after Thanksgiving…oops.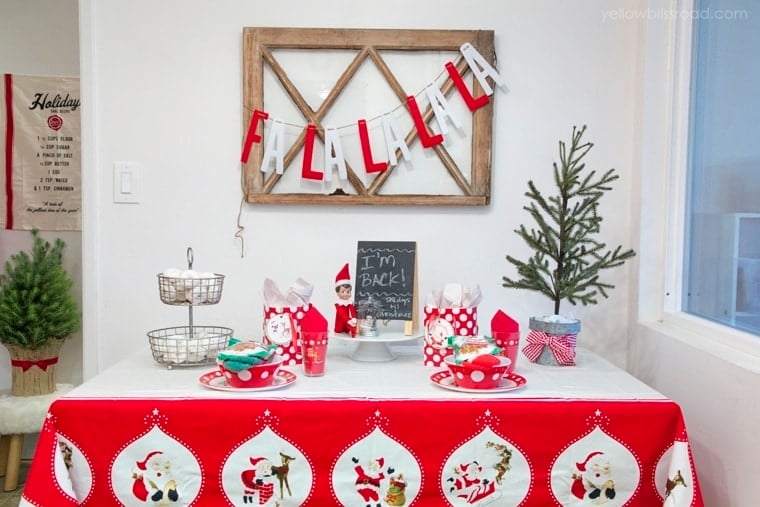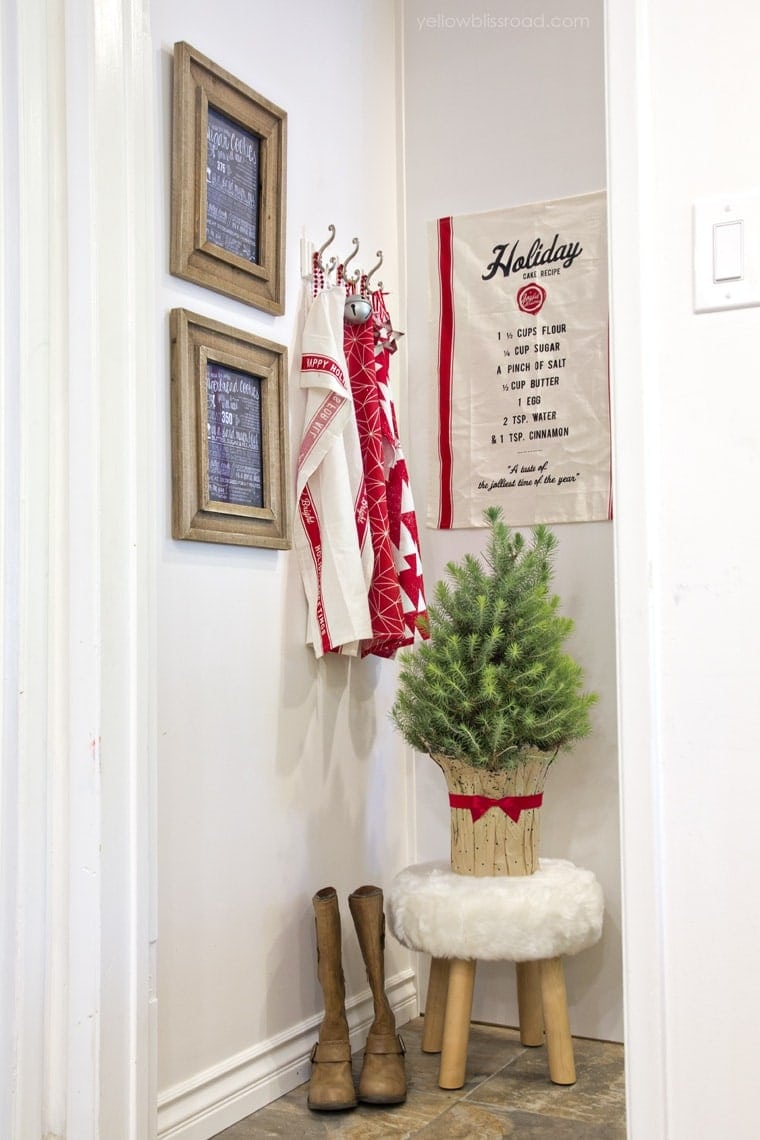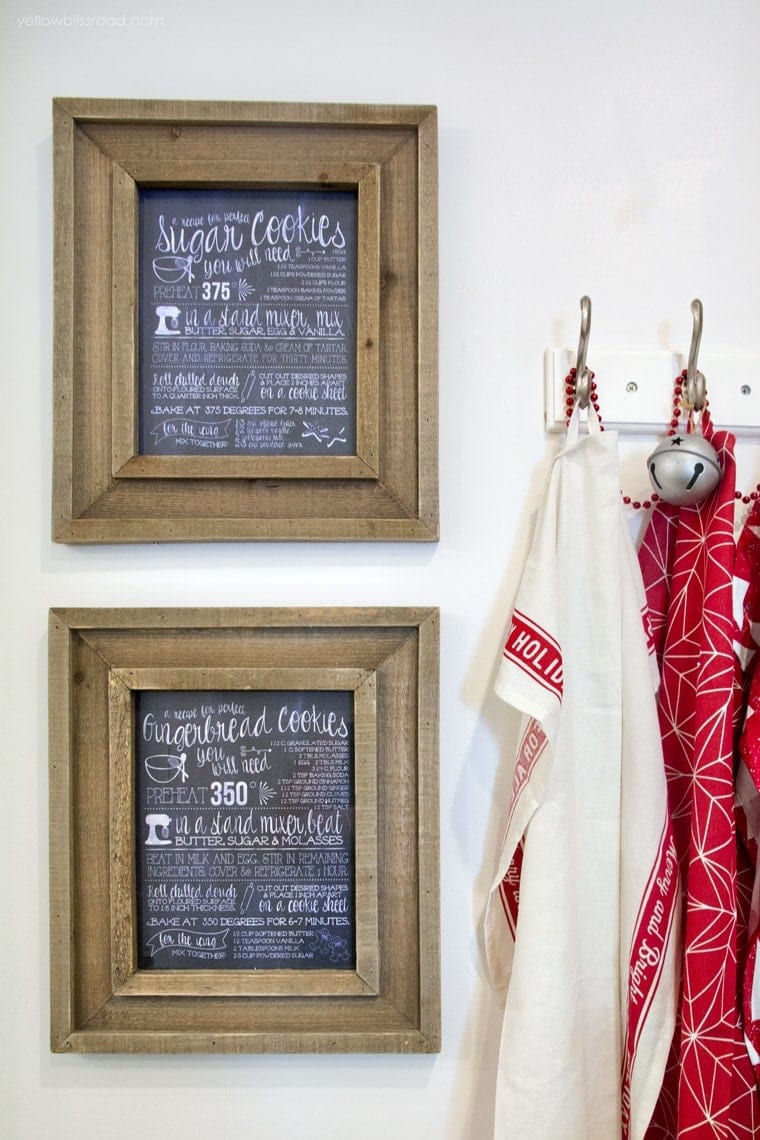 So that's our Christmas! For now I'm relishing the look of these rooms, and enjoying being around the glow of the Christmas tree each night.
Have questions about anything you saw? Leave me a comment below.
…and here are some home tours from the last couple of year's: