Tender chicken and bowtie pasta, crunchy chunks of veggies and a tangy, creamy lemon pasta salad dressing come together for the best lunch ever in this Creamy Chicken & Veggie Pasta Salad. Perfect for a potluck side dish, too!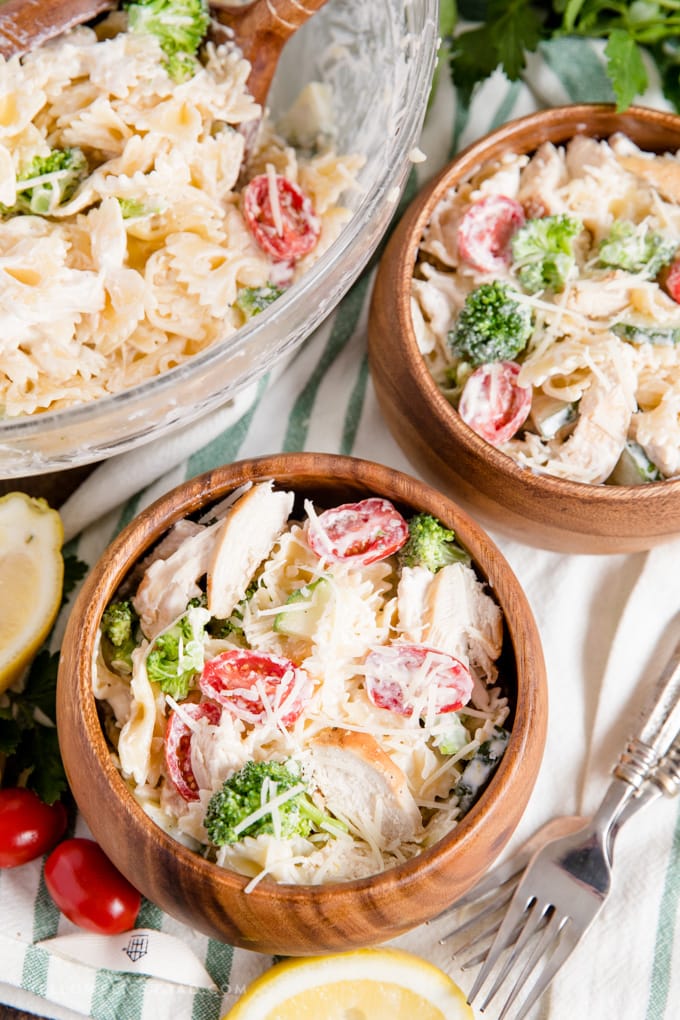 I am a huge fan of pasta salads. In the spring and summer, it's a great way to make a meal out of all those yummy things you have on your plate at dinnertime in the winter. My go-to Chicken Pasta Salad is all our favorite hot meal components in a cold salad – perfect for dining al fresco!
I've got a lot of pasta salad recipes on the site. This latest one, which happens to be incredibly delicious and satisfying, is kind of like if my popular Bacon Ranch Chicken Pasta and Vegetable Pasta Salads got together and had a baby. I took some of the best elements of both and married them into this crowd pleasing salad that is chock full of delicious grilled chicken and our favorite veggies.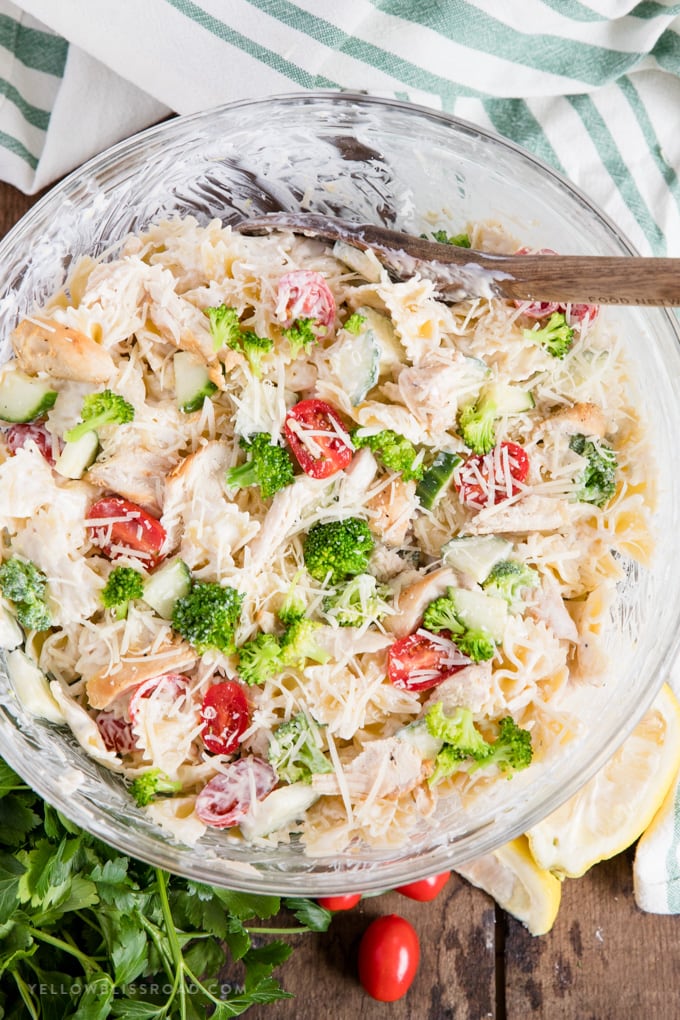 WHAT GOES INTO A PASTA SALAD?
What I love about these types of meals is they are super customizable to whatever your tastes are. You'll need some basic ingredients to create the perfect pasta salad!
Pasta – This is a given right? The type of pasta does make a difference though, and it depends on your other ingredients. Cook the pasta to al dente (still with a little bit of a bite to it) and rinse it. I know that rinsing pasta goes against everything the you stand for, but a quick rinse in cold water will help the pasta stop cooking. Then put it in the fridge. (Note, the rinsing is not necessary, but it does keep the pasta nice and tender and not mushy). The most common types of pasta for salads are macaroni, rotini and farfalle (butterfly).
Protein – Now, to be fair this is completely optional because you can certainly have a delicious pasta salad without a protein. But if you want to make it a complete meal, a protein is a must. I love chicken in pasta salads, but shrimp, salmon, tuna, even ground beef can be a hearty addition.
Veggies – Pick some of your favorite veggies and chop them up into small, bite sized pieces to add to your pasta salad.

PRO TIP: For really crunchy vegetables, blanch or steam them just for a couple of minutes to make them a little more tender and easier to eat. Things like carrots, broccoli, green beans can definitely benefit from this method!

Dressing – There are lots of different types of pasta salad dressing! You can make something from scratch or choose a bottled salad dressing. Creamy pasta salad dressings usually have a mayonnaise, sour cream or Greek Yogurt base and there are also tons of oil and vinegar combinations that work well. You'll want to have some fat for creaminess (olive oil, mayo, Greek yogurt), some acid (lemon juice, vinegar, mustard) and seasoning (paprika, garlic, celery salt).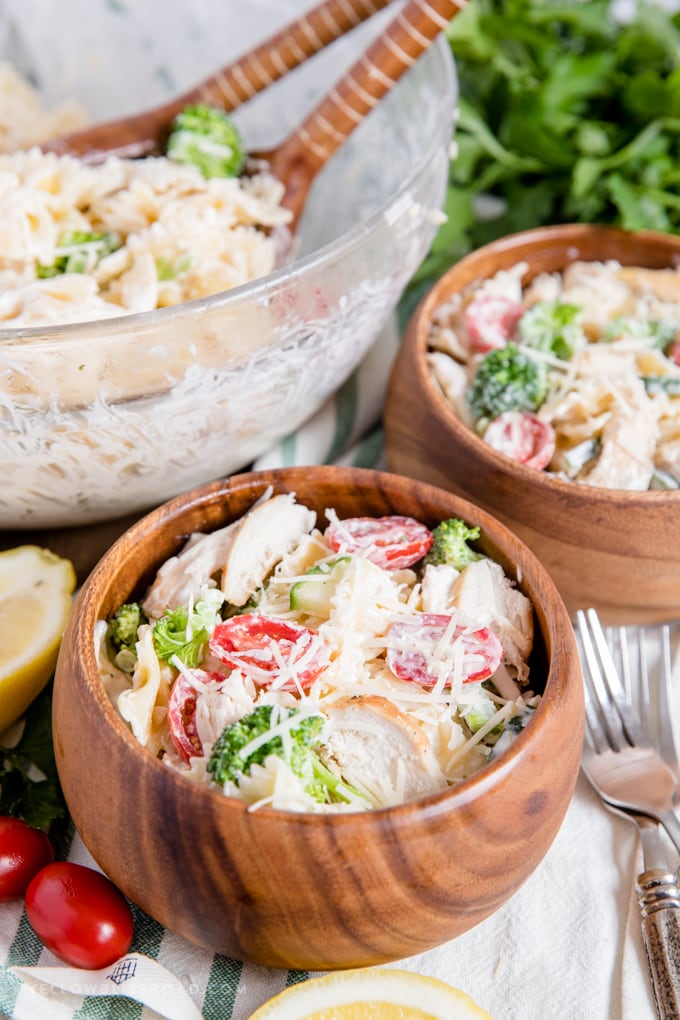 HOW TO MAKE A PASTA SALAD
Start by making the pasta salad dressing. Like I mentioned above there are a variety of combinations to choose from. I prefer creamy pasta salad dressings, so for this chicken and veggie salad, the dressing is simply mayo, Greek yogurt, lemon juice, garlic and Parmesan cheese. Whisk the ingredients together or shake them in a tightly sealed container. Set aside until you're ready to use it. Cream based dressings will need to be refrigerated while oil and vinegar dressings can sit on the counter.
I like to combine the pasta salad dressing with just the pasta first to make sure it's well coated before adding any vegetables or protein.
It is super important to TASTE your pasta salad before adding any additional salt. The dressing may be enough, and the pasta may have salt from the boiling water so you want to be sure to do a little taste test of your finished pasta salad before adding additional salt.
Now you're ready to create your very own pasta salad dressing and recipe! But first, how about giving this delicious Chicken and Veggie pasta salad a try?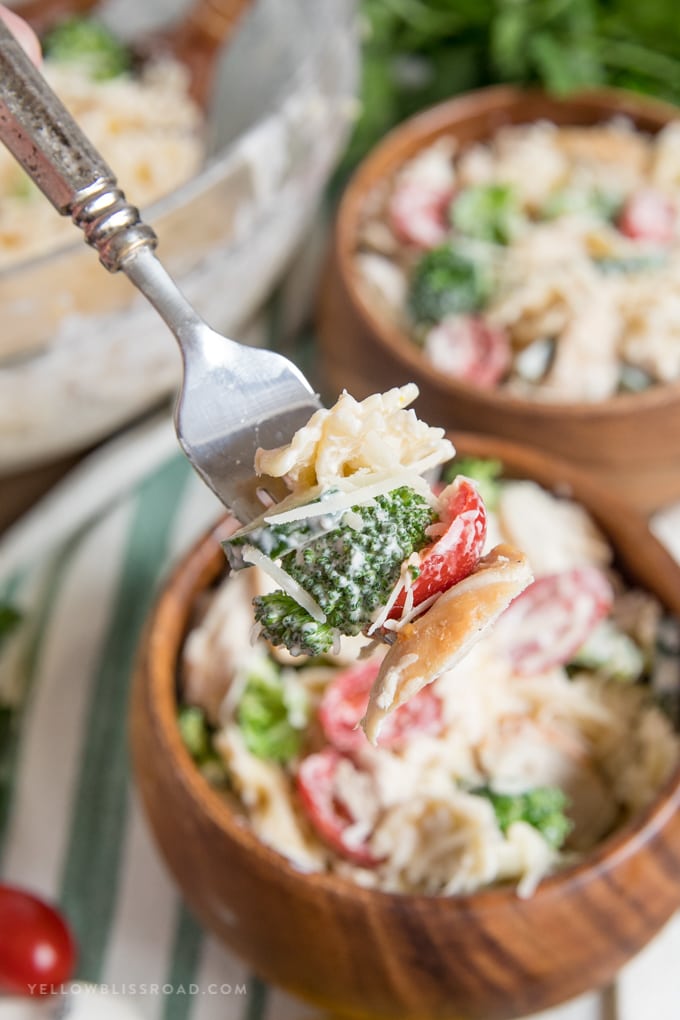 Here are some more great recipes you'll love: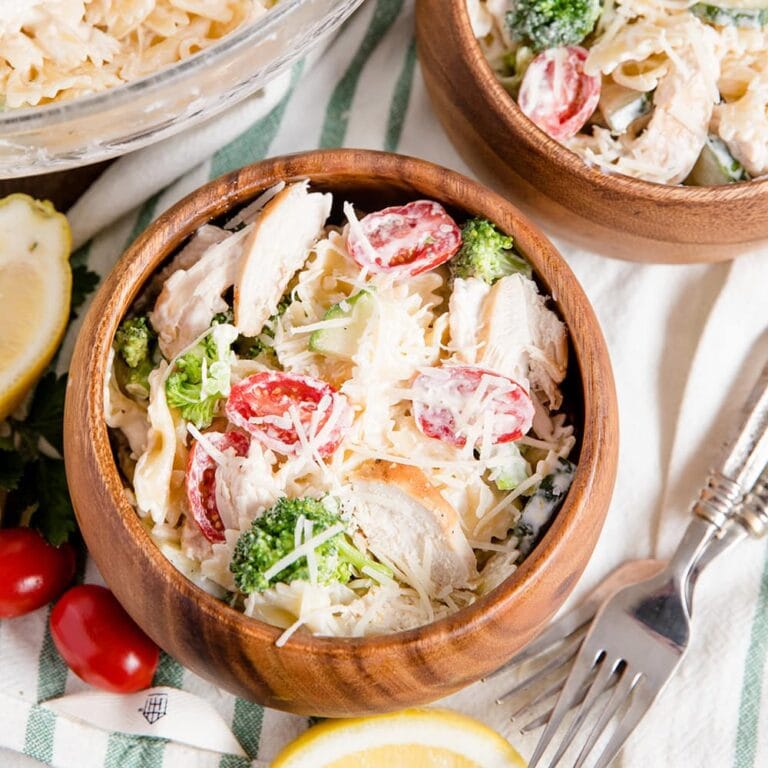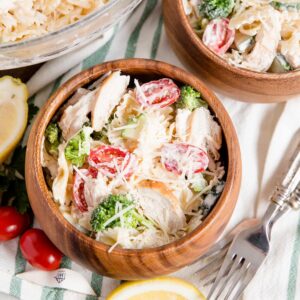 Chicken and Veggie Pasta Salad
Chicken pasta salad is full of protein, veggies and a creamy dressing. A real crowd and family favorite, it's a perfect warm weather dinner.
Ingredients
Chicken Pasta Salad
1 pound chicken breasts or tenders
salt and pepper to taste
16 ounces small pasta like farfalle or rotini
1 cup small broccoli florets
1 cup diced cucumber
1 pint grape tomatoes halved or quartered
Pasta Salad Dressing
1/2 cup mayonnaise
1/2 cup plain Greek yogurt or sour cream
1/2 cup grated Parmesan cheese
3 tablespoons lemon juice
1 teaspoon lemon zest
1 tablespoon olive oil
1 garlic clove minced
½ teaspoon black pepper
½ teaspoon kosher salt
Instructions
Heat a tablespoon of olive oil in a large skillet over medium heat. Season chicken with salt and pepper and add to the skillet. Cook for about 4 minutes per side (2-3 for tenders), or until no longer pink. Set aside to cool before slicing. *Note - if chicken pieces are especially thick, lightly pound the thick end to make even.

Meanwhile, cook pasta to al dente according to package directions. Rinse and set aside to cool.

In a blender, add dressing ingredients and pulse until thoroughly combined. Set aside.

In a large bowl, toss pasta with half of the dressing. Add chicken and veggies and toss with remaining dressing. Season with salt and black pepper if needed.
Nutrition
Calories: 585kcalCarbohydrates: 63gProtein: 32gFat: 22gSaturated Fat: 5gTrans Fat: 1gCholesterol: 64mgSodium: 548mgPotassium: 763mgFiber: 4gSugar: 6gVitamin A: 877IUVitamin C: 29mgCalcium: 153mgIron: 2mg