Microwave Chocolate Mug Cake Ghosts
No time for baking a big cake? Surprise the little trick-or-treaters in your life with these tiny, ultra-fast, chocolate mug cake ghosts. This fun Halloween treat is sure to get lots of giggles and leave some very chocolatey fingers but happy bellies behind.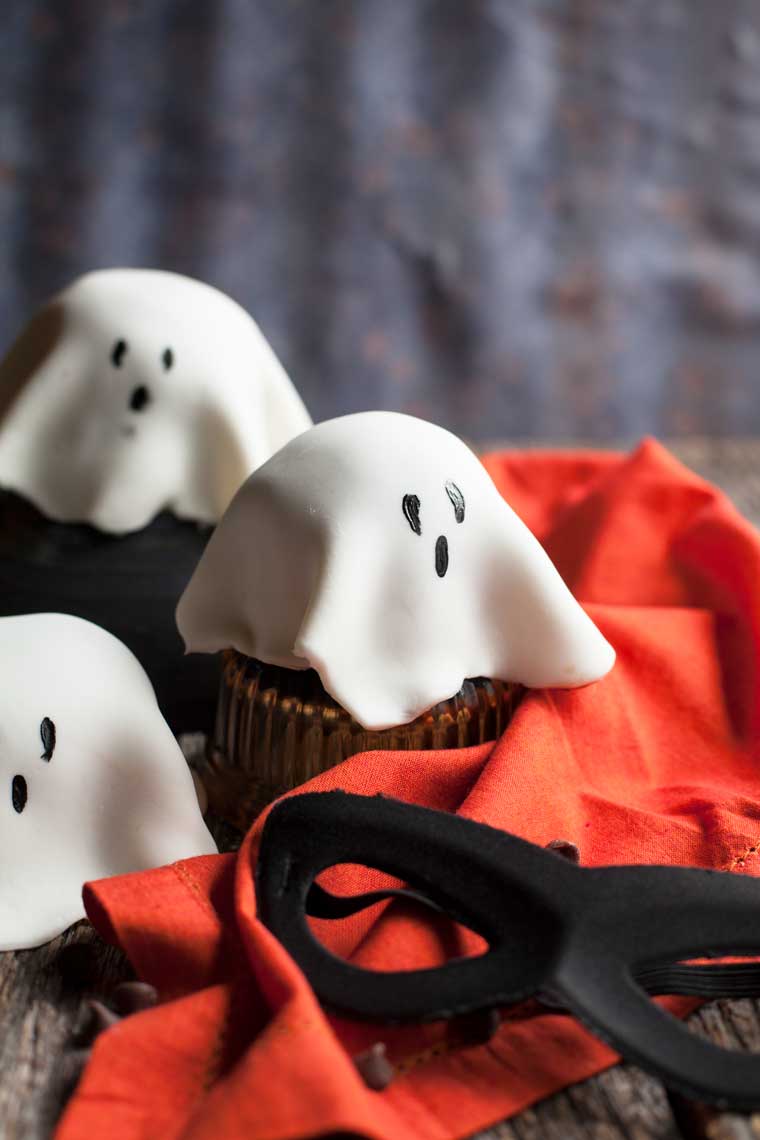 Halloween is not really a thing in the country. It can't be. I mean…what are we gonna do? Hoof it across the pastures to people's houses? When I was a kid, my mom would drive us to 4 or 5 houses in the car (which took over two hours to do) and she always forced us to go in, sit down, and be polite if the people we were mooching the candy off of were old.
None of this trick or treat smell my feet stuff.
It was yes ma'am. Thank you very much for the (nasty black or orange wrapped whatever-they-are's) candy.
Then we'd head home and my mom would let us have one or two pieces then she would promptly take all the rest away and we never saw it again. It's the struggle of being raised by hippies.
Beyond that, any other sweet treat we got around this time was a popcorn ball–equally as tasty but a nightmare to work with. And today, several decades later, most of us don't have time to melt caramels, pop popcorn and make homemade popcorn balls. So what's left?
How to make Chocolate Mug Cake Ghosts
If you want to make something special for your kids or family for Halloween, these chocolate mug cake ghosts are so much fun to do, and they're ready in a flash. Literally. Like a flash of the microwave.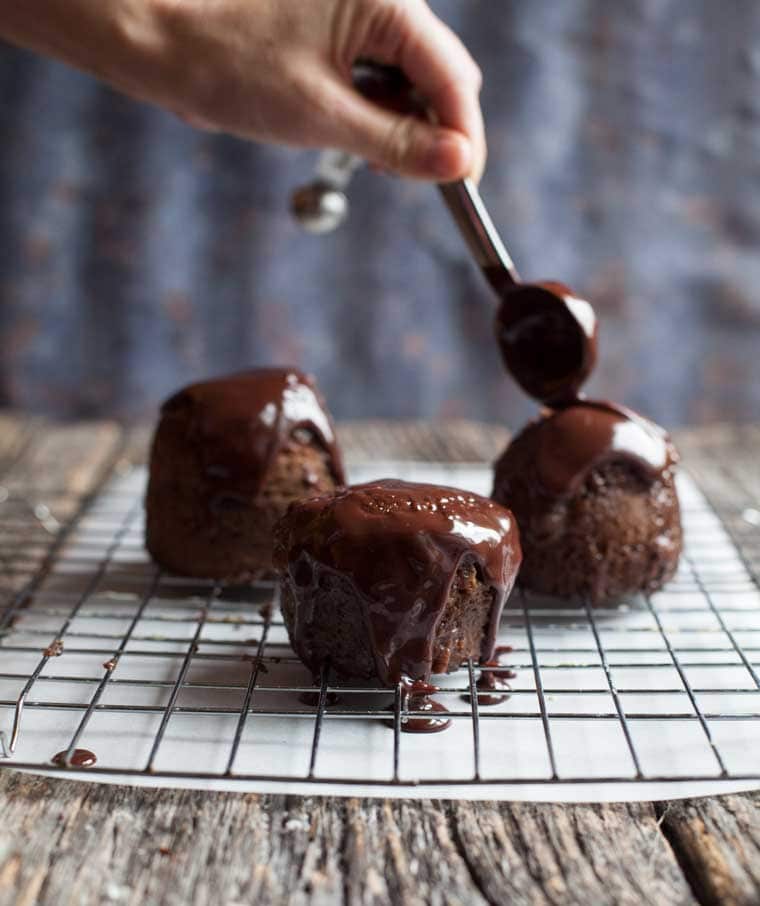 Because that's the trend with mug cakes–two minutes in the microwave and the hard work is finished.
But we do need to cover a few tips–unless you want to make a massive mess–know this:
Avoid the temptation to fill your mug more than half full NO MATTER WHAT. Period.
The size of your mug will determine how long it takes your cake to cook. Start with ¾ of the recommended cooking time and keep going in 15 second bursts until your cake is firm.
If your cake sinks when the microwave stops, it's not done. Keep cooking it.
If you cook it to death you'll have a hard tough blob of cake. Keep a really close eye on them then take out one, turn it out and see how it is. If there's a little batter not cooked at the bottom, just pretend they are "molten" and you meant to do that. Or you can put it back in the mug and cook it a little more.
Grease the inside of the mug if you want to get them out without saying bad words.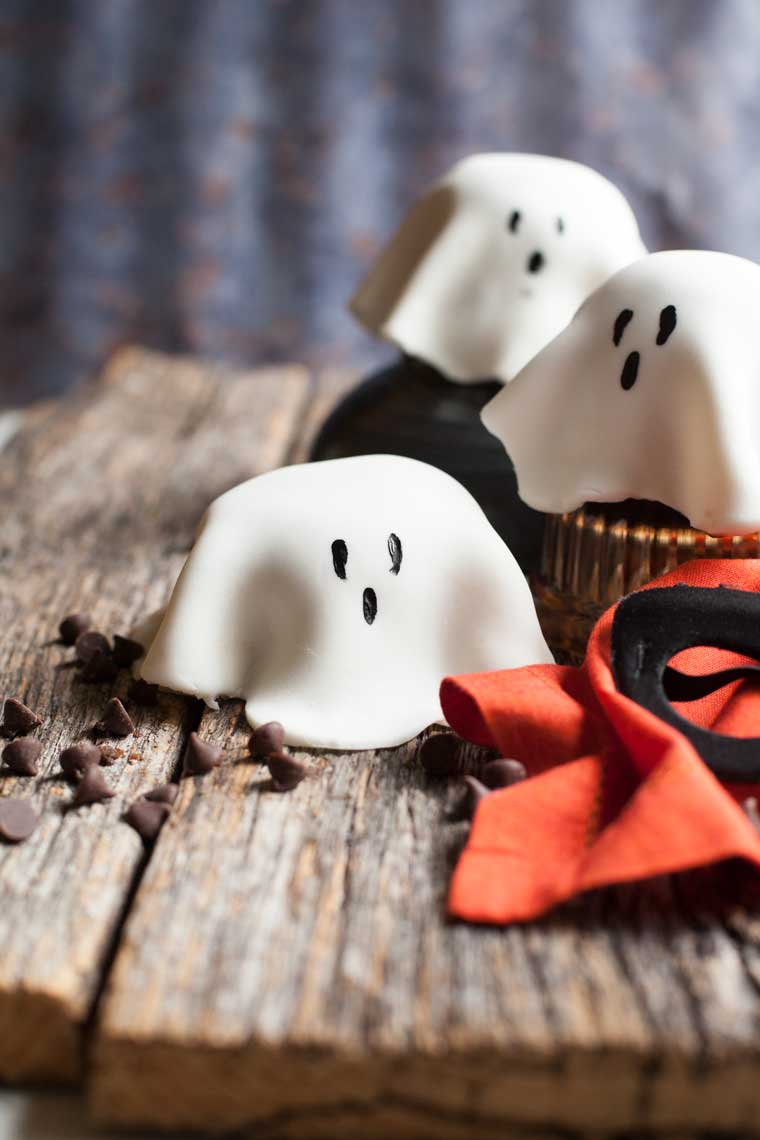 Mug cakes do tend to have a bit of a dense texture but all of mine were still quite soft after they cooled and got the flavor approval from my crew. I mean–what good is a cute cake if it doesn't taste good?
On a side note, you could certainly bake these in the oven–about 350 degrees–until a toothpick comes out clean (10 to 15 minutes would be a guess, you'd just have to try it). Looking for some other awesome cakes? They aren't made for mugs, but you're sure to love them–try this show stopping Italian Cream Cake or get everything you need to know to make a cake from scratch.
If you've made this recipe, please come back and leave us a star rating or a comment below. Or, tag us on social media @yellowblissroad or #yellowblissroad for a chance to be featured.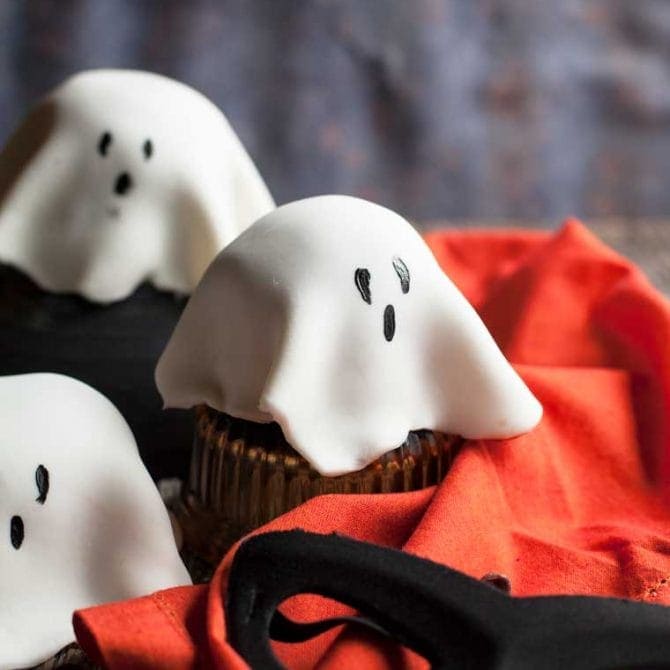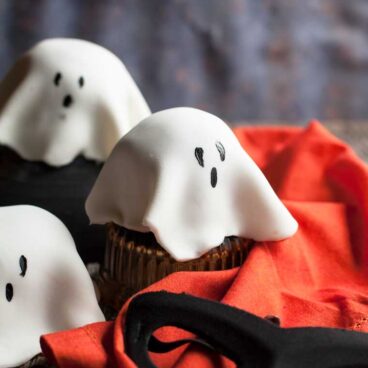 Chocolate Mug Cake Ghosts
These fun and fast chocolate mug cake ghosts are easy to whip up with your own little ghost or goblin. 
Ingredients
For the cake:
1/4

cup

plus 2 tablespoons butter

1/4

cup

plus 2 tablespoons milk

3

eggs

1/2

cup

plus 1 tablespoon granulated sugar

3/4

teaspoon

baking powder

1/2

cup

plus 1 tablespoon all purpose flour

3

tablespoons

cocoa

pinch

of salt
For the chocolate ganache:
1/3

cup

heavy cream

1/4

cup

good quality semi sweet chocolate chips

I only use Ghirardelli
To decorate:
A sprinkling of corn starch or powdered sugar

1  24-

ounce

box vanilla fondant

you can find it in your cake decorating area

black food coloring
Instructions
In a small microwave safe bowl, melt the butter and allow it to cool slightly before adding the milk and eggs. Stir to combine and set aside.

In a separate bowl, stir together the sugar, baking powder,flour, cocoa and pinch of salt. Add the butter mixture and stir until just combined and no pockets of flour remain.

Pour mugs no more than half full and microwave up to 2 minutes and 30 seconds until cakes are cooked. Check them every 30 seconds as they cook until the cakes don't sink and are firm in the center. (See my instructions in the post for more.)

Turn them out on to a cooling rack to cool completely, about 10 minutes.

While the cakes cool, make the ganache. Heat the heavy cream until steaming and very hot in the microwave, about 30-45 seconds. Add the chocolate chips and allow the mixture to sit--don't stir it--for 1 minute. After a minute, use a fork to stir until the cream and chocolate are totally smooth and uniform. Allow the ganache to cool slightly--it will thicken as it sits so you can re-warm it if it's too thick.

Once your cakes are cool, spread over the chocolate ganache. Set aside.

Sprinkle your work surface with a little corn starch or powdered sugar and roll out a 2-3 inch ball of fondant with a rolling pin or glass. Lift the fondant and lay it over the cake, trimming the excess from the edges with a knife. Repeat for the other cakes.

Dip the end of a paintbrush handle in the black food coloring and dot on eyes and a mouth.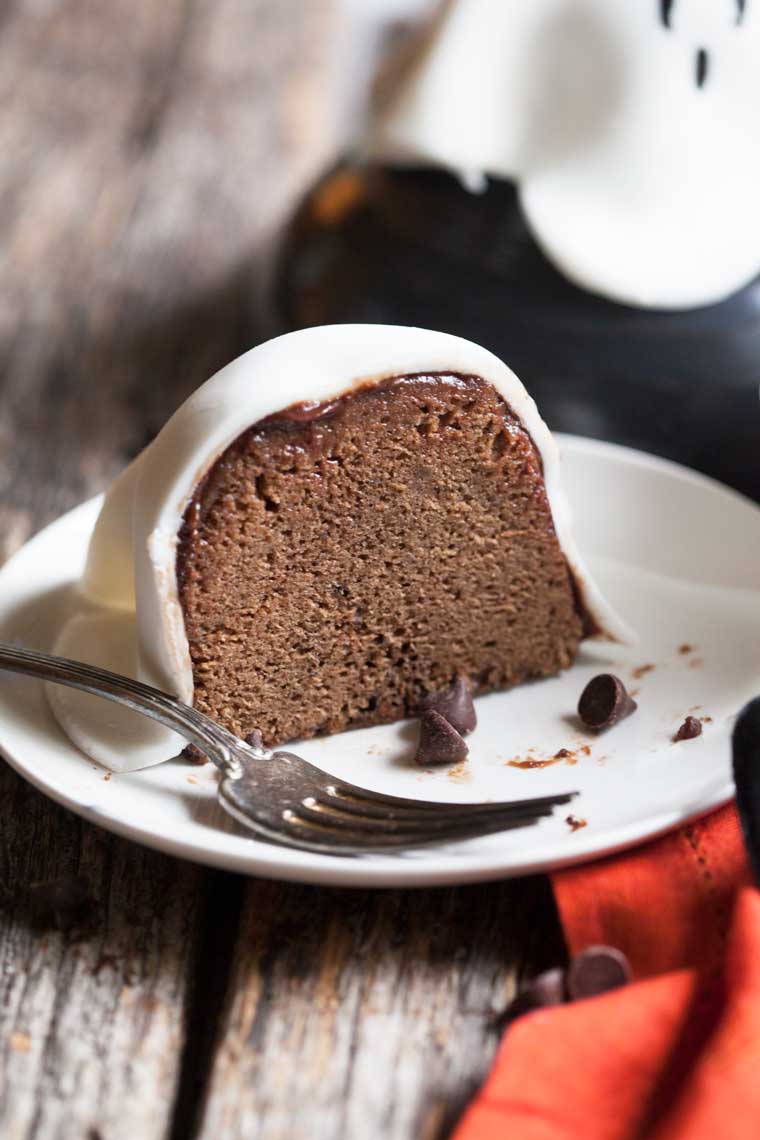 For more Halloween treats, try these: