These simple yet satisfying Pizza Sliders are perfect for parties or quick weeknight dinners. Deliciously saucy and cheesy, you can customize the toppings and add whatever you love on your pizza!
Pin this recipe for later!
About This Pizza Sliders Recipe
Easy to Make: Pizza Sliders are incredibly simple to whip up, requiring just a few ingredients and minimal cooking skills. They're perfect for both kitchen novices and experts.
Perfect Party Food: Their small size and easy portability make these yummy sliders a crowd-pleaser at any gathering. They're great for serving large groups and are super easy to eat—no utensils needed!
Customizable: You'll love how customizable they are. From the choice of sauces to the variety of toppings and types of cheese, you can tailor each batch to fit your own flavor profile or dietary needs.
Versatile Meal: Whether it's dinner on a busy weeknight, a lunchbox treat, or party finger food, these pizza sliders fit the bill. They're versatile enough to suit many occasions and settings.
How To Make Pizza Sliders
Get a detailed list of ingredients & instructions in the recipe card below.
Prep – Preheat your oven. Line a large baking sheet with foil and spray with cooking spray.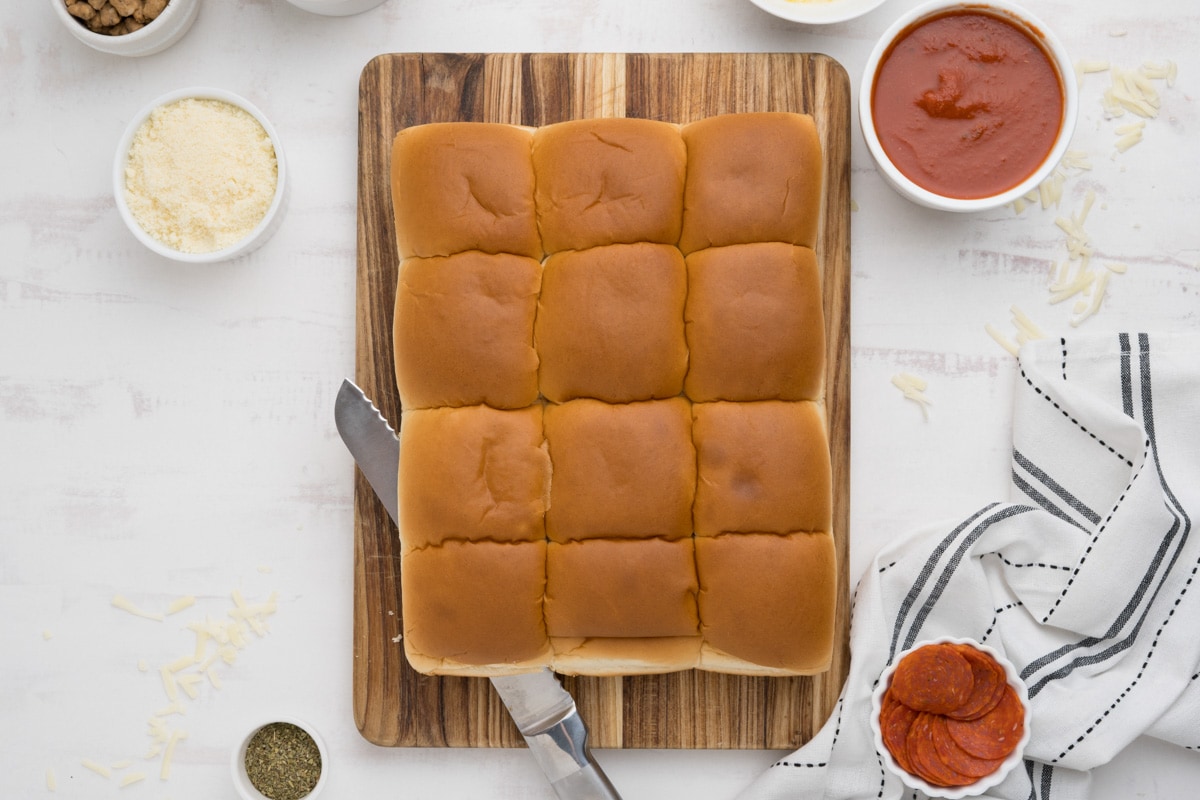 Slice the rolls – Use a serrated knife and slice through the just middle of the rolls so you have a slab of tops and a slab of bottoms. Don't pull them apart – leave the rolls connected for easy assembly.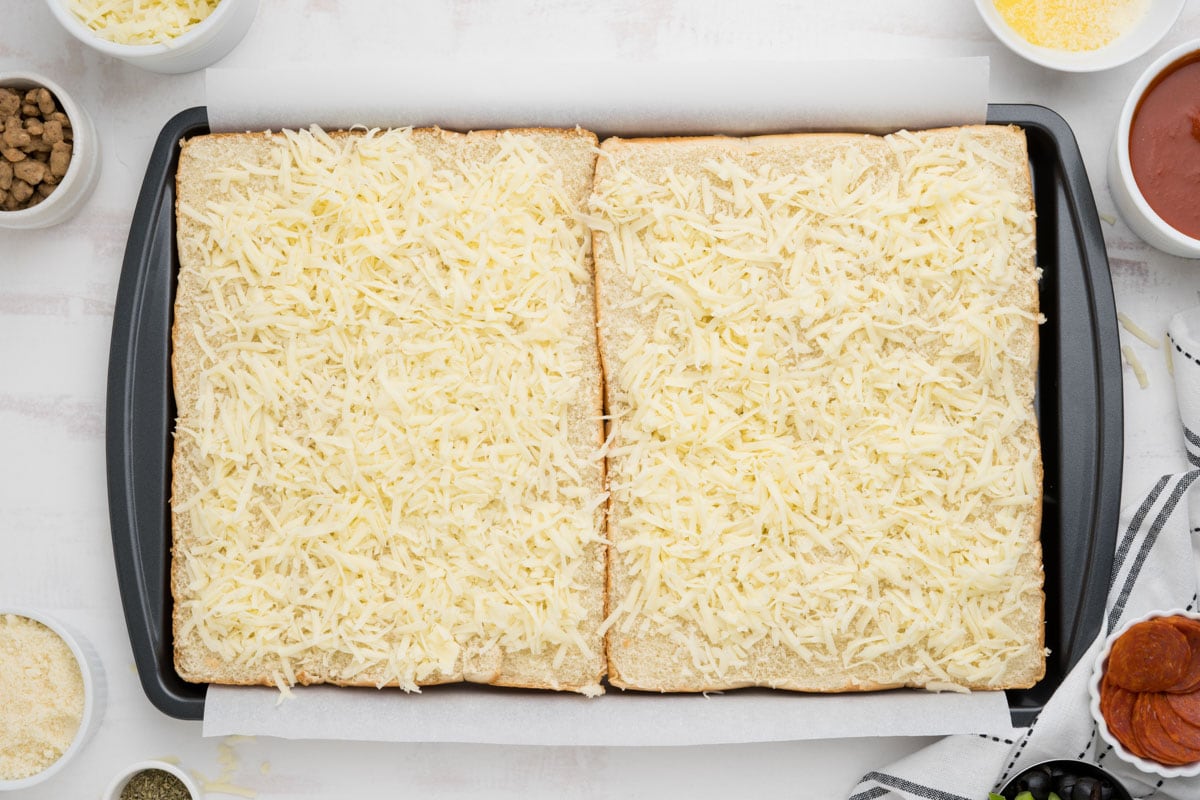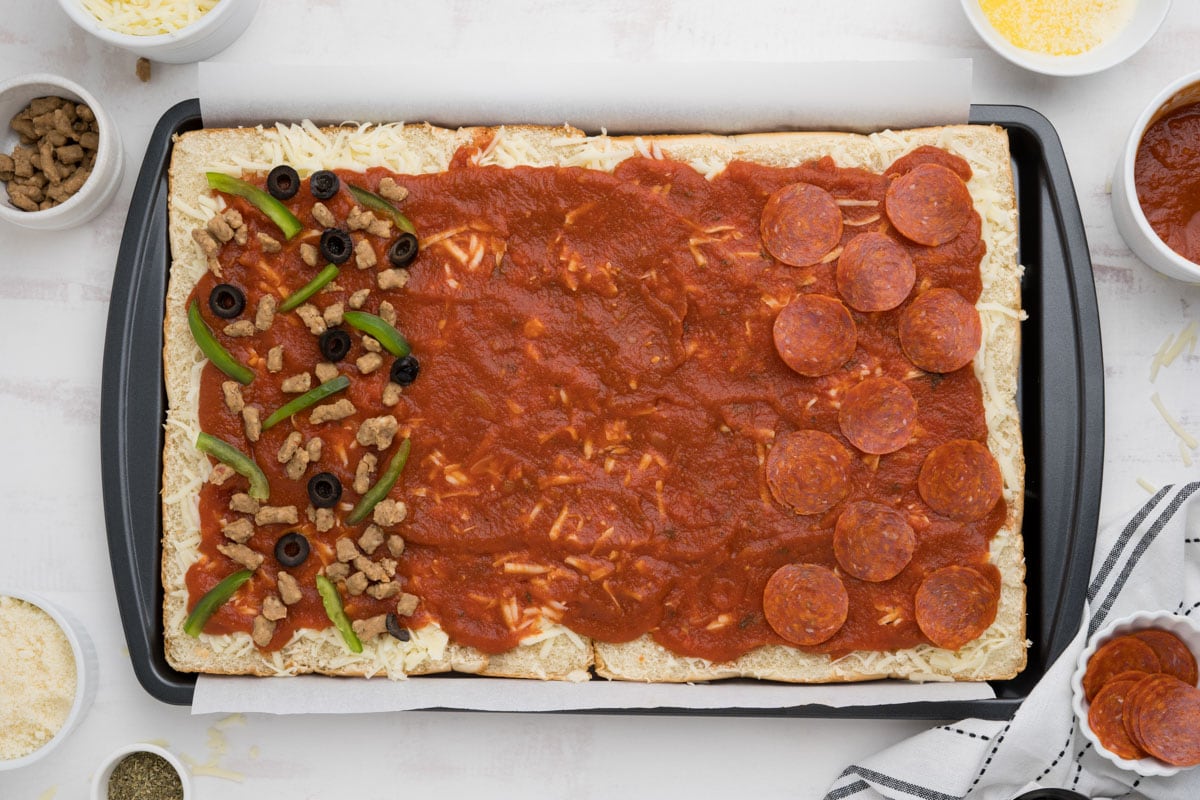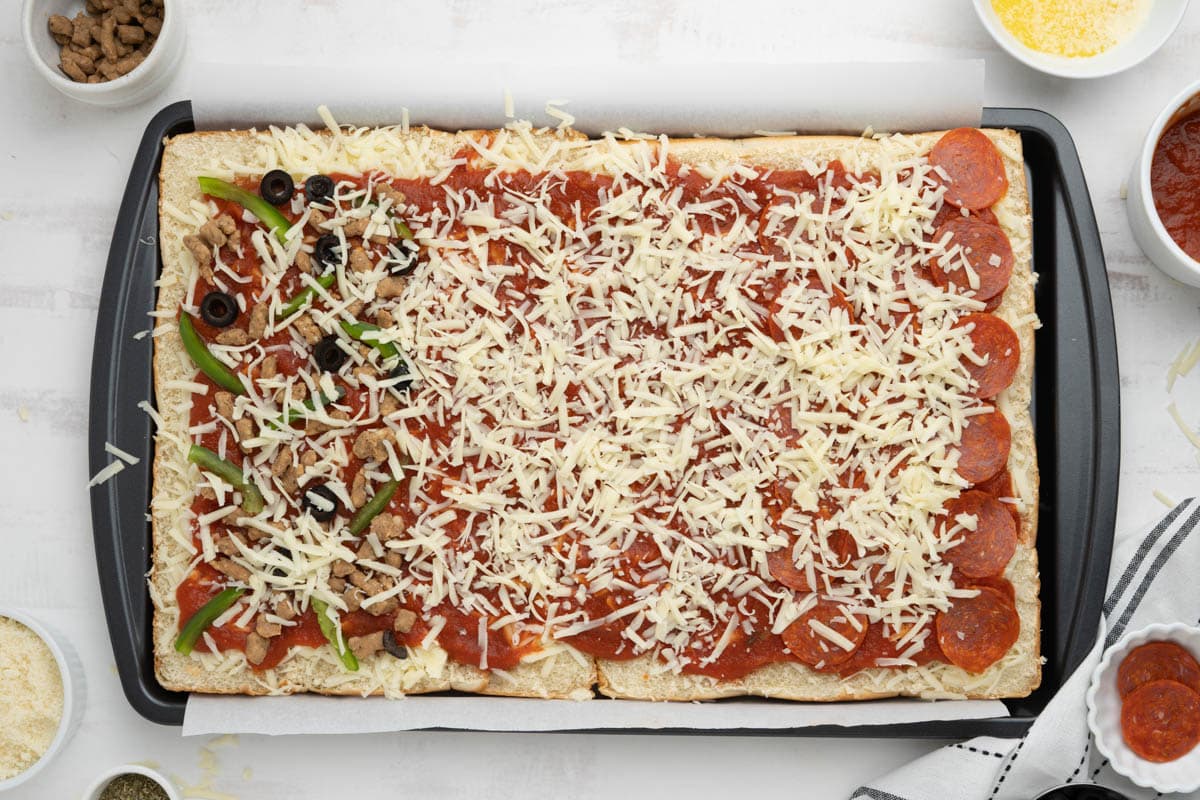 Assemble the sliders – Layer the bottom slab with shredded Mozzarella, marinara sauce, toppings, and more cheese, then top with the slab of rolls.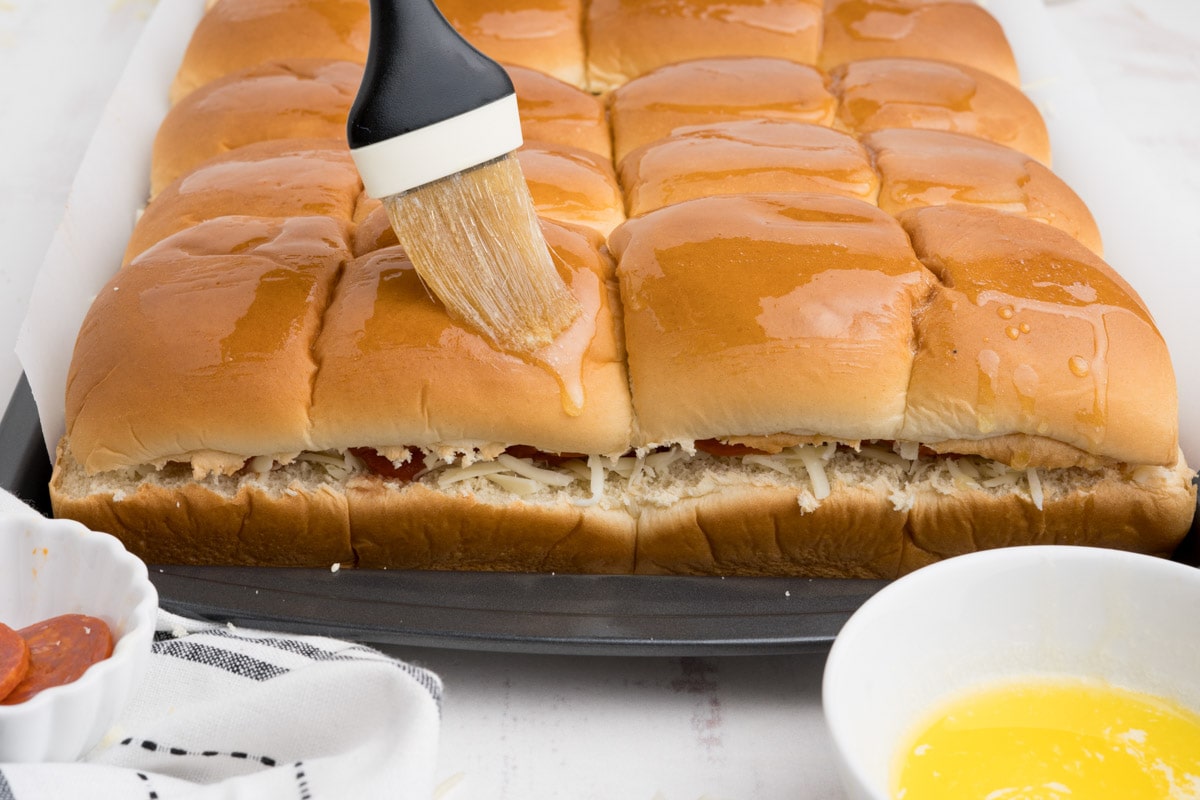 Brush with butter – Melt the butter and brush onto the rolls, then sprinkle with Parmesan and seasoning.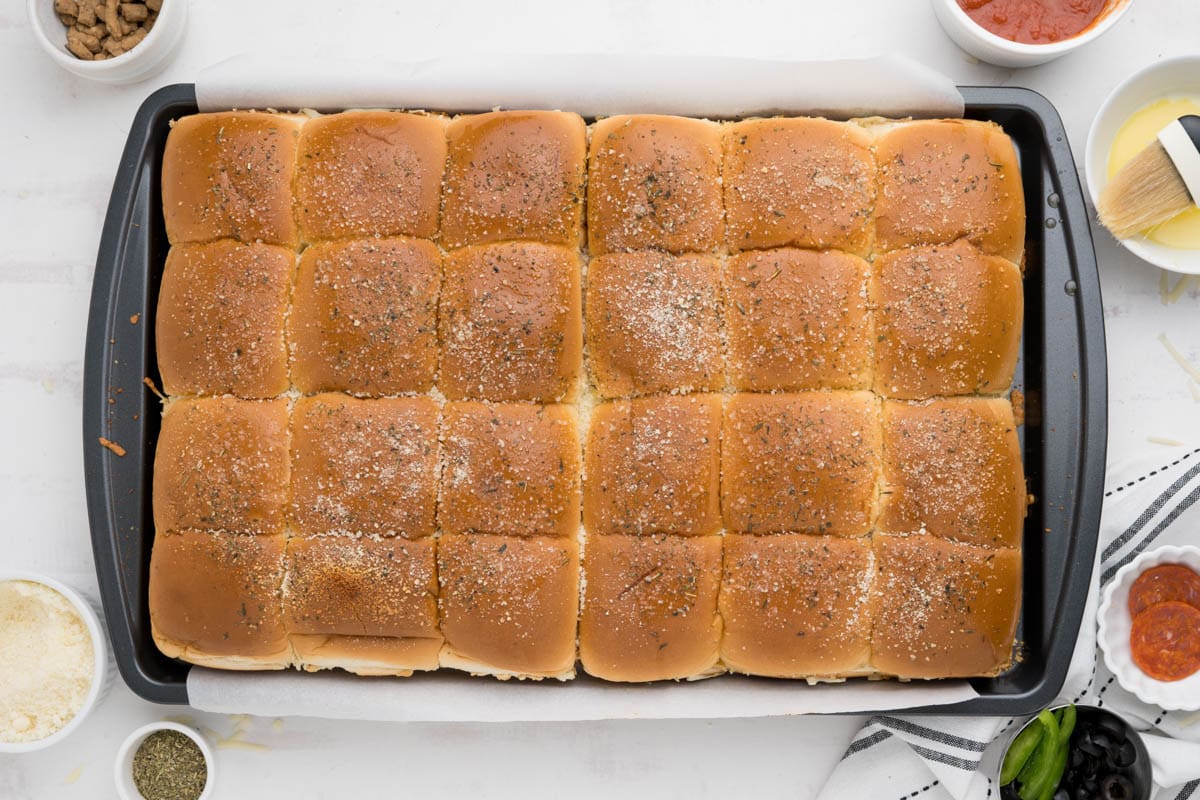 Cover and bake – Cover the rolls with a sheet of foil and bake for 25 minutes. Uncover and bake for a few more minutes.
Serve – Cool slightly, then cut apart and serve. Have some extra marinara and ranch dressing on the side for dipping.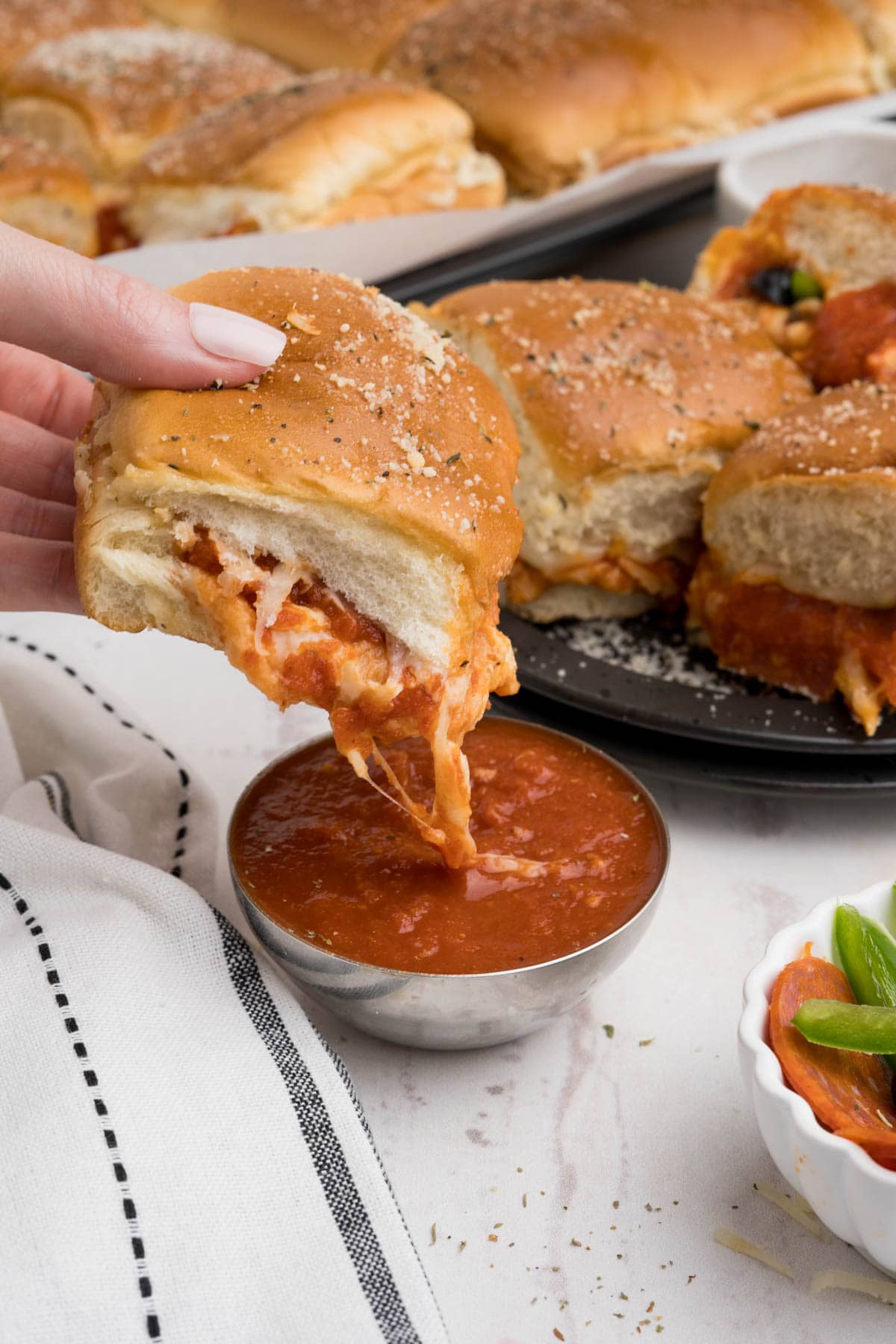 Recipe FAQs
Can I make these in advance?
You can, but I would be careful with the amount of sauce you add. You don't want them to sit for too long and become soggy.
Do I have to cover when baking?
Yes, it's recommended that you cover the sandwiches with foil to prevent overbrowning. Uncover them during the last few minutes to give them a little color.
Do I need to cook the vegetables?
You don't have to, but they will be more on the crisp side. If you prefer softer veggies, you can quickly cook them in the microwave.
What are the best pizza toppings for sliders?
It depends – what are YOUR favorite pizza toppings? You can use anything you would enjoy on your pizza. I like pepperoni, sausage, extra cheese, green peppers and olives. My husband loves mushrooms and pineapple. If using pineapple, let it sit for 10 minutes on some paper towels to soak up a bit of the moisture so they don't make your sliders soggy.
Storage
If you happen to have leftovers, you can wrap them up and keep in the fridge for a few days. If possible, reheat in the oven or in an air fryer. They will get soggy as they sit, so keep that in mind.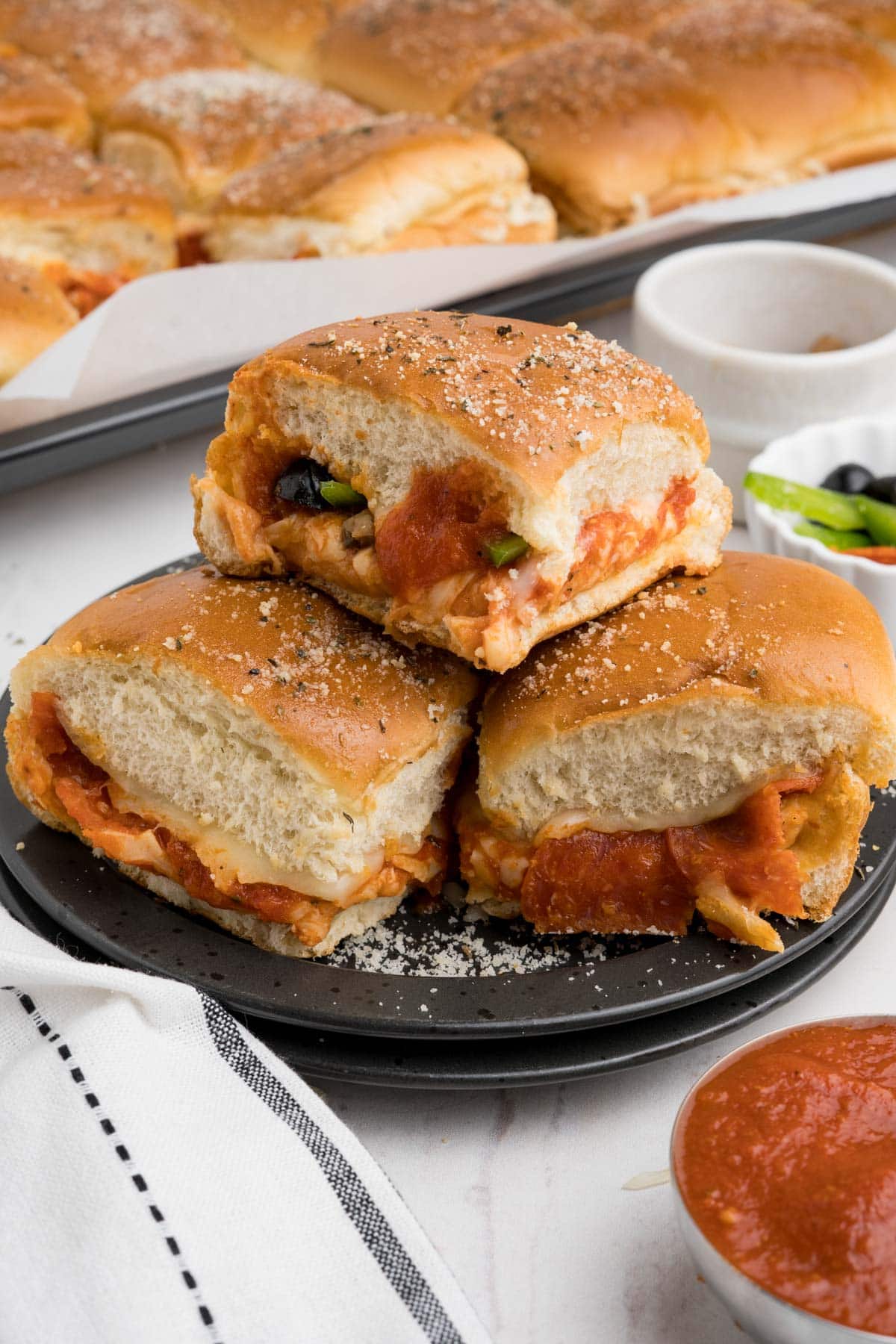 Helpful Tips
Use a serrated bread knife to slice – When cutting the Hawaiian rolls into two slabs, it's easiest to use a serrated bread knife and slice through them slowly.
Grate your own cheese – Opt for freshly grated cheese for better melting.
Cover with foil – Don't skip this step! Leaving the rolls uncovered leaves them at risk of burning.
Halve the recipe – You can make this recipe with just 12ct Hawaiian rolls, just half the rest of the ingredients.
Cover the sheet pan – Parchment paper really helps clean up and prevents cheese from overcooking directly on the baking sheet. Aluminum foil would work too, but I prefer parchment for this one.
Don't break apart the rolls – For this recipe, it works best to keep the Hawaiian rolls attached, slicing only horizontally. This keeps the sauce and cheese in place and also prevents the butter from melting through over the sides.
Customize the toppings – This recipe can be made with whatever toppings you prefer, just be sure to add them right after sauce before the next cheese layer so they stay in place.
Adding veggies – If adding veggies to the sliders, make sure they are thinly sliced.
More Slider Recipes
Recipe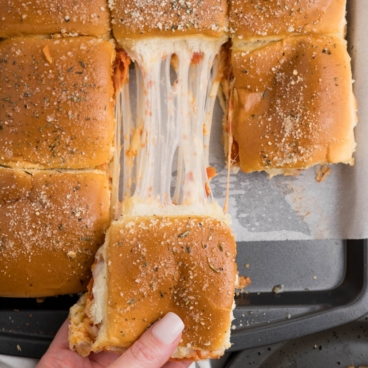 Pizza Sliders
These simple yet satisfying Pizza Sliders are perfect for parties or quick weeknight dinners. Customize the toppings and add your favorites!
Ingredients
24

Hawaiian dinner rolls

4

cups

freshly shredded mozzarella

divided

23

ounces

jarred marinara or pizza sauce

1/4

cup

unsalted butter

melted

2

tablespoons

grated parmesan cheese

1

teaspoon

dried Italian seasoning

Optional toppings: pepperoni, cooked sausage, veggies, etc.
Instructions
Preheat the oven to 375 degrees and prepare a baking sheet by lining with parchment paper. Set aside.

Slice the Hawaiian dinner rolls horizontally, and place the bottom half side by side on the prepared baking sheet reserving the tops of the rolls for later.

Sprinkle 2 cups of the freshly shredded mozzarella cheese onto the sliced Hawaiian rolls.

Carefully spoon the sauce over the cheese and add desired toppings during this time.

Top the sauce with the remaining 2 cups of mozzarella and replace the top half of the Hawaiian rolls.

Brush the tops of the rolls with melted butter and sprinkle the parmesan cheese and italian seasoning on top.

Cover with aluminum foil and bake in the preheated oven for 25 minutes or until cheese is melted and sliders are heated through. Remove foil and bake for a few additional minutes or until the tops are golden brown.
Notes
Make sure to cover your baking sheet. Parchment paper really helps with clean up and prevents cheese from overcooking directly on the baking sheet. Aluminum foil would work too, but I prefer parchment for this one.
Nutrition
Calories:
170
kcal
Carbohydrates:
17
g
Protein:
8
g
Fat:
8
g
Saturated Fat:
5
g
Polyunsaturated Fat:
0.3
g
Monounsaturated Fat:
2
g
Trans Fat:
0.1
g
Cholesterol:
30
mg
Sodium:
337
mg
Potassium:
97
mg
Fiber:
0.4
g
Sugar:
5
g
Vitamin A:
308
IU
Vitamin C:
2
mg
Calcium:
104
mg
Iron:
0.4
mg