Southern Pecan Pie Recipe
This Southern Pecan Pie Recipe is knock your socks off delicious! Filled with tons of crunchy pecans baked with a sweet filling, this beautiful pie will steal the show on your holiday dessert table.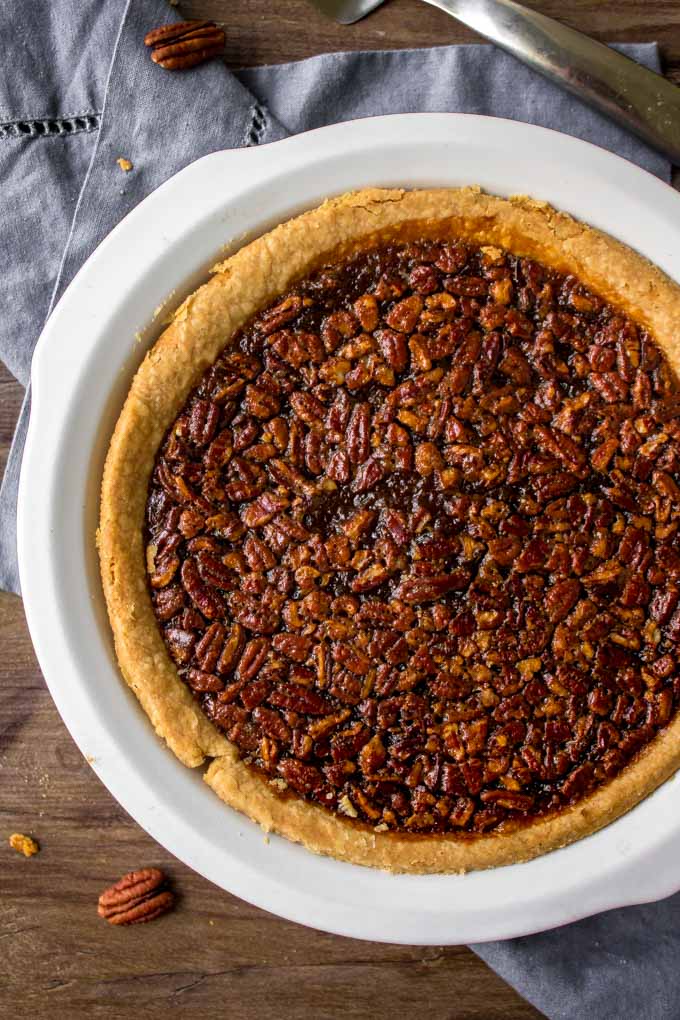 Hey all! Sam back from The Culinary Compass with this great Southern Pecan PieRecipe! It's a staple for my Thanksgiving dessert and hopefully will be for you too!
My dad's side of the family lives in Georgia and sends us a huge box of pecans every year around Thanksgiving. Every year, when I see the giant box on the front porch I know there's one thing that I'm required to make and that's a classic Southern Pecan Pie.
LET'S TALK ABOUT THIS PECAN PIE RECIPE!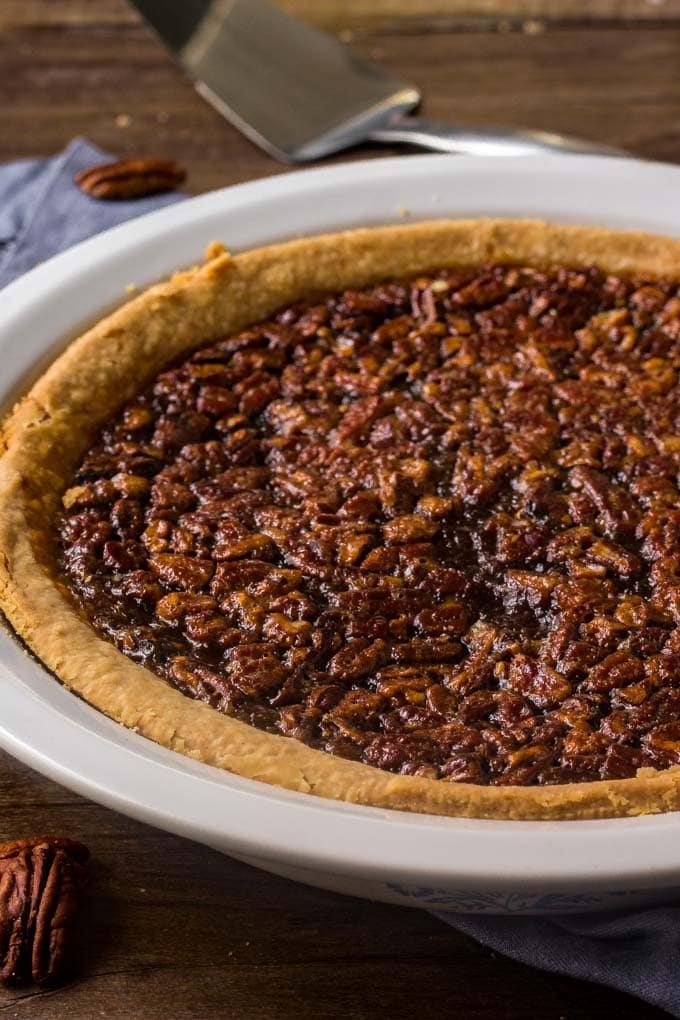 As a kid, I was never too thrilled about pie mostly because it was usually fruit filled and not slathered in chocolate, but this pecan pie recipe changed the game for me. The brown sugar based filling was as good as candy!
Brown sugar is one of my favorite ingredients to bake with just because of the great sweet, molasses flavors that it brings. The same holds true for this pecan pie! It goes great with the nutty pecans with a touch of vanilla and salt in the filling.
This Pecan Pie recipe is really easy to whip up and bakes in just one hour. The second step may feel a little like candy making, which can be a daunting task, but I assure you it's just a simple melting step that creates the base of the pie.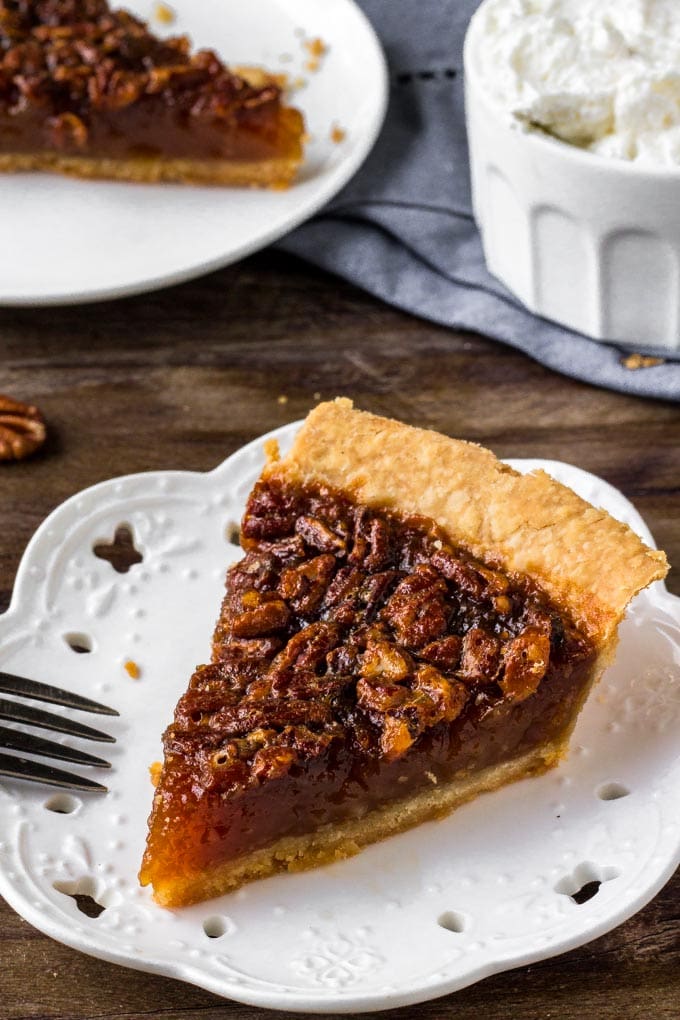 You only need a total of 7 ingredients to make Pecan Pie. A pinch of salt will finish it off.
Prepared pie crust – This can be one that's already pressed into a pie pan like this one, or one that comes prepared as a flat sheet that you roll out and form to your own pie plate.
Butter
Brown sugar
Corn syrup
Vanilla extract
Eggs
Pecans (of course)
HOW TO MAKE A SOUTHERN PECAN PIE
You'll start your pie base by melting butter and brown sugar on the stove. This doesn't take long and should be done at a medium to medium-low heat so as not to burn the sugar. Corn syrup is added, and then eggs. Be careful not to add the eggs too quickly or you will cook them before they can be incorporated into the mixture.
Get your pie crust ready and sprinkle pecans to fill the bottom of the plate before pouring the brown sugar mixture in. You can move the pecans around until you are satisfied that it's pretty enough for your dessert table.
Cover the pie with foil before baking, but you will want to remove the foil during the last 20 minutes. This is to ensure that the inside has plenty of time to bake through without burning the top.
The pie will harden as it sits and cools, until it's creamy and crunchy and oh so tasty.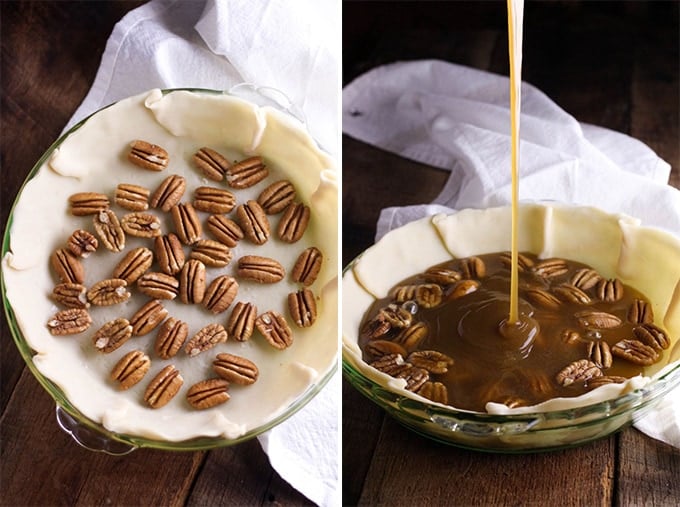 HOW TO SERVE PECAN PIE
My favorite way to serve pecan pie is absolutely heated up a little with some good ole vanilla ice cream because the ice cream begins to melt and gets all mixed up with the ooey gooey crunchy pie. There usually aren't too many leftovers with this pie when my family gets a hold of it, but if there are for you, I'd recommend not heating it too long in a microwave or else the awesome gooey center just melts! It still tastes great with ice cream, but it loses all the structure of the pie.
This pecan pie recipe can be served chilled, at room temperature or warmed and with ice cream or whipped cream or just on it's own. If refrigerated, let come to room temperature on the counter for 30 minutes before serving.
HOW TO STORE PECAN PIE
Unless you are planning on serving the pie within a couple hours of baking, refrigerate the pie until you are ready to serve. A refrigerated pecan pie will keep in the fridge for 3-4 days.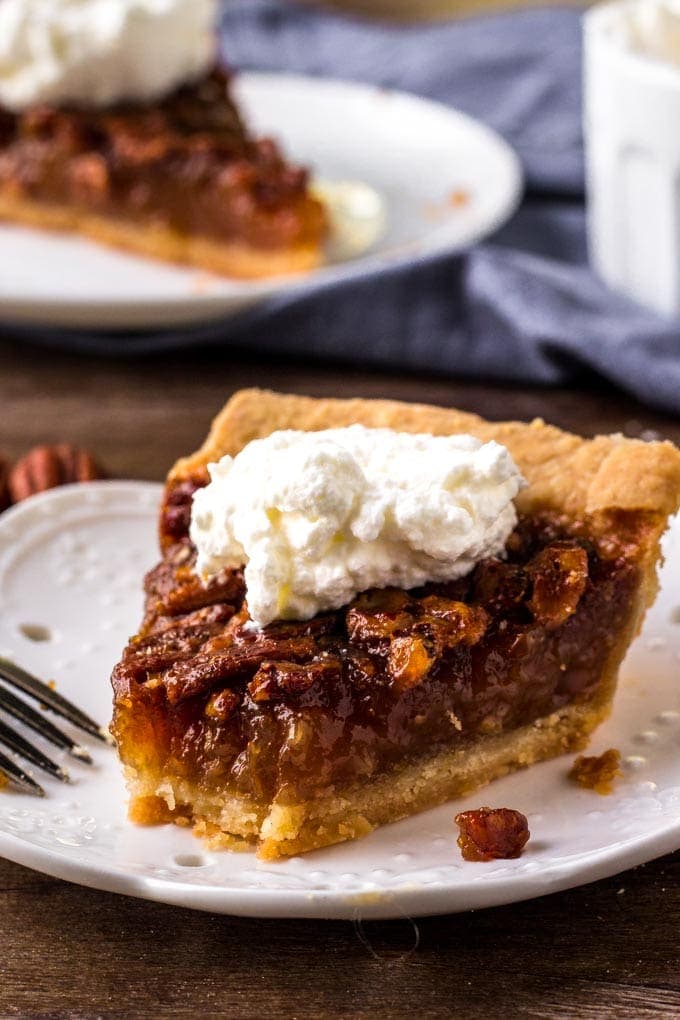 Here are some more Thanksgiving desserts to try:
And how about some Thanksgiving Side Dishes?
Looking for more things to serve with your Thanksgiving dinner? Try out my Roasted Acorn Squash with Sausage, Fennel, and Mushrooms! If you're looking for an adult only dessert, try these White Chocolate Pumpkin Martinis!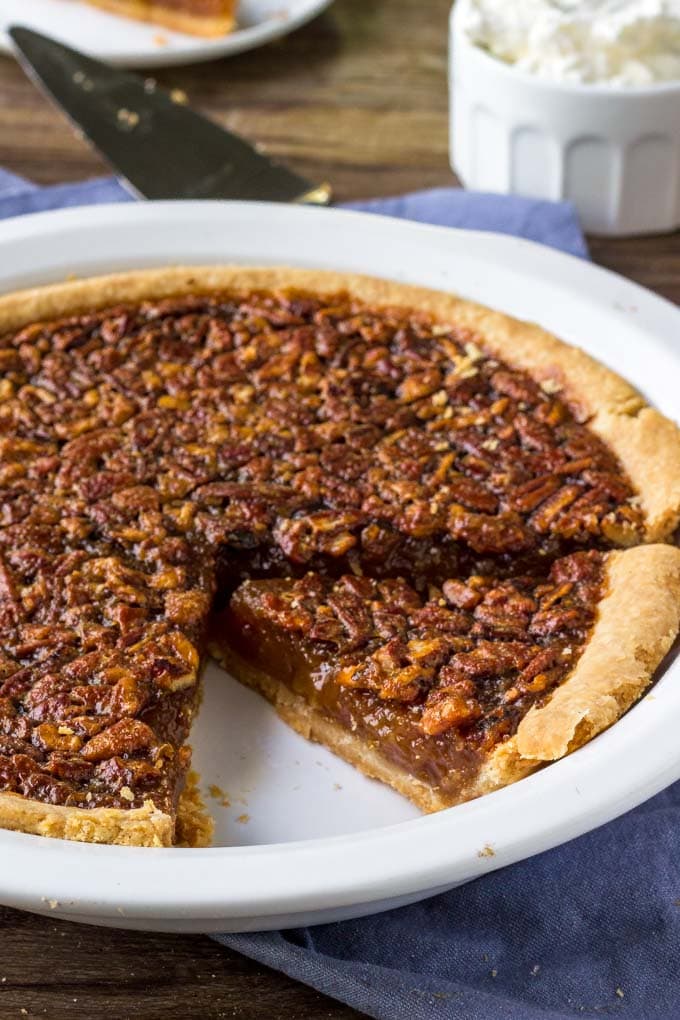 If you've made this recipe, please come back and leave us a star rating or a comment below. Or, tag us on social media @yellowblissroad or #yellowblissroad for a chance to be featured.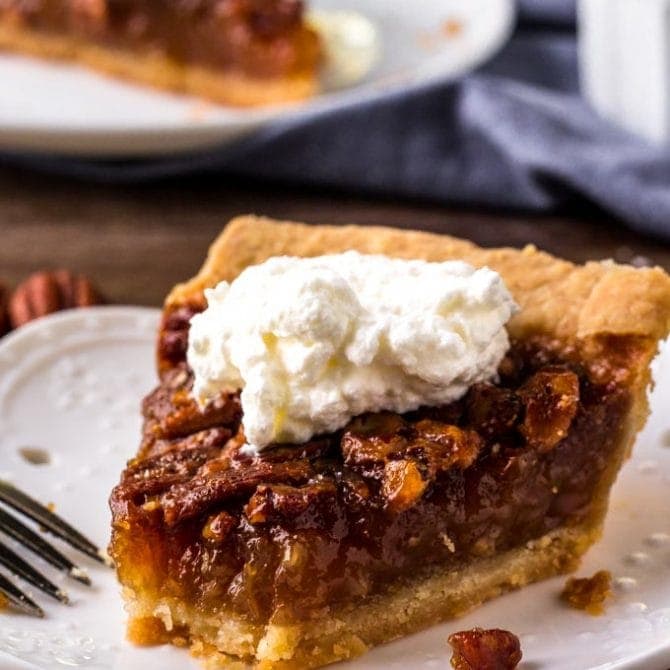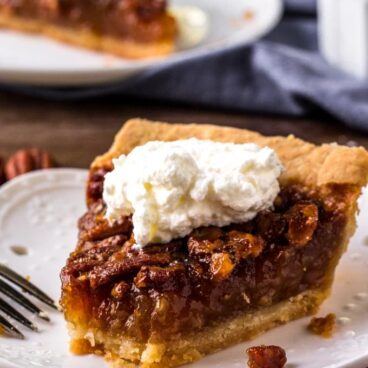 Southern Pecan Pie
This classic Pecan Pie Recipe is knock your socks off delicious! Filled with tons of crunchy pecans baked with a sweet filling, this beautiful pie will steal the show on your holiday dessert table.
Ingredients
Prepared pie crust

4

tbsp

butter

1

cup

brown sugar

1

cup

corn syrup

1

tsp

vanilla extract

1/2

tsp

salt

3

eggs

2

cups

pecans
Instructions
Preheat oven to 350 degrees F.

In a medium pan over medium heat, melt butter. Add in brown sugar and stir until melted. Stir in corn syrup, vanilla extract, and salt.

Beat eggs in a medium bowl. Slowly stir in brown sugar mixture until incorporated.

Place prepared pie crust into a pie dish. Sprinkle in pecans evenly around the bottom of the dish. Pour the brown sugar mixture over the pecans. Move pecans around if any spots look empty.

Place aluminum foil over the pie and bake for 40 minutes. Remove the foil and bake another 20 minutes. Watch the pie the last 10 minutes to ensure that the edges and top doesn't burn.

Let sit for an hour to harden. Serve and enjoy!