Serve up big slices of this creamy and rich Pumpkin Dump Cake with a crunchy brown sugar and walnut topping for dessert this fall.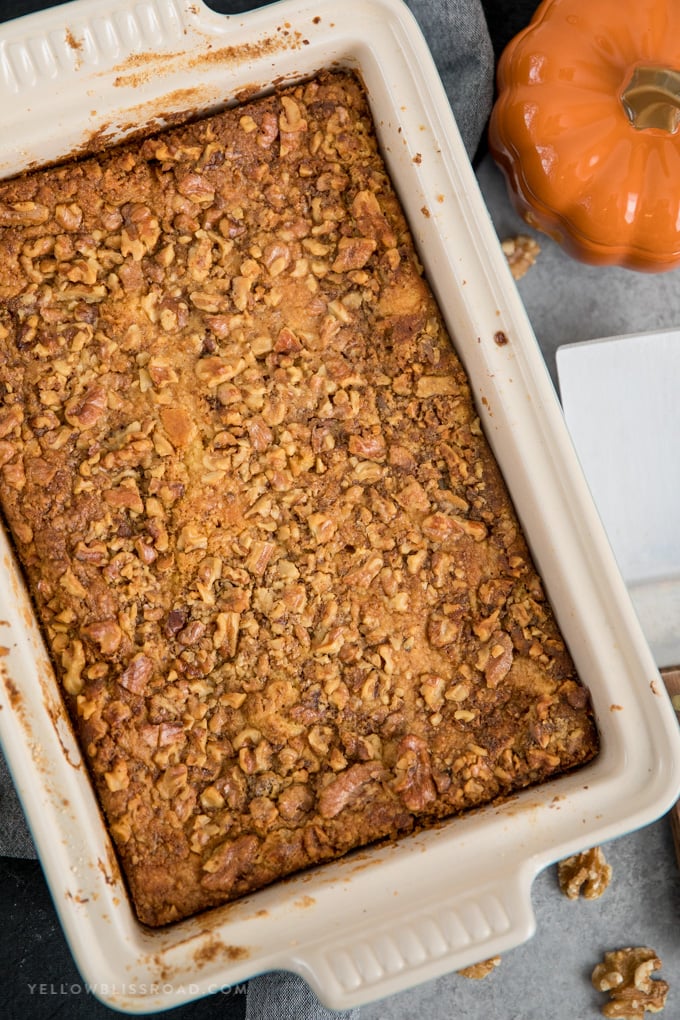 Pumpkin Pie is the traditional favorite dessert for fall, but it can be a bear to make.
Enter this super easy and delicious Pumpkin Dump Cake!
Fall is the season when desserts are king, at least in my book. I love a good pumpkin dessert, apple dessert or anything with cinnamon. Those flavors just scream fall and are the first flavors I gravitate towards when I'm in need of a little comfort food during those months when the weather starts getting cooler and the days shorter. I always gravitate towards easy desserts, so this Pumpkin Dump Cake is perfect.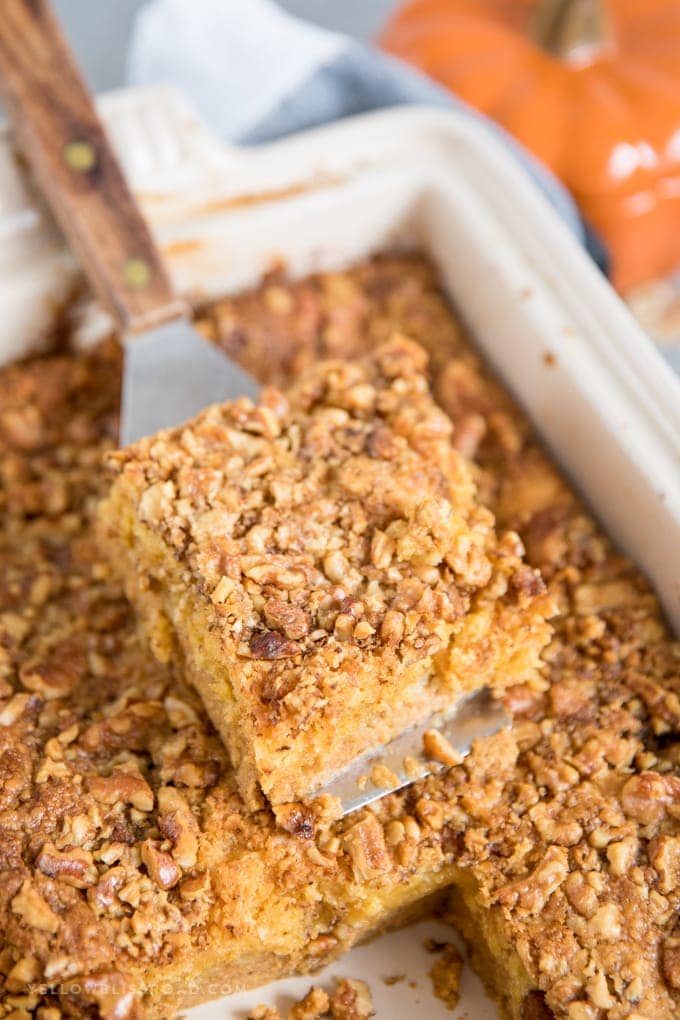 What's a dump cake?
A dump cake is made with a fruit filling (pumpkin, apple, cherry, etc.) and dry cake mix with melted butter on top. The fruit filling is spread on the bottom, the dry cake mix sprinkled on top, then melted butter poured over it. As it bakes, the liquid in the pie filling cooks the cake. You're basically just dumping in the filling, then the cake mix, hence the term "dump" cake! By extension, any simple cake made with just one bowl or pan could be termed a dump cake.
How to make Pumpkin Dump Cake
The base for my Pumpkin Dump Cake is a semi-homemade pumpkin pie filling made with canned pumpkin, evaporated milk, sugar and eggs. A bit of pumpkin pie spice really rounds out the fall flavor. This mixture is spread on the bottom of a large baking dish. Sprinkle a whole box of yellow cake mix on top. You could also swap out white or even a spice cake mix if you like. Pour melted butter as evenly as possible over the top of the cake mix.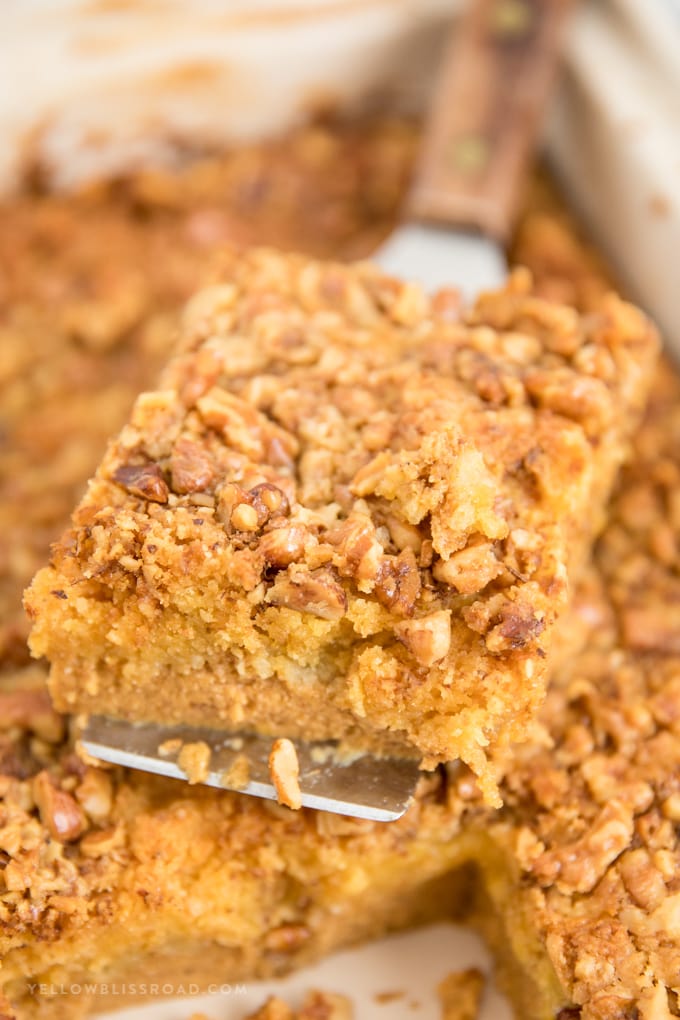 The pumpkin pie filling will rise and the cake mix will melt into it as it all bakes together, creating an ooey-gooey cake that is absolutely irresistible. Do like me and top the unbaked cake with walnuts and brown sugar to really put it over the top.
For more pumpkin recipes, try these: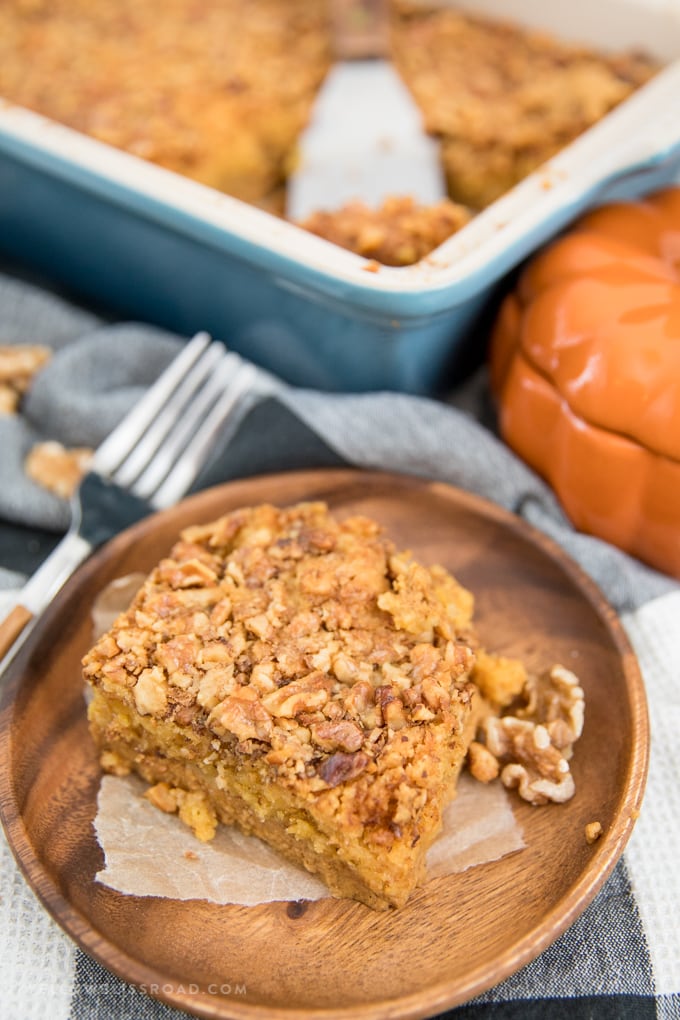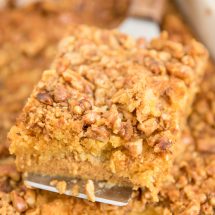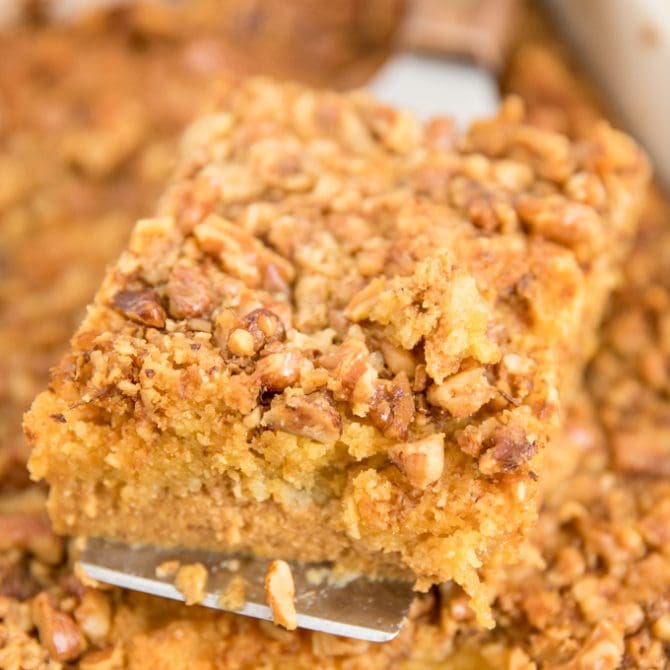 Pumpkin Dump Cake
Serve up big slices of this creamy and rich Pumpkin Dump Cake with a crunchy brown sugar and walnut topping for dessert this fall.  
Print
Pin
Rate
Ingredients
1 15- ounce large can pumpkin puree not pie filling
1 can evaporated milk
3/4 cup granulated sugar
1/4 cup brown sugar
3 eggs
3 teaspoons pumpkin pie spice
1 box yellow cake mix
1 cup melted butter
1 cup chopped walnuts and/or pecans
1/4 cup brown sugar for sprinkling on the top
Instructions
Preheat oven to 350 degrees F. Grease a 9X13-inch pan with nonstick cooking spray and set aside.

In a large mixing bowl, combine pumpkin, evaporated milk, eggs, sugars, pumpkin pie spice. Pour into the prepared baking dish and spread evenly.

Sprinkle dry yellow cake mix evenly over pumpkin mixture.

Sprinkle chopped nuts over the cake mix.

Drizzle melted butter evenly over everything.

Bake at 350 degrees for 50-60 minutes or until top is golden brown. Cool completely, then cut into squares and served.

This pumpkin dump cake is delicious topped with vanilla ice cream or whipped cream!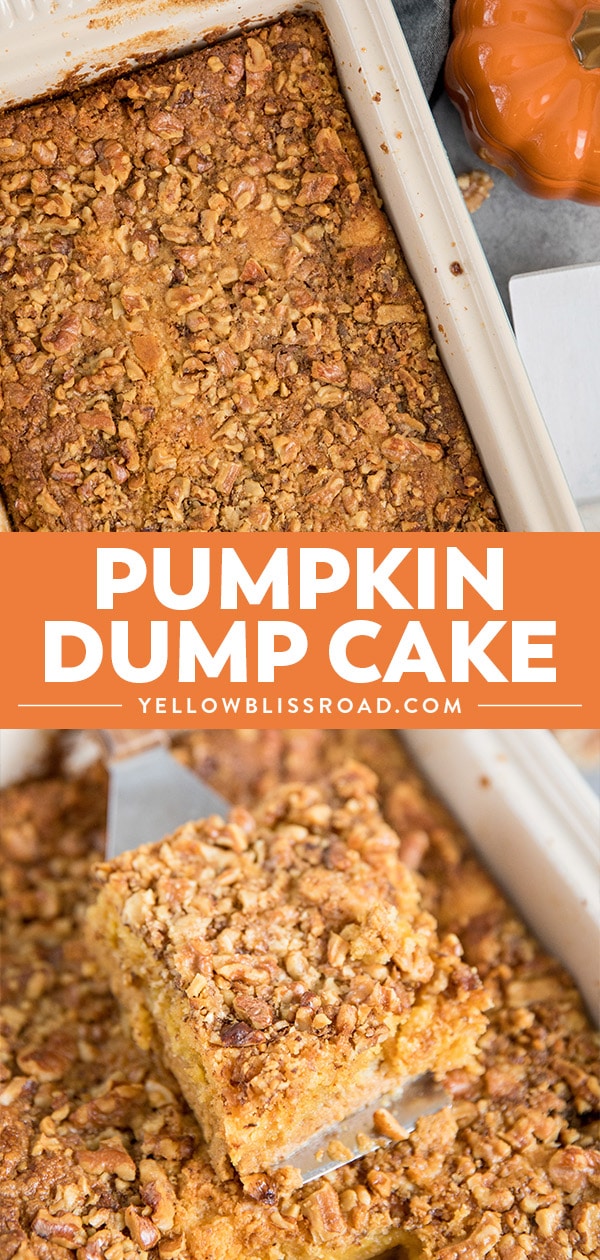 Hi! I'm Kristin, the creative mind behind Yellow Bliss Road where you will be inspired by tons of easy to follow recipes, lots of free printables, and a little sprinkling of life thrown in for good measure.