Pumpkin, Corn and Potato Chowder
This Pumpkin, Corn and Potato Chowder is the perfect cold weather comfort food. Full of rich, earthy fall flavors, it's a surprising delicious and hearty bowl of soup that you can't get enough of.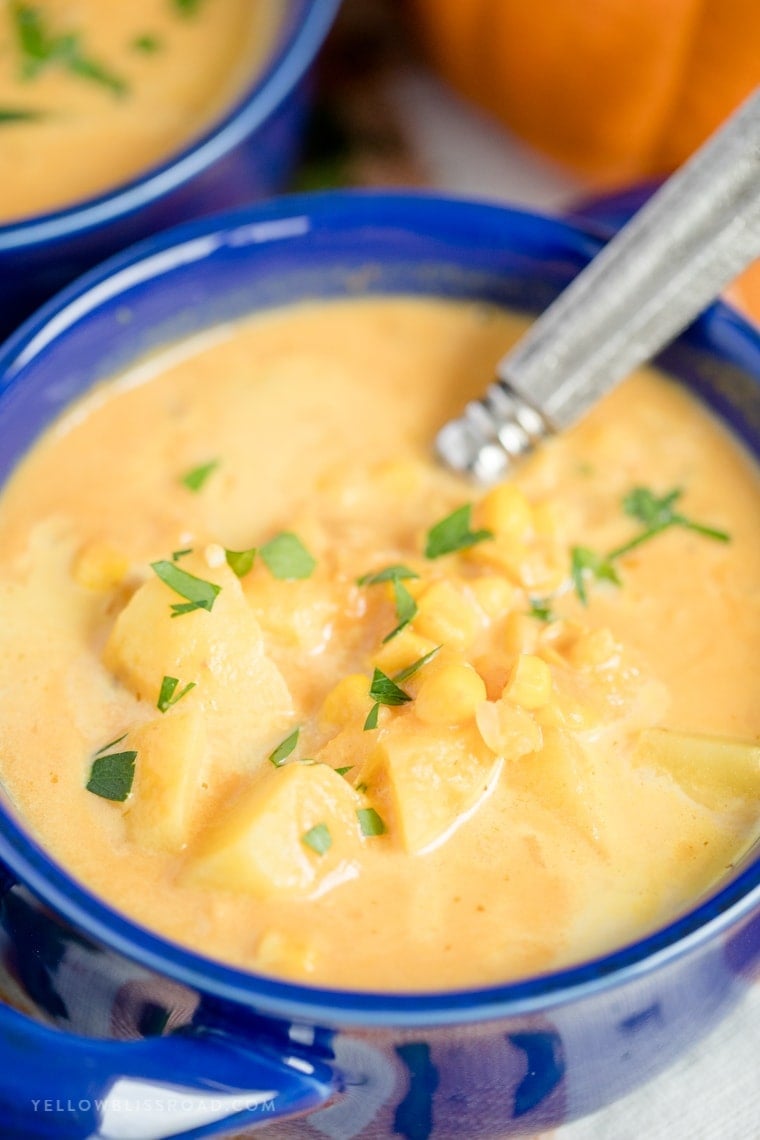 We are full-on into soup season no matter where you are in the US. Even here in Southern California we are enjoying the cooler evenings with a hearty bowl of homemade soup at least once a week. My new favorite is this amazing Pumpkin Corn & Potato Chowder. It's rich and creamy and literally tastes like fall. The pumpkin is super rich and earthy and is a perfect match with the tender potatoes and sweet corn.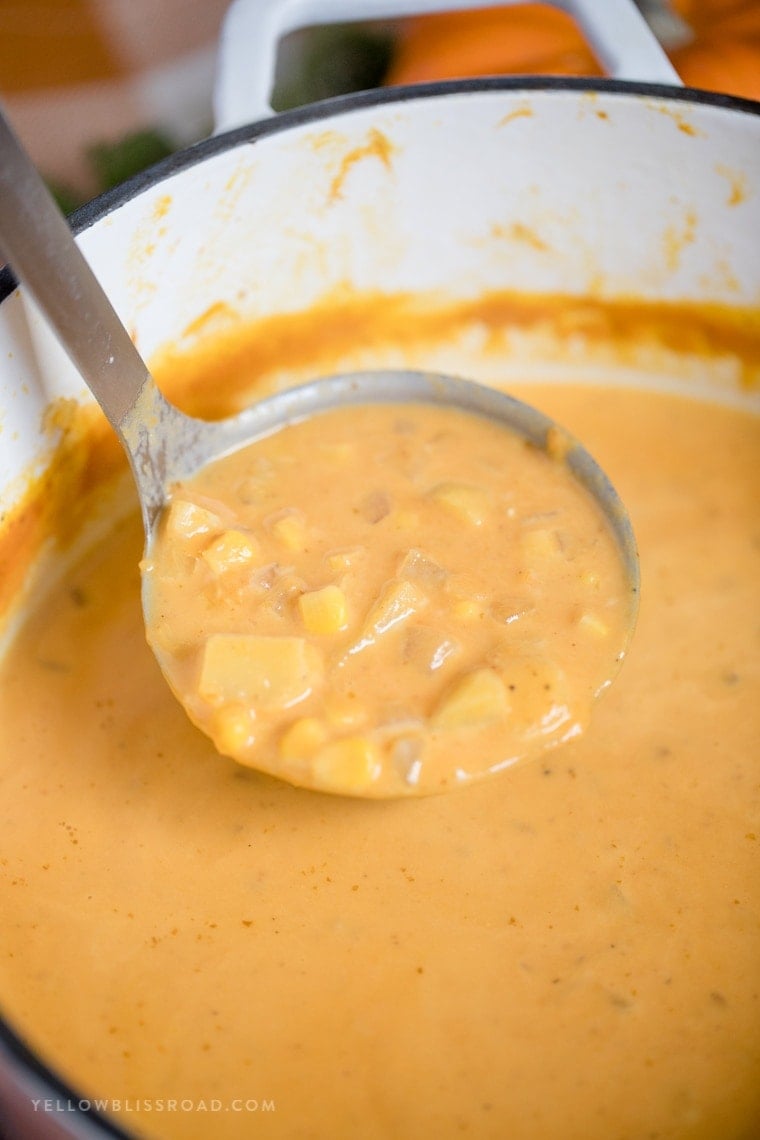 If you're looking for a healthier chowder recipe, this is it. While traditional chowders are thickened with lots of flour and heavy cream, this Pumpkin Corn Potato Chowder is naturally thickened with starchy potatoes and pureed pumpkin. I wanted a slightly creamier flavor and texture so I added just a half of a cup of heavy cream but you could save those calories and serve it without if you like.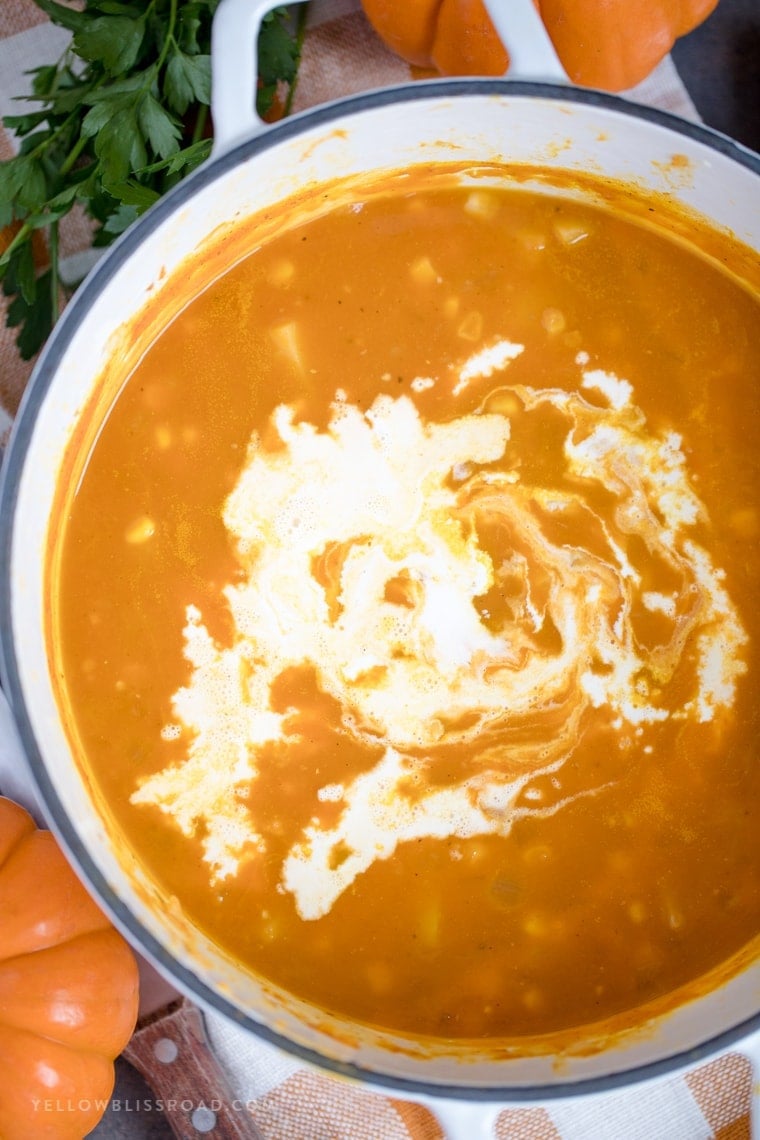 I recently spent a few days in the corn fields of Iowa on an amazing trip sponsored by Iowa Corn. There we met farmers and their families who are living their dream of farming every single day. I learned a ton on this trip! Corn isn't just a side dish to serve at your dinner table – it feeds pigs and cattle and fuels cars, too! It's also used as a starch or thickener, for oils and sweeteners and in many foods that we eat every day. When I thought of corn fields I thought of the corn that I picked up at the grocery store and grilled up on my barbecue or turned into my yummy Cheesy Hot Corn Dip. I never realized how many uses there really are. I also learned a few interesting things about corn and GMOs.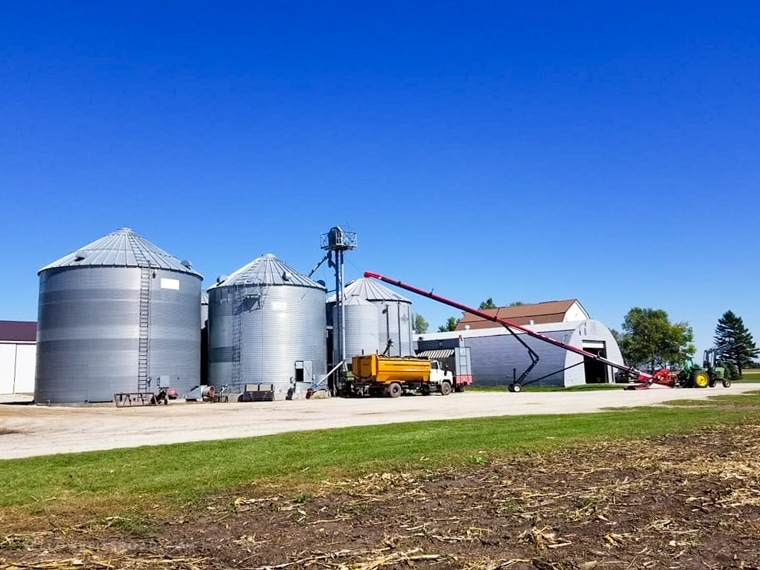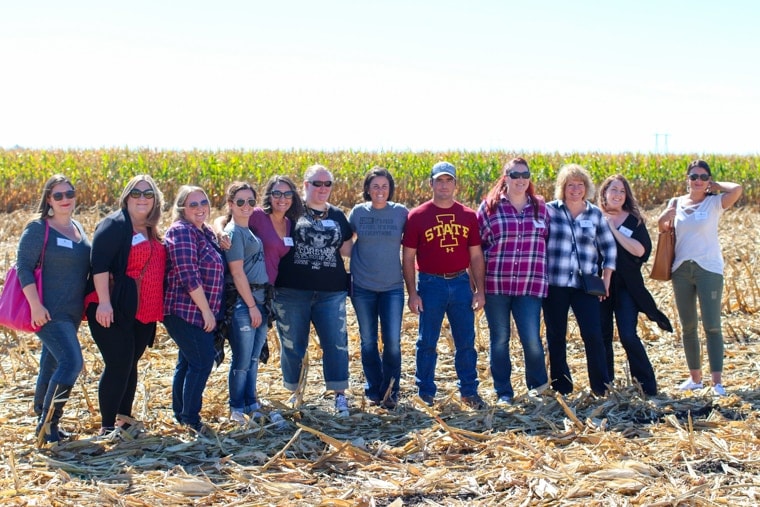 You may have heard the term GMO or seen it on packages at your grocery store. But do you know what it means in terms of corn production? Farming has changed dramatically over the years, including the way they keep bugs off their precious golden stalks of corn. GMO stands for genetically modified organism and refers to a crop that has been changed to improve it's ability to survive, using scientists understanding of corn's DNA. The technique of genetic modification can also be referred to as genetic engineering. When it comes to genetically modified corn, there are different types. One example being corn that has been modified to include a protein that is toxic to certain insects which ravage farmers' fields. Because scientists understand the genetic differences between plants, animals and humans, they have pinpointed a protein that is poisonous for the insect that damages crops – but that same protein has no effect on other insects, humans or animals that eat it. The presence of this protein means farmers don't have to use a pesticide to battle that bug, because the plant can fend off that bug already.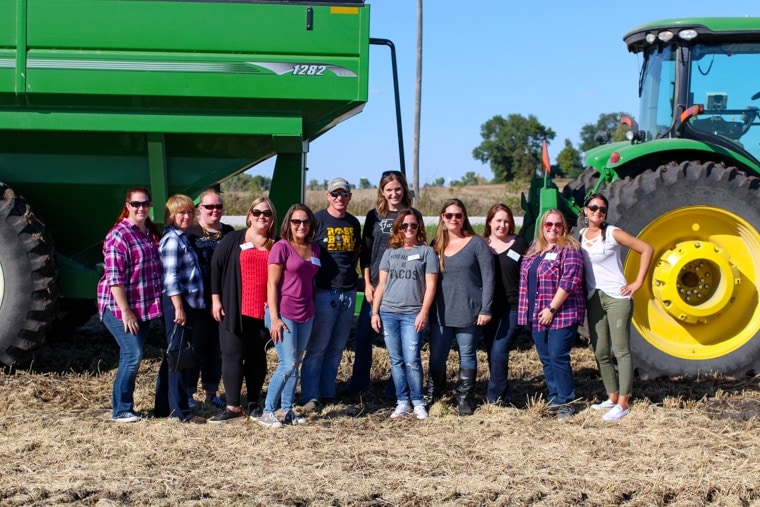 Besides just being a beautiful part of the country and a leader in corn production, Iowa is home to several distilleries! We were treated to an incredible meal and some delicious cocktails at the Iowa Distilling Company. If you're ever near Des Moines, you have got to pay a trip to this adorable little place. So cute!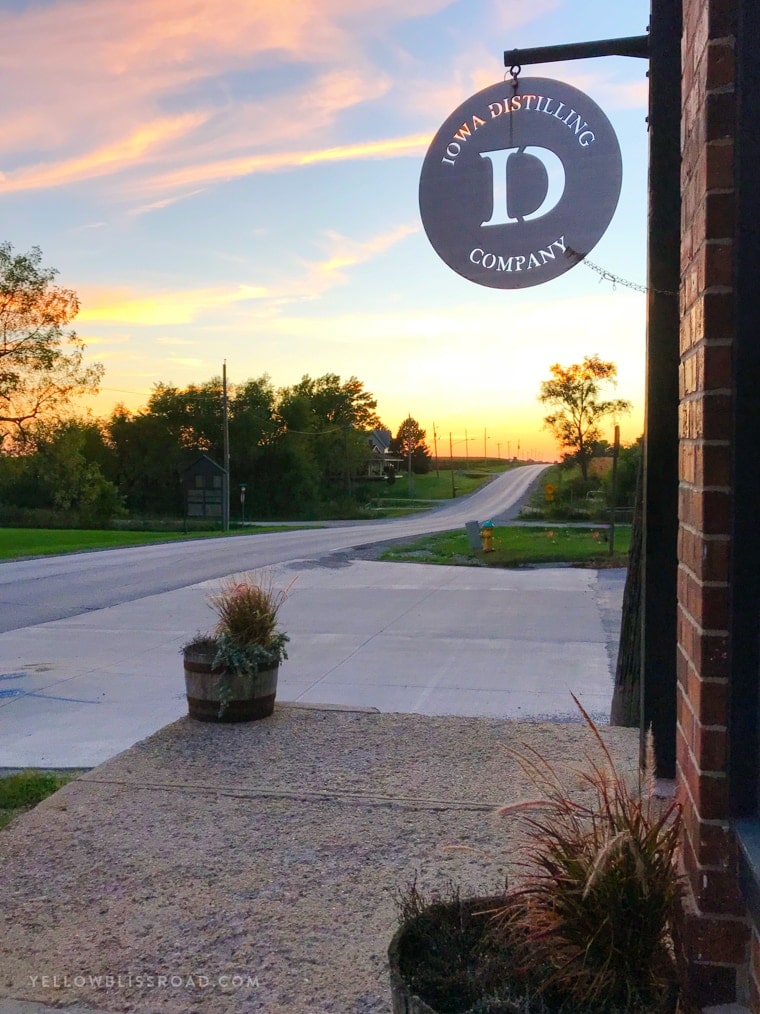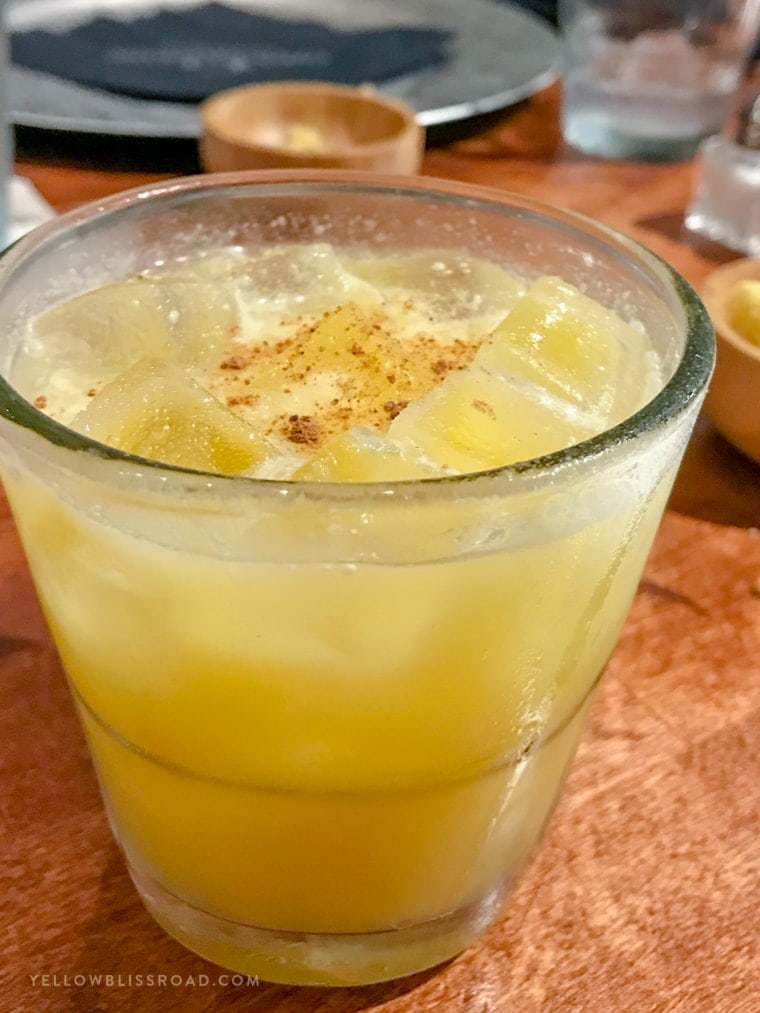 I think if there is one idea that I came away with on this trip it's that you are responsible for doing the research to decide what is best for your family. But that requires doing the research! Don't just take my word for it, or your friend's post on facebook. Do the research, read articles about food production, GMOs and more from reputable publications like universities and hospitals who can provide data to back up their food science research.
Here are a few resources to get you started:
Oh, and enjoy this Pumpkin, Corn and Potato Chowder. It's pretty darn amazing.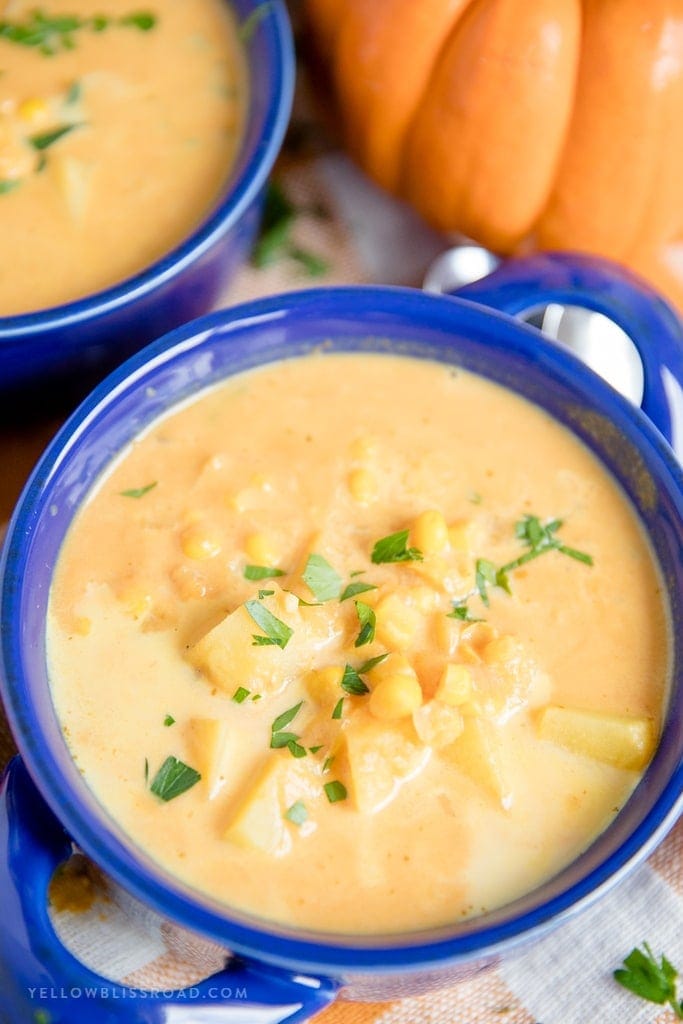 Pumpkin, Corn and Potato Chowder Recipe
If you've made this recipe, please come back and leave us a star rating or a comment below. Or, tag us on social media @yellowblissroad or #yellowblissroad for a chance to be featured.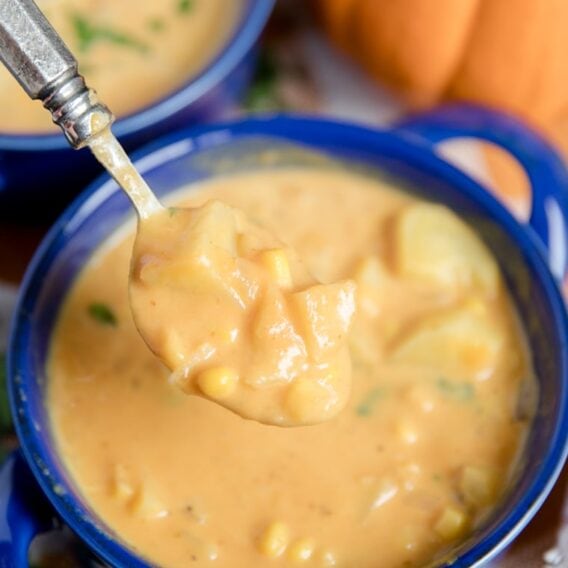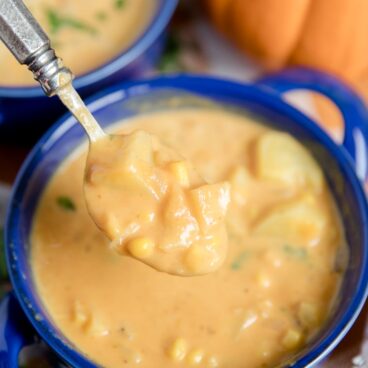 Pumpkin Corn & Potato Chowder
Ingredients
2

tablespoons

butter or olive oil

1

small white onion

diced

1

clove

garlic

minced

Black pepper

Pinch

of nutmeg

3

cups

vegetable or chicken broth

4

large Yukon gold potatoes

peeled and diced into ½-inch cubes (2-3 cups)

2 15-

ounce

cans sweet corn

drained

1 15-

ounce

can pumpkin purée

½

cup

heavy whipping cream

Kosher salt

Fresh chopped parsley

optional
Instructions
In a large soup pot, melt butter or olive oil over medium heat. Add onions and cook, stirring often, until tender; 3-4 minutes. Stir in garlic, nutmeg and a pinch of pepper and stir/cook for about one minute.

Add broth, potatoes, corn and pumpkin purée and bring to a boil. Season with salt to taste (start with ½ teaspoon or less, then add more at the end as needed). Cover; reduce heat to low and simmer for 20 minutes or until potatoes are tender. If desired, mash the potatoes slightly.

Remove from heat and stir in heavy cream. Taste and add salt and pepper as desired.

Ladle into bowls and garnish with fresh chopped parsley.
Want to know what our favorite corn recipe is? This one: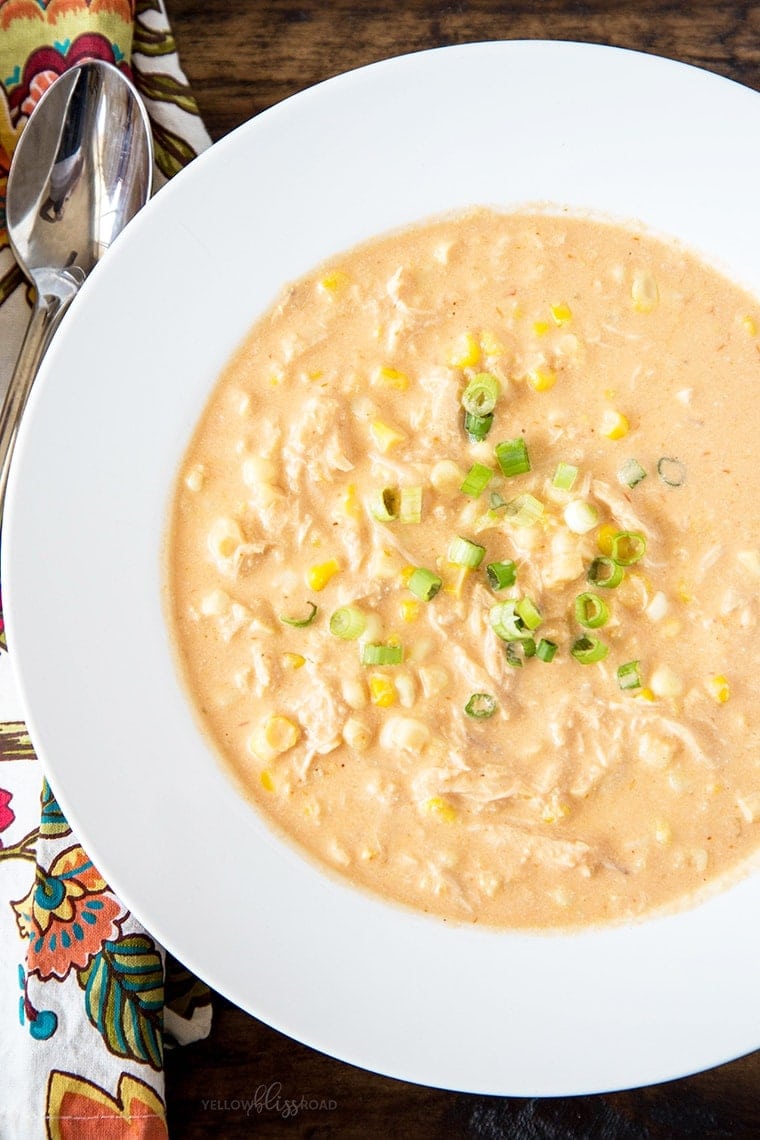 But we like these delicious corn recipes too:
Thanks co much to Iowa Corn for inviting us and sponsoring this amazing trip! I truly learned so much more than I expected about corn production, American farming and where our food comes from. For more information visit Iowa Corn.