Disney does a lot of things well, and food is one of them. If you're looking for must-try foods at Disneyland, then you've come to the right place. Here are 10 of our family's favorites Disneyland treats!
Let's face it, your trip to Disneyland is not just based on the attractions. It's also about the food! You can usually sneak your own food into the parks, but if you're looking for a few items that are worth the splurge, here are our favorites!

Top Ten Must-Try Foods at the Disneyland Resort
Churro – This sugary treat is a must-have for my kids (and grown-ups) each time we visit the parks. These are best enjoyed early in the morning, when you really need the sugar rush.
Dole Whip – Only available at the Tiki Juice Bar outside of the Tiki Room. The line can get really long outside the Tiki Room attraction, so step in through the turnstile and purchase your Dole Whip there where the line is almost always shorter. Then stay for the show – you can take your food in with you!
Corn Dogs – at Little Red Wagon on Main Street (Disneyland) or Corn Dog Castle at DCA. This seems to be a favorite of so many, so I had to add it to the list. However, these babies are HUGE! They are listed on the menu as being served with chips, but you can request them a la carte.
Fried Chicken – at the Plaza Inn. Some of the best fried chicken we've ever tasted, and there's enough to share (or not). Served with yummy mashed potatoes and green beans, or can be purchased a la carte.
Turkey Leg – bring out your inner cave man with a giant smoked turkey leg. Available at various locations in the parks.
Gibson Girl Sundae – An iconic staple on Main Street in Disneyland, Gibson Girl featured some of the best (and biggest) ice cream sundaes around. The Strawberry Street Car Sundae is my personal favorite!
Mickey Ice Cream Bar – No Disney vacation is complete until you have enjoyed this frozen treat. Or how about just a Mickey shaped anything?
Bacon Wrapped Asparagus – Stop by the Bengal Barbecue, located across from the Jungle Cruise. You won't regret it! Meat and veggies on sticks – doesn't get much more primal than that.
Clam Chowder – Served in a bread bowl at The Harbor Galley and the The Royal Street Veranda in New Orlean's Square (Disneyland) and at Pacific Wharf Cafe (DCA). This is my personal favorite lunch. Creamy chowder and soft, chewy sourdough bread = perfection!
Character Dining Experience – while not specifically based on the food, everyone should experience character dining at least once. Our favorite's are at Ariel's Grotto (DCA), The Plaza Inn (Disneyland) and Goofy's Kitchen (Disneyland Hotel). It's a great chance for your kids to get up close and personal with their favorite characters and spend a little one on one time with them.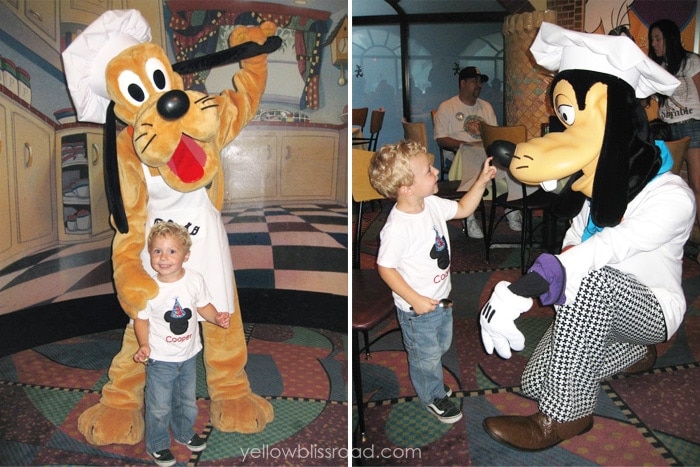 We are a family of Disney fanatics. We have annual passes and visit often. Over the years we have learned some tips and tricks about the parks, and definitely have our favorite must-see, must-do and must-eat places and attractions for each visit.