With this creamy, sweet No Churn Birthday Bake Ice Cream, you can have your cake, and your ice cream too!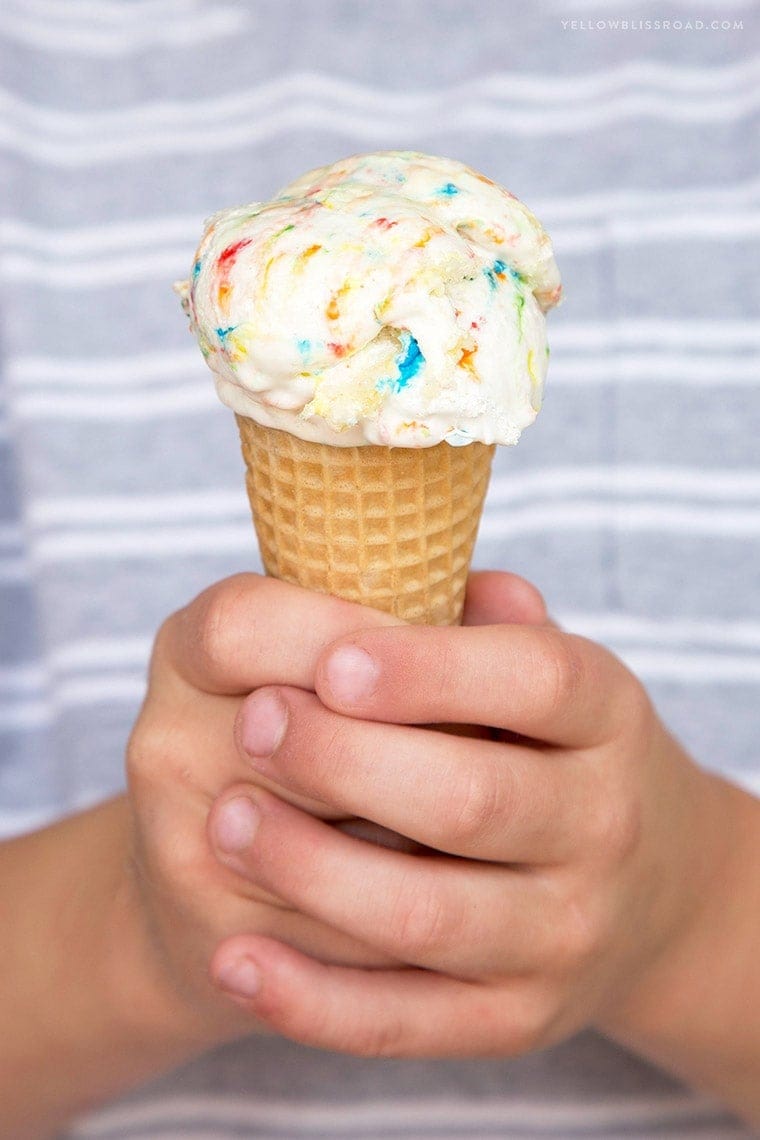 Not only am I sharing this super easy recipe, but today we are celebrating May babies!! My birthday is next week and I invited some other May babies to join me in a fun giveaway.
Be sure to scroll down past the recipe for the giveaway entry so you can throw your hat in the ring to win this huge $500 cash prize!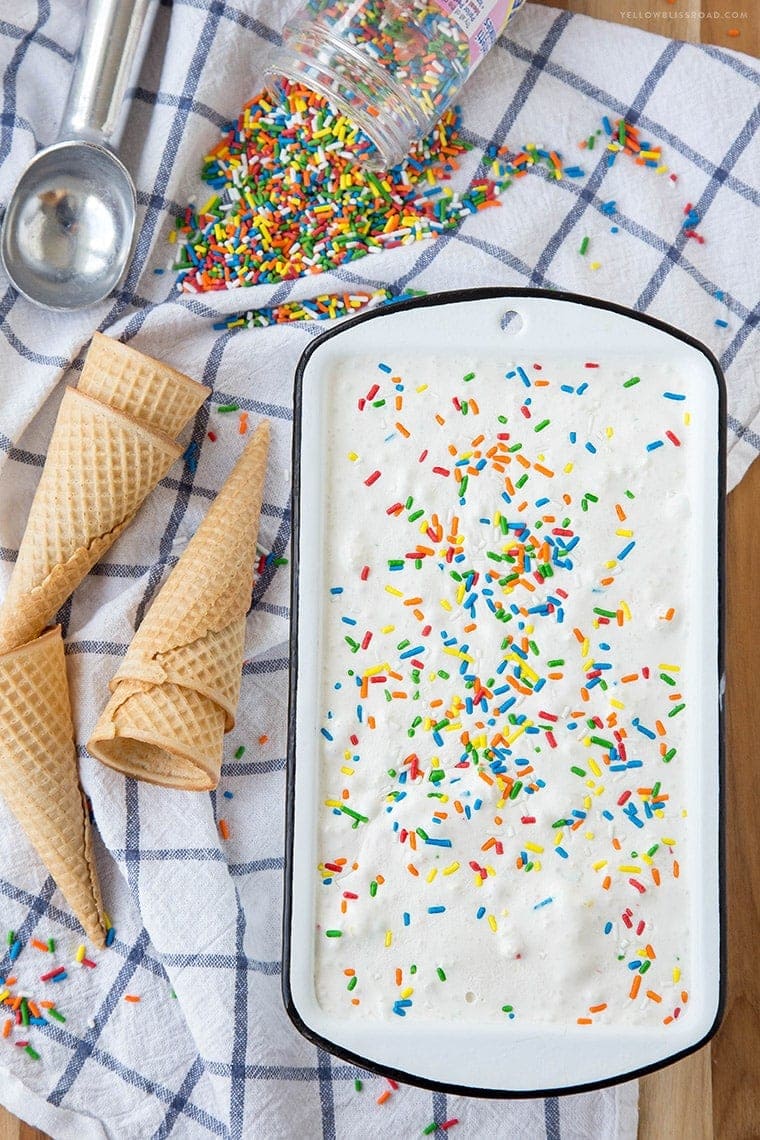 In honor of May being my birthday month, I thought I'd share a fun birthday recipe idea with you! I made this no churn ice cream in anticipation for my birthday week and it's so yummy!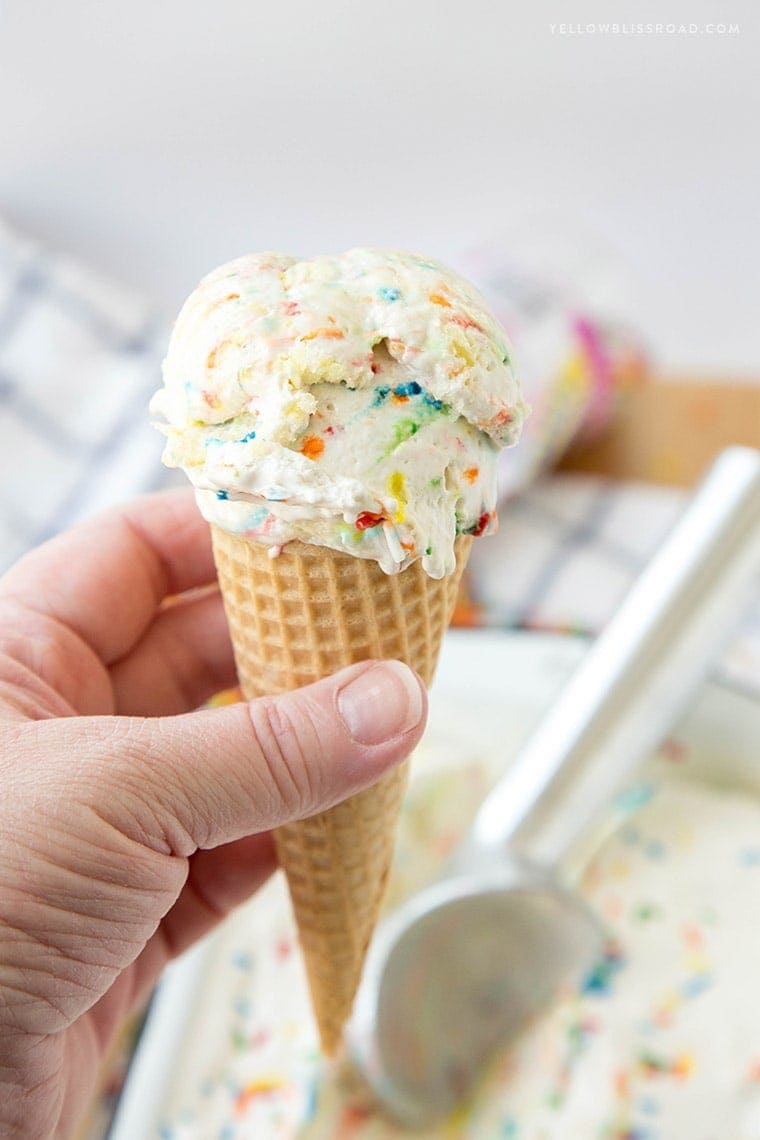 No churn ice cream is super simple -just swirl a few ingredients together in a bowl and freeze. No special equipment needed! The base is whipped cream and sweetened condensed milk, or you can use a non-dairy whipped topping like I did here. I've made it both ways, and either way it's incredibly creamy and delicious.
I was thinking up birthday bake ideas while grocery shopping the other day, but I wasn't in a real "let's eat cake" kind of mood. I always peek at the discounted bakery shelf and today there was a package of mini cupcakes marked at just 50 cents. That was just the inspiration I needed! It jumped in my cart along with the other few ingredients.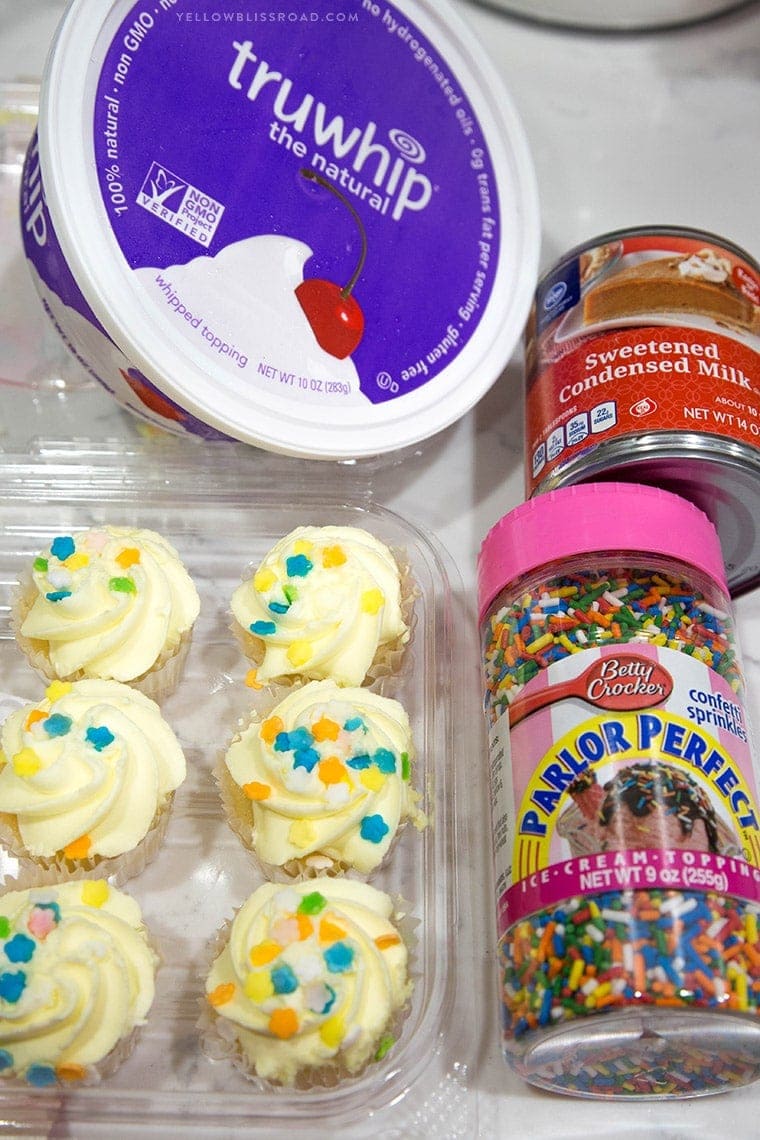 Since it's my birthday, I pretty much get to make whatever dessert I want. I'm kind of in love with this whole no church ice cream thing so it was a no-brainer. I mixed the softened Tru Whip (I prefer this brand to Cool Whip) with the sweetened condensed milk and them chopped up the cupcakes (I removed the sprinkles and part of the frosting – but not all of it) and stirred them in plus a bunch of sprinkles.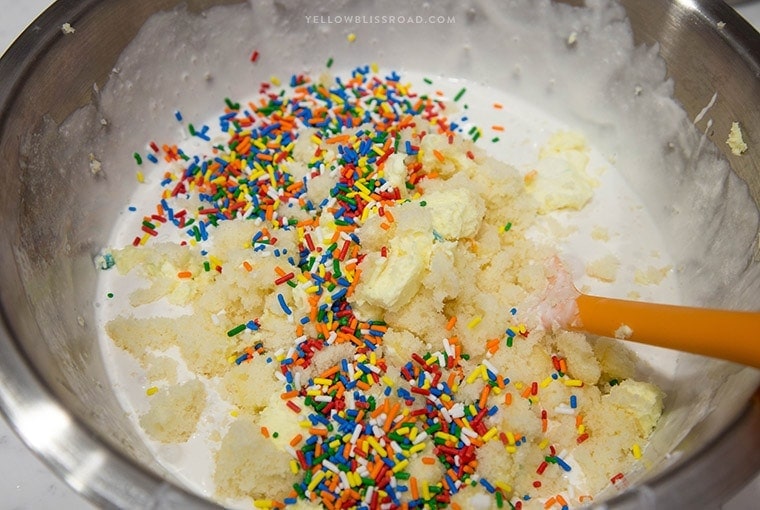 The ice cream really needs to sit at least 4-5 hours in order to set completely and reach optimum deliciousness. It doesn't take long to soften so you can practically serve it right out of the freezer.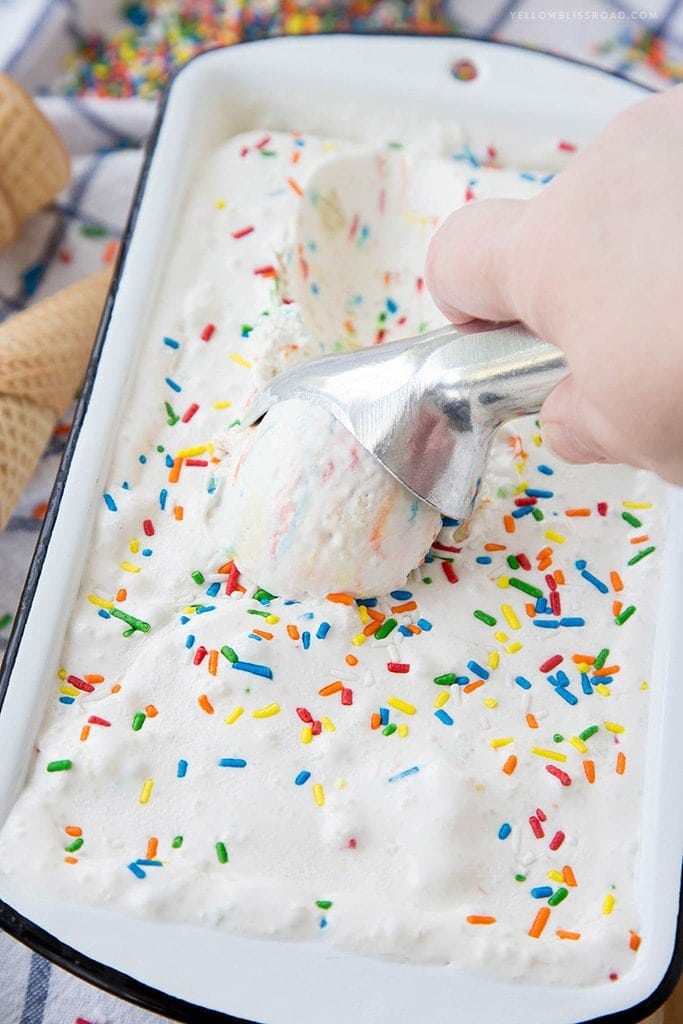 You are going to love this No Churn Birthday Cake Ice Cream – it takes just like a  birthday cake! I used yellow cake, but you could use chocolate cake, white cake, or even red velvet! It's the perfect birthday dessert that you don't have to bake.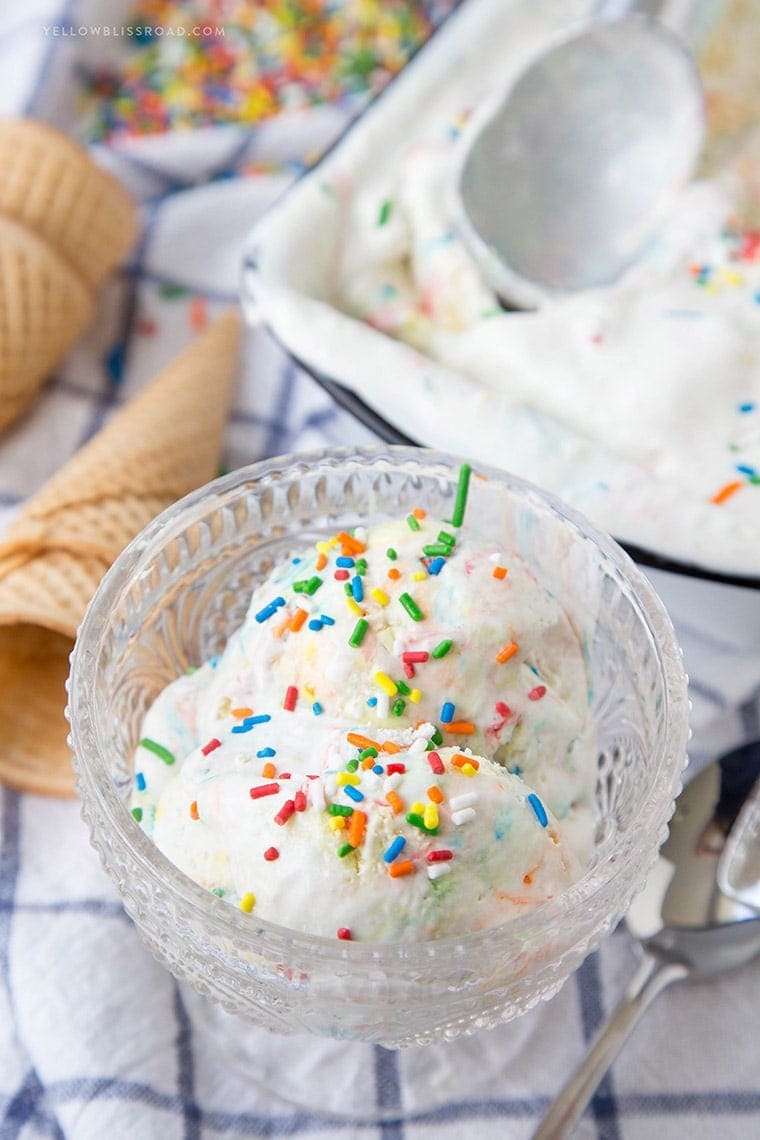 We are all sharing some fun birthday crafts, recipes, printables and ideas today, so be sure to visit everyone to see what they are sharing. And don't forget to wish them all a HAPPY BIRTHDAY!
Kristin from Yellow Bliss Road
Kelly from Live Laugh Rowe
Erin from Delightful E Made
Sara from Mom Endeavors
Desiree from The 36th Avenue
Kara from Creations by Kara
Liz from Liz on Call
Alexis from Persia Lou
Mandy from Mandy's Recipe Box
Destiny from Just Destiny Mag
And finally, don't leave before you enter to win $500 CASH!!! I wish I was eligible – I'd buy myself a new Kitchen Aid Mixer in this color or maybe some new sunglasses! What would you buy?
a Rafflecopter giveaway

(this post contains affiliate links)
No Churn Birthday Cake Ice Cream and a Giveaway!!
Yield 6 -8 servings
Ingredients
1 14-ounce can sweetened condensed milk
2 10-ounce containers non-dairy whipped topping (I use Tru-Whip), defrosted
1/4 cup sprinkles of jimmies, plus extra for topping (if desired)
12 mini cupcakes, with or without frosting
Pinch of salt
Instructions
In a large bowl (preferably a chilled metal bowl), fold together the whipped topping and the sweetened condensed milk.
Gently crumble or rough chop the cupcakes and stir them and the sprinkles into the creamy mixture.
Immediately pour into a 8-9" loaf pan. Top with additional sprinkles, if desired, and cover with foil. Freeze for 4-5 hours, or overnight.
When ready to serve, remove from the freezer, scoop, and serve immediately.
For more dessert recipes go HERE and for the recipe index go HERE.