Hello and welcome to a pretty spectacular event ~ The Ultimate Holiday Gift Guide is HERE!! Twenty-three bloggers have put together lists of their favorite gifts to help make your holiday shopping easy this year, with gift ideas for everyone from moms and dads, to kids of all ages, to DIYers, to my favorite – Gifts for Bakers. And as a special bonus, each gift guide will end with a GIVEAWAY that will include items from the gift list. There are thousands of dollars worth of prizes up for grabs, so be sure to visit everyone! See, I told you it was pretty spectacular!!
So who's joining in on this shindig?
Gifts for the Baker | Stocking Stuffers | Gifts for Jewelry/Bling Lovers | Gifts for the Cook | Gifts for Little Girls (Ages 0-6) | Gifts for the Little Artist | Gifts for Ladies | Gifts for Little Boys (Ages 0-6) | Gifts for Big Boys (Ages 7-12) |Gifts for Big Girls (Ages 7-12) | Gifts for Teen Girls | Gifts for The Decorator | Gifts for the DIYer | Gifts for the Foodie | Gifts for Men | Gifts for the Host/Hostess | Makeup/Beauty Gifts | Gifts for the Entertainer | Gifts for the Aspiring Photographer | Gifts for the Crafter | Non-Clutter Gifts | Gifts for the Blogger | Health/Wellness Gifts
Let's get this party started, shall we? Up first is my gift guide – my favorite gifts for people who love to bake!
Do you have a friend who loves to bake? Are you a baker who isn't sure what to ask for? I've got plenty of ideas that are guaranteed to please amateur and professional bakers alike.
Here's how this will work – As you scroll down the page, you will see a graphic with some images in it. Below the graphic are links to where you can purchase the item or get more information. Easy enough? Let's get started!
*this post contains affiliate links.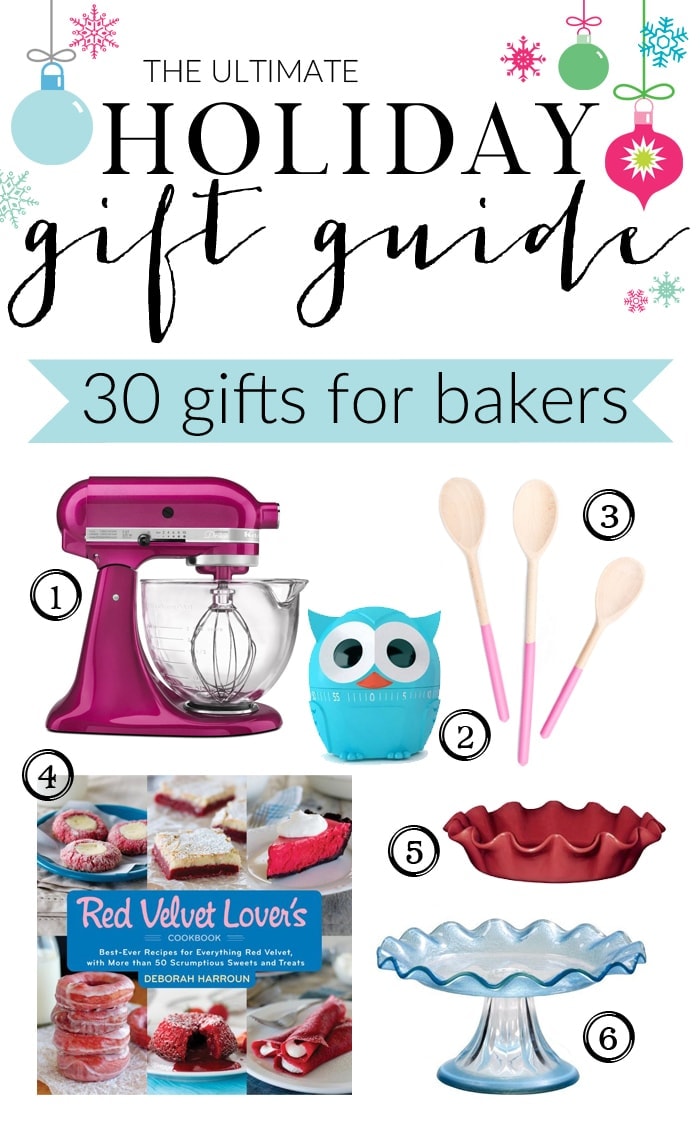 KitchenAid Mixer
Kitchen Timer
Dipped Wooden Spoons
COOKBOOKS, like these:
The Red Velvet Lover's Cookbook
 by Deborah Harroun of Taste and Tell (shown)
Surprise-Inside Cakes by Amanda Rettke of  I Am Baker
The Biscoff Cookie and Spread Cookbook by Katrina Bahl of In Katrina's Kitchen
A pretty Baking Dish
Cake Stand
Kitchen Printable Art
Flour Sack Towels
Personalized Baking Tags
Baking Salts
Metal Whisks
Gingerbread Pan
Measuring Cups
Mixing Bowls
Hand Mixer
Decorating Tip Set
Cupcake Spatula
Vanilla Sugar
Bundt Pan or other classic bakeware
Silicone Spatulas
Baker's Necklace/Charms
Apron
Cookie Press
Digital Measuring Cup
Silicone Pastry Brushes
Adjustable Rolling Pin
Silicone Baking Cups
Cookie Cutters
Food Processor
Silpat Silicone Baking Mat
I would personally love to have any of these gifts waiting for me under the tree! (hint, hint!)
Looking for more unique gift ideas? Be sure to check out the other 22 Holiday Gift Guides!
And here's that fabulous giveaway I promised!
1) $25 Amazon Gift Card *Special thanks to the brands below for providing the following giveaway items: 2) OXO Baking Supplies ($105) 7 Piece Measuring Beaker Set | 6 Piece Measuring Cup Set | Baker's Dusting Wand | Cookie Press | Autumn Cookie Disk Set | Mixing Bowl Set 3) Three cookbooks: The Red Velvet Lover's Cookbook
 by Deborah Harroun ($13) Surprise-Inside Cakes
 by Amanda Rettke ($19) The Biscoff Cookie and Spread Cookbook by Katrina Bahl ($12) 4) Your choice of three tea towels from Modern Vintage Market ($24)
**THE GIVEAWAY HAS ENDED. CONGRATS TO THE WINNER!**
Hi! I'm Kristin, the creative mind behind Yellow Bliss Road where you will be inspired by tons of easy to follow recipes, lots of free printables, and a little sprinkling of life thrown in for good measure.