50+ Summer Activities for Kids
This is part one of two posts offering TONS of great ideas to keep your kids entertained during summer vacation! It's a huge list of kid friendly summer activities, most of which are FREE! Keep your kids occupied and entertained this summer with just a little planning.
Here is a list of 50 MORE ideas for summer fun with your kids!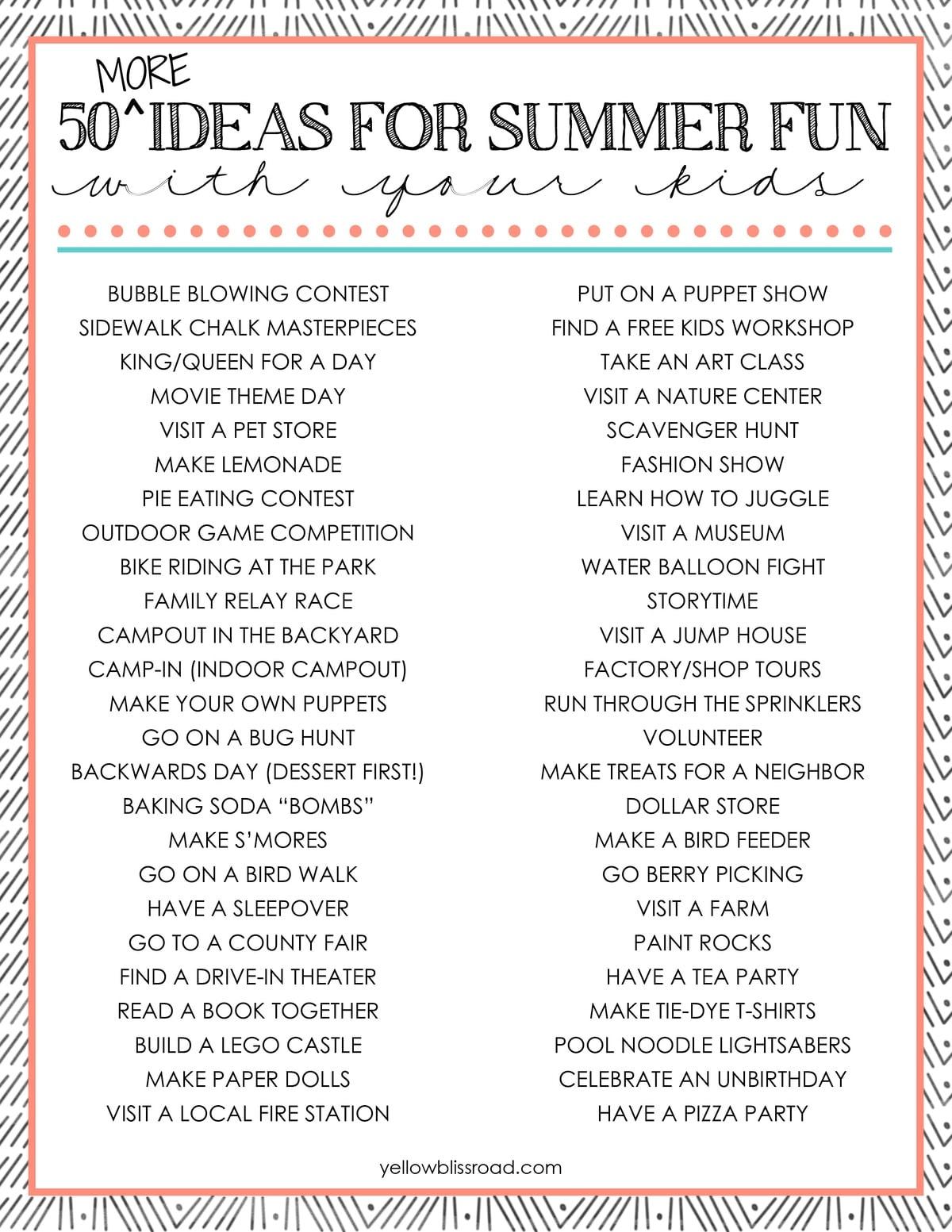 The above graphic is also a free printable. Print this list out by clicking on the image, then right click and save to your computer.
BUBBLE BLOWING CONTEST – Get some bubbles at the dollar store, or make your own bubbles.
SIDEWALK CHALK MASTERPIECES – Draw some frames out on the ground, and let your kids go to town creating some fabulous artwork. Be sure to take pictures!
KING/QUEEN FOR A DAY – Let each of your kids be in charge for a day. They pick the food you eat, the games you play, the shows you watch, etc. If you're really brave you can even let them pick out your clothes!
MOVIE THEME DAY – Dress/talk/act like your favorite movie character, and plan the day around your favorite movies.
VISIT A PET STORE
PIE EATING CONTEST
OUTDOOR GAME COMPETITION – Plan one for your family or consider including friends.
BIKE RIDING AT THE PARK
FAMILY RELAY RACE
CAMPOUT IN THE BACKYARD
CAMP-IN (INDOOR CAMPOUT) – Get out the sleeping bags and blankets and have a campout on the living room floor!
MAKE YOUR OWN PUPPETS
GO ON A BUG HUNT
BACKWARDS DAY (DESSERT FIRST!)
MAKE S'MORES or try my S'Mores Brownies
GO ON A BIRD WALK – Make some binoculars out of toilet paper rolls and head out on a nature walk to see how many different types of birds you can spot.
HAVE A SLEEPOVER
GO TO A COUNTY FAIR – Check this website to find a county fair near you.
FIND A DRIVE-IN THEATER – find one here.
READ A BOOK TOGETHER – Find a great chapter book and read aloud to your kids each night before bed.
BUILD A LEGO CASTLE
MAKE PAPER DOLLS
VISIT A LOCAL FIRE STATION
PUT ON A PUPPET SHOW
FIND A FREE KIDS WORKSHOP – Lots of home stores and craft stores offer free workshops and events each month. Check with your local stores to see what's available.
TAKE AN ART CLASS
VISIT A NATURE CENTER – Find a nature center near you.
SCAVENGER HUNT – Use these free printables to get you started
FASHION SHOW
LEARN HOW TO JUGGLE
VISIT A MUSEUM – Bank of America card holders get free admission on the first Sunday of the month.
WATER BALLOON FIGHT
STORYTIME – Go to storytime at your local library or bookstore. Barnes & Noble offers bedtime stories, as does Pottery Barn Kids.
VISIT A JUMP HOUSE – This is a little more costly, but it's a great way to burn off some energy while mom sits in the air conditioning while kids play! Some stores offer discounts for larger groups or for certain times of the day/month.
FACTORY/SHOP TOURS – Check with local factories, stores or restaurants. Many offer tours of their facilities!
RUN THROUGH THE SPRINKLERS
VOLUNTEER – VolunteerMatch.org will help you find a place to volunteer with your kids.
MAKE TREATS FOR A NEIGHBOR
DOLLAR STORE – Give your kids each a dollar for good behavior or completing a chore and take them to the dollar store or the Target dollar spot and let them spend it on something silly.
MAKE A BIRD FEEDER – Here are 20 Unique Birdfeeders to try.
GO BERRY PICKING
VISIT A FARM
PAINT ROCKS
HAVE A TEA PARTY
MAKE TIE-DIE T-SHIRTS
POOL NOODLE LIGHTSABERS
CELEBRATE AN UNBIRTHDAY – Bake a cake, hang decorations and plan a special dinner for the unbirthday person!
HAVE A PIZZA PARTY
Whew, that was a lot! I'm pretty excited for summer now, and I hope you are too!
How do you keep your kids entertained over the summer? Do you have ideas that aren't on this list? Leave them in the comments – I'd love some more great suggestions. I'm working on a free printable blank list as well, so you can write your own and check off each activity as you complete it. Watch for that one next week!