Cheese and Sausage Stuffed Biscuits and Gravy
These stuffed biscuits are a new take on traditional biscuits and gravy. Tender, flaky biscuits are stuffed full of savory pork sausage and creamy, melty cheddar cheese then smothered in gravy. What more could you ask for in a breakfast?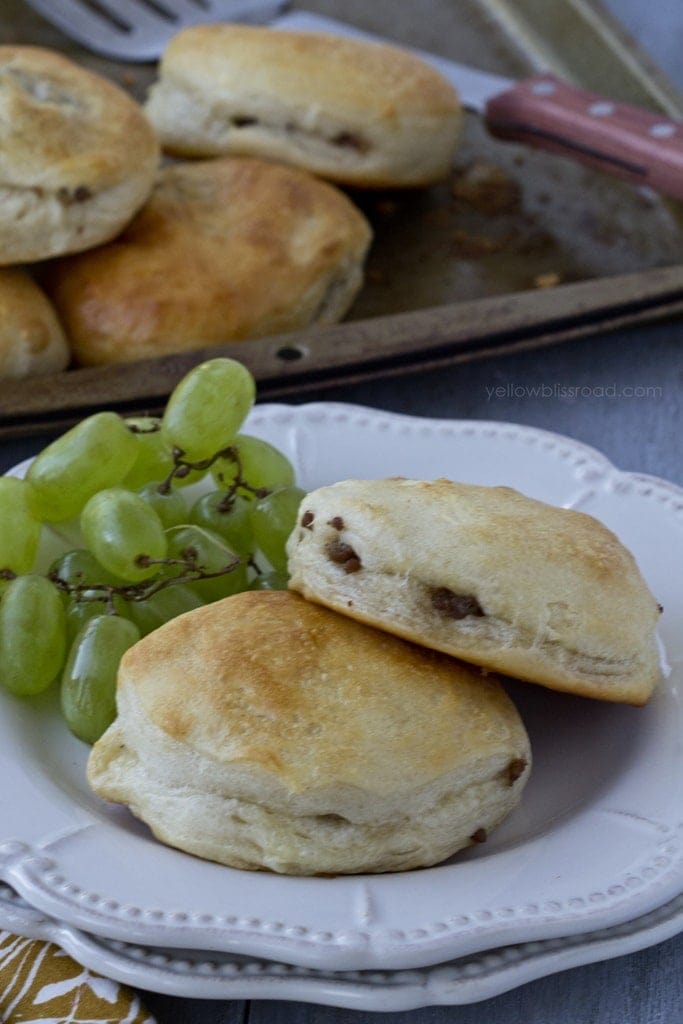 I needed to come up with a quick dinner the other day, but we were a little low on supplies. In fact, I had been putting off grocery shopping for, oh, maybe a week. Needless to say the cupboards were somewhat bare so I gave myself a little chopped style challenge to come up with a quick and easy meal using the country pork sausage in my fridge that had about a day left until it's expiration. This is what I came up with.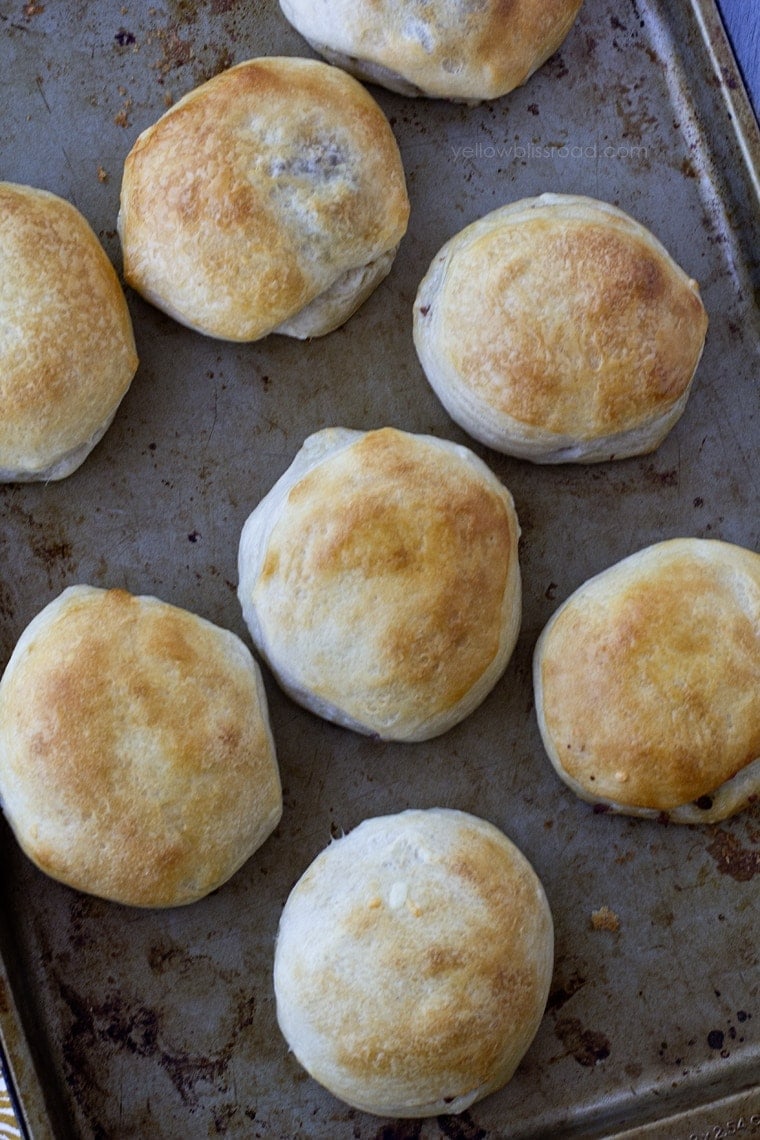 I grabbed the can of Grands Flaky Biscuits, some white cheddar cheese and the pork sausage. I cooked the sausage and grated the cheese then stuffed both inside each biscuit before baking them. While they baked I used the 10 minutes to whip up some quick sausage gravy in the pan.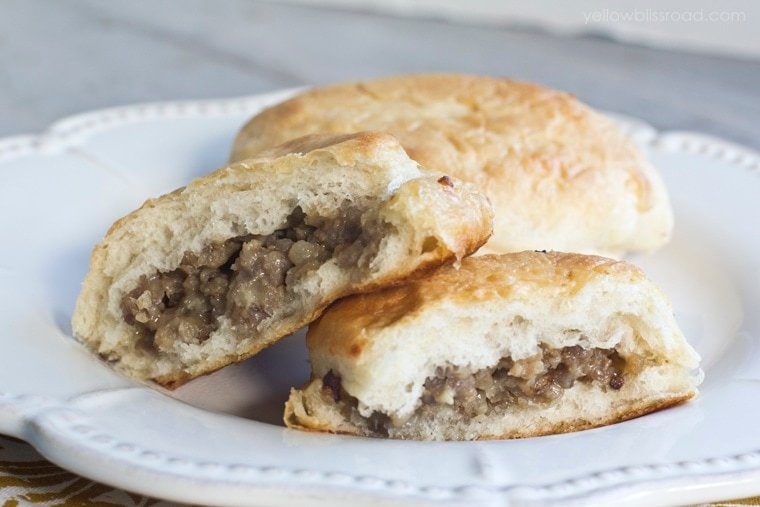 Much to my surprise the meal was delicious, served with some scrambled eggs and fresh fruit. My kids both ate almost two full biscuits and loved dipping them in the gravy. This is definitely comfort food at it's finest and would be great for serving up to guests at your next brunch!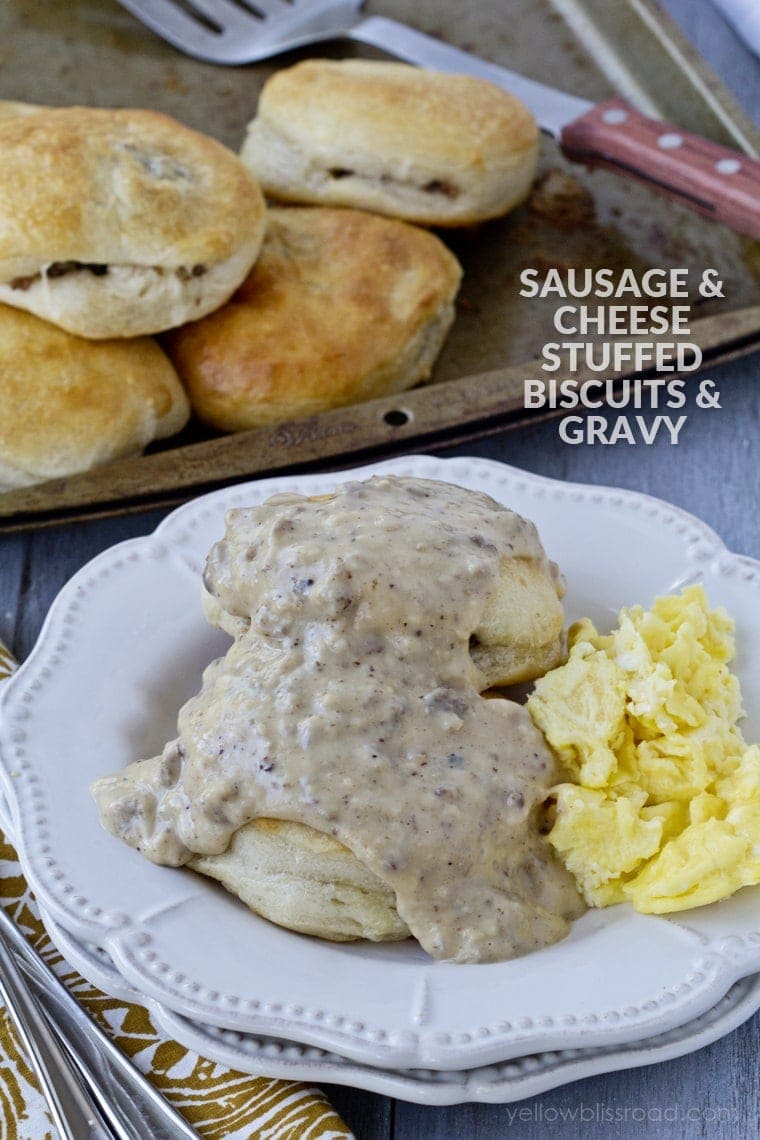 If you've made this recipe, please come back and leave us a star rating or a comment below. Or, tag us on social media @yellowblissroad or #yellowblissroad for a chance to be featured.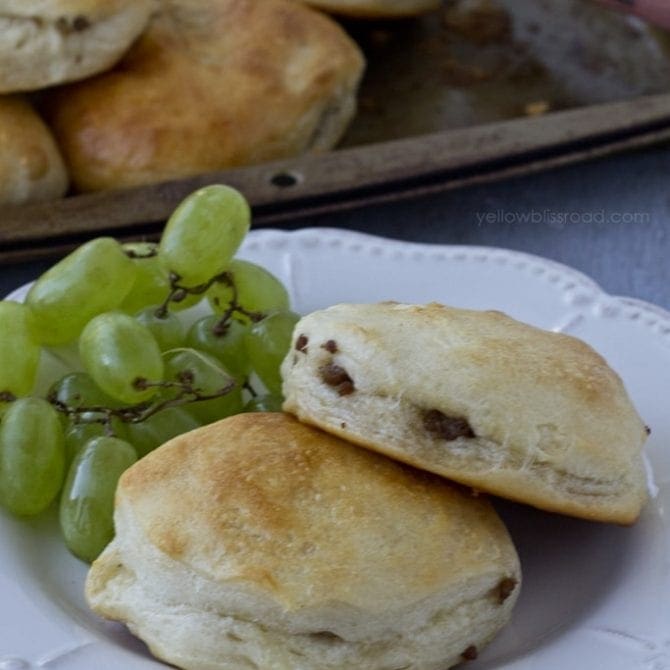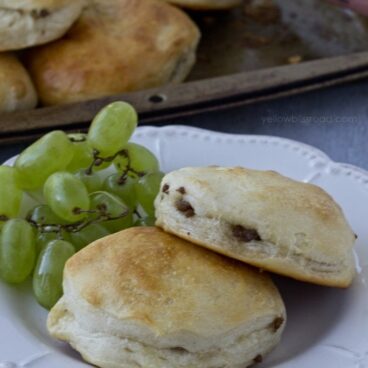 Cheese and Sausage Stuffed Biscuits and Gravy
Ingredients
1/2

pound

country pork sausage

1

cup

freshly grated cheddar cheese

1

can Grands Flaky Biscuits
Gravy
1

tablespoon

butter

2

tablespoons

all-purpose flour

1

cup

whole or nonfat milk

Salt & Pepper
Instructions
Preheat oven to 350 degrees.

Crumble sausage into a skillet over medium-high heat and cook until no longer pink. Drain sausage on a paper towel lined plate and let cool while you grate the cheese. (set the pan aside for the gravy and do not wipe clean).

In a medium sized bowl, gently toss sausage and cheese together until combined. You don't want the cheese to melt. Open the package of biscuits and divide into the 8 pieces. Split the layers and stuff with a heaping tablespoon of the sausage and cheese mixture. Close the biscuit and seal the edges with your fingers. Place biscuits onto a baking sheet 1-2 inches apart.

Bake for 15-18 minutes, or until the tops are golden brown.

While the biscuits are cooking, prepare the gravy.

Heat the pan with the sausage drippings over medium heat. You need about 2 tablespoons of fat, so if there isn't quite enough, add a tablespoon of butter. When butter is melted, add 2 tablespoons of all purpose flour. Whisk together fat and flour until it's well combined, then cook, whisking often until golden in color. Slowly whisk in about the milk. Bring to a low boil and cook until mixture starts to thicken. If gravy is too thick, add a little more milk. Add salt and pepper to taste.

Serve stuffed biscuits hot with gravy on the side for dipping.
For more great breakfast ideas, try these: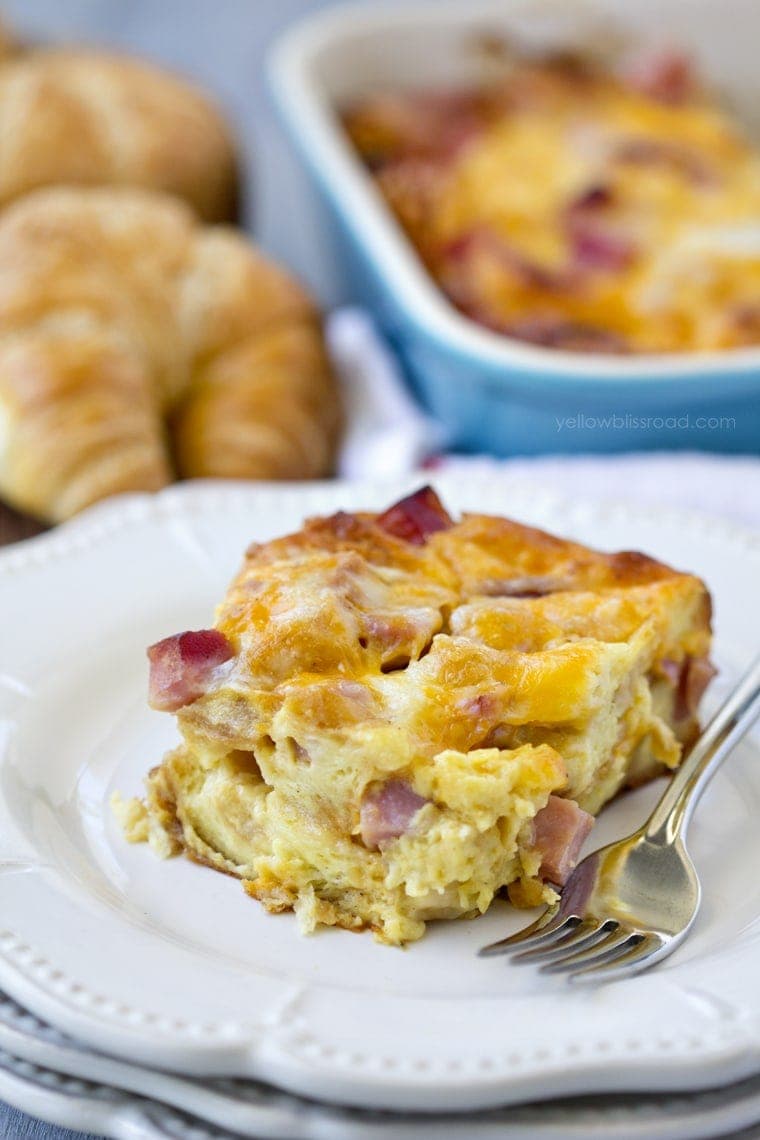 Ham, Egg and Cheese Breakfast Casserole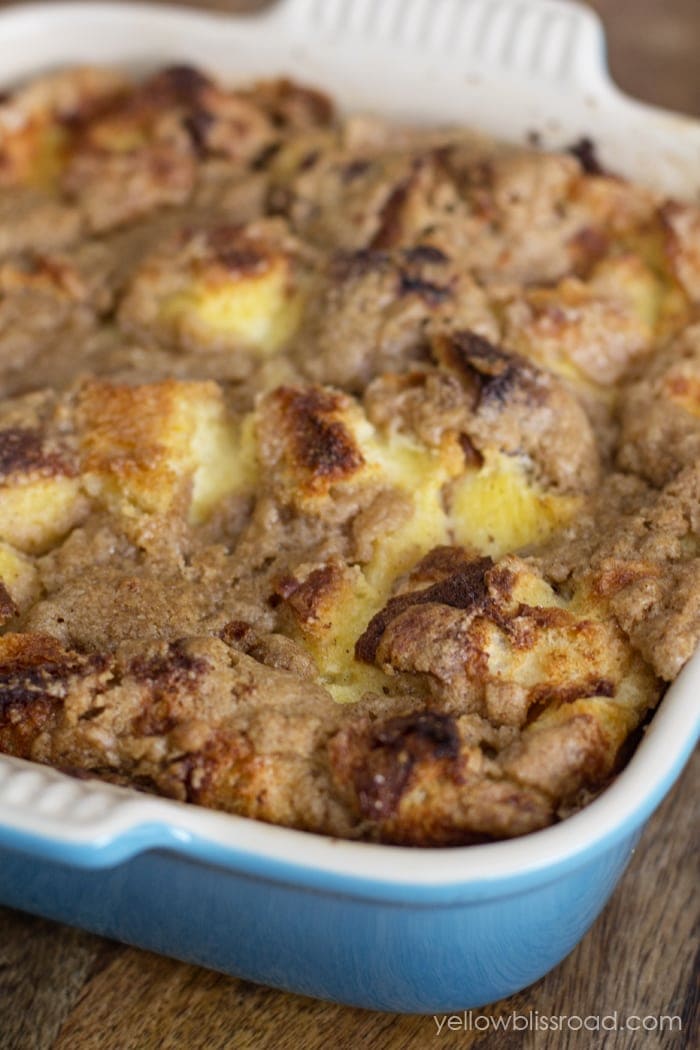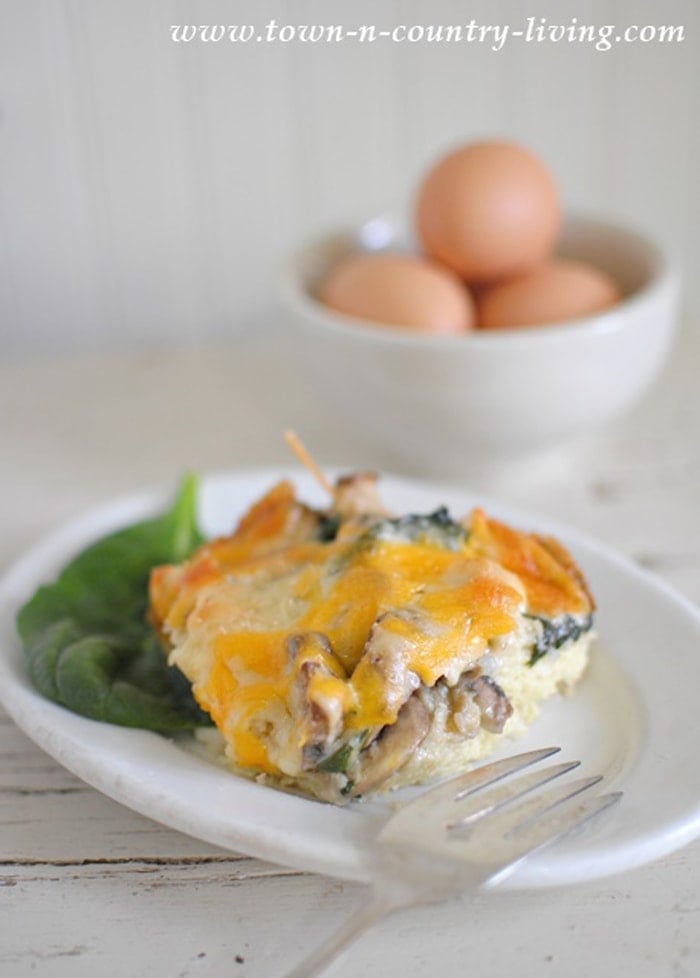 Baked Spinach and Mushroom Egg Casserole
For all breakfast recipes go HERE and for all recipes go HERE.