Disney's Aulani Resort: What to Know Before You Go!
One of the most magical vacation destinations is a Disney resort. And if that resort is in Hawaii? Well, you've got magical and tropical family fun all rolled into one!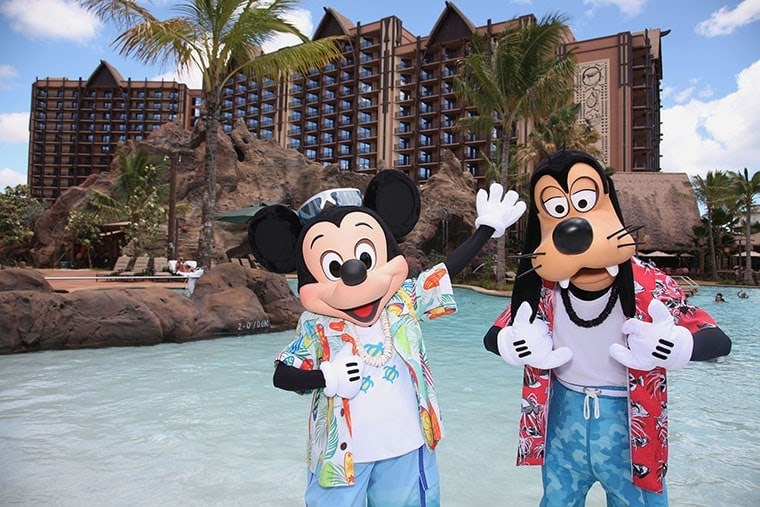 We took our second vacation to the Aulani Resort a few weeks ago, and I have to say, it was just as magical as I remembered it. Gorgeous views, lush tropical landscape, amazing food and your favorite Disney characters on vacation! I could go on and on about this resort, but I'm going to try and keep to my most favorite and best tips. If you have any questions that I don't answer here, please feel free to leave a comment at the end of this post or reach out via email. While these tips will be mostly related to the resort, I'll branch out to some of our favorite activities as well.
*Photos are property of Yellow Bliss Road unless otherwise noted.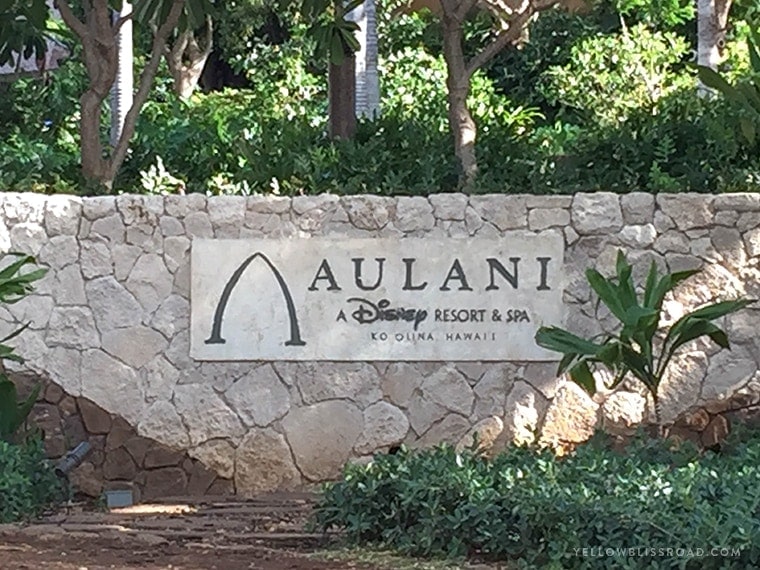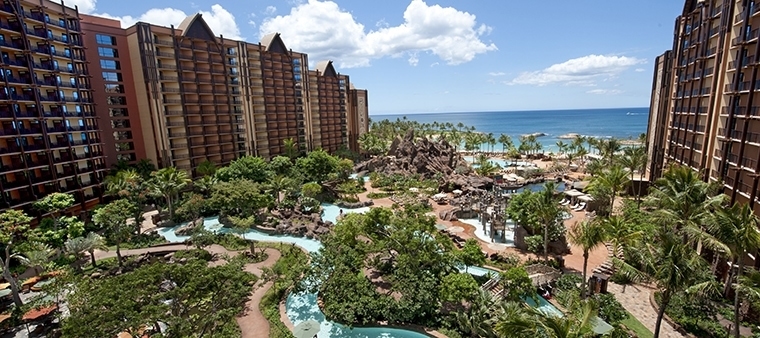 1. Book well in advance. This trip we booked a little later than we had previously, leaving much of the premium view rooms already booked. Last trip we had a garden/partial ocean view, and this time we had what was considered a mountain view.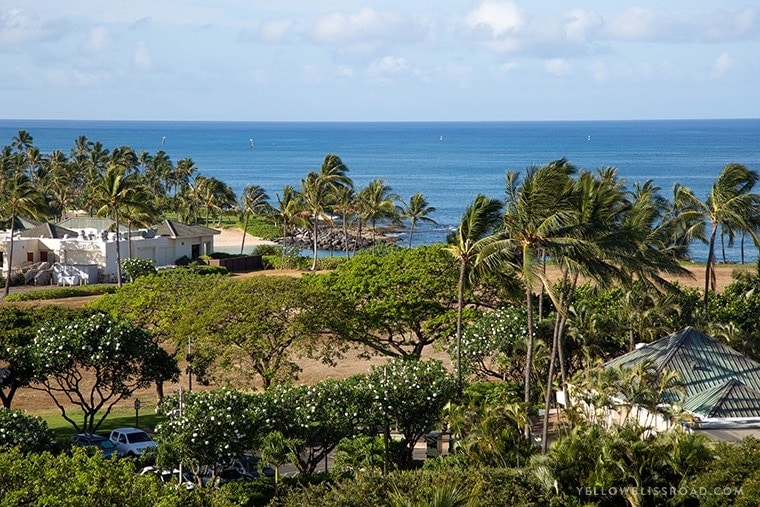 However, it was also a view of the garden where the two weekly movie nights and the twice weekly Starlit Hui (A Hawaiian-inspired dancing, music and stories show). We got to watch it all from the comfort of our room instead of sitting on the grass, so that was a plus. So, although an ocean view is obviously preferred, I don't think there's a bad view at Aulani.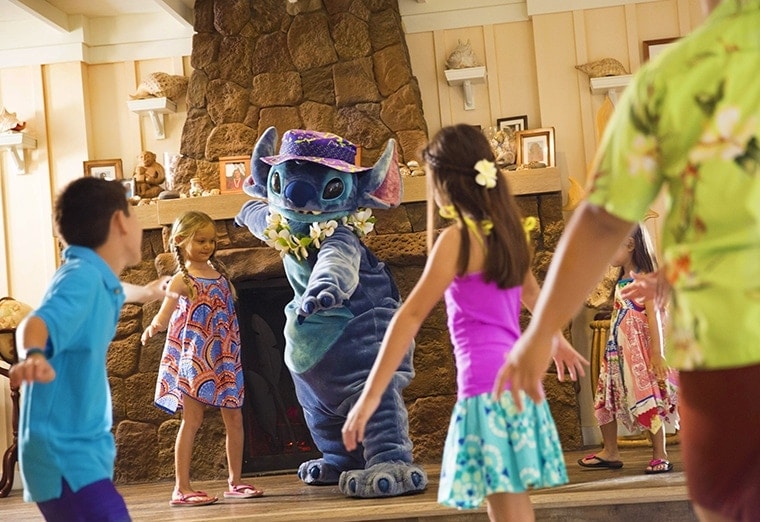 2. Visit Aunty's Beach House. This "free" kids club is yours for the refundable price of a kid's band (approx. $13 at time of posting). Register your children at the beginning of your trip for lots of fun activities, and drop them off for child care so the grown-ups can have a grown-up dinner at Ama 'Ama (the gourmet restaurant located on site). Snacks are provided, and lunch and dinner can be added with a reservation for an additional fee. At the time of posting, dinner was $9 per child, and included all-they-can-eat pizza, chicken nuggets and fruit, plus a chocolate covered marshmallow for dessert. There are video games (Wii), computer games, princess dress-up, Disney character visits and lots more. My kids only went once since we stayed pretty busy, but they really enjoyed it! If you aren't comfortable leaving your kids, they have an open house every morning where kids and their parents can check out what's offered.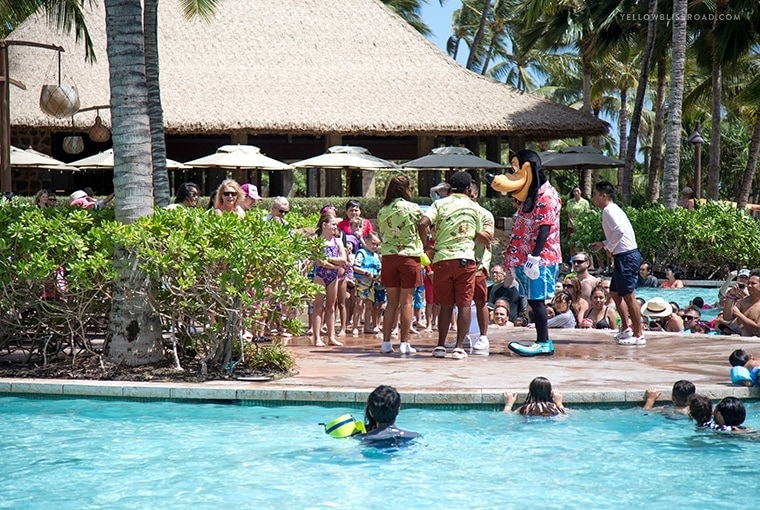 Aunty's Beach House staff (and Goofy!) also lead the pool party fun each day at 2 pm at the Waikolohe Pool.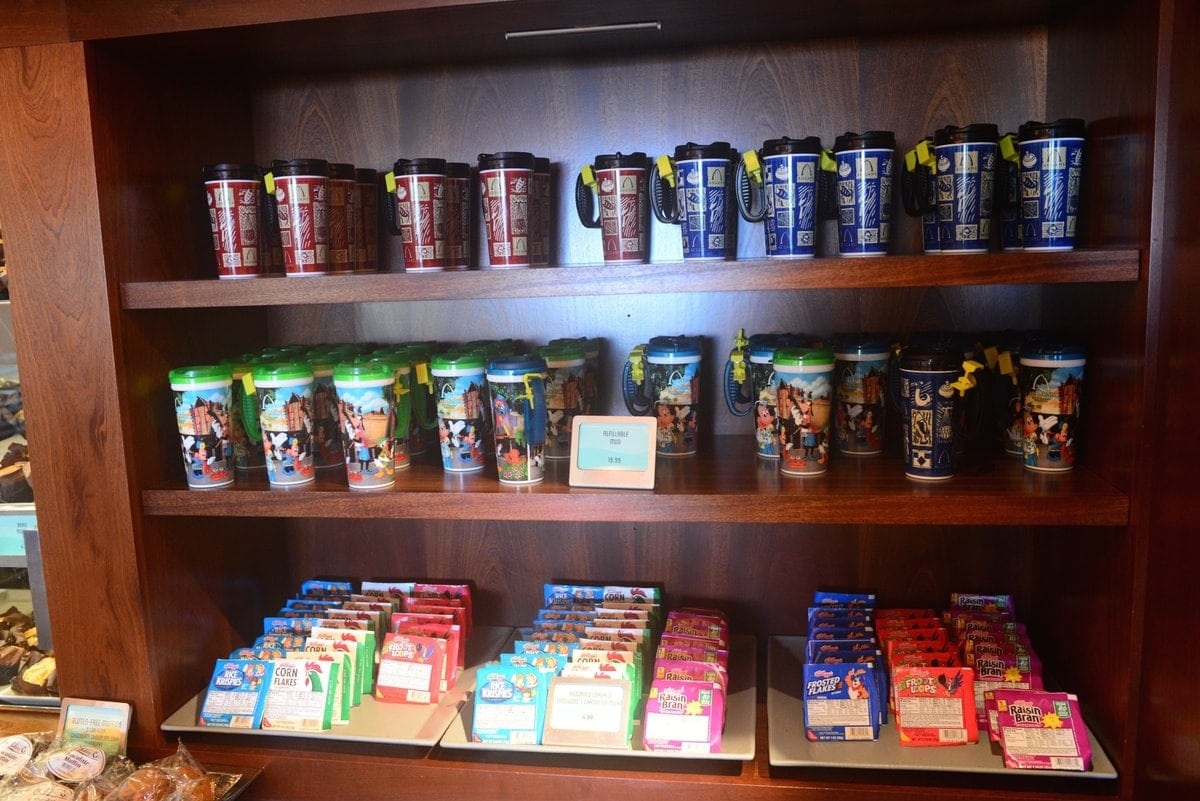 Photo from HERE.
3. Purchase a refillable mug on the first day of your trip. These mugs are available for about $19 (at time of posting) and may be refilled at any of the three drink station locations which can be found across from the Papalua Shave Ice stand, next to Aunty's Beach House and in the Ulu Cafe. Each of the beverage dispensers has a variety of sodas, fruit punch, lemonade or PowerAde. At Ulu, you can also get coffee and a variety of iced teas including sweetener and cream. We each used these cups at least once a day of our 7 day trip, and often twice, making them definitely worth the cost. Plus, they make a great souvenir! *TIP – we brought one from a previous trip and were able to use it. Not sure if this is encouraged or frowned upon, but no one questioned us.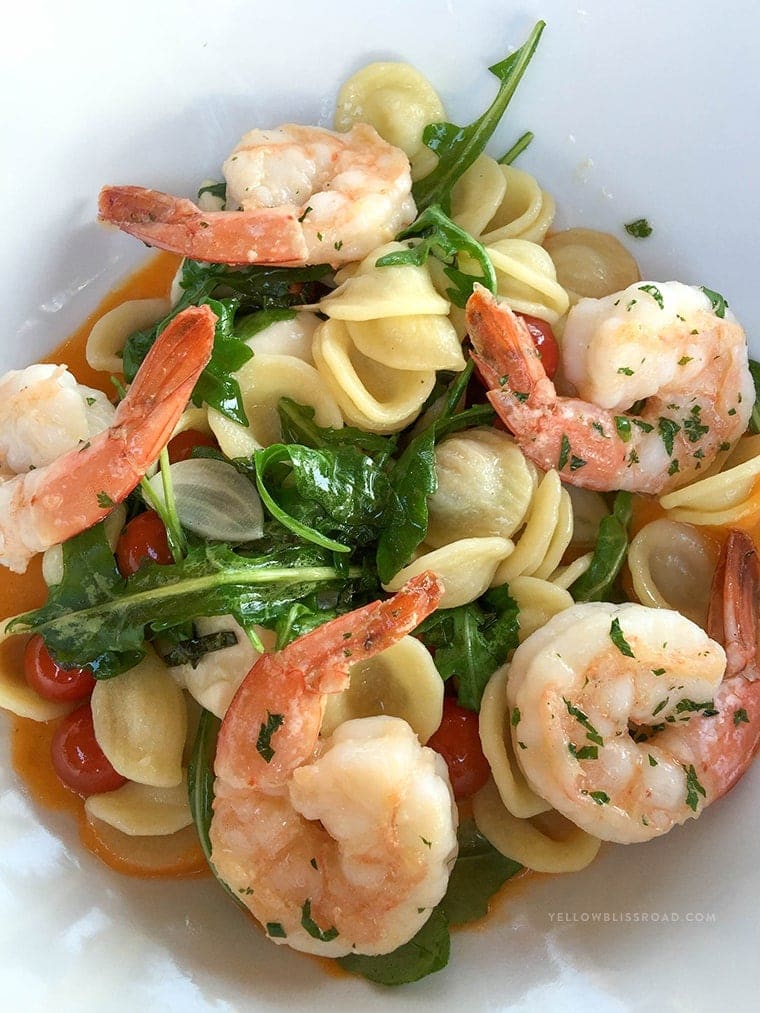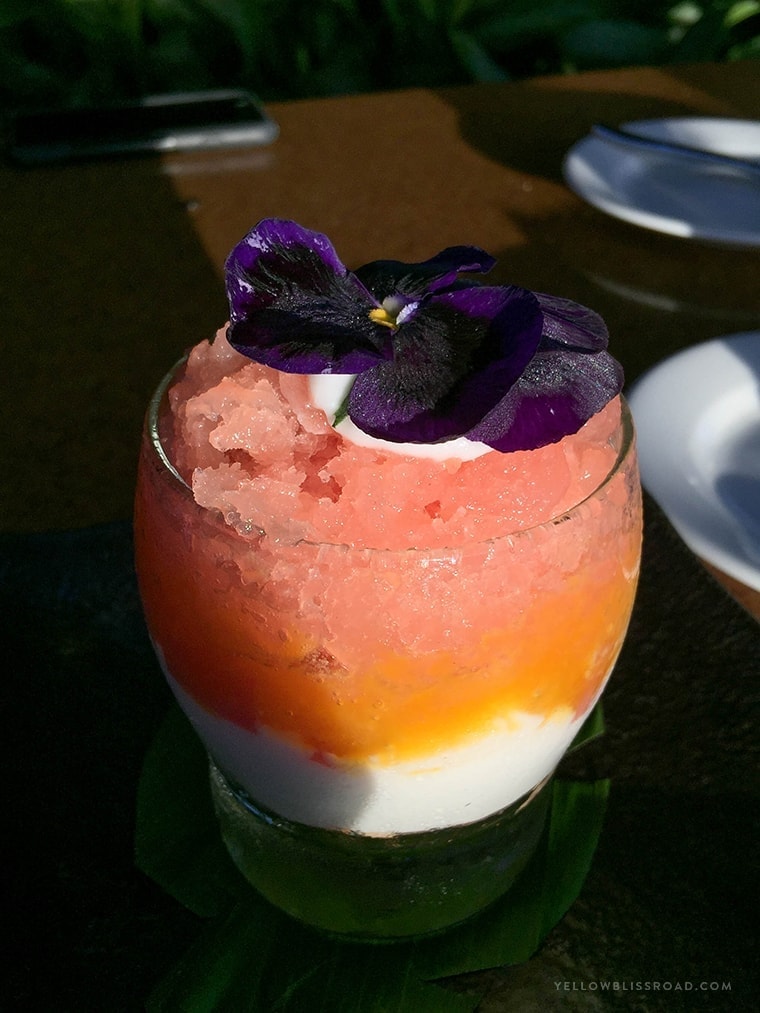 Photos from our amazing dinner at 'Ama 'Ama
4. Make dining reservations before you arrive. If you are traveling during an especially busy time at the resort (most of the summer and much of the year) be sure to make a few reservations in advance. Because of the time difference, we were up pretty early on the first morning and were glad we had breakfast reservations at 'Ama 'Ama. This is, in my opinion, the best way to start your vacation. It's expensive, but the views are incredible, and so is the food. Be sure to order the press pot Kona coffee! I'd also recommend making reservations for dinner and any other meals you'd like before arriving. You can make them at each restaurant once you're there, but the options can be sparse.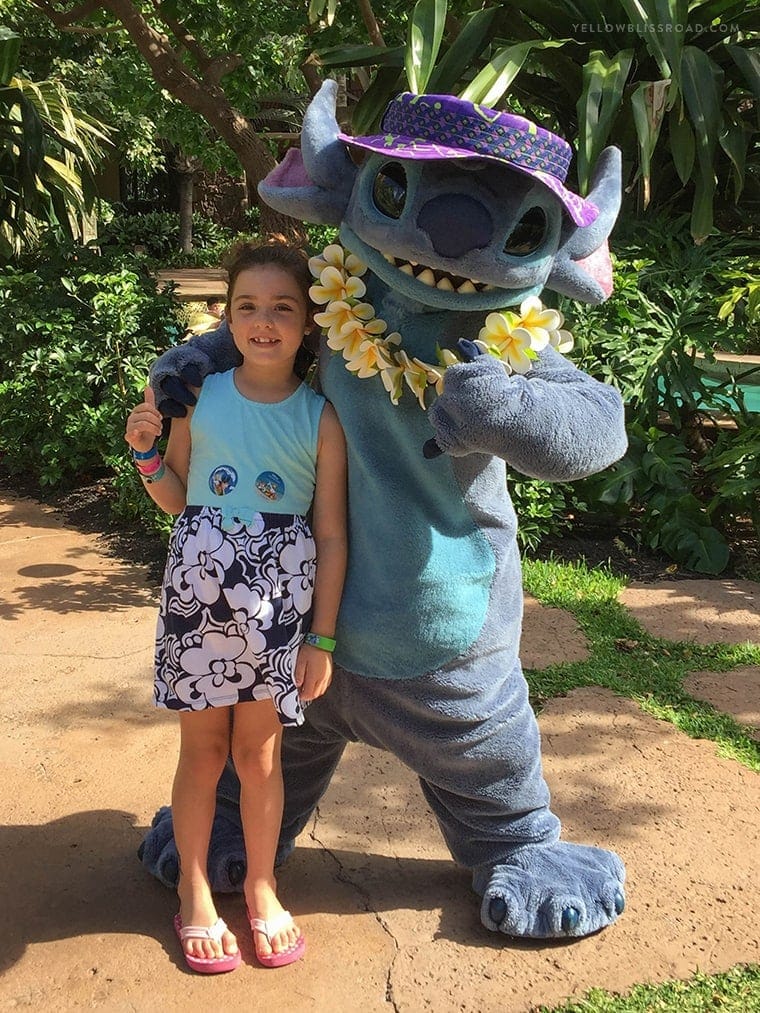 5. Character Meet & Greets – These are probably one of the greatest freebies at the resort. Each day you can call the character hotline to find out when and where your favorite characters will be throughout the day. You'll see Mickey, Goofy, Minnie, Stitch and Duffy the Bear (who is wildly popular – almost more so than Mickey!). My kids aren't as impressed with the characters as they used to be, but we sure do love Stitch!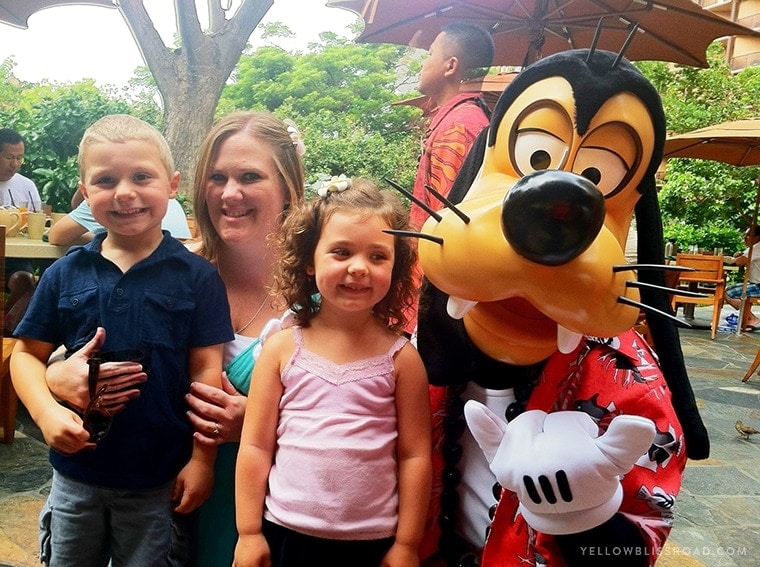 6. Character Dining – Reservations are strongly encouraged for these experiences. You'll enjoy the amazing buffet at Makahiki (it really is really good!) for either breakfast or dinner and, during your meal, the characters will make their rounds to your table, some more than once depending on how busy it is. This is a great time to get extra special attention from your kids' favorite characters, as they are usually able to spend more time than at a regular meet & greet. Be sure to have your autograph book and camera ready!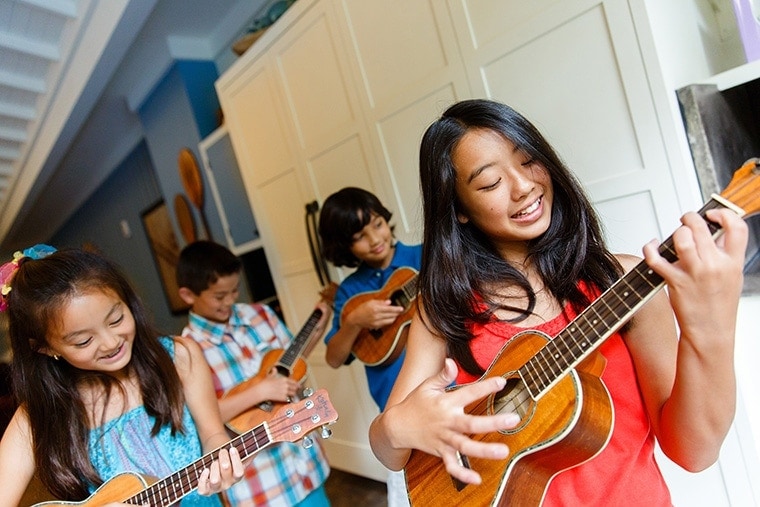 7. Pick up a copy of the Daily 'Iwa when you arrive, and every morning thereafter. This is a double-sided activity page full of all of the many activities offered around the resort that day. There are fun activities like Lei Making and Ukulele lessons, daily specials for Laniwai (the resort spa) and other events and activities throughout the resort. Some require sign-ups in advance, so be sure to do that first thing in the morning, especially at Aunty's Beach House, as those do fill up quickly.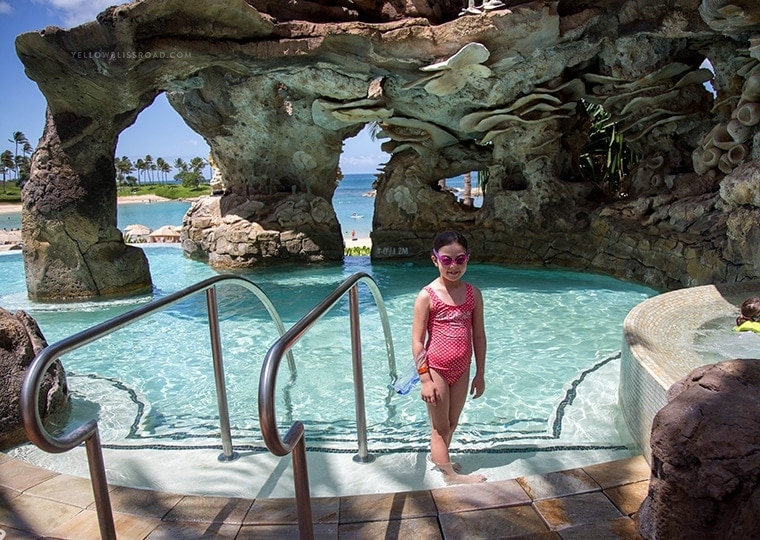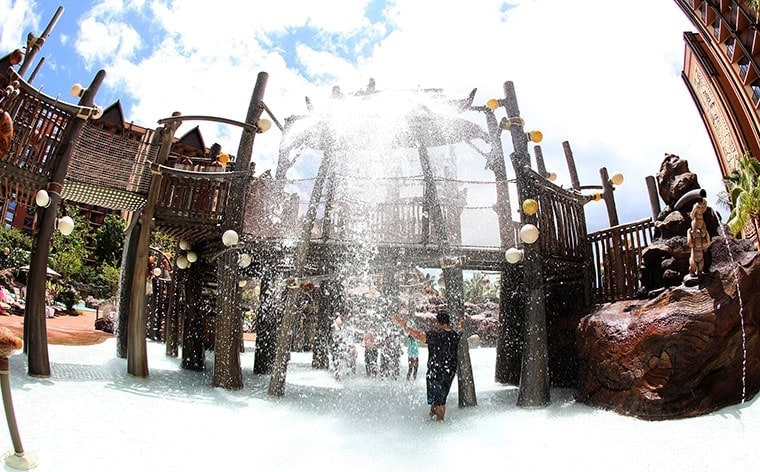 8. Pack your swim suit in your carry-on. Check-in time for the resort isn't until 4 pm. Sometimes your room may be ready early, but if it's not you can leave your bags at the bell station and head for the pool.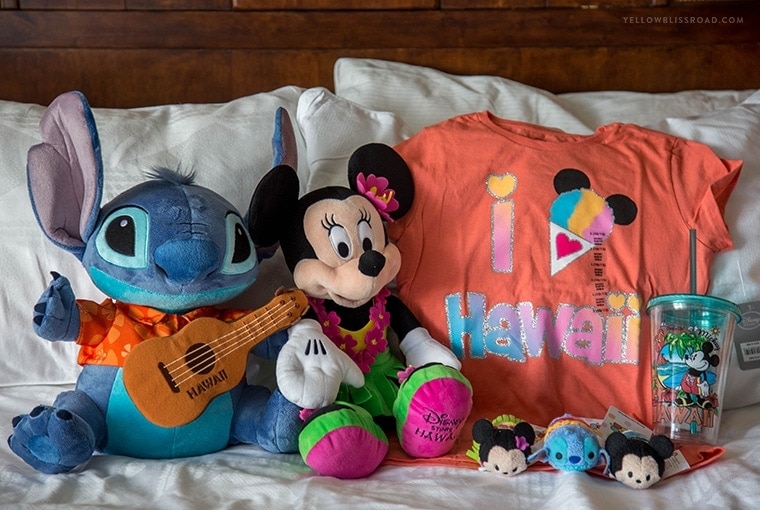 9. Where to buy Disney merchandise – While you are able to purchase Disney merchandise at the hotel's gift shops, if you want Hawaiian themed Disney merch for your kids, take a trip to the Ala Moana Shopping Center. It's an upscale outdoor mall that has big department stores like Bloomingdales and Nordstrom and also lots of other stores like Gap, Local Motion and, of course, The Disney Store. Here you can find Hawaiian-themed Disney merchandise … we pretty much bought at least one of everything they had. Be prepared to pay a little more than you'd expect for products, you are in Hawaii after all. But if your kids are Tsum Tsum collectors, this is the only place you can find these guys in their hula gear!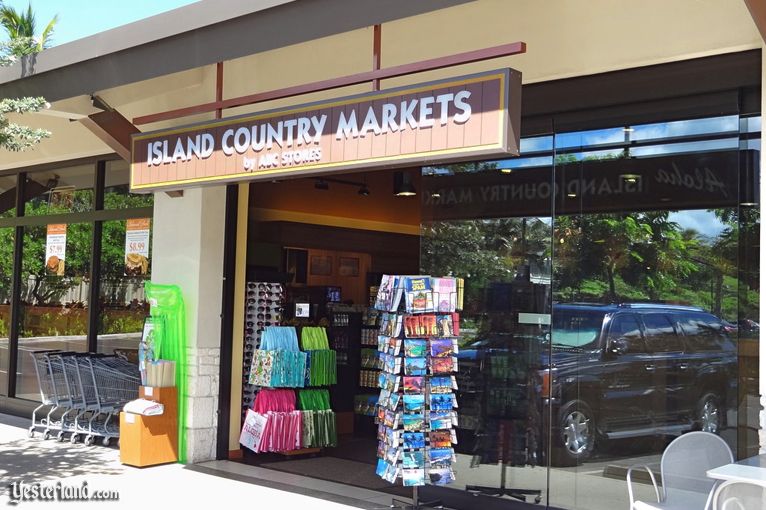 Photo from HERE.
10. Where to buy souvenirs in Hawaii – As you might expect, the Aulani gift shops are not exactly budget friendly. There are a few options that we have found to provide a cheaper alternative for my kids and for bringing gifts home for friends. These options work no matter where you are visiting in Hawaii.
1) ABC Stores. Across the street from Aulani is a small shopping center. There are a few small restaurants, an ice cream shop, and an ABC (Island Country) Store. This store has everything you need that you may have forgotten, like toothbrushes and goggles, and a deli and grocery section for snacks, lunch or dinner. I like to pick up a sarong to wear around the resort over my swimsuit and it's a great place to grab t-shirts, mugs and those adorable flowers for your hair. Pretty much everywhere you go there will be an ABC Store … we counted at least seven of them over a mile stretch of Waikiki! 
2) Costco – 100% Kona Coffee, giant bags of macadamia nuts and six-packs of chocolate covered macadamia nuts (all great take-home gifts) are just some of the island exclusive things you'll find at Costco. We brought home an adorable robe for my daughter, and also picked up a cheap pizza for dinner!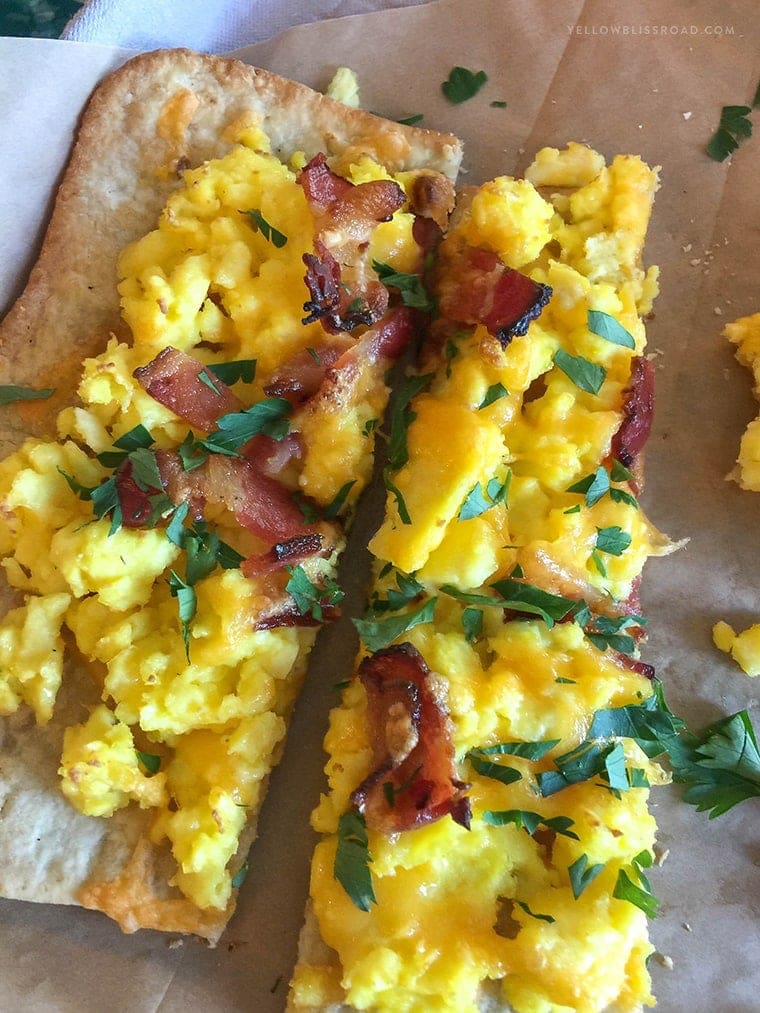 Breakfast Flatbread from Ulu Cafe – really yummy!
11. For cheap(er) eats, visit Ulu Cafe and Mama's Snack Stop. Food at the resort can get quite expensive, but Aulani does offer some more budget friendly options at Ulu Cafe and Mama's Snack Stop. We really enjoyed the pizza at Ulu, and for $20 it fed four of us, so this is definitely the best deal around the resort. We also really enjoyed the breakfast, which averaged $8-10 per person.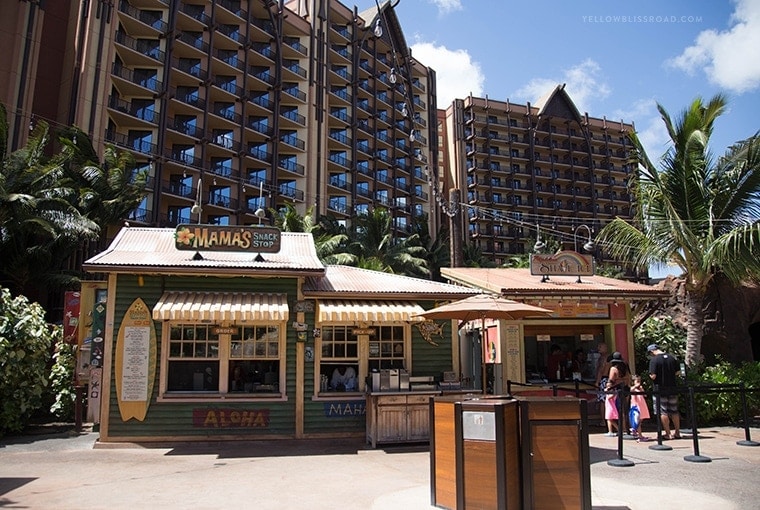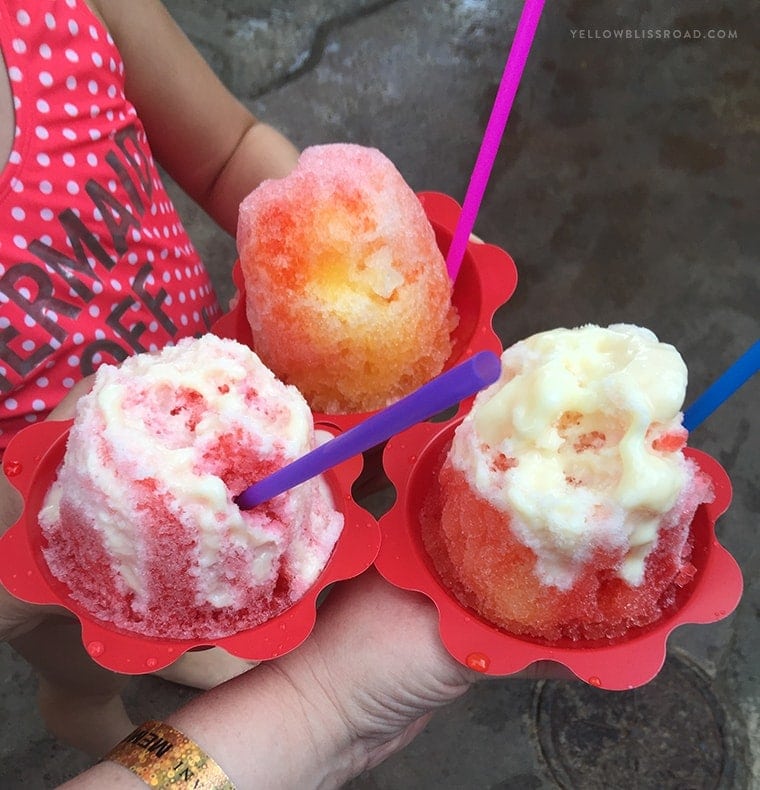 Mama's Snack Stop has your basic poolside fare of chicken tenders, hot dogs and fries, and right next door is Papalua Shave Ice, which is of course a daily must while in Hawaii. Be sure to have them top your shave ice with sweetened condensed milk for a real treat!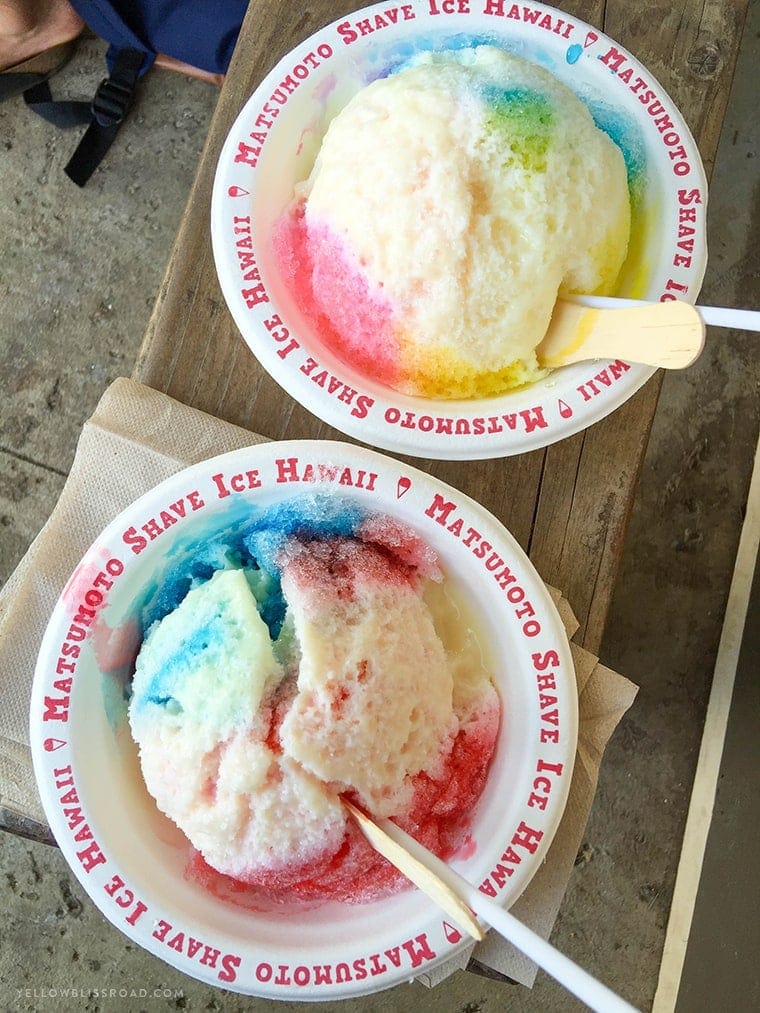 *TIP If you travel to the North Shore, be sure to visit Matsumoto Shave Ice, which is one of the most famous shave ice stands in the world, and for good reason!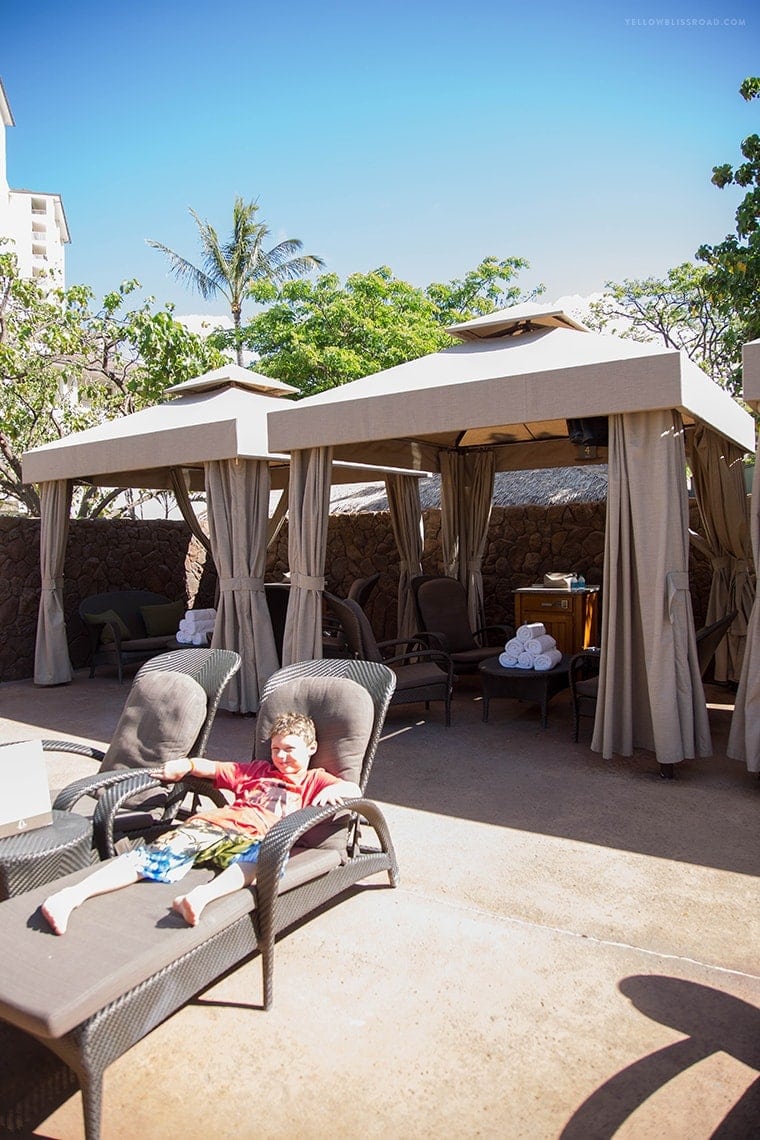 12. Rent a Cabana. Now, I'll admit, these are a definite splurge at roughly $425 for the day. However, if you can swing it, it's definitely worth it. We did this for our last day at the resort and it was a great opportunity to relax at the pool. Included are complimentary water bottles, a morning snack/fruit tray and a dessert tray. You can also order lunch, drinks and snacks. You should reserve a cabana before you arrive, as there are a limited number available. They can't guarantee where your cabana will be but they do attempt to accommodate requests.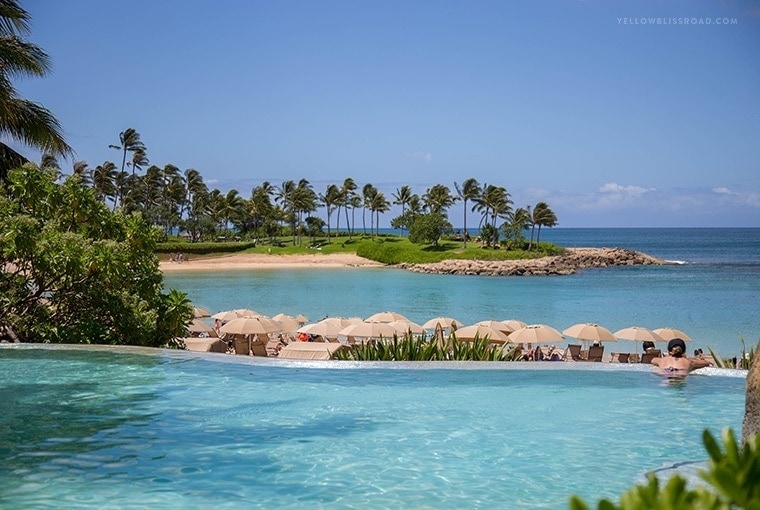 We had one of the best locations near the Ka Maka Grotto pool. It's an infinity pool that provides a spectacular view of the ocean.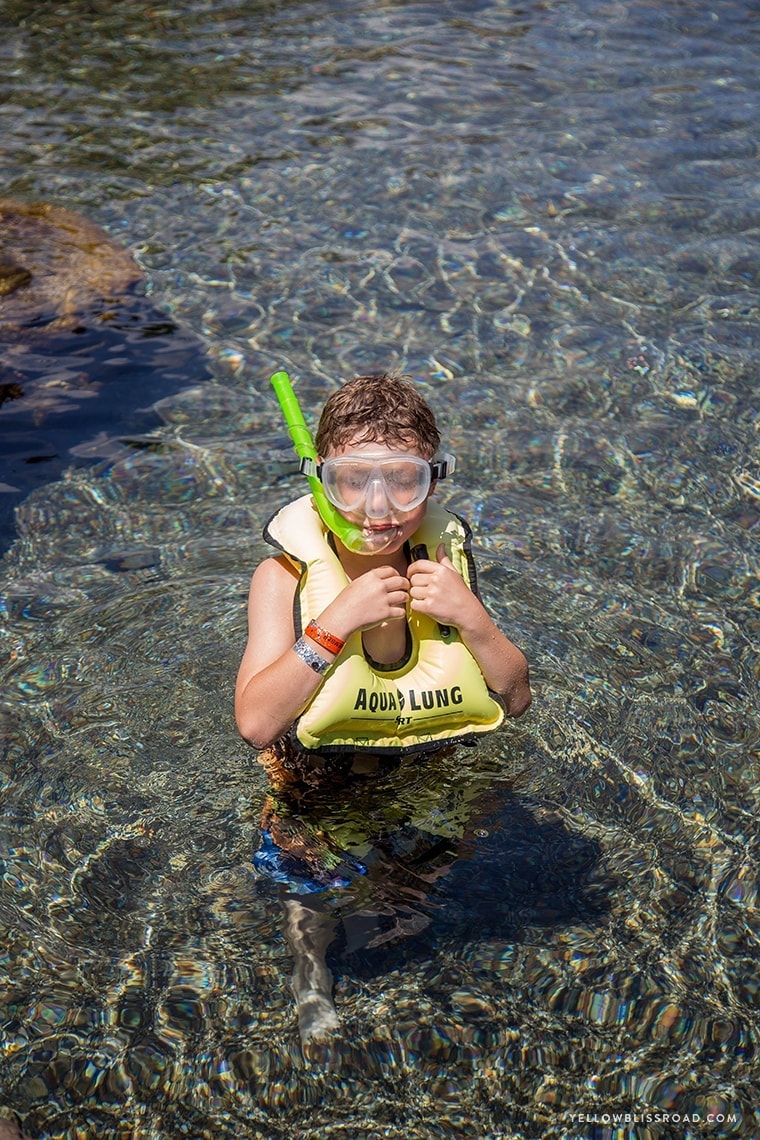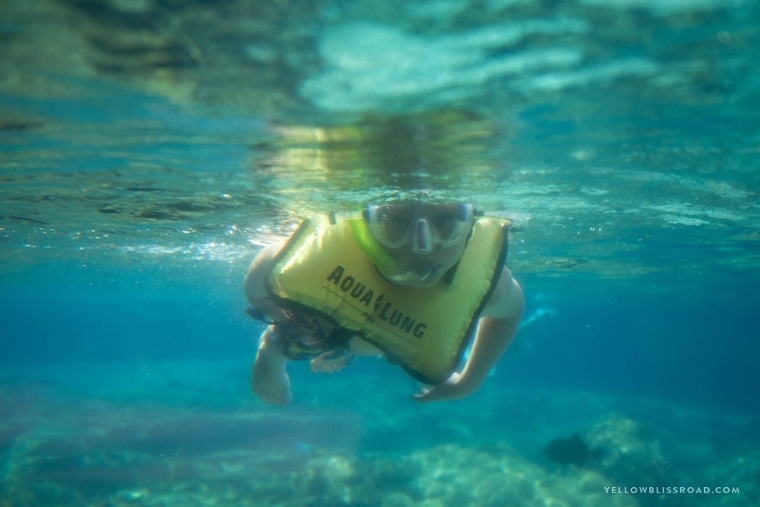 13. Snorkeling at Rainbow Reef. This was one of my son's favorite activities. He's been "snorkeling" in grandma's pool for years but this was his first experience where there were live fish! Disney created a salt water lagoon within the resort where guests can don snorkel gear and get up close and personal with several varieties of fish. I wouldn't feel comfortable sending my son out into the ocean so this was perfect for us. It's only $15 a day for 9 and under, or $20 for 10 and up, or you can buy a pass for the duration of your stay for $29/39. Snorkeling equipment is included. Children 11 and under must be accompanied by an adult, but you don't have to enter the water. There is a bench where you can sit at the edge of the lagoon and watch.
14. Plan to do something really tourist-y. You are in Hawaii after all and Oahu has some of the most popular tourist hot spots.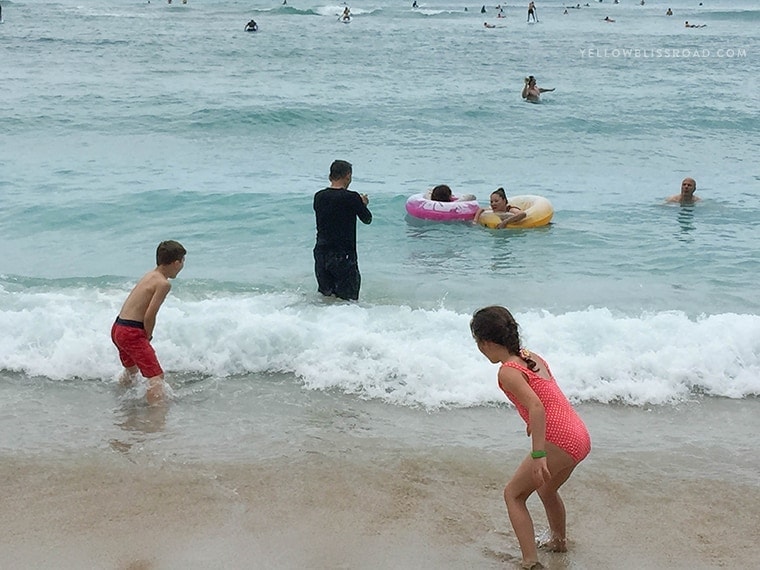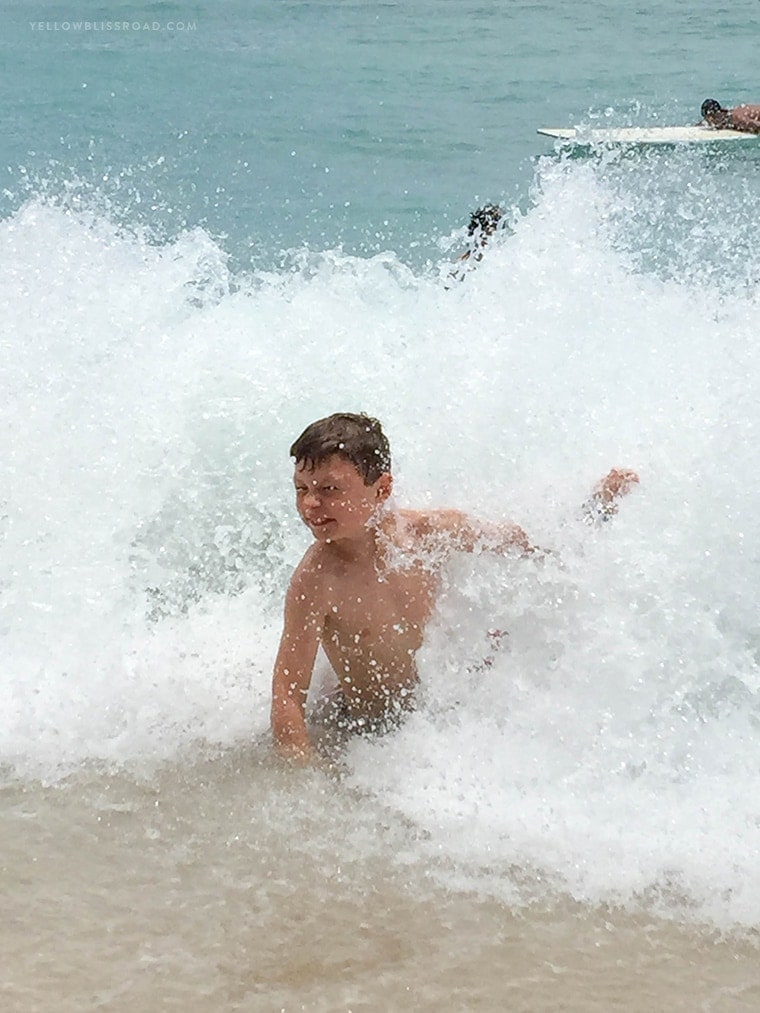 My personal favorites are Waikiki Beach and the Dole Plantation. Super touristy, but really kind of fun too. Waikiki is arguably one of the most well-known beaches in the world (and we love the big waves!) and the Dole Plantation is just plain fun!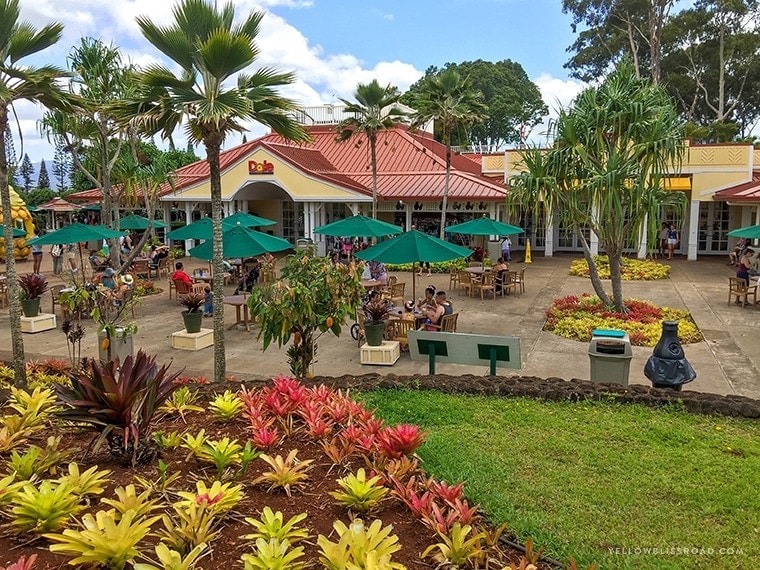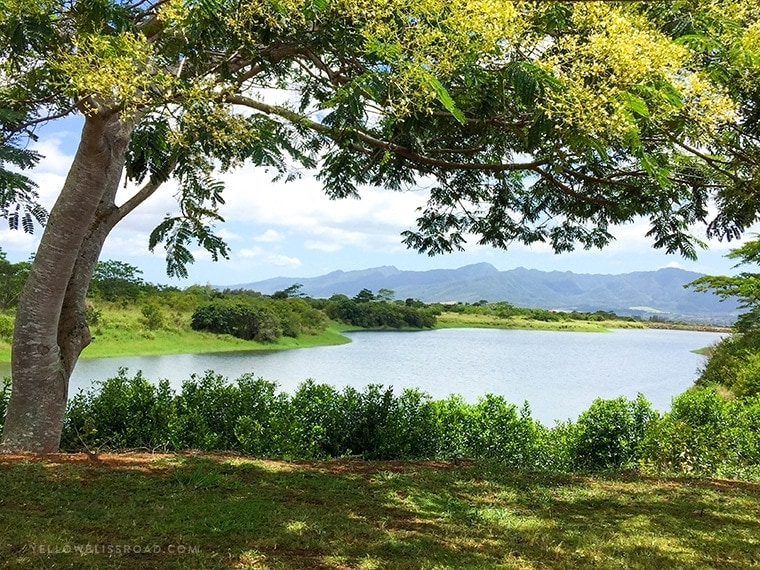 It's really neat to see pineapples actually growing, and learn some tips for how to choose them and how to cut them up. We also really enjoyed the train ride around the plantation.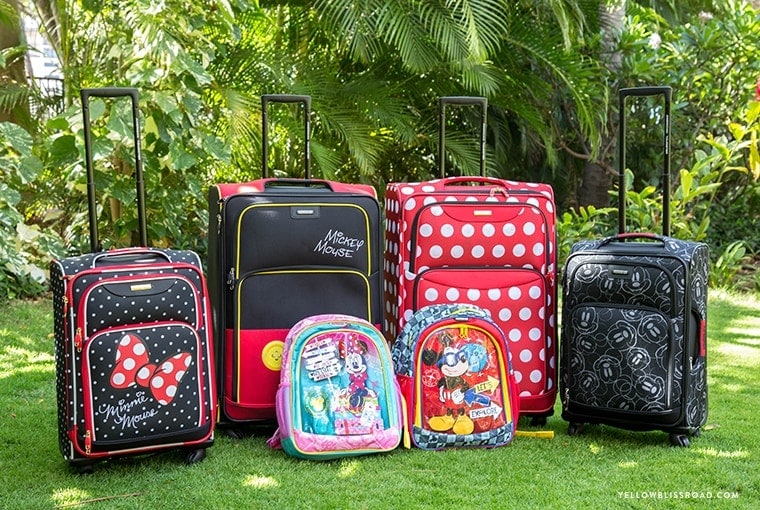 15. Get some cute luggage. Ok, so I realize that this isn't a "must have" but it's really, really fun and helps to get you into the Disney spirit before you even arrive. I got to try out this adorable Disney luggage set from American Tourister (thanks AT!!) and I have to say I'm in love and can't wait to use it again! We surprised my kids with the backpacks first, then told them they were packed with stuff for the vacation we'd be taking, including the outfits they'd wear. It took them a minute to figure it out but then I pulled out the luggage and they realized we were going to Aulani! It was such a fun way to surprise them with this trip. The luggage is beautiful and the best quality. They are lightweight and easy to maneuver – my kids easily pushed their own suitcases through the airport.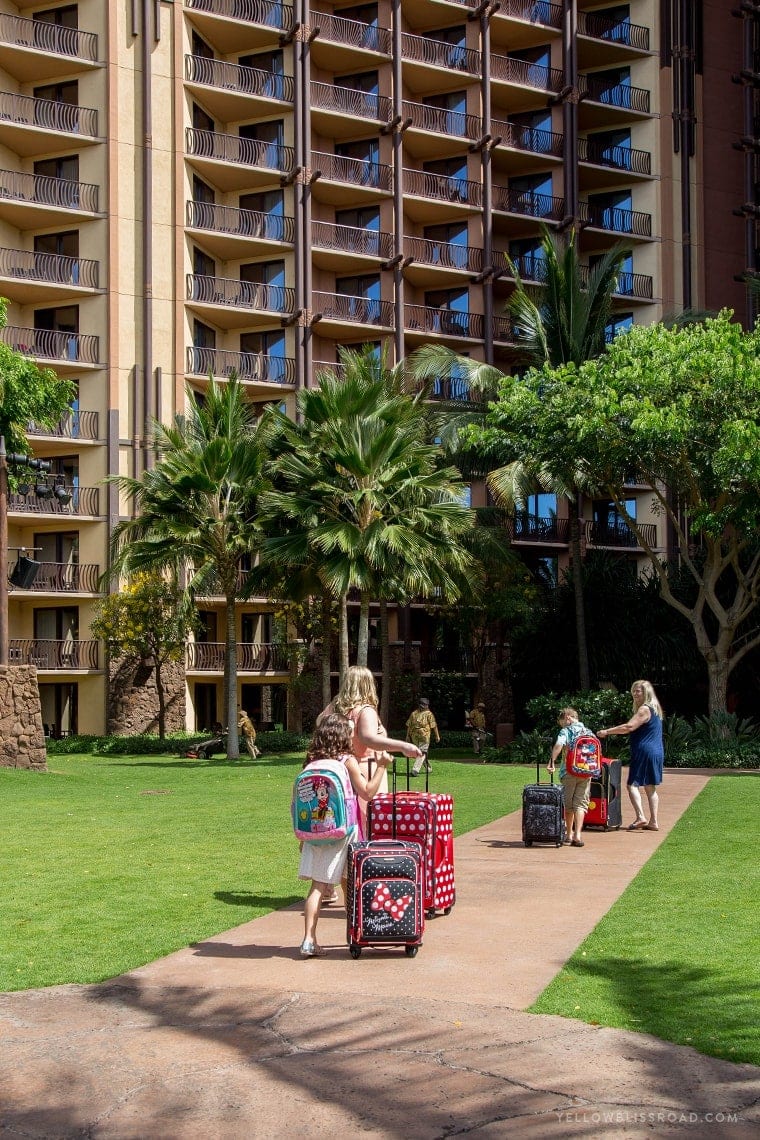 I've only ever owned American Tourister luggage (for reals!) and now that they have all of this Disney themed luggage, I'm a fan for life. P.S. Don't tell my son they have Star Wars bags, too. I really wanted us all to match so I got him Mickey. What he doesn't know won't hurt him, right?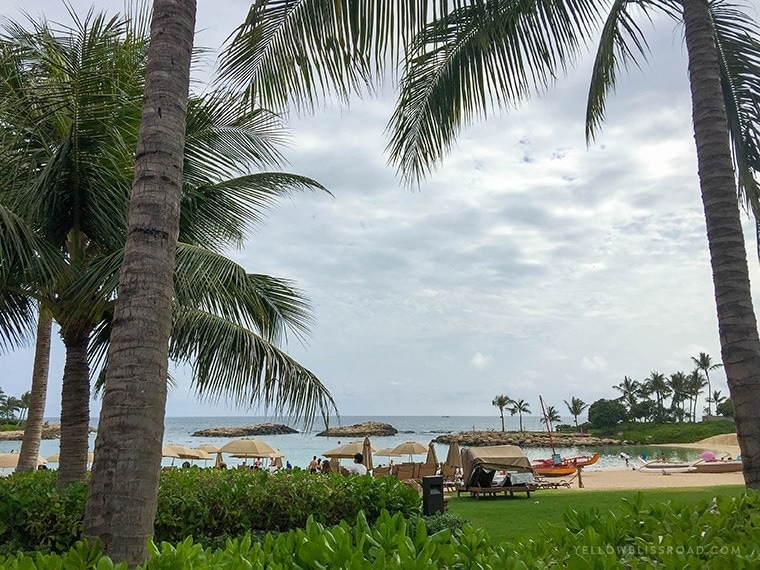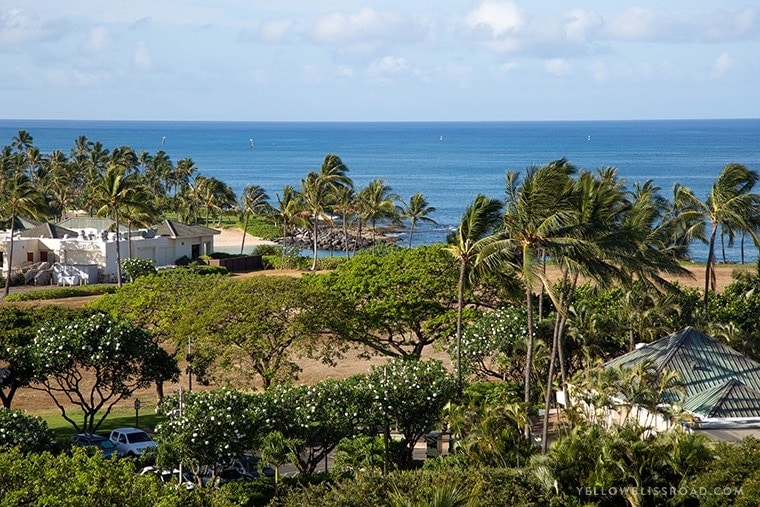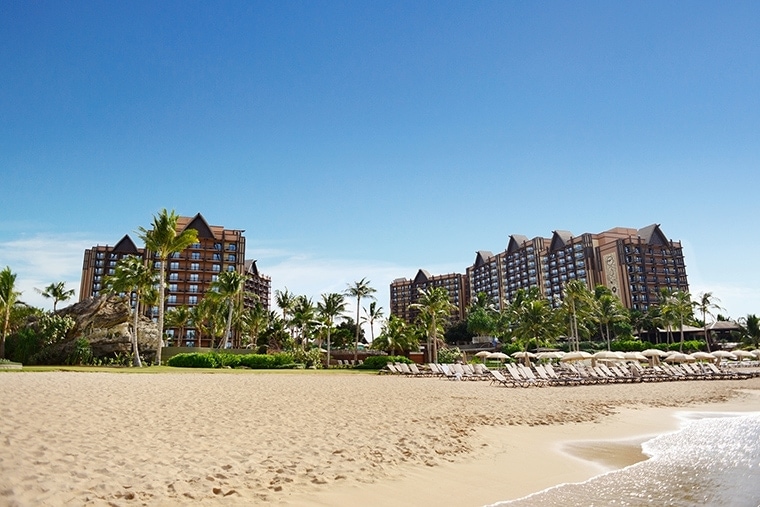 I really could go on and on about what's available for your family at Aulani. The question I get asked most often is, "Is it worth the cost?" I say, absolutely! You won't find a place on Oahu that's more family oriented, with a pristine beach and all the activities Aulani has to offer. There are ways to save a little, like booking through Costco travel or taking advantage of early bird deals.
If you have any questions, please feel free to ask them in the comments and I will do my best to answer. Or email me at kristin@yellowblissroad.com.