These adorable ideas are easy to pull off and are sure to make your Easter party a hit! My little secret? I didn't really "make" anything – everything is store bought making this a super quick and easy party to throw together!

With Easter just days away, it's time to start thinking about Easter party decorating! Whether it's a huge party you throw for the neighborhood, or just your family Easter Egg Hunt, why not make it extra fun by adding just a few special touches.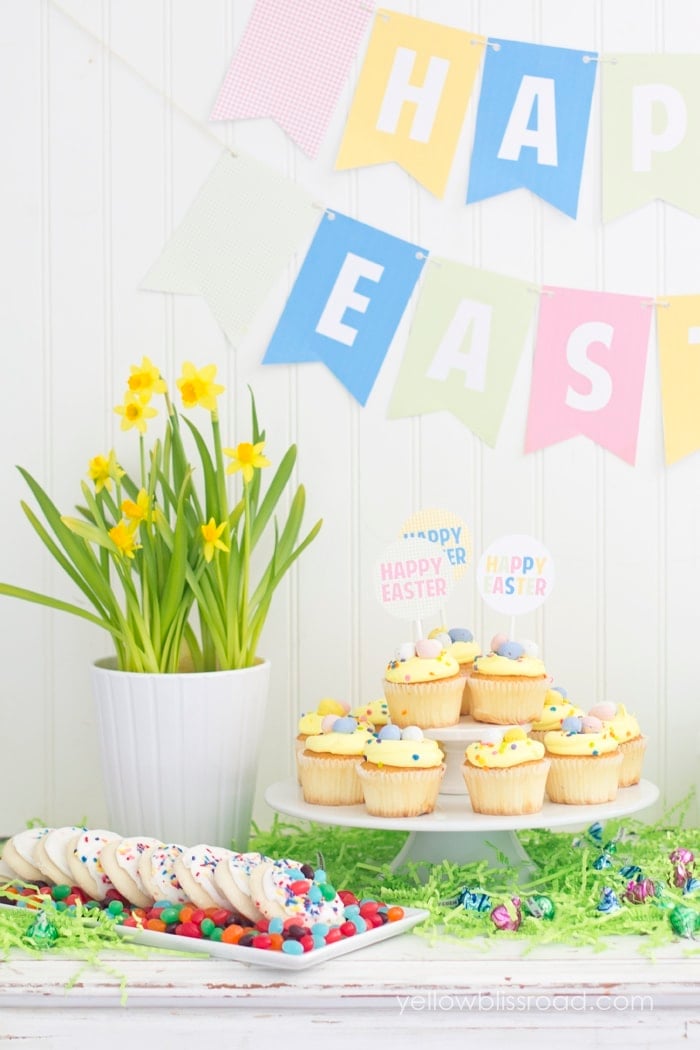 I am so in love with how the cookies turned out. I just grabbed some store bought, frosted cookies at the grocery store and topped them with Jolly Rancher Jelly Beans! So easy, right? You can make cute little flower designs or just press the jelly beans in randomly for an extra bit of pretty. I love how bright and colorful these are.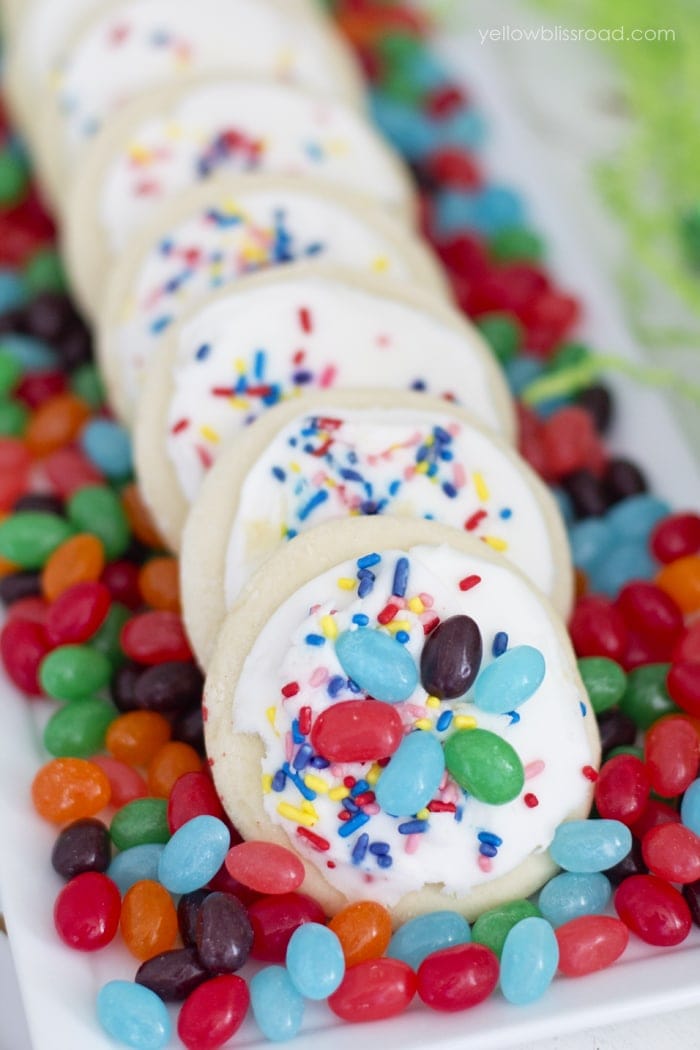 And nestled in a bed of more colorful jelly beans, they look even more spectacular.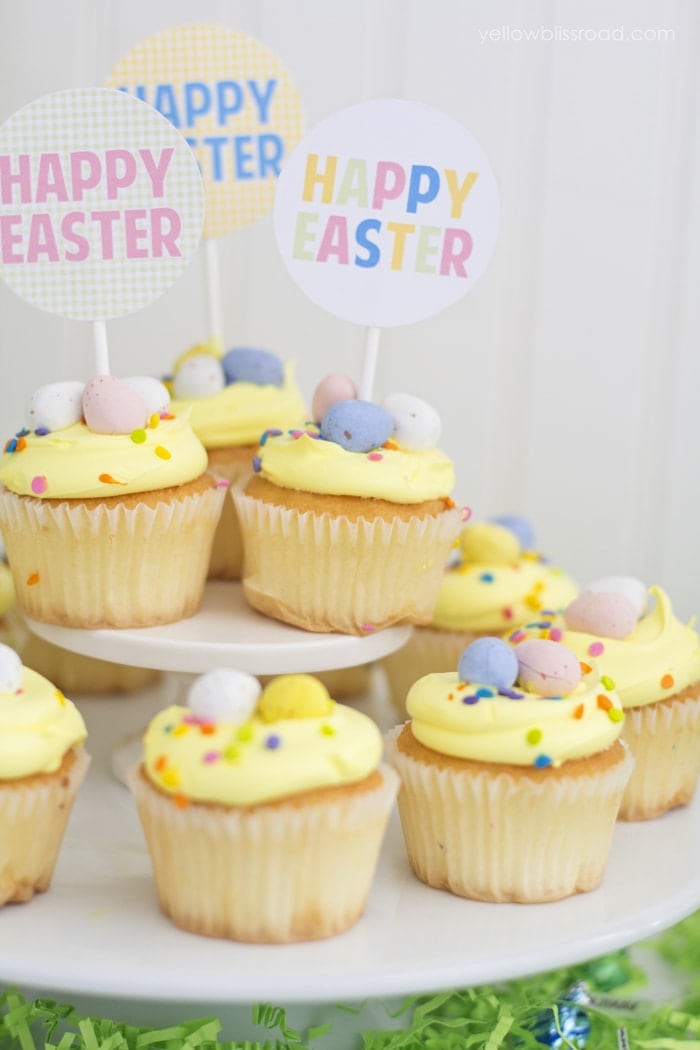 The cupcakes were another store bought treat, that I topped with my favorite Easter Candy EVER – Cadbury Mini Eggs Candies! Don't they just look so sweet? The cupcake toppers are part of the free printable set that you'll find at the end of the post.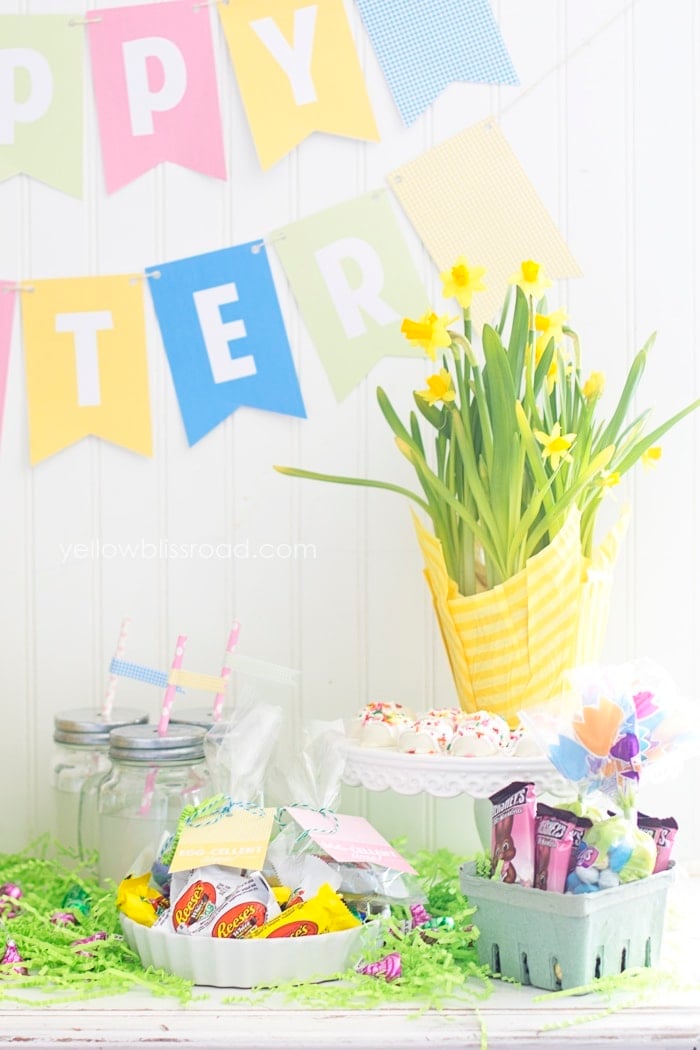 I think my absolute favorite part of the party were these Reese's White Chocolate Peanut Butter Eggs that I decorated with simple cookie icing in a tube (found in the bakery aisle at your grocery store). I lined up the unwrapped peanut butter eggs ans just squeezed the frosting across the line several times then added some colorful sprinkles to go along with my COLORFUL theme.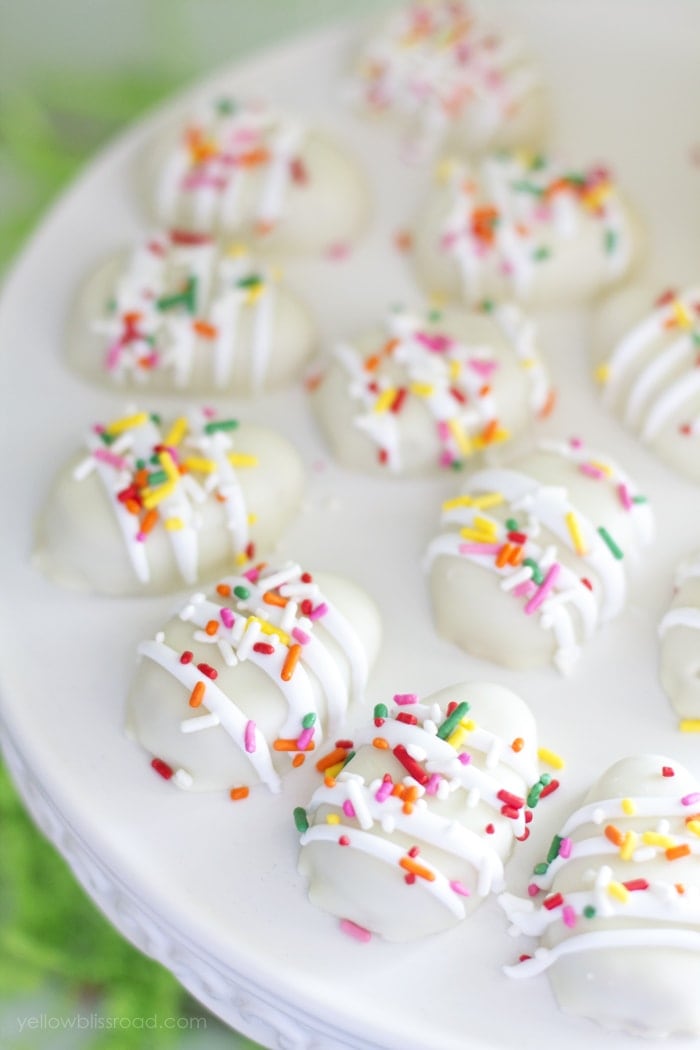 I think they are just so pretty and delicate, they remind me of petits fours. They also look beautiful packaged up in a pretty box. I used some scrapbook paper to make this one, following the directions I found at It's Always Autumn. This would make a sweet and special treat for friends or neighbors this Easter!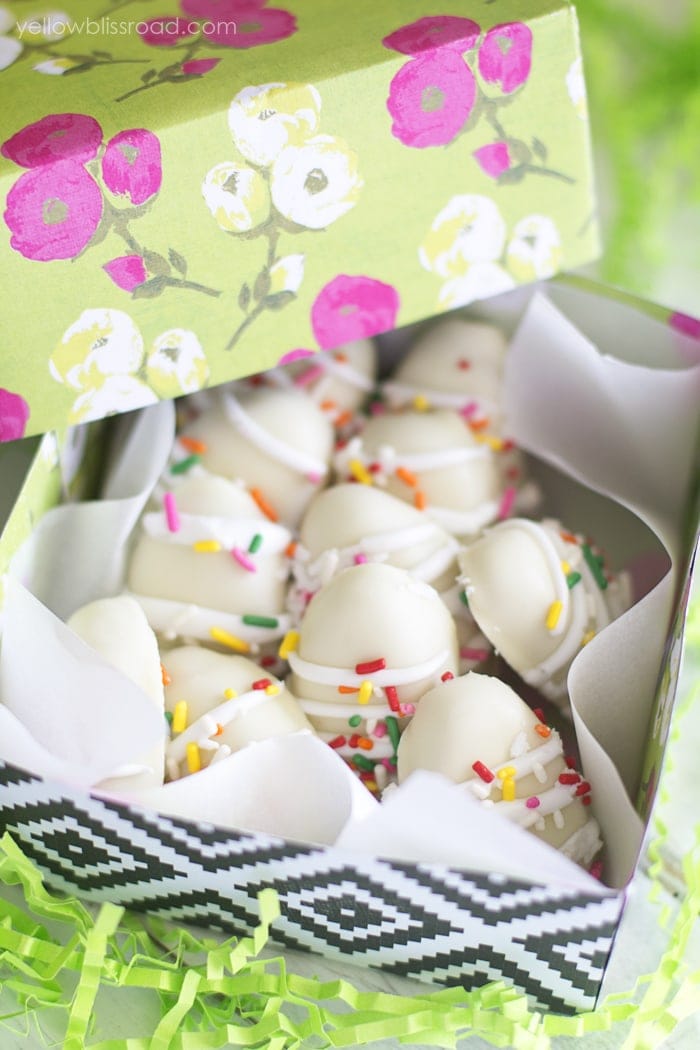 Every good party needs good drinks and if it's spring, it's Lemonade time! Cute gingham straw tags available in the party pack at the end.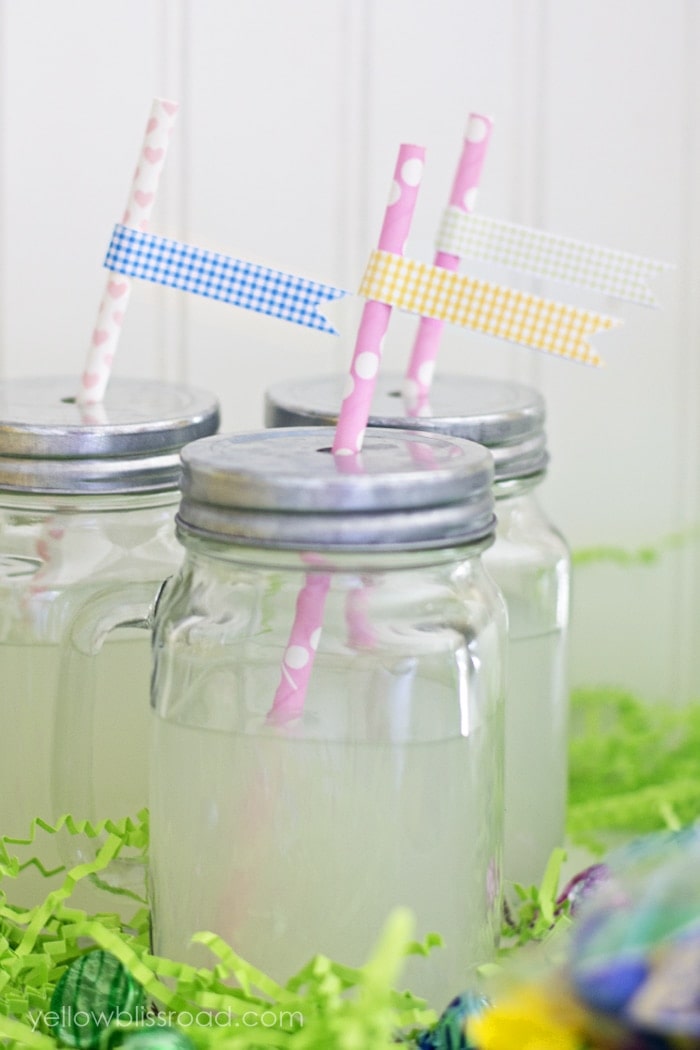 To complete the party, each guest got to take home a little bag with some chocolate Easter eggs in them – their choice of Reese's Peanut Butter Eggs, or my second favorite Easter Candy – Cadbury Creme Eggs. These take me back to when I was very little and my Grandpa could always be found sneaking one or two because he loved them so. I'm sure that's where my deep love for them came from. I've heard they're pretty awesome frozen, too! (Life changer – I know!).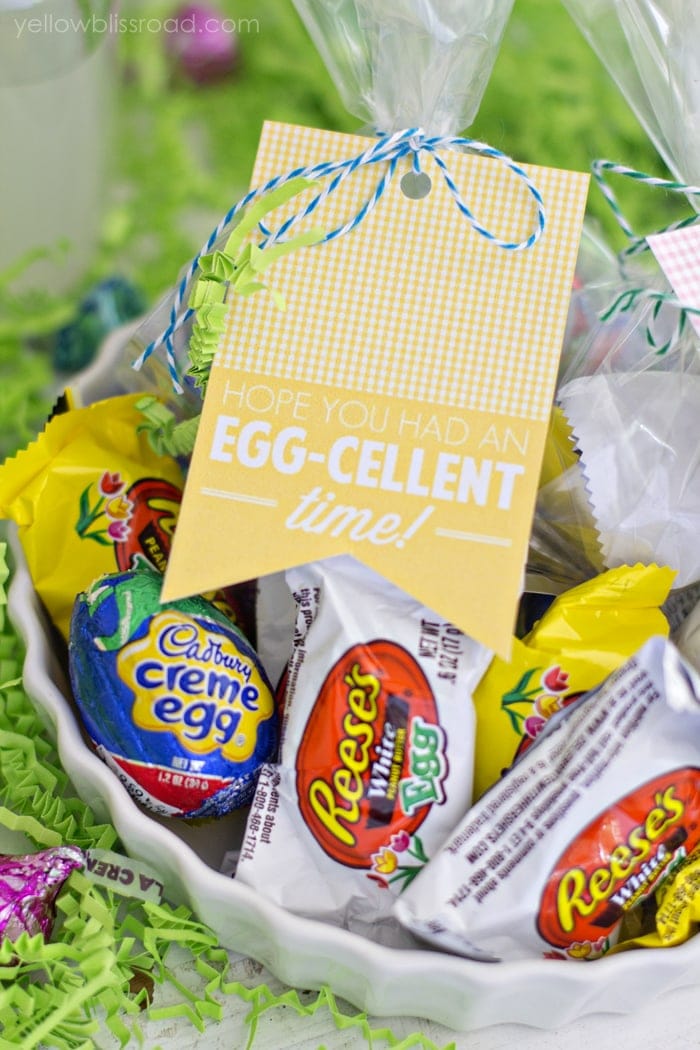 The tags come in four colors, and are also available in the party pack.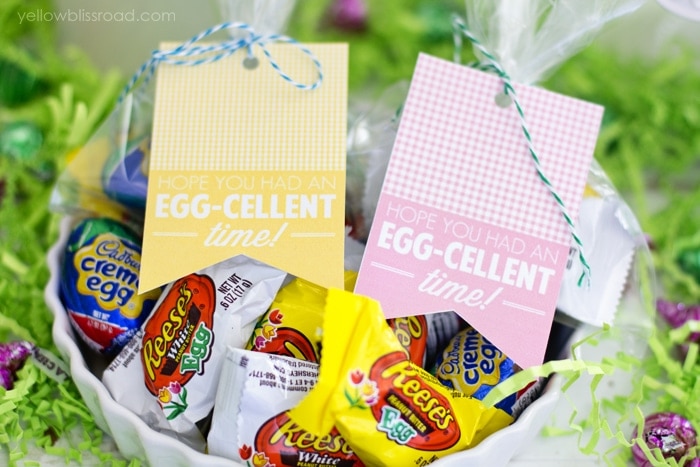 To finish off the colorful spring look, I added two daffodil plants (also from my grocery store) and sprinkled green crinkly paper all around the plates (and some Hershey's Kisses Chocolates because they're just so pretty).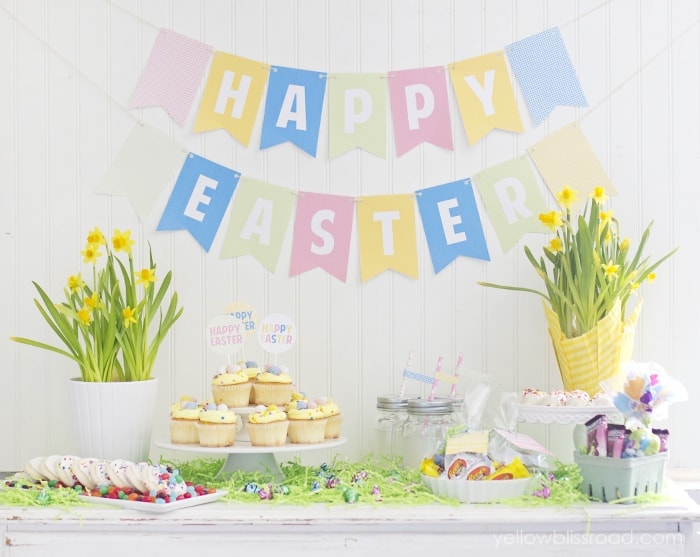 Did you know that candy is the number one item purchased during the Easter season, making it the perfect time to Celebrate with Hershey's! Hershey is our favorite candy brand, and we are huge fans of classic Easter treats like Cadbury Mini Egg candies, Reese's Peanut Butter Eggs and Cadbury Creme Egg candy, plus there are so many new options that we can't wait to try out, like the Jolly Rancher Gummy Bunny Food Shaped Candy!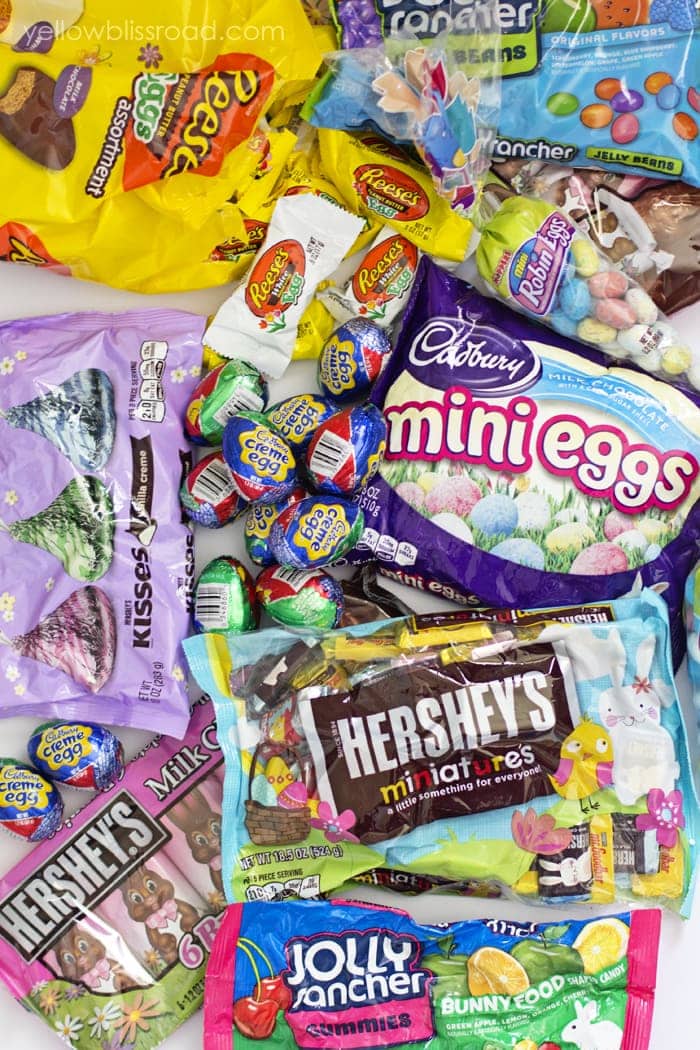 For more fun Easter ideas, be sure to check these out: