My Ground Beef Quesadillas have a crispy tortilla on the outside and are stuffed with seasoned ground beef, melted cheese and slices of creamy avocado. Perfect for a quick meal or a late night snack.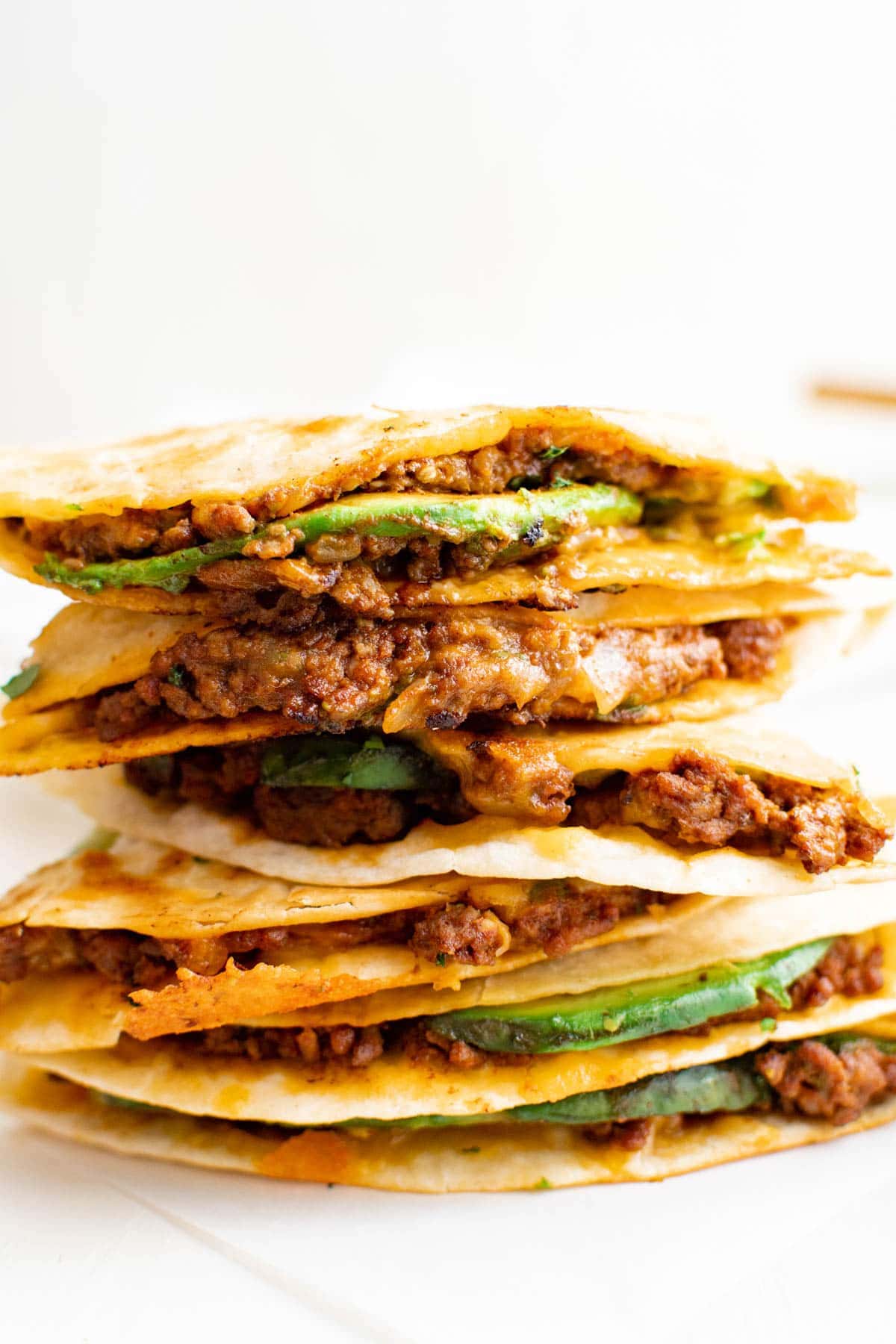 Make a meal out of these quesadillas and serve them with Authentic Mexican Rice and Refried Beans. Or serve as an appetizer along with toppings like sour cream, guacamole, and salsa.
What do you put inside quesadillas?
Quesadillas can be filled with a variety of ingredients, but the thing they all have in common is CHEESE. Cheddar cheese, jack cheese, pepper jack, even gruyere and fontina have made their way into a quesadilla. The cheese you choose should be something that melts nicely and has a flavor you like. There are really no wrong answers here.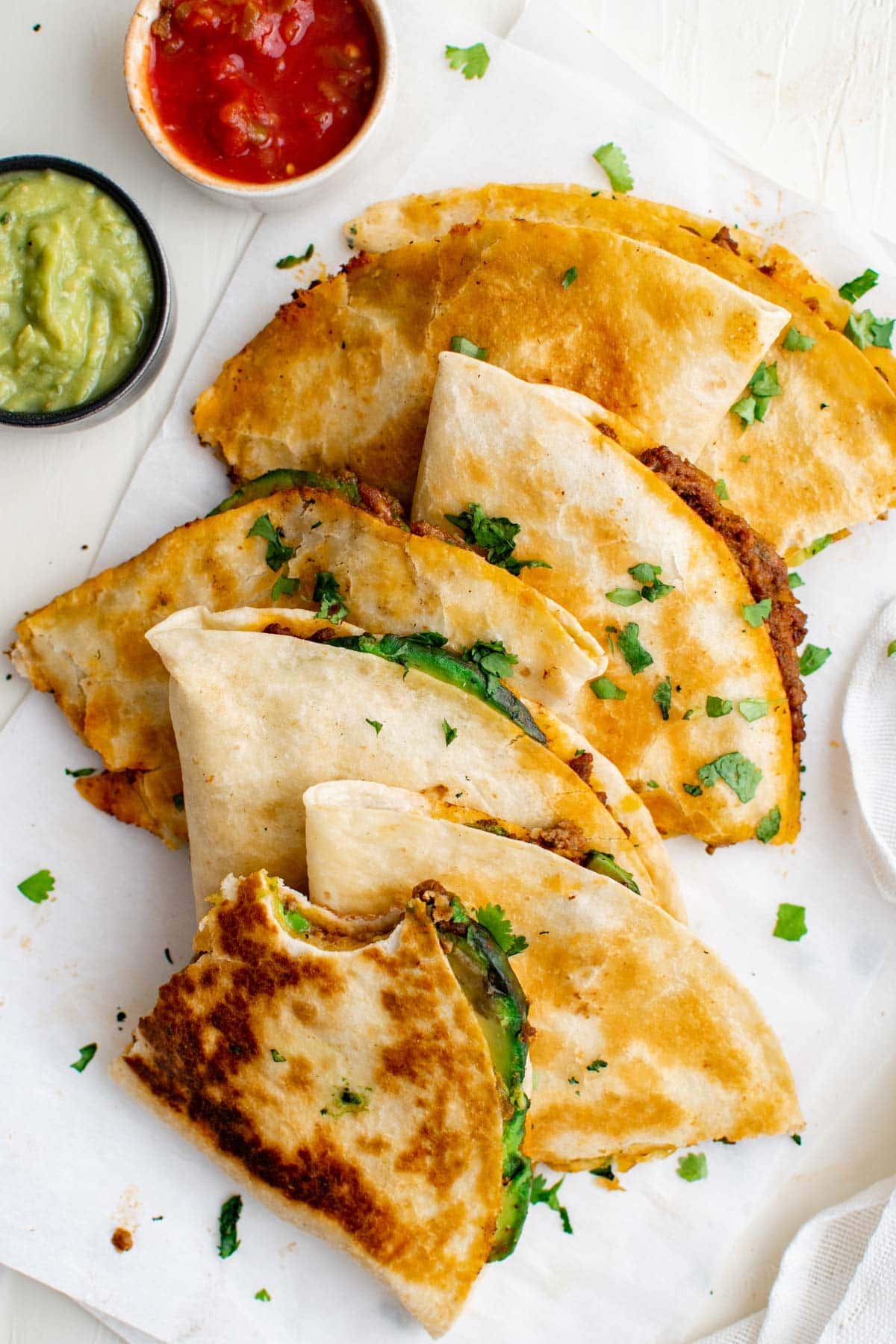 Once you've selected the cheese, you can put other things in there, like steak or chicken, and veggies like peppers and onions.
For these Ground Beef Quesadillas, I chose a cheddar-jack combo, seasoned ground beef, and avocado slices.
How to Make Ground Beef Quesadillas
Make the meat. Cook lean ground beef with onions and garlic, then drain it really well. You can transfer to paper towels to drain but I find it easiest to just sop up the excess grease with paper towels. Add some taco seasoning, beef broth, and tomato paste and simmer it all together for about 10-15 minutes.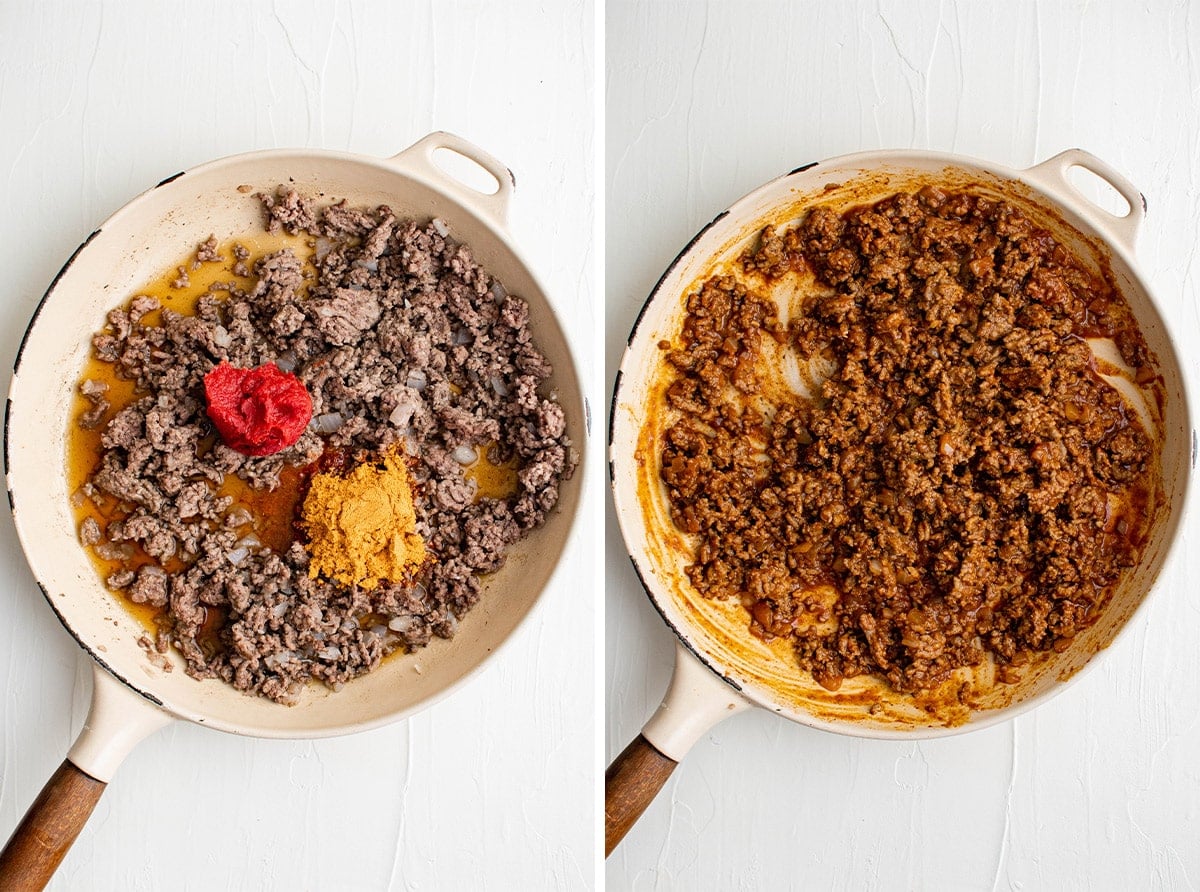 Make the quesadillas. Place one tortilla butter side down in a large skillet. Layer cheese on half, then ground beef, avocado slices, then more cheese. Fold the tortilla in half over the filling and press down gently to make sure all of the tortilla is touching the surface of the skillet. Once it's golden brown, flip with a large rubber spatula.
Once the ground beef quesadilla is golden on both sides and the cheese is melted, remove it from the skillet and start on the next one. Each quesadilla should take no more than a couple of minutes per side.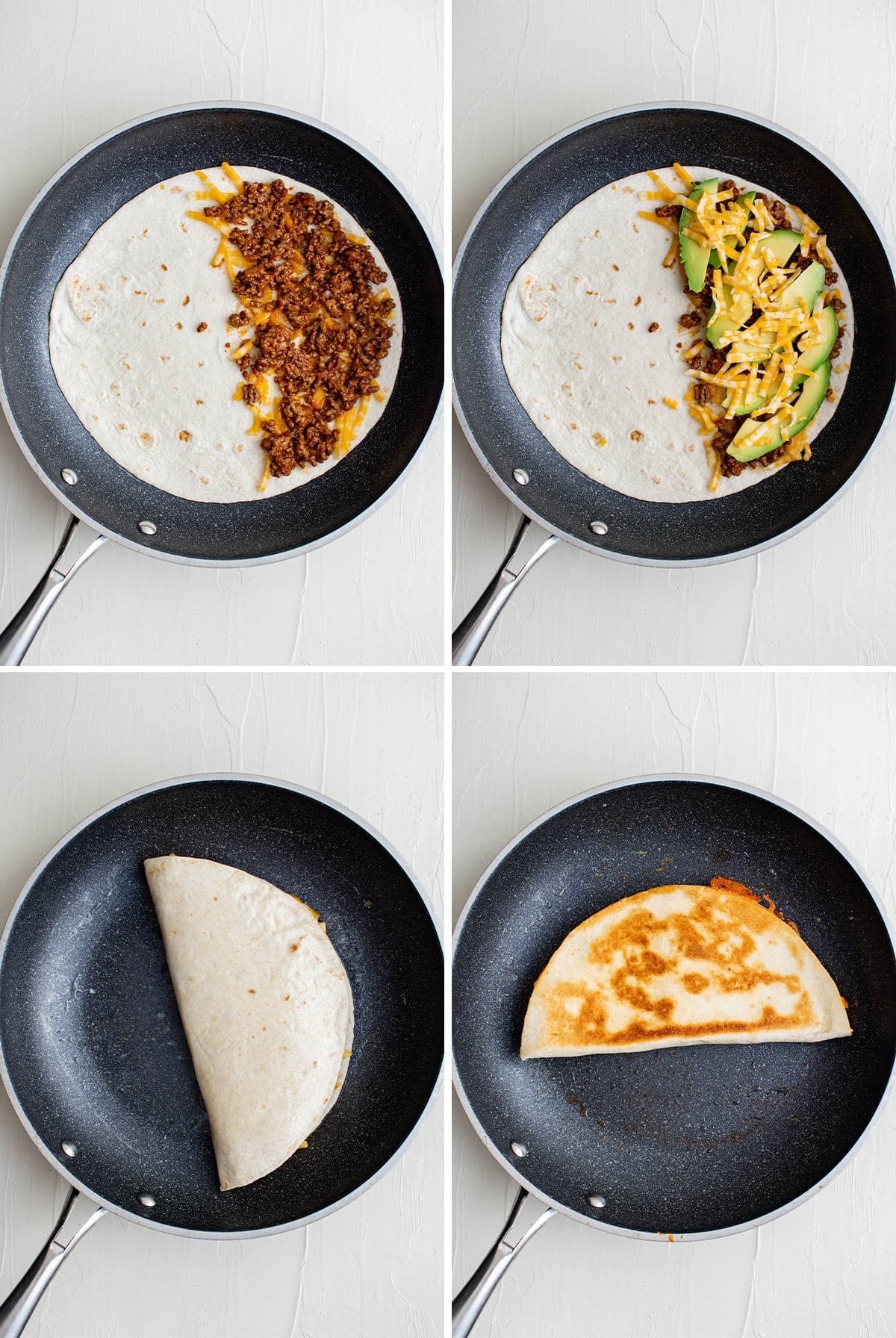 If you are just making one or two, transfer each one to a cutting board as they finish cooking. If you are making several, keep them warm on a cookie sheet in the oven at the lowest temperature.
Storage and Freezing
Storage: Any leftover meat can be stored in the fridge for up to 3-4 days. Use for taco salad, burritos, tacos, or more quesadillas. The ground beef quesadillas are best fresh and should not be made ahead and reheated.
Freezing: Place any leftover meat in a freezer bag and freeze for up to 3 months. Thaw completely, then reheat in a skillet on the stove.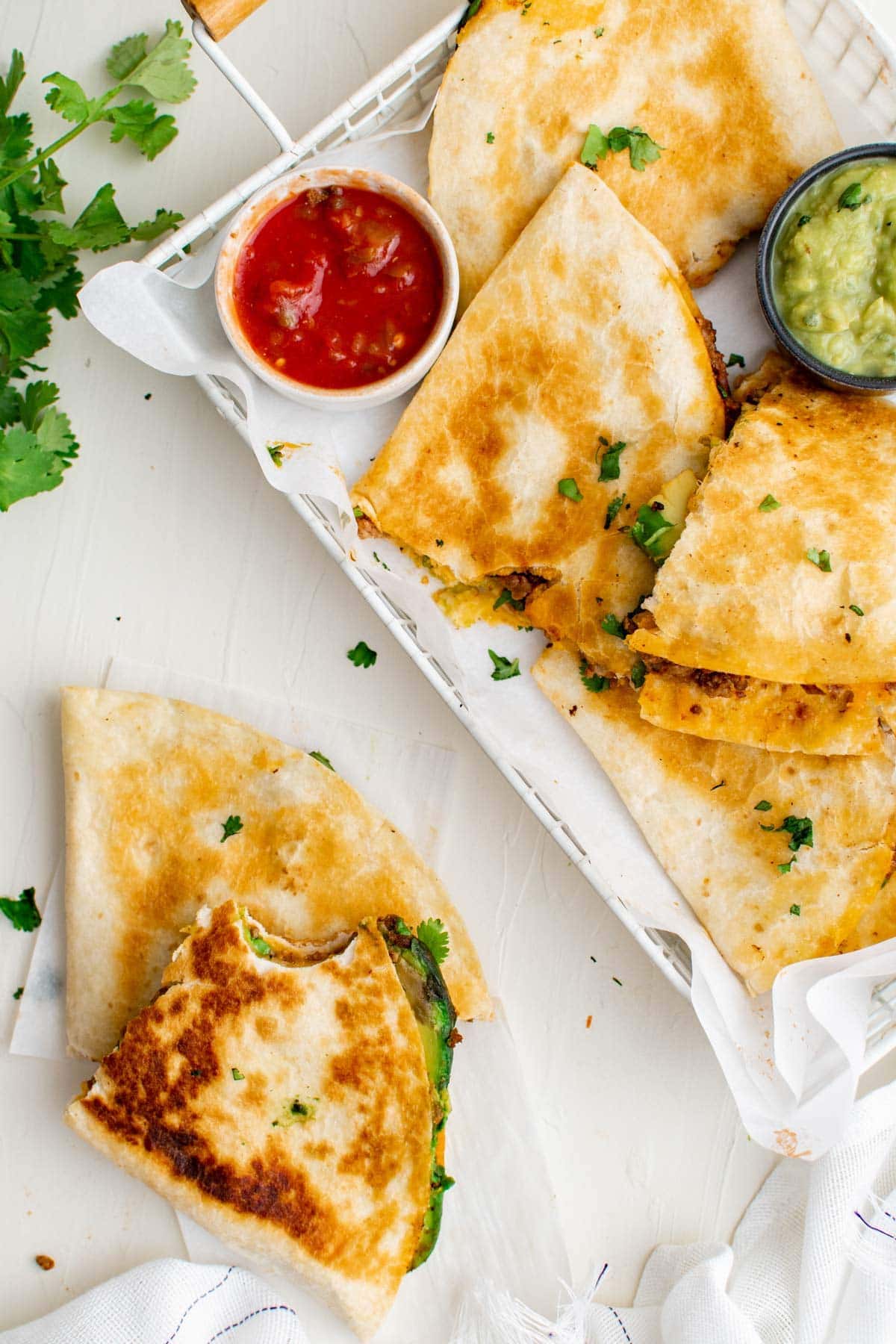 Ground Beef Quesadilla Recipe Tips
It's always best to cook one tortilla at a time and fold it in half. When you stack two tortillas, it can be difficult to flip it over without losing the filling.
For a golden, crispy exterior, use butter and spread it all over the outside of the tortilla instead of melting it in the pan.
Keep the burner at medium. Too low and the exterior won't get crispy, too high and it will cook too fast.
Use a nonstick skillet or a cast iron if you have one. I've found that cheese tends to stick to stainless steel or enamel pans and makes a mess.
Let them cool for at least 5 minutes before slicing or the gooey cheese will melt out the sides.
The avocado is optional, but I like how it cuts through the heaviness of the meat and cheese.
Serving Suggestions
My kids love dipping their ground beef quesadillas in a blend of ranch, sour cream, and salsa. I'm a purist and prefer just sour cream. My husband prefers the Mexican condiment trifecta of sour cream, guacamole, and salsa. We eat these for lunch quite often, but they are great for dinner too.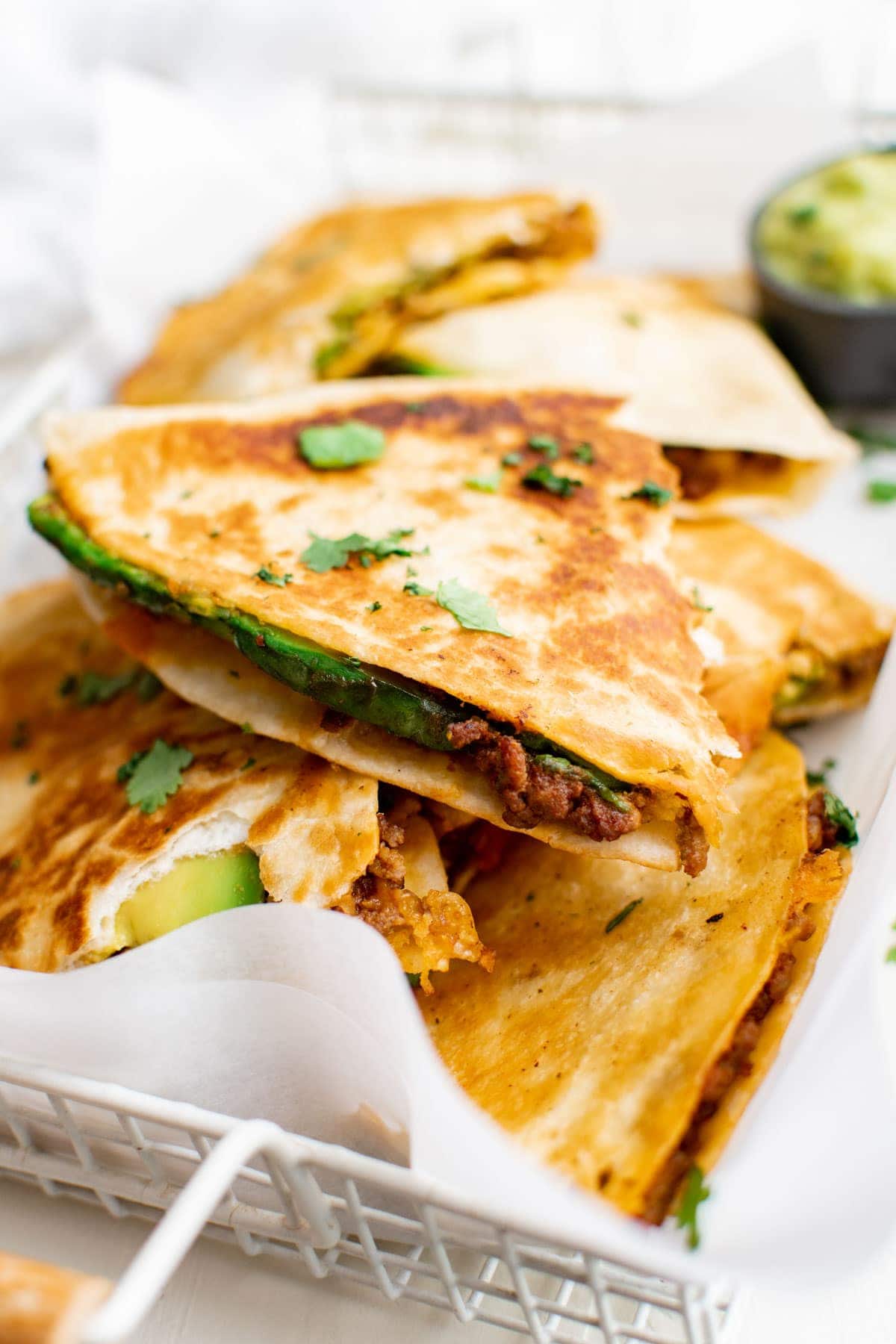 More Mexican Inspired Recipes to Love
Recipe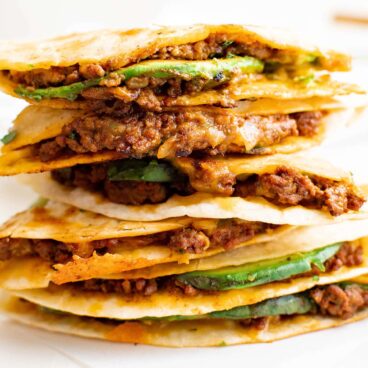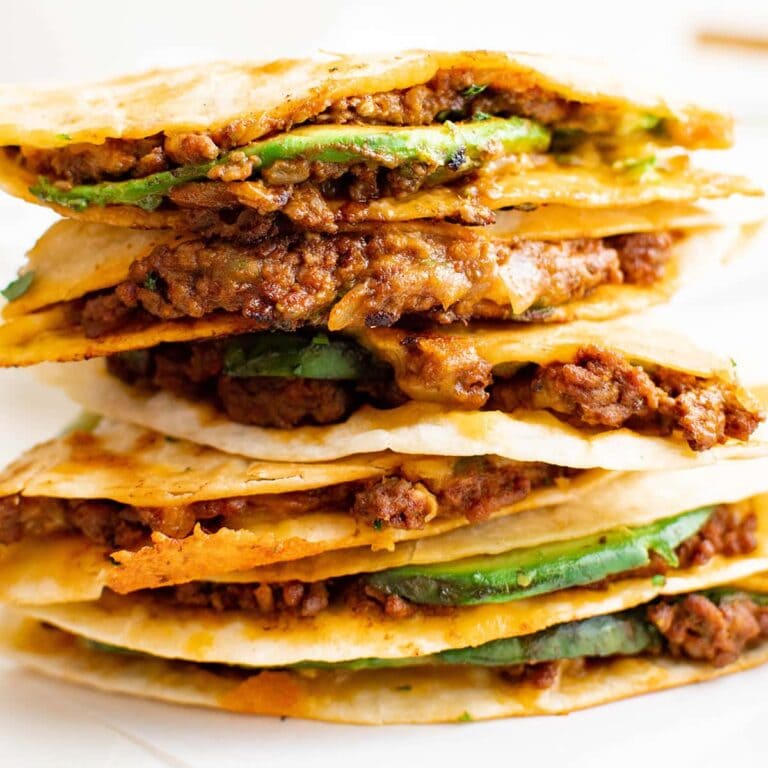 Ground Beef Quesadillas
Ground beef quesadillas are perfect for lunch, dinner or a late night snack.
Ingredients
1

pound

ground beef

90/10 is recommended

2

tablespoons

taco seasoning

1 packet

2

garlic cloves, minced

1-2 teaspoons

1/2

cup

finely diced onion

2/3

cup

beef broth or water

2

tablespoons

tomato paste

4

large flour tortillas

burrito size

4

tablespoons

butter

room temperature

2

cups

shredded cheddar-jack cheese

1

avocado

seeded and sliced

Optional for serving: cilantro

sour cream, salsa, guacamole
Instructions
Add ground beef, diced onion and minced garlic to a large skillet over medium high heat. Break up beef with a spatula and cook, stirring often, until no longer pink; 5-7 minutes. Drain grease or soak up with paper towels and discard.

To the cooked beef mixture, stir in tomato paste, beef broth or water, and taco seasoning. Bring to a boil, then reduce heat to medium-low and cook, stirring often, until sauce is thickened and reduced; about 10-15 minutes.

Spread butter onto one side of each tortilla.

Heat another large skillet over medium heat and add one tortilla, butter side down. Sprinkle cheese on one half of the tortilla, then layer a fourth of the beef mixture, a few slices of avocado, and more cheese.

Fold the tortilla in half, and cook until golden on the bottom. Carefully use a flat spatula to flip the quesadilla over and cook the other side until golden. Gently press down to cook evenly.

Transfer to a wire rack or cutting board while you cook the other quesadillas.

If making a large batch, keep warm in the oven. Serve with salsa, sour cream and guacamole.
Notes
Feel free to adjust the amount of cheese to use more or less to your liking. Use your favorite kind of cheese. 
Nutrition
Calories:
748
kcal
Carbohydrates:
25
g
Protein:
40
g
Fat:
55
g
Saturated Fat:
26
g
Trans Fat:
2
g
Cholesterol:
157
mg
Sodium:
1001
mg
Potassium:
811
mg
Fiber:
5
g
Sugar:
4
g
Vitamin A:
1098
IU
Vitamin C:
9
mg
Calcium:
492
mg
Iron:
5
mg