There is no better snack than buttery, salty stovetop popcorn! Try my tips for the best popcorn on the stove and you'll never microwave another bag again!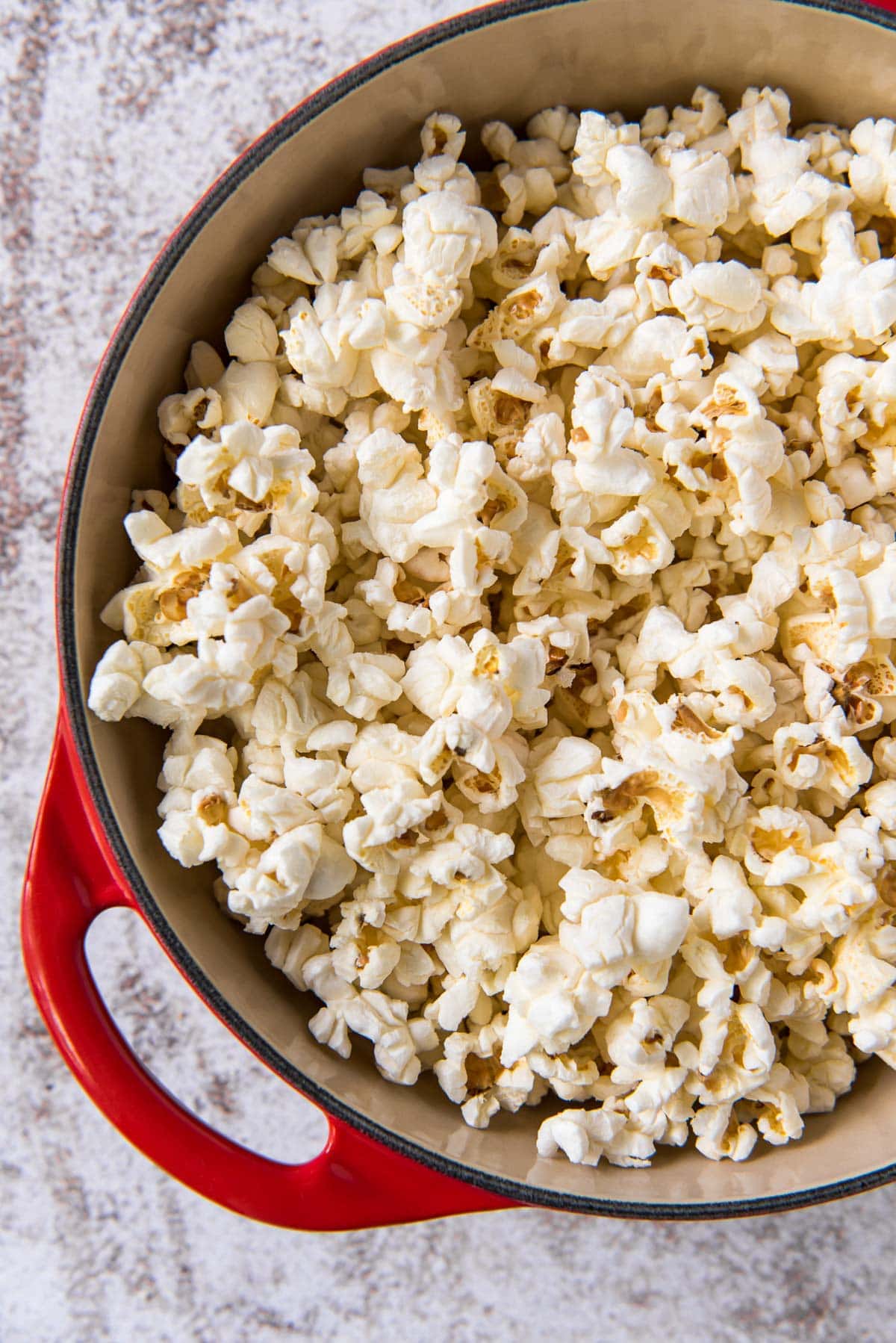 If you're missing the movie theater right now, I've got a recipe to bring your at home move night to the next level. Movie theater popcorn is delicious, there's no denying, but it's doused with artificial flavors, fat and salt. Making your own popcorn on the stovetop is undeniably the best way to enjoy popcorn at home. Microwave popcorn doesn't hold a candle to this homemade version and with a few tips I'm about to share with you, you'll impress even the toughest popcorn critics. Try it with our homemade Garlic Butter or Honey Butter for an extra special treat.
Stovetop Popcorn is Best
Raise your hand if you've ever called a big bowl of popcorn lunch (raises hand). Ever since I was a kid, I have had a slight addiction to popcorn. Anytime I stayed over at my grandma's house, she would cook popcorn on the stovetop for me. Just canola oil, corn kernels popped to perfection, and salt. That's it. It was quite literally the best thing I'd ever eaten.
Occasionally she'd pour some melted butter over the crisp kernels, but I found it wasn't even necessary. The salt stuck to the kernels and made them just the right amount of salty.
These days, when I make stovetop popcorn for my husband or my kids, there is definitely butter involved. But that's totally optional (unless you're my husband, then it's a requirement).
Top Tips for the Best Stovetop Popcorn
Use a deep, heavy bottomed dutch oven, preferably cast iron. The vessel is really important here because it needs to hold the heat so the kernels will be popped even. I use this one, but there are more budget friendly versions available. You could also use a stainless steel pot, but nonstick isn't recommended.
Best oil for stovetop popcorn: Use canola oil for a neutral flavor and high smoke point. Corn, avocado and coconut oil will also work well, but do have a slight flavor that will transfer over to your corn. You will need 2 tablespoons to every ½ cup of popcorn. Heat the oil for a couple of minutes before pouring in your kernels. Test the heat by dropping in 2-3 kernels – when they pop, the oil is ready.
Add kernels, cover and swirl and shake the pot gently to make sure all of the kernels are covered in the oil. Keep the lid on.
Once the popcorn starts popping, lift the lid and slide it just slightly to the side to allow steam to escape. This will keep your popcorn from getting soggy from the steam.
Make sure to shake the pot every 30 seconds. As the popcorn pops, some of the kernels will rise up and giving the pot a shake will send them back to the bottom. You want every kernel to pop!
Once the popping slows to 2-3 seconds between pops, turn off the burner and move the pot off the heat. Give it a minute to encourage stubborn kernels to pop. Lift the lid off carefully – I've been startled by those stubborn kernels popping as I've lifted off the lid!
How to Dress Your Popcorn
Now that you've got some delicious, hot, fresh popcorn, you can totally eat it plain or with just a little salt and melted butter. If you're wanting to dress it up a bit though, here are some of my favorite popcorn toppings.
Homemade cajun seasoning: Heat things up with this spicy diy blend.
Garlic Bread Popcorn: If garlic bread is your favorite, try adding some garlic and Parmesan flavor to your popcorn.
Honey Peanut Butter Popcorn: For when you want a little sweet and salty.
Everything Bagel Seasoning: This seasoning offers a savory, salty Umami flavor that can't be beat.
Chili lime: Squeeze lime juice over fresh popcorn and sprinkle on some chili powder and salt for a Mexican street corn vibe.
Is Stovetop Popcorn Healthy?
Popcorn is a whole grain food, making it high in important nutrients, especially fiber. When eaten plain, it comes in around 35-40 calories per cup. Adding butter and salt to this recipe of course will increase the calorie and fat content, still keeping it fairly low. Pouring 4 tablespoons of melted butter over a batch of stovetop popcorn will come in at around 350 calories per 5 cup serving.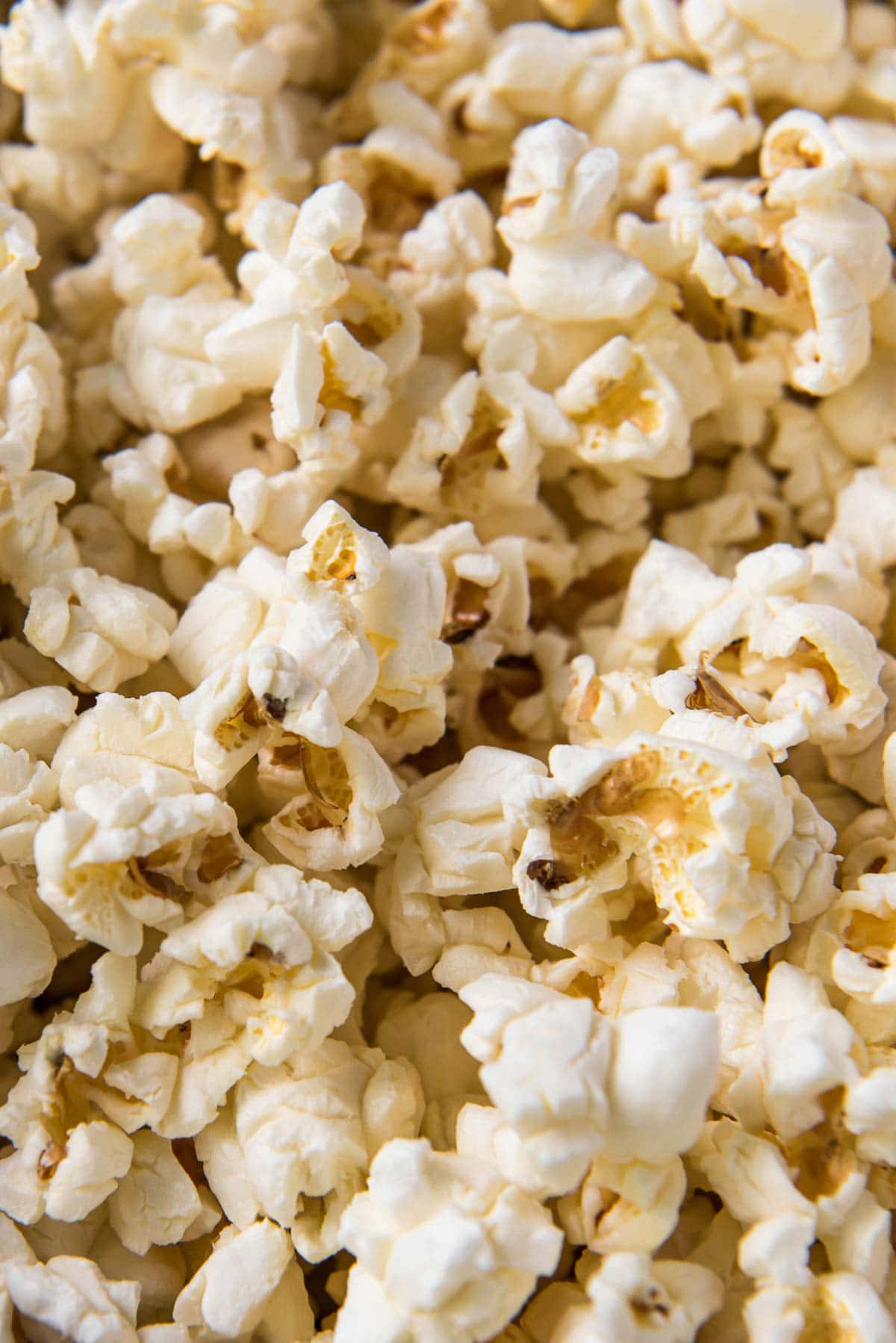 More Homemade Snacks to Love
Recipe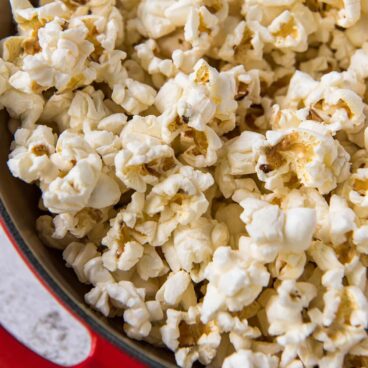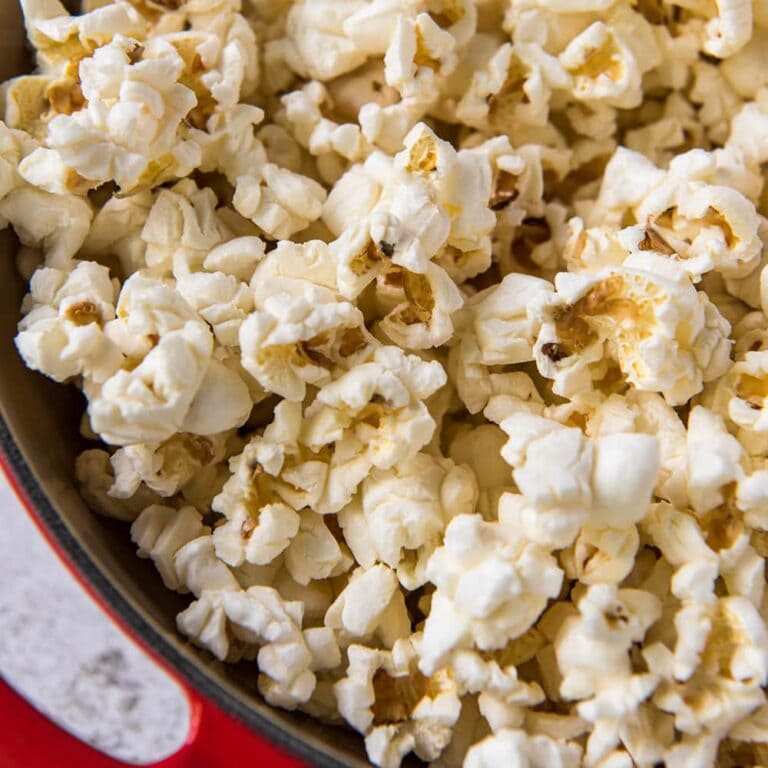 Stovetop Popcorn
There is no better snack than buttery, salty Stovetop Popcorn! Try my tips for the best popcorn on the stove and you'll never microwave another bag again!
Ingredients
2-3

tablespoons

canola oil

1/2

cup

popcorn kernels

1

teaspoon

Salt

to taste

4

tablespoons

Melted butter

optional

Other optional flavorings include grated Parmesan cheese

garlic salt, cajun seasoning.
Instructions
Place a large deep skillet or pot over medium heat. Stainless steel or cast iron enameled pot work best for even heat distribution. Pour in oil and let heat for 1-2 minutes. You can test the heat by adding a few kernels of popcorn to the oil and when they pop, it's ready.

Add kernels to the pot and cover with the lid. Shake the pot gently, holding the lid down, to coat the kernels in the hot oil. Once it starts popping, tilt the lid slightly to let steam escape.

Give the pot a shake every 30 seconds or so, to redistribute the kernels and promote even cooking. If popcorn starts to lift the lid and overflow, just dump some into a bowl then place the pan back on the heat to keep popping.

Once popping slows to 2-3 seconds between pops, remove from heat and let it sit for a minute to encourage any stubborn kernels to pop.

Pour popcorn into a large bowl and season with salt, melted butter or any other flavoring you like. Pour into smaller serving bowls if desired.
Notes
Nutritional information is approximate and does not include optional toppings like melted butter and salt.
A serving is typically 4-5 cups of popcorn. 
Nutrition
Serving:
5
cups
Calories:
185
kcal
Carbohydrates:
20
g
Protein:
3
g
Fat:
11
g
Saturated Fat:
1
g
Sodium:
2
mg
Potassium:
75
mg
Fiber:
3
g
Sugar:
1
g
Iron:
1
mg