Infused Water is a great way to make everyday water so much more exciting! With just a few simple ingredients, completely transform your water into something you will look forward to drinking. These fruit-flavored waters are refreshing, delicious, and a healthy solution when hydration starts to feel boring.
Looking. for some sweeter fruit flavored drinks? Try my Homemade Hawaiian Punch! It's better for you than the sugary bottled drink and it's super delicious!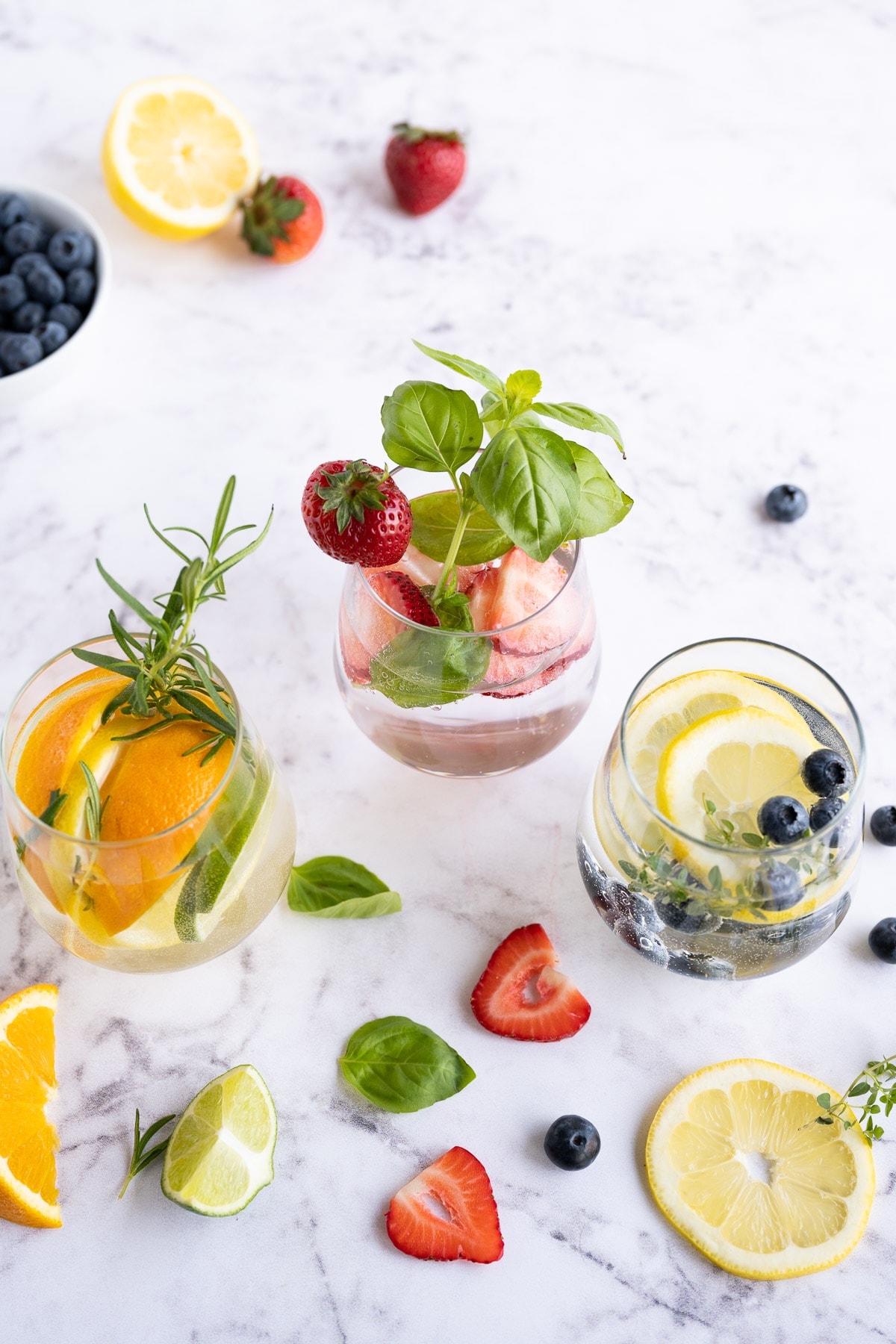 We all know that we should be drinking more water. In fact, many people would be shocked to learn just how much water they should be drinking daily. But let's be honest, plain water can get boring sometimes. Many of us turn to sparkling water, soft drinks, or juice in these moments – but instead, what if we took what we already had in our kitchens and turned them into delicious, sugar-free infused waters.
Not only do these fruit-flavored waters taste delicious, but they also pack in some extra health benefits from the vitamins and minerals in the fruits, vegetables, herbs, and spices. And if you need one more reason, kids LOVE these! While my kids often complain about plain water, they love helping me create all different combinations of flavored water at home. The combinations are endless.
What is Infused Water?
Infused water can be made with almost any combination of fruit, vegetables, herbs, and spices immersed in still or sparkling water. Think about flavor combinations you already like (apple cinnamon I am looking at you!) or start with what you already have in the fridge.
You'll find 4 of my favorite flavor combinations in the printable recipe card below, but here are some of the best ingredients to use:
Fresh fruit: Lemon, lime, orange, grapefruit, strawberries, blueberries, raspberries. blackberries, kiwi, mango, pineapple, apples, pears, grapes, peaches, plums, apricots, pomegranate, or watermelon.
Fresh vegetables: Cucumbers, bell peppers, jalapeños, and celery.
Fresh herbs and spices: Basil, mint, cilantro, thyme, rosemary, ginger, turmeric, cinnamon, cardamom, or cayenne pepper.

How to Make Fruit Infused Water
One of the best things about making your own fruit-flavored water at home is that it couldn't be easier. Essentially all you need to do is wash and chop the produce, add it to some cold water, and let it steep in the fridge. That's it. Since our family enjoys it so much, I normally make it in a large pitcher and keep it in the fridge.
How much produce should  I use? The amount of produce needed depends on how intense you want the flavor to be. For a subtle flavor, you only need a few slices per serving. For more intensely flavored water, you'll want to add more. Also, consider the intensity of the ingredients. A little ginger goes a long way and a few slices may be enough, whereas something you may need more strawberries to really get that flavor to come through.
Does frozen fruit work? Although frozen fruit will work in the recipes, the flavor won't be as strong. Additionally, frozen fruit tends to get really soggy and mushy in the water. If you have some frozen fruit, consider adding it as "ice cubes" right before serving for a fun and festive touch.
How long does it take? This will depend on the fruits, vegetables, and herbs you are using. Some fruits, like lemons and limes, add flavor to water almost immediately. Cucumber, cantaloupe, watermelon, pineapple, and mint all infuse quickly. Other produce, like fresh berries, apples, and herbs may take quite a bit longer.
Can I eat the fruit after? Absolutely! That's one of the best parts of making infused water. It's a great way to stay hydrated and a snack.
Storage, Leftovers, and More
The exact shelf life of infused water mostly depends on what type of fruit you are using. Some fruit, like berries, watermelon, or pineapple tend to get mushy and break down after a couple of days in the fridge. Other items, like citrus fruit, can last much longer, A good rule of thumb is to check the fruit. If you wouldn't eat it, then it is probably time to get rid of the water.
Pro tip: If you find you finish a pitcher quickly, don't be afraid to use the fruit again. Just add it to fresh cold water and let it steep again in the fridge.
Health Benefits
While there are many claims about detox water and infused water helping with everything from weight loss to immunity to digestion, the fact is that all of those things are simply benefits of staying hydrating and drinking enough water in general. The additional vitamins and minerals from the fresh produce can add small health benefits, but the main goal should be just drinking more water. Simple as that.
So if making flavored water helps you to do this, then great. Here are some of the benefits of drinking more water.
Supports healthy digestion
Support healthy metabolic functions and can curb appetite
Improve mental and physical energy
Helps regulate body temperature
Aids in nutrient absorption
Can help fight off illness

More Delicious Drink Recipes
Recipe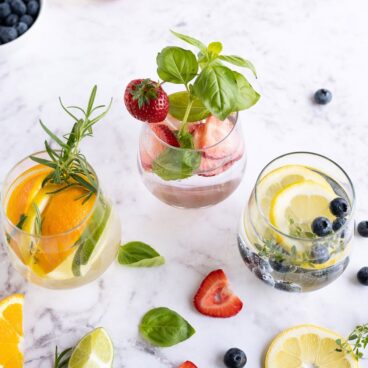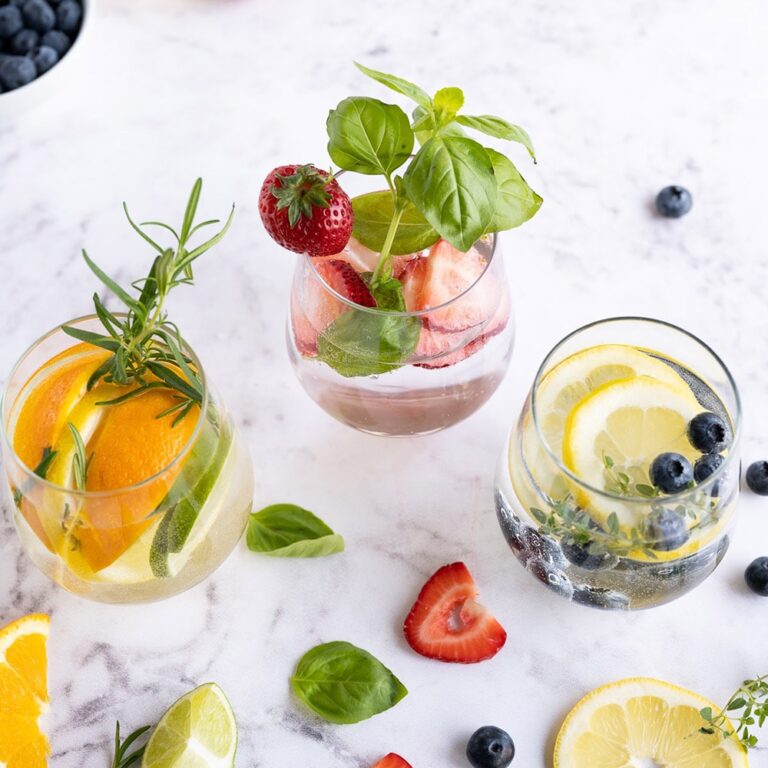 Infused Water (4 Ways)
How to make delicious fruit infused water - four recipes!
Ingredients
Strawberry Basil
2

fresh strawberries

3

fresh basil leaves

1.5

cup

water
Blueberry Lemon Thyme
8

fresh blueberries

2

lemon slices

1

sprig fresh thyme

1.5

cup

water
Mixed Berry
2

fresh strawberries

3

fresh blackberries

3

fresh raspberries

5

fresh blueberries

1.5

cups

water
Orange Rosemary
2

orange slices

1

lemon slices

2

lime wedges

1

sprig fresh rosemary

1.5

cups

water
Instructions
Strawberry Basil
Place the basil leaves in a glass. Using a muddle or spoon, gently press on the leaves. This releases the flavor. Add strawberry slices and fill with water. Let steep at least one hour.
Blueberry Thyme
Place lemon, blueberries, and thyme in a glass. Fill with water. Let steep at least one hour.
Mixed Berry
Add the berries to a glass. Fill with water. Let steep at least two hours.
Orange Rosemary
Place the lemon, orange, lime, and rosemary in a glass. Gently muddle. Add water and let steep for at least 30 minutes.
Notes
These recipes are for a single serving. For a pitcher or larger serving, multiply by four or six. 
Nutrition
Calories:
49
kcal
Carbohydrates:
13
g
Protein:
1
g
Fat:
1
g
Saturated Fat:
1
g
Sodium:
72
mg
Potassium:
180
mg
Fiber:
3
g
Sugar:
7
g
Vitamin A:
202
IU
Vitamin C:
56
mg
Calcium:
80
mg
Iron:
1
mg