Lemon Chicken & Broccoli Rice
This post brought to you by American Frozen Foods Institute and the Frozen Food Roundtable. All opinions are 100% mine.
One pot meals are definitely my go-to for dinner in our house. They are delicious, easy to prepare and require minimal clean up. This Lemon Chicken & Broccoli Rice that I recently created, definitely fulfills all of those requirements!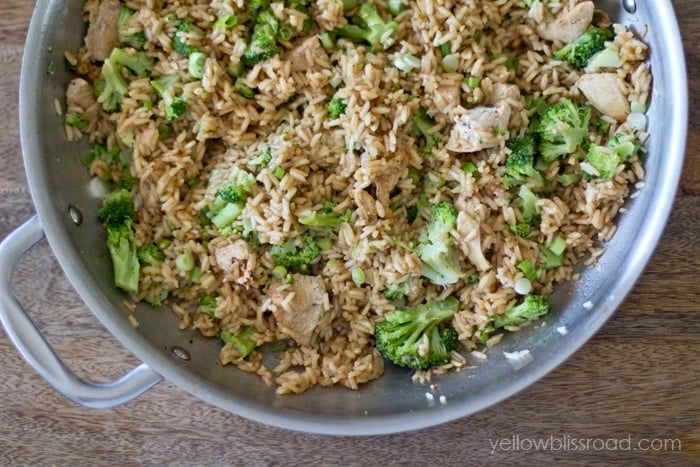 Like most families, our family is busy. Oddly it feels like since quitting my full time job to focus on working from home and being more present for my kids, I have become busier than ever! So I'm always looking for short-cuts to help free up some time so we can enjoy each other's company rather than me always being in the kitchen.
One pan meals are the perfect way to do just that. Chicken and rice are cooked together in the pan with lemonade, chicken broth, fresh lemon juice and soy sauce.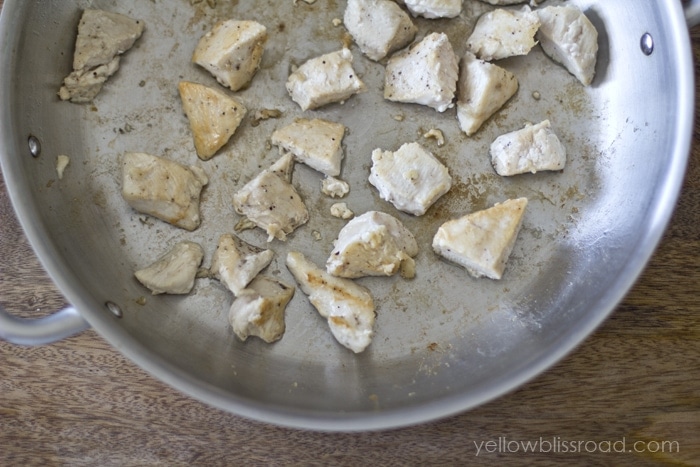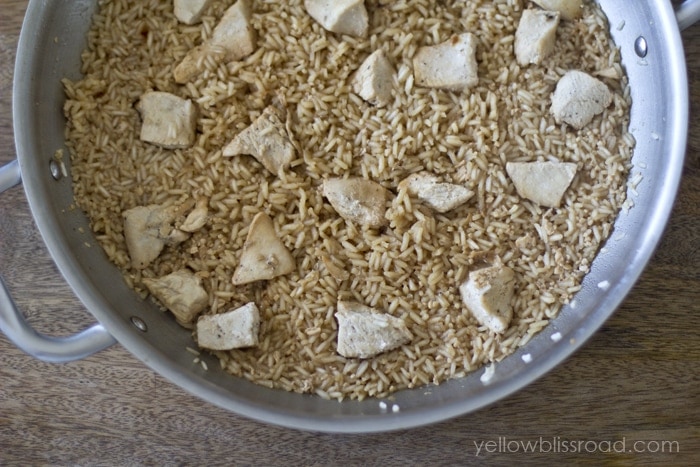 Frozen broccoli is added at the end. I opted for frozen because my experience has been that cooking the broccoli with the meal tends to soften it to much. I like my broccoli to have more of a bit to it, so this solution is perfect! I used the Green Giant Steamers and cooked it in the microwave while the chicken and rice were simmering on the stove. When I was ready to add it, I just gave it a rough chop and tossed it in with the rice. I finished it off with sliced green onions.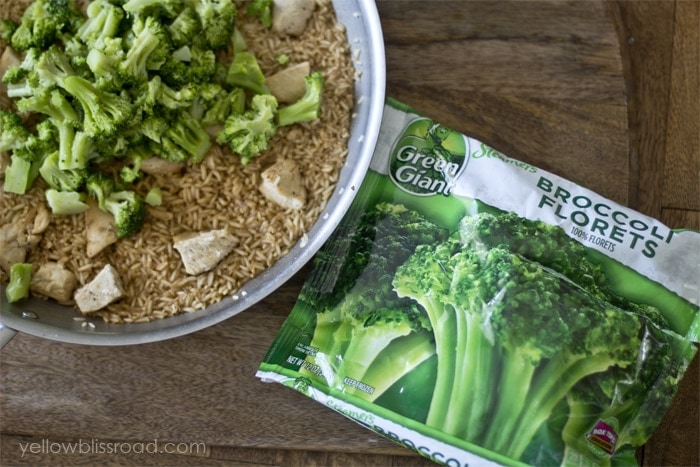 Doesn't it look delicious? The addition of the lemonade adds a nice touch of sweetness and the lemon juice gives the tang you'd expect from a lemon chicken dish.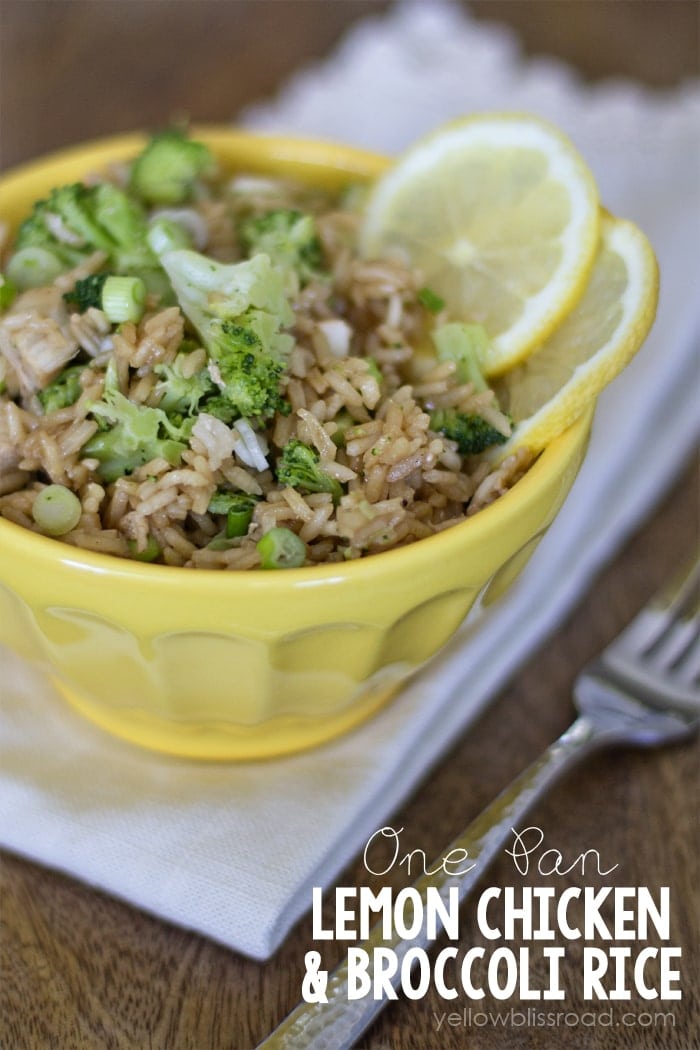 If you've made this recipe, please come back and leave us a star rating or a comment below. Or, tag us on social media @yellowblissroad or #yellowblissroad for a chance to be featured.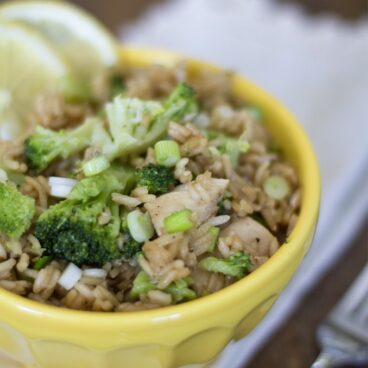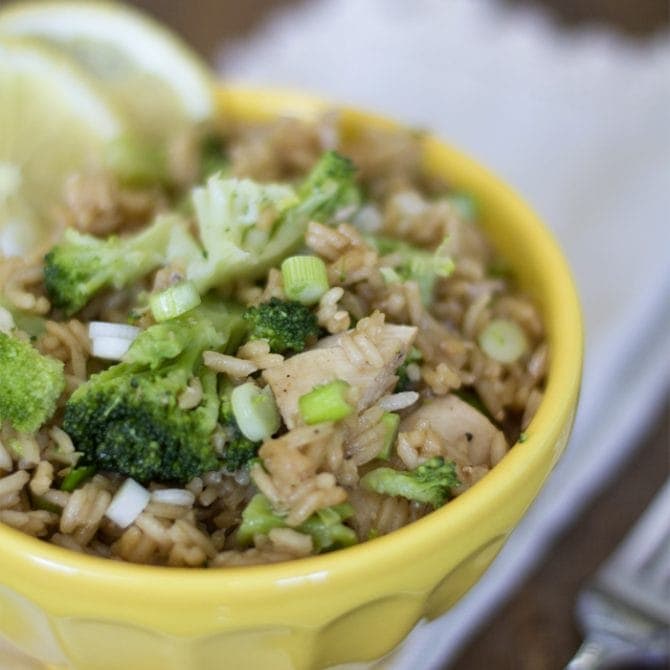 Lemon Chicken & Broccoli Rice
Ingredients
2

tablespoon

Olive Oil

2

boneless

skinless chicken breasts

Salt & pepper

1

tablespoon

minced garlic

2/3

cups

prepared lemonade

1 1/3

cup

chicken broth

1 1/4

cup

long grain white rice

uncooked

1/4

cup

soy sauce

Juice from half of a medium sized lemon

1-12

oz

package Green Giant Steamer Broccoli Florets

cooked and roughly chopped

4

green onions

sliced
Instructions
In a large skillet, heat olive oil over medium heat.

Slice chicken into 1 inch cubes and season with salt and pepper to taste. Add to olive oil and cook for a couple of minutes, just until browned and NOT cooked through.

Add garlic and stir for about 30 seconds. Garlic burns very quickly so take care with this step.

Push chicken aside and add uncooked rice to the pan. Saute (stir and cook) for a couple of minute until rice begins to brown. Careful not to let it burn.

Stir in chicken broth, lemonade, soy sauce, and lemon juice. Bring to a boil, reduce heat to low and cover. Cook for 20 minutes.

Remove from heat and add cooked broccoli and sliced green onions. Divide into bowls, and enjoy!
Notes
If you prefer your rice a little more moist, reduce the amount of rice by ⅛ cup.
I love to use frozen vegetables in my meals because it's so easy and you still get a great fresh taste. Frozen is  How Fresh Stays Fresh! Steaming them in the microwave and adding them at the end of your meal cooking time means that the vegetables are perfectly cooked, too – no one likes mushy veggies!
I also love the convenience that using frozen foods offers. Some of our favorite frozen foods that we always have on hand are Eggo Mini Pancakes, and DiGiorno Pizza. My kids would rather have Eggo pancakes over mine any day of the week!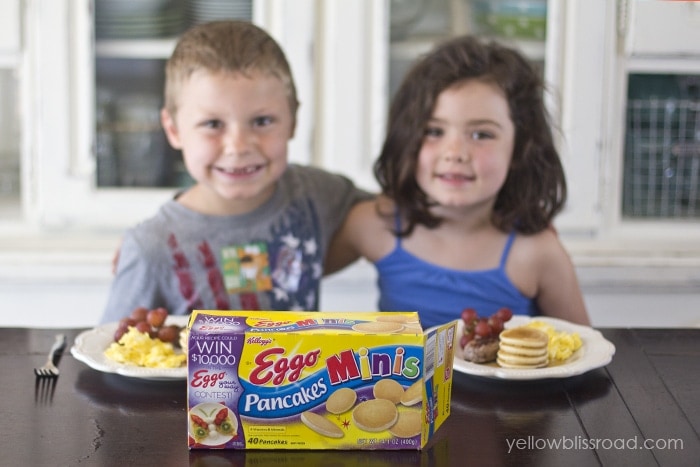 This photo cracks me up. I said get a little closer together so I can take your picture, and this is what they did!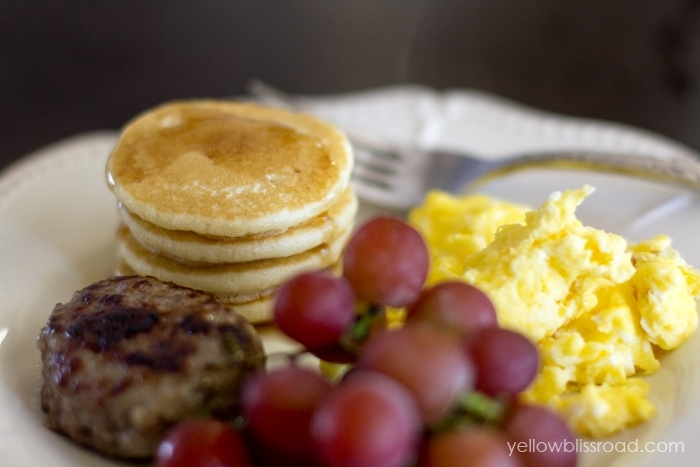 Using the frozen pancakes I can still make a well rounded and yummy Sunday breakfast without having three pans going at once!
Friday nights are pizza nights and they wouldn't be complete without a delicious DiGiorno Pizza (it's our favorite brand).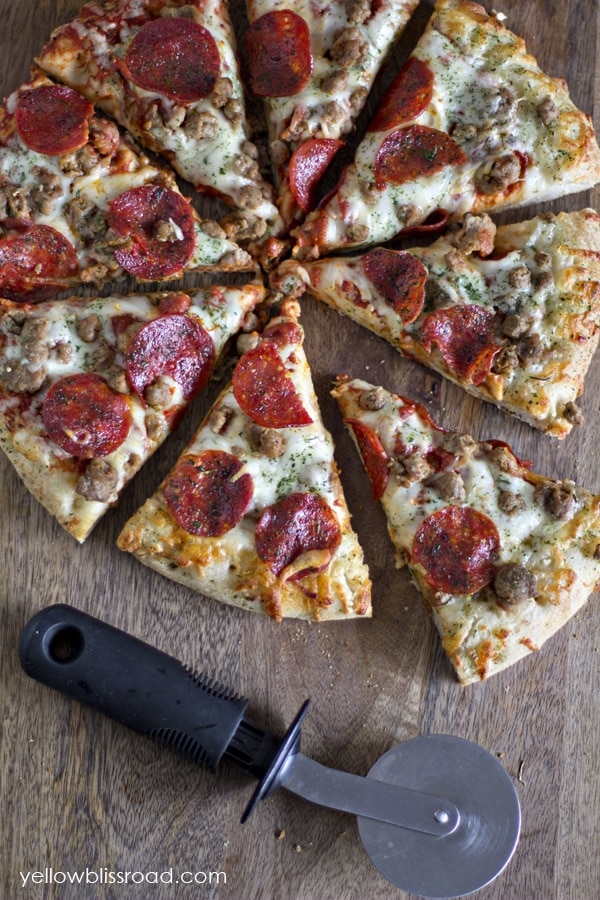 For more delicious one pan meals, you should check these out: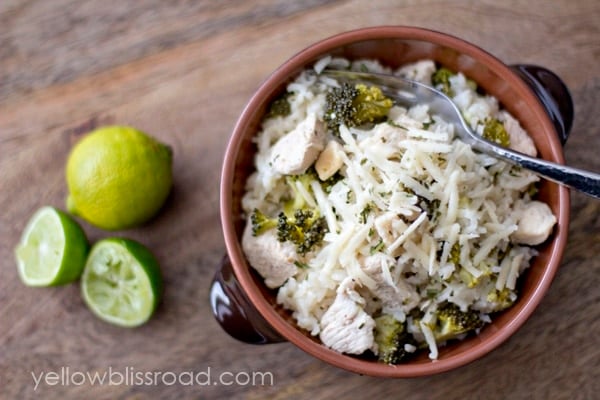 Lime Chicken and Broccoli Rice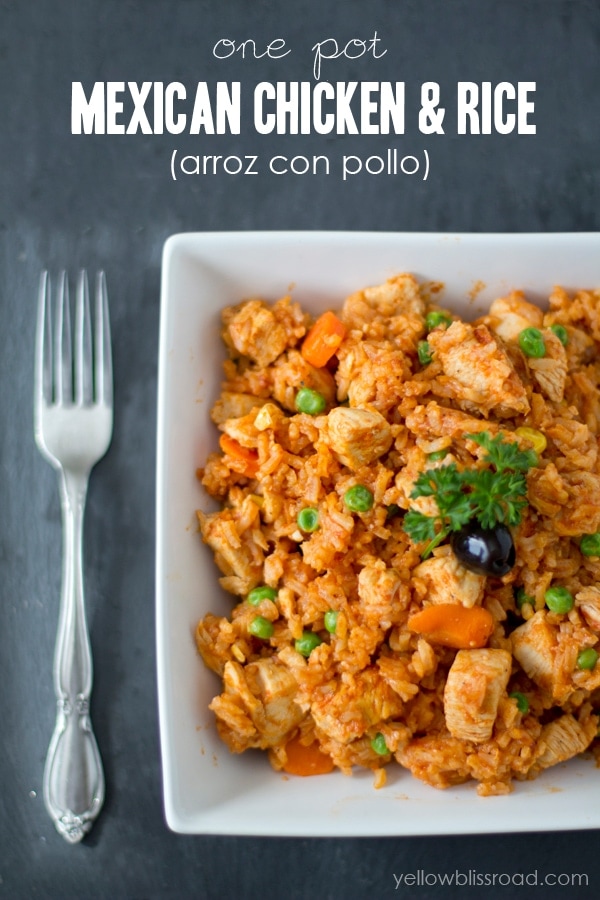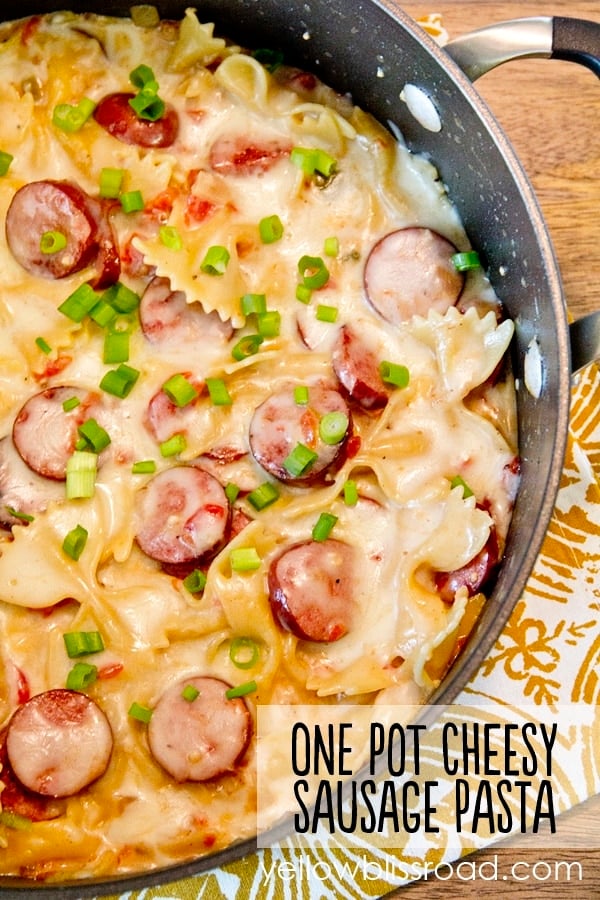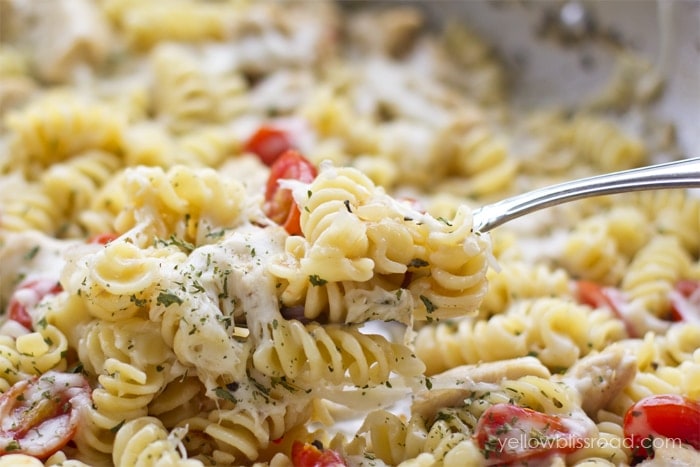 Spicy Lemon Chicken and Pasta with Tomatoes
For all dinner ideas on the site, be sure to go here.
For a complete list of recipes available on the site, go here.