Naan Bread is an Indian-style flatbread, that is as simple as it is delicious. Yogurt is the key ingredient to make this yummy bread soft and pillowy!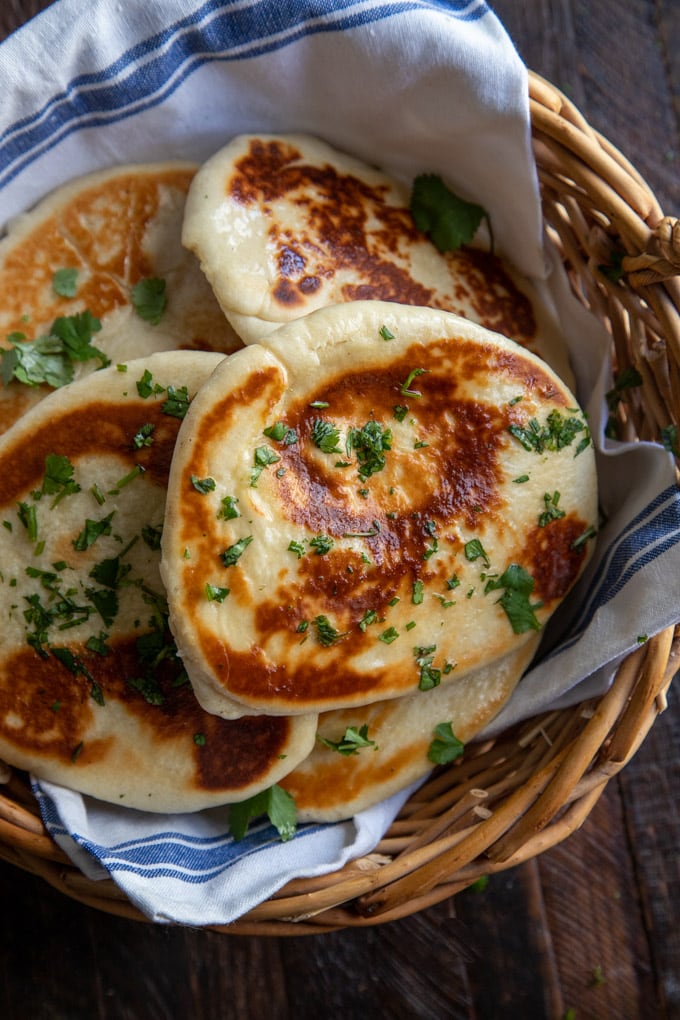 NAAN BREAD RECIPE
I love Naan, it is one of my favorite bread recipes to make. There's only 1 rise, and it comes together in a pretty short amount of time. With a little planning ahead, you can make the dough, have it rise for an hour, and be cooking it so it's hot, fresh and fluffy and ready to be served with dinner. This is a great recipe for beginners, as the recipe is very forgiving!
It's a really simple process: we basically bloom the yeast, add the wet ingredients and then gradually add the dry ingredients. A quick mix into to a rough/shaggy dough right in your stand mixer, switch to the dough hook, and a 5 minute knead is all that's needed. Let it rise, then cut, shape, butter and cook. So easy, right?
The key ingredient for Naan is actually plain yogurt. The yogurt hydrates the dough and makes it super soft and tender. As an added bonus – it adds a wonderful flavor as well as protein. Greek yogurt can also be used, just make sure it's plain and not flavored.

WHAT IS NAAN BREAD?
It is an Indian style flatbread served alongside any kind of meal. I particularly like dipping it into butter chicken and devouring it.
Did you know? Naan actually means "bread" so when we say "Naan Bread" we're really just saying "bread-bread." Let's just call it Naan!
TIPS AND TRICKS FOR SUCCESS
Can Naan be frozen? Yes, it does very well when reheated and brushed with a little butter. To freeze, separate each piece of naan with parchment paper and place in a freezer-safe bag and seal.
How to store Naan: If you won't be eating it right away, allow to cool completely, and store in an airtight container at room temperature for up to 3 days.
What to do with leftover Naan: It makes awesome pizza bases! Just top with pizza sauce, mozzarella, and your favorite toppings and bake until golden and bubbly.
Making Naan in a bread machine: Add the ingredients to the pan in the order recommended by the manufacturer. Set the machine on the "dough" setting, and allow it to complete. Remove the dough from the machine, and cut, shape and cook as seen below.
HOW TO MAKE NAAN BREAD DOUGH
Add the warm water (water should be heated to around 110 degrees F), honey, and yeast to the bowl of your stand mixer with the paddle attachment on it. Allow it to sit until foamy (about 5 minutes). Add the yogurt and warm milk (water should be heated to around 110 degrees F) and mix until combined then gradually add in the all-purpose flour and salt.
The dough will be shaggy and rough-looking (see the pics). Switch the paddle for the dough hook, and knead for about 5 minutes. The dough will be smooth and stretchy.
If you'd prefer to make by hand, just turn the mixed dough out onto a lightly floured surface and knead until smooth.
Place the dough in a large bowl (greased with butter, olive oil or cooking spray). Cover with a clean kitchen towel and allow to rise for about an hour. The dough will double in size!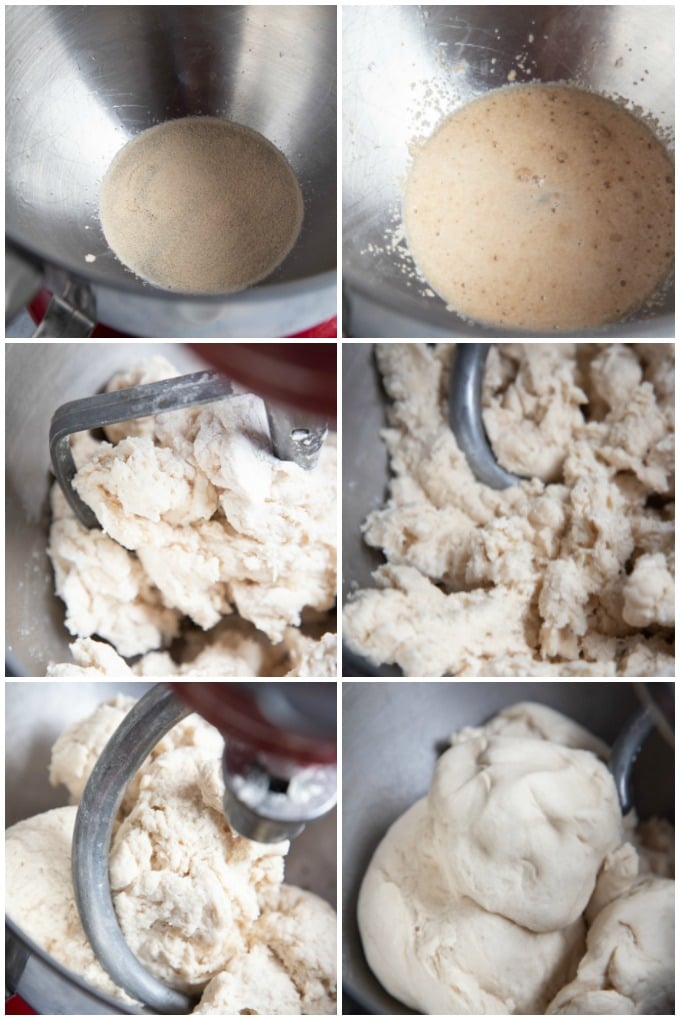 RISING, CUTTING, SHAPING
After the dough has risen, turn it out onto a lightly floured countertop. Take a knife or dough cutter and divide the dough into 8 roughly equal pieces.
Roll each piece into a round, oval or rectangle shape – about ⅛ inch thick. Naan isn't known for being perfect, so don't worry if yours don't look exactly the same as each other!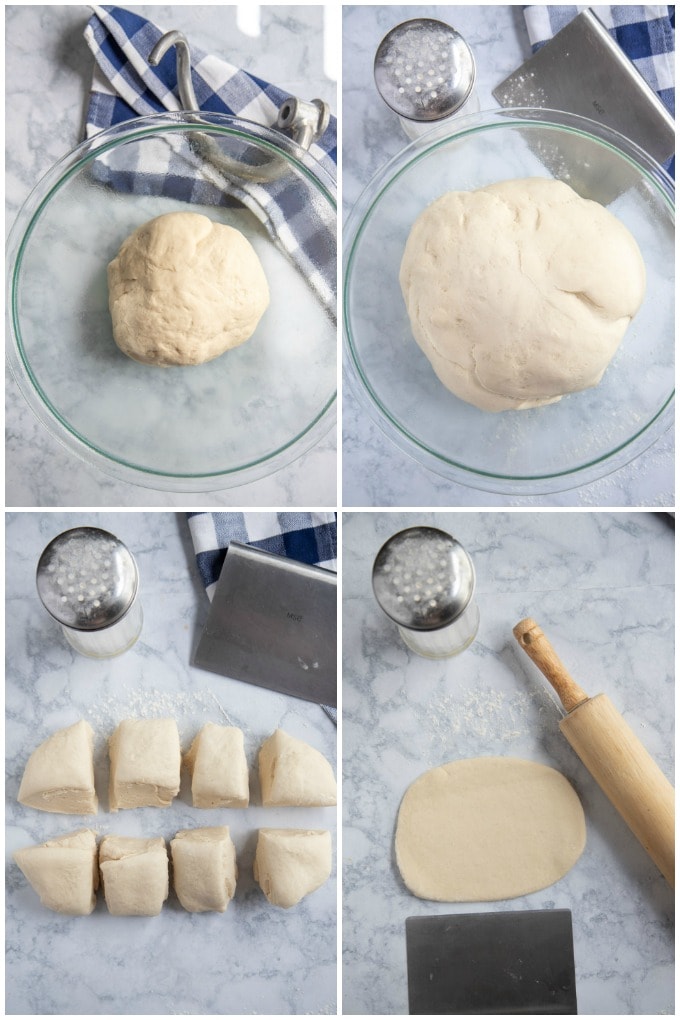 COOKING THE NAAN BREAD
Heat a large skillet or griddle, and brush butter on one side of a piece of dough. Cook, buttered side down for a minute or two, brushing the uncooked side with butter before flipping. Bubbles may puff up your naan – it's all good!!
Flip the naan, and cook the other side a further minute until golden brown. Brush with melted butter, and keep warm while you cook the remaining naan.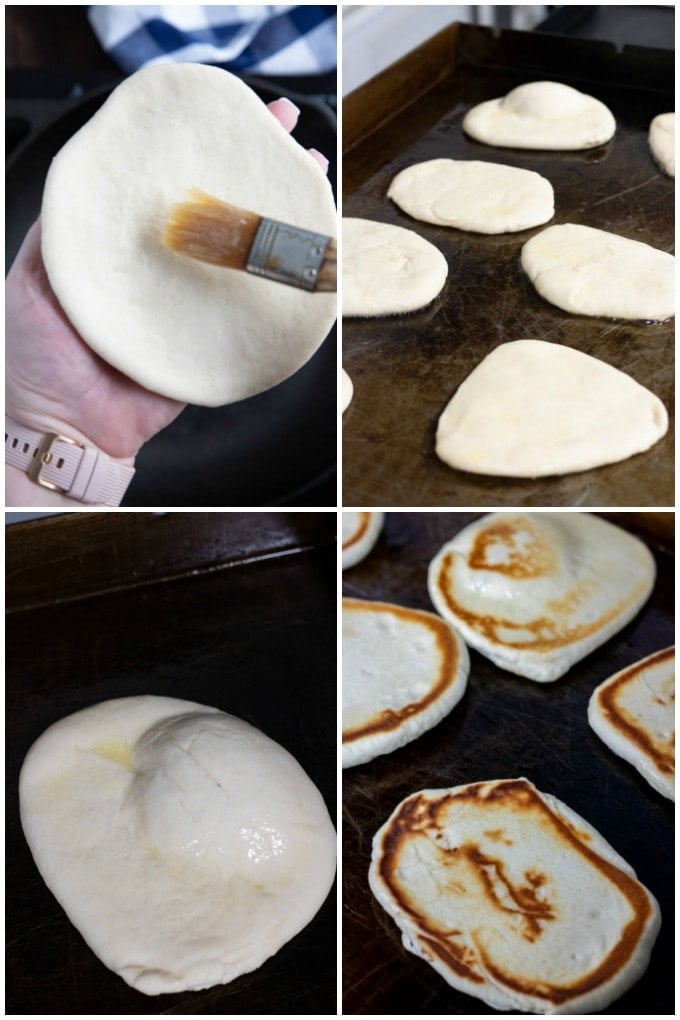 SERVING SUGGESTION:
Sprinkle with chopped cilantro after cooking/buttering.
If you'd like to try garlic Naan bread, simply add a little garlic to the butter you brush on after cooking and sprinkle with cilantro. Or use our delicious homemade garlic butter!
Any kind of Indian food is awesome, you'll love this Chicken Curry or this Red Lentil Dhal or this Slow Cooker Chicken Tikka Masala 
Love to serve bread with meals? You'll enjoy this easy Buttermilk Sandwich Bread Recipe or this yummy Garlic Bread!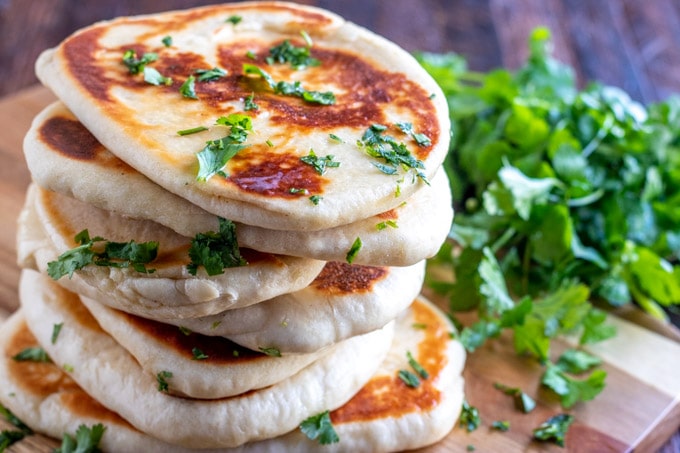 MORE BREAD RECIPES TO TRY
Recipe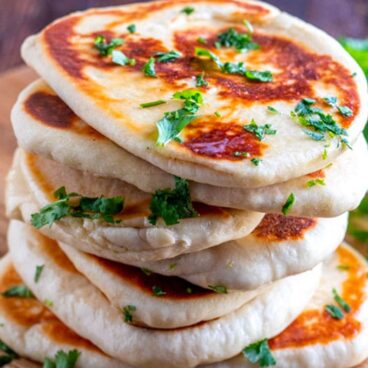 Naan Bread
An Indian-style flatbread, this Naan bread recipe is as simple as it is delicious.  Yogurt is the key ingredient to make this yummy bread soft and pillowy!
Total Time
1

hour
48

minutes
Ingredients
1/4

cup

water

warm -110 degrees F

2

tablespoons

honey

2 1/4

teaspoons

active dry yeast

1 envelope

4

cups

all-purpose flour

1/2

teaspoon

baking powder

1

teaspoon

Kosher salt

3/4

cup

milk

warm -110 degrees F

3/4

cup

plain

unflavored yogurt

4

tablespoons

butter

melted
OPTIONAL
Fresh cilantro for the top
Instructions
In the bowl of a stand mixer, stir together the honey and water until combined. Sprinkle yeast on top and mix a little. Let sit for about five to 10 minutes. The mixture will start to look foamy.

In another bowl, whisk together the flour, baking powder and salt – set aside.

Using the paddle attachment, mix the milk and yogurt to the yeast mixture and then gradually add the flour, mixing until the dough forms a ball.

Attach the dough hook and knead for 5 minutes – it should pull away from the sides of the bowl and be smooth and stretchy.

Remove dough from the stand mixer bowl, and place in a greased bowl. Cover with a clean towel and let sit in a warm place until it doubles in size, 1-1.5 hrs.

Lightly flour your countertop and dump the dough out onto it. Divide the dough into eight equal balls. Using a rolling pin, roll one ball at a time until it's about 1/8-inch thick into a circle or oval shape.

Heat a skillet over medium-high heat until hot. Lightly brush one side of the rolled naan dough with melted butter and place in the skillet. Cook for 1-2 minutes. It may bubble up!

Brush the uncooked side with butter and flip. Cook for another 1-2 minutes. Remove from heat and keep warm. Repeat until all the naan is cooked.

Brush finished pieces with butter, and sprinkle with cilantro (if desired).
Notes
Use Naan in place of pizza crust for a fun twist. Bake with sauce, cheese and toppings. 
Nutrition
Calories:
362
kcal
Carbohydrates:
64
g
Protein:
10
g
Fat:
7
g
Saturated Fat:
4
g
Cholesterol:
17
mg
Sodium:
355
mg
Potassium:
192
mg
Fiber:
3
g
Sugar:
6
g
Vitamin A:
212
IU
Calcium:
60
mg
Iron:
4
mg