This Pineapple Fluff Pie is perfect for National Pi Day! It's got a crunchy, buttery graham cracker crust with a creamy pineapple filling!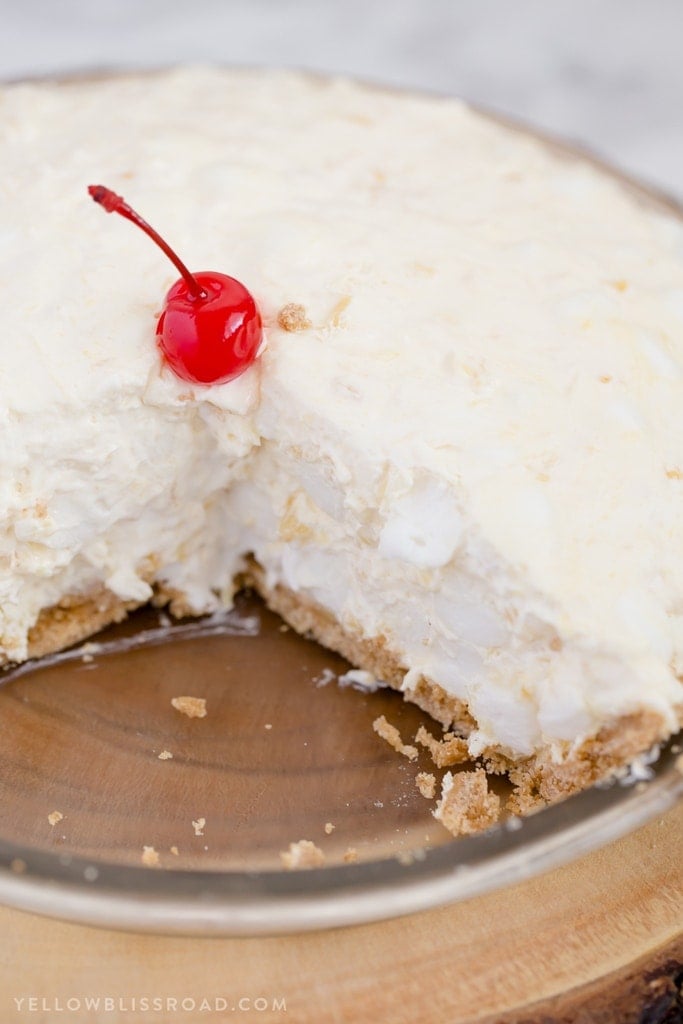 Pineapple Fluff Pie
I think I should have titled this post "The Little Pie That Could," because it took me three tries to get it just right. I was so in love with the idea of this Pineapple Fluff Pie that I couldn't give up and I'm glad I didn't because it is so yummy!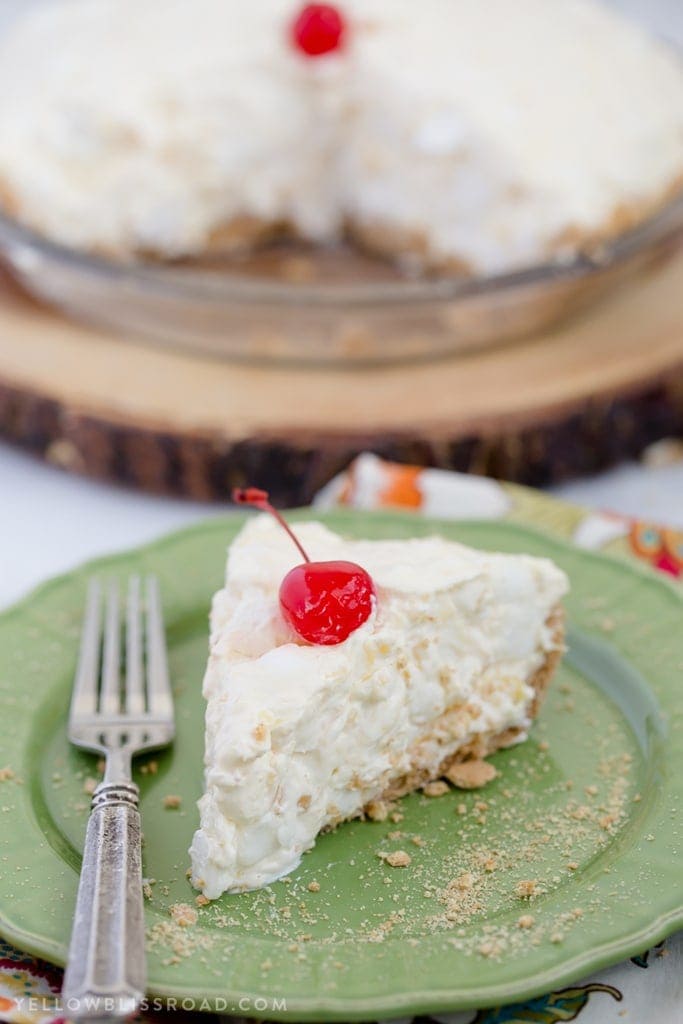 The crust is graham cracker and you can make your own using the recipe I'll provide below or you can just take it easy on yourself and purchase a premade pie crust. The homemade version is definitely tastier but the store bought is good too.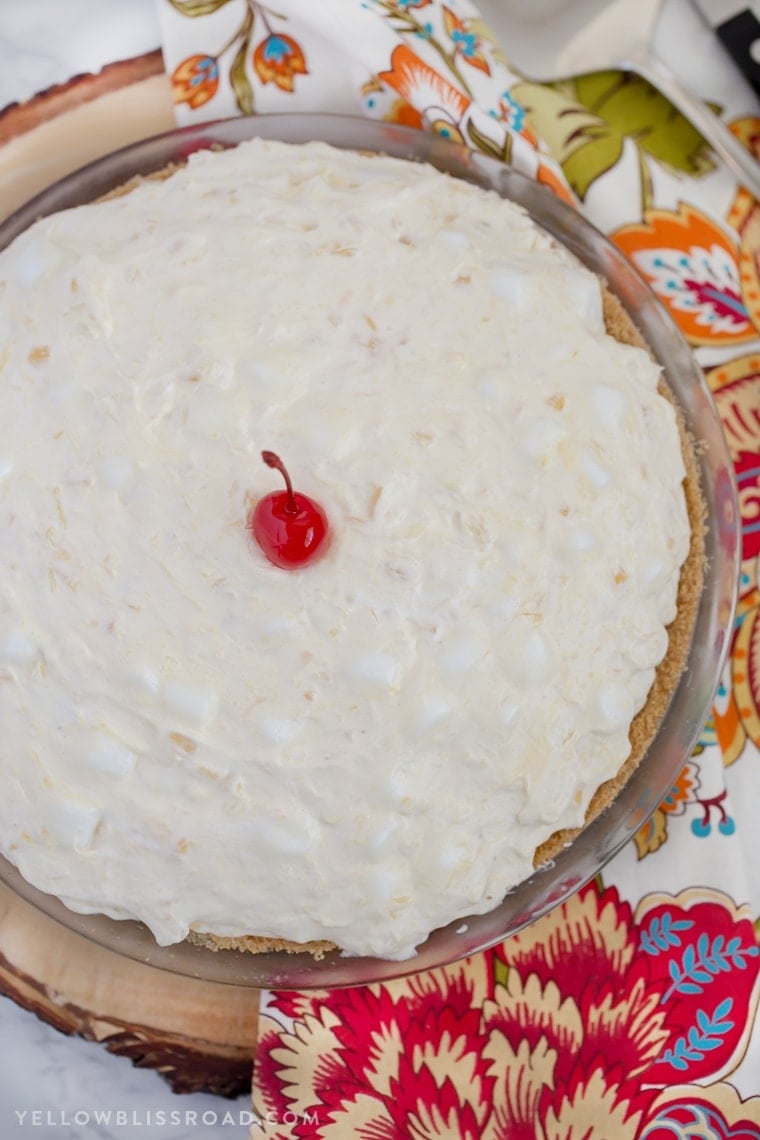 Every since my Twix Apple Fluff I've been itching to make a pie out of it. That's actually what I set out to make here but like I mentioned above, THREE tries and it just wasn't working. So this Pineapple Fluff Pie was born. It's a bit of a homage to our favorite Disneyland treat, the Dole Whip, although the pineapple flavor is definitely more subtle.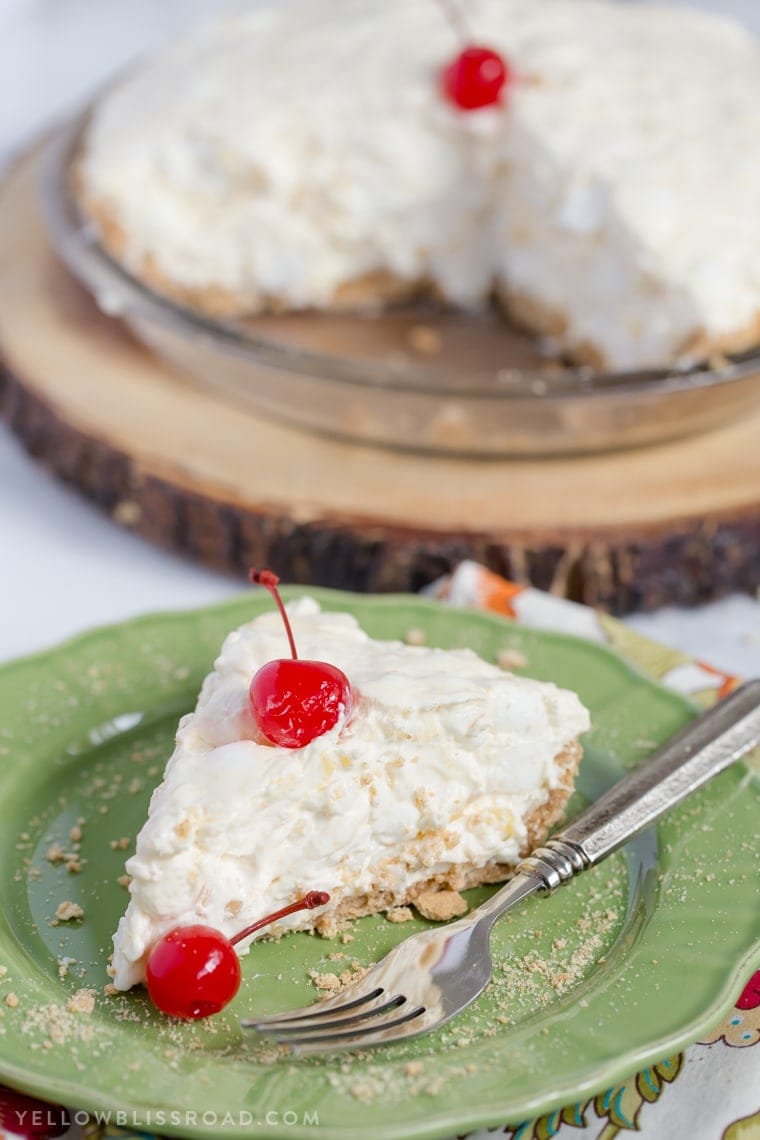 My family loved it and is already asking when I'm planning to make it again! Enjoy, friends, and Happy National Pie Day!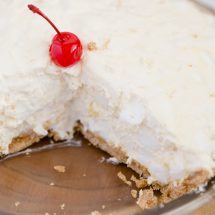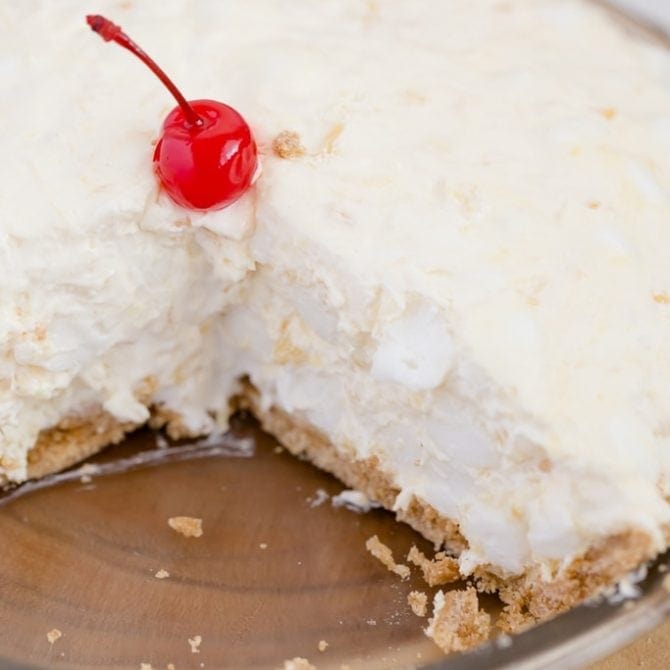 Ingredients
Graham Cracker Crust
1 1/2 cups or about 10 cracker sheets fine graham cracker crumbs
1/3 cup granulated sugar
7 tablespoons melted butter
Pineapple Fluff Filling
1 8- ounce package cream cheese at room temperature
1 tablespoon granulated sugar
1 3.5 oz package vanilla pudding
1 cup cold skim milk
1 10- ounce container non-dairy whipped topping softened
2 cups Jet Puffed mini marshmallows
1 20- ounce can crushed pineapple
Instructions
Graham Cracker Crust
Preheat oven to 325 degrees F.

Pulse graham crackers in your food processor until they are fine crumbs. Add melted butter and brown sugar and pulse until combined and crumbly. (Alternatively, you could place the crackers in a large ziptop bag and crush with a rolling pin, then stir in the butter and sugar).

Using your fingers, press mixture into the bottom and up the sides of a 9-inch pie plate.

Bake in the preheated oven for 10 minutes (preferred), or chill in the freezer for 1 hour.
Pineapple Fluff Filling
In a large mixing bowl, beat the cream cheese and 2 tablespoons granulated sugar together on high speed until completely combined. Stir in the milk on medium-low speed, until completely combined. Stir in the pudding mix and mix on medium-low speed until thickened.

Fold in the non-dairy whipped topping, marshmallows and pineapple until combined.

Pour the mixture into the prepared graham cracker pie crust. Refrigerate for at least 4 hours.

Top with maraschino cherries for garnish before serving, if desired.
In honor of National Pi Day, here are some new sweet and savory PIE RECIPES to try today!
11 ALL NEW PIE RECIPES
Chocolate Coconut Cream Pie from Life Made Simple
Strawberry Chocolate Pie from Baking with Blondie
Raspberries and Cream Pie from Real Mom Kitchen
Vegan Berry Pie with Sugar Cookie Crust from Namely Marly
Lemon Meringue Pie from The Baker Upstairs
German Chocolate Pie from Creations by Kara
Coconut Custard Pie from Gather with Bread
Shepherds Pie from Ashlee Marie
Chicken Pot Pie with Cheddar Biscuit Crust from Hey Grill Hey
Instant Pot or Crockpot Beef Pot Pie from 365 Days of Slow Cooking
Meat & Potatoes Pie from Foodie with Family
POPULAR PIE RECIPES FROM YELLOW BLISS ROAD
No Bake Reese's Chocolate Cheesecake Pie
No Bake Mint Chocolate Chip Pie
MORE GREAT PIE RECIPES FROM MY FRIENDS:
Best Peach Pie from Baking with Blondie
Crazy Crust Berry Pie from Crazy for Crust
Cold Brew Coffee Pie from Domestic Rebel
Blueberry Sour Cream Pie from Belle of the Kitchen
Strawberry Pot Pies from Cookie Dough & Oven Mitt
Caramel Banana Cream Pie from Tornadough Alli

Hi! I'm Kristin, the creative mind behind Yellow Bliss Road where you will be inspired by tons of easy to follow recipes, lots of free printables, and a little sprinkling of life thrown in for good measure.