Nothing says comfort like Smothered Chicken! Thin, tender chicken cutlets are seasoned, browned, and smothered in a creamy gravy with smokey bacon and sweet onions.
Serve with mashed potatoes or rice and your favorite green veggie for a satisfyingly cozy meal.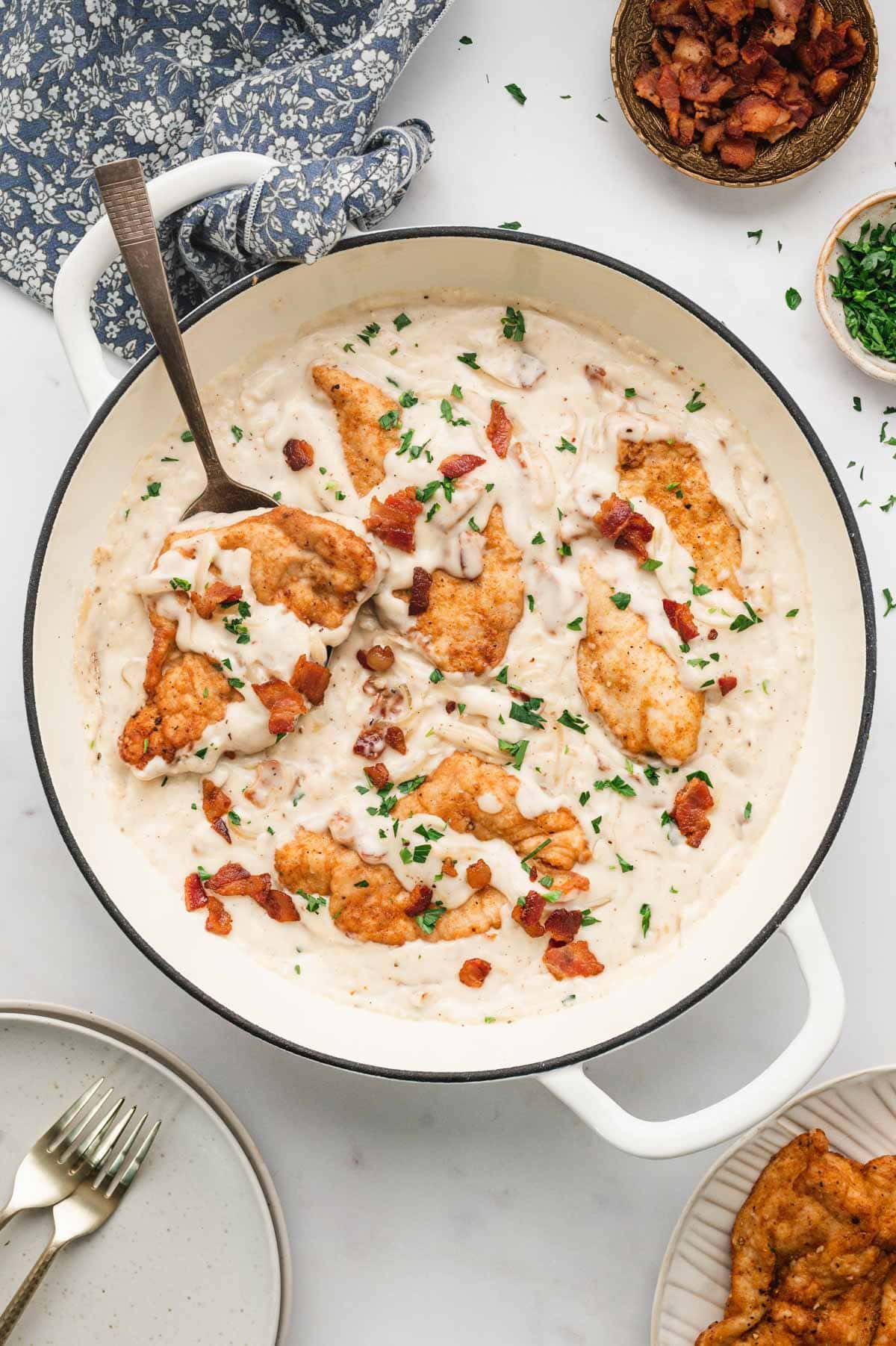 Pin this recipe for later!
About This Smothered Chicken Recipe
Southern Smothered Chicken begins with thin-cut chicken breasts that are dredged in flour and seasonings, then fried until golden brown and crispy. In a second pan, bacon is fried until crispy and the rendered fat is used to saute strips of sweet onion.
The onions and bacon are used to create a luscious, creamy gravy that smothers the chicken when served.
Chicken and gravy served with mashed potatoes, rice, or noodles is a delicious, hearty, and satisfying meal that is a guaranteed winner.
Ingredients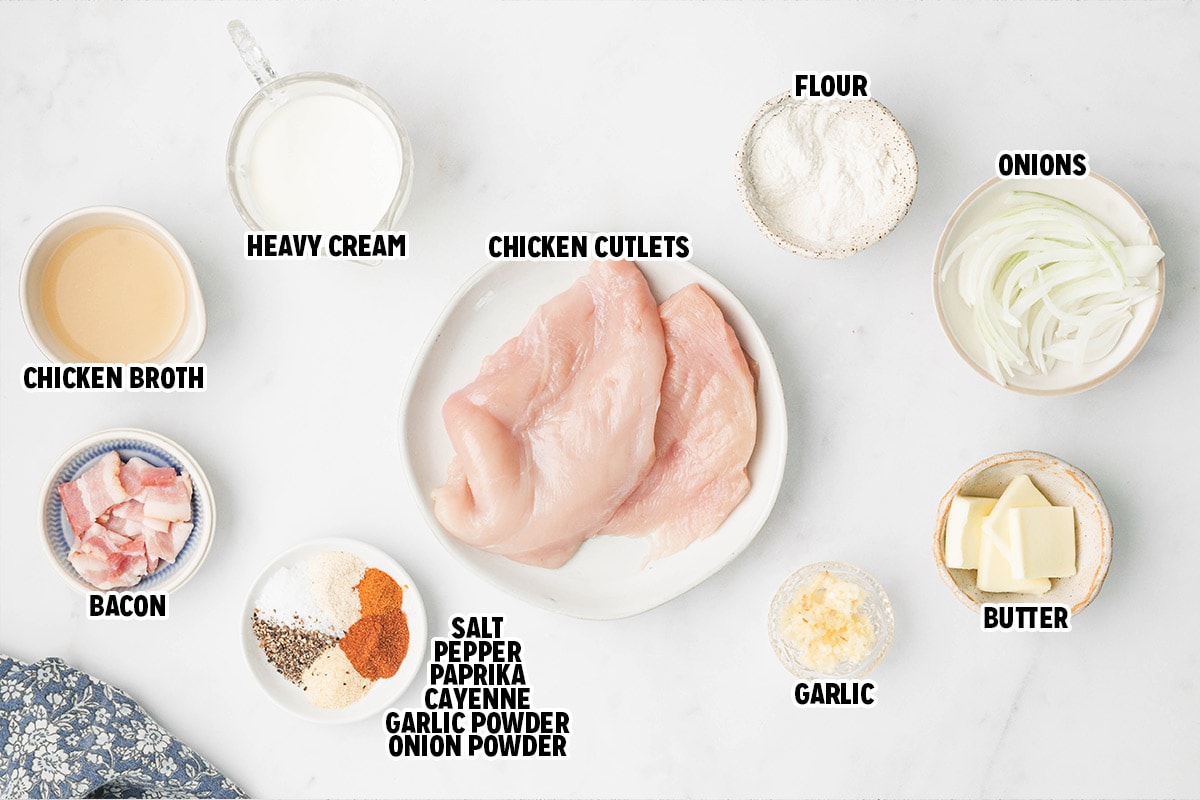 Thin Cut Chicken Breasts – Also referred to as chicken cutlets. You can often find this cut at the grocery store, but if you can't, you can lightly pound chicken breasts or butterfly them.
Seasoning Blend – Salt, Garlic, Onion, Pepper, Paprika, and Cayenne.
All-Purpose Flour
Oil For Frying – Canola oil is recommended; vegetable oil or peanut oil will also work.
Bacon – I recommend a regular cut bacon; avoid thick cuts for this recipe.
Butter – Salted or unsalted; the choice is yours. If using salted, you might want to taste test before adding additional salt.
Fresh Garlic – Peeled and minced. If you don't have fresh garlic, minced in a jar will work fine.
Yellow Onion – Or another variety that you prefer.
Heavy Cream – You can use milk if you prefer, but heavy whipping cream will give the gravy a richer texture and flavor.
Chicken Stock (or broth)
How To Make Smothered Chicken
Get a detailed list of ingredients & instructions in the recipe card below.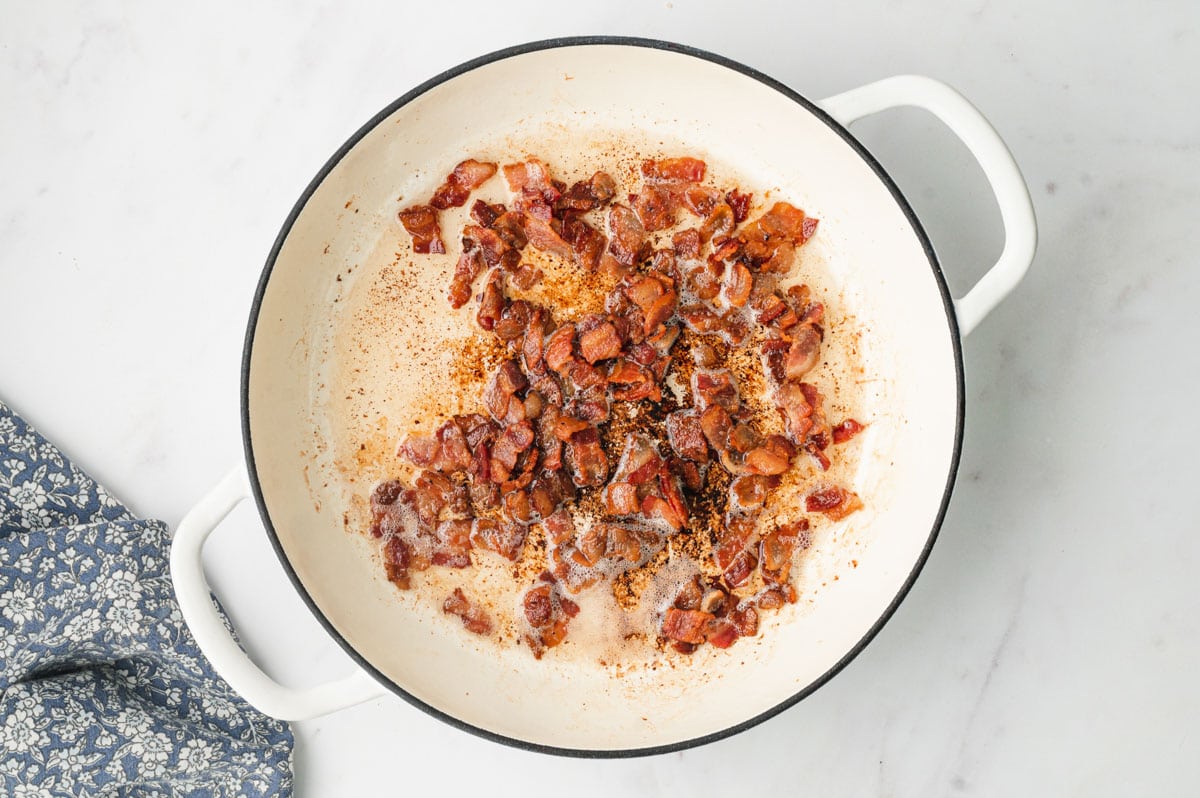 Cook bacon in a large, preferably cast iron skillet until the fat renders and the bacon is nice and crispy. Drain on a paper towel.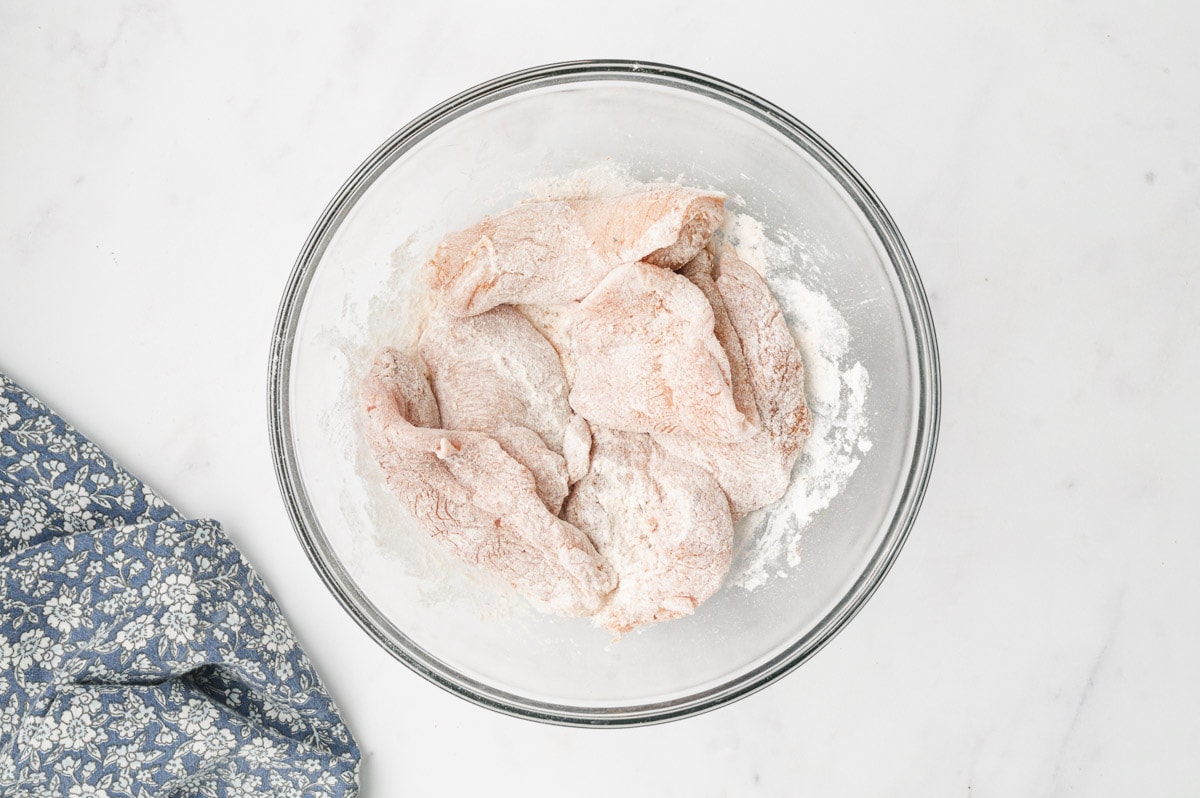 Season chicken and dredge in flour.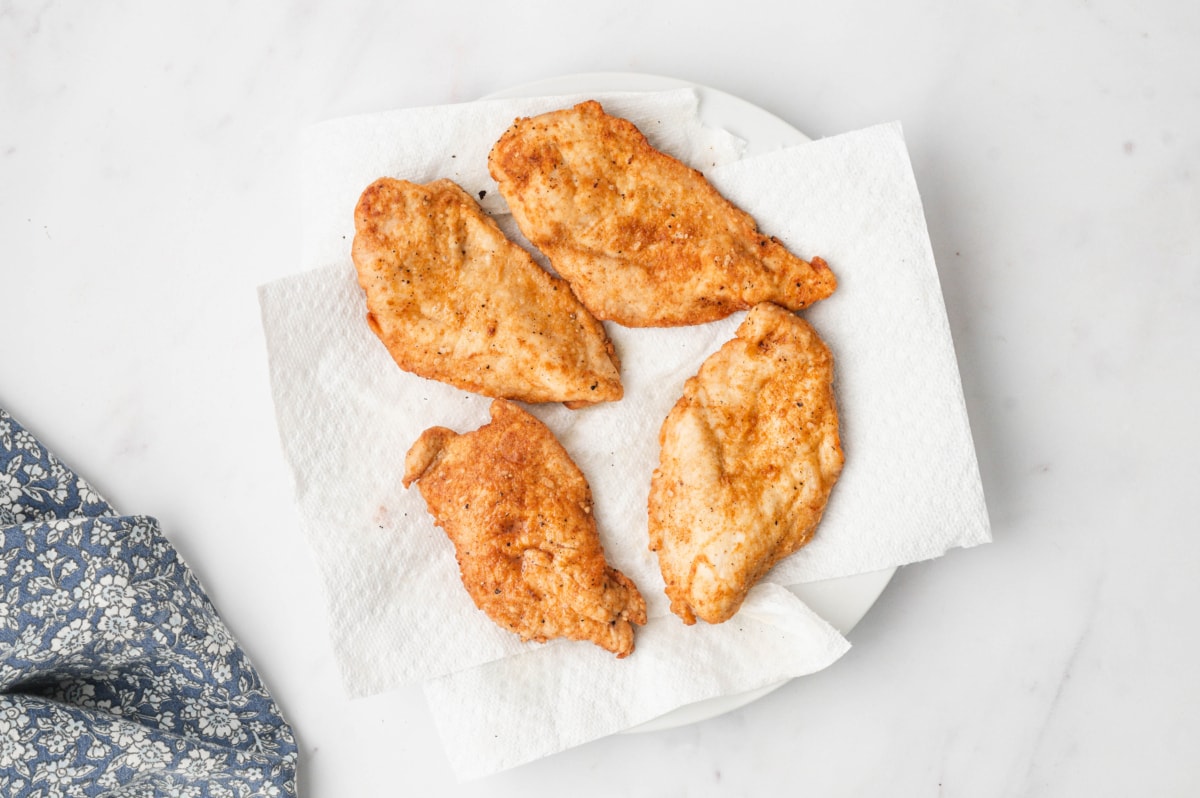 Heat another skillet and pan fry until both sides are golden brown and the chicken is cooked through.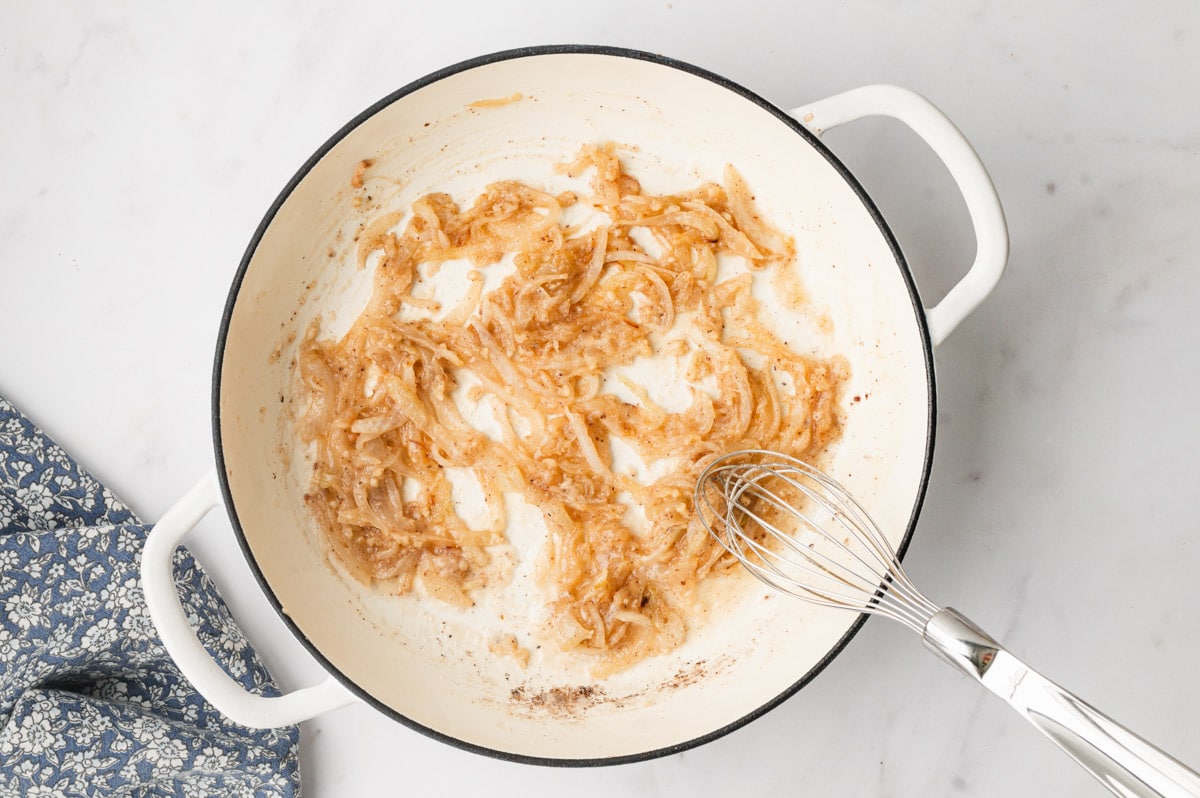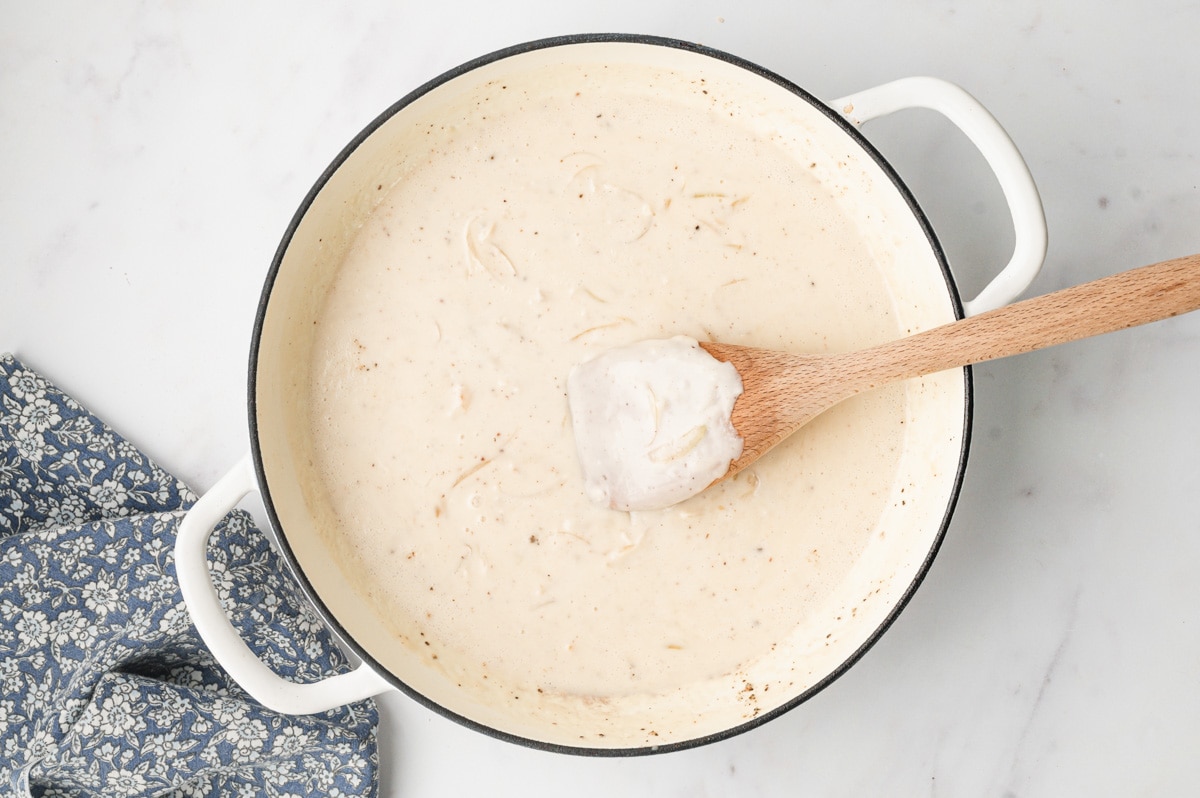 Saute onions and garlic in butter and bacon fat, then add flour to make a roux. Add chicken broth and cream and simmer until a thick gravy forms.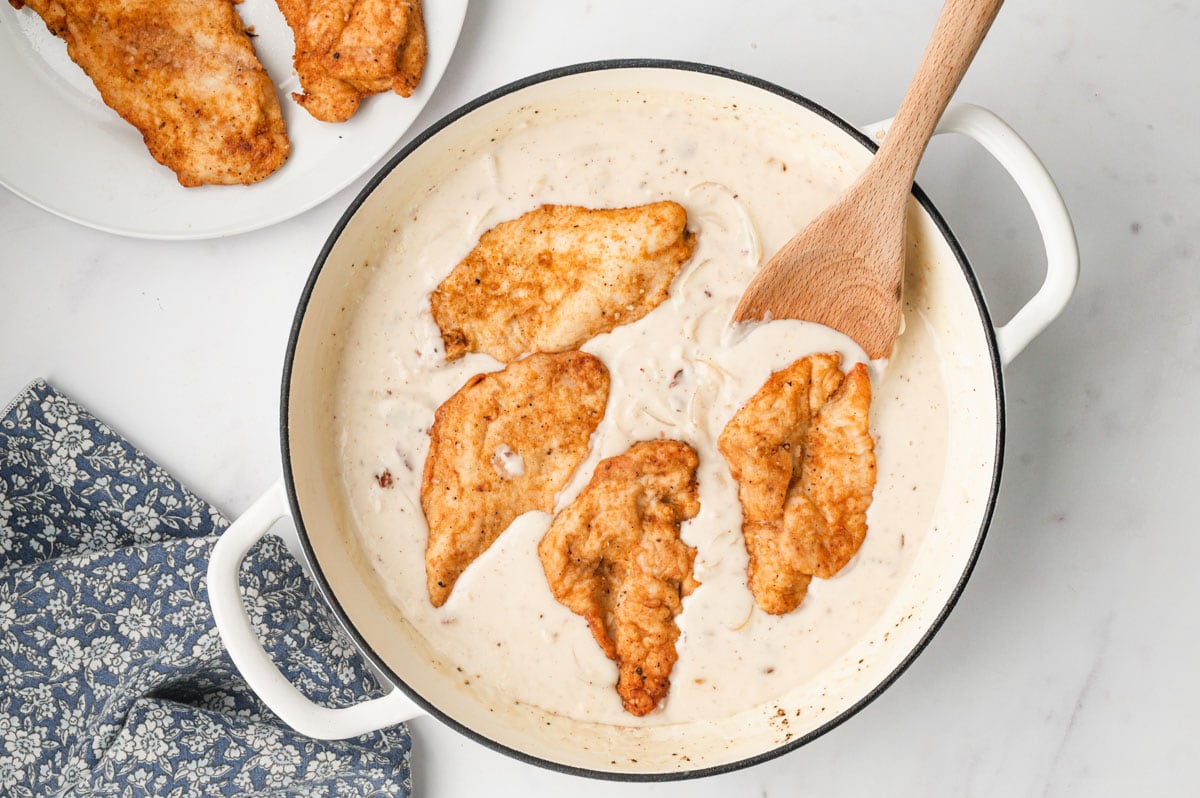 Stir bacon and heavy cream into the gravy. Nestle the chicken in the pan of gravy and serve over mashed potatoes or rice, smothered with the gravy and garnished with fresh parsley.
Recipe FAQs
What is smothered chicken made of?
This recipe is made with pan-fried, thin-cut chicken breasts and a flavorful onion gravy with crispy bacon.
Can I use milk instead of cream?
This recipe could be made without the cream for a lower-fat version, but the cream helps to add richness. If replacing the cream with milk, just use ⅓ cup.

Can I use bone-in chicken or chicken thighs?
You can use boneless chicken thighs prepared the same way. Thighs do take longer to cook, so make sure to cook them to the recommended 165°F. If you want to use boneless chicken, try my Fried Chicken Thighs recipe and make the gravy separately.
Can I make this recipe ahead of time?
This type of dish is best served immediately. You could prepare the chicken and rest them in the fridge for up to 24 hours in a covered dish, with layers separated by parchment paper.
How do I store leftovers?
If possible, store gravy and chicken separately to keep the breading from getting too soggy. However, since the chicken is smothered, this may not be possible. You can store together in an airtight container once cooled.
Variations
Veggies – You could add sliced mushrooms with the onions, or you could add thawed frozen or fresh spinach in at the end with the cream and bacon.
Flavor – If you'd like a little bit of a flavor boost, you could add a splash of white wine or sherry along with the stock.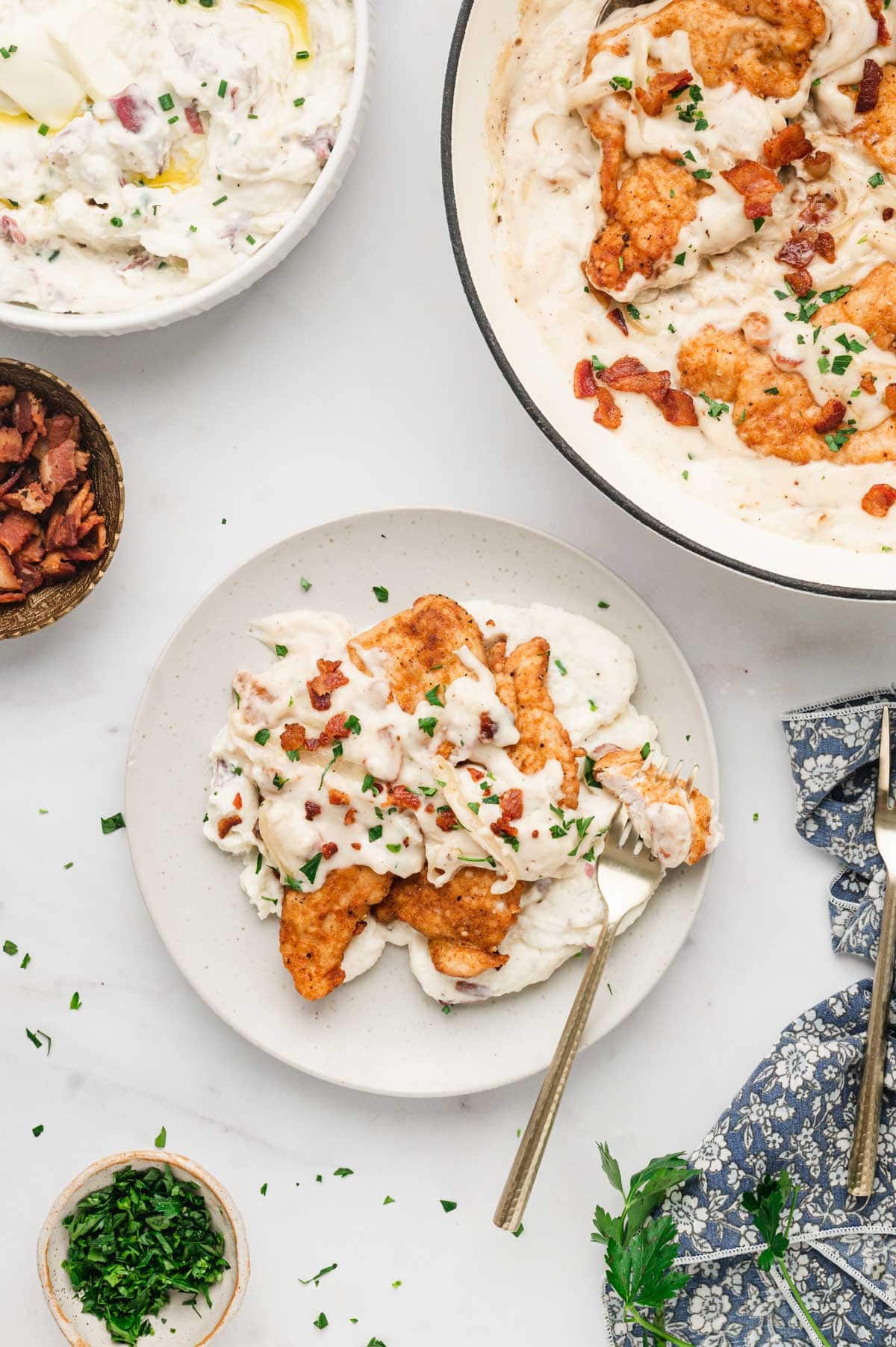 Helpful Tips
Gravy is too thin – Let it simmer uncovered for a little longer.
Gravy is too thick – Add a bit more broth or water. The gravy should be thick enough to coat the back of a spoon, but still pourable.
Internal temperature – Make sure to cook the chicken to the recommended internal temperature of 165°F. Keep a meat thermometer handy for testing.
Cook onions slowly – Keep the temperature to medium or medium-low when cooking the onions to avoid scorching.
Oil temperature – The oil should sizzle when the chicken touches it. If it doesn't, it isn't hot enough.
More Easy Chicken Recipes
Recipe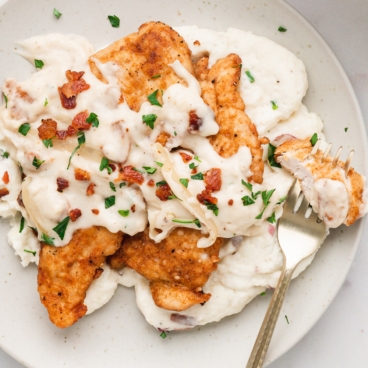 Smothered Chicken
Smothered Chicken is made with seasoned and browned chicken cutlets smothered in a creamy gravy with smokey bacon and sweet onions.
Ingredients
8

strips bacon

chopped

1

teaspoon

salt

½

teaspoon

garlic powder

½

teaspoon

onion powder

½

teaspoon

black pepper

½

teaspoon

paprika

¼

teaspoon

cayenne

1 ½

pounds

thin cut chicken breast

or breast cutlets

½

cup

all purpose flour

Oil for frying

I used canola

1

tablespoon

salted butter

2

cloves

of garlic

1

large yellow onion

sliced

½

cup

heavy cream

2

cups

chicken stock or broth

Parsley for garnish

3

tablespoons

all-purpose flour
Instructions
Heat a cast iron or heavy-bottomed skillet over medium-low heat. Cook the bacon until the fat is rendered and the bacon is crisp, stirring often for 15-20 minutes. Using a slotted spoon, transfer to a paper towel lined plate, setting aside 2 tablespoons of bacon to use as a garnish for the finished dish.

Remove all but 2 tablespoons of bacon grease from the skillet.

In a small bowl, mix together the onion powder, garlic powder, paprika, cayenne, salt and pepper.

Season chicken on both sides with the spice blend, then coat with flour.

Heat a second large skillet over medium heat with a ½-inch of canola oil. Once oil is hot (it should be shimmering), cook the chicken breasts in batches until browned on both sides and cooked to an internal temperature of 165℉; about 3 minutes per side. Transfer to a plate and blot gently with paper towel to remove excess grease.

Add the butter to the bacon grease and heat over medium heat. Add the sliced onions and saute until soft and golden in color, stirring occasionally.

Add garlic and cook for an additional 30 seconds.

Sprinkle in the remaining 3 tablespoons of flour. Stir frequently for 1-2 minutes to make a roux.

Pour in chicken stock and bring to a gentle boil, just until thickened. Reduce heat to low and stir in the heavy cream and bacon. Nestle the chicken breasts in the gravy.

Serve over mashed potatoes, rice or noodles and garnish with chopped parsley and more bacon pieces.
Notes
This is best made with quicker cooking thin sliced or chicken cutlets. If you only have regular breasts, lightly pound them, or butterfly with a sharp knife.