Cinnamon Roll Cake is a fun and easy take on the classic cinnamon roll! A delicious white cake recipe swirled with brown sugar and cinnamon and then topped with sweet cream cheese frosting!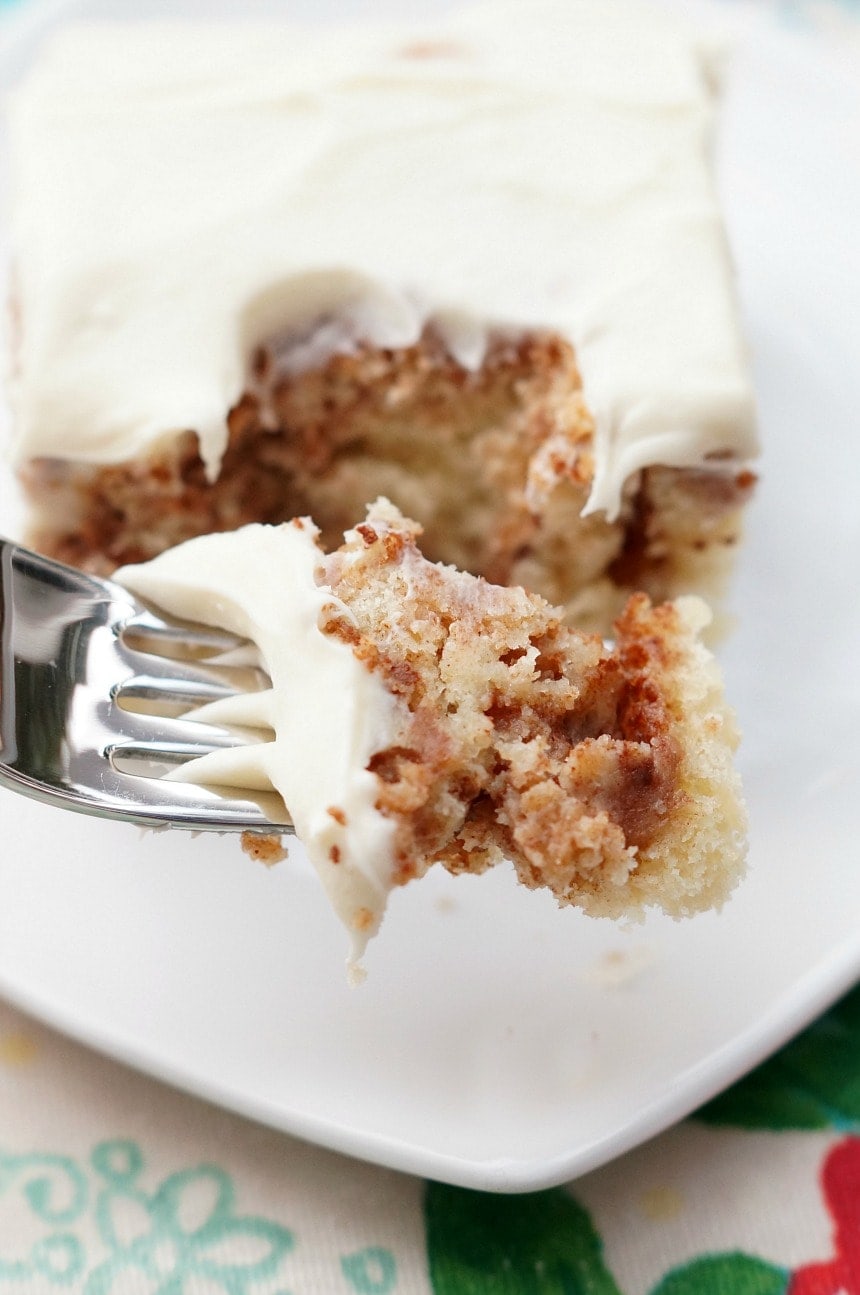 Do you love cinnamon rolls as much as I do? They are definitely my most favorite sweet breakfast treat. One year I decided I was going to surprise my family with from scratch cinnamon rolls on Easter morning. I got all my ingredients out, prepared the dough, and then read the rest of the recipe…and uh oh…they required two rises and being rolled out, which meant I was getting up at 3 am to prepare them! Major recipe reading fail!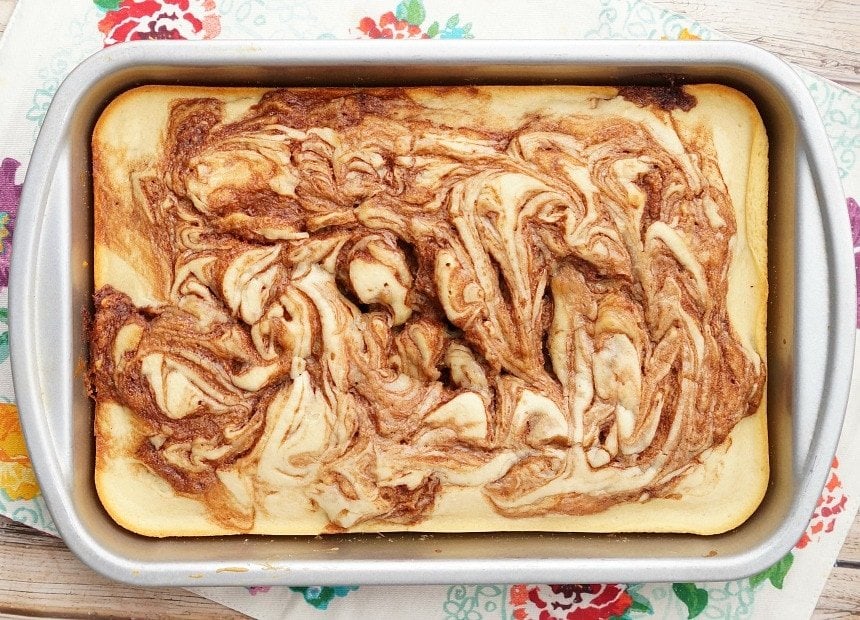 Luckily, the cinnamon rolls were amazing, but I was definitely traumatized and never made yeasted cinnamon rolls ever again. When I was asked to prepare food for a big brunch at my church, I immediately thought I would make cinnamon rolls, but knew there had to be an easier method for feeding a crowd. I decided to try out a cinnamon roll cake and it was the perfect compromise between delicious cinnamon roll and an easy cake recipe!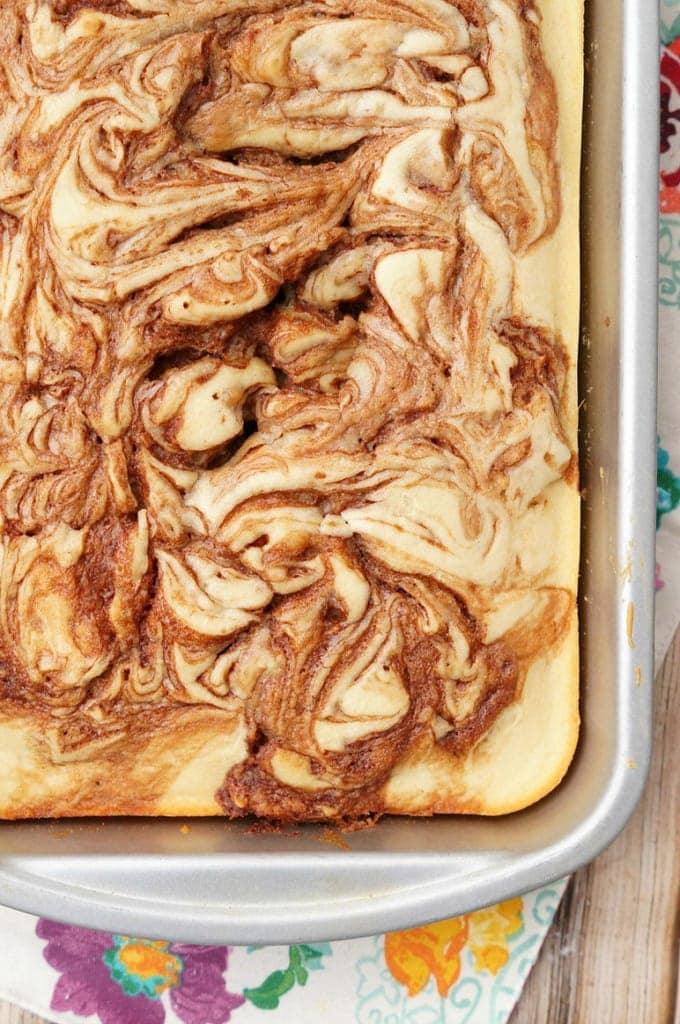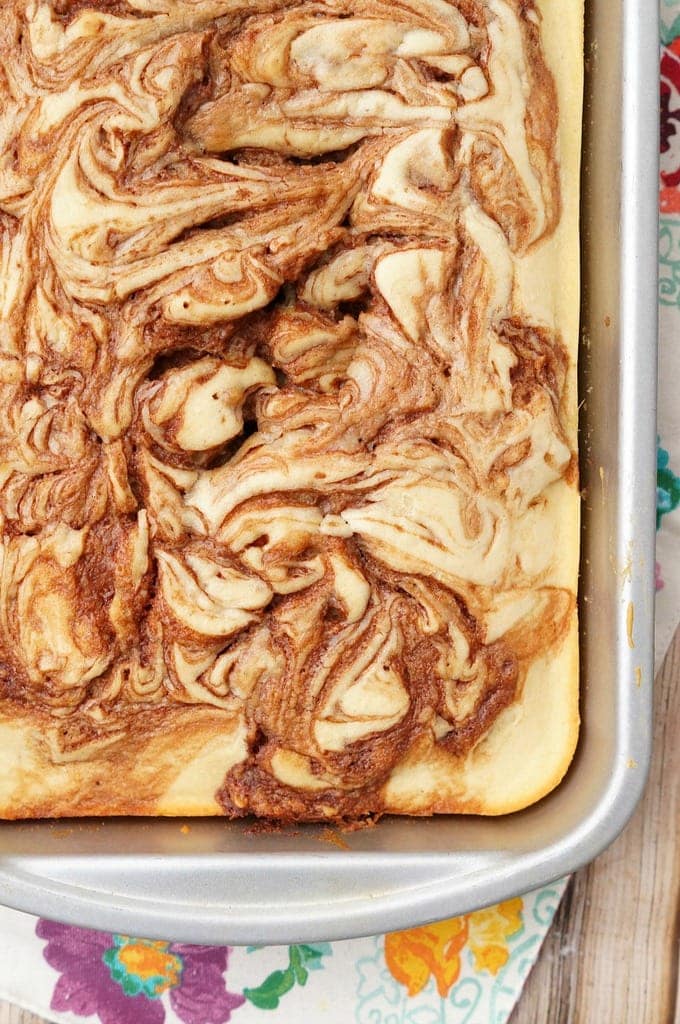 This recipe is quick to throw together and makes your house smell amazing as it cooks. The cake part comes out doughy and dense like a cinnamon roll and the cinnamon brown sugar topping provides that gooey and unmistakable cinnamon roll flavor!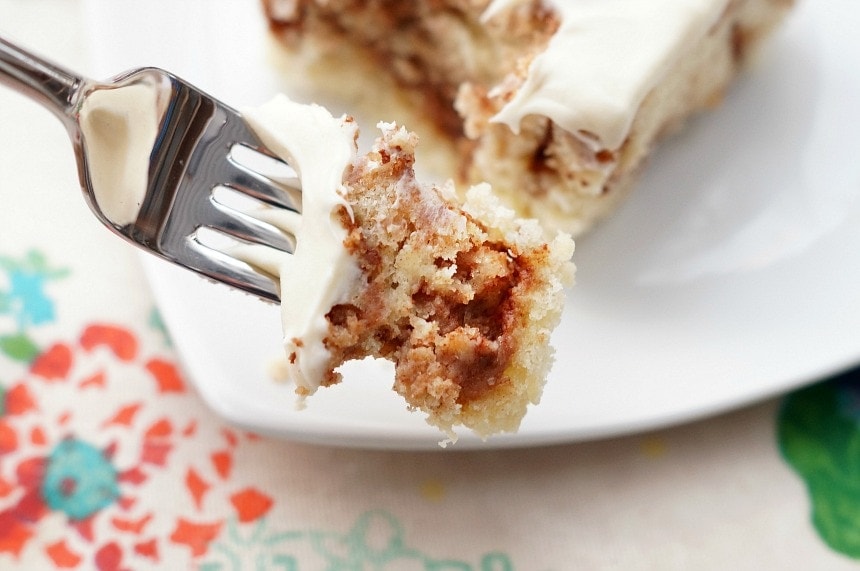 I prefer my cinnamon rolls topped with a cream cheese frosting, so that's what I did here as well. I love the tang against the sweet flavor of the cake. Like a cinnamon roll, there is just a thin layer of icing. It is not thick like you would have on a cake. If you want more frosting, definitely double the recipe.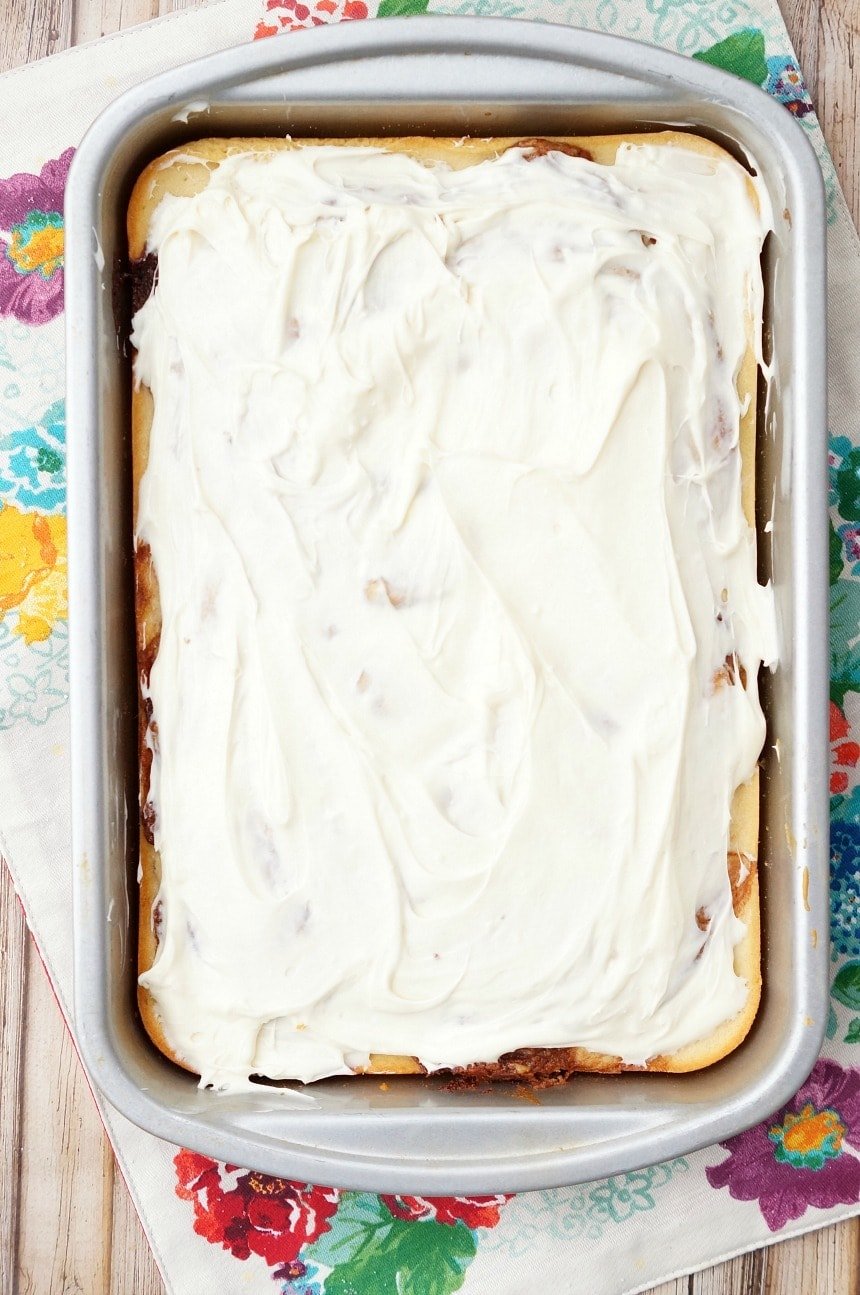 This cake is definitely more dessert-like then breakfast-like and would be perfect for brunch or after dinner! Or you could definitely just have a big piece with your morning coffee…who am I to judge 🙂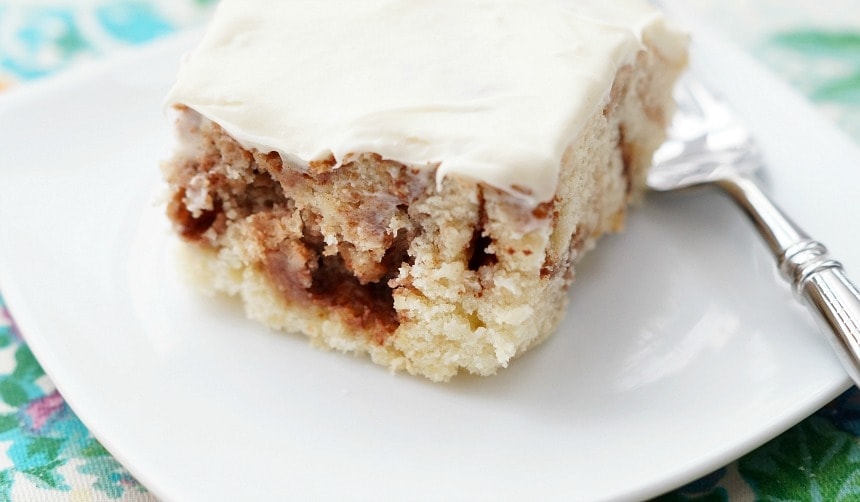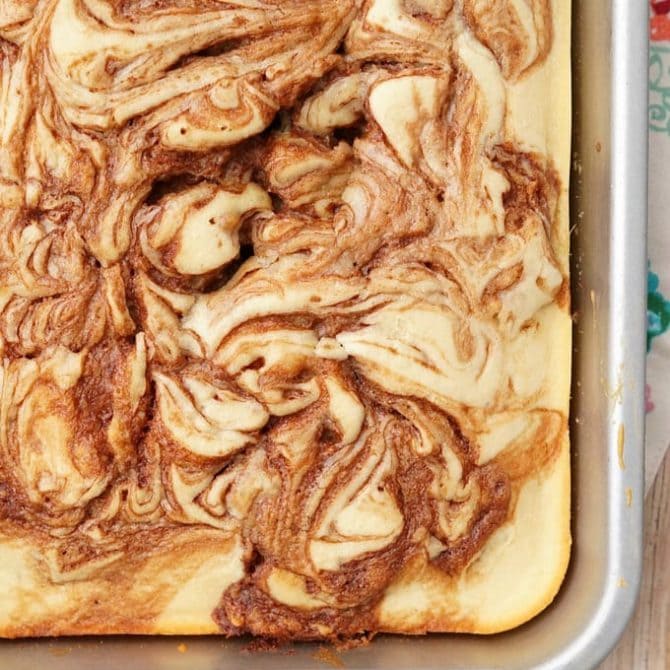 Cinnamon Roll Cake
Ingredients
For the cake
3 cups all-purpose flour
1/4 teaspoon salt
3/4 cup sugar 
4 tsp  baking powder
1 1/2 cup  milk
2  eggs
2 teaspoons vanilla extract
1 teaspoon cinnamon
1/2 cups butter melted
For the topping
1 cup brown sugar
1 tablespoon all-purpose flour
2 tablespoons cinnamon
12 tablespoons butter mostly melted 
For the frosting
4 ounces of cream cheese room temperature
4  tablespoons of butter room temperature
1 cup of powdered sugar
1 teaspoon vanilla extract
1  tablespoon milk    
Instructions
Preheat oven to 350 degrees F. Spray a 9 by 13-inch baking pan with non-stick spray.

In the bowl of a stand mixer, add all cake ingredients except for melted butter. Mix on medium speed for 2-3 minutes, or until no lumps remain. Slowly add in melted butter in two increments and mix well after each addition. 

Pour cake batter into cake pan.

In a small bowl, add all topping ingredients. Stir well. Pour mixture over cake batter.

Using a butter knife, swirl the topping throughout the cake. Make sure to swirl all the way to the bottom.

Put cake in the oven and bake for 28-30 minutes, or until a toothpick inserted comes out clean. Bake for additional time if necessary.

Allow cake to cool. While cooling, add cream cheese and butter to a bowl. Using either a stand mixer or hand mixer, beat on medium until well combined and fluffy. Add powdered sugar, milk, and vanilla. Beat again until light and fluffy. 

Once cake is cool, add frosting. 
Here are more easy dessert recipes!
Cinnamon Rolls with Pumpkin Pie Spice Cream Cheese Frosting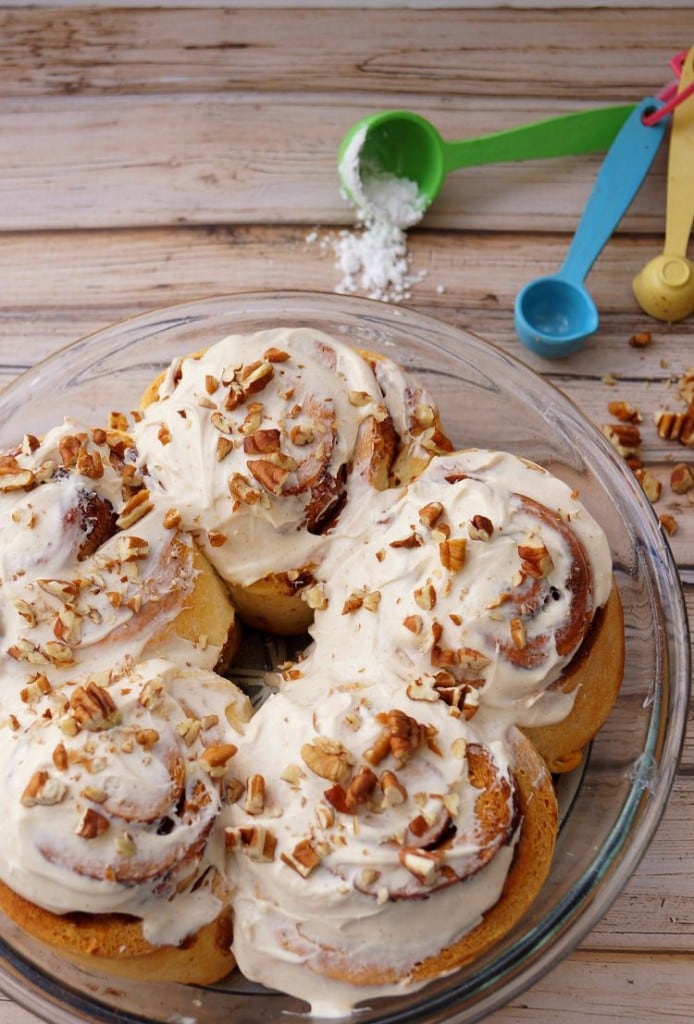 Easy Strawberry Breakfast Pastries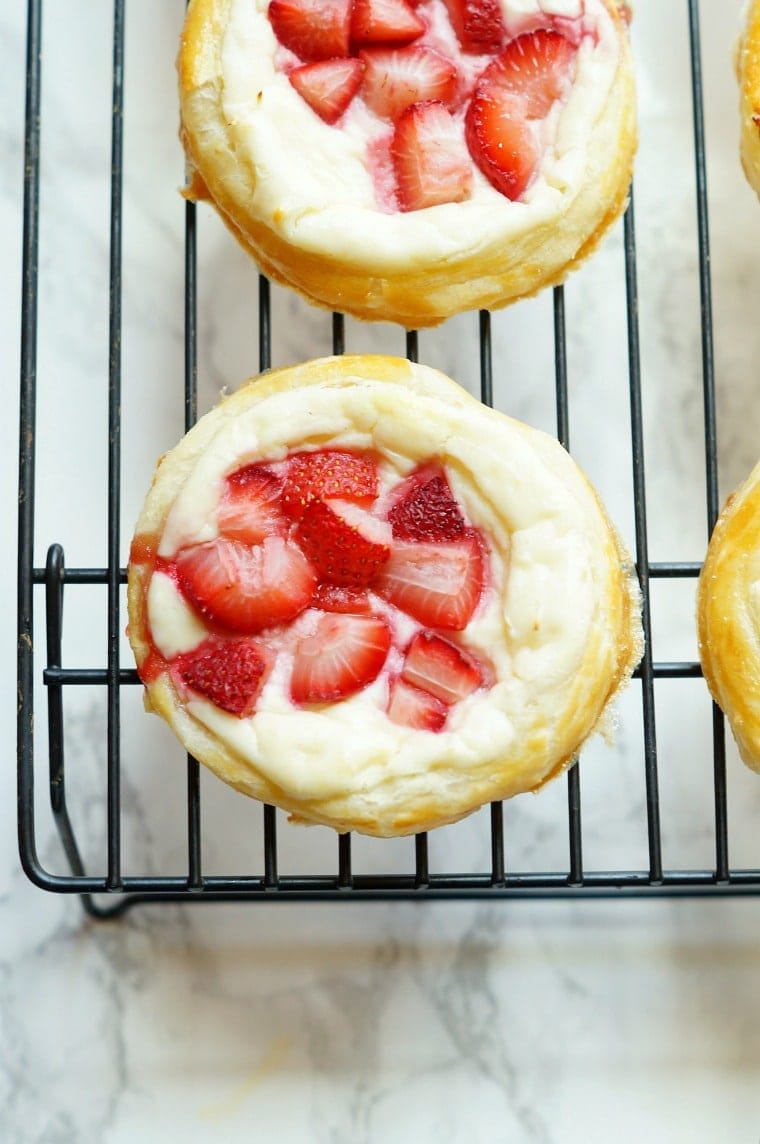 Here is another delicious Cinnamon Roll recipe that we love:
French Toast Cinnamon Roll Pull Apart Muffins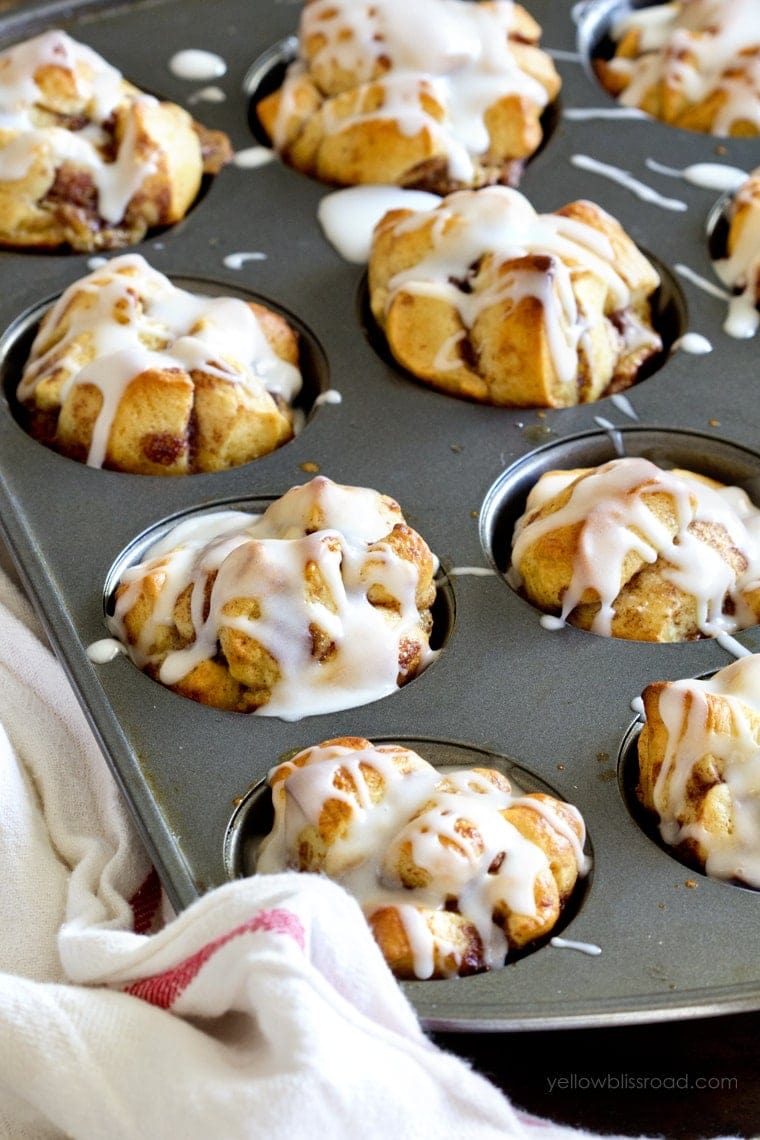 And here are a few more cinnamon roll recipes to try: