A stacked Club Sandwich is always a favorite at lunchtime. With two types of deli meat, cheese, lettuce, tomato, and bacon, what's not to love?!
We love sandwiches for lunch or dinner or even a late night snack! They are also picnic perfect, served with a side of Classic Macaroni Salad or tangy Walnut Coleslaw. For another favorite, try this classic Italian sandwich.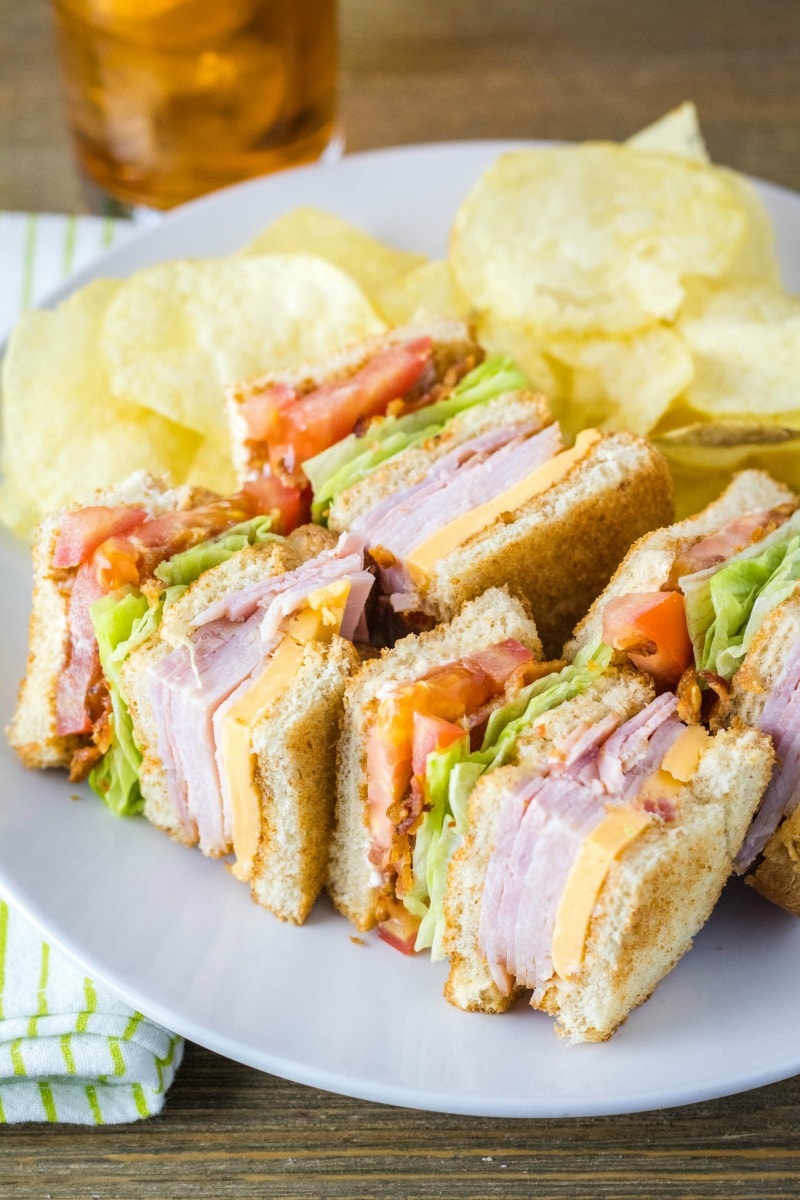 How to Make a Classic Club Sandwich
While the traditional club sandwich recipe has sliced chicken or turkey, these days it is usually a combination of two lunch meats. You can mix and match to your heart's content. I like ham and turkey while my husband usually gravitates toward ham and roast beef. You can vary the toppings a little too. I've seen a club with red onion slices on the menu, but personally, I like to add some avocado and leave off the tomato. You do you.
I'm including How to Cook Bacon in the Oven In the recipe below, but you can also try it in the air fryer. If you're a traditionalist, feel free to fry it in a skillet.
What makes a club sandwich a club sandwich?
The original clubhouse sandwich was just thinly sliced lunch meat, bacon, lettuce and mayo between two pieces of toasted bread, It was cut into quarters and each triangle held together with fancy toothpicks. Today's club sandwich has one notable difference from typical everyday sandwich, and that's the stack. A club has three slices of toasted bread, separating the ingredients into two sections. It's like combining a BLT and a turkey or ham sandwich together, making two sandwiches become one!
Why 3 pieces of bread?
No one really seems to know, but presumably it's because there is a lot of meat in the sandwich. An extra slice of bread provides the perfect bread to meat ration.
Does a club sandwich have cheese?
The original clubhouse didn't have cheese, but as is common when recipes are passed down, that has changed. Nowadays you can take some liberties with the sandwich fillings, and include things like pickles and cheese.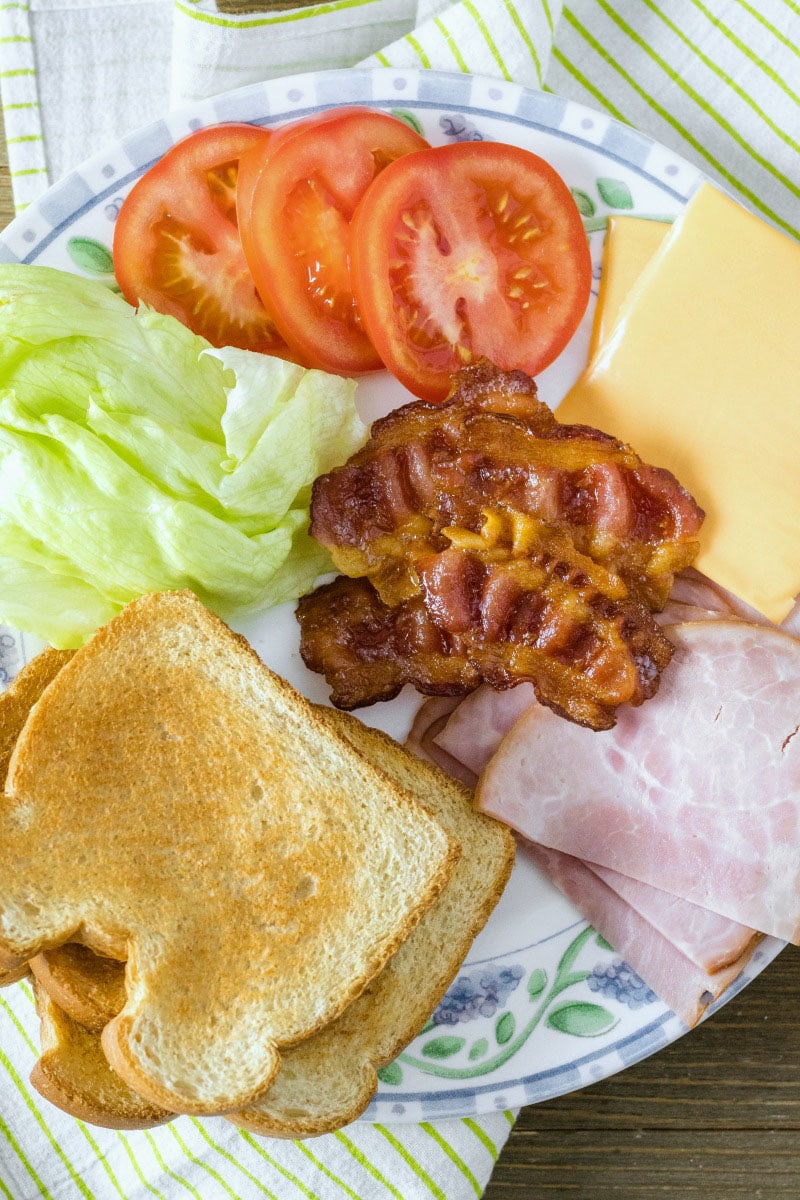 Ingredients
White or wheat bread – the classic way would include white bread but you can use any bread you love.
Mayonnaise
Lettuce – just good old basic iceberg works.
Tomato – a couple slices of a juicy, ripe tomato. Try heirlooms if you want something really delicious.
Bacon – cook until crispy.
Deli ham
Deli turkey
Sliced cheese – I am a sucker for classic American but you can go fancier with cheddar, or omit the cheese entirely.
How to Assemble Your Club Sandwich
You'll want to have all of your ingredients cooked, toasted and prepped before you begin the sandwich assembly. Cook several slices of bacon until they are nice and crispy; no wimpy bacon here. While the bacon is cooking, toast three slices of bread and slice the tomato and lettuce. Then you're ready to put it all together.
Spread one side of one piece of toast slice with mayo. Top with cheese, ham, and turkey.
Spread both sides of second piece of toast and place on top of meat. Top with lettuce and tomato slices, then bacon.
Spread mayonnaise on the last slice of toast and place mayo side down on the sandwich. If desired, sprinkle with a little bit of salt and pepper.
Place 1 toothpick into each quarter of the sandwich to hold things together. Cut into quarters and serve immediately.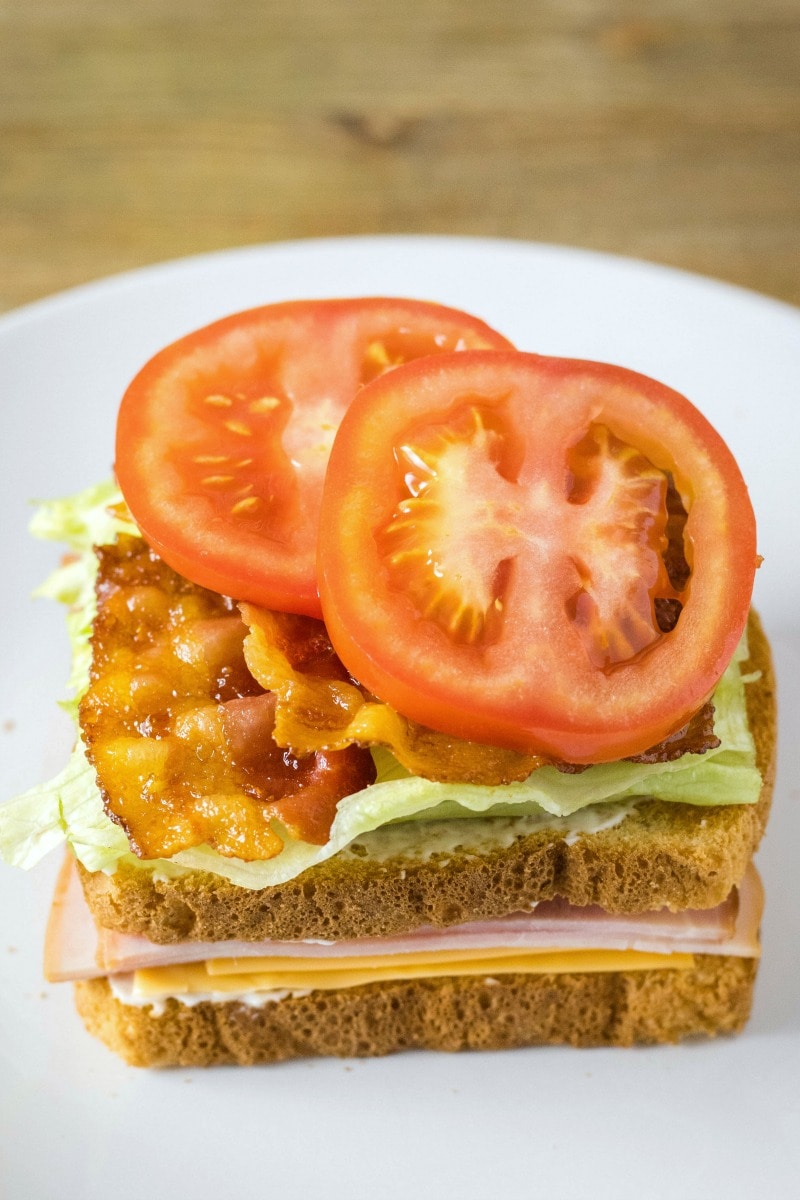 So crazy easy, but totally something you'd happily pay $12 for at a restaurant, especially when you serve this club sandwich up with potato chips or Homemade Baked French Fries. It's also great with coleslaw or potato salad and a pickle spear on the side.
Notes and Tips
Pick up some regular white bread. The big trick to this recipe is to make sure your bread isn't too thick. Standard slices are best since there are three layers of bread. Trust me on this one.
Use good quality lunch meat. Head to the deli of your local supermarket and have them slice some turkey, ham or whatever your heart desires.
Use a sharp, serrated knife. Because it's a pretty thick sandwich, it can be difficult to cut. Make sure you use a sharp knife, otherwise you'll just end up tearing the bread and pulling the sandwich apart.
Customize to your heart's content. You can make this club sandwich totally your own by using a variety of deli meats, different types of cheese (or leave out the cheese completely), spice it up with some pepperoncinis or a garlic aioli and a little dijon mustard in place of the mayo.
Are you hungry yet? Good! Because if you have 20 minutes, you can have a restaurant-worthy lunch for WAY less than going out to eat.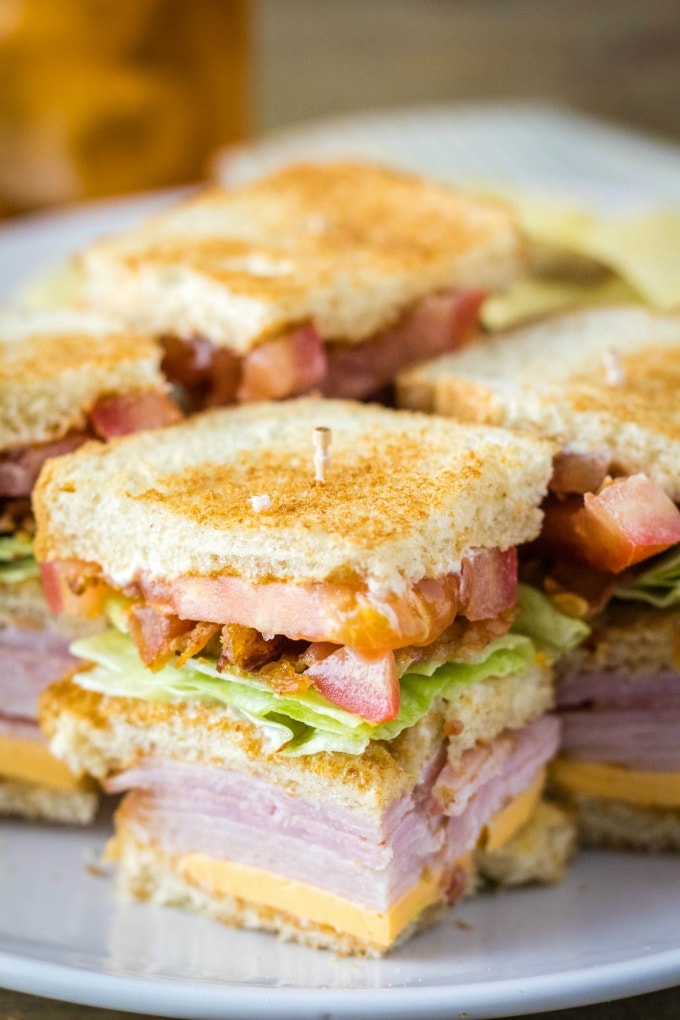 Love a good sandwich? Try these!
Recipe
Club Sandwich
A stacked Club Sandwich is always a favorite at lunchtime. With two types of deli meat, cheese, lettuce, tomato, and bacon, what's not to love?!
Ingredients
2

strips

bacon

3

slices

bread

(wheat or white)

2

tablespoons

mayonnaise

2

slices

American cheese

(or cheddar)

2

slices

deli-style ham

2

slices

deli-style turkey

1

leaf

lettuce

1/2

tomato

sliced
Instructions
Preheat oven to 400 degrees F. Line a baking sheet with aluminum foil. Lay bacon strips on baking sheet and cook for 20 minutes or until crispy. Transfer to a paper towel-lined plate to drain.

When bacon is almost done baking, toast bread until golden.

Lay one piece of bread on a plate, spread with ½ tablespoon mayo. Top with cheese, ham, and turkey.

Spread one slide of another piece of toast with ½ tablespoon mayo and place mayo side down on the ham. Spread other side of the same toast with ½ tablespoon mayo.

Top with lettuce, tomato, bacon, and avocado. Spread one side of the last piece of toast with remaining mayo and place mayo side down on the sandwich.

Insert a frilled toothpick into each quarter of the sandwich. Use a sharp knife to cut the sandwich into equal quarters. (The toothpicks will keep things from falling apart.) Plate the sandwich quarters either standing up or on their sides. Serve immediately with fries, chips, or your favorite side.
Notes
Feel free to cook the bacon on the stovetop or in your air fryer. 
Use any kind of cheese you like, or omit altogether.
Nutrition
Calories:
918
kcal
Carbohydrates:
47
g
Protein:
37
g
Fat:
64
g
Saturated Fat:
20
g
Cholesterol:
122
mg
Sodium:
2466
mg
Potassium:
601
mg
Fiber:
4
g
Sugar:
8
g
Vitamin A:
910
IU
Vitamin C:
8.4
mg
Calcium:
555
mg
Iron:
3.7
mg