Crack Chicken Stuffed Baked Potatoes take some of my favorite things – creamy cheddar, bacon and ranch chicken and a tender, fluffy baked potato and mash them up into one delicious meal. Perfect for using up leftovers, this recipe is great for lunch or dinner.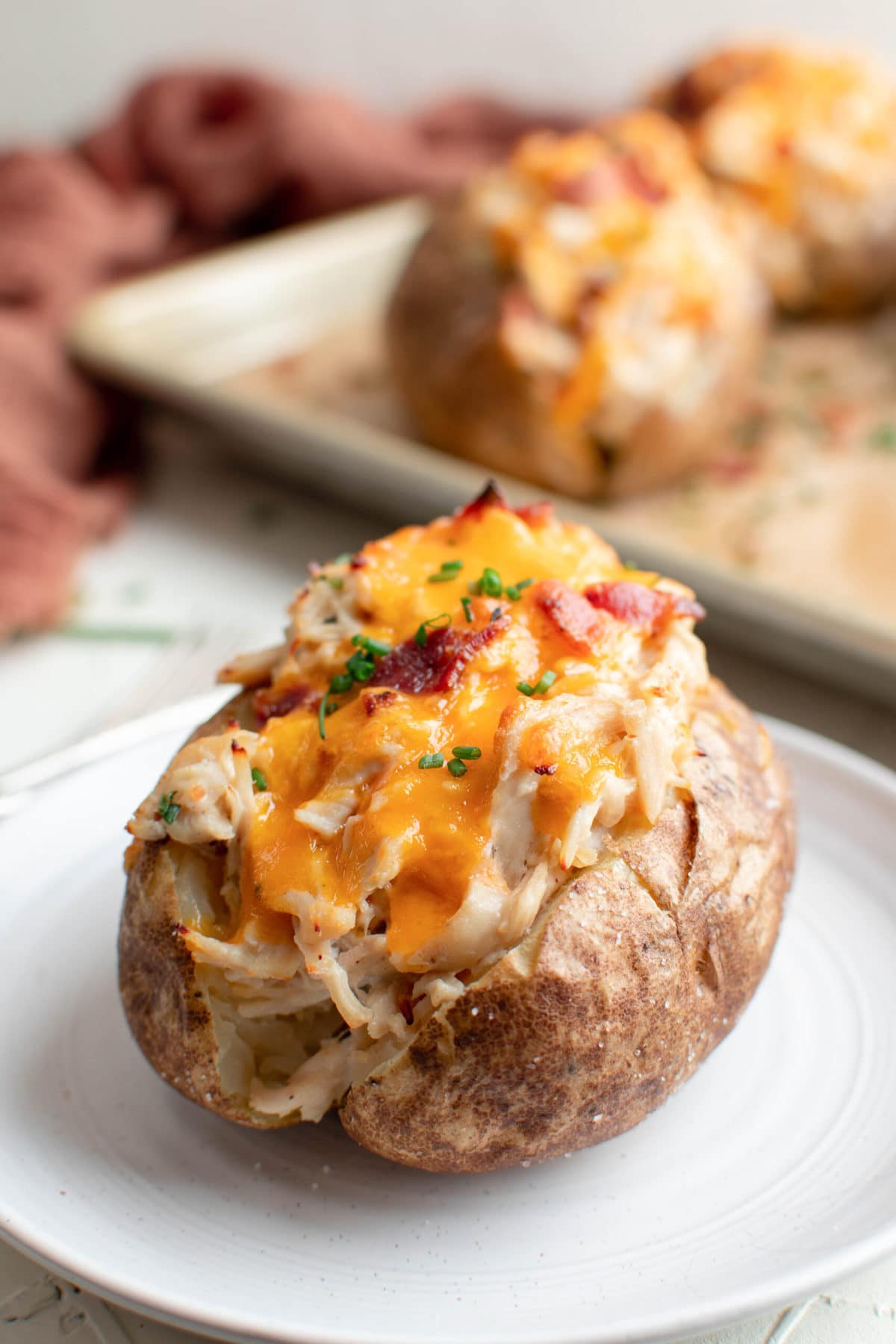 Pin this recipe for later!
Stuffed Potatoes with Crack Chicken
When the internet declared that the combination of chicken, cheddar, bacon and ranch was like crack – so addicting that you can't stop eating it – I was immediately hooked.
I have been putting those flavors together any chance I get. Making Chicken Crack Dip, Bacon Ranch Cheeseballs, Cheddar Bacon Ranch Bean Dip and the now classic Crack Chicken Sandwich.
After indulging in my surprise hit recipe for Taco Stuffed Baked Potatoes, I knew that I'd be stuffing baked potatoes time and time again. It's a super easy and delicious way to use up leftover potatoes and fillings.
You can basically put anything you want in a stuffed baked potato, from veggies and cheese sauce, pulled pork or even pesto!
Ingredients for Crack Stuffed Baked Potatoes
Simple ingredients and simple methods are what this recipe is all about. I make the crack chicken in the slow cooker, but you could use precooked shredded chicken and just mix the ingredients together before loading up your potatoes.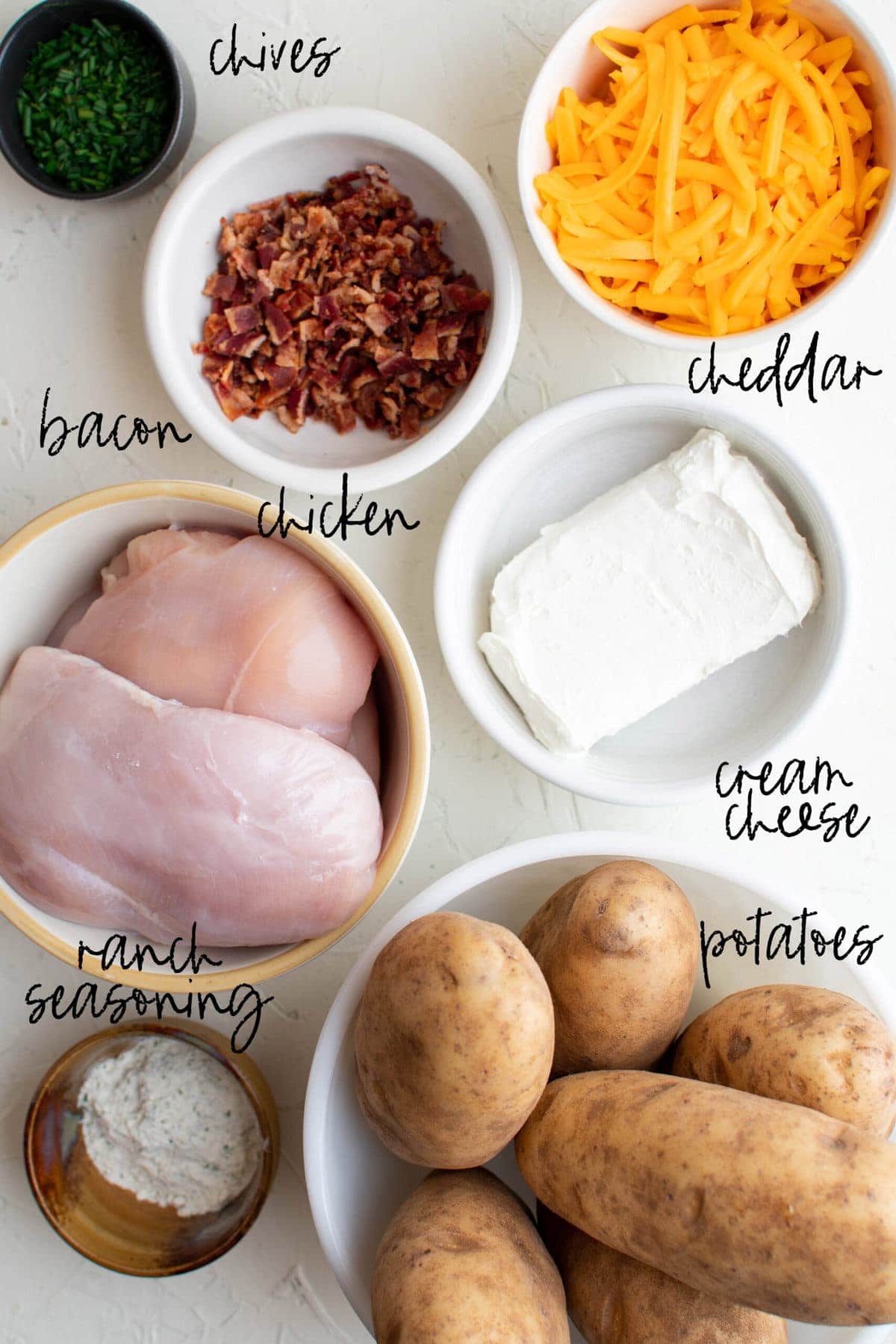 Baking potatoes – You'll need one large russet potato per person. The recipe below makes 6 stuffed baked potatoes but can easily be scaled to feed as many or as few as you need.
Chicken – I use a pound of chicken breast but you could use thighs, too.
Ranch seasoning mix – Use ½ of a packet or a tablespoon of the dry seasoning mix.
Cream cheese – I prefer full fat here. Makes the chicken nice and creamy.
Bacon – Try to get the low sodium variety; the rest of the ingredients tend to have a lot of salt so anywhere you can reduce the sodium is good. You can always adjust the seasonings later.
Cheddar cheese – Shred your own right off the block. Packaged shreds have a coating that keeps them from sticking together but also prevents proper melting.
Garnish – Fresh chives, extra bacon, drizzle of ranch, blue cheese crumbles.
How to Make Stuffed Baked Potatoes
This recipe makes enough to fill 6 potatoes and maybe have a little leftover. Double it to make enough for sandwiches one day and stuffed baked potatoes another.
Make the crack chicken filling: Add the raw chicken, ranch mix and cream cheese to a 4-5 quart slow cooker. Cook for 2-3 hours, then shred the chicken in the pot and stir in shredded cheddar and crumbled bacon.
Cook the potatoes: First you need some large russet potatoes. Rub them with olive oil, salt and pepper and bake them in the oven. You can also bake them in the microwave if you're short on time. Pierce them several times with a fork and microwave on high for anywhere from 3-12 minutes depending on the amount and size of the potatoes. Don't use the olive oil if you're cooking in the microwave.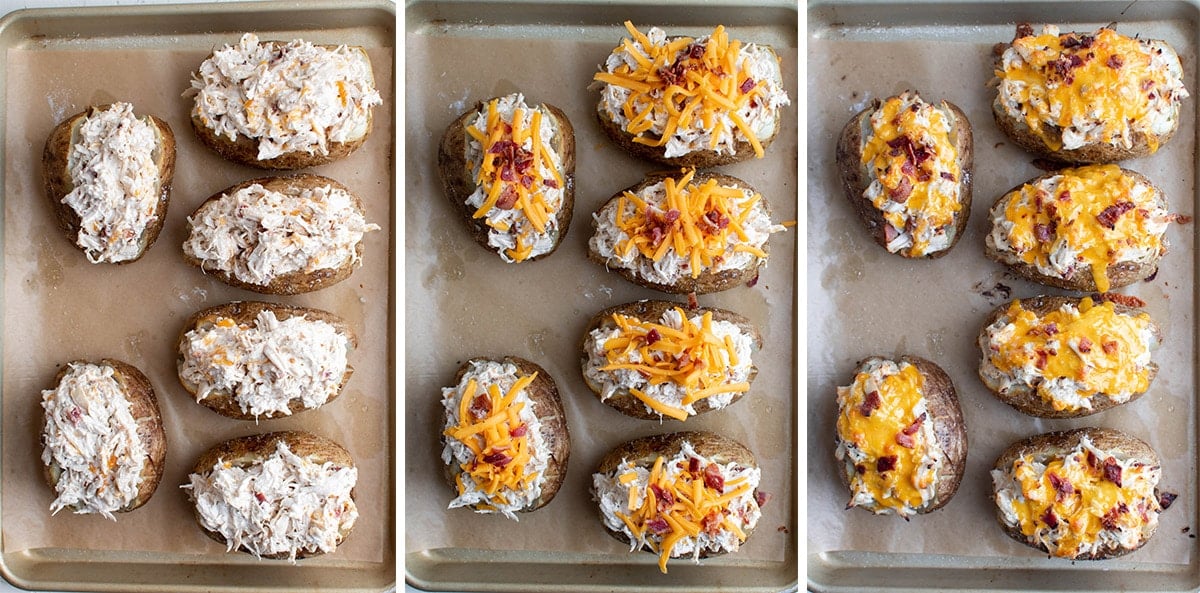 Stuff the baked potatoes: Once the filling is ready and the potatoes are fully cooked, split the baked potatoes open and season with salt and pepper. Use a fork to gently fluff the flesh, then stuff as much chicken as you can inside. Add more cheese on top and a few bacon crumbles, then broil for several minutes or until the cheese is melted.
Serving Suggestions
These stuffed baked potatoes are basically your main course and side dish all rolled into one! Add a copycat Olive Garden Salad, some Garlic Green Beans or Oven Roasted Broccoli to make a complete meal.
These also make a great and super quick lunch if you have leftover Perfect Baked Potatoes and Slow Cooker Crack Chicken.
Add some garnishes; I like using fresh chives and blue cheese crumbles but you do you.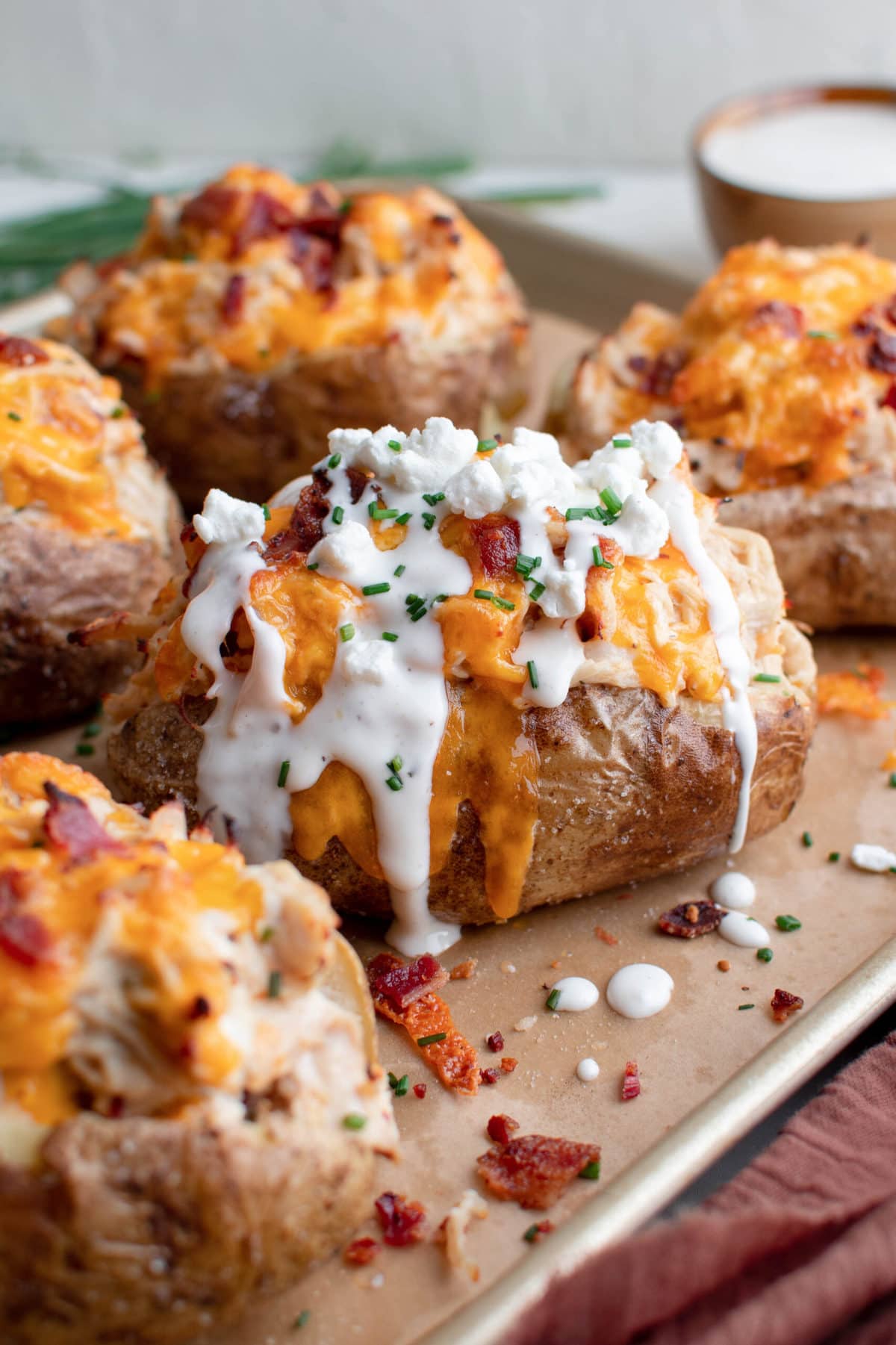 Storage and Freezing
Storing leftovers: Store potatoes and crack chicken separately in airtight containers in the fridge for up to 3 days. If already using leftovers, make sure to count that time.
Freezing: Baked potatoes will keep in the freezer for up to 10 months. Just be sure to wrap them tightly in plastic wrap and then foil and place in a freezer safe container. The crack chicken can also be frozen in a freezer safe container for up to 4 months. Always thaw in the refrigerator, then reheat in the microwave or oven. Do not freeze stuffed baked potatoes fully loaded.

More Inspired Dinner Recipes
Recipe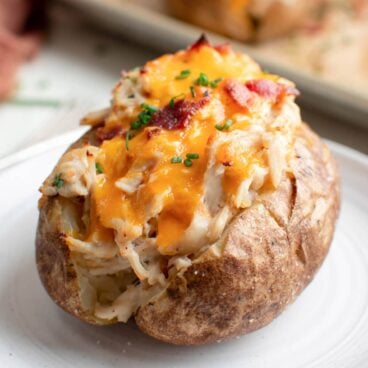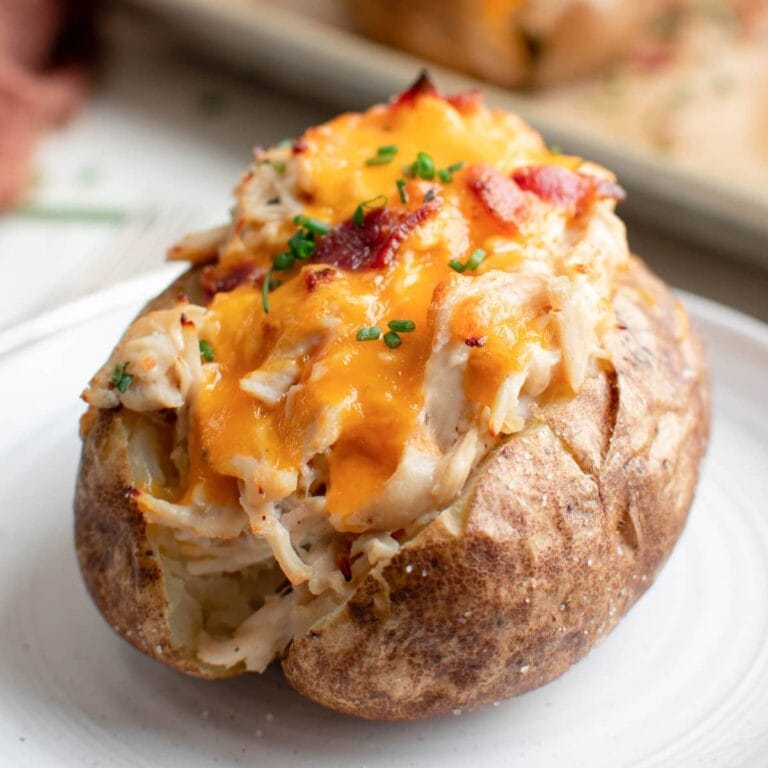 Crack Chicken Stuffed Baked Potatoes
Crack Chicken Stuffed Baked Potatoes pair creamy cheddar, bacon and ranch chicken and a fluffy baked potato into one delicious meal.
Cook Time
1

hour
5

minutes
Total Time
1

hour
30

minutes
Ingredients
6

large Russet Potatoes

about 3 pounds

1

pound

boneless skinless chicken breast

(2-3 breasts)

1

tablespoon

ranch seasoning mix

4

ounces

block cream cheese

3

slices

low sodium bacon

cooked crisp and crumbled

1

cup

shredded sharp cheddar cheese

Fresh chopped chives for garnish

For topping: Extra bacon, chives, Ranch dressing drizzle, blue cheese crumbles
Instructions
Add chicken to the slow cooker and sprinkle with Ranch seasoning mix. Place a block of cream cheese on top of the chicken. Cover and cook on high for 2.5-3 hours or low for about 4-5 hours.

Meanwhile, bake potatoes using any method you like (oven or microwave). Set aside until cool enough to handle. (Note – if baking, do this about an hour before you are planning to serve, microwaving will take about 15 minutes)

When the chicken is done cooking, remove the lid and shred the chicken right in the pot using two forks. Stir in the ¾ of the chopped bacon and 1 cup of shredded cheddar.

With a sharp knife, make slit lengthwise across the top of each potato, careful not to cut the potato completely in half. Squeeze the ends gently to open the potatoes as much as possible without it falling all the way open. Season insides with salt and pepper and fluff the flesh gently with a fork. Add a little butter to moisten the potato. Then stuff with the chicken mixture.

Top each potato with shredded cheddar and the remaining crumbled bacon.

Arrange potatoes on a baking sheet lined with foil and broil for 5 minutes or until the cheese is melted and bubbly.

Garnish with fresh minced chives and any leftover bacon. Serve warm.
Notes
This serving amounts in this recipe are approximate. Potatoes vary in size, so purchase according to how many people you need to feed. 3 pounds should feed about 5-6 people.
This recipe works great with leftover shredded chicken! Eliminate the need for a slow cooker and just mix the shredded chicken in with the other ingredients on the stovetop just until warm, then top baked potatoes.
Nutrition
Calories:
414
kcal
Carbohydrates:
44
g
Protein:
30
g
Fat:
13
g
Saturated Fat:
6
g
Cholesterol:
78
mg
Sodium:
609
mg
Potassium:
1318
mg
Fiber:
3
g
Sugar:
3
g
Vitamin A:
221
IU
Vitamin C:
14
mg
Calcium:
235
mg
Iron:
2
mg