It's Sunday, and that means another delicious One Pan Meal! Today I'm sharing a tropical twist on boring traditional chicken and rice in this One Pan Pineapple Chicken and Rice.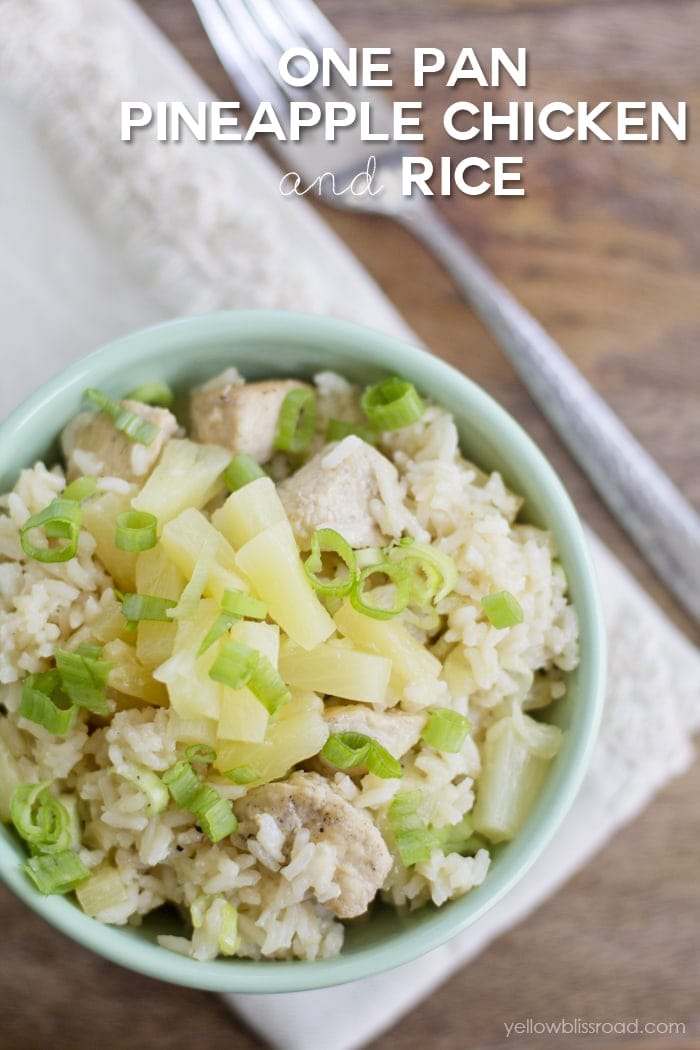 Like all of my one pan meals, this chicken and rice dish is super easy and quick to prepare and serve – under 30 minutes from stove to table. It uses sweet, canned pineapple plus the juice, but fresh pineapple and juice could easily be substituted.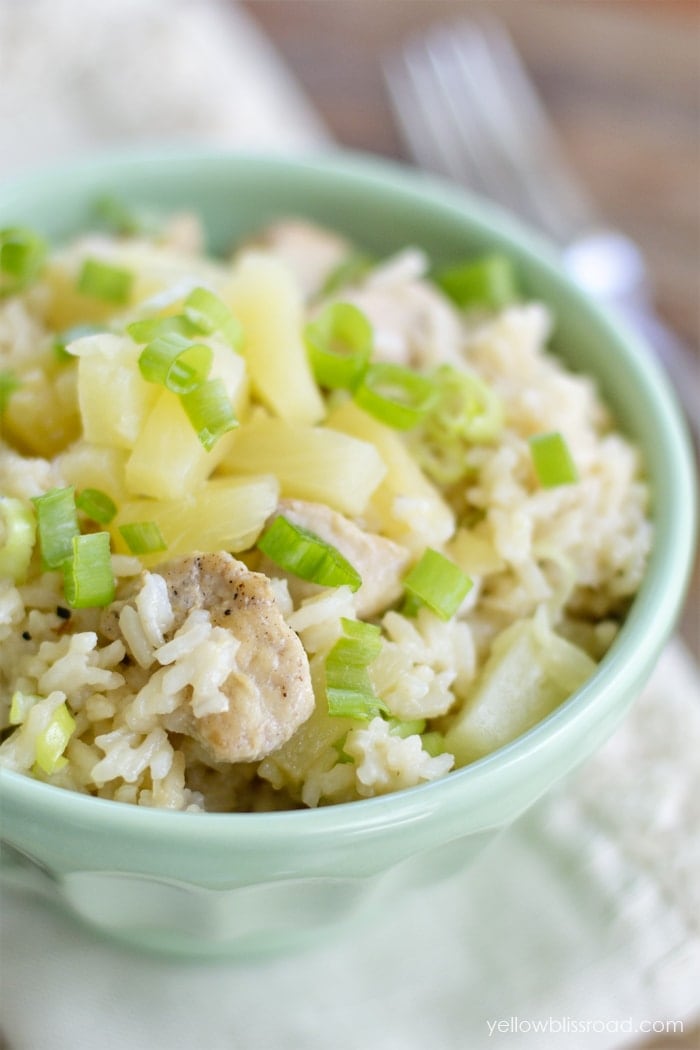 Let's get started, shall we? To make this dish, here are the tools you'll need from your kitchen:
Below are links to product I use and love in my own kitchen:
Calphalon Stainless Steel 12″ Pan
 (a great budget friendly option)
Chef's Knife
Cutting Board
Once you have your tools, gather your ingredients: two chicken breasts, a 20 oz can pineapple tidbits in the juice, a cup of long grain white rice, 1 cup chicken broth, Olive Oil, salt and pepper, and three green onions.
You only will use half of the pineapple, but all of the juice – alternatively you could use a cup of pineapple and a cup of juice. I like having some of the extra pineapple for garnish, and my kids love it for snacking later on, so this size works well for us.
Start by dicing the chicken into large chunks and cooking it in some olive oil. Push the chicken aside and add the rice, stirring often until the rice starts to become translucent. You don't have to cook the chicken through as it will continue to cook with the rice, and I recommend cutting it into large chunks to prevent the chicken from drying out.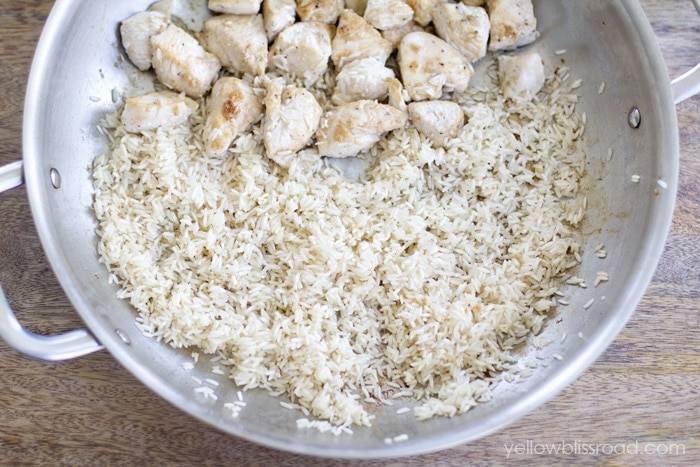 The next step is to add the pineapple, pineapple juice and chicken broth. Stir it all up and bring it to a boil. If you like, you can add a 1/2 tsp of salt at this point. Once it's boiling, reduce the heat and cover the skillet. Walk away for about 20 minutes (resist the urge to list the cover and check). Go do a load of laundry, empty the dishwasher, or just sit and relax and check out the latest Better Homes & Gardens.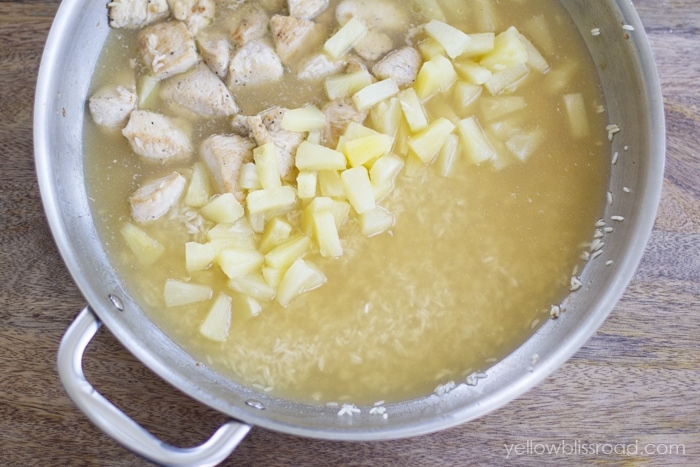 When the 20 minutes are up, check to see that the rice is finished cooking. If you have a clear top, you can just give it a little shake to get rid of the moisture on the cover. If you are still seeing a lot of liquid, let the rice continue to cook, checking every couple of minutes.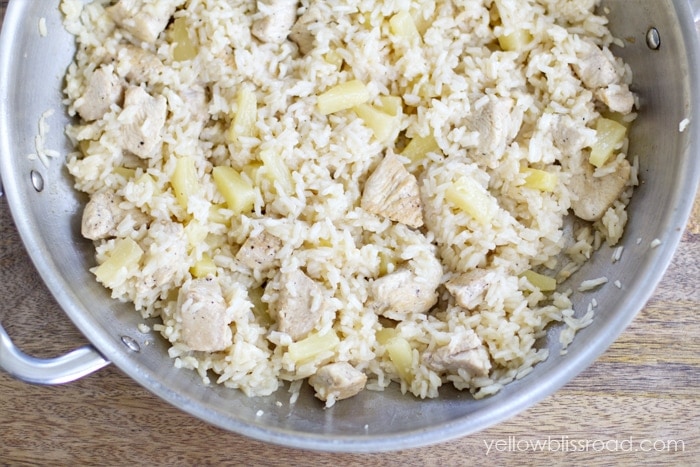 Turn off the heat, give it a good stir, and divide into bowls. Top with additional pineapple and green onion slices for garnish.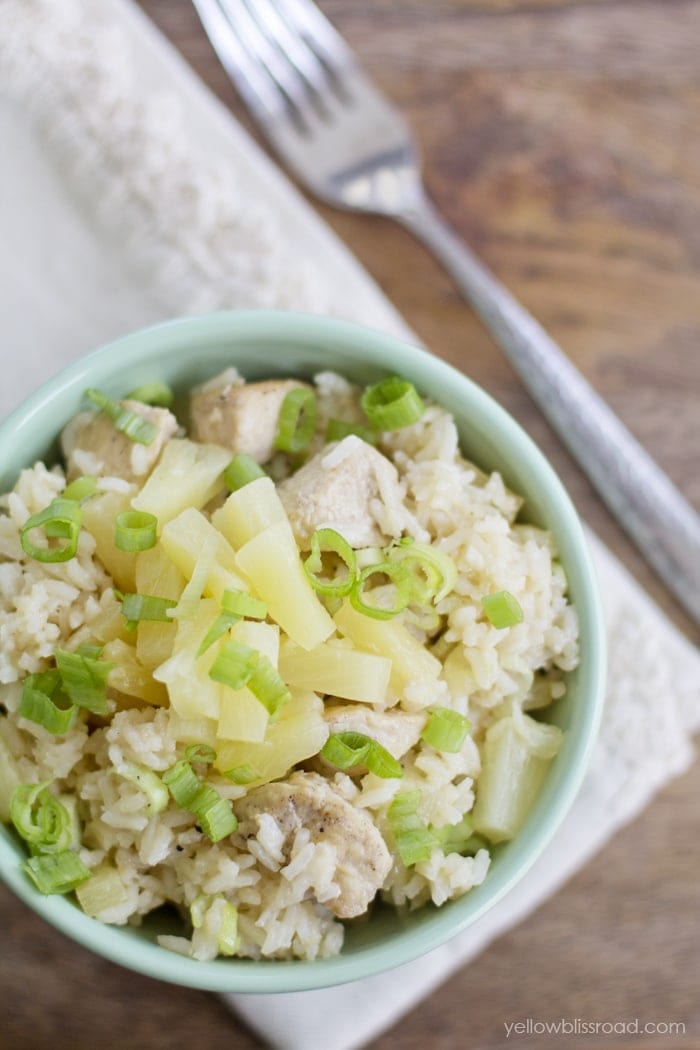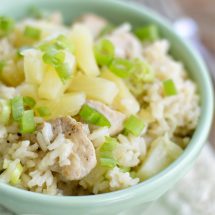 Ingredients
2 chicken breasts diced into 2 inch pieces
20 oz can pineapple tidbits in the juice
1 cup long grain white rice
1 cup chicken broth
Olive Oil
salt and pepper
3 green onions
Instructions
Season chicken with salt and pepper and add to skillet.

Drain pineapple, reserving all of the juice. Measure out about 1 cup of pineapple and put the rest in the fridge to save for later.

Heat olive in a 12" skillet over medium heat.

Cook chicken until browned but not completely cooked through; about 4-5 minutes.

Push chicken aside and add rice.

Cook rice, stirring often, until semi-translucent; about 3 minutes.

Add chicken broth, 1 cup pineapple, 1 cup pineapple juice to the rice mixture and stir.

Bring to a boil over medium heat. Cover and reduce heat to low.

Allow to cook for 20 minutes - do not lift the cover to peek!

After 20 minutes check the rice for doneness. Continue cooking if necessary, checking every couple of minutes. You will know it's done when most of the liquid is gone.

Stir in sliced green onions, reserving a few for garnish.

Divide into bowls, garnish with pineapple and sliced green onions and serve.

For more delicious one pan meals, be sure to try: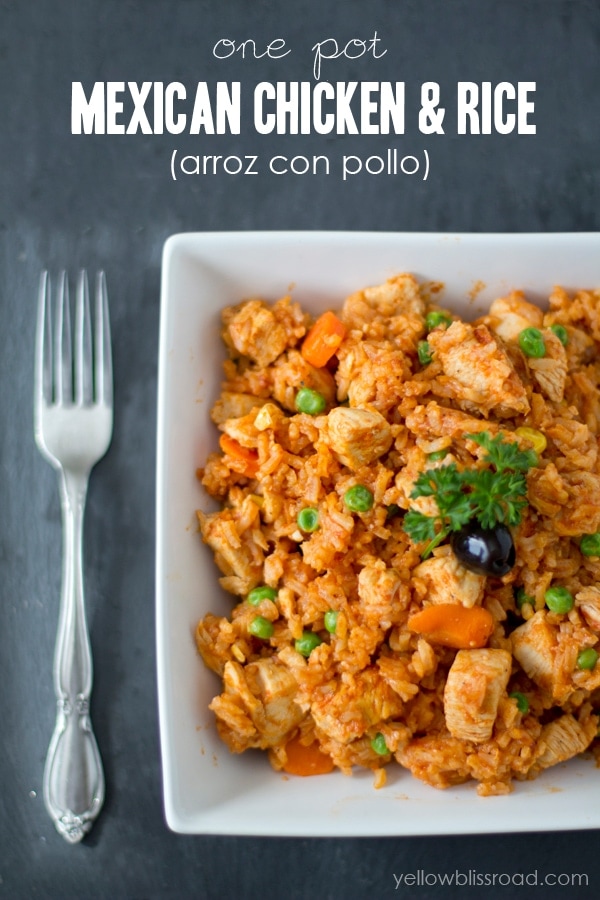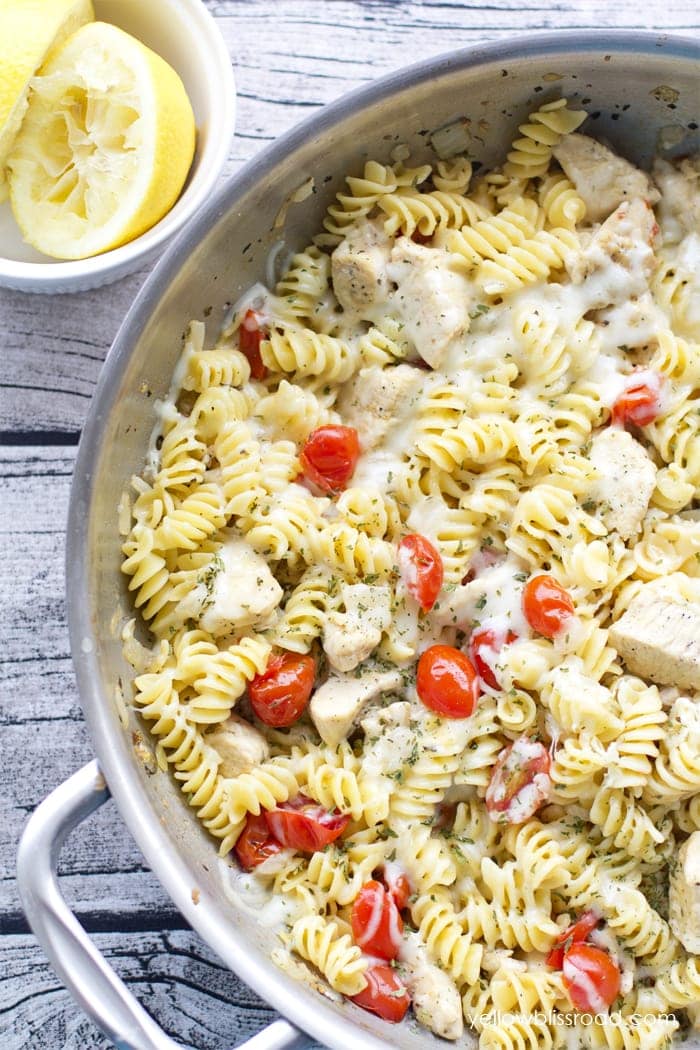 Spicy Lemon Chicken and Tomato Pasta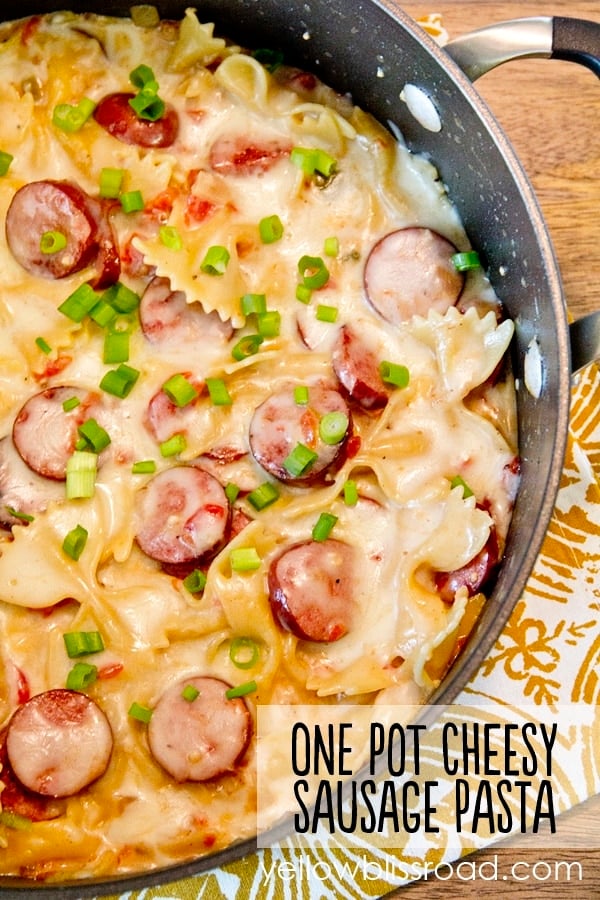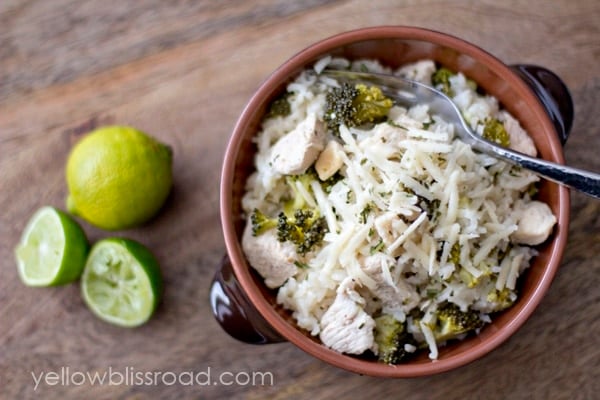 Lime Chicken and Broccoli Rice
For all quick and easy dinner recipes, be sure to go here.
For a complete list of recipes on the site, be sure to go here.